Mocksville's Daniel Boone Festival Budbreak Festival Quick Slice & Bake Lemon Cookies Spring Home & Garden Lemon Cookies Alpha & Omega Helicopter Egg Drop March­April 2023 plus 17 more recipes
Through all the Seasons of the Year, We're In‐Home Care American Healthcare Services, Inc. offers up to 24 hour care, 7 days a week Providing In‐Home Aide Assistance For the Following Programs: PRIVATE DUTY SERVICES in Surry and Stokes Counties American Healthcare Services, Inc. offers sitting and companionship, meal preparation, light housekeeping, errands and personal care. We sit privately in hospitals and nursing facilities. All caregivers provide socialization, a safe environment and support. Hourly Rate Does Not Change Regardless Time or Day of Service American Healthcare Services, Inc. www.americanhealthcare-services.com • MEDICAID PROGRAMS CAP ­ PCS • WORKER'S COMP • FAMILY CARE GIVER VOUCHERS • HOME ­ COMMUNITY CARE BLOCK GRANT • EPSDT • LONGTERM CARE • PRIVATE INSURANCE 915 Rockford Street Mount Airy, NC 27030 336­789­2273
4 yadkinvalleymagazine.com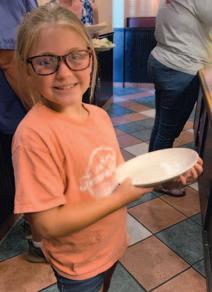 TRUST WITH FLAVOR It's Back! our FAMOUS Buffet & Salad Bar Lunch: Tuesday-Saturday 11-2:30 Dinner: Tuesday & Wednesday 5-8 Starmount Crossing Shopping Center Jonesville, NC 336­526­5888 www.pirateslanding­nc.com/Theos Tuesday ­ Sunday 11am­9pm
165 North Main Street Mount Airy 336-786-6602 Monday-Thursday 9-5 Friday 9-6 Saturday 8-6 • Sunday 9-3 Safely order your delicious homemade fudge online at: www.BEARCREEKCANDY.com Our candy cases are filled with so many candies Rich Delicious Truffles! CHOCOLATE Fill Your Easter Baskets with all of our delicious choices!
Over 100 Different Flavors of Chocolate Truffles 165 North Main Street Mount Airy 336-786-6602 Monday-Thursday 9-5 Friday 9-6 Saturday 8-6 • Sunday 9-3 Safely order your delicious homemade fudge online at: www.BEARCREEKCANDY.com
Mark your calendar now! The Annual Amish Community Fish Fry is scheduled for the first Saturday in June. June 3, 2023
Shop NOW for best selection, with 600 pieces in-stock ! and Enjoy this Spring Outdoors. plus Quality Furniture for every room of your Home 6224 Windsor Road, Hamptonville, NC 27020 Tues­Sat 9:30am­4:30pm • 336­468­1744 HomeAcresNC.com
Family Owned Mulch & Stone Products too!
ENO Hammocks Burt's Bees New Cornhole Boards Simply Southern Apparel Natural Life Apparel and Accessories Rainbow Sandals Lodge Cast Iron Grandma's lye soap products Honey House Naturals­hand lotions and lip balms. Pottery (Blackwelder, Eldridge, Hankins & Jordan) Handmade furniture Gumball machines Candles Jelly and Jams Corn Meal Handcarved Walking Sticks
1932 W. Memorial Hwy, Union Grove, NC 28689 704­539­4643 • uniongrovegeneralstore.com
Monday – Friday 8:30 am – 5:30 pm Saturday 8:30 am – 3 pm
10 yadkinvalleymagazine.com
Platinum Dealer
11 March-April 2023 the perfect gift! Ask about our Customer Loyalty Program 102/104 East Dalton Road (Downtown) King, NC 336.985.5464 www.daltonscrossing.com M­F 10am­6pm • Sat 10am­3pm
12 yadkinvalleymagazine.com contents March‐April 2023 Throughout this issue, you'll find a wealth of fun discoveries to fill your Yadkin Valley Weekends. Visit yadkinvalleymagazine.com and sign up to receive a free weekly email with suggestions for fun ways to visit a special event or make a special memory. 62 92 83
foodsandflavors ™
Beginning on page 21, stories and recipes celebrating our Southern Food Heritage, including 17 recipes to enjoy!
13 March-April 2023 WWW.RIDABUGINC.COM WE RESERVE THE RIGHT TO CHARGE FOR SERVICE CALLS NC LICENSE # 678PW MOISTURE CONTROL • AUTOMATIC FOUNDATION VENTS INSPECTION REPORT FOR BUYING, SELLING OR REFINANCING OUR TECHNICIANS ARE FULLY REGISTERED ASK ABOUT OUR SENIOR CITIZENS & MILITARY DISCOUNTS Same­Day, Weekend & Evening Service Available TERMITE • PEST CONTROL AND WILDLIFE MANAGEMENT RESIDENTIAL COMMERCIAL INDUSTRIAL ANTS • BEES • RATS • MICE • COCKROACHES Trusted, Effective Pest Control Since 1973 Locally Owned & Operated by the Roberts Family We appreciate your business! 1-800-682-5901 101 Off the Shelf: The Horses Know People & Home 34 Ramps for Summer Greens 36 Get Cooking With EFNEP 44 Stretching Your Kitchen Dollars 52 Fickle March & Breezy April 64 Can You feel It? Spring! 68 Protect NC from the Lanternfly 82 Off the Shelf: All the Little Hopes 86 Caring for Our Creeks 94 Off the Shelf: What More Could I Ask For? 96 YV People: Josie Manter 96 YV People: Sami Hunsucker 83 Budbreak 87/91 Daniel Boone Festival 89 Yadkin Valleyx Wines: Dobbins Creek Vineyard 92 Egg Drop in every issue 18 editor's letter 20 beginnings 102 What Is That? 106 Collectors 109 Business Section Health & Wellness 72 Piedmont Medicinal Herb Growers 78 Screenings Can Help Lead the Way
14 yadkinvalleymagazine.com 198 North Main Street Mount Airy, NC 336-786-6121 Free Alterations Free Gift Wrap • Free Shipping at Ladies Upstairs www.freesclothing.com Coming Soon! 705 Lasley Road, Lewisville 336-766-6513 Monday­Friday 7:30­4:00 Saturday 8:00­12:00 Spring...time to brighten up your yard with new plants and lots of color! At Joe's we carry… a large selection of trees and shrubs complete line of soil amendments pine needles, mulch and bark grass seed and fertilizers for yard and shrubbery beds Don't miss our Encore Azaleas www.joeslandscapingandnursery.com Family owned and operated
For more information or to schedule a complimentary financial review, call or stop by today.
Anyone can provide advice. At Edward Jones, our goal is to provide advice and guidance tailored to your needs.
That's why we live and work in your community.
When it comes to your financial needs and goals, we
face­to­face attention. You
you.
Dobson
Paul J. Bunke, Sr., AAMS™
Financial Advisor
124 W. Kapp Street, Suite C PO Box 407 Dobson, NC 27017 336­386­0846 paul.bunke@edwardjones.com
Audra Cox
Financial Advisor
124 W. Kapp Street, Suite C Dobson, NC 27017 336­386­0846 audra.cox@edwardjones.com
Frank H. Beals
Financial Advisor 965 North Bridge Street Elkin, NC 28621 336­835­4411 frank.beals@edwardjones.com
Barry Revis, AAMS™
Financial Advisor 116 E. Market St., Elkin, NC 28621 336­835­1124 barry.revis@edwardjones.com
Nathan Sturgill
Financial Advisor
116 E Market Street Elkin, NC 28621 336­835­1124
nathan.sturgill@edwardjones.com
Aaron L. Misenheimer
Financial Advisor 1530 NC Hwy 67, Suite A Jonesville, NC 28642 336­258­2821 aaron.misenheimer@edwardjones.com
Andi Draughn Schnuck
Financial Advisor 496 N. Main Street Mount Airy, NC 27030 336­789­1707 andi.schnuck@edwardjones.com
Dale Draughn, AAMS™
Financial Advisor 140 Franklin Street Mount Airy, NC 27030 336­789­0136 dale.draughn@edwardjones.com
Logan Draughn
Financial Advisor 492 N. Main Street Mount Airy, NC 27030 336­789­3323 logan.draughn@edwardjones.com
Kody Easter, AAMS™, CRPC™, CFP®
Financial Advisor 304 East Independence Blvd Mount Airy, NC 27030 336­789­2079 kody.easter@edwardjones.com
Randy D. Joyce
Financial Advisor 136 W. Lebanon Street Mount Airy, NC 27030 336­789­6238 randy.joyce@edwardjones.com
Tammy H. Joyce, AAMS™
Financial Advisor 136 W. Lebanon Street, Mount Airy, NC 27030 336­789­6238 tammy.joyce@edwardjones.com
Tanner Joyce Financial Advisor 752 S. Andy Griffith Pky, Suite 400 Mount Airy, NC 27030 336­789­6238 tanner.joyce@edwardjones.com
Mike Russell Financial Advisor 106­B South Depot Street, Pilot Mountain, NC 27041 336­368­2575 mike.t.russell@edwardjones.com
Michael Warren
Financial Advisor 101­D Shoals Road, Pilot Mountain, NC 27041 336­368­0782 michael.warren@edwardjones.com
Christopher L. Funk
Financial Advisor 128 South State Street • PO Box 790 Yadkinville, NC 27055 • 336­679­2192 chris.funk@edwardjones.com
Elkin Jonesville Mount Airy Pilot Mountain Yadkinville
www.edwardjones.com Member SIPC Retirement Plan Options
Retirement
Individual Retirement Accounts Portfolio and Retirement Plan Reviews Business
Plans Education Savings Strategies Insurance Fixed Income Investments
believe you deserve
talk, we listen, and we get to know
STORY IDEAS.
At Yadkin Valley Magazine
we value the concerns, ideas and interests of our readers. We welcome all story ideas and suggestions, always keeping an open file and working them in when possible. All story ideas should be submitted by mail to: 413 Cherry Street, East Bend, NC 27018.
WEEKENDS.
Please submit information regarding fundraisers, gallery show openings, plays, readings, concerts or other performances at least two months in advance of an issue's cover date. Sign up for our free weekly newsletter yadkinvalleymagazine.com/weekends
DISTRIBUTION.
The magazine is available FREE at locations throughout the Yadkin Valley. You will find a highlight listing of pick­up locations on our web site at www.yadkinvalleymagazine.com. Not all locations will always have copies in stock.
ADVERTISING.
We view our advertisers as people providing a service who are genuinely interested in their customers. These businesses make it possible for you to enjoy the magazine for free. We hope that you'll make them your first choice when you need the products and services they offer. Be sure to share that you read about them in Yadkin Valley Magazine
For advertising information, please call 336­699­2446.
Information about advertising is also available at:
yadkinvalleymagazine.com/advertising
Health and educational articles included in Yadkin Valley Magazine are for education purposes only. Be sure to consult your personal physician before you begin any diet, medicine or course of treatment.
16 yadkinvalleymagazine.com
K& VInc. HEATING AND AIR CONDITIONING UV Lights Digital Thermostats Air Filtering Systems Humidifiers Duct Balancing Seal Ducts Carbon Monoxide Detectors Preventive Tune-Ups Scheduling a BI­ANNUAL TUNE­UP for your heating and cooling system is as easy as calling K&V Heating and Air Conditioning today at 336­699­2088. A little money spent in preventative tune­ups can save you big money and stress for emergency repairs when temperatures soar and dip. Our services also include: (336) 699-2088 kvheatingair.com 304 NC Hwy 67 East Bend, NC Need repair service NOW? Call us and we'll dispatch trained service techs who take pride in their work. From repair calls to whole house installations, we'll get your home or office back to comfortable. We're really good at helping keep your family comfortable Your heating system has just been through a tough, long, cold winter. Give your system a little tender loving care now, so it will be ready to perform when that North Carolina Summer starts baking.
Yadkin Valley Magazine is a publication of Cherry Street Media,LLC. 413 Cherry Street East Bend, NC 27018
336­699­2446
March­April 2023
Volume 23 Number 4
Publisher/ Editor
Barbara Krenzer Norman
Advertising Sales
John Norman Ken & Denise Knight
Contributing Writers
Mary Bohlen, John & Carrie Byrd, Jim Collins, Ryan Guthrie, Amanda Joyner, Delores Kincer, Carmen Long, Cindy Martin, David May, Judy Mitchell, Kellee Payne, J. Dwaine Phifer, Lisa Prince, June Rollins,
Phyllis B. Smith, Courtney Tevepaugh, Jessica Wall, Vicki Yount.
Photographs & Photographers
John & Barbara Norman, Cindy Martin, June Rollins, Amanda Joyner, Jim Collins, Lisa Prince, Mary Bohlen,
J. Dwaine Phifer, John & Carrie Byrd,
Mitchell's Greenhouse & Nursery, Vicki Yount, Carmen Long, Ryan Guthrie
Distribution
Rebecca Cranfill
Ken & Denise Knight
Cindy & Wayne Martin
Michael Scott
Debbie & Andy Hennings
Test Kitchen Chef
Amanda Joyner
Manny J's Bakery
To inquire about advertising in Yadkin Valley Magazine (336) 699­2446
john@yadkinvalleymagazine.com
Cow's
Cow's
Butter
Flavored
17 March-April 2023
Naturally Wholesome Products Naturally Wholesome Products 6400 Windsor Road, Hamptonville 336-468-1520 Everything is Naturally Wholesome Grass Fed
Milk
Whole
Milk
Milk Butter
Half
Cream Chocolate Milk
Half &
Heavy
Yogurt Drinkable Yogurt Kefir
Creams But we ALSO OFFER Pork and Beef Vacuum Packed to ensure freshness You know us for our Farm Fresh Dairy Products
on our Farm • Non GMO* Beef Ribs New York Strip Steak
Steak • Rib Eye Steaks Hamburger & Hamburger Patties Chuck Roast London Broil • Brisket Pork Sausage Pork Chops Tenderloin Fat Back Bacon Farm Store Open Monday-Saturday 9:00-5:00
Ice
*Produced
Sirloin