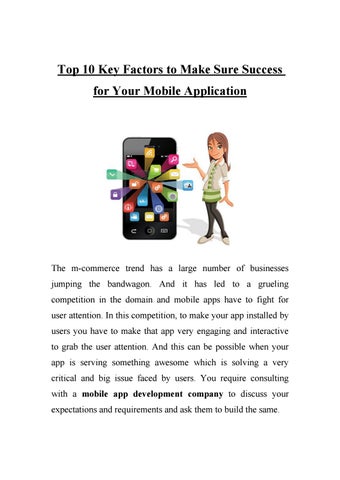 Top 10 Key Factors to Make Sure Success for Your Mobile Application
The m-commerce trend has a large number of businesses jumping the bandwagon. And it has led to a grueling competition in the domain and mobile apps have to fight for user attention. In this competition, to make your app installed by users you have to make that app very engaging and interactive to grab the user attention. And this can be possible when your app is serving something awesome which is solving a very critical and big issue faced by users. You require consulting with a mobile app development company to discuss your expectations and requirements and ask them to build the same.
---
Along with the determining requirements, there are few more things to keep in mind. And those factors are given below: Simplicity is Key: Mobile app developers should focus on the simplicity and seamless navigation. An app should be easily navigable and its functionalities should be easy to understand that can make an user's experience soothing and good. Contextual and Relevant: If an app is contextual and relevant then it can shine in usability and it'll make it a value added for users. The content provided in that should be related to the searches made by users that can make it engaging and useful. Fast Speed: A slow app can lose lot of users and their interest in it. Every user love an app that is fast in downloading and as per their patience level. No user want to deal with a slow app.
---
Small Size App: An app should be less space consuming; means it should be small in size. Every user loves an app that take very less space in their smart-phones. So, always keep your app small in size so that it will take less time to install. Creativity and Innovation is Key to Success: Try to provide some creative and innovative features if you want successful installations of your app within a short span of time. Try to put something different and unique in your app that no one is providing. UI/UX are Significant: UI and UX acts like heart and soul for an app. UI keeps a user engaged while UX make sure and enhance the experience of user and make him stay or connected for a long time. Engaging features, seamless navigation and easy checkout affects an app a lot and ahead towards the success.
---
Offer Multiple Versions for Various OS: A significant aspect that contribute in a mobile app success is to avail various versions for each and every trending and famous OS. A brand or business can achieve a high ROI and various other benefits by investing in both iPhone and Android App Development as it can monetize from both the platforms based on their fame. App Marketing Post-Launch: One should give attention to it's marketing before launching the app as it'll be fruitful. It'll be beneficial and keep updated audience with the new feature launch. Post launch marketing can make users stay on your app and install it after deployment and development. Comprise App Analytics: Including app analytics can avail business or brand to evaluate the user behaviour, performance and other significant statistics. It can help the business owners to understand and make timely improvements.
---
Provide An Authentic Customer Support: The most difficult and daunting task for a business to retain it's customers and keep them visit their app again and again. So, to keep this main agenda happening and returning your visitors app owner must provide an authentic or reliable customer support to build trust and long-term relationship. Avail 24X7 support in various languages. If you'll incorporate the above mentioned factors in your mobile app then for sure you'll win the heart of users. The leading and reputed mobile app development company can assist you in building such awesome and unique app keeping in mind all the aforementioned aspects. And Xeliumtech Solutions has a well-versed team of developers who can build apps and attain the expected results in form of high ROI.
Top 10 Key Factors to Make Mobile Application Successful  
Top 10 Key Factors to Make Mobile Application Successful  
The m-commerce trend has a large number of businesses jumping the bandwagon. And it has led to a grueling competition in the domain and mobi...