Classifieds STK #6568 Savings Endof Summer Carpeted Floor Mats 8 Passenger Finance rebates by Kia Motors Finance subject to change. Not including any federal or state tax incentives. All units subject to prior sale Customer responsible for D&H, taxes and fees. Not all buyers will qualify to or 2999 Nationway 7 75-0123 Open: M onday-Saturday 戟 8am-7pm See our complete inventory online at www.kiaofcheyenne.com. $$36,790 36,790 MSRP: MSRP: Panthera Metal STK# 7471 Plus D&H, tax , title and license See dealer for details. $$27,575 27,575 MSRP: MSRP: Passion Red STK# 7371 2023 Kia K5 F WD 2023 Kia K5 F WD 2023 Kia K5 F WD Plus D&H, tax , title and license See dealer for details. Cross Bars 戟 Carpeted Floor Mats 戟 Interior Light Kit Lifestyle Hitch (Not Tow Capable) LX Technology Package 戟 Sport Pedals Illuminated Door Sill Plates $$23,230 23,230 MSRP: MSRP: 2023 Kia Soul L X 2023 Kia Soul L X 2023 Kia Soul L X Mars Orange STK# 7400 Plus D&H, tax , title and license See dealer for details. $26,885 MSRP: $26,885 MSRP: Pluton Blue/Black Roof STK# 7447 Plus D&H, tax , title and license See dealer for details. Carpeted Floor Mats Rear Bumper Applique Carpeted Floor Mats 戟 Cargo Tray Auto Dimming Mirror w/ HomeLink 2024 Kia Seltos S F WD 2024 Kia Seltos S F WD 2024 Kia Seltos S F WD 2024 Kia Carnival L X Seat Package 2024 Kia Carnival L X Seat Package 2024 Kia Carnival L X Seat Package Week of September 15, 2023
DIRT WORK, DRIVEWAY
LEVELING, resurfacing, prep building sites, trash and debris removal pen and barn cleaning, tree and post holes, asphalt patchwork belly dump and contract hauling, residential, rural, commercial, free estimates reasonable rates M&M Enterprises LLC, 307-631-9313
KIN'S REPAIR: LAWN AND GARDEN equipment repair Winter is coming! Get your snow blower tuned-up now! Also servicing generators and kerosene heaters 3903 Cheyenne St STE A, 307-635-5280, one block north of the College and Pershing intersection
NOVA COATINGS LLC:
SPRAY FOAM insulation, fiberglass insulation, roof coatings floor coatings waterproofing, existing insulation upgrades or removal No job too big or small, satisfaction guaranteed, free estimates, licensed and insured N ovac o at i n g s l l c c o m , 970 -7 1 4-1 9 49 l o c al
$399 50-Bag Pallets
307-632-7616
TRADERS RECOMMENDS THAT YOU investigate companies which require you to send money for your information or products advertised in this publication Be aware that anything other than "800," "866," "877," and "888" numbers including "900" numbers will be charged to your phone bill Seek information from the company before you invest your money You may contact the Attorney General's Office, Consumer Affairs at 123 Capitol Bldg Cheyenne WY, 82002, 307-777-7874 for more information
HAULING, AVAILABLE OPTIONS: FLAT BED, step deck live floor side dump, lowboy Kauffman Contracting LLC, kauff mancontracting com, 307630-6435
VERN'S CONCRETE: POLE BARNS, PATIOS, driveways sidewalks foundation repair, brick and block, stucco, some overlays and stamp Licensed and bonded, free estimates 307-421-0753
LOOKIN G TO BUY
STEEL OR ALUMINUM?
We have a large selection an d w i l l c u t to s i ze Welding Shop, 508 E 1st St 307-632-3294
STUMP GRINDING $10
AN INCH, LICENSED and insured with #811ing Call 307-256-5276 for an estimate
With a lot of thought and introspective deliberation, the owners of Trader's and Preview have decided that it is time for new stewardship that can provide a vision and leadership to take these publications into the future. The entire company is now "FOR SALE".
We have engaged a premiere publications broker to represent us and explore potential buyers. Please contact John Cribb directly. (Do not call our office)
SANKOFA AFRICAN HERITAGE INC presents: The
d i n g refre s h m e nt s , d o n at i o n s ap p re c i ate d LC C C ' s U n i o n Pac i fic Ro o m s fo r C o nfe re n c e s an d I n st it u te s , 1 40 0 E C o l l e g e D r, C h eye n n e, W Y
LINCOLNWAY LIQUOR
Free ice with purchase, free slushee to 1st time visitors, check us out and don't start the party without us 2825B E Lincolnway, 307-634-1502
RAM WASTE SERVICE, R E S IDE N T IAL AN D commercial with 10-30 yard roll off containers, prompt and dependable, serving southeast Wyoming 1413 E Fox Farm Rd, 307-638-8500
PRIMO CONCRETE SERVICES: ALL TYPES of flatwork demo and tear outs, interior and exterior
No job too large or small, licensed and insured Text o r c al l 3 07-274-5 3 9 0, p r i m o c o n c rete s e r v i c e s @ g m ai l c o m
USA TAX WE ARE YOUR ONE STOP option! Small business, payroll, IRS letters, electronic and in person options available, all of our tax representatives are in Cheyenne, can't pay now we can take our fees from your refund! All returns insured! Mon-Thur 9am-5pm, Fri 9am-12pm, 1805 Warren Ave, 307-5145888, usataxwyo com
C H E Y E N N E L I T T L E T H E AT R E P L AY E R S presents "Young Frankenstein , Sept 29 through Oct 15, 2023, at Mary Godfrey Playhouse 2706 E Pershing Blvd, Cheyenne, WY 82001 Order tickets at 307-638-6543 or cheyennelittletheatre org
COMING TO CHEYENNE, DINO MOBILE Museum, Sept 15 & 16 Dinosaurs connecting the dots between the Bible and science, incredible dinosaur fossils www dinomobilemuseum com
WE T PAIN T, PR OF E SS ION AL PAINTING with a p e r s o n al to u c h ! Re si d e nt i al , c o m m e rc i al , c o nt rac to r o r p r i vate C h r i s Ri ve ra, ow n e r, 25 ye ar s ex p e r i e n c e 3 07275 -49 6 5
TIMBER DAN
FALL TOY SHOW
And Sale Sept 30, 2023 Collectible, vintage and antique toys
John Thomas Cribb
901 Garfield Street Helena, MT 59601
406.570.5595
johnthomas@cribb.com
A HUGE "Thank You" to all our dedicated readers and advertisers who have supported us over the last 45 years. WE ARE FOREVER GRATEFUL.
In the meantime, rest assured that your treasured Trader's Shopper's Guide will still be available every week. Preview Real Estate Guide will continue featuring the most up-to-date real estate information every month.
The show has thousands of antique, vintage and collectible toys on display and for sale including: Farm toys, die-cast, race cars, pressed steel trucks Lionel trains Star Wars, Hot Wheels, Tonka, large pressed steel, windup, action figures, Barbie dolls and other dolls, Beanie Babies, comic books, cast i ron, airplanes, construction games Legos model kits, 3D oil paintings with tractors and trains and lot and lots of other good stuff Location: First National Bank Exhibition Building North and South Halls, Larimer County Fairgrounds "The Ranch", 5280 Arena Circle, Loveland, CO I25 Exit 259, then East 1/2 mile to Fairgrounds Ave , then north 1/2 mile to entrance of the Ranch
Admission $5, children
12 and under, free
Early bird floor rights
7am-9am, $10 Contact: Sherlyn Sampson, sks80538@gmail com, https://www lovelandlions club org or on FaceBook: LovelandLionsClub
2021 Warren Avenue, Cheyenne, WY 82001
634-8895 or Outside Cheyenne Phone Toll Free
Trader's
Serving
Jones
Graphic Design Susan Foley Ben Achatz Jeff Carter
Our Community Susan Foley Ben Achatz
Classifieds Brandon Maestas Vickie Sherwood
Office Hours:
Monday, Tuesday, Thursday, Friday 8:00 a.m.-3:00 p.m. Wednesday • 8:00 a.m.-4:00 p.m.
Ad Deadline is Wednesday by 4:00 p.m. for Friday's Edition.
Community Profile Deadline is Tuesday by 12:00 Noon.
All phone numbers in Trader's with no area code can be prefixed with the Wyoming 307 area code.
CLASSIFIED AD RATES:
Walk-in Personal Prepaid: $4.00 min. (20 words). 10¢ per word thereafter.
Phone-in Personal: $5.00 min. (20 words). 10¢ per word thereafter.
Business: $5.00 min. (20 words). 10¢ per word thereafter.
Trader's Shopper's Guide is published weekly by Trader's Publishing. All rights reserved. No portion of Trader's may be reproduced in whole or in part, in any media without the expressed written permission of the publisher. This includes, but is not limited to, the use of any text (regardless of length), chart, figure, table or image. All electronic-transmitted rights are reserved. Trader's website pages may not be duplicated or reproduced without the expressed written consent of Trader's Publishing, except in the form of brief excerpts or quotations for the purposes of personal review. The information published in Trader's both print and web-based, is for the personal use of the reader and may not be incorporated into publications or databases without the written consent of Trader's Publishing. Making copies of these pages or any portion for any purpose other than personal use is prohibited.
Trader's Shopper's Guide reserves the right to reject or edit any advertisement.
Trader's is not financially responsible for typographic errors or omissions. Liability shall not exceed the portion of space attributable to the error. Trader's must be notified within 7 days of publication. Credit is allowed for one insertion only. Copies are distributed FREE. Although Trader's Publishing believes the information herein has been produced and processed from
Page 2 TRADER'S Week of September 15, 2023 ALONG OTHER LINES
Cheyenne 72
Skyline
1807 E. Fox Farm Rd.
0
Rd., Laramie • 307-742-5667
Delivery Available (Not Included in Price) Cash, Checks and Credit Cards Accepted (40 lb. bags)
1-800-634-8895
- info@wyotraders.com FAX - 634-8530
E-Mail
Online - www.wyotraders.com
Southeast Wyoming and Southwest Nebraska Since January 1973
17,500 Weekly
Circulation (Audited) Over
Laramie, Wheatland, Pine Bluffs,
WY.
Kimball,
Publisher Patrick E. Rice Consultant (in spirit) C. Robert Johnigan General Manager Marc Stout Advertising Consultants Dawn Foster Annette
Serving: Cheyenne,
Torrington,
Also
Scottsbluff, Gering, NE.
sources believed to be reliable, no warranty, expressed or implied, is made regarding accuracy, adequacy, completeness, legality, reliability or usefulness of any information. This disclaimer applies to both isolated and aggregate uses of the information. Trader's Publishing provides this information on an "as is" basis. Trader's Publishing shall not be liable in the event of incidental or consequential damages in connection with, or arising out of, the providing of the information offered. If you have questions regarding Trader's Shopper's Guide please contact Trader's Publishing 2021 Warren Avenue, Cheyenne, Wyoming 82001 or phone (307) 634-8895, fax (307) 634-8530 or E-mail to info@wyotraders.com. Inside This Week's Issue Along Other Lines 2-14, 18-24 Along Other Lines Show & Sell 8 Automotive Services 26 Critter Corner 19 Downtown Feature Page 3 Employment 12 Farm & Ranch 19 Garage Sale Guide 13 Home and Garden Directory 12 Lost, Found & Free 14 Lunch Menu 20 On The Road 17, 24-28 On The Road Show & Sell 25 Our Community 18, 22 Outdoor Life 20 Professional Services 7-9 Puzzle Page 11 Puzzle Page Answers 24 Real Estate 14-15 Real Estate Open House Guide 14 Real Estate Rental Guide 15 INDEPENDENT FREE PAPERS OF AMERICA
Saturday,
doors
9:05am-11:55am Free ad m i s s i o n , i n c l u
12th Africa MAAFA Remembrance Day Conference,
Oct 14, 2023,
open at 8:30am, conference begins
food donations benefit the Salvation Army QUILTS ALONG THE PLATTE 2023, 29TH
An n u al Qu i l t S h ow: P re s e nte d by G o s h e n County Quilters, Sept 1516 10am-5pm, Sept 17 10am-2pm, at the Rendezvous Center, Goshen County Fairground, Torrington WY Free admission Quilts, boutiques, demonstrations, vendors, opportunity quilt, food trucks and more! This ad was funded by the Goshen C o u nt y Lo d g i n g Tax
PAYING TOP DOLLAR FOR SCRAP METALS!
Aluminum, steel, brass, copper, scrap iron, batteries, aluminum cans Large scales for big loads convenient drive through, cash paid for your ferrous and non-ferrous metals
Cheyenne Auto and Metal, 3001 S Greeley Hwy, please enter from Nation Rd, 307-634-5859
HUGE TOOL SALE:
1864 ANDOVER DR, in the backyard, Sat, Sept 16, 7:30am Estate sale of 1950 s Texaco gas station, too much to list don't miss out! Hosted by Funkey
Money Rescued Treasures, 501c3 non-profit
NEW METAL DETECTOR, $80 GATOR truck bed cover, $60 Propane patio heater, $130 Room heaters sports Avalanche blanket Call 307-4210393
NATURAL BEEF DRY-
AGED 21 DAYS, hormone and antibiotic free, half, quarter beef and individual cuts, free delivery in Cheyenne with $75 minimum order Wyoming Pure Natural Beef, 621 S l ate r Rd , W h e at l an d , WY 82201 www wyom ingpure com, 307-331-1176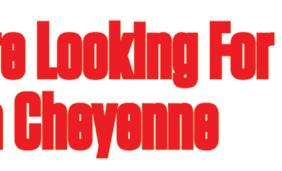 FALL RV CLEARANCE
SALE: SPONSORED by Bish s RV, Sept 15-17 at the Event Center at Archer, 3801 Archer Pkwy in Cheyenne, free admission!
Best prices of the year!
Select RVs starting as low as $12,991 Shop travel trailers, 5th wheels, motorhomes, toy haulers and more! Find payments starting at $149 per month!
See dealer for details
Enter to win a Cummins Onan 4500w generator! Cheyennefallrvshow com
SUNNY DAYS HANDYMAN, GENERAL c arp e nt r y an d exte r i o r p ai nt i n g , fre e q u ote s , ex p e r i e n c e d an d i ns u re d 3 07-3 6 5 -9 3 47
SPRINKLER BLOWOUTS, FALL CLEANUP AND leaf removal Ace Outdoor
Solutions, 307-222-8149
PURCELL WOOD PELLETS, $399 FOR 50 bag pallets of 40lb bags
Delivery available not included in price We take cash, credit cards and checks Dooley Oil Inc, 1807 E Fox Farm Rd, Cheyenne, 307-6327616 or 720 Skyline Rd, Laramie 307-742-5667
LARGE, VERY NICE, CLEAN, BRIGHT, quiet great location, big kitchen with eating nook, washer and dryer hookups, water paid, no pets or smoking, references and deposit required, $775 per month Call 307-7789985 to leave message and phone number
WELL PROBLEMS? WE CAN HELP! CALL US 24/7! We're committed to excellence in serving our community! Domestic and residential, stock wells, pressure tanks, constant and standard pressure syste m s , s o l ar we l l systems Locally owned and operated licensed and insured Adam 307996-7110, LGDrilling com, office@LGDrilling com
BATHROOM REMODELS, TILE, FLOORING Years of experience, detailed work, fair prices For free estimates call or text 307-287-6471
TWISTED WRENCH AUTOMOTIVE
Full truck and automotive repairs and maintenance, full upholstery and detailing service military discount Call 307-514-0051
THE CHEYENNE FARMER'S MARKET, every Sat, Aug 12 - Oct 14, 7am-1pm, Frontier Park, CFD Parking Lot B off 8th Ave free parking in Lot C off of Carey Ave
We accept EBT and Credit/Debit cards
WE'VE GOT TRAILERS! FULL SERVICE facility with over 30 years of combined experience We service all types of trailers K's Trailer Parts and Service LLC 4194 W 5th St 307-632-0600 K sTrailer Parts com
PAINTING, INTERIOR AND EXTERIOR, dry wall installation and finishing, d r y wal l re p ai r s and texturing Call today for a free estimate, S u p e r i o r Painting and Remodeling 307-286-7482, licensed and insured
MULTI-DEALER SHOP
WITH FUN AND affordable nostalgia on 2 floors! Antiques Central, LLC, 2311 Reed Ave, Tue-Sat, 10am-4pm, 307-638-6181
Follow us on Facebook!
TWIN BED SET INCLUDES: HEADBOARD, Simmons mattress, mattress cover, box springs and frame $70 307-2750477
SAF E ST E P N ORT H AM E R ICA'S # 1 Wal k-i n tub Comprehensive lifetime warranty Top-ofthe-line installation and service Now featuring our free shower package and $1600 off - limited time! Financing available 1-855-417-1306
ASPHALT WORK! COWBOY ASPHALT, seal coating, patching, hot rubber crack filling, parking lot and driveway maintenance Bryan Mason, 307-215-1933
SHABBY CHIC SALE, FRI, SEPT 15, 10am-5pm, Sat Sept 16 9am-1pm
Gently used purses, scarves and jewelry at great prices! CRMC Auditorium A, 214 E 23rd St Proceeds benefit Cheyenne Regional Medical Center Volunteers grant projects at CRMC For more info contact Brenna at 307-633-7513 Cheyenne Regional Volunteers
THREE BEDROOM HOUSE FOR RENT, fenced yard, sprinkler system, off street parking, washer dryer hookups, newer remodel, absolutely no animals, no smoking, $1200 m o nt h l y p l u s d e p o s i t available soon 307-421-8881
Week of September 15, 2023 TRADER'S Page 3 ALONG OTHER LINES F ind What You're Looking For In Downtown Cheyenne MULTI-DEALER SHOP with Fun and A ordable Nostalgia on 2 Floors! Central, LLC Follow Us on Ave. • 638-6181 Tuesday-Saturday • 10am-4pm MULTI-DEALER SHOP with Fun and A ordable Nostalgia on 2 Floors! Antiques Central, LLC Follow Us on 2311 Reed Ave. • 638-6181 Tuesday-Saturday • 10am-4pm OPEN 7 DAYS A WEEK MON.-SAT. 9-5 • SUNDAY 12-5 307-632-0004 415 W. LINCOLNWAY FLEA MARKET BART's Cheyenne's Oldest & Largest Flea Market! Antiques & Collectibles. Furniture, Mid-Century, Books, Comics, Vinyl Records, Pottery & Glassware, DVDs & VHS, Vintage Clothing, License Plates & a Whole Lot More! Renting ALL Band & Orchestra Instruments Cheyenne's Quality Music Center 1609 Central Ave. • 637-5222 DECO DECORATE FOR FA LL ! Great Autumn Items are Here ! W.ECLECT ICEL EPHANTANTIQU ES.COM 112 W. 18th St. • 638-2588 Tues.-Sat 10-5 • Sun Noon-5 W ADVANCED COUNTE R PRESSURE FILLING STATIONS!!! 36Open 5aDays Year Shelf 30Life-45 Days TU SK ER BA R 3310 RI DG E RD. 63 4-333 'S PACK AG E LI QUOR DT'S SPORTS BA R DT'S BA MON -THURS: 2P M- MIDNIG HT FRI & SAT: 2P M-2A M • SU N: 10AM -1 0P TH URS: 8A M-12AM • FRI-SAT : 8A M-2A M SU N: 10AM -1 0P M MO N-TH URS: 2P M- MIDNIG HT FRI & SAT: 2P M-2A M • SU N: 10AM -1 0P M TH E CODE FO R MORE MONTHLY SAVI NG S f SCOU NT QUOR 3 4 DT' T T' ' D M M N-T T FR SC AN F MO SA 25 oz . Crowler FRESH CRAFT BEER GROWLERS & CROWLERS 32 OZ . GROWLERS ARE BACK! 12 Varieties tochoose from HIGH SPIRIT HOLISTIC SHOW, SEPT 23-24, 1 0 am -5 p m Re d L i o n Hotel, 204 W Fox Farm Rd, Holistic living, readers and visionaries, relaxation, m et ap hys i c al s h o p p i n g $5 per adult or 5 non perishable food products or personal hygiene items, 12 and under free with adult! Fo r m o re i nfo r m at i o n p l e as e e m ai l An g i e at angiefarnum@yahoo com,