Classifieds ACTIVITY ZONE A C T I V I T Y Z O N E March M a r c h 24-26 2 4 - 2 6 Event Center at Archer E v e n t C e n t e r a t A r c h e r OVER 30 OVER 30 NEW NEW VENDORS! VENDORS! HUNTING • FISHING • CAMPING HUNTING • FISHING • CAMPING HIKING • APPAREL HIKING • APPAREL EXCURSIONS • MUCH MORE! EXCURSIONS • MUCH MORE! Axe A x e TThrowing h r o w i n g Rock R o c k Climbing C l i m b i n g Wall W a l l F r i d a y : 1 p m - 7 p m S a t u r d a y : 1 0 a m - 7 p m S u n d a y : 1 0 a m - 4 p m sponsored sponsored by by Adventure Package Adventure Package Week of March 17, 2023 FILL OUT YOUR NCAA BRACKET ON PAGE 3
INDUSTRIAL STORAGE CONTAINERS FOR SALE or rent, we deliver! Call for a free quote, 303929-1026 Denco Container LLC, dencocontai ner com
FLYTE SANITATION, RESIDENTIAL and commercial, reliable, timely service Weekly, bimonthly or monthly, service is the only thing we sell 307-635-0184
TRADERS RECOMMENDS
THAT YOU investigate companies which require you to send money for your information or products advertised in this publication Be aware that anything other than "800," "866," "877," and "888" numbers including "900" numbers will be charged to your phone bill Seek information from the company before you invest your money
You may contact the Attorney General's Office, Consumer Affairs at 123 Capitol Bldg Cheyenne WY, 82002, 307-777-7874 for more information
MULTI-DEALER SHOP
WITH FUN AND affordable nostalgia on 2 floors!
Antiques Central LLC
2311 Reed Ave, Tue-Sat, 10am-4pm, 307-638-6181 Follow us on Facebook!
SPORTSMAN'S EXPO, SPONSORED BY BISH'S RV at the Event Center at Archer, March 24-26, Fri 1pm-7pm, Sat 10am7pm and Sun 10am-4pm
Over 30 new vendors for hunting, fishing, camping, hiking, apparel, excursions and much more Activity zone featuring a rock climbing wall and axe throwing, enter to win a chance at an Adventure Package sponsored by JAX
DIRT WORK, DRIVEWAY
LEVELING, resurfacing, prep building sites, trash and debris removal snow plowing, pen and barn cleaning, acreage mowing, granite boulders for sale tree and post holes, asphalt patchwork, belly dump and contract hauling, residential, rural, commercial free estimates, reasonable rates M&M Enterprises LLC, 307-631-9313
IT'S TIME TO LET IT GO MOVING ON IS A GOOD thing! Plus, your donations help provide job training and educational opportunities in your community Goodwill is in 2 convenient locations, 2131 Mason Way and 3301 E Nationway Your donations are always welcome Mon-Sat, 9am7pm Sun 10am-6pm www GoodwillWy org
ACCOMPLICE, PRESENTED BY CHEYENNE Little Theatre Players, March 17 - April 2 2023 dinner theatre available on select evenings, at The Historic Atlas Theatre, 211 W Lincolnway, Cheyenne, WY 82001 Order tickets at 307-638-6543 or chey ennelittletheatre org
LANDLORDS, HOMEOWNERS, ARE YOU looking for a handyman for your properties? I'm a local handyman with 6+ years of experience with a general contractor Professional and trustworthy Text or call Nick at 307-287-6471 to schedule a free quote, please leave a voicemail
RISING FORCE CON-
CRETE CONTRACTORS, best deal in town Affordable, stamped, decorative, colored, all types of concrete and epoxy floor coatings, now offering Elite Crete Systems epoxy flooring and microfinishing! B u s i n e s s an d re s i de nt i al fo u n d at i o n s licensed and insured Call Dan, 307-220-8565
THE GENERAC PWRCE L L S OL AR PLUS battery storage system S ave m o n ey, re d u c e reliance on grid prepare for outages and power your home Full installation services $0 down financing option Request free no obligation quote 1-877-539-0299
WE BUY VINYL!
Record collections, large and small purchased Downtown Vinyl, 1612 Capitol Ave, 307-6323476
CAPITOL CITY THRIFT STORE: FURNITURE, collectibles and more! New inventory daily! Best prices in town! We buy vintage items, estates and garage sale leftovers! Huge selection, great quality great prices! 611 Crook Ave #9, 307-2756891, open 7 days a week, 9am-5pm
BART'S FLEA MARKET: ANTIQUES, collectibles and a whole lot more!
Cheyenne s oldest and largest flea market! Open 7 days a week Winter hours: Mon-Sat 9am-5pm, Sun 12pm-5pm 307-6320004, 415 W Lincolnway
E AR LY M OR N IN G HAPPY HOUR, MON-FRI, 7am-9am and afternoons Mon-Fri, 3:30pm-6pm, plus topless dancers 7 days a week starting at 5pm Only at the Green Door 301 E Lincolnway
CHEYENNE'S NEWEST FLEA MARKET! GREAT selection and wide variety of unique items Antiques, jewelry collectibles vintage and a large variety of n ew i te m s we e k l y !
Christine & Co, open Tues-Sat 10am-4pm, Sun 12pm-4pm, closed Mon, 617 W Lincolnway, 307631-0195
DADS MAKING A DIFFERENCE, empowering Wyoming dads, strengthening Wyoming families Find out more and how to apply at 5221 Yellowstone Rd, 307-777-3454 or go to DADS website at dws wyo gov/dads Wyoming Workforce Services
BACA AND SON CONCRETE, SPECIALIZING in all types of flatwork, residential and commercial No job too small, 50 years experience, free estimates, licensed and i n s u re d 3 07-421 -7 21 4, 307-286-1561
THE CHICAGO DOG HOUSE, GOOD MOOD Food featured style dogs sandwiches, sausages, perogies, spiral spuds, phillys, chili cheese fries, soups Enjoy soup of the day and specialty sausages to choose from Joins us for Weenie Wednesdays 409 W 4th St drive thru available, 307514-2295, call ahead to order
WITH WINTER ON THE RUN, GET READY FOR spring and summer fun Painting, staining, power washing, large or small, we do it all Professional work while you sit back and enjoy the sun Local, licensed, insured, and
Office Hours:
Sherwood
Monday, Tuesday, Thursday, Friday 8:00 a.m.-3:00 p.m. Wednesday • 8:00 a.m.-4:00 p.m.
Ad Deadline is Wednesday by 4:00 p.m. for Friday's Edition.
Community Profile Deadline is Tuesday by 12:00 Noon.
All phone numbers in Trader's with no area code can be prefixed with the Wyoming 307 area code.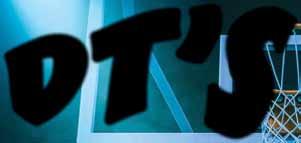 CLASSIFIED AD RATES:
Walk-in Personal Prepaid: $4.00 min. (20 words). 10¢ per word thereafter. Phone-in Personal: $5.00 min. (20 words). 10¢ per word thereafter.
Business: $5.00 min. (20 words). 10¢ per word thereafter.
Trader's Shopper's Guide is published weekly by Trader's Publishing. All rights reserved. No portion of Trader's may be reproduced in whole or in part, in any media without the expressed written permission of the publisher. This includes, but is not limited to, the use of any text (regardless of length), chart, figure, table or image. All electronic-transmitted rights are reserved. Trader's website pages may not be duplicated or reproduced without the expressed written consent of Trader's Publishing, except in the form of brief excerpts or quotations for the purposes of personal review. The information published in Trader's both print and web-based, is for the personal use of the reader and may not be incorporated into publications or databases without the written consent of Trader's Publishing. Making copies of these pages or any portion for any purpose other than personal use is prohibited.
Trader's Shopper's Guide reserves the right to reject or edit any advertisement. Trader's is not financially responsible for typographic errors or omissions. Liability shall not exceed the portion of space attributable to the error. Trader's must be notified within 7 days of publication. Credit is allowed for one insertion only. Copies are distributed FREE. Although Trader's Publishing believes the information herein has been produced and processed from sources believed to be reliable, no warranty, expressed or implied, is made regarding accuracy, adequacy, completeness, legality, reliability or usefulness of any information.
Page 2 TRADER'S Week of March 17, 2023 ALONG OTHER LINES DT'S LIQUOR MART MON- SAT: 8AM-11PM • S UND AY : 10 AM -10P M TUSK ER BAR MON-T HUR S: 2PM-MIDNIGH T FRI & SAT: 2PM-2A M • S UND AY : 10 AM -10P M 3310 RIDGE RD. 63 4- 333 4 S UND AY : 10 AM -10P M DT'S SPOR TS BA R MON-T HUR S: 2PM-MIDNIGH T FRI & SAT: 2PM-2A M • S UND AY : 10 AM -10P M 2121 E. LINCOL NWAY 632- 34 58 2 Tw o Convenien t Locatio ns Open 365 Days a Year March Beer Specials "MALT MANIA" Pabst Blue Ribbon 24 Pack Cans Bud, Bud Light 24 Pack Cans Busch, Busch Light 30 Pack Cans $2359 $1749 $2279 $2189 SC AN TH E CODE FO R MORE MONTHLY SAVING S Coors, Coors Light, Miller Lite, MGD 24 Pack Cans 307-632-7616 1807 E. Fox Farm Rd. Cheyenne 720 Skyline Rd., Laramie • 307-742-5667 $399 50-Bag Pallets Delivery Available (Not Included in Price) Cash, Checks and Credit Cards Accepted (40 lb. bags) in a picture ad Lapidary Equipment 12" diamond saw, polish station and jigsaw. If interested, price negotiable. Call Bill (208) 699-2813, Cheyenne area. 2021 Warren Avenue, Cheyenne, WY 82001 634-8895 or Outside Cheyenne Phone Toll Free 1-800-634-8895 E-Mail - info@wyotraders.com FAX - 634-8530 Trader's Online - www.wyotraders.com Serving Southeast Wyoming and Southwest Nebraska Since January 1973 Circulation (Audited) Over 17,500 Weekly Serving: Cheyenne, Laramie, Wheatland, Pine Bluffs, Torrington, WY. Also Kimball, Scottsbluff, Gering, NE. Publisher Patrick E. Rice Consultant (in spirit) C. Robert Johnigan General Manager Marc Stout Advertising Consultants Dawn Foster Annette Jones Graphic Design Susan Foley Ben Achatz Jeff Carter Our Community Susan Foley Ben Achatz Classifieds Brandon Maestas Vickie
This disclaimer applies to both isolated and aggregate uses of the information. Trader's Publishing provides this information on an "as is" basis. Trader's Publishing shall not be liable in the event of incidental or consequential damages in connection with, or arising out of, the providing of the information offered. If you have questions regarding Trader's Shopper's Guide please contact Trader's Publishing 2021 Warren Avenue, Cheyenne, Wyoming 82001 or phone (307) 634-8895, fax (307) 634-8530 or E-mail to info@wyotraders.com. Inside This Week's Issue Along Other Lines 2-14, 16-20, 22-23 Along Other Lines Show & Sell 2 Automotive Services 26 Critter Corner 23 Employment 22 Farm & Ranch 20-21 Lost, Found & Free 20 Lunch Menu 22 NCAA Bracket 3 On The Road 23-28 On The Road Show & Sell 24 Our Community 12, 18 Outdoor Life 20 Personals 18 Professional Services 7-9 Puzzle Page 17 Puzzle Page Answers 22 Real Estate 14-15 Real Estate Open House Guide 15 Real Estate Rental Guide 14 INDEPENDENT FREE PAPERS OF AMERICA
BBB accredited Call Mystical Expres-
LLC
a free es-
sions,
for
timate, 970-420-4221

Week of March 17, 2023 TRADER'S Page 3 NA TIONAL CHAMPIONSHIP April 3
sure to shop these fine businesses that sponsored this bracket. 2023 NCAA MEN'S DIVISION 1 BASKETBALL CHAMPIONSHI P ROUND 1 March 16-17 ROUND 2 March 18-19 SWEET 16 March 23-24 ELITE 8 March 25-26 SWEET 16 March 23-24 ELITE 8 March 25-26 FINAL FOUR April 1 ROUND 1 March 16-17 ROUND 2 March 18-19 FINAL FOUR April 1 NA TIONAL CHAMPIONSHIP April 3 SOUTH EAST WEST MIDWEST Alabama Maryland West Virginia San Diego St. Charleston Virginia Furman Creighton NC State Baylor UCSB Missouri Utah St. Princeton Fair Dickinson Memphis Oral Roberts ennessee Louisiana Kentucky Providence Kansas St. Michigan St. USC Marquette Vermont Montana St. T exas A&M CC 1 16 8 9 5 12 4 13 6 11 3 14 7 10 13 6 11 3 14 7 10 2 15 1 16 8 9 5 12 4 13 6 11 3 14 7 10 2 15 1 16 8 9 5 12 4 13 6 11 3 14 7 10 2 15 Houston Iowa Auburn Miami Drake Indiana Kent St. Iowa St. Pittsburg Xavier Kennesaw St. T exas A&M Penn St. T exas Colgate Kansas Howard Arkansas Illinois Saint Mary' s VCU UConn Iona TCU Arizona St. Gonzaga Northwestern Boise St. UCLA UNC-Ash. Grand Canyon N. Kentucky 21 0 E . 1 5T H S T. 2 1 E 15 T C HEYENN E • 6 34 -1 73 6 D S 4W H EEL DRIV E. CO M 21 0 E . 1 5T H S T. C HEYENN E • 6 34 -1 73 6 DS 4W H EEL DRIV E. CO M TH E B IG BO YS ' & GIRLS ' T OY S TO RE ! www.TandTautoCenterWy.co • Hail/PDR Repair • Full Auto & Diese Repair & Tire • Full Body Shop • After Hours Service 613 W. College Dr. • 638-3108 nterWy.com R ep a r ir Dies e Diesel ires e S rv ice er v • 638-3108 8 8 8-31 0 6 38-3108 61 0 W. 15 TH ST . 63 4HV AC (4 822) TH E HE AT ING AN D CO OL ING CO MP AN Y YO U CA N CO UN T ON ! Flooring Yo ur Home Yo ur Fl oo r 35 73 E. Li ncol nway • 77 8-3 173 Absolute Fl ooring Wy o.co m AB SO LUTE LY ! YO UR ST ORE! Wholesale Food Service Supplie r Pete & Rock Pontillo 309 W. 9th St. • 634-5885 Y our M ountain Bi ke HEADQ UA R TERS 2634 Dell Range Blvd . 307-634-4268 www .bicy clestation.c om No S ho rt C ut s No C om pr om o is e No Shor t Cu ts No Compromise S e r v i n g C h e y e n n e f o r o v e r 2 5 y e a r s Se rv ing Cheyenne for over 25 year s. Le nno x Aut o Body 10 20 Dunn Ave. 30 7634-6608 Le nno x De ta il Ce nt er 61 7 E. Pe rs hin g Bl vd. 30 763423 73 Re me mb er : Do n' t Flus h Ba by Wipes • Pa per To we ls or Ot her Pa per Pr oducts To ilet Pa per On ly ! Tr u ste d A dvice & Solutions for al l the ri sk s uyo face DBUDD @A LL ST AT E. CO M 63 56266 Don Budd FOR A QUOTE. AN DERS AUT O GL ASS hey W ant Yo ur MON EY, We W ant Yo ur B USI N ESS ! hW t Th Wt Y AndersAutoGlass.com AndersAutoGl as d de to l Gl 3 0751 4-090 1 W IN DS HI ELDS • DOOR GL AS SE S QU ARTER GL ASS ES • BA CK GL AS SE S 1639 Dell Range Blvd. 307-634-7318 GlobalSpas .net Tr uc k Ca ps & T onneaus Sinc '88 Located at 4408 W oodhouse Rd . 30 763 481 34 Whether you're looking for a new job or are ready to add more sta turn to the experts. At Express Employment Professionals, we ta ke the time to u nderstand what you're looking for We 're a full-servic e staffing compan y, with the ability to place people in a variet y of jobs, including: Contact Express today ! (307) 632-0567 2205 E. Pershing Blvd Cheyenne, WY 82001 ExpressPros.co m • Administrative • Professional • Industrial/Commercial • Skilled Trades d e re o o oo d ng n o or o s n w b W he h a e he y r o yo For All Your Building Needs LUMBER COMPANY 1222 Dunn Ave. 634-4471 The Name You've Known & Trusted for over 50 Years (3 07 ) 36 961 71 GOOD THROUG H AP RI L 30 20 23 WITH THIS AD  FR EE FL AT FI X * *GOO D FO R A PL UG OR $1 0 OF F RE PA IR S Locall y, Fa mily & Ve teran Owne d 50 1 S. Greele y Hw y. Cheyenne, WY 82 00 7 y • 30 751 4-62 31 $ 15 OF F Cerami c Brake Ser vice OR Brake Syste m Power Flush ncoln w ay $ 10 OF F O y3 05 6 3 56 co brak es to pc entral.com 62 4 8 Y el lo wstone Roa d Cont act our o ce to get sta rt ed ! (3 07 ) 6 32 -9 008 Yo u r f ut ur e sta rt s now ! We ca n wo rk to ge th er to create a retireme nt pl an for yo ur fu tu re so you ca n en joy li fe as it co me s. Securit ie s & se rv ic es of fere d throug h FB L Ma rk et in g Se rv ic es LL C, + 5400 Univer si ty Avenue , We st De s Moines IA 5026 6, 87 7. 86 0. 2904 Member SI PC Proper ty -ca sual ty insu ra nc pr oduc ts of fere d th roug Moun ta in We st Fa rm Bu re au Mu tual In su ra nc Company /L ar amie WY Life insu ra nc e an annuit y pr od uc ts of fere d th roug h Fa rm Bu re au Life In su ra nc Company +* /W es De s Moines Io wa +A ff ili ates *C ompany pr ov ider of Fa rm Bu re au Fi nancia Se rv ices ty rrellw yo.c om Se En ve ntory at 19 30 LINCOLNW 540 Li nc ol nw ay Liqu or Li nc ol nw ay Liqu or 2825 E. LINCOL NW AY #B NE XT DOOR TO LI NC OLNW AY PA WN 63 415 02 DON' T ST AR T THE PA RT Y WITHOUT US !
Be