DiningLUXURYDestinationsAugust2022
04| Three Elements Restaurant 06| Pago Restaurant 07| Saltida at ANA InterContinental Ishigaki Resort 08| TEPPANYAKI TEN 09| Spiral Manila 10| The Roof at Joy~Nostalg Hotel & Suites Manila 11| Olive 12| Pahn-Thai Restaurant 13| French Windows 14| WA-RA Japanese Restaurant 15| The Silk Road 16| Big Fish Restaurant & Bar 17| Mai Restaurant & Bar 18| il Muro Italiano 19| Pakka Indian Restaurant 20| Aroma Restaurant - Gozo Brew House 21| @Saipe 23| Tattersalls Hotel Armidale Restaurant 24| Mambo Restaurant 25| Kin Toh 26| HUB FOOD ART LOUNGE by Pullman August 2022 OCNTENTS
28| Brezza Restaurant 29| Soul of Kitchen Restaurant 30| Seki Restaurant 31| Novikov Istanbul 32| Golden Monkey Thai Restaurant 33| Cipro Italian Restaurant 34| Poseidon Italian Restaurant 35| Samurai Sushi Restaurant 36| Mari Kristin Beach Hotel Main Restaurant 37| Nagai Restaurant Ibiza 38| Jerónimo 39| Oroya 40| Olivia Mediterranean Market 41| Brasserie St. Georges 43| BA BOLDLY ASIAN 44| Bella Restaurant & Lounge 45| L'Etoile 46| Sankofa Restaurant 47| A'la Turka 48| Indochine Restaurant
Three Elements Restaurant Hanging Gardens of Bali - INDONESIA
Three Elements offers an à la carte selection of appetizers, entrées and desserts as well as two unique tasting menus with optional wine pairing using the highest quality products and impeccable technique to create a modern cuisine influenced by Indonesian flavour.
Experience creativity, warmth and impeccable cuisine on an enthralling culinary journey orchestrated by the chefs, using modern and innovative cooking techniques that combines global flavours and a strong focus on local ingredients and flavours.
Cover Feature Website Email
4 | Luxury Dining Destinations | August 2022
A culinary journey through the ingredients, influenced by Indonesian flavour and the seasons of Bali.
Spectacular misty views of the rain forest by day and a thousand candles lighting up the night await all guests to the restaurant and lounge / bar.
ASIA
Luxury Dining Destinations | August 2022 | 5 ASIA
6 | Luxury Dining Destinations | August 2022 A highly interactive yet sophisticated open live cooking kitchen concept, with a casual ambience. Pago Restaurant offers a wide buffet selection and an à la carte menu. Website Email Pago Restaurant The Papandayan, Bandung, Bali - INDONESIA ASIA
Luxury Dining Destinations | August 2022 | 7
SALTIDA showcases the best of the island with its fresh seasonal foods that are sourced on a daily basis. Ishigaki Island salts, containing some of the highest mineral contents found in the rich oceans, are per fectly paired. Each dish tells a unique story, expertly prepared by the experienced chefs.
Website Email ASIA
Saltida at ANA InterContinental Ishigaki Resort ANA InterContinental Ishigaki Resort, Okinawa - JAPAN
Ishigaki is famous throughout Japan for its high quality, fresh locally caught seafood and world famous Ishigaki beef, locally grown vegetables, herbs and artisan salts.
Teppanyaki TEN, located in Okinawa EXES Naha hotel, part of EXES brand of hotels that are part of Kariy ushi Hotels Group is situated in the heart of Naha, the capital City of Okinawa Island. It is a short walk from Nahas main shopping and night life street and is a 15 minute drive from Naha Airport.
Teppanyaki TEN is where you can enjoy exquisite steaks and the finest carefully selected wines while watching the chef's skilled cooking in front of you.
8 | Luxury Dining Destinations | August 2022
The seating area of the Teppanyaki TEN consists of 20 counter seats and a private room for 6 people only.
Website TEPPANYAKIEmail TEN Okinawa EXES Naha, Okinawa - JAPAN ASIA
Luxury Dining Destinations | August 2022 | 9 Imagine life as an enchanted journey across the world's most renowned countries. Spiral houses seasoned culinary artisans who masterfully prepare the world's most loved dishes right be fore your very eyes. With 21 dining ateliers under one roof—L'Epicerie, L'Ecailler, Salad and Appetizer, Peking Duck Oven, Ro tisserie, Churrasco, Wood Fired Oven, Hot Japanese, Sushi & Sashimi, Asian Noodles, Steam Baskets, Ko rean, Filipino, La Patisserie, French Stove, North Indian, Chinese Wok, Thai, La Boulangerie, Chocolaterie, and Creamery—gourmands can give their palates a taste of the world as sumptuous dishes are served à la minute in a first-class and Asia's most interactive dining setting that is uniquely Spiral. Website Email Spiral Manila Sofitel Philippine Plaza Manila - PHILIPPINES ASIA
Perched on the 43rd floor of Joy~Nostalg Hotel & Suites Manila, you'll feel like you're on top of the world. Cool down with a refreshing cocktail during the golden hour and savor the cityscape in yellow orange Ashues.the sun goes down and the night lights start to sparkle, complement the dazzling scenery with mouth-watering bites, grilled dishes, and pizzas. This is one sweet spot for a date-night or a catch-up with your chosen few.
Website Email
At The Roof, enjoy a panoramic view of the vast sky, lush greenery, and the stunning skyline.
The Roof at Joy~Nostalg Hotel & Suites Manila
Joy~Nostalg Hotel & Suites Manila - PHILIPPINES
10 | Luxury Dining Destinations | August 2022
ASIA
Olive Hilton Clark Sun Valley Resort, Pampanga - PHILIPPINES Website Email ASIA
Luxury Dining Destinations | August 2022 | 11
Olive is a vibrant and colorful all-day interactive buffet outlet serving breakfast, lunch and dinner daily. Located at the third floor of the Hilton Clark Sun Valley Resort, the restaurant features local and interna tional options that evolve to a more Mediterranean taste towards lunch and dinner. Enjoy the chefs' skills in the extensive open kitchens. A small à la carte menu complements the array of interactive buffet counters and is supported by a creative beverage list featuring local and international drinks.
12 | Luxury Dining Destinations | August 2022 Pahn-Thai Restaurant Berjaya Langkawi Resort, Kedah - MALAYSIA Not just any Thai restaurant in Langkawi, Pahn-Thai Restaurant is uniquely built on stilts over clear ocean waters and serves exquisite Thai cuisine with an ex tensive wine list in a fine-dining setting. Savour a unique dining experience in the relaxing open-air seating area and enjoy the beauty of the Andaman Sea and the Mat Chinchang mountain range while you feast on authentic Thai specialties. Website Email ASIA
Luxury Dining Destinations | August 2022 | 13 French Windows Taipei City - TAIWAN
French Windows Taipei is the first British Tea House inspired property—where a legendary 300 years' tea brand "Twinings" superior tea experience awaits. The Tea Library contains seasonal and artisanal tea vari eties and stock with more than 200 different teas from the world, served by fine tea specialists.
When tea time strikes in Taipei, locals and visitors alike love French Windows for a classic British After noon Tea under the iconic "Golden Age" -inspired brass chandeliers. Stunning triple-tier towers filled with a delicious assortment of sweet and savory treats grace French Windows tables daily. Be spoilt with the seasonal à la carte menu, featuring classic dishes, signature spaghetti, ideal for power lunches or a light, sophisticated dinner. Choose from a fine selection of international cuisine, from hearty Italian meals to Continental favorites and Asian specialties. Email
Website
French Windows is a place to see and to be seen. It is not only known for its cozy atmosphere and breath taking scenery magnificently framed by floor-to-ceiling French window in the reception area, but also offers a classy high-tea.
ASIA
Website Email ASIA
WA-RA Japanese Restaurant
14 | Luxury Dining Destinations | August 2022
InterContinental Kaohsiung - TAIWAN
WA-RA Japanese restaurant is led by Japanese Head Chef Masakazu Kudo, with his rich Kaiseki heritage, Chef Kudo will present an array of innovative fare that showcases the InterContinental Hotel's fine-tuned attention to cultural detail. Each dish is a seamless blend of the best ingredients representative of Kaohsiung's four seasons and Chef Kudo's precise skills in the Japanese culinary art of warayaki.
WA-RA bar is set on a patio with a 30-meter-high ceiling. The experimental theater-like space is comple mented by two nightly showings of "The Sea of Fertility," an immersive digital art display that will take guests on a stunning futuristic journey of light and sound. The digital art installation is shown as a highlight in WA-RA Japanese Restaurant. Consisting of four parts. The Origin of All Things, the Ocean of the Universe, the Four Seasons of Japanese Culture, and Smart City - the light show is an exposition of Kaohsiung's history and its imagined future. "We hope that showcas ing such physical as well as virtual content both now and, in the future, will further enrich the meaning of luxury travel for each and every one of our guests."
The Silk Road serves classic Cantonese cuisine with a 21st-century edge; the dishes being rooted in ageold traditions yet inspired by modern interpretations and cooking techniques. Along with sourcing the finest ingredients and extracting the authentic natural flavors, the artistic presentation adds a further sensory experience for the guest.
The concept of "Modern Authenticity" is to the forefront of the menu, in which the chefs respect the her itage of the recipes and traditions and present them for a modern audience. The signature Peking Duck is marinated with Chinese wine and professionally grilled to produce skin that is exceptionally crispy, thin yet succulent and served with caviar.
Luxury Dining Destinations | August 2022 | 15 The Silk Road The Athenee Hotel, a Luxury Collection Hotel, Bangkok - THAILAND
The Silk Road is one of most reputable Chinese restaurants in Bangkok and achieved fame amongst lo cals and overseas visitors.
Website Email ASIA
Nestled on the golden sands of Nai Yang Beach, overlooking the Andaman Sea, Big Fish Restaurant & Bar is the perfect place to unwind and enjoy the area's stunning scenery. This signature restaurant serves an international lunch and dinner menu that showcases the finest sea food and steaks, often sourced from local suppliers including Phuket fishermen, and always cooked to perfection by the expert chefs. Choose from indoor or al fresco seating, the latter allowing diners to listen to the whisper of the gentle ocean waves. Alternatively, guests can opt to relax at Big Fish Bar which is the perfect place to soak up the spectacular sea views whilst enjoying a glass of wine or creative cocktail.
Phuket Marriott Resort and Spa, Nai Yang Beach, Phuket - THAILAND Website Email
ASIA
Big Fish Restaurant & Bar
Big Fish Restaurant offers a regular themed buffet, plus the option of a private candlelit dinner, to ensure the most romantic setting for your special occasion.
16 | Luxury Dining Destinations | August 2022
Luxury Dining Destinations | August 2022 | 17 Explore the piquant flavours and textures of Thai cuisine served in an intimate atmosphere. Celestially situated on the 21st floor, this is the signature restaurant of Meliá Chiang Mai. The chefs prepare each dish à la minute in an open kitchen. The à la carte menu consists of contemporary Lanna (Northern Thailand) dishes with Mediterranean influences. Website Email Mai Restaurant & Bar Meliá Chiang Mai - THAILAND ASIA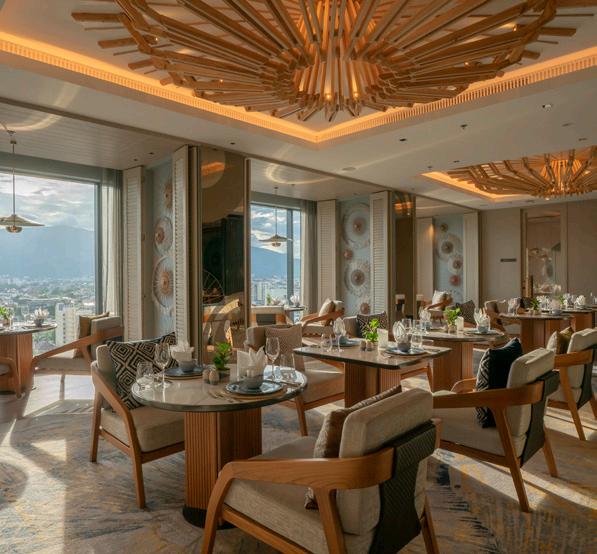 18 | Luxury Dining Destinations | August 2022
Literally meaning "the wall", il Muro Restaurant celebrates the hand-painted wall art stretching through the entire restaurant, inspired from the Villa of the Mysteries in Pompeii, famous for having one of the most important decorative mural collections in the Roman world. This Italian space features an exposed brick with a hand-painted mural, sky-blue ceiling, and dark wood bar to give a rustic but modern feel.
Bordered with mature star apple trees, the outdoor garden softens the gleaming modern floor-to-ceiling windows for guests to enjoy a candlelit dinner.
Website Email ASIA
il Muro Italiano Salinda Resort Phu Quoc Island - VIETNAM
The art of Italian cuisine and culture lies in a magnificently blended palette of textures and colors, com bined through culinary and cultural influences from the neighboring countries. Chef Simone's menu is devoted to these traditional homemade recipes prepared with a creative twist and inspired by his adven tures on Phu Quoc Island.
Luxury Dining Destinations | August 2022 | 19
To dine in Pakka Indian Restaurant is to experience a contemporary Indian sensibility with eclectic tradi tionalism: antique brass sculptures and artwork with peacock ornamental lamps, blue decorative plates and original copperware on silk tablecloth spice up the dining area. The luxury hand-painted wallpaper by de Gournay enchants with its finely worked renderings of the schools of shining fish, epitomizing the classic timelessness of white marble tiles with mirror mosaics and filling the restaurant with the touch of island flair.
Chef Liladhar hopes his guests will wholeheartedly embrace the beauty of his home cuisine of Northern India, such as traditional cooking methods in tandoor, giving dishes their distinctive charcoal flavor; the influence of royal kitchens of Nizams and Nawabs in biryanis; and mouthwatering curries filled with a warm aroma.
Pakka Indian Restaurant Salinda Resort Phu Quoc Island - VIETNAM Website Email ASIA
20 | Luxury Dining Destinations | August 2022
Aroma Restaurant - Gozo Brew House Stelia Beach Resort, Tuy Hòa - VIETNAM
For lunch and dinner, Gozo Brew House - the biggest bamboo restaurant in Vietnam, is the perfect choice with a casual and warm-hearted atmosphere for any gathering with friends and family.
Aroma Restaurant – Gozo Brew House is located in Stelia Beach Resort. The resort's design is a delicate blend of liberal Mediterranean beauty, modern with more homely comforts. Wake up to a wonderful breakfast buffet and broaden your horizons to the natural scenery, besides that, Aroma restaurant offers all-day dining with an Asian-Western à la carte menu in a Santorini-style setting.
Website Email ASIA
@Saipe Hilton Goa Resort, Candolim - INDIA Website Email ASIA
Luxury Dining Destinations | August 2022 | 21
Enjoy Goan delicacies with a contemporary twist to satiate your taste buds. It is enriched with a live kitch en to give guests a homely feeling. With the world's best-curated dishes, guests can enjoy mouth-water ing cuisines in the private dining area or feel the ambience on the Patio or Al Fresco. The restaurant features dishes from all around the world with a breakfast buffet, buffet lunch, and buffet dinner.
22 | Luxury Dining Destinations | August 2022
Luxury Dining Destinations | August 2022 | 23
Tattersalls Hotel Armidale - AUSTRALIA
Tattersalls Hotel Armidale Restaurant
The Tattersalls Hotel is your premier destination in the New England. Originally established in 1854, after a major renovation and revitalisation project was completed, Tattersalls Hotel Armidale was brought back to the forefront of luxury and sophistication for the discerning traveller and local alike. The restaurant is lead by world-class French chef, Jean-Luc, who brings his vast knowledge and expe rience to the foodies of the New England and further abroad. Treat yourself to an unforgettable dining experience with the inspired lunch and dinner menu. Whether it's a fresh take on a pub classic, or unique dishes dreamed up by Jean-Luc and his team, your evening at Tattersalls will surely be one to remember.
Website Email AUSTRALIA & OCEANIA
Website Email NORTH AMERICA
24 | Luxury Dining Destinations | August 2022
Mambo Restaurant's spacious, open-air dining, which fronts the Caribbean sea and the world's second largest barrier reef, aims to change the Belizean consumer perception that international and imported food is Spearheadedbetter.
Mambo Restaurant Matachica Resort, San Pedro - BELIZE
by former Head Chef de Partie at the French Laundry, chef Léon Cerredo from Paris, France, and Culinary Institute of America graduate and pastry Chef Stephen Lighter, the reimagined dining spaces and refined menus seamlessly blend global techniques with local flavours and practices. The duo introduce two distinct Mambo eateries, including the new Mambo Bistro – a casual beachfront dining experience with a light fare menu inspired by their French upbringing and training with a local Belizean twist. From Belizean grouper "en croûte" to locally sourced lobster ravioli and a mocha tart topped with homemade coffee-infused chocolate cream, their inspired menu aims to put Belize on the world's culinary stage. For guests who prefer a fully private dining experience, dinners are offered either on your casita patio or on the beautiful pier, overlooking the Caribbean Sea at sunset—an ideal way to enjoy your Belizean beach vacation.
Luxury Dining Destinations | August 2022 | 25 Kin Toh Azulik Tulum - MEXICO
Website Email NORTH AMERICA
The restaurant is situated on top of the trees and features nests from which you can observe the immen sity of the ocean and the density of the jungle. Located in Tulum, Mexico, Kin Toh offers a full experience where all the senses will be involved.
Kin Toh is a fine dining restaurant whose Mayan-Mexican gastronomic offer arises from the fusion of local ingredients and ancestral techniques. Its 3-step menu can be paired with Kin Toh's cocktails crafted by talented mixologists, as well as with one of the hundreds of wine labels kept in the curved semi-cylindri cal wine cellar.
26 | Luxury Dining Destinations | August 2022
HUB FOOD ART LOUNGE by Pullman Pullman São Paulo Vila Olímpia, São Paulo - BRAZIL Specializing in grills, the Hub Food Art Lounge by Pullman has a meeting of cultures in its dishes, being one of the best restaurants in town according to TripAdvisor. Great for those who like to explore intense flavors, discover new drinks and wines in a cosmopolitan and vibrant atmosphere. The menu signed by Chef Willian Carvalho highlights the grilled dishes, with Octopus being the signa ture dish. The side dishes have grilled options as well as vegan options. The Hub bar, on the other hand, has a letter of signature drinks and honors classic drinks, as well as a menu of delicious snacks. With dj cheering every night, the atmosphere impresses with its design and art that surrounds it.
Website Email SOUTH AMERICA
Website
Brezza Restaurant offers an exceptional gastronomic journey for its guests. Brezza is located at the top of the Swissôtel Resort Bodrum Beach. The restaurant is designed with a combination of Aegan and Medi terranean culture and guests will feel this culture at every corner of it.
EUROPE
28 | Luxury Dining Destinations | August 2022 Brezza Restaurant Swissôtel Resort Bodrum Beach, Bodrum - TURKEY
Guests will enjoy an Italian experience, a blending of traditional with modern at the Brezza Restaurant. The talented chefs' serve a menu inspired by Slow Food. The Sommelier of the restaurant will be happy to recommend the best match wine with your dinner. Email
Created within the concept of a luxury boutique hotel, where every detail is taken care of for your comfort and pleasure. This is the restaurant in the center of Alanya and with the best view of the historical castle of Alanya. All dishes are prepared by a team of professionals with knowledge of world organic cooking.
Soul of Kitchen Restaurant
Luxury Dining Destinations | August 2022 | 29
Soul of Kitchen is your only retreat to pamper yourself and immerse yourself in different feelings. Email
Anjelic House Boutique Hotel, Alanya - TURKEY
EUROPE
Soul of Kitchen is a part of the Anjeliq's Hotels family and is located right on its own sandy beach.
Website
Website Email EUROPE
30 | Luxury Dining Destinations | August 2022 Seki Restaurant Argos in Cappadocia, Nevşehir - TURKEY
Seki Restaurant, which takes its name (meaning "terraces on the slopes") from the lush green terraces of the hotel, has been etched in the minds and taste buds of its guests with different layers of flavor that live up to its name. Located in one of the oldest and largest monasteries in the world, above the wine cellar, one of the prime locations in this area, Seki is the most awarded and most popular restaurant in the Cappadocia region.
Novikov Istanbul, with its distinctive modern and sophisticated style, promises a unique atmosphere to couples for a romantic dinner, to family and friends an intimate celebration or company events. Bringing innovative Asian and Italian cuisines together in its authentic "market" concept, harmonizing contem porary design and excellent service perfectly, Novikov Istanbul offers a carefully curated menu, including delicious sushi varieties and many more special Pan-Asian delicacies besides Italian and Mediterranean Withspecialities.spacious terrace and garden spaces facing the Bosphorus, Novikov Istanbul completes its elegant contemporary design with impressive architectural lines. On the other hand, featuring an excellent wine list, innovative snack plates, special cocktails and quality wines, Novikov Lounge Bar catches the eye with its modern design and impressive architectural elements besides enchanting Bosphorus views.
Luxury Dining Destinations | August 2022 | 31
Website Email EUROPE
Novikov Istanbul Mandarin Oriental Bosphorus, Istanbul - TURKEY
addition in Limassol's restaurants features an indoor dining area and an impressive terrace. Enjoy Thai-inspired decoration where timeless contemporary finesse is counterpointed by traditional pieces and signature patterns. Website Email
EUROPE
The Tower at St Raphael Resort & Marina, Limassol - CYPRUS Golden Monkey brings a new kind of Asian experience to the island of Cyprus with authentic Thai fla vours. A journey filled with truly creative but traditional Thai cuisine combined with sophisticated Thai architecture and handcrafted artworks and pieces. The expert Thai chefs will dazzle your taste buds with signature dishes. Designed by Thai Head Chef Nuntthawut Poungpouw, along with his culinary team from Thailand, they have created dishes that give prominence to a wonderful medley of different tastes, flavours, textures and Thiscolours.unique
Golden Monkey Thai Restaurant
32 | Luxury Dining Destinations | August 2022
Luxury Dining Destinations | August 2022 | 33 Cipro Italian Restaurant Azia Resort & Spa, Paphos - CYPRUS Cipro Restaurant is situated in the Azia Resort & Spa within an exquisite marble conservatory. The kitchen offers a fusion of Mediterranean cuisines from an à la carte menu. Website Email EUROPE
Website Email EUROPE
34 | Luxury Dining Destinations | August 2022 Poseidon Italian Restaurant Royal Marmin Bay Boutique & Art Hotel, Elounda - GREECE
Poseidon Italian Creative Cuisine & Fresh Fish in Royal Marmin Bay Boutique & Art Hotel is ideal for the lovers of the creative contemporary cuisine, and it is the starting point for gourmet gastronomic adven Thistures.is the venue where the dinner of the day is being served. Guests are invited to choose a wide selec tion of gourmet Mediterranean dishes and fresh seafood from the à la carte menu, which is carefully cu rated by a professional chef. Dinner is served at Poseidon Italian Creative Cuisine & Fresh Fish with many à la carte dish choices that will meet all your culinary desires. All dishes are prepared only with the freshest ingredients from the exceptional and skilled cooks, and promise delicious journeys that you will cherish forever. On Thursday evenings, in the Poseidon Gourmet Restaurant & Fresh Fish instead of the regular menu, special "Lobster Nights" take place, accompanied with Greek live music (reservation is required).
Luxury Dining Destinations | August 2022 | 35
Website Email EUROPE
Samurai Sushi Restaurant
Royal Marmin Bay Boutique & Art Hotel, Elounda - GREECE
The Japanese cuisine lovers are able to taste the excellent recipes of the world famous chef Dannie Mira in the Samurai Sushi Bar & Restaurant. Mr. Mira is a highly qualified and conscientious chef. He has an excellent work ethic, and his passion and unique style is aligned with the standards of the hotel, showing the appropriate professionalism as well as required responsibility. He has run as chief chef many world famous kitchens all over the world, and his specialization in sushi recipes has placed him as one of the most talented sushi chefs of the world.
Sushi is a type of food preparation originating in Japan, consisting of cooked vinegared rice combined with other ingredients such as seafood, meat, vegetables and sometimes tropical fruits. Ingredients and forms of sushi presentation vary widely, but the ingredient which all sushi have in common is rice (also referred to as shari or sumeshi. Although commonly mistaken for sushi, sashimi, which is also a Japanese delicacy, consists of thinly sliced raw meat or fish and may or may not be served with rice.
Mari Kristin Beach Hotel Main Restaurant Mari Kristin Beach Hotel, Crete - GREECE
36 | Luxury Dining Destinations | August 2022
The Main Restaurant at Mari Kristin Beach Hotel offers a diverse selection of international and local cui sine, using its distinct Cretan flair to introduce guests to a number of authentic dishes.
Opening early in the morning for breakfast and again in the evening for a formal dinner, the restaurant welcomes guest with an exuberant energy each day and greets them each night with an aura of ele gance.
Website Email EUROPE
Website Email EUROPE
Luxury Dining Destinations | August 2022 | 37 Nagai Restaurant Ibiza Ibiza - SPAIN
Nagai boasts contemporary Japanese Cuisine with the chef's fusion creations served in an old farmhouse with terrace and garden, featuring artworks, murals and soft music. Set in the heart of the beautiful Ibiza countryside, Nagai is a romantic and authentic setting for food-lov ers and is sure to delight even the most demanding palate.
Website Email EUROPE
Located in The Madrid EDITION, Ian Schrager's latest luxury urban resort in the bustling Plaza de las Descalzas and accessed through a baroque portal, Jerónimo offers cuisine inspired in the authenticity and generosity of Mexican gastronomy and the excellent quality of Madrid's local products – helmed by famed Mexican chef Enrique Olvera, Santiago Pérez and their exceptional team.
38 | Luxury Dining Destinations | August 2022 Jerónimo The Madrid EDITION, Madrid - SPAIN
The restaurant itself seats 150 and is a multi-layered space with an explosion of colours featuring four dis tinct areas that seamlessly blend in with each other to create a totally holistic experience and encourages convivial dining in an elevated atmosphere. This leads down to the lounge area which is anchored by a long green marble bar designed for cocktail hour amongst locals and guests alike.
Luxury Dining Destinations | August 2022 | 39
Website Email EUROPE
Located on the 4th floor of The Madrid EDITION, Oroya – helmed by Peruvian Chef Diego Muñoz – offers dining in a convivial greenhouse-like setting, framed by a blackened steel cage clad with climbing plants and coloured glass panels that cast bright patterns across the room. The restaurant serves a relaxed tapas menu with family-style sharing plates such as Ceviches, Papa Relle na and Ha-Kao on Parihuela Broth, telling the story of Peru's cultural history. These can be washed down with Pisco-led cocktails like the famous Pisco Sour and Capitan, or a glass of wine from a menu curated by sommelier Julio Barluenga. Outside, against exhilarating city vistas, Oroya's terrace is a seductive gar den in the sky featuring a fireplace and a vine-covered pergola, perfect for lazy lunches with friends and family.
Oroya
The Madrid EDITION, Madrid - SPAIN
Website Email EUROPE
40 | Luxury Dining Destinations | August 2022 Olivia Mediterranean Market Royal Hideaway Corales Resort, Tenerife - SPAIN
It's not just breakfast – it's an unforgettable experience. Giving breakfast the importance it deserves is es sential to developing the lifestyle proposed at Royal Hideaway Corales Resort. The best way to start a day of physical and mental well-being is with their Royal Breakfast. Healthy food is not just a fad – it's a way to live and travel better. Taste is also important so you are offered a breakfast that you'll enjoy as much as the place you are visiting, to savour every moment of your travel. Only the best ingredients are used for an early morning gastronomic experience based on organic, local and seasonal products. It has everything you need to start the day while enjoying a quality, delicious and healthy experience.
Luxury Dining Destinations | August 2022 | 41 Brasserie St. Georges Hotel Royal St.Georges MGallery by Sofitel, INterlaken - SWITZERLAND Whether you enjoy classic French cuisine or Swiss specialties, fresh ingredients are used, from local pro ducers, to create exquisite and healthy dishes. Website Email EUROPE
is
We are an Estate with a rich heritage and have been producing world-class wines for over a hundred years. We are the oldest red wine only producer in South Africa and are also one of the few wine estates to have only had five winemakers in our century old history — with two being a father and son duo. Our portfolio of wines is small and curated, our winemaker Bertho van der Westhuizen treats each wine as he would our flagship blend. From our Iconic Alto Rouge to our exceptional Alto Estate Blend, our wines ensure quality and consistency throughout. Visit our intimate Tasting Room, stroll through our barrel cellar or join us for our seasonal sunset rouge evenings and learn about the rich heritage and legacy that makes Alto what it today.
Address: Annandale Road, Stellenbosch T: 021 881 3884 E: info@altowines.co.za Alto Wine Estate WWW.ALTO.CO.ZA AltoWinery @altowineestate AltoWines IS A LEADING RED WINE PRODUCER NESTLED HIGH IN THE HELDERBERG MOUNTAINS IN STELLENBOSCH
Luxury Dining Destinations | August 2022 | 43 BA BOLDLY ASIAN Fairmont The Palm, Dubai - UNITED ARAB EMIRATES Enter Ba - Boldly Asian, Fairmont The Palm's most daring dining experience. Begin your journey into their Asian Wonderland through a hypnotic entranceway before being taken on a culinary journey. Dishes from China, Japan, Taiwan and Korea are fused together in bold bursts of flavors seen across the playful streets of Asia. Bold art, mystical corners and an epicurean feast awaits. It is here where you can be whoever you want to be. Website Email MIDDLE EAST
Bella Restaurant & Lounge
The show goes on, through huge bay windows and a glass ceiling that opens onto the stars. People of taste make the crowd of Bella, from the minimalist dining room to the lavish amber bar. A wine cellar boasts the finest references whilst the elegant lounge is an invitation to linger on, late into the night.
Grand Millennium Business Bay, Dubai - UNITED ARAB EMIRATES
Website Email MIDDLE EAST
44 | Luxury Dining Destinations | August 2022
Bella is Dubai's contemporary Italian dining destination, right by the shimmering waters of the Canal. Friendly yet refined, bold and disruptive, the social hotspot boasts unrivalled views of the skyline and iconic Burj Khalifa. At its helm, award-winning Chef Alessandro Miceli, a strong advocate of premium ingredients, interprets a cuisine that is both true to its roots and deliciously modern. From the crunchy tangy Bella Salad to the delightful Vitello Tonnato, the crudo bar, the homemade pasta, perfectly grilled fish and meats and the wood-oven "Crispyzza", guests are taken on a flavourful culinary journey.
Website Email AFRICA
Luxury Dining Destinations | August 2022 | 45 L'Etoile Pullman Kinshasa - CONGO
Pullman Kinshasa Grand Hotel is located in the heart of the world's largest French-speaking city. Enjoy dinner on the Congo River or visit the many local markets to soak up the fabulous Congolese culture. L'Etoile is one of three restaurants in Pullman Kinshasa Grand Hotel and serves Japanese Cuisine.
Website
Sankofa Restaurant is an all-day dining restaurant, offering you true moments of indulgence with a se lection of delights from around the world. With unique dining experiences, Sankofa Restaurant features both international and local favourites with a choice of buffet, à la carte menus or live-cooking stations. Start the day with the best breakfast buffet in the city, then enjoy lunch under the shades of our pergo la with splendid views of our lagoon-style pool and lush gardens. Themed buffets every Friday are our specialty and on Sundays, brunchtime is filled with live music and entertaining activities for kids in a fun atmosphere. Email
Sankofa Restaurant Mövenpick Ambassador Hotel Accra - GHANA AFRICA
46 | Luxury Dining Destinations | August 2022
A'la Turka Yadah Castle, Pretoria - SOUTH AFRICA
Website Email
AFRICA
Luxury Dining Destinations | August 2022 | 47
Exotic delicacies. Antique knives. Persian pillows. Romantic drapes and ambience. Sensuous belly danc ers sh-sh-shaking their waists. This is dinner at A'la Turka. Walking through A'la Turka's huge doors set in castle atop a hill, one is instantly transported to the ex tremely powerful and wealthy sixteenth century Ottoman Empire, leaving behind a 21st century Irene. The décor and ambience of the restaurant is exactly what one might expect if in past lives given the chance to walk into the palace of some great Mediterranean emperor. Antique knife sets, coins and jewellery, framed in wooden cases, adorn the walls. Immaculately designed light fittings cast strange shadows onto the walls, with Persian carpets and pillows scattered on the floors around low tables. The ambience is absolutely breath-taking, and immediately sets a person on au to-pleasure mode. Friendly service and great food makes for easy, patient enjoyment of a truly emotional experience. From the handcrafted benches to the antique Ottoman Empire taps in the bathrooms, authenticity is a virtue not easily faked.
Kahn's philosophy is centred on an all-sensory dining experience, combining exquisitely balanced fla vours with imaginative presentation. The result is an authentic, exciting menu that defies categorisation.
48 | Luxury Dining Destinations | August 2022
Balancing authenticity and innovation, Head Chef Virgil Kahn draws on old Cape Malay family recipes and his frequent trips to Asia to offer fresh, delicate food as light as it is satisfying. One of the earliest meeting points between East and West, Cape sailors returned from Asia's spice lands with great riches, and it is these flavours that are celebrated at Indochine, together with the expression they found in South Africa's Cape Malay cuisine.
Dine al fresco with views of Table Mountain on the western horizon or beneath the eye-catching Swallows in Flight art installation by Lionel Smit and André Stead with rich and intimate blue- and copper-toned interior.
Indochine Restaurant Delaire Graff Lodges & Spa, Stellenbosch - SOUTH AFRICA
AFRICA
Website Email
INTERNATIONAL NEWS & FEATURES 24/7 available in English, French, Arabic and Spanish Travel broadens the mind, so do our programmes Hospitality contacts: Claire Moreuil - claire.moreuil@francemm.com & Vishmi Congreve - vishmi.congreve@francemm.com NEWS