INSIDE THE CRIME RING THAT SHIPPED THOUSANDS OF OREGON'S STOLEN CATALYTIC CONVERTERS ACROSS THE COUNTRY.
14 WWEEK.COM VOL 49/04 11.30.2022 NEWS: No Betting on the Beavers. P. 10 FOOD: A Six-Pack of First Impressions. P. 22 FILM: Spielberg Begins. P. 27
BY LUCAS MANFIELD, PAGE
SOME OF THE BEST OF THE YEAR MUSIC MILLENNIUM's $12.99 CD $21.99 LP $34.99 DLXLP FONTAINES D.C. SKINTY FIA BETH ORTON WEATHER ALIVE $12.99 CD $26.99 LP $9.99 CD $24.99LP ODESZA THE LAST GOODBYE BLACK MIDI HELLFIRE $13.99 CD $25.99 LP RONNIE EARL & THE BROADCASTERS MERCY ME VIEUX FARKA TOURE & KHURANGBIN ALI MITSKI LAUREL HELL YEAH YEAH YEAHS COOL IT DOWN BJORK FOSSORA PORCUPINE TREE CLOSURE/CONTINUATION KINGS X THREE SIDES OF ONE JACK WHITE FEAR OF THE DAWN VARIOUS BROKEN HEARTS & DIRTY WINDOWS METRIC FORMENTERA ALEX G GOD SAVE THE ANIMALS WET LEG WET LEG LYLE LOVETT 12TH OF JUNE $11.99 CD $23.99 LP $11.99 CD $24.99 LP $11.99 CD $24.99 LP $7.99 CD $19.99 LP $7.99 CD $20.99 LP $10.99 CD $21.99 LP $10.99 CD $23.99 LP $10.99 CD $19.99 LP ON SALE! ON SALE! ON SALE! ON SALE! $13.99 CD $24.99 LP ON SALE! ON SALE! ON SALE! ON SALE! $13.99 CD $20.99 DLXCD $3 OFF VINYL ON SALE! ON SALE! ON SALE! ON SALE! $11.99 CD $20.99 LP ON SALE! ON SALE! ON SALE! ON SALE! ON SALE! OFFER GOOD THRU 12/31/22 ENVY OF NONE ENVY OF NONE $12.99 CD $25.99 LP ON SALE! Part bittersweet romance, part darkly political triumph - the songs ultimately form a long-distance love letter. Beth Orton describes Weather Alive, her most personal album to date, as "a collaboration with time – of someone struggling to make sense. A project rife with brightness and emotion, nostalgic yet rooted in the present, it serves as a sweeping sonic experience that speaks to themes of connection. No band can quite build their own universe like Black Midi. Hellfire, their third album and second in two years sees the London three piece at their most
These 12 songs present triumphant Blues - uplifting and hopeful songs that point to a better tomorrow, including "Soul Searching," & "A Prayer for Tomorrow."
direct.
Ali's musical legacy lives on through his son, Vieux aka "the Hendrix of the Sahara," an accomplished guitarist and champion of Malian music in his own right.
Each album always starts with a feeling that i try to shape into sound this time around the feeling was landing. -Bjork $13.99 CD $65.99 DLXCD $25.99 LP $79.99 DLXLP $13.99 CD $5 OFF VINYL
A thunderstorm of a return is what the legendary trio has in store for us on Cool It Down, their fifth studio album.
Three Sides of One is the group's first album of new material in 14 years.
Porcupine Tree have made their comeback with their first album since 2009!
Features new renditions of some of Prine's most beloved songs performed by
June and more! Formentera is a conceptual arc that
tension and turmoil to dance-floor abandon, progressing through a color wheel of emotions.
Fear of the Dawn is the fourth studio album from Jack White, founding member of The White Stripes, The Raconteurs, and The Dead Weather.
Brandi Carlile, Tyler Childers, Emmylou Harris, Jason Isbell, Valerie
moves from
Wet
were
From beautiful acoustic ballads to swinging big band numbers, this record will remind listeners why Lyle is a national musical treasure. The ambient, cinematic darkness that the collective creates evokes a powerful atmosphere that will excite superfans and new audiences alike. ALSO AVAILABLE: BLACK ANGELS WILDERNESS OF MIRRORS $10.99 CD $29.99 LP
has written a
for
to the place where vulnerability and resilience, sorrow and delight, error and transcendence can all
3158 E BURNSIDE ST MUSICMILLENNIUM.COM 503-231-8926 2 Willamette Week NOVEMBER 30, 2022 wweek.com
Alex Giannascoli wrote and demoed these songs by himself, at home; but, for the sake of both new tones and "a routine that was outside of my apartment" during the pandemic.
Leg
catapulted from their confines on the Isle of Wight to sold out venues across the UK. This is the duo's debut album!
Mitski
soundtrack
transformation, a map
sit.
Wind turbines are killing hoary bats 4
Multnomah County spent less than 70% of its homeless ser vices bond funds last year. 8
Fat Cobra Video was once a soda fountain and will soon be a vintage clothing store. 9
DraftKings now provides sports betting to the Oregon Lottery. 10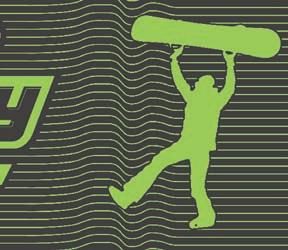 Christmas tree growers use shearing knives to give trees a conical shape 13
Oregon's stolen catalytic con verters were shipped to Long Island 14
The alleged ringleader of a Lake Oswego catalytic converter theft ring traveled to Coachella and the NBA Finals. 15
Adidas is opening its first U.S. outdoors-themed retail outlet for a new line of athleisure wear in the Pearl. 21
Aurora was founded as a uto pian communal society in the 1850s. 21
There is no dancing at Street Disco. 22
Nodoguru lives again. 22
Grand Fir opened with twohour waits and a line around the block. 23
Maroon 5 won't dine on a hunk of raw meat onstage. 25
Watch out for solar flares 26
Steven Spielberg's eye color keeps changing. 27
Willamette Week welcomes freelance submissions. Send material to either News Editor or Arts Editor. Manuscripts will be returned if you include a selfaddressed, stamped envelope. To be considered for calendar listings, notice of events must be received in writing by noon Wednesday, two weeks before publication. Questions concerning circulation or subscription inquiries should be directed to Skye Anfield at Willamette Week. Postmaster: Send all address changes to Willamette Week, P.O. Box 10770, Portland, OR 97206. Subscription rates: One year $130, six months $70. Back issues $5 for walk-ins, $8 for mailed requests when available. Willamette Week is mailed at third-class rates. Association of Alternative Newsmedia. This newspaper is published on recycled newsprint using soy-based ink. TREE LIGHTING, PAGE 20 ON THE COVER: The mysterious part under your car that thieves turned into a half-billion-dollar black market; photo by Michael Raines OUR MOST TRAFFICKED STORY ONLINE THIS WEEK: Commissioner Jo Ann Hardesty and the Portland Police Association ask for discovery neither party wants made public. Masthead EDITOR & PUBLISHER Mark Zusman EDITORIAL News Editor Aaron Mesh Arts & Culture Editor Andi Prewitt Assistant A&C Editor Bennett Campbell Ferguson Staff Writers Anthony Effinger, Nigel Jaquiss, Lucas Manfield, Sophie Peel News Intern Kathleen Forrest Copy Editor Matt Buckingham ART DEPARTMENT Creative Director Mick Hangland-Skill Graphic Designer McKenzie Young-Roy ADVERTISING Director of Sales Anna Zusman Advertising Media Coordinator Beans Flores Account Executives Michael Donhowe, Maxx Hockenberry COMMUNITY OUTREACH Give!Guide & Friends of Willamette Week Executive Director Toni Tringolo G!G Campaign Assistant & FOWW Manager Josh Rentschler FOWW Membership Manager Madeleine Zusman Podcast Host Brianna Wheeler DISTRIBUTION Circulation Director Skye Anfield Entrepreneur in Residence Jack Phan OPERATIONS Accounting Director Beth Buffetta Manager of Information Services Brian Panganiban OUR MISSION To provide Portlanders with an independent and irreverent understanding of how their worlds work so they can make a difference. Though Willamette Week is free, please take just one copy. Anyone removing papers in bulk from our distribution points will be prosecuted, as they say, to the full extent of the law.
WE LEARNED FROM READING THIS WEEK'S PAPER
WHAT
VOL. 49, ISSUE 4
CHRIS NESSETH WILLAMETTE WEEK IS PUBLISHED WEEKLY BY CITY OF ROSES MEDIA COMPANY P.O. Box 10770 Portland, OR 97296 Main line phone: (503) 243-2122 fax: (503) 296-2874 Classifieds phone: (503) 243-2122 fax: (503) 296-2874 3 FOR $6 DALBELLO DS MX 65W OR 75 Boot up! DON'T FORGET ABOUT OUR SNOWPACK PAYBACK! SCAN QR CODE FOR DETAILS! 25% OFF BLUE ICE rough Dec 4th NEW OUTERWEAR ALERT 686, Flylow, Patagonia, Picture Organic and so many more! UP TO 40% OFF 28% OFF 25% OFF 25% OFF 25% OFF 25% OFF 20% OFF 25%50% OFF AIRBLASTER OUTERWEAR & NINJA SUITS 10% OFF MSRP! Your favorite NW brand for 10% o ! COTOPAXI APPAREL STARTING AT 25% OFF MSRP! Brighten up that wardrobe with Cotopaxi! THERMAL SHELTER KIT Reusable thermal shelter kit that's waterproof & lightweight. Solid addition to your camping or survival kit! NOSE PATROL AIR FRESHENERS De-stink your Subie with style! 25% OFF ASTRAL rough Dec 5th O'NEILL OUTERWEAR STARTING AT 25-50% OFF MSRP! HOT DANG! 30-50% OFF ALTRA LONE PEAK SALE! 30-50% o this years and last years models. Feat. Lone Peak 5 25% OFF 10% OFF 25% OFF LA SPORTIVA rough Dec 4th $179.99 COMPARE AT $249.99 $11.99 COMPARE AT $26.99 20% OFF OUTERWEAR DEALS! PICTURE ORGANIC, 686 AND FLYLOW! New outerwear for 20% o ?!? SCAN TO SHOP & SEE MORE DEALS OUTDOOR RESEARCH APPAREL STARTING AT 25% OFF MSRP! Get your new favorite rain jacket and so much more for 25% o ! SOCK SALE! Stu some stockings in those stockings! NEXT ADVENTURE DEALS GOOD FROM 11/25-12/8/22 Check out Deek & Bryan's Snowpack Payback: 3" of additional snow on Christmas day and GET YOUR MONEY BACK! Scan the center QR Code for more details. WHAT A DEAL! 3 Willamette Week NOVEMBER 30, 2022 wweek.com FINDINGS
Last week, WW reported on the latest developments in City Commissioner Jo Ann Hardesty's $5 million lawsuit against the Portland Police Association, in which she alleges that the former police union president leaked a false report about her in retaliation for her criticism of officers ("Zero Sum Game," Nov. 23). Both sides in the case have been ordered by a Multnomah County circuit judge to produce discovery material for the other. Hardesty success fully sought PPA communications regarding her, as well as internal messages about the murder of George Floyd. (PPA attorneys tried to argue those communications were pro tected by union-member privilege.) Hardesty must produce any records after 2019 related to gambling activities, as union attorneys try to argue she's in financial distress and seeking a payday. It's possible some or none of the material will become public. Here's what our readers had to say:
DOYLE CANNING, VIA TWITTER: "If you can't pound the facts, pound the law. And if you can't pound the law, pound the table…with a novel discovery defense called 'union privilege'?
"The judge wasn't buying it lol."
BIG BISCUIT, VIA WWEEK. COM: "Not sure how it works with the law, but was Hardesty given a mulligan when she accused the police of setting fires on purpose during the riots? Seems like slander/libel unless a police department is not able to sue a city employ ee? Of course, in Portland it
was quickly brushed off by the media and Hardesty went on her merry way (at least until she was voted out of office)."
KORIANDER, VIA TWITTER: "Looking forward to those revealed [Portland Police Bureau] texts when she's running for redistricted City Council in 2024."
SUSAN MARIE, VIA FACE BOOK: "So, these cops don't deny they have something to hide, but they want to get something on Hardesty to intimidate her. Gambling is legal. Debt is legal. What else ya got?"
DORSET, VIA WWEEK.COM: "The PPA attorneys are going to make mincemeat out of Hardesty. She's in way over her head…"
FLASH STEVE, VIA WWEEK. COM: "I can't stomach her, but I'm afraid she is going to collect major money here. She won't actually see it in her checking account until 2024 at the earliest. Verdict…appeals, etc."
BRYANRMORRIS, VIA WWEEK.COM: "Wouldn't it be better for everyone if they just kissed and made up and let bygones be bygones?"
REALDANPAULDING, VIA TWITTER: "As always, trolls who don't even live in Oregon always have a lot to say about Jo Ann Hardesty. I wonder how many of these posts are by the same person running multiple accounts?"
PANCAKE REGRETS, VIA TWITTER: "Who keeps gam bling records?"
LETTERS TO THE EDITOR must include the author's street address and phone number for verification. Letters must be 250 or fewer words. Submit to: PO Box 10770, Portland OR, 97296 Email: mzusman@wweek.com
BY MARTY SMITH @martysmithxxx
On summer evenings, we used to hear the chirps and see the knuckle-ball swoopings of bats silhouetted in the darkling sky. We were recently startled by the realization that it's been years since we've seen or heard any of these magnificent beasts. Have our senses deteriorated that badly, or is something sinister going on? —Robin and the Other Guy
It's certainly true that, if left untreated, our night vision does deteriorate as we get older. That's why I subscribe to a doctor-approved regimen of special vitamins that allows me to see all the bats I want. Granted, the doctor was Dr. Hunter S. Thompson and the bats often seem pretty hostile, but you can't have everything.
Some readers will already be familiar with white-nose syndrome, or WNS, a fungal infec tion that has decimated North American bat populations. Characterized by what looks like a dusting of white material around the nose (speaking of Hunter Thompson), the fungus spreads through colonies of hibernating bats, often killing up to 90% of them. The somewhat uninspiringly named little brown bat, Oregon's most abundant species, has been particularly hard hit.
So, obviously, that's what happened to
our bats, right? Well, no. So far, white-nose syndrome hasn't been detected in Oregon, and a multiyear study published in 2019 found Ore gon's little brown bat population (unlike the little brown bat population east of the Rockies) holding steady. That probably won't last—the disease turned up in Washington's Yakima County last year—but for now, we can't blame our missing bats on WNS.
The same study found bleaker news for another Oregon species, the hoary bat: Tens of thousands of them are killed by wind turbines each year, enough to put a significant dent in our hoary bat cohort. So, Robin, if your bats are hoary,* wind turbines could be responsible for their decline.
Then again, maybe they starved because of the "global entomofauna die-off." Yeah, I hadn't heard of it either. Apparently, it's com mon knowledge among biologists that insect populations worldwide are in steep decline, which sounds like something that happens right before the shit really hits the fan in a Michael Crichton novel. That said, it does put the relatively minor tragedy of declining bat populations in the proper apocalyptic context.
Vitamins, anyone?
*Conversely, if your whores are batty, you could be a pimp in a nursing home.
Questions? Send them to dr.know@wweek.com. Dr. Know
PRESENTED BY SPOTLIGHT ON HUMAN SERVICES CATEGORY These nonprofits focus on providing services to marginalized communities. Advocates For Life Skills And Opportunities (ALSO) • Alano Club of Portland • Bradley Angle • CASA for Children, Inc. • Central City Concern • Centro Cultural de Washington County • Children's Center • Domestic Violence Resource Center • Dougy Center: National Grief Center for Children and Families • Family Justice Center of Washington County • Family Promise of Tualatin Valley • Friends of the Children—Portland • Haymarket Pole Collective • Hygiene4all • Immigrant and Refugee Community Organization (IRCO) • NAMI Multnomah • New Avenues for Youth • NW Instituto Latino • Operation Nightwatch - Portland • Outside In • p:ear • PDX Diaper Bank • Portland Opportunities Industrialization Center + Rosemary Anderson High School (POIC + RAHS) • Pueblo Unido PDX • Rahab's Sisters • Red Lodge Transition Services • Rose Haven CIC • Sarah Belllum's Bakery and Workshop (SBWW) • Sexual Assault Resource Center (SARC) • Stone Soup PDX • The Cupcake Girls • The Miracles Club • Urban League of Portland • William Temple House SPONSORED BY THE STANDARD WW is raising $8 M for 235 nonprofits this fall in their annual Give!Guide. What causes do you care about? Find yours and give 'em a few bucks! 4 Willamette Week NOVEMBER 30, 2022 wweek.com DIALOGUE
For a limited time, get HBO Max™ included for 1 year. Stream all your favorite HBO® shows and Max Originals™ when you get Xfinity Internet with unlimited data included for just $55/mo for 2 years. Plus, get a FREE 4K streaming box. Experience the ultimate streamer setup from the provider with supersonic WiFi. Drop everything. It's the Xfinity Black Friday Sale. Offer ends 12/5/22. Restrictions apply. Not available in all areas. New Xfinity Internet residential customers only. Offer requires enrollment in both automatic payments and paperless billing with stored bank account. Without enrollment, the monthly service charge automatically increases by $10 (or $5 if enrolling with credit or debit card information). The discount will appear on your bill within 45 days of enrolling in automatic payments and paperless billing. If either automatic payment or paperless billing is subsequently canceled, the $10 monthly discount will be removed automatically. Limited to Fast Internet with xFi Complete and HBO Max.™ Installation, taxes & fees extra, and subj. to change during and after promo. After 24 months, or if any service is canceled or downgraded, regular charges apply to internet services and devices. Service limited to a single outlet. May not be combined with other offers. After 12 months, regular rates apply to HBO Max™ (currently, $9.99/mo., subject to change). Flex: Not available to current Xfinity TV customers. Requires post-pay subscription to Xfinity Internet, excluding Internet Essentials. Limited to 3 devices. One device included, additional devices $5/mo per device (subj. to change). All devices must be returned when service ends. Subscriptions required to access all other streaming services. Viewing will count against any Xfinity data plan. © 2022 WarnerMedia Direct, LLC. All Rights Reserved. HBO Max™ is used under license. © 2022 Comcast. All rights reserved. NPA243803-0005 1-800-xfinity Free 4K streaming box Unlimited internet No annual contract required. Requires automatic payment and paperless billing with stored bank account. Taxes and fees extra, and subject to change. See details below. $55 /mo for 24 mos xfinity.com Visit a store today HBO Max™ included for 1 year Ad supported version Limited time offer 144470_NPA243803-0005 West Black Friday ad 9.639x12.25 Willamette.indd 1 11/17/22 2:46 PM5 Willamette Week NOVEMBER 30, 2022 wweek.com
Jill Hoddick
I am a California transplant—please don't hold that against me! I came to Portland for a job in terview at University of Portland in March 1977. I returned in August to begin as an assistant professor of theater.
In the costume shop, we used to read Willa mette Week classifieds on Friday afternoons. They were amusing, and we were dreamers. One day, I found one that caught my eye. Several years later, I married Kent and we will celebrate our 39th anniversary on Nov. 25. Willamette Week does hold a special place in my heart!
Since retiring, I have divided my time be tween my art studio, my family, and my garden.
I have 14 rose bushes and participate in the Portland Rose Society's Annual Spring Show each June. I have won dozens of ribbons and three trophies. I also grow around four dozen different dahlias and love to give bouquets to neighbors and friends. Both these blooms have become subjects for my fiber artwork.
My friends and I appreciate independent local newspapers like yours that tell the stories of those who live here. We value learning about what is going on throughout our area and being introduced to arts activities, restaurants, newsworthy individuals, and groups of interest. Your kind of honest journalism makes Portland a great place to live, and I am thankful for the help of WW in meeting my husband and making Portland my permanent home.
Friends of Willamette Week are readers who support independent local journalism. Here's Jill's story about why she became a reader and Friend. Become a Friend of Willamette Week today! giveguide.org/nonprofits/foww SCAN ME! 6 Willamette Week NOVEMBER 30, 2022 wweek.com
PORTLAND TO STUDY PROPOSED LIVE NATION
VENUE: WW first reported this summer that the events promotion giant Live Nation was eyeing Portland for its next concert venue, envisioning a 3,000-capacity indoor auditorium on the Central Eastside. That news was met with swift pushback by local music venue owners, who feared the arrival of such a mega-company, which signs exclusive deals with big-name artists and runs the ticket platform Ticketmaster, would crush existing concert halls. Now, Prosper Portland, which owns the land slated for the venue, has agreed to commission an economic analysis by Johnson Economics to study the potential effects of the venue. Prosper agreed to the analysis after receiving pressure from Mayor Ted Wheeler's office and local advo cacy group MusicPortland. Prosper spokesman Shawn Uhlman tells WW it's paying the firm $18,200 for the analysis, which should be com pleted within the next few months. The mayor's office and MusicPortland submitted questions to Prosper that it wished to incorporate into the study. Jerry Johnson says the analysis is close to completion and his firm has been looking at "typical economic impact" questions as well as Live Nation's effects on local music economies in other cities.
PORTLAND POLICE MUST STOP USING "FLASH-BANGS":
The city of Portland has settled a 2-year-old lawsuit filed by activists accusing the Portland Police Bureau of using indiscriminate force against protesters. The city will pay $50,000 to each of the five people named in the lawsuit. It will also decommission the bureau's "rubber ball distraction devices," the "flash-bang" grenades used by police to control crowds during the summer 2020 protests following the murder of George Floyd by Minne apolis police. The grenades, advertised to deliver "four stimuli for psychological and physiological effects," including rubber pellets, caused serious injuries. "This is a win for organizers and anti-fas cist activists everywhere," says Teressa Raiford, executive director of Don't Shoot Portland, the advocacy group that brought the lawsuit. It isn't the first time the bureau has had to discontin ue its use of the munitions. In 2018, then Police Chief Danielle Outlaw temporarily suspended the use of flash-bang grenades after they seriously
injured multiple leftist protesters. The city even tually paid out a six-figure settlement related to one of those incidents as well.
POSEY
TAKES OVER AT THE NAACP:
James Posey, a co-founder of the National Association of Minority Contractors Oregon and a onetime mayoral candidate, has been elected president of the NAACP of Oregon. Posey's election, first reported by The Skanner, follows a period of rebuilding under outgoing president Sharon Gary-Smith. Gary-Smith succeeded the Rev. E.D. Mondaine, who resigned in October 2020 after The Portland Mercury reported on accusations of sexual abuse against him. Posey is a long time activist and construction company owner who served as NAACP vice president when city Commissioner Jo Ann Hardesty was the orga nization's president. Posey told The Skanner he plans to enliven the NAACP's committees, recruit younger members, and restore the organization's stature. "The NAACP can mobilize the Black community in a way that maybe other organiza tions have not been able to mobilize it," he said.
GROUPS SEEK CITY HALL TRANSPARENCY
ADVOCATE: Now that voters have approved changing the form of Portland's government, the Charter Commission is considering a slate of 15 "phase 2" amendments. On the heels of Oregon Public Broadcasting's recent report that thousands of text messages in the mayor's office went missing, and the city's persistent foot-drag ging in producing public records, the League of Women Voters, ACLU of Oregon, and the Great er Oregon Chapter of the Society of Professional Journalists asked the commission to consider including a "transparency advocate" as one of the charter amendments on which it will vote Dec. 3. The amendment would place an inde pendent, objective person inside City Hall tasked with making the city's records and operations more accessible to the public. The state's new transparency czar has dramatically improved the public's access to records. Advocates hope the same will happen at City Hall. "We commend the city of Portland for adopting transparency as one of its core values," says Debbie Kaye, president of the League of Women Voters of Portland. "We feel, however, that the city has far to go in imple menting this stated value."
PROSPER
7 Willamette Week NOVEMBER 30, 2022 wweek.com A PODCAST BY WILLAMETTE WEEK NOW STREAMING ON ALL PLATFORMS (503) 493-0070 1433 NE Broadway, Portland
LIZZO AT THE ROSELAND IN 2019
SAM GEHRKE