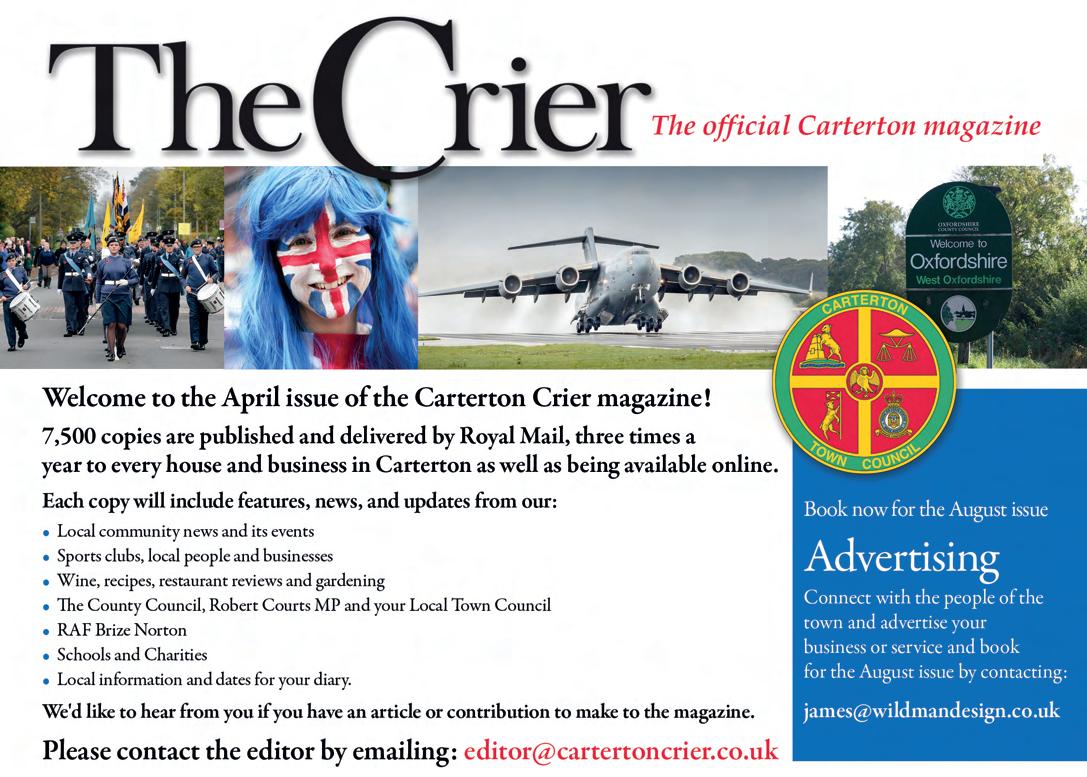 CARTERTON CRIER - APRIL 2023 3 Contents APRIL 4 Welcome from the Mayor 6 News 9 Town Council 12 RAF Brize Norton - 47 Squadron 13 Carterton Walks 14 Crosstalk with Maxine Crossland 15 U3A - The University of the Third Age 16 Obituary - Graham Evans 19 Wine - Robin Shuckburgh 20 Carterton Library 21 St John's Church 22 West Ox Arts - Celebrating 50 Years 24 Carterton Bowls Club 26 Carterton Gymnastics 27 Carterton Panto review 28 Useful Town Information Contributors Maxine Crossland Jill Bull Robin Shuckburgh Advertising enquiries James Wildman james@wildmandesign.co.uk 01993 850705 Editorial enquiries editor@cartertoncrier.co.uk www.cartertoncrier.co.uk The Carterton Crier is published on behalf of Carterton Town Council by Wildman Design Limited and is delivered free to all households and businesses in Carterton. Contributions are always welcome, please email editor@cartertoncrier.co.uk No responsibility is accepted for any errors and the views expressed do not necessarely reflect those of the editorial team. The publisher holds the copyright to all information it publishes. No content may be reproduced or distributed without the consent of the Editor. ©Carterton Crier 2023 The Carterton Crier is delivered by
As the mayoral year comes to an end, it remains only to say how much I have enjoyed my tenure. I have enjoyed meeting some fantastic people and seeing how they help to improve life for those in our Town, things really can change.
4 APRIL 2023 - CARTERTON CRIER
Whilst it has been a relatively quiet period since the last edition of the Crier, signs of spring are already in the air. Recently, work has begun on the transformation of the land adjacent to St John's school. The Town Council has fully supported this initiative and we look forward to seeing the finished project. We are in discussion with our local schools to come up with a suitable name for the garden and it is hoped that a formal opening and presentation to the winning pupil can be organised.
We look forward to the upcoming celebrations for the Coronation of King Charles III and Queen Consort Camilla on the 6th May and as per the jubilee celebrations last year, we plan to hold a children's street party on the market square on Sunday 7th May. We hope to have a children's entertainer, disco, and live music into the evening – watch out for further details over the next few weeks via our Facebook, Twitter, and notice boards.
Looking further ahead, we have the annual Save the Children May Day fair, organised and run once again by Sue James and her small team of volunteers. It is also hoped that Carterton Celebrates week will be back later in July. August brings us another exciting Carterton Carnival on the recreation ground. I hope you will feel able to take part in as many of these events as possible and that the weather is kind to both organisers and attendees.
As Mayor, and as I have commented on in previous forewords, I am surrounded by members of staff, and the wonderful volunteering members of the public who collectively deliver so much for the people of our town. A special thank you to the monthly community litter pickers who turn out, come rain or shine, to do as much as they can. You will hopefully be pleased to know that the town Council have commissioned additional litter bins to be placed in strategic areas around Carterton.
As the mayoral year comes to an end, it remains only to say how much I have enjoyed my tenure. I have enjoyed meeting some fantastic people and seeing how they help to improve life for those in our town, things really can change.
Nick Leverton
CARTERTON CRIER - APRIL 2023 5
Your Mayor
West Oxfordshire's finest were out in force this month to celebrate the achievements of local Young People at the first ever West Oxfordshire Youth Awards (WOYAs) black tie Gala Presentation Dinner at The Langdale Hall, Witney.