At the heart of MY FIRST COLLECTION lies an unwavering passion for BELGIUM design since 1995 that goes beyond the ordinary.
Every element, from the smallest detail to the overarching concept, is born from a genuine dedication to creating something truly extraordinary for you and your loved ones.
FOR THE SWEETEST MOMENTS AT HOME
Welcome to a world of wonder, where every corner of your home holds the promise of the sweetest moments for you and your precious baby. From giggles and cuddles to tiny discoveries.
Here are some FIRST ideas to furnish your baby's room with a complete collection of EXCLUSIVE bedding and decoration designs.
Our range has been thoughtfully curated to offer you two distinct options: ESSENTIALS & CLASSSICS.
No matter which style speaks to you, both our Essentials and Classics collections are created with the highest quality materials and expert craftsmanship.
Let us introduce you to the beauty and uniqueness of both.
ESSENTIALS BEIGE
ESSENTIALS PURE WHITE
ESSENTIALS
Our Essentials line is a collection designed to provide COMFORT and functionality for both you and your baby.
Clean lines and TIMELESS designs with a focus on cotton jersey make them the perfect choice for those who appreciate understated elegance.
The Essentials range comes in pure white, pearl grey, azzuro blue and beige.
The collection has everything you need to create a space that is effortlessly matching with most of contemporary interiors.
ESSENTIALS PEARL GREY
ESSENTIALS AZZURO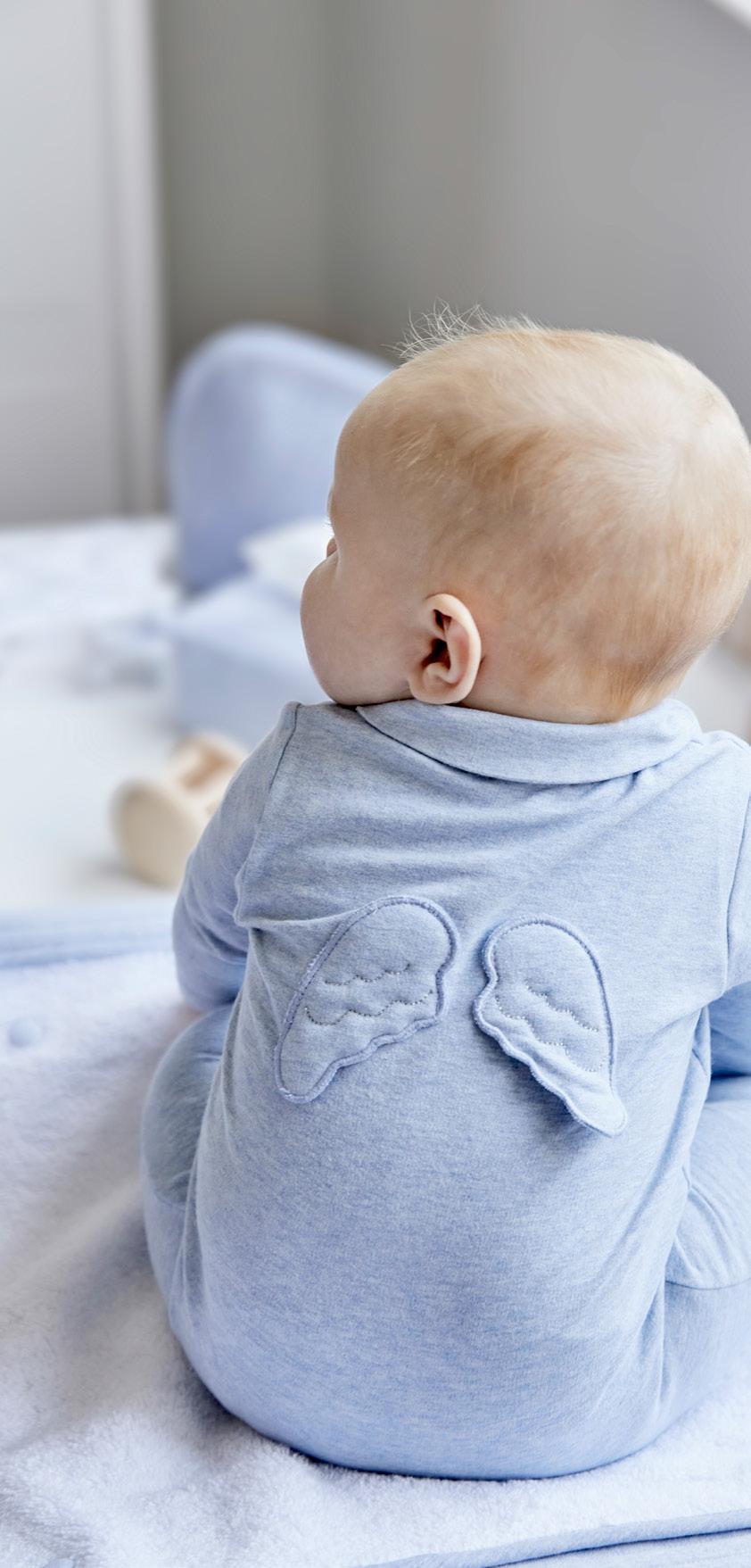 MOONLIGHT GREY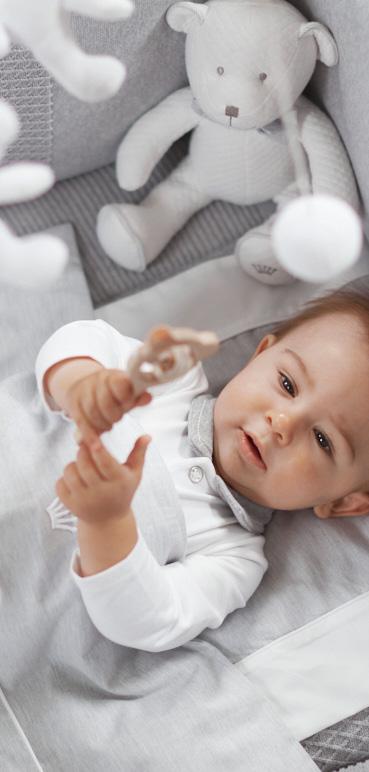 CRYSTAL PINK
CLASSICS
Elegance, sophistication, and enduring charm define our Classics collection.
The models are inspired by EXCLUSIVE designs with a unique range of colors: moonlight grey, crystal grey, ethnic white and crystal pink.
Craftsmanship and attention to DETAILS such as lace and embroideries are at the forefront, ensuring that every creation exudes an air of luxury.
GREY
CRYSTAL
ETHNIC WHITE
Musical mobiles play enchanting tunes that transform the nursery into a haven of melodies. These companions not only captivate with their visual appeal but also comfort with their gentle melodies, turning bedtime into a serene ritual.
OSCAR, your very first musical mobile designed to serenade you with gentle melodies, creating dreams as sweet as the notes it plays.
Having each teddy bear in your collection with its own unique name is a fantastic way to encourage creativity and spark your child's imagination.
BOB is the endearing name chosen for your first beloved doudou, marking the beginning of a lifetime of cuddles and companionship.
MY FIRST FRIENDS
Great adventures starts small. From charming bears and endearing doudou's to enchanting musical mobiles and cuddly teddy bears, our collection is a haven of cherished companions, each ready to create treasured memories.
Our FIRST teddy bears aren't just toys; they're crafted from the same exclusive fabrics that match our room decoration designs. This attention to detail ensures that your soft friends seamlessly blend into the enchanting ambiance of the nursery.
Meet ZOË, the ultimate companion for your baby's joyous adventures. We also offer an XXL version of ZOË, ensuring even more huggable moments for your little one.
FURNITURE
Our furniture designs feature neutral tones, and timeless designs that seamlessly blend with any nursery decor. From cozy crib to ergonomic baby bed , each item has been thoughtfully designed to cater to the needs of modern parents and their little ones.
We use baby-safe materials that undergo rigorous testing to ensure they meet the highest standards. You can rest easy knowing that your baby is surrounded by products that prioritize safety and comfort.
The FIRST furniture is crafted using high-quality wood with respect for the environment.
All of our room designs Gio', June, LOFT and Nino rocking chairs are registered ® to ensure their exclusivity remains protected.
"Timeless and Modern"
Gio' features a blend of classic and modern design. Its gracefully arched curves convey both timelessness and purity. These elements come together to create a piece that beautifully balances classic elegance with a contemporary feel.
GIO'
"The Room That Deserves a Crown"
A Pinnacle of Design for the Enthusiasts of 'FIRST'. The June room boasts a sleek and minimalist aesthetic, characterized by precise right angles and smooth, flat panels. The drawers feature subtly sloping sides, ensuring effortless opening. The pièce de résistance is the chrome FIRST crown, adding a regal touch to the design."
JUNE
LOFT
"Versatile for Any Space"
The Loft design is crafted to seamlessly adapt to various areas within your home. It effortlessly finds its place in the living room as a LOFT playpen/cot or even in more compact spaces like the bathroom as a LOFT dresser.
NINO
"Comfortable Rocking Chairs"
Our First rocking chair, expertly crafted in Europe, features an ergonomic design that ensures both mothers and babies enjoy optimal comfort.
XXL WALLPAPERS
Your baby's bedroom is more than just a space; it's a canvas for creating memories and nurturing growth.
Our collection of exquisite wallpapers, designed under the theme 'My First Friends,' provides a delightful opportunity to add a unique charm to your baby's sanctuary.
Immerse yourself in the world of 'My First Friends' wallpaper designs – a symphony of patterns and colors that capture the innocence and wonder of early years. From the playful motifs of REPLAY to the enchanting landscape of PANORAMA.
All FIRST wallpaper designs are protected by COPYRIGHT.