from Ottawa New Home + Condo Guide – March 28, 2020
by NextHome
DEMYSTIFYING THE DESIGN CENTRE
by MARLENE EISNER
Have you ever wondered what goes on in a design centre? We asked Lynn Telford, manager of the Richcraft Homes design studio, how the process works when buyers reach that exciting point in their new-home experience: Choosing the features and finishes to customize their home. to life. With the guidance of a talented team of designers, you have the opportunity to choose the colours and finishes that make your home uniquely yours. A design studio is inspiring, fun and is the coming together of a highly curated group of quality kitchen, bath and flooring selections.
NEW HOME + CONDO GUIDE: What is a design centre and its function in a newhome development?
LYNN TELFORD: The design studio is where your dream home comes NHCG: Who works in a design centre?
LT: Our design studio operates with designers who are qualified interior decorators. Some are also qualified architectural
technicians. We also have one full-time certified kitchen designer for the demand in upgrades specific to kitchens.
NHCG: How can a new-home buyer best prepare for a design centre appointment?
LT: If they have already purchased a home, they can schedule an orientation with the design team prior to the first appointment. Tour the various model homes for design ideas and finishes. Seeing
FOXWOOD COLLECTION OUR FINAL
2-BEDROOM CONDOMINIUMS From 1,040 to 1,430 sq.ft.
EVERY SUITE IS A CORNER SUITE!
eQ Homes presents the final Foxwood Collection Condominium, just released at Clarence Crossing. Your last opportunity to enjoy life in an intimate 3-storey residence with just 4 suites per floor.
Each comes with secure underground parking included and reflects eQ Homes' industry-leading standards.
FROM THE HIGH $ 300 s Only 12 Suites Available!
Register now eQhomes.ca 613.862.0167
CLARENCE-ROCKLAND CLARENCE-ROCKLAND
OTTAWA RIVER LANDRY ST. 17 TRIM RD. 174 DU GOLF RD. QUEENSWAY CANAAN RD SALES CENTER
235 L'ETANG ST., CLARENCE-ROCKLAND, ONTARIO
…continued from page 20
only the samples can be hard to visualize… shopping our models can help you see these finishes come together. You'll instantly be able to determine what's your style and what you would like to see in your new home.
It's hard to determine a budget when you have so many options to choose from. But determining a budget prior to appointments can help focus on the priorities for your new home. Let the designer know, and they will help keep you on track and only show you items that are within your budget. Our clients come in knowing what they're looking for. We see so much variety, there isn't really a general priority of upgrades – this is a case-by
case basis that is often very personalized to the homebuyer. Items that we do see people upgrading to are free-standing tubs, black plumbing fixtures and hardware, and built-ins, like linen closets. This is often dictated by the latest trend but it is very personal to the client.
If you've collected inspiration, bring it to your appointment. Whether it's fabric swatches, cut-outs from magazines or something you've pinned/saved online, a collection of inspiration will help guide designers to achieve the overall look.
NHCG: How long does an appointment last?
construction, and two more two-hour appointments for colours (this would be all interior appointments for townhomes). Generally speaking, for singlefamily homes, you have the following: Before construction appointments – two, twohour sessions; cabinetry appointments – two, 1.5-hour sessions; colour appointments – two, two-hour sessions
NHCG: When it comes to personalizing a home, what is the difference between standard features and upgrades? Are there guidelines to help someone make smart choices?
LT: This depends on the design centre. With Richcraft, our homes come with so many standard features. During your
"
"Seeing only the samples can be hard to visualize… shopping our models can help you see these finishes come together.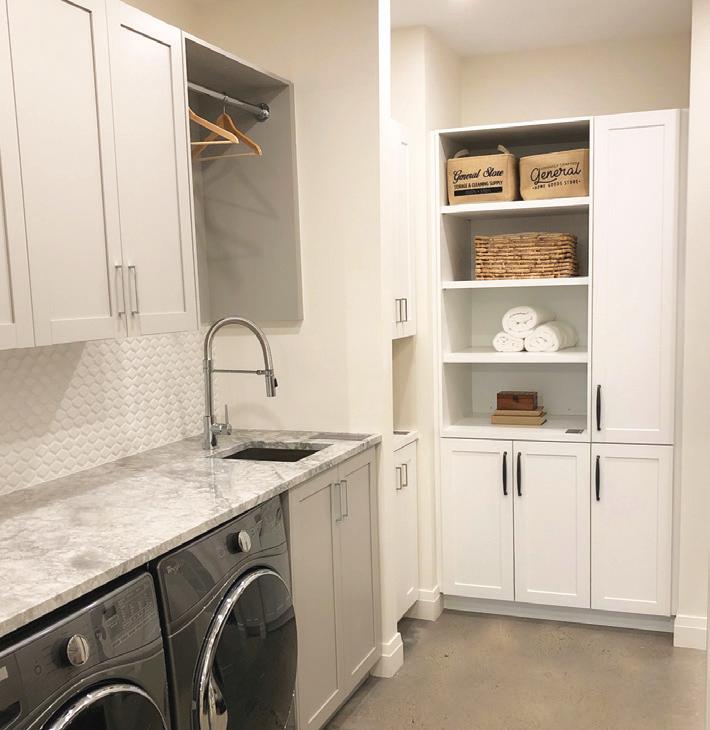 appointment, designers try to get to know you and the model home you have chosen, and why. This helps to determine a homeowner's goals and how best they can assist with the decisions for what to upgrade. All upgrades are based on a set schedule and must be completed within that schedule and cannot be done later. By taking it one step at a time, you'll walk out of your appointment feeling confident with your selections.
NHCG: Any final comments or tips?
LT: Don't be overwhelmed. Designers are there to help keep buyers on track with the proper steps in place. They help each new homeowner through a step-by-step process to achieve their dream home.