Billund, Fredericia, Kolding & Vejle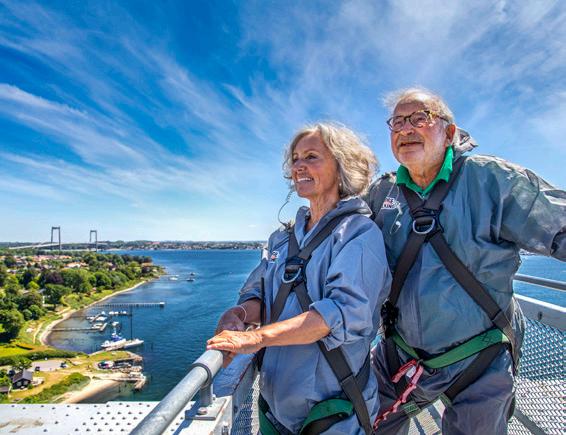 HISTORY & CULTURE | GASTRONOMY | ACTIVE OUTDOORS | OUTDOOR LIFE | DESIGN & ART | A WORLD OF PLAY 2023 FLIP
Welcome to
2023 Find your way through the Heart of Jutland. A practical map for your pocket. Få hjælp til at finde rundt i hele Jyllands Hjerte. Tag kortet ud – og med i lommen. Hilfreich für die Orientierung im Herzen Jütlands. Karte herausnehmen – und einstecken. BILLUND | FREDERICIA | KOLDING | VEJLE CITY
MAPS
Covering an area of 1,288 km2 , the Heart of Jutland offers a wide variety of landscapes – two UNESCO World Heritage Sites, more than 23 museums and experience centres, countless attractions, and an ocean of fun activities for kids.
Auf einer Fläche von 1.288 km2 bietet das Herz Jütlands eine ausgesprochen abwechslungsreiche Landschaft und viele spannende Momente – 2 Stätten des UNESCOWeltkulturerbes und über 23 Museen und Erlebniszentren, zahllose Sehenswürdigkeiten sowie ein Paradies für Kinder.
Med et areal på 1.288 km2 har Jyllands Hjerte et enormt varieret landskab og oplevelsesmuligheder – to UNESCO Verdensarvssteder, mere end 23 museer og oplevelsescentre, utallige seværdigheder, og et hav af børneoplevelser.
Destination Trekantområdet er et destinationssamarbejde mellem Billund, Fredericia, Kolding og Vejle kommuner. Området er et geografisk knudepunkt med kort afstand til resten af Danmark og er hjemsted for landets 2. største lufthavn.
Oplag
50.000 stk.
Udgivelse
Destination Trekantområdet
Åstvej 10 B, 7190 Billund
Marts 2023
Kontakt
info@tdto.dk
+45 8844 0850
Design og redaktion
Mediegruppen as Innovations Allé 3 7100 Vejle
mediegruppen.net
+ 45 7584 1200
Tryk
Stibo Complete
Copyright© 2023
Destination Trekantområdet
#theheartofjutland
Index
Inhalt | Indhold
CITIES
P. 10 Billund
P. 14 Fredericia
P. 18 Kolding
P. 22 Vejle
DISCOVER
P. 26 History & Culture
Geschichte & Kultur | Historie & Kultur
p. 28 Traces of the past
Spuren vergangener Zeiten
Spor af fortiden
p. 30 A part of UNESCO World Heritage
Teil des UNESCO-Weltkulturerbes
En del af UNESCOS verdenarv
p. 32 A society in change
Eine Gesellschaft im Wandel
Et samfund i forandring
p. 34 Historical fortifications
Historische Verteidigungsanlagen
Historiske forsvarsværker
p. 36 In the footsteps of war
Dem Krieg auf der Spur
I krigens fodspor
TASTE
P. 44 Gastronomy
Gastronomie | Gastronomi
p. 46
The new stars
Die neuen Sterne
De nye stjerner
p. 48
Local secrets
Lokale Geheimnisse
Lokale hemmeligheder
p. 52
Taste the Heart of Jutland
Im Herzen Jütlands auf den Geschmack kommen
Smag på Jyllands Hjerte
p. 54
Wine and terroir
Wein und Terroir
Vin og terroir
Look for the Be Happy Pass label and bring the family with you. Turn the guide and read more on pages 4-5.
Halten Sie Ausschau nach dem Be Happy Pass-Zeichen – und bringen Sie Ihre Familie mit. Mehr dazu auf der Rückseite auf den Seiten 4-5.
Se efter Be Happy Pass mærket og tag familien med. Vend guiden og læs mere på side 4-5.
P. 8 Phone numbers
Telefonnummern | Telefonnumre
P. 60 Food & drink
Essen & Trinken | Mad & drikke
P. 62 Destination Map
Destinationskarte | Destinationskort
P. 90 Accommodation
Übernachtung | Overnatning
ADVENTURE
P. 64 Active Outdoors
Aktivsport im Freien | Aktiv Outdoor
p. 66 What have you hooked?
Hat was angebissen?
Hvad får du på krogen?
p. 68
Outdoor stays
Übernachten im Freien
Outdoor overnatning
p. 70 Pack your saddle bag and strap on your helmet
Fahrradkorb packen und Helm festziehen
Pak cykelkurven og spænd hjelmen
p. 72 A great nature park in a narrow strait
Kleiner Belt mit großem Naturpark
En stor naturpark i et lille bælt
p. 74 Water sports
Wassersport
Vandsport
RECHARGE
P. 78 Outdoor Life
Freiluftaktivitäten | Ud i det fri
p. 80 Hiking routes
Wanderwege
Vandreruter
EXPERIENCE
P. 94 Design & Art
Design & Kunst | Design & Kunst
p. 96 Architecture and city walks
Architektur und Stadtwanderung
Arkitektur og byvandringer
p. 98 Art, creativity and great minds
Kunst, Kreativität und krause Gedanken
Kunst, kreativitet og krøllede hjerner
p. 100 Music and culture at heart
Musik und Kultur im Herzen
Musik og kultur i hjertet
EXPLORE
P. 02 A world of play
Eine Welt voller Spiele | En verden fuld af leg
p. 06 Wild fun and games!
Wie wild spielen!
Leg helt vildt!
p. 08 Get close to big (and small) animals
Ganz nah dran an großen (und kleinen) Tieren
Kom tæt på store (og små) dyr
p. 10
Experience waterfalls with water or bricks!
Wasserfälle aus Wasser oder aus Klötzen
Oplev vandfald med vand eller klodser
p. 82
Beaches
Strände
Strande
p. 84 Heathlands and river valleys
Heidelandschaften und Auen
Hedelandskab og ådal
p. 86 Green oases
Grüne Atempause
Grønne pusterum
p. 12
Play your way into history
Geschichte spielend lernen
Leg dig ind i historien
p. 14
Playtime when it rains
Wir spielen auch bei Regen
Vi leger også når det regner
# theheartofjutland 5
This experience guide is printed in Denmark at a Nordic Swan ecolabelled printing house and is FSC certified. Read it with a clear conscience. No harmful added heavy metals, chemicals or dangerous substances have been applied in the process. If you don't wish to bring the experience guide home with you, we kindly ask you to dispose of it in a designated waste bin for paper recycling.