2 minute read
VIEGA SAVES TIME IN MOAB HOTELS
from Viega Voice - November 2019
by Viega LLC
When Javan Shumway first learned about Viega, he said he wished he'd known about press technology sooner.
Shumway, Vice President of Redd Mechanical in Utah, said that in the earlier days, it took some explaining and demos before Viega fittings were put into a job; but these days, it's come to be expected on jobs that Redd plumbs.
Redd Mechanical has been working on several hotels in the Moab area and recently finished plumbing a high-end five-star hotel there. Shumway knows how much time and labor Viega has saved him over the years.
"We're kind of out in the sticks in the Four Corners area of Utah," he said, "And we don't often get suppliers or vendors this way. So when we saw Viega years ago, and they came in and demoed the tools, I had regrets that I hadn't known about it before! Just seeing it in action, I knew it was going to be a tremendous cost savings to us, so we were all in."
First he used ProPress on a hospital in Moab. Shumway said putting in all the copper with Viega was a "nightand-day difference."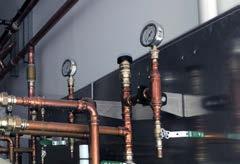 Having just finished the hospital, Redd Mechanical was hired for a hotel, so Shumway and crew demoed Viega products for the hotel engineers and owners.
"They took turns making presses, and we showed them the warranty and all, and they were on board," Shumway said.
Since then, Redd Mechanical has done work for the local school district, including retrofits, and has worked on multiple hotels in Moab, including the most recent five-star location.
There, all the gas lines are run with MegaPressG, large water heaters and main lines are run with ProPress, and all the guest rooms are plumbed with PureFlow. Redd uses Viega's transition fittings to go from copper to PEX.
"Viega is such a tremendous time savings," Shumway said. "When MegaPress came out, we jumped on board, knowing that press technology cuts down on time tremendously. We like doing demos and showing people and getting them on board too." ■