FLOOR FIXTURES
FLOOR FIXTURES
Unlock a world of retail potential with our extensive selection of floor displays. Our offerings range from versatile carts to the highest-end Etagere shelving, so you can discover the perfect solution for your business.
VERTICAL LEDGE 2
VERTICAL LEDGE 3
VERTICAL LEDGE 4
ETAGERE
From $1980
The etagere is the epitome of chic and practicality in one. Its unique back-to-back capability provides a 360 degree view that's further complemented by acoustic paneling for an eye-catching contrast.
VERTICAL LEDGE 5
AFRAME 1.0
From $915
The Aframe 1.0 is a giant of customization—easily modify it to perfectly fit the shape and size of your product with adjustable shelving and a removable top!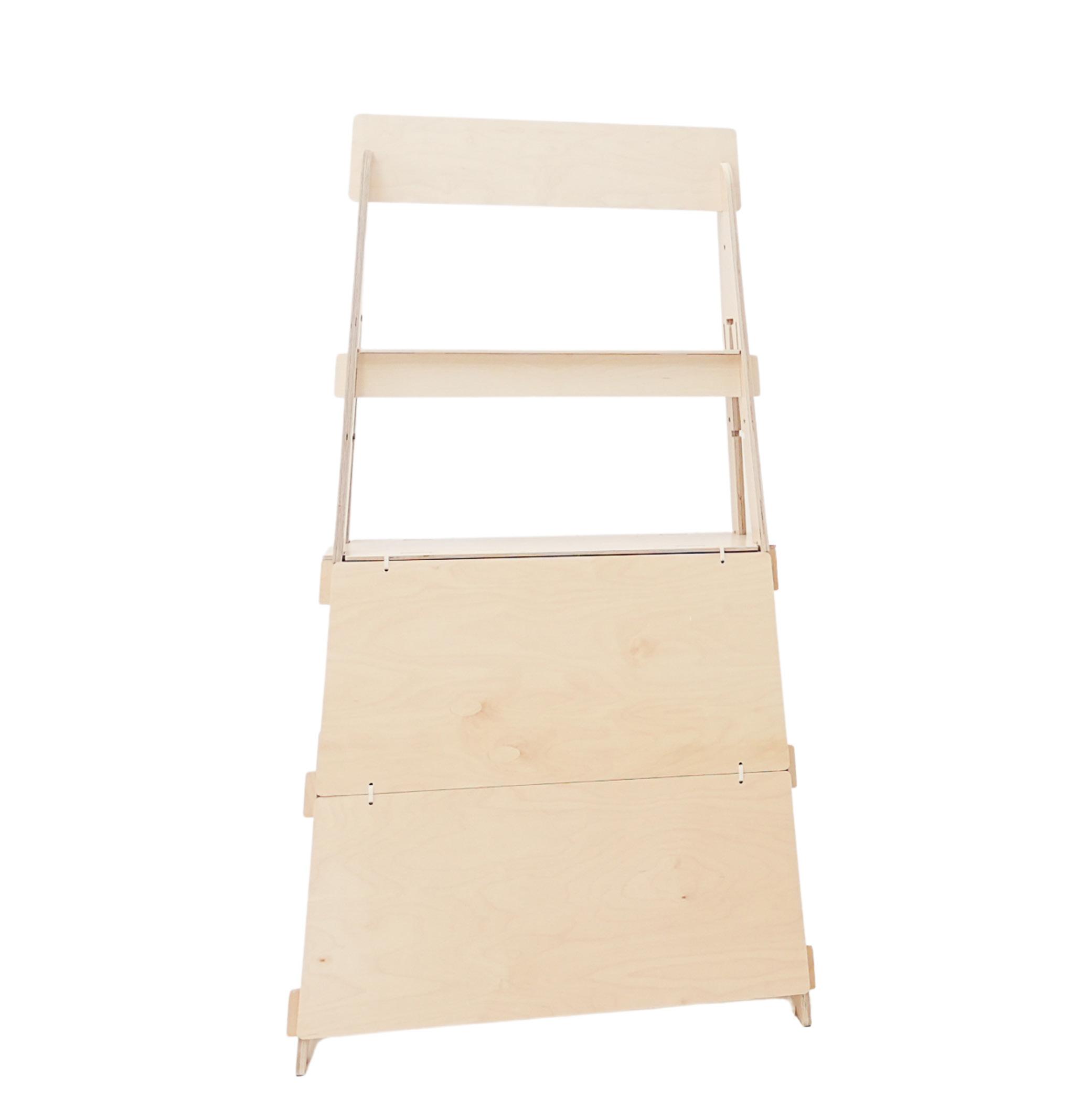 VERTICAL LEDGE 6
AFRAME 2.0
From $585
The Aframe 2.0 offers the same features as its predecessor, but with a compact design that makes it perfect for any space. Its adjustable arch top can be removed to accommodate your style choices and allows you to place it against walls or even stand it freely on its own.
VERTICAL LEDGE 7
PULL CART
From $950
The Pull Cart is a stylish and sophisticated solution for displaying items at eye-level. With its modern acoustic-acrylic shelving, this piece of furniture artfully combines practicality with style.
VERTICAL LEDGE 8
CART
From $980
The interactive and versatile cart is all about flexibility. With adjustable shelving, a removable cover and multiple purposesfrom checkout to serving station, or even as an eye-catching display - it's the perfect fit for any of your needs.
VERTICAL LEDGE 9
BISTRO TABLE
From $200
The Bistro Table can be a check-out station, serving station, or even display table for smaller items. Designed to pack flat for easy transportation and set-up.
VERTICAL LEDGE 10
MARKET TABLE 2.0
From $580
Designed for the ultimate user experience, the Market Table is bar height and compatible with ALL Vertical Ledge table units.
VERTICAL LEDGE 11
DCXL
From $900
Realize your organizational dreams with DCXL's outstanding shelving system! Its sleek design gives you the freedom to create a storage solution that meets all of your requirements. With innovative pegboard inserts, this customizable option will have everything perfectly in place for effortless style and organization.
VERTICAL LEDGE 12
RCXL
From $1250
If you're looking to refresh your pop-up retail space, the RCXL has got you covered! This dual-purpose floor unit and wall mount provides convenience with 18 shelves (more sold separately) as well as 15 pegs. Plus, a Wall Mounted Hardware Kit can be purchased for an even more personalized look - all while easily fitting into two sizes of bags
VERTICAL LEDGE 13
DCL
From $400
The DCL is the perfect choice for those who need a practical, yet convenient storage solution - featuring custom shelves and collapsible legs. Portability has never been so effortless.
VERTICAL LEDGE 14
RCL
From $600
The classic RCL unit is the perfect addition to any retail space, bringing with it a remarkable range of add-on features and stylish rounded curves that will create an elegant atmosphere.
VERTICAL LEDGE 15
RACK
From $425
Vertical Ledge's RACK is the perfect flat pack collapsible clothing rack for pop up markets and other events. This sturdy piece of hardware features a top space for branding and a bottom shelf that can be flush to the ground or slanted down.
VERTICAL LEDGE 16
KIOSK
From $565
The KIOSK is the perfect solution for market pop-ups and exhibitions. This unit sets up in minutes and is lightweight for easy transportation. It fits into the Large Narrow Bag and is bar height so you can stand comfortably or just a tall stool.
VERTICAL LEDGE 17
JAMISON
From $875
Transform your space with the Jamison, a modern record-holder boasting an adjustable acoustic-acrylic divider – providing unbeatable design and complete versatility for any product size or type. Upgrade your space with ease!
VERTICAL LEDGE 18
VERTICAL LEDGE 19
ADD-ONS
Vertical Ledge offers a variety of add-ons to elevate and expand your displays for existing needs and a better merchandising experience.
VERTICAL LEDGE 20
2
4.
6.
8.
VERTICAL LEDGE 21
1. Engraving placard #1 From $30
. Additional Shelves #2 From $40 3. Bag #3 From $50
Peg System #4 From $25 5. Box #5 From $40
Additional Pegs #6 From $15 7.Bijoux #7 From $45
Mirror #8 From $45
BALTIC BIRCH
Baltic Birch plywood is a popular choice for high-end furniture due to its strength and durability. The wood is harvested from the Eastern European Baltic Sea region, and each piece features a unique color variation. Baltic Birch is composed of multiple thin sheets of birch veneer, which results in a more consistent, void-free product.
VERTICAL LEDGE 22
ACOUSTIC PANELING
These panels are highly durable and easy to work with, making them a great choice for any soundproofing project. Plus, our panels come in a variety of colors and textures, so you can create the perfect look for your space. And because our panels are made from recycled materials, they're long lasting and will continue to look great for years to come. So if you're looking for an environmentally friendly and stylish way to soundproof your home or office, choose Acoustic Paneling!
VERTICAL LEDGE 23