SEPTEMBER 2023 152
Voices of Vero
Cosmetic and Implant Dentistry
Whether you are in search of a new family dentist or need a complete smile makeover, our practice is prepared to serve you with the utmost care and attention.
Every day, we help turn dream smiles into a reality. As one of the most sought-after Vero Beach cosmetic dentists, Dr. Planes and the team here at Planes Dental Arts have transformed the teeth of countless patients. We know how important a beautiful smile is and enjoy watching our patients gain renewed confidence in their appearance. We also know how important good health is to maintaining a new smile. From fillings and cleanings to implants and straightening, we offer preventive, restorative, and cosmetic solutions to fit the needs of the whole family.
Our team is highly trained and experienced in a wide range of dental services. With years of combined advanced education and an office equipped with state-of-the-art technology, it is easy to see why so many people choose Planes Dental Arts and Dr. Alex Planes as their Vero Beach cosmetic dentist.
Whether you need general dental care or feel embarrassed or unhappy with the appearance of your smile, we are prepared and ready to address your concerns. Contact us today to schedule your consultation and find out how dental care at Planes Dental Arts can meet and exceed your expectations.
A First Class Experience
September 2023 / ISSUE 152 / Vero's Voice 2
Dr. Alex Planes, d.d.s. 10157 S Federal Highway, Port St. Lucie, FL 34952 772-337-1127 11200 SW Village Pkwy #106, Port St. Lucie, FL 34987 (772) 800-6535 4755 Highway A1A, Vero Beach, FL 32963 772-231-6004 PlanesDentalArts.com
General,
& Things to Ponder
Some days I wish I could go back in life. Not to change anything, but to feel a few things twice.
Part of the problem with the world today is no one snaps green beans with Grandma anymore.
Never be a prisoner of your past. It was just a lesson, not a life sentence. Sometimes I just look up and smile and say, "I know that was you, God. Thank you."
Remember when people had diaries and got mad when someone read them? Now they put everything online and get mad when people don't. Have ya ever listened to some folks and thought, "Their cornbread ain't done in the middle."
Old roads, old dogs, old folks and old ways still have a lot to offer in this sped-up world we all live in.
In the end we won't remember the most beautiful face and body; we'll remember the most beautiful heart and soul.
No one is going to stand up at your funeral and say, "She had really a really expensive couch and great shoes." Don't make life about stuff.
Kids will never know the struggle of landing that record player needle perfectly between two songs.
Don't give them all the things you wished you had. Teach them all the things you wish you knew.
If you played in the street and remember yelling "Car!" you had an awesome childhood.
Kids who never have to earn anything will appreciate nothing.
Most kids today won't know the joy of playing with a telephone cord. Who can still remember their childhood phone number?
EDITOR-IN-CHIEF
Barbara Freund 772-538-2718 barb@verosvoice.com
CREATIVE DIRECTOR
Sandy Carlile sandy@verosvoice.com
ADVERTISING SALES
Brad Scott 772-643-4522
VOICES OF VERO
Steve Glaser 954-261-0544
MAGAZINE DELIVERY George Pevarnik
PRODUCTION ENGINEER
Noah Woodrow noah@verosvoice.com
PUBLISHER
Rhett Palmer 772-473-7777 rhett@verosvoice.com
To Advertise Please call Rhett Palmer at 772.473.7777 or email us at advertising@verosvoice. com. Space deadline is the 1st of each month. Camera Ready deadline
Number of copies printed varies with time of year.
Vero's Voice Magazine is published monthly. Copyright © Vero's Voice Magazine 2010 - 2023, all rights reserved. Reproduction of contents in print or electronic transmission in whole or in part in any language or format must be by express written permission of the publisher. All articles, descriptions and suggestions in this magazine are merely expression of opinions from contributors and advertisers and do not constitute the opinion of the publisher, editor or staff of Vero's Voice Magazine, and under no circumstances constitutes assurances or guarantees concerning the quality of any service or product. Vero's Voice Magazine specifically disclaims any liability related to these expressions and opinions. The advertiser agrees to hold harmless and indemnify the publisher from all liability.
is the 10th. 95 Royal Palm Pointe, Vero Beach, Fl 32960 The friendly publication where friendly people advertise! ISSUE SEPT. 2023 152 MAGAZINE facebook.com/VerosVoiceMag Like us on Facebook inside: September 2023 / ISSUE 152 / Vero's Voice 4 See what your friends and neighbors are saying! Don't miss our Voices of Vero feature starting on page 12. On the Cover: 6 Teens Who Care: A Tennis Match with a Personal Connection 10 Gramma's Apron 12 Voices of Vero: What is a cherished memento you saved from your childhood? 16 Voices of Vero: If you were blessed with $1,000 and told you must spend it immediately, what would you purchase? 18 Movie Review: Mission Impossible – Dead Reckoning – Part One 20 Recipes: Sweet Potatoes and Apples 22 Traveling Mamãe: Enjoying "Everyday" Meals in Brazil 24 TC Stylist: Patio Weather is Upon Us 26 New! Mind Games 28 Encouraging Words
September 10th
Grandparent's DAY
serving The Treasure Coast for over 20 years. Vero East 1602 US Hwy 1 (Next to Waves Auto Spa) (772) 562-6007 2800 NW Federal Hwy (Next to Panera Bread) Steve & Janice Milesic, Family owned and operated business, serving the Treasure Coast for over 20 years. Vero East 1602 US Hwy 1 (Next to Waves Auto Spa) (772) 562-6007 Vero West 6310 20th Street (Next to Starbucks) (772) 217-2877 Jensen Beach 3548 NW Federal Hwy (In front of TC Sq Mall) (772) 232-6672 IRMA®PROOF GOING ON NOW! Labor Day Sales event NEW LOCATION September 2023 / ISSUE 152 / VerosVoice.com 5
TEENS WHO CARE:
September 2023 / ISSUE 152 / Vero's Voice 6
A Tennis Match with a Personal Connection
by Kate Schwinn
Glenn is not just any partner. He's a 71-year-old man with cognitive disabilities. We play together as tennis doubles teammates for Special Olympics, which holds competitions locally, nationally, and internationally for adults and children with intellectual disabilities. As a volunteer "Unified Partner," I've been paired with Glenn to help him enjoy sports and gain a sense of victory and accomplishment.
Special Olympics was founded in 1968 by President John Kennedy's sister, Eunice Kennedy Shriver, who was inspired by the very personal story of their sister Rosemary. Back in the sixties, people like Rosemary who had intellectual challenges were institutionalized and excluded from society. Determined to change attitudes and treatment, Mrs. Shriver started the Special Olympics in her backyard and grew it from there: it's now an international competition that has some five million participants like Glenn and Unified Partners like me, who come together to make the program inclusive.
Like Eunice Shriver, I was drawn to Special Olympics for very personal reasons: my twin sister Olivia is autistic. Having a sibling with autism can be really difficult at times. Although we know Olivia is smart, she is quite impacted by autism and has repetitive behaviors and a lack of full communication. When she's down, she's really down, but when she's happy, the rest of us are happy, too. She loves her friends, her music, and holding photos of people she loves. She doesn't compete in tennis, but she is an avid horseback rider, as well as a Special Olympics swimmer and gymnast. In general, she loves doing anything fun and with other people.
Continued next page
7 September 2023 / ISSUE 152 / VerosVoice.com
Glenn Connolly and I are on a mission: to win gold at the Special Olympics state tennis competition next May. For the past two years, we've teamed up to slice and spin our way to the top.
Left page:
Kate and Glenn Connolly at the tennis area competition for Special Olympics
Right:
Kate and her twin sister, Olivia (right)
Photos courtesy Keena Schwinn
Continued from page 7
My Unified Partner, Glenn, also loves having fun, which is clear from our doubles tennis matches. I'm not sure what his diagnosis is, because I've never asked him, but oftentimes he needs direction with where to stand or when to serve and return the ball. When he's in the game, though, he gets into it and plays really well. He hits the ball hard and has a mean slice, which is why he was chosen for doubles. (Other Special Olympics tennis categories include skills and singles.)
Glenn and I have been partners since 2022, playing together every Saturday from January to April. People have said that we mesh well together: I always try to be patient and have a relaxed energy, while he is very competitive and hates to lose. I seem to be able to balance him out and make sure he shows good sportsmanship.
I think that through his experiences at the Special Olympics, Glenn is becoming more accepting of playing with other people and having fun no matter the outcome of the game. One day he brought me flowers that he picked from his garden and gave me a hug after we played at regionals, even though we lost. That is the goal of Special Olympics: to get disabled athletes exercising and having fun doing a sport with others.
It makes me happy to see Glenn and everyone else at the Special Olympics enjoying themselves and watching them improve throughout the year.
But what makes me happiest is that Eunice Shriver's dream of inclusion and equal opportunity for Glenn, my sister Olivia, and others with disabilities is being realized and that I can play a role in its success.
Top: Kate and Glenn have been tennis partners since last year.
Bottom: Brevard County Special Olympics Team Photos courtesy Keena Schwinn
Editor's Note:
Kate Schwinn, 16, is a junior at Holy Trinity Episcopal Academy in Melbourne, Florida. She is passionate about writing, art, and helping those with cognitive disabilities, not only through Special Olympics, but also as a children's art teacher.
8 September 2023 / ISSUE 152 / Vero's Voice
"It makes me happy to see Glenn and everyone else at the Special Olympics enjoying themselves and watching them improve throughout the year."
-Kate
Center for Advanced Eye Care 3500 US Highway 1 Vero Beach, FL 32960 Call for a free consult: 772-299-1404 ext: 143
PURCHASE A SERIES OF 3 CHEMICAL PEELS & GET ONE FREE $450 (SAVINGS $150) END OF SUMMER SPECIALS
September 2023 / ISSUE 152 / VerosVoice.com 9
PURCHASE A SERIES OF 3 BBL (BROADBANDLIGHT PHOTOFACIALS) & RECEIVE THE 3RD ONE 50% OFF $1000 (SAVINGS $200) BUY A SERIES OF 3 HYDRAFACIALS AT $540 & RECEIVE A OBAGI GIFT WORTH $50
The Apron of Armor
by Lucy Marine
Close to the religious ritual of putting on the armor of God, my grandmother slipped an apron over her homemade cotton dress every morning. This particular bib apron was a breastplate to protect her clothing, ward off germs, comfort kids, and perform other tasks throughout a normal day in the early 1940's. She relied on this cotton armor, as a pastor needs a platform and as a teacher needs a pointer.
The apron ties were neatly secured in a square knot behind her, so little tots could not pull it off as they struggled when she wiped runny noses and bloody boo-boos. This same cloth armor dried her hands to answer a knock at the door, to wrap around hot pot and pan handles, and to
spot-spit a dirty mark on furniture.
I remember Gramma pulling up the bottom section of her apron to form a container to hold freshly dug dandelions, which she added to her supper salad. Once we were out walking in the fields to pick violets and lilies of the valley when Gramma spotted a blueberry bush. Again, she used her wits to gather an apron full of berries.
Ingenious as she was, the bib area of her apron held a threaded needle for emergency stitching.
Last but not least, her apron pocket held precious nickels and dimes. When my cousins and I heard that "merry-go-round" music of the ice cream truck, we knew who to go to for coins. We emptied her apron pocket in exchange for a cool and tasty pushup stick.
Sadly, aprons of armor are missing from our modern grandmothers, as are nickel and dime ice cream treats. Today, these are just precious memories.
10 September 2023 / ISSUE 152 / Vero's Voice
Grandparent's Day is the first Sunday after Labor Day, September 10th. The following is a fond remembrance of a beloved grandmother.
Pictured: Author Lucy Marine
11 September 2023 / ISSUE 152 / VerosVoice.com
by Steve Glaser
OF VERO VOICES
What is a you saved from your childhood? What is a you saved from your childhood? 12 September 2023 / ISSUE 152 / Vero's Voice My mom taught me as a young child to love, not hate. John May EXECUTIVE DIRECTOR OF FEED THE LAMBS My mom's doll that she was given when she was born is my cherished memento. Danielle Casiello
My sports memorabilia collection.
Brandon King
My sports memorabilia from the Marlins winning the 1997 World Series.
Zach Massimo
Cherished memories from my family in Finland.
Honey Minuse
FOR
I cherish my Strawberry Shortcake blanket, a patchwork quilt given to me with love by my grandma.
Anna Valencia-Tillery
OF
My aunt gave me a mechanical toy that plays poker and a small desktop pool table.
John Woike
My dad's dog tags from World War II.
Pete Small FRANCHISE OWNER, O RANGETHEORY
My grandmother's pearls. She gave them to me when I was ten years old.
Kelly Smith
Crystal candlesticks given to me by my paternal grandmother. They sit on my dining room table and give me encouragement every time I walk by them.
Catherine Caddell
A soccer ball given to me by my great grandfather. He played for the Hungarian National team!
Tyler Kabdebo
SALES & MARKETING, MY FLORIDA ROOFING CONTRACTOR
The St. Joseph's medal that I am proudly wearing now, originally given as a gift celebrating my parent's first wedding anniversary.
Joey Lucchini
Growing up I was in the Big Brothers Big Sisters Program and saved news clippings that I was in from local newspapers.
Shamika Hamilton  SHAMIKA SAVES, CREDIT RESTORATION
13 September 2023 / ISSUE 152 / VerosVoice.com
DIRECTOR
MARKETING, WHITE GLOVE MOVING & STORAGE
VERO BEACH CONCIERGE SERVICES, LLC, OWNER
ZJM PAINTING SERVICES
CANDIDATE
VERO BEACH CITY COUNCIL
FITNESS
DOWNTOWN DAPPER BARBERSHOP
KING CUSTOM DESIGNS
Located at 95 Royal Palm Pointe, Vero Beach Call or text 772-473-7777 To schedule a complimentary consultation or email podcast@verosvoice.com Let our professionals guide you in creating your very own podcast in a relaxed environment. Have Your Own Podcast! Vero's Voice Podcast Studio is Available to Rent 14 September 2023 / ISSUE 152 / Vero's Voice
15 September 2023 / ISSUE 152 / VerosVoice.com EXCITING NEW MAIN STAGE SEASON! SAVE UP TO 20% NOW ON SEASON & SINGLE TICKETS Located in Riverside Park • Vero Beach Box Office 772-231-6990 • RiversideTheatre.com HELP! (239)393-8414 PinnacleClaimServices.com LIVE CLAIMS EXPERT AVAILABLE 24/7 NO CHARGE UNTIL YOU GET PAID LOCAL ADJUSTERS MINUTES AWAY A+ rating CALL TODAY FOR HELP! (239)393-8414 PinnacleClaimServices.com ZERO UPFRONT COST 5 STAR PUBLIC ADJUSTERS LIVE CLAIMS EXPERT AVAILABLE 24/7 NO CHARGE UNTIL YOU GET PAID LOCAL ADJUSTERS JUST MINUTES AWAY A+ rating CALL TODAY FOR HELP! (239)393-8414 PinnacleClaimServices.com ZERO UPFRONT COST 5 STAR PUBLIC ADJUSTERS LIVE CLAIMS EXPERT AVAILABLE 24/7 NO CHARGE UNTIL YOU GET PAID LOCAL ADJUSTERS JUST MINUTES AWAY A+ rating CALL TODAY FOR HELP! (239)393-8414 PinnacleClaimServices.com ZERO UPFRONT COST 5 STAR PUBLIC ADJUSTERS LIVE CLAIMS EXPERT AVAILABLE 24/7 NO CHARGE UNTIL YOU GET PAID LOCAL ADJUSTERS JUST MINUTES AWAY A+ rating Call Marilyn Dummitt P165201 Your Master of Disaster (321)261-8719 PinnacleClaimServices.com Our Goal: ENSURE You Receive a Fair Settlement. GET THE SETTLEMENT YOU DESERVE On Your Homeowners Claim Not Filed, Delayed, Denied, Underpaid, Late Reporting/Denial ON YOUR Homeowner's CLAIM? 1957 14th Ave., Vero Beach • www.verochamber.com 772-226-5459 MidFlorida Credit Union 2800 20th Street Sept 28th 8-9am SEPTEMBER
VOICES
1,000 $1,000
$1,000 OF
VERO
I'd purchase a new cell phone for my teenage son.
1,000 1,000
I would spend it during my upcoming vacation to Waco, Texas, in my favorite store … Magnolia Market
I would go on a shopping spree and buy new clothes and shoes.
Julie Siano C & C INSURANCE
I would make a few extra car payments on my Chevrolet Trax.
$1,000 $1,000 16 September 2023 / ISSUE 152 / Vero's Voice
Zoei Padilla COMMON BOND TITLE COMPANY
If you were blessed with $1,000 and told you must spend it immediately, what would you purchase?
by Steve Glaser
Bob Burbic REALTOR, KELLER WILLIAMS OF VERO BEACH
Tammy Brogan CAREGIVER
1,000
I would put the money towards my rent. It's hard to live nowadays!
1,000
I would go to Sherwin Williams and buy more equipment for my business.
I would immediately plan a vacation to Scotland.
I would buy an airline ticket to visit my two children in South Dakota.
$1,000 $1,000
I would be so happy to buy Fortnite dollars. It's my favorite game to play!
I would go to Home Depot Garden Center and buy more plants for my garden.
1,000 $1,000 $1,000
I would use the money to fix my air conditioner.
I would take my grandchildren on a trip to Disney World.
I would purchase a ticket for a fun cruise.
17 September 2023 / ISSUE 152 / VerosVoice.com
Julie Harper CONSULTANT, WINNING CONTACT
Lamberto Suazo OWNER, FRESHCOAT PAINTING
Ted J. Del Rosario GLOBAL WELLNESS ADVOCATE
Willy Vento-Martezian NURSE PRACTITIONER, QUALITY CARE MEDICINE
Jacob Matthews FACILITIES MANAGER
Joanne Basila FLORIDA IRISH AMERICAN SOCIETY
Deborah West CREATIVE CHILDREN
Elizabeth Bowler ITEX FRANCHISE OWNER
Jordan THIRD GRADE, LIBERTY MAGNET SCHOOL
REVIEWS
Mission: Impossible –Dead Reckoning - Part One
by Del Bates
Jaw-dropping Evil Knievel stunts and intense Steve McQueen car chases keep the audience on the edge of their seats in Mission: Impossible – Dead Reckoning –Part One. This is the seventh Mission Impossible adventure for Tom Cruise, aka Ethan Hunt, an agent of the Mission Impossible Force.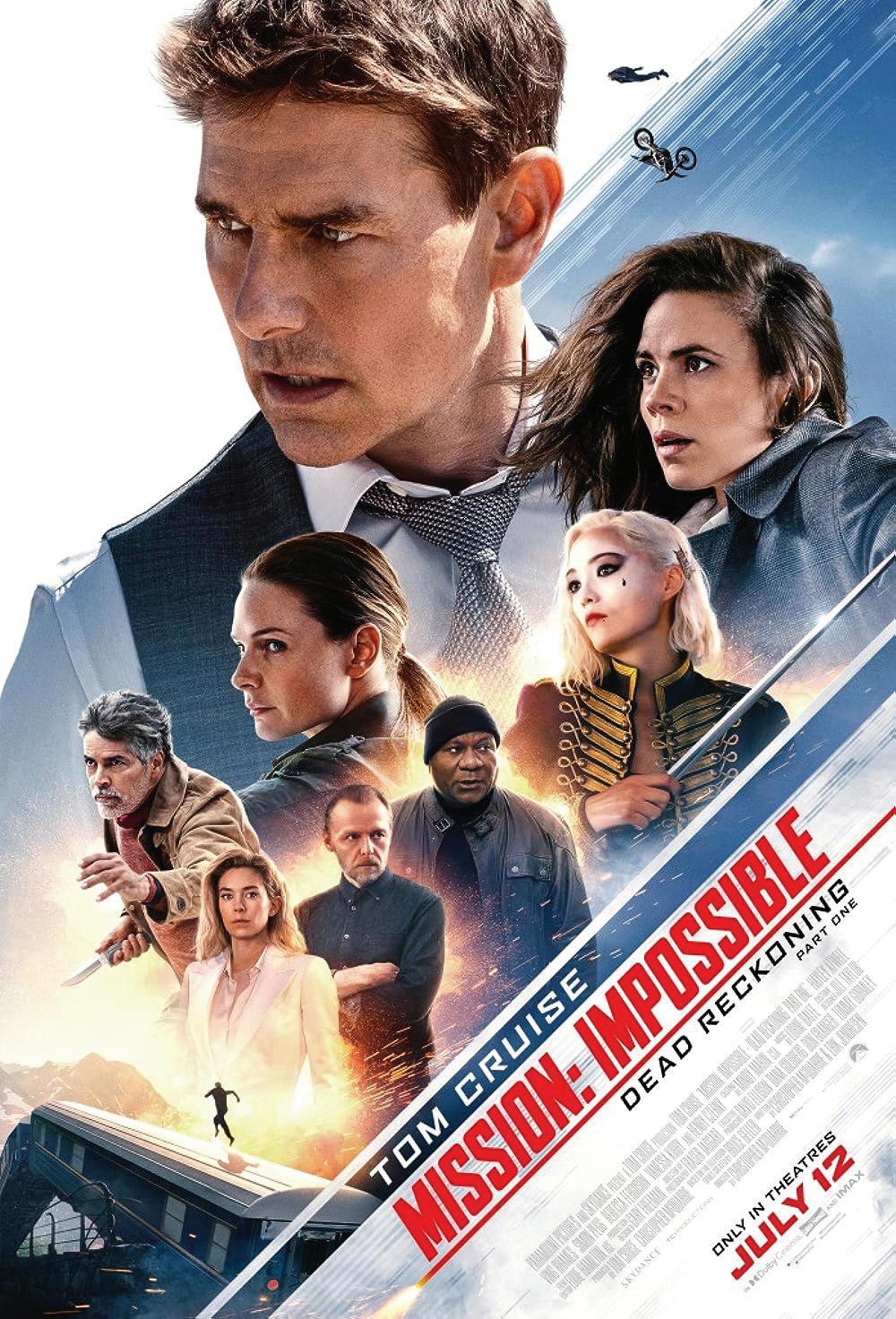 Although the previous films have been written and produced by various filmmakers and crews, this one was written by Christopher McQuarrie and Erik Jendresen, then produced by Christopher McQuarrie and Tom Cruise.
Once again, as in previous films, Ethan Hunt (Tom Cruise) is portraying an undercover spy under the IMF's (Impossible Mission Force) leadership. He is head of the team to stop enemy forces and prevent a global disaster by tracking down a new weapon that threatens to destroy all humanity if it falls into the hands of the wrong person, the sinister mercenary named Gabriel (Esai Morales).
The film begins underwater with a Russian spy submarine, Sevastopol, which is using AI technology called The Entity that's controlled by a bejeweled two-part cross-like key. The crew sees what they believe is an enemy sub on radar and fires a torpedo, but then too late realize the enemy sub wasn't real. The torpedo turns back on them and blows their sub to smithereens.
The movie's premise is to find the other half of the two-part key before
the enemy can use it to unlock The Entity and destroy the world.
Ethan puts together a meeting with the United States Intelligence Agency and the CIA director, Eugene Kittridge (Henry Czerny), to discuss his mission: to find the other side of the key, even if the lives of those he cares about are in danger.
and finally to Switzerland for the movie's grand finale.
In the final quest to get their hands on the other half of the key, the Impossible Mission team creates the perfect plan to nab the key on the Innsbruck-bound Orient Express. In an attempt to board the moving train, Ethan rides his motorcycle off the edge of a cliff in a breathtaking move and soars through the air towards the train below (an amazing feat Cruise performed himself).
Will Ethan win and finally get his hands on the other half of the key? Will any of his close friends lose their lives in the battle? I challenge you to watch the movie and be surprised at its ending.
In closing, we must believe good will overcome evil. As Ethan and Gabriel struggle with their final fight atop the fast-moving train, we, too, battle in situations in life. But who wins? Can we hold on and save what we know as good? These are just a few questions for thought that stirred in my mind as the credits began to roll
MISSION: IMPOSSIBLE –DEAD RECKONING - PART ONE
A Few Interesting Facts…
The movie is action packed with twists and turns, car chases, fender-benders, and rear-end crunches. Ethan and Grace (Hayley Atwell), who pick-pockets the other half of the key out of Ethan's sports coat at the airport, are now scrambling to escape the authorities as well as a mysterious assassin, Paris (Pom Klementieff), in what seems a never-ending car chase.
His teammates and friends, Benji Dunn (Simon Pegg) and Luther Stickel (Ving Rhames), assist Ethan in helping escape one dangerous encounter after another. They work alongside each other, no matter the cost, to retrieve the missing key – from Rome to Vienna, Venice,
• The film has grossed $522 million worldwide. The budget to produce the movie was $291 million and increased due to covid.
• Tom Cruise performed most of the stunts himself throughout the movie. It took one year of training to prepare for the scene where he shot off the edge of the cliff, which enabled him to fulfill a lifelong dream.
• They had to bring in all the material needed by helicopter to build a ramp atop the mountain in Norway to practice – up to 30 times a day.
• His shot off the cliff is known as the biggest stunt in cinema history.
• Look for Part Two in 2024.
Del Bates is an award-winning author and speaker. Her latest book, Walking in a Minefield -- A Sojourner's Guide to Overcoming Life's Obstacles, is available on Amazon. You can find more at delbates.com. She co-hosts the podcast, "Seeds of Hope," with Penny Cooke, Wednesdays at noon on Vero's Voice.
September 2023 / ISSUE 152 / Vero's Voice 18
RATED PG
Del Bates
LOWER COST! Replace at a than a dealer YOUR KEY FOB? LOSE FULLY MOBILE Serving Indian River County Noe Larios OWNER & OPERATOR insta.keys772 Call or Text 772-307-9408 Download the CARTer's Corner app for the latest recycling information or visit indianriver.gov. Pizza boxes are no recyclablelonger in blueyourcart! Recycling Tips from the solid Waste Disposal District (sWDD) R ecycle R ig HT! 4 Toss in the trash! 19 September 2023 / ISSUE 152 / VerosVoice.com Vintage Restaurant Classic Dining ••••• Breakfast Lunch • Dinner Cocktails 3414 Cherokee Drive • 772-567-7727 • www.cjcannonsrestaurant.com C.J. Cannon's RESTAURANT & LOUNGE He's taking me to C.J. Cannon's! Overlooking the Vero Beach Airport
by Barbara Freund
The thermometer says otherwise, but the calendar says Fall which is my favorite season. I love the thought of sweater-weather, as my mother called it, seeing all the pumpkins and gourds in the grocery stores. Here are some ways to prepare two of my favorite fall foods -
Sweet Potatoes and Apples
Sweet Potatoes with Homemade Marshmallow
Topped with a heavenly marshmallow-y meringue. The recipe calls for a food processor, but you can use a stand mixer.
INGREDIENTS
For the potatoes:
4 pounds sweet potatoes
4 tablespoons (1/2 stick) unsalted butter, melted
2 tablespoons dark brown sugar
1/4 teaspoon freshly grated nutmeg
1/8 teaspoon cayenne pepper
3 large eggs
1 teaspoon vanilla extract
Kosher salt and freshly ground black pepper
For the marshmallow:
4 large egg whites
1/2 teaspoons vanilla extract
2/3 cup granulated sugar
1/2 teaspoon cream of tartar
DIRECTIONS
1. Preheat oven to 425°. Line a baking sheet with foil or parchment. Butter a 3-quart broilersafe baking dish and set aside.
2. Wash, dry, and pierce the potatoes. (I use a knife and make several small slits across the potato.) Place potatoes on the lined baking sheet and roast until tender, between 45 and 60 minutes, depending on size of potatoes. Cut a large slit in the top to release steam and let cool for 15 minutes.
3. Reduce oven temperature to 375°.
4. Scoop out sweet potato flesh, discarding the peel, and place in a food processor; process until completely smooth, 30 seconds. Add butter, brown sugar, nutmeg, cayenne pepper, eggs, and vanilla. Pulse until fully incorporated, 3 to 4 times.
5. Season with salt and pepper and scoop into the buttered baking dish.
6. Bake at 375 until set, 20 to 25 minutes. Let stand for at least 10 minutes. Change the oven setting to broil, with the rack in the middle position.
7. Whisk together egg whites, granulated sugar, and cream of tartar in a glass bowl. Place the bowl over (but not in) a saucepan of simmering water and cook, whisking constantly, until the sugar is dissolved and whites are very warm to the touch, 3 to 4 minutes. Remove from heat.
8. Beat egg white mixture with an electric mixer on low speed, gradually increasing speed to high, until glossy and soft peaks form, 4 to 6 minutes. Beat in the vanilla.
9. Spoon meringue over the cooled sweet potatoes and swirl as you would a pie. Broil until meringue is browned, 30 seconds to 1 minute.
20 September 2023 / ISSUE 152 / Vero's Voice
ON THE
MENU
Apple Cider Donuts
September is the start of apple picking season in the northeast, and nothing says fall like enjoying warm apple cider donuts fresh out of the oven. These are baked, not fried, which is why I'll make them as I'm not a fan of the deep frying process. I try not to eat donuts throughout the year, but I make up for it with these!
INGREDIENTS
For the Donuts:
1 1/2 cups apple cider
2 cups all-purpose flour
1 teaspoon baking soda
3/4 teaspoon baking powder
1 teaspoon ground cinnamon
1 teaspoon apple pie spice *
1/4 teaspoon salt
2 tablespoons unsalted butter, melted
1 large egg, room temperature
1/2 cup packed light or dark brown sugar
1/2 cup granulated sugar
1/2 cup milk, room temperature **
1 teaspoon pure vanilla extract
For the Topping:
1 cup granulated sugar
3/4 teaspoon ground cinnamon
3/4 teaspoon apple pie spice
6 tablespoons unsalted butter, melted
INSTRUCTIONS
• Preheat oven to 350°. Spray donut baking pan with non-stick spray and set aside.
Make the glaze: Reduce the apple cider. Simmer the apple cider in a small saucepan over low heat, stirring occasionally, until you're left with about 1/2 cup. Start checking at 10 minutes, then every 5 minutes until you've reduced it down to 1/2 cup. If there are any spices
on top of your reduced cider, leave them. Set aside to cool for 10 minutes.
Make the donuts: Whisk the flour, baking soda, baking powder, cinnamon, apple pie spice, and salt together in a large bowl. Set aside. Whisk the melted butter, egg, brown sugar, granulated sugar, milk, and vanilla extract together. Pour into the dry ingredients, add the reduced apple cider, and whisk everything together until smooth and combined. Batter will be slightly thick.
Fill the donut pan: Spoon the batter into the donut pan. Or, use a plastic squeeze condiment bottle and snip enough of the tip off so the batter easily squeezes out. Fill about halfway.
Bake 10-11 minutes, until the edges and tops are lightly browned. To test, poke your finger into the top of the donut. If the donut bounces back, they're done. Cool donuts for 2 minutes, then transfer to a wire rack. Re-grease the pan and bake the remaining donut batter.
Coat the donuts: Combine the granulated sugar, cinnamon, and apple pie spice together in a medium bowl. Once cool enough to handle but still warm, quickly dunk one side of each donut in the melted butter, then generously in the apple spice topping; repeat with the other side. Donuts are best served immediately. Leftovers keep well covered tightly at room temperature up to 2 days or in the refrigerator up to 5 days. Zap in the microwave a few seconds to heat back up.
If you don't have a donut pan, you can use a standard muffin tin. Fill 3/4 full, bake at 350 for 18-20 minutes, until a toothpick comes out clean.
Notes
* If you don't have apple pie spice, you can make your own: combine 3 tablespoons ground cinnamon, 2 teaspoons nutmeg, 1 teaspoon cardamom, and 1 teaspoon allspice. Store in a spice jar.
** I've used buttermilk, but any milk (dairy or nondairy) works.
Wheeler's Apple Muffins
This recipe is courtesy of Wheeler's Bagels in Johnson City, Tennessee, a family business owned by former county commissioner and sheriff Gary Wheeler and his son Eric Wheeler, a former Sebastian police officer. They offer a wide selection of fresh-made bagels and muffins daily – and these apple muffins are handsdown my favorite. I can't believe they're so simple to make!
INGREDIENTS
1 21-ounce can apple pie filling
3 large eggs
2 teaspoons apple pie spice
1 box yellow cake mix
1/2 cup cinnamon baking chips, plus chips for topping
DIRECTIONS
1. Preheat oven to 350°. Line two cupcake baking pans with paper liners.
2. Beat the pie filling, eggs, apple pie spice, and the cake mix with an electric mixer on medium speed until thoroughly combined. Or, you can "mash" with a potato masher if you prefer chunks in your muffins.
3. Stir in the cinnamon chips; mix well.
4. Divide batter equally between the 24 paperlined cupcake wells. Top with more cinnamon chips.
5. Bake for 25 to 30 minutes, until a knife inserted in the center comes out clean.
6. Allow to cool before peeling off paper liners.
21 September 2023 / ISSUE 152 / VerosVoice.com
by Adaline Carlile
Enjoying "Everyday" Meals
Oi! Tudo bom? It's with a hint of sadness that I'm letting you know I've officially made the move back to the United States from my charming city of João Pessoa, Brazil. It's been a magical ten months, spending time at home with my baby and immersing myself in the Brazilian way of life, but it was time to move on to the next chapter in our lives.
Although my time in Brazil, for now, has come to an end, my journey of sharing experiences with you is far from over! It's fascinating how swiftly I adapted to certain aspects of life abroad, all the while oblivious to the subtle yet distinct differences from life in the USA. One particularly significant change was in the realm of cuisine. While I dearly missed tacos and biscuits and gravy, Brazil offered an array of delectable dishes that I'm only now truly appreciating.
So, let's gather 'round the table and indulge in some common Brazilian meals!
In my earlier articles, I delved into the unique foods of northeastern Brazil, but that just scratched the surface of the vast universe that is comida brasileira (Brazilian cuisine). Both breakfast and dinner are normally very simple affairs. I'd normally enjoy eggs alongside cuscuz, tapioca, or tucked into a sandwich. Occasionally, I'd opt for breakfast from a Brazilian bakery where I would find an assortment of cheeses, meats, fruits, starches, eggs, and cakes. But culturally speaking, breakfast in Brazil isn't quite the elaborate affair it can be in the United States. (Yes, I really missed breakfast sausage and waffles paired with the occasional mimosa.)
As for dinner, if we didn't have more eggs or leftovers from lunch, we'd order from the endless list of restaurants that serve house-made, fresh food for a fraction of United States prices.
Contrary to the American norm of dinner being the big meal, lunch takes the spotlight in Brazil. It is customary to eat lunch anywhere between 1:00 and 3:00 in the afternoon. Rice and beans are a staple, along with a variety of starches, meats, and salads.
The types of beans vary, from black (preto) to pinto (carioca) to black-eyed peas (feijão verde). These beans, or feijão, are usually slow-cooked with meat and veggies until they're packed with flavor and resemble a hearty stew. In fact, the broth from Brazilian beans can even be served in a cup, known as caldinho de feijão, and is a common bar snack. I never imagined ordering bean broth at a bar, but, when in Brazil… Accompanying the beans is rice, often infused with garlic and onion.
You might find other starches on the table as well, including fried or mashed yucca, fried bananas, mashed potatoes, and pasta prepared with garlic and scrambled eggs or homemade tomato sauce.
No Brazilian meal is complete without some form of meat. I'd often find chicken (frango,) fish (peixe,) or both, gracing the spread of dishes. These can be panko-crusted, sautéed with onions, baked, simmered with broth and veggies, or shredded and folded into Brazilian omelets or casseroles. Carne do sol (sun dried beef) is also a common lunch item in northeastern Brazil, served in various preparations, from sautéed to shredded. Sometimes we'd have three different protein choices at one meal!
One interesting thing I learned is that Brazilians love casseroles. A favorite of mine is called peixe a delícia. It is baked white fish, usually tilapia, layered with plantains or bananas on top, then mashed potatoes, white sauce and cheese, baked until melty. It may sound odd, but it was such a tasty sweet and savory dish.
Another classic favorite is a casserole called escondidinho. I would describe it as a Brazilian Shepard's Pie. It can be made with shredded chicken or
TRAVELING September 2023 / ISSUE 152 / Vero's Voice 22
MAMãE
Escondidinho
shredded sun dried beef (the most common type in our house) and then topped with mashed yucca and melted cheese. It usually didn't have any other vegetables in it, but paired well with veggies on the side.
To round off your plate, there's vinagrete: a blend of chopped tomatoes, onions, and bell peppers, and farofa, a toasted cassava meal that you sprinkle on the side for an extra kick of flavor and a satisfying crunch! This unique dish is also incredibly versatile, often mixed with bacon, herbs, or banana. All of this would be served with fresh juice like acerola, guava, orange, or cajá.
Our sweet cravings were satisfied with freshly sliced local pineapple (abacaxi) at the end of the meal. It was Gus's favorite treat for the longest time!
After lunch, usually an hour or two later, it was my time to unwind with a strong, small cup of authentic Brazilian coffee accompanied by some treats. This was the daily coffee ritual that I absolutely adored!
Among the treats we enjoyed during these moments were pudim, reminiscent of flan; bolo baeta, a rich, sweet condensed milk cake that had the comfort of custard yet could be
held in my hand; and bolo de rolo, a thinly swirled pastry filled with guava paste. This coffee ritual felt even more magical when enjoyed against the backdrop of the stunning cityscape from my in-laws' 21st-floor apartment or when at our own place with a serene view of the beach.
All in all, Brazilian cuisine is vastly different than it is in the USA. With lunch being the main dish, it felt nice to eat a large meal in the afternoon rather than just before bed time. While I missed my favorite American foods, it was hard to be sad about it when I had so many new dishes and treats to enjoy daily, especially for a fraction of the price.
Later, I'd love to share with you more classic dishes and snacks across the nation that you have to try if you ever find yourself visiting. Until then, I hope this little introduction to daily fare will be enough to satisfy your international palate. Ate logo!
September 2023 / ISSUE 152 / VerosVoice.com 23
Caldinho de feijão (bean broth)
3456 US HIGHWAY 1, VERO BEACH VeroBigShots.com (772) 979-GOLF Family Fun! EVENT SPACES AVAILABLE 30 CLIMATE CONTROLLED TEE BOXES FULL SERVICE BUNKER BAR AND GRILL 18-HOLE MINIATURE PUTTING COURSE
Bolo baeta
Acerola juice
by Marianne Howell
Blue Stripe Woven Seagrass Basket
$39.95 – $79.95 | anthropologie.com
Blue Pheasant Palmer Natural Wine Bottle Holder
$72 | hivepalmbeach.com
Hive Palm Beach, 1609 S. Dixie, West Palm Beach, Fl 33401
21.7" Kante Lightweight Outdoor Tall Concrete Planter
Rosemead Home & Garden, Inc. | $79.99 | target.com
Set of 3 Paulownia Wood Vases
Storied Home | $50.40 | target.com
White Porcelain Garden Stool
$488 | vbhome.us | VB Home, 615 Beachland Blvd., Vero Beach, FL
Caliente Round Woven Jute Placemat
Crate & Barrel Exclusive | $16.95 | crateandbarrel.com
Ventura Boho Stationary Wicker Egg Chair
Better Homes and Gardens | $297.00 | Walmart.com
Palm
$30.00 | kdspain.com
18" Reversible Throw Pillow
Cooler weather awaits and we have some outdoor decor items to refresh your porch or patio! Is Upon Us! B. D. G. F. H. E. C. September 2023 / ISSUE 152 / Vero's Voice 24 Marianne Howell is a stylist based on the Treasure Coast. She is drawn to simplicity and believes that less is more. Find her online: www.treasurecoaststylist.com, instagram, facebook, & pinterest @treasurecoaststylist
STYLIST TREASURE COAST
A.
Patio Weather
September 2023 / ISSUE 152 / VerosVoice.com 25 Assisted Living • Memory • Respite Care 3855 Indian River Blvd, Vero Beach (772) 770-3796
ngaged living, a tranquil setting, and compassionate care are hallmarks of Sodalis Vero Beach, an assisted living community that encourages an active lifestyle and daily activities for residents – both on campus and throughout the beautiful Vero Beach area. With designer touches throughout, you'll enjoy a spacious apartment home and a long list of amenities, knowing that you have a full range of personalized care available. A
Eplace to be! Schedule a Visit Today! Facebook Live Tuesdays 6PM Fridays Noon - 1PM with "The Prison Preachers" Jesus, Set Me Free He who the Son sets free is free indeed.
– John 8: 36 Wednesdays @ 12:12PM Facebook Live On Vero's Voice Magazine Encouragement for what you face today, tomorrow and always. Del Bates Penny Cooke pennycookeauthor.com delbates.com
dynamic, fun and welcoming
Pastor Warren Kelly Brother Danny Lopez
GAMES
SAMURAI SUDOKU
The aim with Samurai Sudoku is to place the numbers 1- 9 exactly once in each region in each puzzle grid. This puzzle contains 2 overlapping grids, and the numbers 1 – 9 are to be placed once in each row, column, 3x3 box. Some regions and numbers are shared between grids.
PERCEPTION
Answer the following questions after studying the puzzle for five seconds:
1- Which color appears least frequently in the picture?
2- Which color appears most frequently in the picture?
WORD LADDER
Change one letter of the top four-letter word to create a new word below. Continue the process, ending with the word on the bottom rung.
FEEL SICK
ENGLISH REASONING
Which English word can be placed before all of the following to form new words or phrases on each occasion:
a) Admiral
b) Dwarf
c) Carpet
d) Herring
LATERAL THINKING
Craig had a very small garden, barely large enough to take a few paces in any direction before hitting the boundary with the next property. Yet Craig had a full-size tennis court in his garden. How is this possible, given how small his garden is?
WORD WHEEL
Answer the following questions after studying the puzzle for five seconds:
1- Which color appears least frequently in the picture?
2- Which color appears most frequently in the picture?
Only once you have written down your answers, check the picture and see if you got it right.
If you did, congratulations - it is tricky to grasp exactly what you are being presented with at such speed; you have excellent perception skills!
O I N
How many words of five or more letters can you find in the wheel? Each word you find must use the central letter. Can you find a word that uses all eight letters? A T E T P L
26 September 2023 / ISSUE 152 / Vero's Voice
on
30
Answers
page
3 4 7 9 5 1 8 5 2 3 8 7 6 4 5 1 4 2 9 5 6 7 2 3 8 7 3 9 5 4 8 9 1 4 7 9 2 4 9 8 5
MIND
Planes Dental Arts Presents Rhett Palmer 89.9 FM WCNO Alex Planes, DDS WEEKDAYS 7 AM • 3PM • 3AM September 2023 / ISSUE 152 / VerosVoice.com 27
WORDS
by Beth Walsh Stewart
Do Not Fear
When God designed the human psyche, He saw to it that an emotional response to trouble would kickstart specialized physical reactions that support survival. According to Northwestern Medicine powered by Northwestern University, fear incites the fight or flight response for a person in danger.
"Stress hormones like cortisol and adrenaline are released. Your blood pressure and heart rate increase. You start breathing faster. Even your blood flow changes — blood actually flows away from your heart and into your limbs, making it easier for you to start throwing punches, or run for your life."
Designed for a short-term highly-energetic result, this surge of vitality is aimed to facilitate continued existence. Clearly, fear was designed to support life. Still, it is one of the strongest emotions known to man and can trigger consequences that linger.
First, let's consider a word picture to expand our understanding. Imagine a powerful acid that is used to clean rust from automotive tools and industrial equipment. Because of its strength, this acid is meant for short-term use only. If the metal object is left in the acidic compound for too long, the acid can remove paint, finish, and even break down the metal itself. This special acid is designed for a short-term highly-energetic result.
What happens when a human being is left in fear for more than the necessary time to accommodate survival? Perhaps this is the birthplace of anxiety. Statistics from the National Library of Medicine suggest that anxiety affects almost 8% of Americans under the age of 50. This trend hasn't been measured since the Covid pandemic, but most mental health professionals have seen a marked increase in this problem in the last few years.
Often, fear is generated by an actual threat or danger to a person's wellbeing. Phobias and worries may be minor forms of fear. These may be linked to past or future concerns, and although they are not substantiated in the present, they evoke a fearful response.
An example of a phobia is a person who is afraid of snakes. Maybe they stepped on one as a child and it frightened them. Since no snakes are present, to fear them seems crazy to anyone but the person experiencing the fear. Many phobias are born in a past event.
On the other hand, worry is usually about an imagined future event. Perhaps a person has a large bill that is due concurrent with his electronic payroll deposit. While the fearful one worries about the smooth timing of these two happenings, he may experience disrupted sleep or mental turbulence. Only the passing of time will heal most worries.
Anxiety is different. It seems to stem from concern of threat to a person's identity, not to their actual person. When dissecting complaints of anxious patients, there is often a link to societal apprehensions. Fear of performance, like speaking in front of a crowd, can make a person anxious. Large crowds may trigger anxiety, because the anxious one may suspect judgment and an inability to fit in comfortably.
Anxiety is common among those with a history of ill-treatment. Many mental health practitioners believe it stems from physical or emotional abuse, neglect, or being bullied during childhood or teen years. Now, the adult that hurts from it may be triggered by emotional memory of those causes, usually brought out by stress, isolation, and uncertainty.
If you or someone you know suffers with fear, ask a few questions. What is the fear attached to? Is it personal safety that is in jeopardy, or identity? The nervous system was created to utilize fear for short periods of time, to bring clarity and speed in response. If it is running full-time, like a battery, it will wear down. If that describes the situation, the problem is most likely anxiety. Remember the acid analogy. Without treatment, it will eventually affect the healthy part of the victim.
Anxiety is treatable, but only if it is shared. It is time to tell someone that you are suffering. Don't go it alone. The Anxiety and Depression Association of America, aada.org, may be a place to start. If you are faithful in a church family, consult your pastor or rabbi. There are many quality therapists available, and some have less expensive rates via Zoom or another digital media source.
Finally, if anxiety stems from a wounded identity, it's important to start healing. This world is suffering right along with the anxious, and as each of us realizes our value and talents, it may become evident how much we need each other.
Do not fear. You are not alone.
28 September 2023 / ISSUE 152 / Vero's Voice
ENCOURAGING
Beth Walsh Stewart, MTh, is the visionary behind the WeCovering Project and the Creator of BethWe, the nonprofit that was the impetus for this work. Dedicated to rescuing the stragglers lost in the shadows of the road of life, Beth is best-known for her Good Seed Podcasts, 12-Step seminars, weekly blogs, g.o.d.speaks books, and uplifting workshops. Beth lives by this motto: I have been called to help my brother find his authentic self and his God, and I best accomplish this end by sharing my pursuit of the same.
Beth Walsh Stewart
"Statistics from the National Library of Medicine suggest that anxiety affects almost 8% of Americans under the age of 50."
he Patriot Church's goal is to educate you about the truth of our country's founding and empower you to engage in the Battle for the Heart and Soul of America. Join the Sacred Cause to Save our Republic! Tune in Wednesdays, 11:00am-12:00noon 4th Sunday in Sebastian, 50 S. Wimbrow Dr, 10:00am 5th Sunday in Vero Beach, 4425 71st St, 10:00am For booking/training information contact Rev. Dr. John A. Vacchiano 772-766-0079 OFFICE SPACE For Lease Modern 1600 square feet facility situated in central Vero Beach. Join neighbors including; South State Bank, McEvoy, Tropic Shores, and ReMax Real Estate Office. This space features a State-of-the-art Reception Area, Six Private Offices, Kitchenette, Conference Room, 2 Bathrooms, and Foyer. 800 20TH PLACE, SUITES 4 AND 5 LEASE PAYMENT PER MONTH: $2150.00 + sales tax. Century 21 Circle • 772-532-9184 David A. Walsh BROKER/ASSOCIATE CALL Professional
Mind Games Answers
Puzzles on page 26
WORD WHEEL:
aeon, alien, alone, ant, atone, elan, elation, entail, eon, inept, inlet, into, ion, lain, lane, latent, lean, leant, lent, lento, lepton, lien, line, lino, lint, lion, loan, loin, lone, nail, nap, nape, neat, net, nett, nil, nip, nit, not, note, one, open, opine, pain, paint, pan, pane, panel, pant, pantile, paten, patent, patient, patten, pen, penal, pent, piano, pin, pine, pineal, pint, piton, plain, plaint, plan, plane, planet, plant, platen, pliant, point, potent, potential, taint, talent, talon, tan, ten, tent, tin, tint, toenail, ton, tonal, tone
47
64
ENGLISH REASONING: Red
LATERAL THINKING:
Craig was a tennis court fitter, specifically fitting indoor carpet courts. He had a full-sized tennis court rolled up in his back garden.
PERCEPTION:
Least: yellow, Most: pink
77
September 2023 / ISSUE 152 / Vero's Voice 30 Can't Sleep? Tune in to "New Day" @ 3 am Hosted by Rhett Palmer Daytime Broadcast 7 am & 3 pm 89.9 FM - WCNO WORD LADDER: FEEL PEEL PEEK PECK PICK SICK
TARGET:
GOOD:
EXCELLENT:
1 8 9 6 7 5 3 2 4 7 4 6 9 2 3 8 5 1 5 3 2 4 1 8 9 7 6 6 7 8 5 4 1 2 9 3 3 5 4 2 9 6 7 1 8 2 9 1 8 3 7 4 6 5 4 6 5 7 8 2 1 3 9 9 1 7 3 5 4 6 8 2 8 2 3 1 6 9 5 4 7 5 6 4 8 7 2 9 7 1 3 5 4 2 8 3 9 6 1 4 2 5 6 3 8 7 1 9 7 6 3 1 2 9 5 4 8 8 9 1 7 4 5 6 2 3 3 1 8 4 5 7 2 9 6 2 5 4 3 9 6 1 8 7 9 7 6 8 1 2 4 3 5
Strengthen Yourself in the Lord
by Pastor Alex Pappas
Every single one of us goes through ups and downs in our lives. Sometimes things go so well and we are upbeat and feel like we can take on the world. But then we have moments where things go wrong and we feel like the weight of the whole world is coming down on us and nothing seems to go right at that moment in time.
A lot of the times, we turn to things that we believe will make us feel better. Truthfully, some of them do make us feel better; however, it might be only short term, and before we know it we are right back where we used to be – sometimes even feeling worse than before.
The most amazing thing is that the Book of Life, the Bible, tells us of the place where we can truly go to be strengthened, the only place that will make a lasting difference. The scriptures teach us that we can go to Lord to be strengthened.
Psalm 29:11 (NKJV)
11The LORD will give strength to His people; The LORD will bless His people with peace.
Psalm 46:1 (NKJV)
1God is our refuge and strength, A very present help in trouble.
Psalm 54:1 (NKJV)
1Save me, O God, by Your name, And vindicate me by Your strength.
From the above scriptures, it is clear to see that God is the One who will strengthen us when we are down or weak. If we trust in Him and go to Him, He will strengthen us and get us through every difficult situation or season in our lives.
In saying that, you need to realize that we will always be faced with certain times of difficulty in this life, when things will go wrong; however you need to know where to go and find your strength. God will give you the strength to get through it.
The next time you are struggling or going through a hard time, I want to challenge you to turn to the Lord and He will be your strength and get you through it!
THE JERICHO MARCH
In the Bible, Joshua 6 records the incident of the battle at Jericho.
God told Joshua that if he submits to the Divine strategy, there will be success.
The situation was that Jericho had 13-foot walls and was closed to everyone (1-2).
The strategy was for Joshua, with his priests and army, to march around Jericho 7 times on the 7th day and blow 7 shofars and the walls will come down (3-11).
Joshua submitted and did what he was told (12-19).
They had success (20-21)
Whatever situation we are in, God has a strategy that we need to submit to and we will have success.
Whatever "walls" you are surrounded by, submit it to the Lord and watch Him work on your behalf (Romans 8:28).
Blessings & Victory in Jesus, Pastor Rich
Pastor Alex Pappas is Senior Pastor at Oceans Unite Christian Center located in the Indian River Mall. Live broadcasts and podcasts are available at oceansunite.com.
Pastor Alex Pappas
637 SebaStian blvd. SebaStian www.completeelectricinc.com 772-388-0533 • Whole House Automatic Generators • Portable Generator Connections • Service and Maintenance Agreements • Sales & Installation by Complete Electric Inc. • 24 Hour Emergency Service complete electric inc. EC0001911 / EC13001688 COMPLETE ELECTRIC,INC. C E Residential • CommeRCial • industRial call today! 637 SebaStian blvd. SebaStian www.completeelectricinc.com 772-388-0533 • Whole House Automatic Generators • Portable Generator Connections • Service and Maintenance Agreements • Sales & Installation by Complete Electric Inc. • 24 Hour Emergency Service complete electric inc. EC0001911 / EC13001688 COMPLETE ELECTRIC,INC. C E Residential • CommeRCial • industRial call today! COMPLETE ELECTRIC RESIDENTIAL • COMMERCIAL INDUSTRIAL 772-388-0533 WWW.COMPLETEELECTRICINC.COM COMPLETE ELECTRICINC C E 637 SebaStian blvd. SebaStian www.completeelectricinc.com 772-388-0533 • Whole House Automatic Generators • Portable Generator Connections • Service and Maintenance Agreements • Sales & Installation by Complete Electric Inc. • 24 Hour Emergency Service complete electric inc. EC0001911 / EC13001688 COMPLETE ELECTRIC,INC.
E Residential • CommeRCial • industRial call today! September 2023 / ISSUE 152 / VerosVoice.com 31 REV'S VERSES by Pastor Rich Ienuso ENCOURAGING WORDS CONTINUED Pastor Rich Ienuso
C
Delivery Locations
BEACHSIDE
Riverside Theatre
Cliff Norris Real Estate
Village Beach Market
CVS-A1A
Planes Dental Arts
Vero Beach Hotel & Spa
Cobalt
Seaside Grille
Corey's Pharmacy
Lemon Tree
Ocean Grill
Holiday Inn
Treasure Lane Boutique
Red Onion
The Tides
Ryder's Gourmet Market
AMAC | Alex MacWilliam
Real Estate
Charlotte Terry Real Estate
Di Mare Restaurant
Marine Bank
John Michael Matthews
Fine Jewelry
Asian Fusion
Ryder's Market
IN TOWN
Think Financial, 1340 US 1
1420 Coffee House, 2001 14th Ave
ACT Computers
Vero Beach Chamber of Commerce
Habitat for Humanity
Certus Memory Care
CVS –53rd
Center for Advanced Eye Care
Big Shots Golf
Mental Health of IRC – 37th PL
Springhill Suites
Regency Park
Oak Harbor Club
Crab Stop
Calvetti's Manatee's La Tabla
Rhonda's Seafood
Mattress Market – US1
Postal Connection
CVS –17th
Sweet Kiss Ice Cream
Vero Beach Book Center
Dunkin Donuts
Vincent's Italian
A & A Insurance
First Watch Restaurant
Hampton Inn
S.T.A.R. Pilates
Ceviche Michaels on 7th
The ARC
Wooden Spoon - Oslo
IRC Chamber of Commerce
Vero Beach Theatre Guild
County Administration Office
Carole Jean Jordan, IRC Tax Collector
Cultural Council
Beach Bum Bagel
Vero Beach Main Street
Gallery 14
Main Library
Renaissance Senior Living
Vero Beach Airport Lobby
CJ Cannon's Restaurant
Perkins Pharmacy – Route 60
Oceans Unite Christian Center
Oceans Cafe
Mattress Market – Route 60
Brackett Library, IRSC
Larry's Roadside Restaurant
Image 360
Kelly's Irish Pub
Hemp Nook
Salt & Pepper BBQ
Mrs. Mac's Fillin Station
Seacoast Bank
Joey's Seafood
Golf Carts of VB
Majestic Theatre
Einstein Bagels
Touch of Class Dry Cleaners
Green Marlin Restaurant
Molinari Pools
American Legion
Orthopaedic Center of Vero Beach
Orthopaedic Center Physical Therapy
Dean Wellness Center
American Grill
Center City Pizza
Vero Beach Chamber of Commerce
The Red Wok Chinese Restaurant
The Rowe Gallery and
Vero's Voice, 95 Royal Palm Pointe
VERO'S VOICE MAGAZINE