HOME-DESIGNER AND ARCHITECT MAGAZINE
HOW ABODE'S VALUES POSITIVELY IMPACT THEIR CUSTOMERS
OCTOBER 2023
www.homedesignerandarchitect.co.uk
[CLICK HERE]
STELRAD. YOUR FIRST CHOICE FOR A RENEWABLE FUTURE.
All Stelard radiators are fully compatible to meet with the requirements of the newly updated Part L Documentation, with the intention of reducing carbon emissions, increasing the energy efficiency of both domestic and commercial properties, and future proofing for low carbon technology.
Stelrad's range of high output radiators are aesthetically designed to meet your needs, now and in the future.
Compact 900
Not just any rad. Stelrad.
K3
AND VERTICAL RANGES
out more at Stelrad.com
Find
NEW 900 HIGH STELRAD COMPACT THE UK'S NO.1 COMPACT RADIATOR
Compact with Style K3 Compact Vertical
Planar K3
Compact K3
CONTENTS October 2023 CONTACT US HOME-DESIGNER AND ARCHITECT Get Peace of Mind with a JCT Home Owner Contract Resources for homeowners doing building or renovation work © STOCK.ADOBE.COM Available in hard copy or online Place your order today. Visit: www.jctltd.co.uk/category/home-owner-contracts To speak to a member of the team, please call 020 805 09659 or email hello@homedesignerandarchitect.co.uk The appearance of your hotel is of paramount importance when inspiring confidence and delight amongst clientele. NeoRuler, a smart ruler is about to change how we measure How Abode's values positively impact their customers 4 10 6
Being awarded 'Best for Innovative Hard Surfaces Restoration and Repair Services 2022' by Design and Build Awards and with 30 years' experience in specialist repairs and restoration, Magicman can assist.
Our customers include celebrated hotels, famous cruise lines and busy international transport
hubs. From Park Lane to Pakistan, Bermondsey to Bermuda, we provide repair and restoration services all over the UK and around the world. At Magicman, we know that a good repair is the best thing to do.
If your premises are in need of some TLC, we have the services and equipment to help you out. We
can handle minor chips, scratches, and other superficial issues as well as more major damage such as dents, burns and cracks.
Our skilled technicians can restore your premises in the highest order by addressing any unsightly damaged items in a timely manner and in an affordable manner. There's no need to worry about how much time it will take us to complete repairs because our team is always on time—and ready to go!
We do not limit our services to small repairs; we are able to restore main entrances and windows while also working on door frames, cills and even entire buildings or shops fronts. Inside or outside, we can fix any colour, grain, or pattern you may want! We use only certified technicians who are trained and experienced with every job they undertake.
Our goal is always customer satisfaction!
We remove the panic when sudden and unexpected damage occurs which has the potential to push clients into penalty clauses. As completion deadline approaches, it is imperative that snagging issues are remedied promptly and to a standard that assists
Before After •4•
The appearance of your hotel is of paramount importance when inspiring confidence and delight amongst clientele.
you to handover to client 'defect free'. Magicman has both the skill sets and the ability to provide the numbers to ensure this happens.
Most items are produced in batches and replacements, in addition to being subject to long lead times, may not be the same colour or sheen of the original. A Magicman repair is the easy, cost-effective solution.
When you're a hotelier, you can't afford to have a room that's not up to snuff.
That's why Magicman is the perfect solution for when your rooms need a little work.
We've been providing repair services for hotels for over 30 years, and we know how important it is to keep your rooms looking and feeling brand new. We also know that sometimes things happen maybe there's an incident that causes damage, or maybe it's just time for an upgrade. Whatever the case may be, we're here to help you find solutions—and fast!
Our team can handle most problems with efficiency and ease, whether they involve cabinets or furniture. We'll even handle any of your snagging issues before you hand over possession of the room to your client, so they don't have to worry about paying extra fees due to incomplete repairs.
We've got all kinds of options when it comes to repairing damaged items in your hotel rooms.
What
does this mean for you?
Our business model of repairing items on site instead of ordering and installing replacements, saves you time and money and
is better for the environment. Typically repairing on site saves between 50– 80% of the cost of installing a replacement. Repairing on site reduces waste to landfill and greenhouse gases created in production and delivery of replacement items.  It avoids long delivery times; any possibility of ancillary damage and items can often be back in use within hours. Magicman provide teams of technicians who repair, restore, and rejuvenate (in-situ) doors, floors, furniture, sanitaryware, baths, basins, shower trays, whirlpools, ceramic tiles, handrails, panels, artworks, sculptures, reception desks, walls, common areas including bars, restaurants, gyms, and spas.
All without removal or replacement!
We are fully accredited, certified, and audited so we can deliver the standards you expect nationwide:
ISO 9001: 2015 Quality Management
ISO 14001: 2015 Environmental Management
ISO 45001: 2018 Occupational Health & Safety
We're all about making your life easier.
That's why we created Magicman: to help you save time, money, and resources. Our team of experts can repair hard surfaces to a wide range of different items and types of substrates, including:
• Wood and laminate
• Glass polishing
• Metal polishing
• Stone and marble repair & polishing
• Ceramic tiling
• Plastics / uPVC
• Corian
• Powder coated surfaces
• Painted surfaces (including wallpaper)
• Sanitaryware (baths, basins, and showers)
Big savings
The premise of Magicman is a simple one. Instead of replacing damaged items and surfaces we copy the colours, patterns, texture, and sheen to repair the original, typically saving between 50% - 80% compared with the cost of replacement. Better for you and better for the environment.
Because Magicman work on site (we come to you) and our repairs are so quick, without the lead time involved in ordering replacement items, the turnaround time is reduced, and costs are dramatically lowered. Also, your items are brought back into use much more quickly.
If you would like to know more, please contact enquiries@magicman.co.uk or visit our website www.magicman.co.uk.
Before After •5•
NATURALÉ AQUIFIER MATT BLACK
HOW ABODE'S VALUES POSITIVELY IMPACT THEIR CUSTOMERS
We speak with Leanne Stansfield, Marketing Manager at Abode on the latest ESG policies, and how these positively influence its customers, own people, and increasingly sustainable product offer...
The latest market research from Statista clearly shows that the majority of UK consumers aged 16-44 are more likely to buy from a brand that has strong ethical and sustainability credentials. For this reason, it is essential for manufacturers to effectively convey its commitment to these areas within its product range to help drive footfall to its customers in the construction industry.
As more manufacturers invest in eco-friendly initiatives to design products, source materials and increase energy efficiency, it makes perfect sense for architects, developers and interior designers to partner with them to enhance their green credentials and collectively benefit from this growing market.
We continue to make huge strides as a carbon neutral business across the KBB and interior design sectors, passing on a range of green rewards to the end user and wider community, both locally and globally.
In support of our ongoing ESG strategy and corporate responsibility to reduce and offset our emissions, 125 state-of-the-art Solar Photovoltaic Panels have now been installed on one of our building's large south-facing roofs, which offer a combined output of 50k/watt every hour. The solar energy generated will produce enough electricity to independently power the Barnsley site, as well as surplus energy during the summer months to sell back to the National Grid.
Bolstered by the commitment to cut our carbon footprint by a further 5% by spring 2023; equating to 1.95 tCO2e (tonnes of carbon dioxide equivalent), the leadership team at Abode has defined three SMART targets (specific, measurable, achievable, relevant, and time-bound) as part of the carbon management plan to secure wins for its employees and the environment: Solar Energy, electrification of the company fleet to ensure that all vehicles will be hybrid or electric hybrid, reducing emissions by 51%, and an amended Business Travel Policy where practical.
•7•
With the solar panels fully functional, the next step was to install charging points for electric vehicles to ensure it can benefit from the power generated from this on-site installation which to date, has helped to circumvent around 17,500 kilos of CO2 emissions annually. Office lighting has also been converted to LED and sensor installations to use electricity more efficiently, save energy and help protect the planet.
Ultimately, our purpose is our people and so introducing social measures that elevate our strong family culture is critical in all we do, and centers on leadership, support of performance and delivering sustainable outcomes. On achieving Investors in People accreditation in 2021, we have made several improvements across the business including our communications, staff policies, schemes and business management processes through to our staff training programme, welfare privileges and benefits, break-out/relaxation areas, and a new work from home policy where non-operational staff have
the ability to work in the office or from home each week. We want to ensure that every member of the Abode team shares the same vision and that this comes across to our customers in everything we do.
Working to one goal, the Abode family culture all helps to reinforce our reputation for designing
environmentally sustainable products including designs like our range of Aquifier water filter taps, innovative filter solution Swich® and more recently Naturalé 3 IN 1, which presents a green tap solution for the modern kitchen with minimal impact to the environment and home energy use! Designed with cold start valve integration to reduce the home's
•8•
AWARD WINNING PRODUCT DESIGN
NEW OUTDOOR SEATING AREA
energy wastage and a 5Lp/m flow limiter that uses up to 97% less water per minute without a drop in pressure, Naturalé also features an FSC®certified Beechwood timber handle, so users can enjoy the benefits of quality raw materials while becoming part of the solution to plastic pollution!
By offering greener alternatives like Naturalé, we are helping our customers take more control of their water supply, cut energy and waste, help to save the planet and ultimately, encourage better hydration for optimal health and wellbeing in the home. The statistics agree, as around 68% of consumers state the kitchen now holds great significance in terms of day-to-day living and improved personal wellbeing and given that water management is intrinsic to the smooth running of this key family space there is a prevalent market trend towards taps with strong design and eco credentials which can offer long-term rewards.
Abode brand values centre around our friendly and experienced team, who pride themselves on having superior customer service. Committed to offering the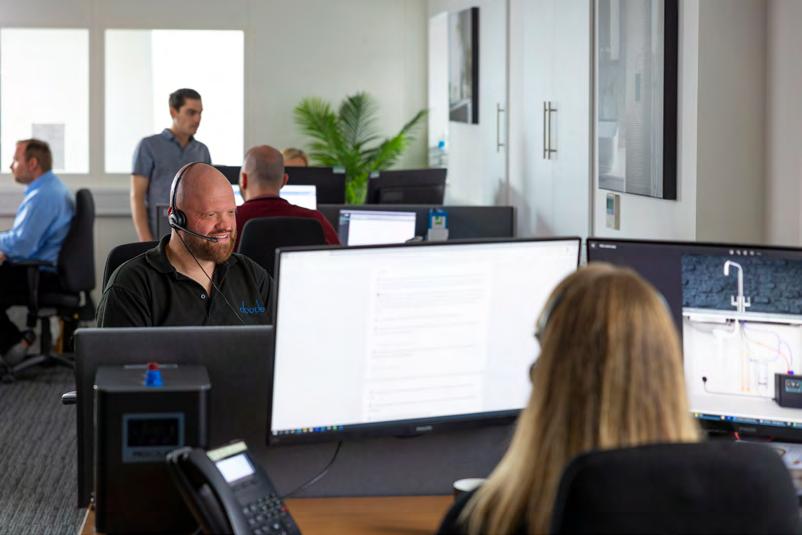 best level of consumer support, supreme product quality and having integrity in all we do, Abode will never just do what's easiest, it will always do what's right for the customer.
Added to this is our comprehensive range of unique selling points, and our experienced product and design experts. Abode products are designed and developed by our knowledgeable team in Barnsley, South Yorkshire, and each year, we design unique and innovative new products to sit across our various product categories. We've won several awards for our products in our 21 years, and we don't intend to stop any time soon!
www.abodedesigns.co.uk
•9•
ABODE CUSTOMER SERVICE TEAM
THE ABODE FAMILY, BARNSLEY HQ
NeoRuler, a smart ruler is about to change how we measure
NeoRuler is a smart ruler that can be customized for every need of desktop measurements.
HOZO Design announced the prelaunch of its new product called NeoRuler. The product will be officially launched on Kickstarter on Feb 28th, 2023. It is a smart ruler that satisfies all of the desktop measuring needs with infinite customizable scales, units, and 0.1mm resolution. It will potentially replace all rulers, scale rulers, and many other desktop measuring tools. Specifically designed to simplify takeoffs from design, architectural and engineering drawings. It works on both the Imperial and Metric systems and can be connected with a dedicated app to transfer and save measured data.
NeoRuler has three primary features that enhance its ability to aid in drafting, measuring, and reading. The Scale Ruler function includes 90 built-in scales, allowing immediate measurements during drafting with a single swipe. The Customized Scale function of NeoRuler enables users to define any scale within a few seconds, even from plans that have been reduced, enlarged, or are just out of scale. And the Divider function helps to divide a line into equal lengths easily.
NeoRuler enables users to convert units and scales without calculations, saving time and energy and reducing the chances of error, freeing modern-day professionals from loaded work. With three distinct modules for different purposes, including NeoMagnifier, Penholders and Caliper Modules, NeoRuler offers an impressive range of features. Each module is equipped with reading, drafting, and bordermeasuring capabilities.
NeoRuler can be easily connected with the MEAZOR APP. Simply pressing the ( ) button in the app, the user can transfer the measured data and continue further editing and drawing without worrying about losing track of their data. From paper to CAD, data digitalization is made easy by NeoRuler. The users can. export every single line into CAD files DXF, PDF, and JPG and easily share that with colleagues.
By employing the 4096-Grade magnetic encoder principle, NeoRuler is capable of quickly acquiring measuring results with a precision of +-0.1mm. Additionally, its durable frame, constructed from 6063 al, is designed
•10•
to withstand wear and tear, ensuring a lifetime of high quality and durability. With a length of 30cm, NeoRuler is suitable for most measuring tasks, and its weight of 120g and ideal thickness makes it comfortable to hold. The custommade 1.14 LCD screen on NeoRuler makes reading measurements effortless, while the front side features a stylish anti-glare finish for added protection. NeoRuler's 900mAh battery can last up to 30 days of wireless use on a single charge and can be conveniently charged using USB C.
The product page of NeoRuler provides all the necessary information that a user may need to know about the product. The NeoRuler is now available to backers only on Kickstarter with a special offer starting from $89, MRSP $129.
To learn more, visit: hozodesign.com/products/ neoruler
Support NeoRuler on Kickstarter by clicking here.
•11•
BEHOLD GOTHAM'S LATEST SUPERBUILDING
It's time to add New York University's new $1.2 billion mixed-use superbuilding to Manhattan's pantheon of structural marvels.
Welcome to John A. Paulson Center, a 23-story, 735,000 square-foot building that reimagines the scope and scale of higher education in an urban setting. Imagine, for example, a city block-sized building housing 400 first-year students, dozens of NYU faculty and their families, nearly 60 classrooms, 70 instruction and practice rooms, and a 350-seat theatre.
That's just for starters. Below grade is a wonderland of athletic and sports facilities, including a six-lane pool, varsity arena, squash courts, track, four-court gym, and wrestling and fencing rooms.
To make this vertical, campus-in-the-sky concept work with New York class and style, the architectural team of Kieran Timberlake and Davis Brody Bond inverted design convention. John A. Paulson Center reverses the expected building vocabulary by pushing foot traffic to the transparent perimeter, classrooms to the core.
Result:
Interior walkways are drenched in natural light and showcase the outside buzz and vibrancy of Greenwich Village. Conversely, outside strollers are greeted to a building animated by color, art, and the energy of NYU in motion. John A. Paulson Center is the architectural embodiment of the college experience.
Making all this transparency and openness possible, of course, is glass:
Textured Façade . Rather than monolithic planes of glazed cladding,
the structure adds a distinctive texture with staggered setbacks and angled wedge panels tailored in shape and placement to amplify daylight harvesting and reduce glare. Inside, wedge panels double as inviting window benches to chat, study, or take in Village life below.
Bird Friendly Glazing . Environmental considerations are a foremost concern for the LEED Gold-targeted project. Among them: Safeguarding the local bird population. Today it's estimated that up to 230,000 birds die each year in New York due to glass collisions. John A. Paulson Center may be one of the city's safest glass clad buildings, thanks to sintered glass with enough frit and pattern design to alert flying birds.
Fire-Rated Glass … Everywhere . In fire rated areas such as exit corridors, stairwells and occupancy separations, low-iron fire resistive glazing tested to ASTM E-119/UL 263 was used for vision and transparency. Life safety is paramount.
Ordinarily fire resistive ASTM E-119/UL 263 compliance means using opaque materials like sheet rock. However,
that's a disruptive barrier to daylight flow and visual wayfinding. SAFTI FIRST's director of architectural promotion Mike Augustine worked with design team in the early stages of the project, providing pre-design details and budget numbers. "Achieving maximum transparency with fire resistive glass & framing became a key design feature in these high traffic areas such as corridors, stairwells, vestibules and athletic areas including the pool." Because aesthetics was also an important design consideration, SAFTI FIRST provided low-iron SuperLite II-XL 120 in GPX Architectural Series Framing for the 2 hour walls and low-iron SuperLite II-XL 90 in GPX Builders Series Doors for the full vision 90 minute temperature rise doors.
The lifting of the 'opaque veil' is especially transformative in below-grade facilities, offering surprisingly robust illumination and visual connectivity between spaces. Fire resistive glass manufacturer SAFTI FIRST, a U.S. company, proved instrumental in helping the architectural team achieve their design intent without risking life safety. SAFTI FIRST's fire rated products are widely used throughout John A. Paulson Center.
•12•
Slated for a spring 2023 opening, John A. Paulson Center promises to transform the New York University campus.
Solutions to Domestic Repairs
A company is only as good as its support sta so at the Magicman head o ce in Brighton, there are dedicated teams of technical experts and call handlers ready to help customers 6 days a week.
Magicman have repair technicians available nationwide so there is always someone ready to help customers in their local area. However the story doesn't begin or end there, they are supported by dedicated teams of friendly call handlers and technical experts at Magicman's head o ce and call centre in Sussex. There are specialists in every department ready to help with General Enquiries, Desktop Analyses, Insurance Claims, Bookings and After Care, six days a week.
Customers can upload photos and a few details about their damaged items through Magicman's 'Get an Estimate' form on our website, company Facebook page or FREE APP for iPhone and Android devices. Technical experts with years of experience in the eld, carry out a Desktop Analysis to determine whether a successful and lasting repair can be carried out.
An estimate is then dispatched based on time needed to carry out works. This means that for most customers a site visit is not necessary, speeding up the bookings process and avoiding call out charges.
Suppliers of Specialist Repairs to Wood
Laminates
Veneer
Ceramics
Marble
uPVC
Glass
Chips
Cracks
Dents
Scratches
Holes
Burns Stains
....and much more, just ask!
For a free estimate visit magicman.co.uk/get-an-estimate/ or get our FREE app available for Apple and Android smart phones
Before
Before Before After After
After
SHOREWOOD HOMES COMPLETES FIRST PROJECT UNDER PARAGON'S GREEN HOMES INITIATIVE
Shorewood Homes has completed the first project under Paragon Development Finance's Green Homes Initiative.
Consisting of eight family houses over two sites, Shorewood's Winchester development has achieved an Energy Performance Certificate rating of A - with the company using the latest materials and construction techniques to produce homes that minimise their environmental impact.
Paragon's  Green Homes Initiative  aims to support SME housebuilders developing new domestic properties with the highest energy performance standards. Under the scheme, developers delivering homes with an Energy Performance Certificate rating of A will receive a 50% reduction on loan exit fees.
The initiative is designed to support the UK Government's target of net zero carbon emissions by 2050 and reducing emissions by 78% by 2035. The Future Homes Standard, from 2025, will require new homes built to produce between 75% and 80% fewer carbon emissions.
The deal was led on behalf of Paragon by Relationship Director Toby Burgess.
Shorewood Homes is a leading property development company, focusing on Winchester and the wider Hampshire area. The company aims to create sustainable homes which fit well within the traditional environment of Winchester, with period-style features.
Richard Wickins, Director at Shorewood Homes, said:  "We're delighted that our Chilbolton Avenue development is the first project completed under Paragon's Green Homes Initiative. We are proud to deliver a development of exceptional quality and of the highest energy efficiency, benefitting occupiers' energy costs and the environment.
"Over the course of the project we have developed a strong relationship with Toby and the development finance team; we share their passion for the environment and value their understanding of our business."
Toby Burgess, Paragon Development Finance Relationship Director, said:  "With Shorewood's latest development achieving the highest energy performance rating, I'm delighted that they will benefit from Paragon's Green Homes Initiative exit fee discount.
"Providing funding to support the creation of energy efficient homes is not only of huge importance to the environment but it will also help reduce energy bills for homeowners. I look forward to working with developers throughout the country to deliver further projects under our Green Homes Initiative."
•14•
SAMSUNG TVS TO SUPPORT HUE SYNC APP AND HUE LIGHTS
Users can enjoy a seamless and immersive light syncing experience when gaming or watching a movie, even via native apps such as Netflix and Disney+. The app supports all image formats such as 8K, 4K and HDR 10+.
"This is an incredible milestone in Philips Hue's home entertainment journey and our ever-evolving partnership with Samsung. We are proud to offer more immersive and personalized experiences with our new Philips Hue Sync TV app and look forward to bringing this new way to enable surround lighting to living rooms across the world," says Jasper Vervoort, Business Leader Philips Hue at Signify.
Philips Hue is all about personalization, and the new Philips Hue Sync TV app offers various customization features: users can set the intensity of the syncing experience, adjust the brightness of the lights, select video or game mode, enable auto-start, and more. Philips Hue users can
create the best home theater experience by creating an Entertainment area in the Philips Hue app on their mobile device — they can select the lights they want to sync, and then drag and drop them to the right place and height in relation to their TV.
"We're excited to bring the Philips Hue Sync TV app to Samsung TVs together with Philips Hue," says James Pi, Head of Experience Planning Group, Visual Display Business at Samsung Electronics. "This innovative app offers our users a new way of experiencing TV content by immersing themselves in their favorite movie or game. It brings entertainment via our TVs to a whole new level."
The Philips Hue Sync TV app will be able to be installed directly on TVs from 5 January, with support for Samsung Smart TVs built in 2022 (Q60 model and above). However the app is not free and will cost 129.99 euros. The app can be purchased and downloaded on individual TVs from the Samsung TV app store.
•16•
The new Philips Hue Sync TV app synchronizes Philips Hue smart lights with everything that's shown on your Samsung TV.
+44 (0)20 8760 0900 info@dernier-hamlyn.com www.dernier-hamlyn.com WE'RE LOOKING AT THINGS A LITTLE DIFFERENTLY
TAKES LONGER TO MAKE A CUP OF TEA THAN TO SAFELY EVACUATE A FIRE
In order for a fire evacuation to be safe, everyone should ideally be out within 2 minutes of the alarm ringing or the fire starting. This short span of time is crucial –and can be all that stands between life and death. And yet, in fire drills up and down the country, businesses struggle to get their staff up and out.
To help workers understand just how little time there is to safely evacuate their building, we compared a safe fire evacuation time with the time it takes the average Brit to make a cup of tea — milk and sugar included!
Making a cup of tea takes, on average, 4-6 minutes — twice the amount of time it would take to safely evacuate a building. To boil 1 litre of water takes roughly 2-3 minutes and, when you factor in brewing or 'steeping time' (at 2-3 minutes again), we can safely say that the perfect brew for our nation of tea-lovers takes around 5 minutes on average.
But what about other workplace activities?
To further illustrate our point, we looked at the global and national averages for other common workplace activities, finding that, in the time it takes to safely evacuate a building, you can carry out any one of the following workplace tasks:
• Read through 9 emails
• Power up your laptop 4 times
• Print a 40 page document
• Let 8 phone calls ring until voicemail
• Download approximately 40 word documents*
*Assuming an average document size of 26kb and a minimum download speed of 25Mbps.
See? The time needed to get out of a burning building safely is deceptively quick, but can make all the difference.
Fire evacuations
Organisations should be carrying out at least one fire drill per year and recording the results. They should also keep the results as part of a fire safety and evacuation plan, and be trying to improve their evacuation speeds year on year to guarantee the safety of their employees.
Looking to improve the fire safety of your building or organisation? Fire Seals Direct offer a comprehensive range of passive fire protection products — from fire seals to fire door closers – which can help delay the spread of fire.
•18•
WWW.FIRESEALSDIRECT.CO.UK
Beautifully handcrafted furniture from the experts in comfort COMMERCIAL | RESIDENTIAL | HOSPITALITY Fully compliant contract range available Express delivery in as little as 2 weeks Bespoke manufacturing service Generous and competitive discounts To open a trade account please call 0345 241 1509 or email trade@sofa.com
HALF A MILLION-POUND OFFICE REDEVELOPMENT AT LEEDS' BROOKFIELD HOUSE
Tailored office providers, WorkWell, is celebrating 50% occupancy pre-let, following a £500,000 investment to redevelop the Leeds-based 18-century manor.
Purchased by the Corrigan family in 2002, Brookfield House has been the home to Leeds-based businesses for the last 21 years. Currently undergoing an extensive renovation, the office space is set to open in September 2023 and is already signing up new customers ahead of its launch.
Located next to Brookfield Court on Selby Road, the renovation of Brookfield House will create access between the two impressive red-brick office buildings, and will feature new office space, an open plan kitchen, a new reception and additional meeting space including two new meeting rooms and a 16-person boardroom available to the public for corporate bookings.
Oliver Corrigan, Managing Director at WorkWell, said: "Brookfield House has proudly been a part of the WorkWell portfolio for many years, and my family has personally farmed the area for 50 plus years, so we're thrilled to be able to create a greater future for the building while respecting its incredible past.
"At WorkWell we're proud to offer a different way of working with Leeds businesses. Our approach is not just about offering an office space with four walls. Each office park within our portfolio perfectly balances aesthetics with functionality, to create a purpose-designed office space which aligns with our member's company values and purpose."
Designed by northern-based creatives, Ekho Studio, the former manor house will combine impressive aesthetics with performance-enhancing technology and will feature 9,000 square feet of workable space set amongst 100 acres of accessible countryside.
For more information on WorkWell and to book a viewing of Brookfield House, visit: www.workwelloffices.com
•20•
BENEFIT FROM SKILLS AND TRAINING FROM NEWTON WATERPROOFING
The Tonbridge-based company offers a comprehensive range of training initiatives that will develop knowledge and skills in waterproofing practices, as well as deliver long-term value to attendees and continually raise the standard of work.
Whether you're interested in receiving a RIBA-approved double-points CPD presentation or taking one of the company's Newton Training Courses, they can offer useful information and training that will be hugely beneficial.
Newton School of Waterproofing
Newton Waterproofing offers comprehensive training courses covering all aspects of waterproofing in accordance with British Standard 8102:2022, in partnership with the School of Waterproofing.
From an intensive one-day Type C Waterproofing and Pumps course to a half-day Newton Overview, a selection of training courses is available to industry professionals covering all aspects of waterproofing.
Additionally, Newton's state-of-the-art training facilities include a pump room with various pumps and control panels for trainees to practice on, and an outdoor space to learn how to spray-apply liquid waterproofing products.
The main training room also has a full-size cross section of a Newton Type C cavity drain membrane installation for a visual representation of how all of the Newton products work in conjunction with each other.
PCA Structural Waterproofing Apprenticeship
In addition to its own School of Waterproofing, Newton works in association with the Property Care Association (PCA) to offer six months of on-site assessment for individuals taking the PCA Structural Waterproofing Apprenticeship.
Designed for new entrants into the structural waterproofing industry, this apprenticeship aims to develop and expand the knowledge of its trainees in specialist techniques of structural waterproofing.
The first three weeks of the apprenticeship are held at the PCA Training Centre, and will include courses covering a background into structural waterproofing, the preparation of all forms of waterproofing, handling of materials and tools, as well as legislation and health and safety in the workplace.
The 18-month apprenticeship is then divided into two sections, with the first 12 months involving off-site practical training, and the following six months involving a supervised on-site assessment taking place at employer level.
Once the final six months of on-site assessment has been successfully completed, apprentices will be awarded with a Level 2 NVQ Diploma in Sub-Structure Work Occupations (Structural Waterproofing).
Newton Waterproofing also works in close association with the PCA to host the CSSW examinations at its training facilities. Trainees will be able to take part in a four-day intensive CSSW course, as well as a two-day examination preparation, before taking on the examinations.
Newton Waterproofing Managing Director Warren Muschialli comments: "We're incredibly proud of our School of Waterproofing, as well as our association with the PCA. At Newton Waterproofing, we have a commitment to ongoing professional development and to helping keep architects and specifiers up to date with current waterproofing best practice.
"If you're interested in the skills and training we have to offer, speak to us today – we'd love to help."
For more information, visit www.newtonwaterproofing.co.uk.
•21•
Within the world of waterproofing, professional development is an ongoing process, and as the UK's leading distributor of waterproofing products, Newton Waterproofing places high importance on education.
tollgard.com +44 (0)20 7952 6070 Tollgard Showroom, Grosvenor Waterside, Gatliff Road, London SW1W 8QN info@tollgard.com +44(0)20 8067 2123 First Floor, Centre Dome, Design Centre, Chelsea Harbour, London SW10 0XE Extraordinary Pieces from around the World.
HEADWAY MADE ON FORTERRA'S SECTOR-LEADING SOLAR POWER INVESTMENT
Construction has started on a solar farm in Retford supported by leading building products manufacturer Forterra.
The solar power project is developed by the global solar energy firm Lightsource bp, who have also included plans to actively improve the ecology of the site once construction has been completed. Alongside protection measures to preserve the existing bird and badger populations and safeguard hedgerows, enhancement measures are being implemented to strengthen the woodland and create habitats suitable for amphibians, reptiles, and invertebrates.
With construction expected to complete within a year, Forterra has taken significant steps to a sustainable future, and from 2025, the Northampton head-quartered brick, block and concrete producer will source 70% of its electricity needs from the solar farm.
This sector-leading investment will provide renewable energy to Forterra's 17 sites for 15 years, delivering annual carbon savings of 14,000 tonnes, equivalent to the energy usage of 13,500 households.
Zosia Riesner, Director of Power Markets for Europe, Lightsource bp, said, "Forterra is showing real industry leadership with this deal, which will significantly reduce the carbon emissions of its operations. Solar power plays a key role within the energy transition through its affordability and scalability. This partnership with Forterra demonstrates how industries and corporations can decarbonise at pace while securing future pricing predictability by choosing solar."
The Power Purchase Agreement (PPA) between Lightsource bp and Forterra will be
facilitated by Dutch energy company Eneco, a licensed supplier in the UK.
Neil Ash, Forterra's Chief Executive, said, "We're delighted to see progress in our efforts to reach net-zero in our operations and achieve our ambitious ESG targets. Rather than relying on green energy generated by others, we are actually investing in a dedicated source of renewable energy generation, helping to decarbonise the grid, something that is critical to the UK's net zero journey. We also aim to generate another 10% of our electricity requirement from our own on-site solar and wind renewables by 2025.
"Between 2010-19 we reduced our carbon emissions by 22% and have pledged to reduce them by a further 32% by 2030."
The investment follows a series of other important measures announced by Forterra as it looks to reduce its carbon footprint, including a reduction in single use plastic used to wrap its products, the use of HVO (bio diesel) fuel to power all its mobile machinery at its Measham facility, the switch to electric and hybrid vehicles in its car fleet and a £21 million investment in its haulage fleet further advancing towards becoming entirely Euro 6 compliant.
Forterra is also currently developing the largest and most efficient brick factory in Europe at its Desford plant in Leicestershire, which will also benefit from on-site solar panels.
For more information visit www.forterra.co.uk.
•24•
ABODE REVEAL 5 KEY TRENDS SHAPING THE UK WASH-ZONE
material and hygiene properties, these materials are lending themselves to lifestyle-friendly wash zones, able to withstand the pressures of a modern-day kitchen.
Extremely durable, granite sinks are on the rise due to being a low maintenance option which is heat, stain and scratch resistant. Naturally providing an anti-bacterial surface for enhanced hygiene, granite sinks are available in a huge range of colours, sizes and styles with 2023 embracing darker shades of black and grey, and either undermounted or inset installation for a flush finish.
1. Style
The kitchen revels in three style trends this year with Scandinavian design, new traditional, and a confident use of colour coming out on top.
Gaining popularity in the early 20th century, the latest Scandi interiors are exploring softer, natural design elements which promote a balanced aesthetic and greater sense of wellbeing. By definition, the 2023 Scandi kitchen is founded on toptier originality such as taps with real beech wood handles, subtle painted finishes, and engineered sinks with clean, minimalist lines.
The new traditional trend is focussing on a decorative presentation of quality raw materials with straight knurled hardware becoming the next big thing in taps. Defining lever handles, spout collars and even door fronts, quality metals carefully etched with straight lines are now giving the traditional kitchen access to this popular technique, which last year saw the diamond-cut pattern represented heavily in the industrial kitchen.
Colour continues to be guided by nature, with this year's palette welcoming a confident use of accent colours across the finishing touches in 2023. Stand out colours in subtle shades of pink-red and calming grey-putty hues will emerge this year and introduce new life to the kitchen mixer tap.
2. Sinks
The latest sinks are now being specified in a range of contemporary materials with ceramic and granite proving popular in 2023. Thanks to the sheer variety, strength in
Ceramic is answering demand in the classic kitchen with a new twist being a modern-day splash of colour in 2023. The much-loved butler sink is now equally at home in industrial-inspired kitchens. as well as more traditional farmhouse schemes offering a generous depth for soaking pans and bakeware. This year, two-bowl options remain a luxurious choice and premium manufacturers also offering one and half bowl models will be an increasingly popular way to give you a dedicated wet zone for food prep or handwashing to support hygiene.
3. Hot water taps
Experiencing huge levels of market growth, controllable 75-98º instant filtered steaming hot and cold water is now considered in 40% of all new kitchen installations with 3 IN 1 and 4 IN 1 models coming to the fore and demonstrating a huge range of features, benefits and styles. For example. unique switching technology delivers an extra layer of safety with key fob-style controls which must be in place to activitate hot water boilers. These magnetic
•26•
This month, Paul Illingworth, Design Manager at Abode reveals 5 Key Kitchen Trends helping to the shape the UK wash-zone.
Pronteau Prothia 3 IN 1 Monobloc Swan Matt Black Steaming Hot Water Tap
Pronteau Industria 3 IN 1 Monobloc Matt Black & Antique Brass Steaming Hot Water Tap
devices are just one example of how the 2023 kitchen will be embracing beautifully designed brassware to fully support multi-generational households, the fastest-growing family type in the UK.
The 'one size fits all' chrome hot water tap is now a thing of the past as the increasing desire for customisation in the 2023 home means this must-have item is available in contemporary, traditional and on-trend industrial style designs. In fact, 2023 will definitely be the year of the hot tap as the market is extending its offer to include exciting new combinations of classic and cutting-edge designs in a range of atypical, combination finishes.
4. Workflow
Managing workflow at the sink to optimise efficient food prep will be a big part of the work zone this year, so look out for integrated accessories such as chopping boards, colanders, and flex racks so that the essential food prep tool kit is designed to fit the sink perfectly for a much better user experience. Larger style formats have become a popular choice in high utility kitchens, providing ample space to wash
generous sized pots and roasting pans, rinse fruit and vegetables, and help with essential food prep and deep cleaning. This trend will include a fresh look at pull-out taps and hand sprays which will add more convenience when rinsing and cleaning.
5. Sustainability
There's no doubt that sustainability by design will be the beating heart of the 2023 kitchen as premium products go to the next level to play a key role in the face of inflation, higher utility bills and the global climate crisis. Hero products will include flow limited filtered water taps to enhance family health and wellness while reducing the consumption of bottled water and helping more households to go plastic-free.
Manufacturers are upping their game by creating and promoting initiatives for disposable products such as recyclable water filters to make it as convenient as possible for us all to reuse and recycle single use items. As public demand for more information about how environmentally friendly kitchen components are, 2023 will see more businesses openly discussing how they operate to deliver the best for their staff, customers and the planet. For further info, please contact Abode: call 01226 283 434, email info@abodedesigns.co.uk, visit www.abodedesigns.co.uk, www.pronteau.co.uk and www.proboil.co.uk
KITCHEN DESIGN
Pronteau HotKey® Project 4 IN 1 Monobloc Brushed Brass Steaming Hot Water Tap
Pronteau ProTrad 4 IN 1 Monobloc Antique Brass Steaming Hot Water Tap
System Sync Stainless Steel Sink & Pronteau Industria 3 IN 1 Brushed Nickel
ELICA TO BRING SHOW TRAILER AND BRAND-NEW APPLIANCES TO THE HEART OF CLERKENWELL DESIGN WEEK
Elica, the marketing-leading Italian designer of cooker hoods and extractor hobs, will be bringing its show trailer and a number of brand-new appliances across Europe to Brewhouse Yard in the heart of the action at this year's Clerkenwell Design Week.
The show trailer will be the first opportunity for UK designers, kitchen studios and interior designers to see LHOV, a brand-new product that integrates hob, hood and a revolutionary extractor oven in a single appliance.  The design of LHOV will complement and enhance modern kitchen design, whilst providing extraction that removes vapours and odours not only from the hob but from the oven as well. The extraction system has been discreetly hidden, while the oven is positioned under the hob at the perfect height for ergonomic use.
Among other highlights will be:
NikolaTesla Unplugged  the latest extractor hob which brings together the elegance of the hugely successful NikolaTesla Switch and the benefits of analogue control. NikolaTesla Unplugged is controlled through fixed clickrelease knobs with analogue touch and feel which provide instantaneous and intuitive access to all its features.  All elements are incorporated into a boldlined appearance, developed to intelligently separate the cooking zone from the control area
The new range of  VIRTUS  ovens and  RATIO  hobs which fuse high performance and Elica's uniquely elegant design language.
Veritas - Elica's brand new built-in wine coolers
The Elica show trailer will also display many more of the iconic NikolaTesla extractor hobs and of course a selection from Elica's huge range of discrete ceiling, ultra slim wall-mounted and minimalist built-in cooker hoods able to satisfy the requirements of every plan and style of home.
COSENTINO GROUP PRESENT A
ONE-OF-A-KIND COLLECTION
Cosentino Group, a global leader in the production and distribution of innovative and sustainable surfaces for architecture and design, presents their new immersive collection Dekton® Onirika.
Onirika is the latest collection from Cosentino Group's leading innovative ultracompact brand Dekton®, which has been designed alongside international interior design powerhouse, Nina Magon, creating a one-of-a-kind surfacing collection.
Inspired by marble patterns and immersive living, the stunning series showcases eight daring and luxe colours: Awake, Lucid, Somnia, Neural, Trance, Vigil, Daze and Morpheus, which embody sustainability, forwardthinking innovations, and timeless elegance. Onirika represents a powerful journey where boundaries between dreams and reality become blurred.
Onrika Neural combines elegance and structure to bring an overall feeling of wellbeing into a space. With fine, pale veins crossing the marbled pattern, the design creates an eye-catching neural network. It is best suited for bright, neutral spaces with soft textures, light colours, and wooden or metallic accents.
Onirika Lucid displays many shades, reflections, and glints of colour to become an illuminative surface best combined with wood, grey and gold shades, and frosted glass. Onirika Morpheus features the same tonality as Lucid, but in Dekton®'s unique Velvet Texture finish.
•30•
Onirika Awake is a re-interpretation of the precious Paonazzo stone. It features thick veins of light greys, exquisite oxide terracotta, and a hint of subtle, inky blues. This iteration pairs beautifully with white, neutral tones, lightwood, and golds of any shade.
Onirika Trance features warm fine streaks that move between oxides and fade to reddish gold, combining perfectly with reddish oak wood and darker walnut tones. Blue furniture and warm golds bring sleekness to this vibrant colour.
Onirika Somnia boasts captivating details of warm oxide browns and whites that merge under a grid of thin lines. It is perfect teamed with warm dark woods, frosted glass and textured metal
Onirika Vigil recreates the popular Calacatta structure but with thick veins in gradients of light and dark greys, matched with a subtle touch of gold. This is a classic colour that is easy to combine with warm and cold hues, wood, metal and clean concrete. Onirika Daze features the same tonality as Vigil, but in Dekton®'s unique Velvet Texture finish.
Nina Magon said of the creation of Dekton® Onirika, "When working with the product development team, we realised we're not attempting to mimic any existing natural stone. With Dekton technology, we are able to create our own colours and structures,
bringing to life something that is unique, beautiful and irreplaceable. The purpose of Onirika is to showcase the versatility of Dekton. We want all designers, architects, and people around the world to see that the product is not only a book matched worktop with a waterfall, but can also be used on walls, ceilings, facades, outdoor spaces, and more."
Carbon neutrality has been achieved for the entire life cycle of Dekton®, covering Scopes 1, 2 and 3, from the extraction of the raw material and the calculation of the direct and indirect emissions from its production cycle, and those derived from its use, to the end of the product's life. Thanks to its unmatched hardness, strength and durability, Dekton® is perfect for use in both outdoor and indoor applications, such as façades, floors, wall and furniture cladding, kitchen and bathroom worktops, shower trays and washbasins. Available in various thicknesses and large format slabs, Dekton® is the perfect solution for any project.
www.cosentino.com/dekton
•31•
December2022 HOME-DESIGNER ANDARCHITECT MAGAZINE JIS A4 Advert Layouts.indd 2 January 2023 HOME-DESIGNER AND ARCHITECT MAGAZINEFebruary 2023 HOME-DESIGNER AND ARCHITECT MAGAZINE STAY IN THE KNOW SUBSCRIBE FOR FREE NOW Industry News - Build Show Preview - Doors, Windows & Architectural Hardware - Drainage, Plumbing & Water Saving Solutions - Ecobuild Preview (inc CAD & BIM solutions) - Ecobuild Review (inc CAD & BIM solutions) - Fire, Safety & Security - Floors, Walls & Ceilings (inc Acoustic Solutions) - Focus on CAD & BIM - Focus on Education - Focus on Health - Heating, Ventilation & Energy Efficiency - Housebuilding & Residential Development - Interior Design - Kitchens, Bathrooms & Washrooms - Maintenance & Refurbishment - Retail, Commercial & Industrial - Roofing, Cladding & Insulation - Stairs, Lifts & Balustrades - Sustainability & Eco Solutions - Urban Design & Landscaping 15915 CWC Riber View FC Advert V3.indd 1 27/02/2023 11:46 MARCH2023 ANDHOME-DESIGNER ARCHITECT MAGAZINE HOME-DESIGNER AND ARCHITECT MAGAZINE www.homedesignerandarchitect.co.uk