HOME-DESIGNER AND ARCHITECT MAGAZINE
JULY 2023
Showcasing the most exciting Products, Services and Innovations in the Building and Design Industry.
STELRAD. YOUR FIRST CHOICE FOR A RENEWABLE FUTURE.
All Stelard radiators are fully compatible to meet with the requirements of the newly updated Part L Documentation, with the intention of reducing carbon emissions, increasing the energy efficiency of both domestic and commercial properties, and future proofing for low carbon technology.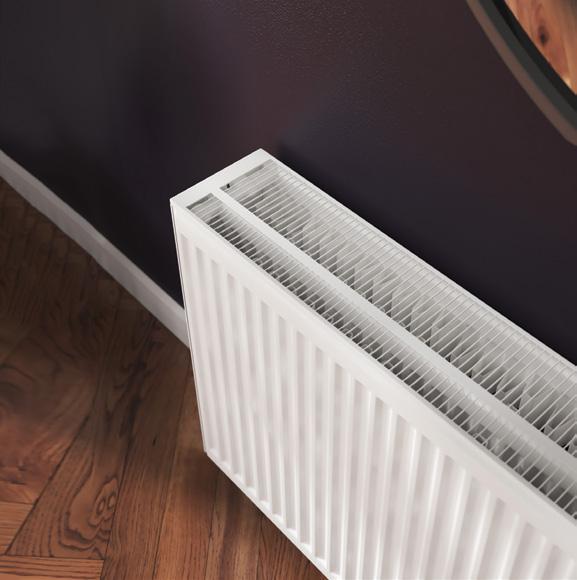 Stelrad's range of high output radiators are aesthetically designed to meet your needs, now and in the future.
Compact 900
Not just any rad. Stelrad.
K3
AND VERTICAL RANGES
out more at Stelrad.com
Find
NEW 900 HIGH STELRAD COMPACT THE UK'S NO.1 COMPACT RADIATOR
Compact with Style K3 Compact Vertical
Planar K3
Compact K3
CONTENTS July 2023 CONTACT US HOME-DESIGNER AND ARCHITECT 10 Bathrooms 16 Industry News 18 Kitchens 26 Materials & Adhesives Get Peace of Mind with a JCT Home Owner Contract Resources for homeowners doing building or renovation work © STOCK.ADOBE.COM Available in hard copy or online Place your order today. Visit: www.jctltd.co.uk/category/home-owner-contracts To speak to a member of the team, please call 020 805 09659 or email hello@homedesignerandarchitect.co.uk
Being awarded 'Best for Innovative Hard Surfaces Restoration and Repair Services 2022' by Design and Build Awards and with 30 years' experience in specialist repairs and restoration, Magicman can assist.
Our customers include celebrated hotels, famous cruise lines and busy international transport
hubs. From Park Lane to Pakistan, Bermondsey to Bermuda, we provide repair and restoration services all over the UK and around the world. At Magicman, we know that a good repair is the best thing to do.
If your premises are in need of some TLC, we have the services and equipment to help you out. We
can handle minor chips, scratches, and other superficial issues as well as more major damage such as dents, burns and cracks.
Our skilled technicians can restore your premises in the highest order by addressing any unsightly damaged items in a timely manner and in an affordable manner. There's no need to worry about how much time it will take us to complete repairs because our team is always on time—and ready to go!
We do not limit our services to small repairs; we are able to restore main entrances and windows while also working on door frames, cills and even entire buildings or shops fronts. Inside or outside, we can fix any colour, grain, or pattern you may want! We use only certified technicians who are trained and experienced with every job they undertake.
Our goal is always customer satisfaction!
We remove the panic when sudden and unexpected damage occurs which has the potential to push clients into penalty clauses. As completion deadline approaches, it is imperative that snagging issues are remedied promptly and to a standard that assists
Before After •4•
The appearance of your hotel is of paramount importance when inspiring confidence and delight amongst clientele.
you to handover to client 'defect free'. Magicman has both the skill sets and the ability to provide the numbers to ensure this happens.
Most items are produced in batches and replacements, in addition to being subject to long lead times, may not be the same colour or sheen of the original. A Magicman repair is the easy, cost-effective solution.
When you're a hotelier, you can't afford to have a room that's not up to snuff.
That's why Magicman is the perfect solution for when your rooms need a little work.
We've been providing repair services for hotels for over 30 years, and we know how important it is to keep your rooms looking and feeling brand new. We also know that sometimes things happen maybe there's an incident that causes damage, or maybe it's just time for an upgrade. Whatever the case may be, we're here to help you find solutions—and fast!
Our team can handle most problems with efficiency and ease, whether they involve cabinets or furniture. We'll even handle any of your snagging issues before you hand over possession of the room to your client, so they don't have to worry about paying extra fees due to incomplete repairs.
We've got all kinds of options when it comes to repairing damaged items in your hotel rooms.
What
does this mean for you?
Our business model of repairing items on site instead of ordering and installing replacements, saves you time and money and
is better for the environment. Typically repairing on site saves between 50– 80% of the cost of installing a replacement. Repairing on site reduces waste to landfill and greenhouse gases created in production and delivery of replacement items.  It avoids long delivery times; any possibility of ancillary damage and items can often be back in use within hours. Magicman provide teams of technicians who repair, restore, and rejuvenate (in-situ) doors, floors, furniture, sanitaryware, baths, basins, shower trays, whirlpools, ceramic tiles, handrails, panels, artworks, sculptures, reception desks, walls, common areas including bars, restaurants, gyms, and spas.
All without removal or replacement!
We are fully accredited, certified, and audited so we can deliver the standards you expect nationwide:
ISO 9001: 2015 Quality Management
ISO 14001: 2015 Environmental Management
ISO 45001: 2018 Occupational Health & Safety
We're all about making your life easier.
That's why we created Magicman: to help you save time, money, and resources. Our team of experts can repair hard surfaces to a wide range of different items and types of substrates, including:
• Wood and laminate
• Glass polishing
• Metal polishing
• Stone and marble repair & polishing
• Ceramic tiling
• Plastics / uPVC
• Corian
• Powder coated surfaces
• Painted surfaces (including wallpaper)
• Sanitaryware (baths, basins, and showers)
Big savings
The premise of Magicman is a simple one. Instead of replacing damaged items and surfaces we copy the colours, patterns, texture, and sheen to repair the original, typically saving between 50% - 80% compared with the cost of replacement. Better for you and better for the environment.
Because Magicman work on site (we come to you) and our repairs are so quick, without the lead time involved in ordering replacement items, the turnaround time is reduced, and costs are dramatically lowered. Also, your items are brought back into use much more quickly.
If you would like to know more, please contact enquiries@magicman.co.uk or visit our website www.magicman.co.uk.
Before After •5•
WITH NEW ALTHIA COLOURS BY ABODE
We speak with Dan Biddle, Product Manager at Abode, regarding the company's latest new product range, Althia Colours.
"The kitchen space continues to be guided by the calm of nature and this year's colour palette is embracing a confident use of colour across the fixtures and fittings. Stand out shades emerging this year are offering a new take on warm neutrals and earth-tone paint colours and it is these variations, which are creating a strong style identity and giving new life to the kitchen mixer tap.
We are therefore extremely excited to personify the UK wash zone with the launch of Althia Colours, our latest range of contemporary shades designed for one of our signature and bestselling kitchen tap families, Althia.
Now available in four modern paint colours, the new Althia Colours are designed to capture the latest interior trends and present a Mediterranean-style Terracotta, neutral Nude, Nordic-style Scandi Grey and Matt White, dubbed the fastest emerging tap colour inspired by the Scandinavian design trend.
The new Althia Colours extend the Althia Finish Library from 6 to 10 options, meaning you can now choose between a range of colours and metals across a mix of single lever, monobloc and pull-out designs from the Althia Tap Family by Abode.
Exclusively available for Althia single lever mixer taps, the new Althia Colours help to highlight the beautifully contoured spout and slim lever handle, which offers a subtle blend of square and round forms in one design. The ideal choice for a large kitchen or compact utility room, the new Althia Colours are
expertly handcrafted from quality raw materials and feature an innovative control valve and antisplash spout to ensure stylish durability and allow for optimum usage with minimal water waste!
Designed with copper tailpipes for greater stability and flow when fixing to the mains supply, the Althia Tap Family is highly versatile and now, is proud to offer four different style collections:
1. NEW Althia Colours (Single Lever) Nude, Matt White, Terracotta and Scandi Grey
2. Althia Metals (Single Lever) Chrome, Brushed Nickel, Brushed Brass, Urban Copper, Graphite and Matt Black
3. Althia Monoblocs (Dual Lever) Chrome and Brushed Nickel
4. Althia Pull Outs (Single Lever with Spray) Chrome and Brushed Nickel
By definition, the 2023 contemporary kitchen is founded on top-tier originality with this year's hero products including taps with real wood handles, and monobloc designs in fine painted finishes. Being able to beautifully coordinate the hardware with the furniture, materials and other finishing touches like the door handles and light switches are a huge design asset when innovating with colour.
Personalisation through colour is therefore increasingly important as homeowners want to create a distinctive décor, which reflects their personal style without compromising on utility and performance. By capturing the latest style trends with the release of four new tap colours, we want to inspire our customers to shape the kitchen space with a complementary or contrasting colour that embodies their own personal style and home décor."
•6• EXPRESS YOURSELF
Althia Matt White AT2207 & System Sync 500mm
Althia Terracotta AT2210 (l) Althia Nude AT2209
•7• For further information please contact Abode: t: 01226 283 434 e: info@abodedesigns.co.uk w: www.abodedesigns.co.uk
500mm with Flex Rack
Althia Scandi Grey AT2208 & System Sync 340mm with Colander
AT2209 (r)
Housebuilder Technology
Tapping into this potential is, of course, nothing new for housebuilders, but is there an opportunity for the sector to now think bigger? Bathroom manufacturer, Geberit, undertook a nationwide poll of UK homeowners to find out how they use technology in the home and their willingness to invest more in homes with smart solutions. In a new specialist report, Geberit has partnered with realtor Grant Bates to explore the findings in more detail and look at what the untapped potential of the bathroom space can offer housebuilders. Here, Sophie Weston at Geberit, explains.
The hotelisation of the home has had an enormous impact on the residential property market in recent times. The pandemic has, of course, played its part, with homes transformed into multi-functional spaces that are part gym, office and sanctuary. Indeed, we looked at the impact of this in our new report 'Why Bathroom Technology is a Smart Choice for Housebuilders' and what this means for the expectations of today's homebuyers. Grant Bates, realtor at Hamptons International and contributor to our report, sums it up neatly thus: "Leaving home is a choice, not a necessity for occupants."
The end result is a buyer whose main consideration is prioritising day-to-day enjoyment of life and one willing to pay a 'convenience premium'. As Grant points out, "…the practicality and convenience of the home are as important as the interior design."
Smart expectations
Developers are, naturally, responding to these growing expectations and ensuring that homes are "… using the latest technology to accommodate a new world with a focus on self care, hygiene and flexible space."
Today's consumers have lived through some of the biggest technological changes in the home since the Industrial Revolution, embracing the consolidation of electrical appliances and gadgets into fewer, smaller and connected devices.
There is no doubt that some spaces do lend themselves to smart innovations more obviously than others. Think Bluetooth enabled white goods, smart fridges and touchless taps in the kitchen, for instance. Likewise, as Grant points out, many home office spaces are increasingly "akin to a professional YouTuber or influencers. Lighting, backdrops and high performance web cams are all a necessary part of any work from home set up as remote meetings replace the commute to the board room."
In fact, when we commissioned a YouGov poll of 1,200 UK homeowners to seek their views on technology and smart devices in the home, the most popular spaces to see such innovations featured were the living room (70%), followed by the kitchen (34%) and home office (29%). Trailing behind at just 2% was the bathroom.
It's clear, then, that some areas of the home are advancing more rapidly than others when it comes to technology, and the bathroom has evolved at a relatively slow pace. Perhaps this reflects the fact that housebuilders do not typically offer the same range of specification options for the bathroom as they might do for, say, the kitchen.
Yet, we must not underestimate the significance of the bathroom in our lives. For instance, research by Geberit in 2018 found that nearly three quarters of us struggle to find time to relax and, in the quest for some respite, the bathroom was the most popular place of escape. Homeowners are increasingly looking for a sanctuary in their home. If a spa is the brief from your buyers, could technology hold the key to unlocking this? And are your buyers willing to pay more?
Convenient investment
We put this question to our respondents. More than a third (35%) told us that they would be willing to pay more for a new home with technology and four in ten of those polled believed that there could be more technology in new homes.
There is clearly, therefore, a desire to see more innovations in new build and a willingness to pay the so-called 'convenience premium'.
But let's return for a moment to the bathroom, where only 2% of homeowners rely on smart devices or technology. The sanctuary of the home. Are housebuilders missing a vital opportunity here? "Bathrooms are critical to selling a hew home," Grant points out. "For housebuilders there is a clear opportunity to improved saleability through bathroom design, specification and technological integration."
Solutions
The good news for housebuilders is that bathroom technologies are generally fuss free solutions. When we asked our respondents what bathroom technology they would expect to find in a new build, odour extraction (39%) topped the list, followed by orientation lighting (34%). More than one in four (28%) expect to see touch-free flush plates and one in five (22%) believe that shower toilets should be a common feature.
Of course, such innovations are nothing new for manufacturers. Geberit's AquaClean Mera shower toilet incorporates a number of such smart features from odour extraction and built-in orientation lighting to a warm air dryer and user recognition. Infra-red taps, meanwhile, such as Geberit's Brenta and Piave products remove touchpoints in the space for a premium hygienic finish.
Lighting, too, can provide a simple way for housebuilders to add perceived value across projects. Geberit's Option Plus and Acanto mirror cabinets have integrated USB ports for charging devices and LED bathroom mirrors can create discreet (and flattering!) lighting. Indeed we can expect to see manufacturers continue to innovate with future designs likely to display the news and weather or stream a favourite television show.
It's worth remembering, however, that technology in the bathroom doesn't always have to mean connectivity and automation. With new builds getting smaller, housebuilders must meet the challenge of creating attractive and practical bathrooms. Wallhung toilets and sanitaryware create the illusion of space by lifting products from the floor and can open up greater design flexibility across projects.
Housebuilders
So what are housebuilders' attitudes to this? We spoke to a number of individuals from across the sector to better understand their attitudes to technology. The results further highlight the appetite for continued growth in home technology solutions.
All our respondents agreed that UK new build homes could feature more technology and the vast majority intend to enhance their specification offer in the coming years. Drivers for doing so included differentiation from competitors, brand reputation and meeting buyer demand to help expediate sales. Most of the respondents do currently feature bathroom technologies and plan to install additional innovations in future projects, recognising the importance of technology in attracting buyers and adding value.
Conclusion
"Developers should be focusing on the wow factors, the principal suites, entertaining spaces and bathrooms," advises Grant. "If any buyer is choosing between two similar schemes, they will opt for the product that makes their everyday life better and smart technology does just that."
There is clearly a growing expectation from homeowners for more smart innovations in the home as personalisation and technology becoming more important to buyers. Perhaps the bathroom can provide the answer. It's time for housebuilders to widen their scope to take advantage of buyer demand.
To download the report visit https://www.geberit.co.uk/technology
STELRAD.
Now in stock and ready for immediate delivery
FIT FOR THE FUTURE.
Stelrad's range of radiators are aesthetically designed to perform with the future in mind. All radiators, including current and new models are fully compatible with low temperature heating systems and are in stock for immediate delivery.
Stelrad have the radiators to meet your installation, specification and contract needs.
FULLY COMPATIBLE WITH NEW LOW TEMPERATURE HEATING SYSTEMS
Large range of sizes, styles, colours and high output radiators
Compact with Style Vertical
Find out more at Stelrad.com
Schlüter ®-Systems offers a comprehensive and well-engineered range of product solutions for the creation of waterproof, safe, comfortable and attractive tiled surfaces in a wide variety of settings.
Established in Germany in 1966, Schlüter-Systems is a family-owned business with a wealth of experience in meeting the aspirations of clients, consultants and contractors involved in the construction, conversion or renovation of both interior and exterior environments.
The company has already earned a reputation for style and reliability amongst architects, interior designers, contractors and other specifiers involved in commercial, retail, leisure, residential and other types of development. With reliability being a key benefit across the portfolio, many of the company's 10,000 product lines find applications in the most challenging conditions, with bathrooms and wetrooms being areas of speciality.
Wherever the situation and whatever the substrate, Schlüter-Systems can provide an answer with underlayments like its innovative Schlüter®-KERDI-BOARD which
is able to span varied or irregular surfaces, including masonry and timber; while there is a selection of matting and membranes developed to waterproof and safeguard tiles from movement and moisture ingress. Profiles can further protect edges or achieve trip-free transitions in level, while areas such as bathrooms, kitchens or living spaces can be optimised with a choice of underfloor heating systems.
Schlüter-Systems' complete range can be explored on the company's website and there are also technical advisory and site support teams operating from the UK headquarters in Coalville, Leicestershire.
The company has plans in place to grow its impressive turnover in the UK, strengthening its position as the premier supplier of tiling and waterproofing products, through superior service and quality. In the words of the founder, Werner Schlüter: "Our products cannot be sold, they must be understood."
For further information, call 01530 813396 or visit www.schluter.co.uk
•12•
SCHLÜTER®-SYSTEMS SUPPLYING STYLISH, FAILSAFE TILING AND WATERPROOFING PRODUCTS ACROSS MULTIPLE MARKETS
"Our products cannot be sold; they must be understood."
Black Edition Stainless Steel Towel Rails by JIS Europe 100% stainless steel towel rails 01825 722988 www.sussexrange.co.uk info@jiseurope.co.uk
OUTSTANDING DESIGN
Duravit wins five prizes at the Red Dot Design Award and iF DESIGN AWARD 2023
Accolades from the expert juries for the complete bathroom manufacturer's outstanding design quality
Duravit was hailed the "winner" five times in the "Product Design 2023" category: Sebastian Herkner's Zencha designer bathroom collection, the Tulum faucet range designed by Philippe Starck, and Duravit's own Sustano shower tray all won over the distinguished Red Dot Design Award jury. The 133-member, independent and international jury of experts of the iF DESIGN AWARD was also won over by Zencha and the Duravit No. 1 campaign, awarding Duravit two "Winners".
Zencha by Sebastian Herkner: An homage to mindfulness and craftsmanship
The accomplished Zencha bathroom collection by Sebastian Herkner is inspired by traditional Japanese rituals and craftsmanship. Above-counter basins with a gentle outwards slope and generously proportioned bathtubs meet minimalist furniture – outstanding design quality that won over the juries at the Red Dot Award. The collection, already the recipient of a German Design Award, was crowned the "winner" at the Red Dot Award and iF DESIGN AWARD.
Tulum by Philippe Starck: Iconic, eternal design
The monolithic design of the Tulum by Philippe Starck faucet series – reduced to its elementary components – skillfully creates accents and is hugely adaptable. Available in two color options,
Tulum impresses with a balanced composition of round and square shapes to create an impression of visual clarity. Its iconic shape and sheer elegance were also crowned the "winner" in the Red Dot Award's "Product Design 2023" category.
Sustano: Recyclable and customizable shower tray
Sustano by Duravit, the first recyclable shower tray, comes in six colors and is very easy to customize and cut to size. The Sustano can be installed flush with the floor, semi-recessed or on the floor tiles depending on structural factors and personal preference. The elegant, calm design language of the shower tray, made from the sustainable material DuroCast Nature, also sufficiently impressed the distinguished jury of the Red Dot Award to be crowned the "winner".
Duravit No. 1 Campaign: BE MY NO. 1
The Duravit No. 1 campaign expresses that life does not end at the bathroom door. Not even when you're just starting out – in your first home or shared apartment. Duravit promises an upgrade for every day and keeps this promise with the Duravit No. 1 complete bathroom series in the entry-level segment. t. Saint Elmo's concept convinced the jury of experts of the iF DESIGN AWARD to award the creative product campaign of Duravit No. 1 as "Winner".
•14• bathrooms
Duravit Zencha
Duravit Tulum
Duravit_Duravit No. 1
Duravit Sustano
All images: Duravit AG
HEADWAY MADE ON FORTERRA'S SECTOR-LEADING SOLAR POWER INVESTMENT
Construction has started on a solar farm in Retford supported by leading building products manufacturer Forterra.
The solar power project is developed by the global solar energy firm Lightsource bp, who have also included plans to actively improve the ecology of the site once construction has been completed. Alongside protection measures to preserve the existing bird and badger populations and safeguard hedgerows, enhancement measures are being implemented to strengthen the woodland and create habitats suitable for amphibians, reptiles, and invertebrates.
With construction expected to complete within a year, Forterra has taken significant steps to a sustainable future, and from 2025, the Northampton head-quartered brick, block and concrete producer will source 70% of its electricity needs from the solar farm.
This sector-leading investment will provide renewable energy to Forterra's 17 sites for 15 years, delivering annual carbon savings of 14,000 tonnes, equivalent to the energy usage of 13,500 households.
Zosia Riesner, Director of Power Markets for Europe, Lightsource bp, said, "Forterra is showing real industry leadership with this deal, which will significantly reduce the carbon emissions of its operations. Solar power plays a key role within the energy transition through its affordability and scalability. This partnership with Forterra demonstrates how industries and corporations can decarbonise at pace while securing future pricing predictability by choosing solar."
The Power Purchase Agreement (PPA) between Lightsource bp and Forterra will be
facilitated by Dutch energy company Eneco, a licensed supplier in the UK.
Neil Ash, Forterra's Chief Executive, said, "We're delighted to see progress in our efforts to reach net-zero in our operations and achieve our ambitious ESG targets. Rather than relying on green energy generated by others, we are actually investing in a dedicated source of renewable energy generation, helping to decarbonise the grid, something that is critical to the UK's net zero journey. We also aim to generate another 10% of our electricity requirement from our own on-site solar and wind renewables by 2025.
"Between 2010-19 we reduced our carbon emissions by 22% and have pledged to reduce them by a further 32% by 2030."
The investment follows a series of other important measures announced by Forterra as it looks to reduce its carbon footprint, including a reduction in single use plastic used to wrap its products, the use of HVO (bio diesel) fuel to power all its mobile machinery at its Measham facility, the switch to electric and hybrid vehicles in its car fleet and a £21 million investment in its haulage fleet further advancing towards becoming entirely Euro 6 compliant.
Forterra is also currently developing the largest and most efficient brick factory in Europe at its Desford plant in Leicestershire, which will also benefit from on-site solar panels.
For more information visit www.forterra.co.uk.
•16• industry news
"
ABODE ACHIEVE CARBON NEUTRALITY IN SUPPORT OF ITS SUSTAINABLE JOURNEY TO NET ZERO!
As the latest market research from Statista shows most UK consumers aged 16-44 are more likely to buy from a brand with strong eco credentials, we speak with Paul Illingworth, Design Manager at Abode, on how the company is helping to save the planet with its latest environmental and social framework…
We believe it is our responsibility to effectively convey our commitment in these areas and as more manufacturers are investing in eco-friendly initiatives to design products, source materials and increase energy efficiency, it makes perfect sense for designers to partner with these types of brands so you can greenify your project portfolio with the introduction of recommended third-party eco credentials.
In my experience, sustainability can be used as a great USP to attract new customers and potentially reach a more environmentally aware audience who may have been previously unaware of you. In fact, a study from Simon-Kucher & Partners states 33% of UK consumers are willing to pay more for sustainable products and services, indicating that the ethical shopper is willing to pay an average of 25% more for greener alternatives.
Part of our ongoing ESG strategy and corporate responsibility to reduce and offset its emissions, 125 state-of-the-art Solar Photovoltaic Panels have been installed on one of our building's large south-facing roofs, which offers a combined output of 50k/watt every hour. The energy generated from the newly installed Solar Panels will produce enough electricity to independently power the Barnsley site, as well as produce surplus energy during the summer months to sell back to the National Grid.
We are also really proud to announce that as part of a 2022 Scope 1 and 2 assessment on emissions, our carbon output has reduced by 60% since 2018! In
•18• kitchens
PT1004-2
4 IN 1 Tap with AW3162 Xcite 1.5 Bowl Sink & Drainer
Pronteau HotKey ® Project
Solar panels at Abode headquarters in Barnsley, South Yorkshire
March 2022, we celebrated another environmental milestone by becoming PlanetMark certified as Carbon Neutral, bolstered by our commitment to cut our carbon footprint by a further 5% by spring 2023; equating to 1.95 tCO2e (tonnes of carbon dioxide equivalent).
The Abode leadership team has set three SMART targets (specific, measurable, achievable, relevant, and time-bound) as part of the carbon management plan to secure wins for our employees and the environment: Solar Energy, electrification of the company fleet to ensure that all vehicles will be hybrid or electric hybrid by 2025, reducing emissions by 51%, and an amended Business Travel Policy meaning that online conferencing will be used where practical.
With the solar panels fully functional on the roof, our next step was to install charging points for electric vehicles to ensure we can benefit from the power generated from this on-site installation. This change has helped to avoid
around 17,500 kilos of CO2 emissions annually, as the company continues its journey towards Net Zero Carbon. All office lighting has been converted to LED and sensor installations to use electricity more efficiently, saving energy and helping to protect the planet.
Sustainability means more to us than just 'green' products, it is an integral part of how we manage our business so that we can continue to make a positive impact throughout our business, the environment and our many customers as an ethical partner of choice.
A great example of this is through our recent partnership with British Mauritian TV Chef, Restaurateur and Cookery Author, Shelina Permalloo. Working together to make the UK kitchen a healthy, safe and sustainable environment to cook in, Shelina continues to share her culinary expertise and delicious recipes with Abode customers and demonstrate why a Pronteau hot water tap is the latest must-have for the expedient home cook.
Our work with Shelina Permalloo continues to raise awareness on the virtues of having one of our Pronteau hot water taps in the kitchen and utility space, with a view to inspire change, and make it easy to prep, cook, eat and hydrate at home, so UK homeowners and property developers can be kinder to themselves and the planet."
Shelina Permalloo, Brand Ambassador of Pronteau by Abode says, "My motto in life is 'good health is about having fun, eating well and living well' but most importantly, it's the enjoyment of preparing, cooking and serving healthy and delicious food for you, your friends and family that won't leave you feeling guilty. With this in mind, I am proud to be the face of Pronteau in 2023, and spread the word that a hot water tap by Abode is a stylish and safe way to elevate your home cooking.
My Pronteau has changed my life and has fast become my new favourite gadget in the kitchen for boiling, steaming and poaching ingredients, as well as making hot or filtered cold drinks at the perfect temperature. Designed with exclusive safety features and easy operation, Pronteau offers 75°C to 98°C steaming hot water on demand, saving me precious time when I need to make meals for me and my daughter in a rush! Plus, the patented HotKey technology also gives me peace of mind as I can store the HotKey fob safely out of reach and turn my Pronteau into an ordinary 3-way mixer tap, which is great when I am not home."
Shelina is the first culinary expert to feature in the new lifestyle section, Cook with Pronteau by Abode, which offers online visitors the chance to watch, listen and learn how Pronteau really can benefit both their home and lifestyle for the better.
For further info, please contact Abode: call 01226 283 434, email info@abodedesigns.co.uk, and visit www.abodedesigns.co.uk www.pronteau.co.uk
•19• kitchens
Shelina Permalloo at home with her Pronteau HotKey ® Project 4 IN 1 Brushed Nickel
GRACE & ELEGANCE:
GREEN MARBLE AND NATURAL STONE FROM CULLIFORDS
A shade that embodies natural beauty and organic elegance, green surfaces have become an increasingly popular choice for interior designers and homeowners alike. From captivating bedroom feature walls and bathroom panels to eye-catching kitchen splashbacks, this natureinspired shade will bring a natural and exquisite essence to interiors of all styles.
Featuring green, grey and white marbling, Fusion Green is a spectacular Brazilian Quartzite that offers the perfect alternative to the more common Italian surface choices. The hint of green in the veining injects a sense of nature into interiors and will act as a wonderful statement within a sage green Shaker-style kitchen as well as in a luxurious boutique-inspired bedroom setting.
As bathrooms become increasingly akin to at-home spa sanctuaries, the incorporation of more nature-inspired materials and design concepts has become more prevalent. A unique brecciated schist with a beautiful shimmering sparkle from within the stone, the Emerald Glitter Brazilian granite will add arresting detail to a bathing space, in particular when complemented with a dark, luxurious colour palette. With cloud shaped forms that resemble the look of a lush green leaf under the
•20• INDUSTRY NEWS
priced from £1500 per m2
Fusion Green Quartzite,
FUSION GREEN IS A SPECTACULAR BRAZILIAN QUARTZITE
microscope, Verde Vitoria is another Brazilian quartzite that will create a sense of connection to the outside world. With colours running from dark rich green through to brighter sage and acid green pops, team this stone with lighter surfaces and dark accents for a bathroom that will transport you to a calming state of serenity.
Nothing catches the eye quite like a statement splashback in the kitchen. For a striking yet understated introduction of green, consider a dramatic Onyx surface to contrast against a clean, white scheme. Onyx Smeraldo is a transluscent stone characterised by powerful striations of greens, reds and browns, and is guaranteed to add the wow-factor to the heart of the home. A quartzite with depth,
Caravaggio displays a range of reddish and brown hues in a mesmerising pattern, with striking veins of white and grey throughout. Ideal for more luxe-inspired kitchen settings, this unique material will add a refined essence to the finished scheme.
Sourcing some of the world's most exotic and finest materials, Cullifords' range of exceptional fine quality stone is guaranteed to help you make a truly stunning statement. From kitchen splashbacks and worktops to bathroom walls and surfaces, the arresting detail, rare colouring and striking patterns of Cullifords' stones will transform your interior into an extraordinarily distinctive setting.
geraldculliford.co.uk
•21• INDUSTRY NEWS
Fusion Green Quartzite, priced from £1500 per m2
Emerald Glitter Granite, priced from £650 per m2
Jade Honed Marble, priced from £280 per m2
Verde Vitoria Quartzite, priced from £998 per m2
ELICA TO BRING SHOW TRAILER AND BRAND-NEW APPLIANCES TO THE HEART OF CLERKENWELL DESIGN WEEK
Elica, the marketing-leading Italian designer of cooker hoods and extractor hobs, will be bringing its show trailer and a number of brand-new appliances across Europe to Brewhouse Yard in the heart of the action at this year's Clerkenwell Design Week 23-25 May
The show trailer will be the first opportunity for UK designers, kitchen studios and interior designers to see LHOV, a brand-new product that integrates hob, hood and a revolutionary extractor oven in a single appliance.  The design of LHOV will complement and enhance modern kitchen design, whilst providing extraction that removes vapours and odours not only from the hob but from the oven as well. The extraction system has been discreetly hidden, while the oven is positioned under the hob at the perfect height for ergonomic use.
Among other highlights will be:
NikolaTesla Unplugged  the latest extractor hob which brings together the elegance of the hugely successful NikolaTesla Switch and the benefits of analogue control. NikolaTesla Unplugged is controlled through fixed clickrelease knobs with analogue touch and feel which provide instantaneous and intuitive access to all its features.  All elements are incorporated into a boldlined appearance, developed to intelligently separate the cooking zone from the control area
The new range of  VIRTUS  ovens and  RATIO  hobs which fuse high performance and Elica's uniquely elegant design language.
Veritas - Elica's brand new built-in wine coolers
The Elica show trailer will also display many more of the iconic NikolaTesla extractor hobs and of course a selection from Elica's huge range of discrete ceiling, ultra slim wall-mounted and minimalist built-in cooker hoods able to satisfy the requirements of every plan and style of home.
FIVE STEPS TO THE PERFECT BLUE KITCHEN
Make a brave colour choice and enjoy the appeal of a kitchen in moonlight blue
When looking for kitchen design ideas, it's easy to play it safe with a neutral scheme, but a bold blue kitchen offers so much more. Whether you opt for mid toned, light or navy blue kitchen cabinets, follow these five steps to make sure you get the best out of this popular shade.
Step 1: Focus on colour
According to colour psychology, blue is associated with calmness, serenity and, often creativity, making it a great choice for a busy space like the kitchen. Darker blues may seem like a bold choice, but inky petrol colours are easy to work with when it comes to putting together a scheme. Starting with Moonlight Blue kitchen cabinets from Masterclass Kitchens as your focus, you could then team them with cabinets in a neutral shade, chosen from Scots Grey, Light Grey, Dust Grey or Highland Stone, and choose a worktop to add further contrast. Instead of a blank canvas, your kitchen will have a truly unique design.
Step 2: Consider traditional cabinets
If you think a deep blue door colour is too bold to work with traditional kitchen styles, put your scepticism to one side. Moonlight Blue from Masterclass Kitchens is a deep, rich and surprisingly adaptable shade. It's guaranteed
•24•
to enhance the traditional grained effect of classic Shaker Hatfield units. When paired with an island in Highland Stone and plaster-coloured walls you'll have a rustic effect with a touch of nostalgia.
Step 3: Discuss contemporary design
Modern design enthusiasts, on the other hand, could opt for the sleek new matt finish Padstow range with hardwearing vinyl-wrapped cabinet doors. Finished in Moonlight Blue and with a marble countertop it will achieve a completely different outcome. The straight lines and minimalist design will look fresh and unmistakably modern. As a plus, this look is still easy to soften with accessories and furnishings.
Step 4: Get into the detail
Up next are the detailing and accessories which, despite being a small component, can totally alter how Moonlight Blue kitchen cabinets appear. Typically, knob or cup handles will emphasise a nostalgic kitchen look. Add an intricate cornice and brass fittings to hone in on the warm, comforting kitchen aesthetic. Extras to enhance the effect include a plate rack and wine display unit. In contrast, for a contemporary blue kitchen choose Edge pull handles and glass door panels to bring Padstow units to the cutting edge of kitchen design.
Step 5: Add show-stopping features
The best kitchen designs have a dramatic feature as a highlight to a familiar array of units. Masterclass Kitchens offers a whole range of Signature Collection pieces to help you think outside the box. For a flavour of Downton Abbey and a whole host of storage, consider a Lansbury corner pantry. It features a rounded edge, giving a traditional flavour. If you prefer cleaner lines, the Hathaway pantry contains a range of shelf options, pigeonholes, drawers and wine racks so you can match the storage to your personal preference.
Visit masterclasskitchens.co.uk to explore more options for blue kitchens.
•25• kitchens
Further information
BUILDING PRODUCTS SALES SUFFER FROM SLOWDOWN IN NEW STARTS
In 2023, so far, activities such as internal fit-out, refurbishment and maintenance have continued to do well but new-build project starts have struggled to get out of the ground. This is reflected in the Construction Products Association (CPA) latest state of trade survey, for the first quarter (Q1) of 2023 Q1.
For a third consecutive quarter a fall in sales for heavy side producers contrasted with an 11th consecutive quarter of growth for manufacturers on the light side. The performance of heavy product sales – bricks, concrete, aggregate etc – is also partly down to the rain seen in January and March, the CPA economists suggest.
In 2023 Q1, a balance of 7% of heavy side manufacturers reported that sales of construction products decreased. For light side manufacturers a balance of 44% reported that product sales rose, extending a run of growth that began in 2020 Q3.
Forward-looking sales expectations improved but the strength of demand in construction remains the key concern for sales over the next 12 months.
Both heavy and light side manufacturers anticipate an increase in sales over the next 12 months, although with consumer-focused sectors of construction expected
to bear the brunt of an economic slowdown, activity is likely to be concentrated in infrastructure, energy efficiency retrofit and commercial refurbishments.
CPA head of construction research Rebecca Larkin said: "Heavy side manufacturers recorded another quarter of falling sales as the slowing economy and high construction cost inflation continued to lead to reticence over new project starts. Heavy rain and bad weather in both January and March will also have slowed down the external and structural works that heavy side products flow into. By contrast, interior and fit-out work that focuses more on light side products was able to continue largely unhindered and demand remains strong in any case, underpinned by large offices and commercial refurbishment projects.
"In terms of the economy, there was greater stability in Q1 following the post-mini budget turmoil at the end of 2022, which has improved manufacturers' views for the 12 months ahead. The split in fortunes across construction is likely to continue, however, with housing and other consumer-focused sectors set for a struggle against a backdrop of falling real incomes and interest rate rises, whereas larger-scale refurbishment activity continues to be driven by energy efficiency considerations and new models of hybrid home-office working."
•26• materials & adhesives
Nothing reveals what is going on in the construction industry quite as clear as the pattern of sales of building products.
HOOK-UPS PROVIDE BOOST FOR CONCRETENE
Concretene has been developed by Nationwide Engineering Research & Development (NERD) in partnership with the University of Manchester's Graphene Engineering Innovation Centre (GEIC).
NERD has now secured backing from consulting engineer Arup and graphene supplier Black Swan Graphene. The deal with Arup –through Ove Arup Ventures Ltd – provides 4.2% equity in NERD in exchange for collaboration and expertise towards global roll-out of the technology.
Black Swan and NERD have swapped 5% equity with each other. Black Swan produces graphene powders, derived from graphite, tailored for the concrete industry. Based in Canada, was spun out of the UK construction chemicals group Thomas Swan & Co in 2021.
Rob Hibberd, chief executive of Nationwide Engineering Research & Development, said: "We see Concretene as the first product of many that this partnership will develop, with progress in paints, polymers and asphalt already in advanced stages as well."
Arup director Matt Lovell said: "Continued innovation in the production of concrete can drive the construction industry's journey towards net zero carbon emissions. Supporting that transformative change with our NERD partnership furthers Arup's goal of shaping a better, more sustainable world.
"We look forward to using our commercial know-how and deep expertise in the built environment to help NERD's innovators realise the full potential of Concretene."
Black Swan president Simon Marcotte said: "The partnerships announced today are poised to have far-reaching implications for the global concrete industry. By leveraging the exceptional performance of the NERD process and Arup's expertise, reach and leadership, this integrated supply chain can provide a turnkey solution and revolutionize the concrete industry on a global scale.
"Considering that concrete is the second-most-utilised material on earth, surpassed only by water, it is difficult to imagine a more exciting opportunity. I am very optimistic about the impact of this collaboration and its potential to catalyse sustainable and innovative practices in the industry."
NERD envisages a three-year journey to full commercial roll-out of Concretene to the construction industry. The sales pitch for Concretene is primarily environmental: with Concretene added, the cement content of concrete can be reduced by 50% and less steel reinforcement is required.
•28• materials & adhesives
The commercial development of a graphene-enhanced admixture for concrete has been given a boost by investment in the start-up company behind it.
FORWARD TO THE 2023 PAINTING AND DECORATING SHOW
21st and 22nd November 2023
Barrettine who were launching new products at the P&D Show is already making plans to be at the Show next year.
Last year's Paint and Decorating show was excellent! Over the two days it was incredibly busy, we had quality discussions with both trade users and major retailers throughout. Live demonstrations were on show for our two market leading Paint removers, Peelaway the original poultice removal system capable of removing up to 32 layers of paint in one go and Paint Panther our super fast gel formula, great for removing metalised paints and it will remove 5 layers of paint or varnish in just 5 minutes.
There was also particular interest in our newly launched Armourflex Hardwax Oil which contains a blend of natural oils and waxes. It is suitable for protecting and enhancing the durability of all interior wood surfaces including hardwood, softwood, parquet and veneer and has excellent resistant to common stains. Armourflex Hardwax Oil has also been certified Food & Toy safe by EN 1186:2002 & EN71:3.
Finally, and just about to be released Barrrettine, Armourflex UV
Protection Oil containing a careful balance of UV absorbers and antioxidants, designed to capture the damaging UV rays from the sun and dissipate them safely as heat. In this way, the UV Protection Oil is able to defend the wood against greying and impart a subtle, enhanced warmth to its appearance, perfect for protecting exterior wood such as cladding.
www.barrettinepro.co.uk
•30• materials & Adhesives BARRETTINE LOOKING
THE DHAUS COMPANY
THE ARCHES
The Arches is a set of 6 new terraced town houses set in the Dartmouth Park conservation area in North-West London. The site is just down the road from the famous Grove Terrace, one of the most beautiful Georgian terraces in London
It all started with a two-year planning process, we had to win every single argument no matter how small or large to justify the proposal. Then a further 2 years in construction just as the global Pandemic started. So over the last 4 / 5 years, this project was such a big part of our lives. Our place to go while the whole world fell apart through Brexit, Covid and the many wars going on in the world. Many different people from all walks of life came together and built something. We all dragged the metaphorical cart up the hill together while wearing blinkers to world affairs.
The Proposal
Our initial design idea was inspired by the historic green lung of open green spaces along the Highgate Road, our earliest discussion with Camden was to relink the 2 open public green spaces either side of the site. This meant reinstating the green lung as close to how it was back in 1873. A futuristic Victorian throw back!
The Architecture
The new architecture itself was a careful response to the comments of the Local Design Review Panel, (A
panel of local academics, planners, architects, designers). With David growing up in the area and Daniel having lived nearby, the design was developed firstly on instinct. We felt it was appropriate to have a small mass at the rear, using local London stock brick formed in arches to reference the local colours and the railway arches that sit directly to the site.
Many railway arches / tunnels / bridges crisscross the site and it just felt right to reference this important infrastructure. At University we explored the notion of the complete rejection of context to focus solely on explorative architecture, but in this project, we feel that we did both - the context made for a radical exploration of the architecture. We undertook a study of local buildings in and around the local area.
All these buildings show, in various forms, the evolution of Neo-Classical British Architecture, emulating the classical Venetian Pallazzo's, Palladian and Inigo Jones' architectural language. These buildings highlight a strong mixture of rectangles and arches set within a brick canvas that are common within the Dartmouth Park Conservation Area.
•32•
Of particular interest is the Roman arches and the use of a rendered rusticated base on the ground floor. Key Principles from this historic grain led us to refining the existing design properties in the area to its purest forms, the rectangle and arch - key ingredients of the design process. The new houses are positioned only marginally higher than the original petrol station, and this allows light to reach the ground floor windows of neighbouring Denyer House behind.
A green roof covers all of the houses so that the residents high up behind look down on to wildflowers and greenery creating a habitat for various birds and insects/wildlife.
During the public consultation in the planning stages of the project, Interestingly, one of the main comments back from the consultation was that the abandoned graffiti looking petrol station of the current site attracts anti-social behaviours
and that the residents would welcome life to that empty sometimes dangerous part of College Lane when at night, now completed we hope the new homes will bring life to this part of the College Lane.
The Construction & Sustainability.
The Old Petrol station that has been on that site since the 1950s was marked by the council as negative contributor to the local conservation area, with its large forecourt and oversized canopy blocking long views through and across the site. Cleaning up the contaminated site became a valuable benefit of this project.
The first port of call was to completely remove the old 1950s petrol tanks safely, removing any contaminated earth then covering this over with new open safe green public space. We used as much timber framed construction as possible.
The Planners requested that we dig down into the ground to create a subterranean structure, so the retaining walls are all reinforced concrete, but inside this sits a lightweight prefabricated timber structure was constructed off site then assembled in days. light weight steel cross bracing holds the giant arches in place.
A green roof was installed to harvest rainwater and photovoltaics are installed on the roof to add renewable power to the homes. We sourced an Ibstock Bexhill Red Multi brick for the facade work and explored brick bonding patterns to differentiate the different areas of the building and give order to each facade.
The Arches themselves were cast in concrete off site under controlled factory conditions rather
than traditional arches made from wet construction. These concrete arches were then clad with brick slips. The Dwellings / Layout. Each house is around 130sqm2 with 3/4 bedrooms and a study and garden room. The proposed dwellings have a similar layout, with entrances to the units from College Lane.
As the land slopes, the entrance to the units is either flush with pathway or accessed via a stepped entrance. All properties benefit from a front garden that incorporates a private bin storage area, entranceway and lightwell to illuminate the rooms that face onto College Lane at lower ground floor level. The lower ground level provides a further two bedrooms, two bathrooms and a lightwell to the College Lane facade.
The basement level comprises an open plan living / kitchen space and opens out onto the sunken rear garden that looks onto Highgate Road and the newly created grassed area. Because of the stepped nature of the site, this lower level does not feel like a basement and the living spaces enjoy a secluded feel with plenty of access to natural light despite sitting close to the main road. www.thedhaus.com
•33•
CUPA PIZARRAS: EXACTING ARCHITECT DISCOVERS CUPACLAD
Richard Pedranti is an architect specialising in environmentally conscious building strategies. His firm, Richard Pedranti Architect (RPA), has the ability to create beautiful buildings that achieve the rigorous Passive House standard.
Combining intelligent modern design and 21st Century building
standards, RPA creates extraordinary places that exist in harmony with the environment and fulfil the unique aspirations of each client.
A retired couple from New York approached Pedranti to design a modern, energy efficient weekend retreat home in Spring Lake, New Jersey. They had made the decision to tear the existing 2,000 square
•34•
'The CUPACLAD® installation, my first as a specifier, was excellent' – the words of an innovative American architect after using the CUPA PIZARRAS product.
foot structure down and replace it with a Net Zero residence that could be accessible for weekends year-round.
The residence won the Architectural Excellence COTE Award 2020, granted by AIA Pennsylvania for the performance of the building for the health and wellness of the occupants and the environment where it is placed.
Richard explains: "I look at new products almost every day, many of which are used for cladding. For this project, we initially considered an attractive new plastic product, which fit visually with the building's planned design as well as with the surrounding landscape.
"After testing this product, it wasn't nearly as durable as required for an all-weather rainscreen system."
Matt Berk, of EcoSupply, introduced RPA to CUPACLAD®, a natural slate rainscreen system new to the USA, but highly successful throughout Europe and Scandinavia for years.
Ironically, the large windows specified for this house were also a product provided by EcoSupply.
Invisible connectors
The CUPACLAD ® 101 Logic rainscreen system has invisible connectors that make this stunning natural slate a major attraction of any facade.
This cladding offers any facade balance, always complementing other materials while sporting natural slate's inimitable texture and sheen.
Consisting of 40×20 cm (roughly 16" x 8") slates installed horizontally, CUPACLAD ® 's 101 series offers a single fastening system with
self-drilling screws, which ensure optimal installation for decades, while remaining invisible to avoid impacting design. CUPACLAD® slate is a sustainable natural product, which requires no maintenance whatsoever.
As well as describing the CUPACLAD ® installation as 'excellent', Richard adds: "From the first samples, to the presentation from Matt Berk, and the details available on the website, it was a pleasure to work with the CUPACLAD ® product line."
For more information about CUPA PIZARRAS and the CUPACLAD ® systems, visit the CUPA PIZARRAS website.
•35•
February2023 HOME-DESIGNER ANDARCHITECT MAGAZINE 15915 CWC Riber View FC Advert V3.indd 1 MARCH 2023 HOME-DESIGNER AND ARCHITECT MAGAZINE STAY IN THE KNOW SUBSCRIBE FOR FREE NOW Industry News - Build Show Preview - Doors, Windows & Architectural Hardware - Drainage, Plumbing & Water Saving Solutions - Ecobuild Preview (inc CAD & BIM solutions) - Ecobuild Review (inc CAD & BIM solutions) - Fire, Safety & Security - Floors, Walls & Ceilings (inc Acoustic Solutions) - Focus on CAD & BIM - Focus on Education - Focus on Health - Heating, Ventilation & Energy Efficiency - Housebuilding & Residential Development - Interior Design - Kitchens, Bathrooms & Washrooms - Maintenance & Refurbishment - Retail, Commercial & Industrial - Roofing, Cladding & Insulation - Stairs, Lifts & Balustrades - Sustainability & Eco Solutions - Urban Design & Landscaping HOME-DESIGNER AND ARCHITECT MAGAZINE www.homedesignerandarchitect.co.uk