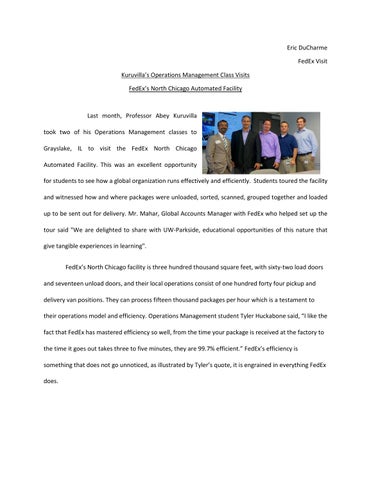 Eric DuCharme FedEx Visit Kuruvilla's Operations Management Class Visits FedEx's North Chicago Automated Facility
Last month, Professor Abey Kuruvilla took two of his Operations Management classes to Grayslake, IL to visit the FedEx North Chicago Automated Facility. This was an excellent opportunity for students to see how a global organization runs effectively and efficiently. Students toured the facility and witnessed how and where packages were unloaded, sorted, scanned, grouped together and loaded up to be sent out for delivery. Mr. Mahar, Global Accounts Manager with FedEx who helped set up the tour said "We are delighted to share with UW-Parkside, educational opportunities of this nature that give tangible experiences in learning". FedEx's North Chicago facility is three hundred thousand square feet, with sixty-two load doors and seventeen unload doors, and their local operations consist of one hundred forty four pickup and delivery van positions. They can process fifteen thousand packages per hour which is a testament to their operations model and efficiency. Operations Management student Tyler Huckabone said, "I like the fact that FedEx has mastered efficiency so well, from the time your package is received at the factory to the time it goes out takes three to five minutes, they are 99.7% efficient." FedEx's efficiency is something that does not go unnoticed, as illustrated by Tyler's quote, it is engrained in everything FedEx does.
---
When it comes to FedEx's operations management, they use their own unique operations model called the hub and spoke, where packages are sent to the main facility or hub in Memphis, TN. These packages are then sorted according to their destination and sent out to the smaller sorting and delivery facilities, called the spokes. By using this model they have been able to reduce waste and increase efficiency with the integration of technology. Fedex continuously reviews management and distribution processes to improve and create more sustainable ways of operating. It's not surprising that FedEx is twentysix percent faster than the competition and that they've acquired the top market share for fifty five consecutive quarters. These types of tours and reviews of organizations like FedEx are amazing opportunities for UW-Parkside students to experience engaged learning, and turn theory to practice by witnessing real life instances of what they are learning in the class room. Dr. Kuruvilla, Associate Professor in Business stated "We have partnered with Fedex regularly in providing real life experiences for our students in the last 5 years – through guest lectures, visits and real life case studies. I am interested in developing and growing more industryuniversity partnerships of this nature. Last time we came to FedEx, one student received an internship with FedEx. We hope there will be more. The educational experience for the student is priceless". It's truly what Operations Management is all about!
Operations Management: FedEx North Chicago Automated Facility  
Operations Management: FedEx North Chicago Automated Facility  
Published on Oct 31, 2013