THE
MOORES OPERA CENTER 'S
presents production of
La Belle et la Bête
Beauty and the Beast
An opera by Philip Glass
Based on the scenario by Jean Cocteau Sung in French with English subtitles
October 20, 21, and 22 at 7:30 p.m. October 23 at 2:00 p.m. Moores Opera House
Copyright 1994 Dunvagen Music Publishers, Inc. Used by permission.
This production is partially funded by a generous grant from the Cullen Trust for the Performing Arts and members of the Moores Society Opera Production Council.
Any taping, filming, recording, or broadcasting of this opera is strictly prohibited. Please turn off all cell phones and other electronic devices as a courtesy to other patrons and to the performers.
MOORES OPERA CENTER
The Edythe Bates Old Moores Opera Center, founded in 1986 at the University of Houston, gives young voices a chance to develop through practical training and performance opportunities. Every year, the program produces four major operatic productions in the Moores Opera House, UH's distinctive performance hall designed to blend the acoustics of a traditional European opera house with the modern equipment and technology of today.
MOORES SCHOOL OF MUSIC
The University of Houston's Moores School of Music (MSM) is one of the leading comprehensive music schools in the nation. Its remarkable faculty — of internationally recognized performers, composers, and scholars — outstanding student body, modern facilities, and broad range of programs make MSM the natural choice for nearly 600 students annually. The school's commitment to academic excellence and the highest performance standards has ensured its role as a vital resource in the educational and cultural life of Houston and beyond.
MOORES SOCIETY
The Moores Society is the philanthropic volunteer organization for the Moores School of Music. Moores Society members and donors promote community awareness and provide funding for scholarships and special projects. Moores Society members receive invitations to concerts and special events held throughout the year. Please visit uh.edu/kgmca/music/moores-society.
For more information, please contact Steven Block, Director, Moores School of Music, at sblock2@uh.edu or 713.743.6118.
ABOUT THE COLLEGE
KATHRINE G. MCGOVERN COLLEGE OF THE ARTS
The Kathrine G. McGovern College of the Arts at the University of Houston is a dynamic home of creativity and collaboration in one of America's most artistically vibrant and culturally diverse cities. Bringing together the performing and visual arts entities at the University of Houston, the college has the ability to harness the power of the arts to ultimately impact our world. Our award-winning, internationally distinguished faculty provides topquality instruction to the talented, emerging student artists from more than 30 programs of study. The Kathrine G. McGovern College of the Arts seeks to positively impact the community and to empower our students to use their talents to change the world.
For information on upcoming Kathrine G. McGovern College of the Arts events, visit uh.edu/artstickets or contact the KGMCA Box Office at 713.743.3388.
MOORES OPERA CENTER FACULTY AND STAFF
Artistic Director, Moores Opera
Joseph Evans, Timothy Jones, Melanie Sonnenberg, Hector Vasquez, Zach Averyt
García León, Cutter González, Carolina Rodriguez Rossum, Ringel Sat
ABOUT THE MOORES SCHOOL OF MUSIC
Center Lawrence Edelson Production Manager Nicole Kenley-Miller Technical Director Jason Burton Moores Opera House Manager Kristin Johnson Voice Faculty Cynthia Clayton,
Orchestral Conducting Studio Martín
CAST LIST
Felicie
THURSDAY/SATURDAY
Emily-Margaret Ceres
FRIDAY/SUNDAY
Rufina Robbins
Adelaide Chloe Owens Mariam Mouawad
Belle Samantha Taylor
La Bête / Prince / Avenant
Sean Holshouser
Amia Langer
Grant Peck
Ludovic Nathan Holmes Jadon Campos
Le Père Joeavian Rivera Mohammad Salman
L'Usurier Mohammad Salman Joeavian Rivera
Le Laquais / Officiel du Port
ORCHESTRA
FLUTE / PICCOLO
Donald Rabin, principal
CLARINET
Andrew Burnett, principal
BASS CLARINET
Adam Jones, principal
SAXOPHONE
Cameron Miller, principal
BASSOON
Dima Savitski, principal
HORN Adam Harrington, principal Jordan Ellisor Nicholas Silva
TROMBONE
Steven Luong, principal
BASS TROMBONE
Agustin Martinez, principal
HARP Sophie Kim+, principal
KEYBOARD SYNTHESIZER
Andreea Muţ+, principal
SPECIAL
Oluwagbemiga David Oluwo
Oluwagbemiga David Oluwo
PERCUSSION
Brandon Furman, principal
VIOLINS
Hanna Hrybkova, concertmaster
Gilyoung Kang, assistant concertmaster
Ingrid Gerling+, principal second Marcio Martinez, assistant principal second Xiaodong Cao
Eugeniu Cheremoush+ Emily Gladstone Nicole Gonzalez Daniela Yepes Dimate
VIOLA Elisa Rendon Palaez, principal Maggie Lytle, assistant principal Daniel Castorena
CELLO Ashley Wang, principal Benjamin Serur, assistant principal
BASS Reid Ronsonette, principal Mackenzie Gibbons, assistant principal
CAST LIST
LA BELLE ET LA BÊTE /
/ORCHESTRA
THANKS TIMINGS 4Wall KUHF Dunvagen Music Publishers UH School of Theatre and Dance 90 minutes No intermission +Guest artist
WELCOME FROM ARTISTIC DIRECTOR LAWRENCE EDELSON
Welcome to the first production of 2022-23 opera season – and the first production of my tenure as the new Artistic Director of the Moores Opera Center. I am incredibly excited to be here in Houston, joining the passionate and deeply committed faculty at Moores School of Music.
Let's face it… Buck Ross is a hard act to follow! As founder of the Moores Opera Center, Buck created something quite extraordinary – a program that has built a remarkable reputation for preparing singers of the highest caliber for professional careers. I am honored to be entrusted with this prestigious program, and I am committed to ensuring that the Moores Opera Center continues to provide young artists with a safe and supportive environment to experiment, grow and thrive.
Mentorship is one of the most rewarding parts of my artistic practice. I often reflect back on the teachers who have influenced my life and my career, and I would not be the person I am today had they not cracked open the world for me to discover. My goal is to do the same for our students at UH: to help them recognize what makes them unique; to provide them with the tools to hone their craft; to challenge them to explore the unknown; and to crack open their worlds to unexpected discoveries that foster understanding, empathy, and appreciation for the diverse perspectives that contribute to opera in the 21st century.
This weekend's production, La Belle et la Bête, is unlike anything we have ever done before at the Moores Opera Center – a merging of film and opera by two of the greatest artists of our time – Jean Cocteau and Philip Glass – bridging and defying genres, looking back, while also looking forward. Opera is a living, breathing art form. It is also an endlessly inventive way to tell stories that resonate with us deeply. On the surface, La Belle et la Bête is an elegant retelling of the timeless Beauty and the Beast fairytale; but if you look a bit deeper, Cocteau and Glass are asking us to consider more than a romantic fantasy. This opera in film explores the very nature of the creative process. As Glass himself explains, "through an extraordinary alchemy of the spirit, the ordinary world is transformed into a world of magic. The power of the creative and the raw world of nature, represented respectively by Beauty and the Beast, finally emerges and allows the world of imagination to take flight."
A world where imagination takes flight is exactly what we hope to provide for our students. Our programming is selected not only to highlight the talents of our gifted singers and instrumentalists, but to also provide them with opportunities to be exposed to a diverse repertoire that embraces a wide variety of musical and theatrical styles. For most of the artists performing this weekend, this is the first time they have had the opportunity to work on an opera by Philip Glass. For this reason, I felt it was incredibly important that they be mentored by artists who have a direct line to the composer – who have worked with him for decades, and who can pass on the performance traditions associated with Glass's works. We are incredibly honored to welcome Maestro Michael Riesman, music director of the Philip Glass Ensemble since 1976, to lead this weekend's performances; and we are also so grateful to have had Andrew Sterman, a multi-instrumentalist wind player and managing member of the Philip Glass Ensemble, join us for a full week residency to work with the orchestra and singers in preparation for the production.
I am constantly inspired by the talent and dedication of our students, and I hope you will not only enjoy our performances of La Belle et la Bête, but also join us throughout the season to see these gifted emerging artists in a wide variety of repertoire. We have already begun rehearsals for our winter production of Die Fledermaus (January 26-29, 2023), the quintessential Viennese operetta by Johann Strauss II; and I am particularly excited that in the spring we will produce the Houston premiere of Ainadamar (April 13-16, 2023), a flamenco-infused opera by Osvaldo Golijov and David Henry Hwang that explores the life and work of playwright and poet Federico García Lorca, whose anti-facist stance and open homosexuality led to his murder in 1936 at the hands of Franco's nationalist regime during the Spanish Civil War.
From classics to premieres, there is something for everyone in the Moores Opera Center season. Thank you for joining us. I look forward to sharing many more exciting performances with you as we watch these incredibly talented artists grow with your support!
With gratitude, Lawrence Edelson, Artistic Director Moores Opera Center
LA BELLE ET LA BÊTE / WELCOME
Through his operas, his symphonies, his compositions for his own ensemble, and his wide-ranging collaborations with artists ranging from Twyla Tharp to Allen Ginsberg, Leonard Cohen to David Bowie, PHILIP GLASS has had an extraordinary and unprecedented impact upon the musical and intellectual life of his times.
The operas – Einstein on the Beach, Satyagraha, Akhnaten, and The Voyage, among many others – play throughout the world's leading houses, and rarely to an empty seat.
Glass has written music for experimental theater and for Academy Award-winning motion pictures such as The Hours and Martin Scorsese's Kundun, while Koyaanisqatsi, his initial filmic landscape with Godfrey Reggio and the Philip Glass Ensemble, may be the most radical and influential mating of sound and vision since Fantasia. His associations, personal and professional, with leading rock, pop and world music artists date back to the 1960s, including the beginning of his collaborative relationship with artist Robert Wilson. Indeed, Glass is the first composer to win a wide, multi-generational audience in the opera house, the concert hall, the dance world, in film and in popular music –simultaneously.
He was born in 1937 and grew up in Baltimore. He studied at the University of Chicago, the Juilliard School and in Aspen with Darius Milhaud. Finding himself dissatisfied with much of what then passed for modern music, he moved to Europe, where he studied with the legendary pedagogue Nadia Boulanger (who also taught Aaron Copland , Virgil Thomson and Quincy Jones) and worked closely with the sitar virtuoso and composer Ravi Shankar. He returned to New York in 1967 and formed the Philip Glass Ensemble – seven musicians playing keyboards and a variety of woodwinds, amplified and fed through a mixer.
The new musical style that Glass was evolving was eventually dubbed "minimalism." Glass himself never liked the term and preferred to speak of himself as a composer of "music with repetitive structures." Much of his early work was based on the extended reiteration of brief, elegant melodic fragments that wove in and out of an aural tapestry. Or, to put it another way, it immersed a listener in a sort of sonic weather that twists, turns, surrounds, develops.
There has been nothing "minimalist" about his output. Glass has composed more than twenty five operas, large and small; fourteen symphonies, thirteen concertos; soundtracks to films ranging from new scores for the stylized classics of Jean Cocteau to Errol Morris's documentary about former defense secretary Robert McNamara; nine string quartets; a growing body of work for solo piano and organ. He has collaborated with Paul Simon, Linda Ronstadt, Yo-Yo Ma, and Doris Lessing, among many others.
LIBRETTIST
JEAN COCTEAU (1889-1963) worked across almost every artistic discipline, exploring writing, painting and drawing, theatre and film, linking disparate forms of art making in explorations of myth, contemporary life, dream and sexual identity. Cocteau began as a poet but aspired toward the creation of worlds into which an audience could be immersed. He drew from many influences, filtering the world around him through his personal sensibility and life experiences. Cocteau, though controversial among his peers due to his eagerness to please, valued collaboration and his receptivity to the ideas of others is evident throughout his body of work, which broke new ground in creating links between different styles, media and periods.
Cocteau aspired to create "total works of art," extending Richard Wagner's concept of the Gesamtkunstwerk, then more familiar in theory than in practice, combining words, images and movements in multiple dimensions. This led him to direct ballet and film, illustrate his own books and decorate interiors, all of which provided the possibility of immersing the audience in his creations. This attitude to art making, which involved many collaborators, set the tone for the avant-garde later in the century.
Jean Cocteau's work is often personal, mapping his own perspective onto the universal through reimagining myth in contemporary life, resulting in novel perspectives on familiar situations. Cocteau avoided the overtly political, favoring the escape from life offered through explorations of dream and the unconscious.
Jean Cocteau's work is regularly described as "surreal," though he was never affiliated with the Surrealist group. Cocteau, like the Surrealists, was interested in exploring dreams and the unconscious and his mythologization of everyday life is similar to that of key figures such as Louis Aragon and Luis Buñuel, with whom he was on friendly terms. André Breton, the leader of the Surrealist group, however, viewed Cocteau's Romantic aesthetic as conservative and as anathema to the Surrealist creed of pure automatism and this, exacerbated by personal disagreements and Breton's homophobia, meant that Cocteau and the Surrealist group denied all links, despite their artistic similarities.
(Source: The Art Story, https://www.theartstory.org/artist/cocteau-jean/)
LA BELLE ET LA BÊTE / COMPOSER / LIBRETTIST COMPOSER
The University of Houston is honored to welcome the following Guest Artists who have joined us in residence at the Moores Opera Center this fall to prepare this production of La Belle et La Bête:
MICHAEL RIESMAN, Conductor
Michael Riesman is a composer, conductor, keyboardist, record producer, and is the Music Director of the Philip Glass Ensemble. He has conducted many recordings of works by Glass, including Einstein on the Beach, Glassworks, and The Photographer, and almost every Glass film soundtrack including Koyaanisqatsi, Mishima, Powaqqatsi, Kundun, The Truman Show, The Fog of War, The Illusionist, and Notes on a Scandal. He was the pianist for the Academy-Awardnominated soundtrack for The Hours, and he recorded a solo piano arrangement of that score, as well as three other albums of piano arrangements of Glass film music: Dracula, Philip Glass Soundtracks, and Beauty and the Beast. He has received two Grammy nominations as conductor, for The Photographer and for Kundun. He has conducted major ensembles including the New York Philharmonic, the Los Angeles Philharmonic, and the Toronto, Sydney, and BBC Symphony Orchestras, and has appeared as a piano soloist with the Chicago Symphony Orchestra and the Milwaukee Symphony. He has conducted and performed on albums by Paul Simon (Hearts and Bones), and David Bowie (BlackTie/White Noise), Mr. Riesman released an album, Formal Abandon, on the Rizzoli label, which originated from a commission by choreographer Lucinda Childs. His film scores include Enormous Changes at the Last Minute, Pleasantville, and Christian Blackwood's Signed: Lino Brocka. Mr. Riesman studied at Mannes College of Music and Harvard University, where he received a Ph.D., and has taught at Harvard and SUNY-Purchase. He has been Composer-in-Residence at the Marlboro Music Festival and at Tanglewood.
ANDREW STERMAN, Teaching Artist
Saxophonist/Flutist/Clarinetist, Author, Composer, Educator Andrew Sterman has been a key member of the Philip Glass Ensemble since 1992, touring and recording extensively, while staying active in the New York music community. He has performed with masters including Frank Sinatra, Sarah Vaughan, Tony Bennett, Dizzy Gillespie, Freddie Hubbard, Rashied Ali, Fred Hersch, Bruce Springsteen, Kelly Clarkson, Leonard Cohen, the New York and Los Angeles Philharmonics, Bang on a Can, EOS Orchestra, and on nearly a hundred feature film scores and dozens of Broadway shows. During 2021, Sterman created a film on commission for the Smithsonian Institute pairing photography from their Buddhist art collection with new filming of the Philip Glass Ensemble, for which he wrote and recorded the text and curated the art and music selections. Andrew has released three solo CDs of original and improvised music. He teaches at Mannes Conservatory within the New School College of Performing Arts (music and performer's wellness).
ELIAS MILLER, Associate Conductor
Music director of the Apollo Ensemble of Boston since 2018 and of Festival Theater Hudson since 2021, Elias Miller has established a reputation as a leading young conductor and orchestra builder. Recent highlights include a critically acclaimed series of outdoor concerts with Apollo in Massachusetts state parks, an appearance with the Pro Arte Orchester in Vienna, Austria, and a staged production of Wagner's Die Walküre (Act I) with FTH. Miller also serves as principal conductor of the new Upbeat NY Youth Orchestra and as a cover conductor at the Minnesota Orchestra, the Buffalo Philharmonic Orchestra, and the Albany Symphony.
An active conductor of opera and oratorio, Miller led the Harvard Early Music Society in productions of works by J.A. Hasse and Telemann between 2016 and 2019, including two North American premieres and a Boston premiere. Miller has also conducted performances of operas by Gluck, Stravinsky, William Grant Still, and Gilbert & Sullivan. Ensembles he has conducted in the past include the University of Michigan's Symphony, Philharmonia, and Campus orchestras, the Ann Arbor Camerata, the Harvard-Radcliffe Orchestra Chamber Players, and the Chromos Collaborative Orchestra. Miller has also served as the assistant conductor for Opera Saratoga, the Boston Chamber Symphony, and Harvard College Opera.
A distinguished pianist and cellist, Miller holds degrees from Harvard University (A.B., summa cum laude) and the University of Michigan (M.M.) and recently completed his postgraduate studies with Mark Stringer at the University for Music, Vienna.
BELLE ET LA
GUEST ARTISTS LA
BÊTE / GUEST ARTISTS
MARY BOX, Language Coach and Assistant Conductor
Mary Box is a pianist and conductor with extensive experience coaching some of the world's leading opera singers, including Sasha Cooke, Ana María Martínez, and Reginald Smith, Jr.
A fierce advocate for women in the arts, Ms. Box recently created The Montrose Project, a Houston-based organization discovering and celebrating works by women composers. This past year, in addition to being on the music staff of Dallas Opera, playing with such stars as Maria Agresta, Kathryn Lewek, and Lucas Meachem, Mary participated in conducting workshops throughout the United States as well as in the Czech Republic, Austria, and the Ukraine. In July, Ms. Box conducted a world premiere opera, The Impresario of Oz, by Mark Buller, for Houston Grand Opera's Art of Opera. In May, Ms. Box made her Woodlands Symphony Orchestra debut. Ms. Box is one of only two to hold a master's degree in vocal coaching from Rice University. Ms. Box also received piano performance degrees from the University of Houston and the Eastman School of Music.
DR. ANDREEA MUŢ, Pianist and Coach
Dr. Andreea Muţ is a prolific collaborative pianist and educator based in Houston, Texas. She has performed recitals throughout Romania, France, Spain, Colombia, Mexico and the United States, and won numerous prizes in national and international competitions in her native Romania. She moved to Texas in 2009, and completed her Doctorate in Collaborative Arts at the University of Houston in 2015. Dr. Muţ holds the keyboard chair for ROCO Houston, and has enjoyed collaborations with organizations such as Da Camera Houston, APERIO - Music of the Americas, Opera in the Heights, the Foundation for Modern Music, the Texas New Music Ensemble, Houston Symphony Chorus, the Texas Music Festival, Opera San Antonio, Houston Youth Symphony, Songs by Heart Foundation, and the Classical Music Institute in San Antonio. She also performs regularly as part of the Gerling-Muţ duo in the Harmony in the Air series at the Hobby Airport, along with violinist Dr. Ingrid Gerling. In addition to her numerous performance obligations, Dr. Muţ is currently serving as staff pianist and vocal coach at the University of Houston, organist and pianist at St. Stephen's United Methodist Church, Houston, and pianist for the Grammy-winning Houston Chamber Choir. Dr. Muţ has been a Shigeru Kawai Artist since August 2021.
KATHERINE CISCON, Vocal Coach
Chicago native Katherine Ciscon received her bachelor's degree in piano from Rice University's Shepherd School of Music, and a double master's degree in both piano performance and collaborative arts from the University of Houston Moores School of Music. She was named Principal Pianist of Houston Ballet in 1995 and has also been a vocal coach and Visiting Artist Professor of Music at the Moores School of Music. While at Houston Ballet, Ms. Ciscon has performed as soloist in the world premieres of Stanton Welch's Nosotros, Class and The Core, Justin Peck's Reflections (world premiere of Sufjan Stevens music), Garrett Smith's Reveal, James Kudelka's Passion, Ben Stevenson's Eclipse, and Trey McIntyre's Bound, among others. She has also been featured as soloist in many works, including Stanton Welch's Sons de L'âme and Tu Tu, William Forsythe's Artifact Suite, Mark Morris's Drink to Me Only with Thine Eyes, Jerome Robbins's The Concert (Or the Perils of Everybody), and George Balanchine's Rubies, Ballet Imperial, and The Four Temperaments
MUSIC PERSONNEL
Conductor
Michael Riesman+ Teaching Artist and Woodwind Specialist
Andrew Sterman+
Associate Conductor Elias Miller+ Assistant Conductor and Language Coach
Mary Box+
Vocal Coach
Katherine Ciscon+
Musical Preparation
Andreea Muţ+, Catherine Schaefer+, Teruhiko Toda+
PRODUCTION PERSONNEL
Artistic Director, Moores Opera Center
Lawrence Edelson
Production Manager
Kenley-Miller
Technical Director
Jason Burton# Sound Designer
St. John+
Audio/Visual Manager David Siegel# Stage Manager
Sanz
*Moores School of Music faculty
artist
Projection Assistant
Roberts
Projection Rental
Publicist
Joy Partain Communications+
Artist
Dominique Francia+
Assistant to Lawrence Edelson
Miranda Graham Orchestra Assistant Martín García León
School of Music staff
LA BELLE ET LA BÊTE / GUEST ARTISTS GUEST ARTISTS
*
Nicole
#
Shawn
Antonio
#Moores
+Guest
Sarah
4Wall
Graphic
MOORES OPERA CENTER ARTISTS
JADON CAMPOS, baritone
Ludovic
BM '24
Hometown: Pearland, Texas
RECENT: Orin Scrivello (Little Shop of Horrors), Curio (Giulio Cesare), Frid (A Little Night Music), Antonio (Le Nozze di Figaro), Sid Sorokin (Pajama Game), Tateh (Ragtime)
UPCOMING: Frank (Die Fledermaus), Maestro (Ainadamar)
EMILY-MARGARET CERES, soprano Felicie
DMA '25
MM '22, The Pennsylvania State University
BM '20, Rice University
Hometown: Pearland, Texas
RECENT: Ginevra (cover) (Ariodante), Serpetta (cover) (La finta giardiniera), Susanna (Le nozze di Figaro), Miss Pinkerton (The Old Maid and the Thief)
NATHAN HOLMES, baritone
Ludovic
MM '23
BM '19, Mercer University
Hometown: Decatur, Georgia
RECENT: Kecal (The Bartered Bride), Fredrik Egerman (A Little Night Music), Nathan Detroit (Guys & Dolls), Guglielmo (Così fan tutte), Moralès (Carmen), Giuseppe (The Gondoliers)
UPCOMING: Dr. Falke (Die Fledermaus)
SEAN HOLSHOUSER, baritone
La Bête / Prince / Avenant
BM '23
Hometown: Houston, Texas
RECENT: Rolf (The Sound of Music), Orin Scrivello, D.D.S. (Little Shop of Horrors), Lord Farquaad (Shrek), Rev. Shaw Moore (Footloose), Bobby Child (Crazy for You), The Baker (Into the Woods), Sweeney Todd (Sweeney Todd)
UPCOMING: Dr. Falke (Die Fledermaus)
AMIA LANGER, soprano
Belle MM '23 BM '21, Westminster Choir College
Hometown: Fanwood, New Jersey
RECENT: Berta (Il barbiere di Siviglia), Cleopatra (Giulio Cesare), Anne Egerman (A Little Night Music)
UPCOMING: Adele (Die Fledermaus), Margarita Xirgu (Ainadamar)
MARIAM MOUAWAD, mezzosoprano Adelaide MM '23
BM '20, San Diego State University
Hometown: Zahlé, Lebanon
RECENT: Ariodante (cover) (Ariodante), Tolomeo (Giulio Cesare), Charlotte (A Little Night Music), Orfeo (Orfeo ed Euridice), The Minskwoman (Flight), Cendrillon (Cendrillon)
UPCOMING: Federico García Lorca (Ainadamar)
OLUWAGBEMIGA DAVID OLUWO, bass-baritone
Le Laquais / Officiel du Port
BM '23
Hometown: Houston, Texas
RECENT: Curio (Giulio Cesare)
UPCOMING: Frank (Die Fledermaus), José Tripaldi (Ainadamar)
CHLOE OWENS, mezzo-soprano Adelaide
BM '23
Hometown: Wichita, Kansas
RECENT: Fredrika (A Little Night Music), Harry (Albert Herring)
UPCOMING: Chorus (Die Fledermaus), Niña (Ainadamar)
GRANT PECK, baritone
La Bête / Prince / Avenant
MM '23
BM '21, University of Cincinnati, College-Conservatory of Music
Hometown: Lexington, Kentucky
RECENT: Krušina (The Bartered Bride), Mr. Lindquist (A Little Night Music), Papageno (Die Zauberflöte), Pastore (L'Orfeo), Frank (Die Fledermaus), Son Ami (Le Pauvre Matelot)
UPCOMING: Eisenstein (Die Fledermaus)
JOEAVIAN RIVERA, baritone
Le Père / L'Usurier
MM '23
BM '20, University of North Florida
Hometown: San Sebastian, Puerto Rico
RECENT: Krušina (The Bartered Bride), Achilla (Giulio Cesare), Carl-Magnus (A Little Night Music), KoKo (The Mikado), Papageno (Die Zauberflöte), Sprecher (Die Zauberflöte)
UPCOMING: Prisionero 2/Maestro (Ainadamar)
LA BELLE ET LA BÊTE / ARTISTS
RUFINA ROBBINS, soprano Felicie MM '24 BM '22, University of Minnesota - Duluth
Hometown: Houston, Texas
RECENT: Lauretta (Gianni Schicchi)
UPCOMING: Ida (Die Fledermaus)
Hometown: Tehran, Iran
RECENT: Kecal ( Budd (Albert Herring

UPCOMING: José Tripaldi (
SAMANTHA TAYLOR, mezzo soprano Belle MM '23 BM '21, University of Miami
Hometown: Arlington Heights, Illinois
RECENT: Sesto (Giulio Cesare), Petra (A Little Night Music) Ainadamar)
MOORES OPERA CENTER ARTISTS
LA BELLE ET LA BÊTE / ARTISTS BANNED: Music SATURDAY, NOVEMBER 12 • 7:00PM @Holocaust Museum Houston
SPOTLIGHT ON OUR STUDENTS
Your gift to Moores Opera Center supports students like…
Mohammad Salman, Le Père/L'Usurier in La Belle et la Bête
Production Manager Nicole Kenley-Miller sat down with doctoral student
Mohammad Salman for an interview about his journey from Iran to Moores Opera Center
Nicole: Tell us about where you are from and what it is like there.
Mohammad: I am from Iran, so if you know a little about my country, it was a totally different country after 1979. When the so-called Islamic regime came along, it changed everything in every dimension, and music was no exception. They destroyed opera houses. They blocked Western culture, and they started banning music. No one can imagine that it may happen in the world. But the culture is so deep - 12,000 years - so that they cannot destroy it. The regime fought it, because they wanted to keep people under control. They banned people from connecting to their own culture and to Western culture also. They wanted to say everything is Islamic, and that's only a cover, because they are not even Muslims. You know Cyrus the Great, the founder of the Persian empire? More than 2500 years ago, he presented the first human rights declaration, and now in the 21st century, his people don't have their fundamental rights as humans under the Islamic Regime. The regime doesn't want us to be connected to our culture because there are deep things that we can learn and we are not going to tolerate or believe them as a government.
So all this started in 1979, and guess what? I was born in 1979. So my generation faced a new country. I have told this to many people in the USA, I said, "You don't know what you have." Just go and live in the Middle East for one hour; there, you will see terrible things that you will never see in the West, even in a century.
Imagine I was seven years old sitting on the roof and watching rockets hit my city. The first eight years of my life, Iran was at war with Iraq, and you had to watch without being able to do anything. As a child, I believed war is a typical situation in everyone's life everywhere.
Nicole: So how did you get started singing in the midst of that?
Mohammad: My generation had no idea about this operatic singing or Western singing at all. There was no Internet, no satellite, nothing like that.
Nicole: So what kind of music were you exposed to at that point?
Mohammad: Revolutionary music. Brainwashing music, you know? But over time, the regime found out that they could not be so isolated from the world, so they allowed some kinds of traditional Persian music to be performed on TV or radio.
But I loved music, so even the revolutionary music was interesting for me, and I started to find a way to learn about music. Everything about Western music was underground at that time. Still, I was fortunate to find some musicians who had lived before the revolution - masters of instrumental music - to learn from them. I started learning to play the flute when I was about 11 years old. When I was 18, I found a video cassette of The Three Tenors – Pavarotti, Domingo, and Carreras.
Nicole: And how did you find that video?
Mohammad: Having a video player was forbidden, so people would use it underground. They would put it under a blanket and hide it in the car and move it to another house where they would gather together to watch a film or a movie. Then with fear, they would move it to another house, because if the regime caught you with something like that, you would go to prison. So that was the first time I found a videocassette of The Three Tenors, and the first moment I watched Pavarotti singing, I said, "That's what I want. That's what I love."
Nicole:That's funny for bass to say!
Mohammad: Yes, but I didn't know what kind of voice I had. I had no imagination about the difference between tenor, baritone, or bass. We do not have those classifications in Persian music. Also, there was no teacher at that time to teach me, so the only way I could learn was by imitating those three tenors. I recorded the cassette so that I could walk around and listen to them. I had to do it somewhere that no one could hear me. So I used to practice walking along the highways for hours where the sound of the cars would cover the sound of my singing.
Nicole: What kinds of things were you singing along to?
Mohammad: "Nessun dorma" and other arias. It was fortunate that I didn't hurt myself, but it caused that my range expands. I imagined that that's what I should be singing, and I didn't know that I could be bass or baritone. I thought that's how people sang opera, and I should do that.
Nicole: How did you end up in Houston?
Mohammad: I came to the US from Iran in October 2013 as a dependent on my wife's student visa, and I couldn't speak English at all. We came to Houston because she wanted to study here. She had some relatives here, and her background was in music. She had a Bachelor of Arts in Music but in Persian music, not Western. My background was not in music at all. But when I started imagining that I could go to the
SPOTLIGHT ON OUR STUDENTS
US, I enrolled in the program in a university that they somehow opened up in Iran for two years only when a more moderate government took power. Then after that, they closed it. And at that period, I could study some Western music. And I was lucky I took it. So I brought that degree with me to the US. But I couldn't speak English. So my wife started studying at the University of St. Thomas, and I asked her to see if there is a music department and a voice teacher. So she went to Dr. Brady Knapp, and he was very interested in my voice. He gave me lessons with my wife interpreting for me. He said, "I don't think you are a tenor - maybe a heldentenor, maybe a baritone." And that continued until I got down to bass.
After a while, they put me in opera scenes, so I started memorizing all the texts. The first thing they gave me was a scene from South Pacific with 17 minutes of dialogue! It was glorious to stand on that stage for the first time. I saw that people loved it. I was singing more comfortably because it was not a crazy high tenor aria, and I loved the text. I started using those sentences to communicate with people in my daily conversation, and people would say, "You talk like a poet." [laughter]
After the opera scenes, Dr. Knapp said if I could pass an English test, they could offer me a scholarship to study at St. Thomas. I had to learn English from almost zero to pass the IELTS test with a high score in three months. So I started memorizing 200-300 words a day. And after three months, I was able to speak, write, and read, and I passed the test, and they accepted me into the university.
Nicole: And then how did you come to UH?
Mohammad: I finished two degrees at St. Thomas, and then Dr. Knapp pushed me to get the DMA. He introduced me to Dr. Timothy Jones here at Moores School of Music, who gave me lessons and helped prepare me for the auditions. I was accepted into the DMA program, and they offered me scholarships. I think the program at UH is rich and diverse and offers more opportunities than other schools.
Nicole: What do you want to do with your singing and with the DMA?
Mohammad: I want to be teaching and performing together because I love teaching and am not a bad teacher. My minor is in pedagogy now, so I am following my plan. But as a performer, I need more experience because I started a lot later than the kids in the school now. They are where I wish I was when I was 18 or 19. But now I am 42 years old and as Kecel says in The Bartered Bride, "I'm not one for giving in, I will find a way to win!". Fortunately, the DMA program at UH is giving me the experience I need.
Nicole: What is the situation in Iran now, and what engagement are you able to have with people back there?
Mohammad: The situation is not good to go back there, and it's getting more complicated every day, economically and politically. It's not safe for me to go there because I have so much connection to the US, which would be suspicious. I would be a tool for them. Students who have gone back to Iran have been taken as hostages and spies by the regime. They would force you to spy, or otherwise, they would kill you or your family or other terrible things. It's not safe to go there. You cannot even imagine how evil they are.
Nicole: And do you still have family there? How long has it been since you've seen them?
Mohammad: My mother is there, and two sisters and one brother are there. I haven't seen them in person since 2013. My mother even came to Canada, but I couldn't go see her because she couldn't get a visa to come into the US, and I couldn't go out because if I did, I wouldn't be able to come back. So, fortunately, these days we have the Internet, but the regime tries to block it because they want to have everything under their control. I am teaching some people for free online to do my part. But if I teach someone over there, every few minutes, I lose connection. And when there is a connection, it's not good quality.
Nicole: And the students you are teaching online obviously want so desperately to learn, but is it dangerous for them to study voice online?
Mohammad: Yes, especially women. Online the authorities cannot find out that I'm teaching them singing, but the women cannot perform outside. Women are forbidden to sing solo in public. Two of my students are in the process of finishing everything to come to the US. They have auditioned and been accepted to a university. It was the best gift of my life to see that I could have helped someone to get out.
Nicole: Thank you for sharing your story with us. It is truly inspiring all the barriers you've had to break through to get to where you are today.
YOUR GIFT MATTERS!
TO SUPPORT THE EDUCATION OF STUDENTS LIKE MOHAMMAD, YOU CAN GIVE IN ONE OF THE FOLLOWING WAYS:
• Online donations can be made at http://igfn.us/vf/MOC
• For large and estate gifts, contact Steve Block, Interim Director, Moores School of Music, 713.743.6118, sblock2@uh.edu
uh.edu/opera @MooresOpera
Live Aria Performances!
Houston's Annual Met Opera Competition
Discover the stars of tomorrow as they perform your favorite arias and display their extraordinary vocal techniques.
Alice Pratt Brown Hall at The Shepherd School of Music SAVE THE DATE! JANUARY 7, 2023
Pictured are the Winners of the 2022 Houston District Audition
Doors open 9:30 a.m. Auditions start 10:00 a.m. Winners announced 4:00 p.m.
For information: Facebook.com/MetCompHouston
2022-2023 SEASON
Transitions and Transformations
SEVERALL FRIENDS IN • THE SHADOW OF NIGHT• SATURDAY, OCTOBER 22 • 7:30 PM MATCHBOX 4 MIDTOWN ARTS & THEATER CENTER HOUSTON
THE ORLANDO CONSORT IN •LISTENING TO PICTURES• THURSDAY, NOVEMBER 10 • 7:30 PM ST. PAUL'S UNITED METHODIST CHURCH
ISTANPITTA IN
• EXILED•
SATURDAY, FEBRUARY 25 • 7:30 PM KAPLAN THEATER JEWISH COM MUNITY CENTER OF HOUSTON
THE BALTIMORE CONSORT IN •CROSSING TO THE NEW WORLD• SUNDAY, APRIL 16 • 4:00 PM UNIVERSITY OF HOUSTON CHAPEL
HOUSTONEARLYMUSIC.ORG • INFO@HOUSTONEARLYMUSIC.ORG
JOIN US FOR THE REST OF OUR EXCITING 2022-2023 SEASON!
x THIS LAND IS YOUR LAND Saturday, Oct. 29 • 7:30 pm Free Concert at Miller Outdoor Theatre DESERT ISLAND PLAYLIST Saturday, Nov. 19 • 7:30 pm Sarah Rothenberg For tickets, go to DACAMERA.com or call 713-524-5050 22/23 season HIGHLIGHTS INCLUDE: Violinist Christian Tetzlaff in a trio with Tanja Tetzlaff and Kiveli Dörken Osvaldo Golijov's Falling Out of Time with members of the Silkroad Ensemble Pianist Emanuel Ax in recital Jazz series featuring saxophonist Branford Marsalis, vocalist Cécile McLorin Salvant and bassist Christian McBride And many more outstanding chamber music and jazz musicians and ensembles.
BY GIVING TO MOORES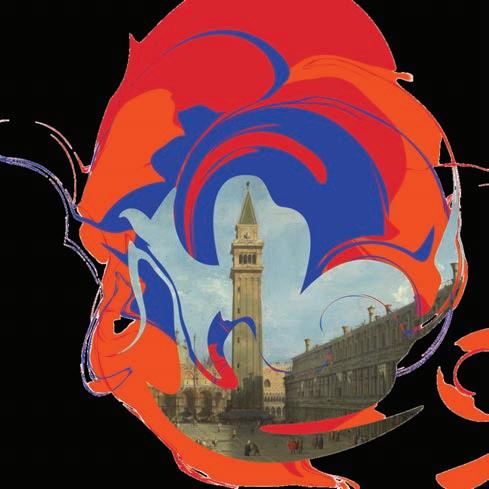 CENTER
THE RISING STARS OF OPERASUPPORT THE RISING STARS OF OPERA
OPERA
YOUR GIFT PROVIDES MOORES OPERA CENTER STUDENTS WITH Stage experience in four full-scale, professional-level productions per academic year Opportunities to perform regional and world premieres of new operas Ability to train with and work alongside leading professionals in their field Opportunities to prepare and perform roles to build their resumes Hands-on knowledge of how the theatre works, from painting sets to curtain calls uh.edu/opera
@MooresOpera
Aryeh Nussbaum Cohen Countertenor Elizabeth Blumenstock Baroque violin Kathryn Montoya Baroque oboe In-person and digital tickets are available! arslyricahouston.org/redpriest or call us at (713) 622-7443 A virtuosic tribute to Antonio Vivaldi, the famous "Red Priest" of Venice, with three distinguished soloists Stabat Mater, RV 621 Three concertos: RV 571, RV 463, RV 569 Three Arias from Bajazet, RV 703
SPECIAL THANKS TO MOORES OPERA CENTER 2022 – 2023 SUPPORTERS IMPRESARIO ($25,000+) Cullen Trust for the Performing Arts Edythe Bates Old Endowment MAESTRO ($10,000+) Rosamund and David Rowan PRODUCER ($5,000+) Robin Angly and Miles Smith DIRECTOR ($2,500+) Ellen and Alan Holzberg Jo Dee and Cliff Wright LEADING ROLE ($1,000+) Christopher Velle Bacon Scott Chase (BA '68, JD '71) Endowment Fund Rhonda and Donald Sweeney COMPRIMARIO ($500+) Ann Faget Geraldine Gill Johanna and Richard Wolfe CHORUS ($100+) Dr. Nicole Kenley-Miller (DMA '18) & Dr. Andy Miller ______ IN TEMPORE OPERA LEGACY GIFTS Buck Ross Opera Center Production Funds Endowment Juan R. Morales Endowment to Support Opera at the Moores School of Music Kathleen Childress Guthrie Harrison Endowment Thomas H. Guthrie Endowment to Support the Moores Opera House
2022-2023 MOORES SOCIETY
As of 10/1/2022
The Moores Society is the philanthropic volunteer organization for the Moores School of Music. Moores Society members and donors promote community awareness and provide funding for scholarships and special projects. Moores Society members receive invitations to concerts and special events held throughout the year.
EXECUTIVE COMMITTEE
Darlene Clark, President
Jackie & Malcolm Mazow, Immediate Past Presidents
Donna Shen, Vice President Membership
Nancy Willerson, Correspondig Secretary Meg Boulware, Opera Production Council Chair
BOARD OF TRUSTEES
Rita Aron Ann Ayre Meg Boulware
Terry Ann Brown Carla Burns Cheryl Byington Julie Cogan Timothy Doyle
Sheila Aron Christopher Bacon Philamena Baird Chris Becker Tom Becker Susan Binney Ann Boss Nancy Bowden Zarine Boyce Robert Chanon Anna Dean Vicky Dominguez Ann Faget Kelli Fein Debbie Feuer Cathy Coers Frank Joyce Frassanito Mary Fusillo Elia Gabbanelli Frank Geider, MS DDS
Warren Ellsworth Marita Glodt Sean Gorman
Maureen Higdon Gary Hollingsworth & Ken Hyde Mady Kades Linda Katz Michelle & Jack Matzer
ADVISORY BOARD
Diane and Harry Gendel Mariglyn & Stephen Glenn Beatrice and Gregory Graham Deb Happ Ellen & Alan Holzberg Gladys Hooker Janis Landry
Cora Sue and Harry Mach Karinne McCullough Mary Ann McKeithan Cathy McNamara Jennifer Meyer Celia Morgan Jo and Joseph Nogee Kitten and Ron Page Kusum Patel Fran Fawcett Peterson Carroll R. Ray Jan Rhodes Carol Lee Robertson
Shirley Rose Richard Schmitt Donna Shen Rhonda Sweeney Ann Tornyos Bob & Mary Ann Wilkins Beth Wolff
Lillie Robertson Minette Robinson Heidi Rockecharlie Kathi Rovere Donna Scott and Mitch Glassman Helen Schaffer Donna Shen Satoko and Anthony Shou Nancy Strohmer Susan Thompson Virginia and Gage Van Horn Barbara Van Postman Carol and Carl Vartian Nancy Willerson Phyllis Williams Cyvia Wolff Jo Dee Wright Gay Yellen
2022-2023 MOORES SOCIETY
As of 10/1/2022
OPERA PRODUCTION COUNCIL
Robin Angly Chris Bacon Meg Boulware Gwyneth Campbell Anna Dean Tim Doyle Warren Ellsworth
Robin Angly & Miles Smith Rita & Jeffrey Aron
Alan Austin & David A. White
Ann & Jonathan Ayre
Christopher Bacon & Craig Miller Olga & Gerardo Balboa
Susan & Michael Bloome
Meg Boulware & Hartley Hampton
Terry Ann Brown Keith Butcher
Roxi Cargill & Peter Weston Cheryl & Carl Carlucci Robert Chanon
Lydia & James Chao Darlene Clark & Edwin Friedrichs Timothy Doyle & Robert Royall, II Ann Faget Sylvia Farb Debbie Feuer
Carla Burns Helen Davis Geraldine Gill Nancy & Carter Hixon
Thomas Blocher Dru & Richard Davis
Joyce & John Frassanito Rachel & Howard Frazier Beatrice & Gregory Graham
Elad Ben-Menashe Felicia Brooks Richard Kummins Nicole Kenley-Miller & Andy Miller
Ann Faget Geraldine Gill
Ellen & Alan Holzberg Lee Huber Shannon Langman Helen Mann Jackie & Malcolm Mazow
DIRECTOR LEVEL ($1,000)
Mariglyn & Stephen Glenn Marita & David Glodt
John Goode & Janwin Overstreet Goode
Susan & Sean Gorman Maureen Higdon
Gary Hollingsworth & Ken Hyde Ellen & Alan Holzberg Monzer Hourani Linda Katz Sharon & Robert Lietzow Jay Marks
Jack & Michelle Matzer Jackie & Malcolm Mazow Paula & Robert Mendoza Shirley E. Rose Jane Ross Kathi & William Rovere Rosamund & David Rowan
PARTNER LEVEL ($500)
Sophia & Keith James Helen Mann Susan & David Morris Charles Rinehart
PATRON LEVEL ($250)
Deborah Happ & Richard Rost Gladys Hooker
Therese Kosten
Karinne & William McCullough Nancy & Hans Strohmer
FRIEND LEVEL ($120)
Connie Lewis Kenneth Proctor Michael Taksa Debra Witter & Scott Chase
David & Roz Rowan Rhonda Sweeney Irena Witt Johanna Wolfe Jo Dee Wright
Fayez Sarofim Jane & Richard Schmitt
Donna & Tim Shen Melanie Sonnenberg Rhonda & Donald Sweeney Vita Taksa Ann Tomatz
Ann Tornyos
Betty & Jesse Tutor, Jr. David Voll
Betsy Cook Weber & Fredric Weber Bob & Mary Ann R. Wilkins Andrea & Carl Wilson
Irena Witt Beth Wolff
Jo Dee & Cliff Wright
Virginia & Gage Van Horn Johanna & Richard Wolfe
Elissa Taylor Andrea Turner Cyvia & Melvyn Wolff Gay Yellen & Don Reiser
Cheryl Worley Lawrence Zomper