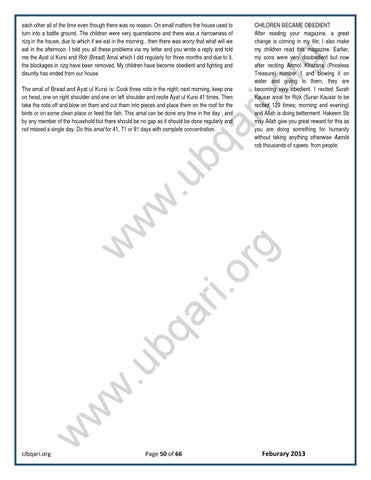 w
w w
.u
bq
ar i.o
rg
w
w
w
.u
bq ar i.
The amal of Bread and Ayat ul Kursi is: Cook three rotis in the night; next morning, keep one on head, one on right shoulder and one on left shoulder and recite Ayat ul Kursi 41 times. Then take the rotis off and blow on them and cut them into pieces and place them on the roof for the birds or on some clean place or feed the fish. This amal can be done any time in the day , and by any member of the household but there should be no gap as it should be done regularly and not missed a single day. Do this amal for 41, 71 or 91 days with complete concentration.
CHILDREN BECAME OBEDIENT After reading your magazine, a great change is coming in my life; I also make my children read this magazine. Earlier, my sons were very disobedient but now after reciting Anmol Khazana (Priceless Treasure) number 1 and blowing it on water and giving to them, they are becoming very obedient. I recited Surah Kausar amal for Rizk (Suran Kausar to be recited 129 times; morning and evening) and Allah is doing betterment. Hakeem Sb may Allah give you great reward for this as you are doing something for humanity without taking anything otherwise Aamils rob thousands of rupees from people.
or g
each other all of the time even though there was no reason. On small matters the house used to turn into a battle ground. The children were very quarrelsome and there was a narrowness of rizq in the house, due to which if we eat in the morning , then there was worry that what will we eat in the afternoon. I told you all these problems via my letter and you wrote a reply and told me the Ayat ul Kursi and Roti (Bread) Amal which I did regularly for three months and due to it, the blockages in rizq have been removed. My children have become obedient and fighting and disunity has ended from our house.
Ubqari.org
Page 50 of 66
Feburary 2013
Ubqari February Magazine 2013 (ENG)  
Ubqari February Magazine 2013
Ubqari February Magazine 2013 (ENG)  
Published on Feb 26, 2013  
Ubqari February Magazine 2013