CRUISE
SPRING 2023
Ponant's Le Champlain
LUXURY SMALL SHIP CRUISING
AMAKRISTINA ON THE RHÔNE CELEBRITY BEYOND AND NORWEGIAN PRIMA LAUNCH
SILVER ENDEAVOUR SAILS IN ANTARCTICA
TRAVEL PROFESSIONAL
Infinity-style Aqua Pool La Cucina Dining Sky Deck & Sky Bar 2023 & 2024 Luxury Yacht Cruises Contact us at 844 626 4303 or visit emeraldcruises.ca to learn more Included Return Airfare + Free Platinum Drink Package Save up to $2,400 per couple OR EXPLORE THE EXTRAORDINARY Terms & Conditions: Valid for new bookings on 2023-2024 Ocean Cruises made between March 20 – Sept 30, 2023 and subject to availability. Strictly no retroactivity on existing bookings. Offer: Included Economy airfare on staterooms (or air credit) or Premium airfare when you book a Suite (or air credit) plus a Platinum Drink Package includes unlimited drinks plus restocking of mini-bar selection in your room daily. Value of $90 / day per guest. Offer is subject to Pay in Full 12 Months prior to departure. Within the 12 months, the final payment is due within 72 hours of making the booking. Or Save up to $2400 per couple. Offers are not combinable. For full booking terms and conditions, visit emeraldcruises.ca. © EMERALD CRUISES| ALL RIGHTS RESERVED | BC CONSUMER PROTECTION #4017 Emerald Cruises have tailored an unparalleled luxury yacht cruise experience, allowing you to truly explore the extraordinary. Cruise the iconic coastlines of the globe in contemporary luxury, from the vivid islands of the Caribbean Sea to the sun-kissed towns of the Mediterranean coast and iconic transatlantic crossings. The Emerald Cruises experience retains the awe of old-world exploration in modern luxury.
Tel: 416.365.1500
Toll-free: 1.855.392.8820 www.travelweek.ca
Content copyrighted 2023 by Concepts Travel Media Ltd. Reproduction in whole or in part by any means without expressed written permission from the publisher is prohibited.
While every care has been taken to ensure the accuracy of the information contained in this directory, Travelweek cannot accept responsibility for any errors, omission or inadvertent misrepresentations.
Publisher Devin Kinasz dkinasz@travelweek.ca
EDITORIAL
Editor
Kathryn Folliott kfolliott@travelweek.ca
Deputy Editor
Cindy Sosroutomo cindys@travelweek.ca
ART/PRODUCTION
Graphic Designer
Jonathan Carmichael
Production Manager
Jason Gouveia jgouveia@travelweek.ca
Marketing Coordinator
Cindy Chen cchen@travelweek.ca
IT & Systems Specialist
Zara Martinez zara@travelweek.ca
SALES
VP Media & Content Strategy
Annie Cicvaric acicvaric@travelweek.ca
Business Development Manager
Michelle Zimmer mzimmerl@travelweek.ca
ADMINISTRATION
Accounting
Marie Mercado travelweek@travelweek.ca
ENVOY
Glen Harwood gharwood@envoynetworks.ca
THE CRUISE EDITION
Publishing and Editorial Director
Vanessa Lee, Cruise Strategies Ltd. vlee@cruisestrategies.com
Art Director
Colleen Nicholson
Editorial Contributors
Tim Johnson, Ming Tappin, Vanessa Lee, Toby Saltzman, Liz Fleming
Print Solutions
197 Arichat Road, Oakville, ON. L6J 5N5
Travelweek on social media
On the cover: photo courtesy Ponant/Olivier Touron
CRUISE EDITION SPRING 2023 SILVERSEA'S SILVER ENDEAVOUR The frozen continent beckons 30 NORWEGIAN PRIMA DEBUTS A bold new ship for NCL 16 CELEBRITY BEYOND ARRIVES Celebrity Cruises sets a new standard 21 AMAWATERWAYS SHINES AmaKristina offers river cruising at its finest 34 EXPEDITION CRUISING Thrilling adventures at sea 6 RIVER CRUISING Legendary rivers await MAKING WAVES Ships in the news 8 12
PONANT'S LE CHAMPLAIN An inclusive lifestyle at sea with French flair 24
Be immersed in the beauty of Curaçao and let the senses guide the way...Sweeping tropical panoramas, rich and colorful culture shaped by Dutch, Caribbean, Latin and Creole infl uences, you'll fi nd it hard to resist the charm of this vibrant destination! See, smell, hear, taste and feel the rhythm of the island! Did you hear that? Curaçao is calling!
Sandals® is a registered trademark. Unique Vacations, Inc. is an affiliate of Unique Travel Corp., the worldwide representative of Sandals Resorts. Terms and conditions apply. JAMAICA • ANTIGUA • SAINT LUCIA • THE BAHAMAS • GRENADA • BARBADOS • CURAÇAO SANDALS.COM • 1.800.545. 8283 PLUS! ENJOY $150 SPA CREDIT & $100 EPIX PHOTOSHOP CREDIT 7 TH NIGHT FREE CURAÇAO CALLING SALE
Canadian Chef Joins Epicurean Expeditions
Canadian celebrity chef Massimo Capra, host of Gourmet Escapes, Chopped Canada and Restaurant Makeover among others, will be the featured 'Gastronomic Guest' on two of Atlas Ocean Voyages' Epicurean Expeditions this summer aboard the brand's intimate yacht,  World Navigator. Atlas' tantalizing program of new Epicurean Expeditions, departing between April and October 2023, has been carefully planned to allow travellers to immerse themselves in the gastronomy of European ports while on culinary shore excursions, and to learn from guest chefs and sommeliers who will be on board to enrich the destination experience. Chef Capra will join the Aug. 15 (12 nights Venice to Valletta) and Aug. 27, 2023 (9 nights Valletta to Barcelona) Mediterranean departures. Together with 200 fellow foodies, guests will explore Croatia's picturesque ports of Rovinj, Pula and Sibenik, as well as the jewel of the Adriatic Sea, Dubrovnik, a city well-known for its historic old town. Other highlights include visits to Puglia's town of Monopoli, Butrint National Park in Albania, the Italian fishing village of Gallipoli, Syracuse in Sicily and Calypso's Isle of Gozo, before arriving in Valletta, a treasure trove of architecture and art where guests will overnight before disembarking. On the Aug. 27 voyage, highlights include Syracuse, Giardini Naxos, Taormina, Lipari, Palermo, Trapani, Mahon, and finally Barcelona with its modernist landmarks designed by Antoni Gaudi and a wide range of post-cruise leisure options.
Lindblad Celebrates 40 Years in Alaska
There is no place like Alaska, a vast, pristine wilderness of snow-capped mountains, breathtaking fjords and extraordinary wildlife. America's final frontier captivates with the promise of discovery and aboard Lindblad Expeditions' small, nimble ships, guests will have unparalleled access to seldom-seen corners of the Inside Passage and beyond. It's in these remote parts where guests can witness the thunder of a calving glacier, kayak past foraging bears, and linger with a pod of humpbacks. They'll venture into small towns to discover the way life has been lived in Alaska for centuries, meet First Nations people in mutually rewarding encounters and learn their traditions and ways of life. There are eight different itineraries to choose from ranging from six to 20 days in length, with one expedition team member for every 10 to 12 guests. Lindblad Expeditions has been exploring the region for 40 years and its long legacy translates into an incredibly meaningful and authentic Alaska experience for guests of all ages. In 2023, parents and grandparents can bring one child under age 22 at half price, and a second one for free.
Immersive Sailings with Seabourn
Launched last year, the  Seabourn Venture  is the first purpose-built expedition vessel for the award-winning Seabourn line. It will be joined by sister ship, Seabourn Pursuit this year, with both ships sailing to both poles and many places in between such as Greenland, Norway and Iceland. Each ship houses 132 luxuriously appointed oceanfront veranda suites for up to 264 guests. There are Zodiacs for exploration, knowledgeable Expedition leaders sharing their expertise ashore and through fascinating lectures in the Discovery Center, and amazing wildlife at every turn, including penguins, polar bears, seals and whales. A new era of exploration combines exhilarating adventures to the world's most remote destinations with the uncompromising and sophisticated amenities of Seabourn's remarkable ships.
6 TRAVEL PROFESSIONAL EXPEDITION CRUISING C M Y CM MY CY CMY K
Massimo Capra
Seabourn Venture
Guest kayaking in George Island, Southeast Alaska
Riviera River Cruises Offers Canadian Dollars at Par
Riviera River Cruises, the UK's leading river cruise operator with a fleet of 11 ships, has introduced a new Canadian Dollars at Par promotion on all 2023 cruises departing by Oct. 31, 2023, and booked by May 31, 2023. Riviera offers 21 itineraries on 10 European rivers and waterways throughout the year, including popular Christmas Markets cruises on the Rhine and Danube rivers, exclusive solo travellers departures and solo traveller pricing on all cruises. Three new 11-day itineraries were added to its 2024 European cruise program after seeing an increased demand for more in-depth experiences along the Seine River in France (Paris, Normandy and Historic Treasures of the Seine River) and the magnificent Rhine River (Cologne, the Rhine Gorge and Medieval Germany) and its tributary, the Moselle River (The Moselle, Luxembourg and the Majestic Rhine), in Germany. Escorted shore excursions in each port of call, a Welcome Dinner and the Captain's Dinner and cocktail parties, complimentary onboard WiFi, services of a Riviera cruise director, and concierge, port charges and taxes on all departures are included in the cruise fare. Riviera guarantees never to add hidden surcharges and fees, and it doesn't automatically include gratuities or drinks, so the choice is up to each guest.
Avalon Waterways Adds the Douro River
Hillside vineyards and historic villages await Avalon Waterways' guests next year with the launch of a purpose-built ship on a new itinerary, Portugal's Douro River, in 2024.
The Avalon Alegria will give guests new views of the old world from award-winning Panorama Suites located on two full decks. Alegria, which means happiness in Portuguese, will sail roundtrip from Porto and up the Douro on an eight-day itinerary that also visits stunning Salamanca in Spain. Guests will soak up the splendour of Portugal with wine, baked bread, olives and local cheeses as they enjoy all that this country has to offer.
The Avalon Alegria boasts a pool on the Sky Deck for sunning and sightseeing at the same time, as well as the brand's included 'Classic,' 'Discovery,' and 'Active' excursion choices. The ship will host 102 guests in 14 Deluxe staterooms and 37 Panorama Suites.
8 TRAVEL PROFESSIONAL RIVER CRUISING
Avalon Alegria Sky Deck
MS Geoffrey Chaucer Lobby
MS George Eliot Bistro
DISCOVER THE OCEAN STATE OF MIND
Spaces that offer guests relaxed luxury, creating a home at sea. Restoring life's essential balance with a combination of discovery and appreciation for wellbeing and nature. Each of our 461 ocean-front suites, penthouses and residences – all designed with a refined, European elegance – are created to get you closer to the ocean. All suites feature private terrace and large floor-to-ceiling windows.
The Explora Journeys team look forward to welcoming guests onboard beginning July 2023.
REGISTER AND JOIN OUR COMMUNITY AT EXPLORAJOURNEYS.COM/TRAVELADVISORS OR CONTACT 1 833 697 0648
Discover Superyacht Style
If small, beautiful yachts with no more than 100 guests appeal, look no further than Emerald Cruises' new vessels, the Emerald Azzurra and sister ship, Emerald Sakara.
These intimate yachts offer an upscale and semi-inclusive cruise experience, ideal for those wishing to explore far and wide in casual elegance. The first yacht, the Emerald Azzurra, has been sailing for over a year, and its twin, Emerald Sakara, will launch this year. These modern, cosmopolitan jewels offer guests fascinating itineraries that take in smaller harbours and bays in the Mediterranean and Adriatic, the Red Sea, the West Indies and Central America.
On board, guests will find abundant space, stellar ocean views from the top deck Sky Bar (a great spot for a sunset sail away), and a watersports marina platform boasting water toys galore, including kayaks, paddleboards, snorkeling equipment, SEABOBS and a giant trampoline. The onboard lifestyle is relaxed and easy, enabling natural ca-
maraderie between guests and the attentive crew. Generous inclusions range from wine and beer with lunch and dinner to complimentary Wi-Fi and gratuities for the staff and excursion guides.
Guests can find plenty of ways to unwind onboard, whether it be enjoying dinner in La Cucina Restaurant or an al fresco lunch on the adjacent terrace, relaxing by the gorgeous infinity-style pool surrounded by lounge chairs and daybeds, or luxuriating on the wellness deck featuring a spa, infrared sauna and gym. The luxe suites and staterooms, most with balconies, provide a comfortable respite and all the amenities one requires.
In the winter of 2023/2024, both yachts will homeport in the Caribbean, visiting stunning isles in the Grenadines, the British and U.S. Virgin Islands, as well as smaller ports in the Windward and Leeward Islands and Central America.
Emerald Cruises offers a new way of upscale cruising with a luxe sensibility while sailing to and exploring some of the world's most remarkable and beautiful places.
10 TRAVEL PROFESSIONAL
FEATURE THIS
Emerald Azzurra
Aqua Pool
Kotor
EXPLORE CULTURAL WONDERS
JOIN CHEF MASSIMO CAPRA
Epicurean Expeditions with Atlas Ocean Voyages take guests on culinary and wine adventures led by Gastronomic Guests and Visiting Vintners with fewer than 200 fellow travelers. Celebrity Chef Massimo Capra joins our August 15 and 27 expeditions aboard World Navigator to further immerse explorers in European cultures. Chef Capra – best known for his roles on "Gourmet Escapes," "Chopped Canada" and "Restaurant Makeover" – brings a passion for cuisine to enhance these intimate yachting expeditions.
12-Night Venice To Valletta
August 15, 2023
9-Night Valletta To Barcelona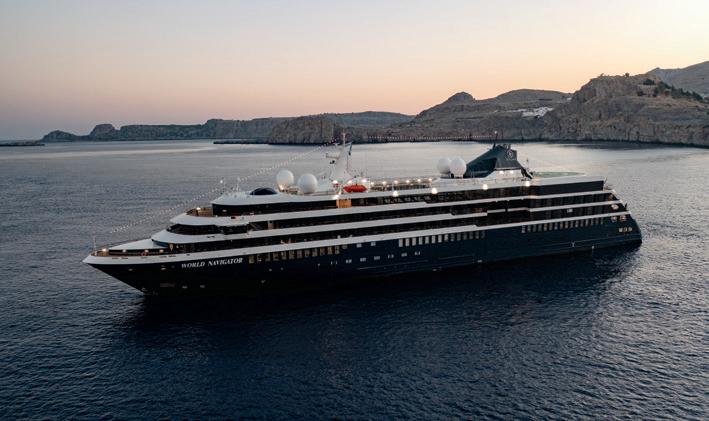 August 27, 2023
Featuring Gastronomic Guest
Chef Massimo Capra
Guests can join celebrity Chef Massimo Capra as he takes them on culinary adventures throughout their voyage.
FARES STARTING FROM $4,299 PER GUEST
HIGHLIGHT: An overnight in Valletta and late departure from Dubrovnik give guests time to explore settings for Game of Thrones fi lming.
FARES STARTING FROM $3,299 PER GUEST
HIGHLIGHT: Staying overnight in Barcelona, there's time to explore Antoni Gaudí architecture throughout the city and immerse into a market tour of La Boqueria.
Fares shown are per guest, cruise only, in U.S. dollars and based on double occupancy. Per guest fares include Second Guest Sails FREE Promotion. Air, land excursions, taxes, port charges and fees are additional. Fares are subject to increase at any time without notice. Special offers and inclusions may be changed or withdrawn from any voyage at any time without notice. Additional restrictions may apply. For full terms and conditions, contact your preferred Travel Advisor. © 2023 Atlas Ocean Voyages. Ships' Registry: Portugal | 2190 - 3.31.23 TO BOOK YOUR CLIENTS, CALL OUR VOYAGE SPECIALISTS AT 1.844.44.ATLAS (28527) | ATLASOCEANVOYAGES.COM
Sails FREE Plus 50% Reduced
Second Guest
Deposits
Anticipating Queen Anne –an Elevated Travel Experience
Lovers of the Cunard line will be delighted to know that a new cruise liner, Queen Anne, will soon set the benchmark for luxury ocean travel. Designers from David Collins Studio, Richmond International and Sybille de Margerie, who worked with Creative Director Adam D. Tihany, have inspired Queen Anne's luxe look. Having immersed themselves in the Cunard archives, these talented designers, whose portfolios include luxury hotels, bars, restaurants, high-end yachts, and private grand residences, have ensured that Queen Anne will exude classic Cunard style showcasing many exquisite new touches. Queen Anne's interiors will take their inspiration from Cunard's past, celebrating beautiful art deco style finishes while defining a striking new design direction for the future. With more than 4,300 pieces of artwork, Queen Anne will showcase young, contemporary up-and-comers as well as well-known artists like Pei Chi Lee, John Briggs and Tommy Camerno. A portrait of Queen Anne herself, painted by Camerno, will be displayed in the Queens Room. Guests will be dazzled by Bright Lights Society, an intimate venue designed by the renowned Richmond International, which will offer hosted experiences and a fascinating whirlwind of entertainment. No two nights will ever be the same. Bright Lights Society honours Cunard's heritage as the world's first ocean liner to use electric lights. Queen Anne will join its sisters – Queen Mary 2, Queen Elizabeth and Queen Victoria – in the spring of 2024.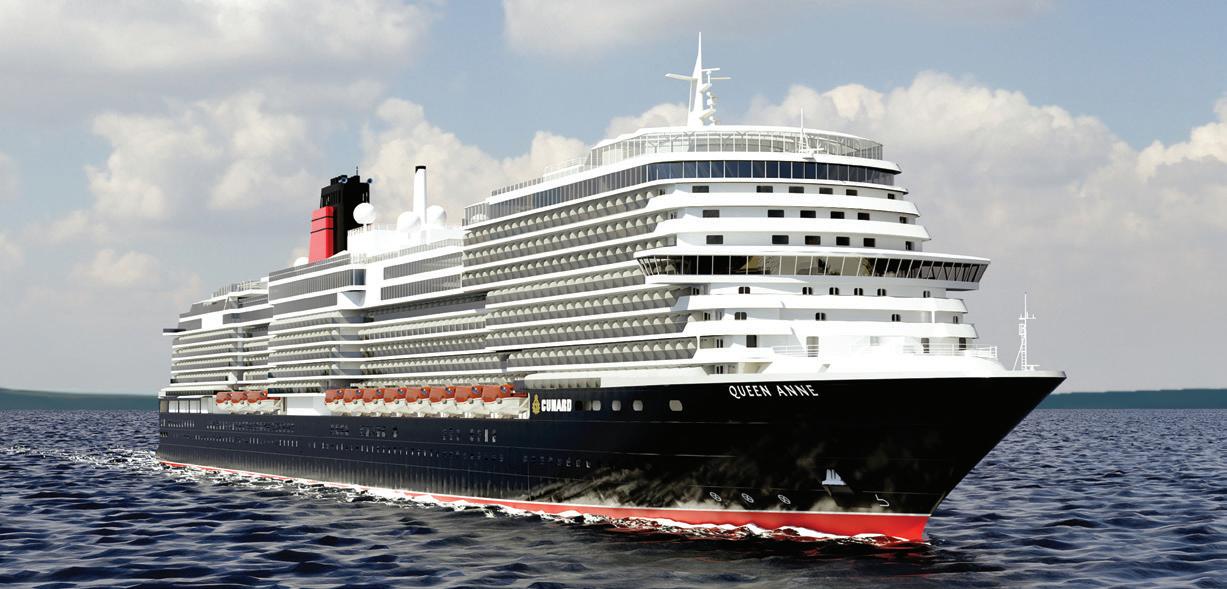 Raising the Bar on Dining and Entertainment
Celebrated Italian-American chef, author, restaurateur and Emmy Award-winning food personality Giada De Laurentiis has been named godmother of Oceania Cruises' newest ship,  Vista, debuting May 2023. Giada's casual yet sophisticated style and love of fine cuisine are the perfect recipe for Vista. As godmother, she will create two signature dishes to be served on board, which guests can enjoy in Toscana, Vista's authentic Italian specialty restaurant, and The Grand Dining Room, the luxurious grand dame of Oceania's culinary world on board. In addition to the finest cuisine and destination-rich itineraries that span the globe, Vista will feature three uniquely designed productions during its inaugural season:  Headliners, The Anchor Inn and Into the Night. Each show is a Broadway-calibre, immersive-style production featuring recognizable songs by some of the world's most beloved artists and contemporary dance numbers led by a star-studded production team, including 'Dancing with the Stars' choreographer Britt Stewart.
Princess Cruises: Here Comes the Sun!
Princess Cruises has revealed the first new look at its stunning contemporary ship, Sun Princess, scheduled to debut in early 2024. With bright designs inspired by rays of sunlight and next-level expanded spaces, guests will be delighted with their cruise experience when they sail on board. In a first for Princess, the Horizons Dining Room will be a fabulous three-storey dining venue that is open and flexible, featuring dining options to suit every mood and taste. Each of the three decks will have its own personality, offering different experiences and various formality levels. There's also a showstopping and technologically-astounding Princess Arena Theater. Accommodating 4,000 guests, Sun Princess will be the largest and most innovative ship to join Princess' award-winning fleet. Additional signature favourites on board include the always-popular Alfredo's Pizzeria, the Crown Grill, which has a classic steakhouse feel with modern touches, and Sabatini's Italian Trattoria offering an elegant Italian dining experience.
12 TRAVEL PROFESSIONAL MAKING WAVES | SHIPS IN THE NEWS
Queen Anne
Sun Princess
Headliners
"Ama" means love – and we put love into everything we do, from creating incredible river cruise journeys for our guests to curating helpful resources for our travel advisors. As you work with AmaWaterways to build your business, enjoy our lucrative commission rates, valuable assortment of marketing materials, and key insider tips for selling our journeys and building your own group sailings. With our amazing offers and incentives, there is never a better time to start building your own group!
For a limited time, your clients can reserve a complimentary land package on select Europe and Egypt sailings!
For all the tools you need to grow your business, visit your Travel Advisor Portal at AmaWaterways.ca/Agent-Home.
An Ocean State of Mind
New cruise company Explora Journeys launches its first ship, Explora I, in July. A second ship, Explora II, will set sail in 2024 and four more will follow in the coming years.
These gorgeous vessels will carry 1,000 guests in 461 spacious, oceanfront suites, and offer immersive, enriching explorations of some of the finest destinations in the world.
The vibrant and cosmopolitan atmosphere onboard will beckon guests to luxuriate in a relaxed European style. A global tasting tour awaits onboard, with guests choosing from nine restaurants that take their influences from the diverse and wholesome flavors of the world. Emporium Marketplace offers all-day dining in a casual setting, while Marble & Co. Grill is where to go for a European steakhouse feel. Fil Rouge will delight with French-inspired cuisine, Sakura offers guests stylish dishes with pan-Asian flair, and the Med Yacht Club beckons with a chic Euro ambiance and sense of la dolce vita in both the décor and menu.
Lounging and entertainment experiences onboard the Explora I include a coffee spot, a welcoming lobby bar, a Whisky Bar and cigar room, a 270-degree lounge with great views, poolside venues and more.
The accommodations are well-designed, spacious and sumptuous. The Ocean Penthouses and Residences offer expansive terraces, floor-to-ceiling windows and sophisticated décor. A seating area, a four-person dining room, heated bathroom floors, a Dyson supersonic hairdryer, a personal mini-bar, an espresso machine, luxurious Frette linens for bed and bath and wireless bedside charging are just some of the features of these beautiful accommodations. The ship also offers 371 Ocean Terrace and Ocean Grand Terrace Suites as well as 82 multi-generation-friendly connecting suites.
Fitness facilities with the latest state-of-the-art equipment will ensure guests' well-being onboard. There's also a spa thermal area, treatment rooms and a fitness studio. The generous outdoor decks offer three outdoor pools, including one adults-only and an indoor pool with a retractable roof.
Guests will receive a welcome bottle of Champagne on arrival, a mini-bar stocked to preference, included gratuities, unlimited Wi-Fi, in-suite dining and all beverages, including fine wines and premium spirits.
The ships of Explora Journeys will create a relaxed and convivial atmosphere at sea while offering authentic experiences and a dash of European panache to its fortunate guests.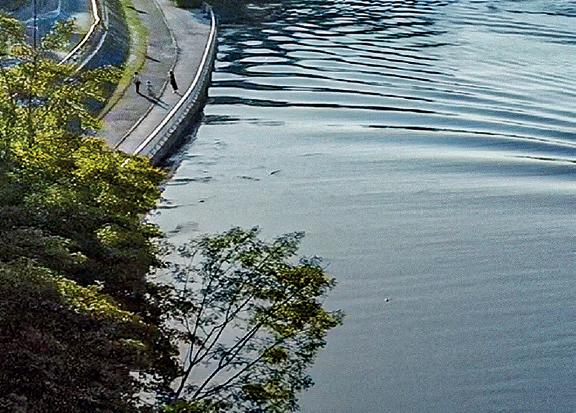 FEATURE THIS 14 TRAVEL PROFESSIONAL
Explora 1
Helios Pool
Astern Lounge
Fil Rouge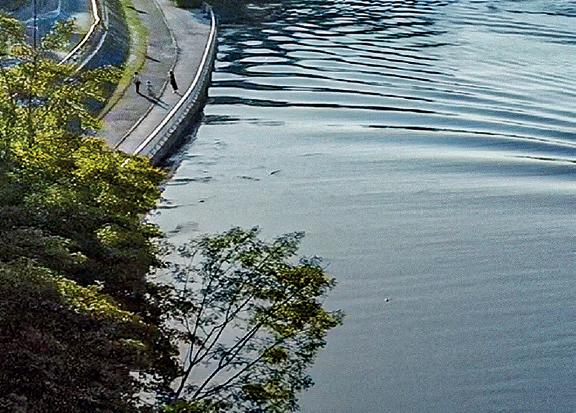 One for one Exclusive to our Canadian Travel Advisors! do ar s Get $1CAD on par with $1USD Book any of our 2023 river cruises by May 31, 2023 for this offer. We are offering our river cruises for 2023 with like for like dollars for all our Canadian guests. To book or for more information, call us on: 888-838-8820 | rivierarivercruises.com Visit our website for full terms and conditions. Not responsible for errors or omissions, other terms and conditions apply, and offer can change at any time. Valid for new bookings only as of April 5, 2023. Riviera River Cruises CST 2130254-5
PRIMA DONNA
Norwegian Cruise Line's new leading lady
By Ming Tappin
CHRISTENED IN REYKJAVIK, Iceland by pop star Katy Perry, Norwegian Prima was launched to much fanfare in Europe last summer.
The Prima is the first of six vessels in this class by Norwegian Cruise Line, with five other ships launching before 2027. At 965 feet long and more than 143,535 tons, the Prima accommodates 3,100 guests and is stunning in every way.
Where to begin? The three-storey Penrose Atrium is beautiful and unique, with an asymmetrical design on all three levels, topped with a ceiling of glittering stars. With seating throughout and a featured venue on each level - the Penrose bar on Deck 6, a Starbucks on Deck 7, and the Whiskey Bar on Deck 8 - the atrium is a constant buzz of activity all day and night. The entire ship is wrapped in miles of glass, offering the best views, whether from the Observation Lounge, the Penrose Atrium, the elegant dining rooms, or one's stateroom balcony.
Speaking of staterooms, Prima's accommodations are spacious and bright, decorated in sandy and light brown tones, and have the roomiest bathrooms we've seen. We loved the colourful butterfly face mural designed by American artist Amy Rader that replaces traditional framed prints on the wall.
Norwegian was the first to offer a ship-within-a-ship
concept with the Haven complex – an enclave of top-end suites with butler service, a private restaurant, bar and lounge. Onboard the Prima, the Haven is even more exclusive, with all suites located in the ship's aft, accessible by private elevators. The private bi-level sundeck includes an inviting infinity pool overlooking the aft.
Norwegian never disappoints with dining options, and the Prima boasts 18! In addition to two main dining rooms, the complimentary Local diner, and the Surfside Cafe buffet, there is an array of specialty restaurants. Favourites such as the upscale French Le Bistro, Cagney's steakhouse, Los Lobos Mexican cantina, and Onda by Scarpetta Italian trattoria are back. New dining venues include the Mediterranean seafood restaurant Palomar, whose signature dish is salt-encrusted whole branzino carved table-side. Elevated Japanese cuisine can be enjoyed at the new Nama sushi restaurant, and the upgraded Hasuki teppanyaki grill sells out on every cruise.
By far, the most popular eatery is the new Indulge Food Hall, a complimentary food-court-style venue serving various meals at lunch and dinner. Individual stations whip up noodle bowls, tapas, salads, Indian curries, barbecue, rotisserie, Mexican and desserts, each with its own seating section. But diners sitting at larger tables and booths scattered throughout the food hall can order from any venue and have their dishes delivered to their table.
With 17 bars and lounges, Prima ensures guests won't go thirsty. Norwegian has launched the first Sail and Sustain beverage program with the new Metropolitan Bar, where zero-waste signature cocktails are produced from items that would have otherwise been discarded. We sampled delicious cocktails created with syrups made from banana peels and imperfect croissants. In addition, the Metropolitan Bar only features liquors produced by companies following the strictest sustainability guidelines.
16 TRAVEL PROFESSIONAL PHOTOS COURTESY NORWEGIAN CRUISE LINE
CRUISE EDITION SPRING 2023 17 Vibe
The Prima continues to impress outdoors with the expansive 44,000 square-foot Ocean Boulevard that wraps entirely around Deck 8. Here you'll find the outdoor extensions of specialty restaurants, the Local diner and Indulge Food Hall, a new sculpture garden, plenty of sunbeds, loungers and hanging hammock chairs. Our favourite space was the new Infinity Beach lounging area on both sides of the ship, each with an ocean-facing infinity pool.
For those looking for a little more action, there are plenty of amusements on board the Prima to induce an adrenaline rush. How about taking on the 10-storey slide called The Drop, or double the sliding fun by racing a friend to the bottom on The Rush? Go-kart fans will love the enhanced Speedway, now with a longer track on three levels and wide enough for overtaking. The Galaxy Pavilion VR arcade has also been improved with numerous new motion-based rides and two escape rooms.
After the sun goes down, Prima shines on stage. The headline show on board is 'Summer: The Donna Summer Musical.' The beautifully curated, 85-minute show recounts the dramatic life story of the Disco Diva featuring all of her top hits. Immediately after the performance, the theatre transforms into a disco party for guests to carry on dancing. Another new production is 'Noise Boys,' featuring a rapper, a troupe of energetic tap dancers and an unbelievable beatbox duo. At the same time, 'The Price is Right Live' is an abbreviated version of the popular game show, complete with the big wheel spin and a showcase showdown. Other entertainment options include musical acts at various lounges and stand-up comedy at Improv at Sea.
Ever the trailblazer, Norwegian Cruise Line has done it again, with a winning combination of premium amenities, show-stopping entertainment, and elevated culinary experiences onboard the Norwegian Prima. This gorgeous vessel is a first-in-class winner, and we can't wait to see more from Norwegian in the coming years.
18 TRAVEL PROFESSIONAL
Prima Suite
NORWEGIAN PRIMA
The Speedway
PHOTOS COURTESY NORWEGIAN CRUISE LINE
Atrium
Onda by Scarpetta
The Unique Joys of Small Ship Cruising
Transformation in seven days is what Variety Cruises' CEO, Filippos Venetopoulos, promises guests sailing on the company's small boats in Greece, French Polynesia, Seychelles, Costa Rica and Panama, Italy and Malta and Cape Verde. Specializing in itineraries to gorgeous and idyllic locales, Variety has now launched an incredible new voyage focusing on unexplored Greek Islands.
A third generation-run family business, Variety Cruises operates with sustainability and philanthropy at its heart, focusing on offering travellers fascinating itineraries around the globe and visiting off-the-beaten-path and marquee ports.
The eight small boats in its current fleet can accommodate 34 to 71 guests, each featuring a distinct charm. The mega-yacht Variety Voyager, the largest in the fleet, offers guests a comfortable and welcoming home at sea, dropping anchor on golden seashores at an unrushed pace – just as it should be. Guests can visit the fabulous Cyclades islands, ports in the Peloponnese such as lovely Nafplion and Monemvassia, and lesser-known gems like Hydra and Kythira.
Guests can also snorkel in crystalline waters, find idyllic harbours and enjoy the relaxed pace of life in Polynesia when sailing on Variety's two tall-masted beauties, the Panorama I and Panorama II, each hosting about 50 guests. The classic seafarer Pegasos can be found sailing in the Seychelles, and the sleek twins – Harmony V and Harmony G – also call Greece home.
The small boat vibe on Variety Cruises' boats makes for easy sailing for honeymooners, romantics of all ages, multi-generational families, groups and more. Plus, all staterooms have an ocean view and half-board meals are provided along with soft drinks and beverages. Wi-Fi, cocktails and wine and gratuities are extra.
20 TRAVEL PROFESSIONAL FEATURE THIS
Cyclades
Voyager Stateroom
ABOVE AND BEYOND
Celebrity sets a new standard
By Liz Fleming
IT WAS SHAKESPEARE'S Juliet who asked, "What's in a name?"
She would never have asked that question had she been aboard Celebrity Beyond, a ship whose name describes her guests' experiences perfectly.
Take for example, her magic carpet. Until Celebrity introduced its own version, only Aladdin could lay claim to having such a magical device. Now, guests aboard Celebrity's three Edge Class ships can soar from deck to deck on a glorious orange creation that is both an elegant lounge and restaurant and an ultra-convenient means of moving to and from the tendering level of the ship. Disembarking for shore excursions has never been so easily and elegantly achieved, nor could you find a more beautiful lounge option, cantilevered over the sea.
And that's just the beginning. Celebrity Beyond pushes the boundaries in every way, beginning with the essential element of all cruises – cuisine. The Beyond offers 32 food and beverage venues, including the Rooftop Garden Grill, Fine Cut Steakhouse, Raw on Five, Le Grand Bistro, Cosmopolitan, the main dining room and specialty restaurants, including Cyprus, Tuscan, and Normandie, as well as the chic and intimate Le Voyage, the first fine-dining restaurant at sea by famed chef Daniel Boulud. Breakfast at the Market Garden was a pleasure as we basked in the sunshine at an outdoor table.
Every bite on Beyond was a joy, but it was the clever blending of food and fantasy at the innovative Le Petite Chef that truly captivated us. Our beautifully appointed table featured white dinner plates glowing with rings of light that quickly burst into life as a tiny chef appeared. As we watched, amazed, the table became an animated stage on which the little chef and a host of other characters introduced the history and culture of each course. The animation was stellar – look out Disney! – but produced with an adult audience in mind.
Animated dining is only the beginning of the surprises on Beyond, a ship that vibrates with entertain-
CRUISE EDITION SPRING 2023 21
Eden
PHOTOS COURTESY CELEBRITY
ment, music and art. In the Grand Plaza, a stunning glass chandelier above the Martini Bar regularly shimmers to life with sound and light – and that's not all. Keeping time with the lights and music, a troupe of talented bartenders transforms into a juggling show, tossing cocktail shakers high in the air, balancing sparkling martini glasses on their foreheads, and still serving drinks to the dazzled crowd at the bar. The energy is electric, and the venue is one of the most popular onboard.
The whimsical tone is threaded throughout the ship. Artists suddenly appear in unexpected spaces, setting up easels, producing gorgeously costumed models and beginning furious assaults on their canvases. Paint brushes flash, a crowd quickly gathers and a portrait appears – sometimes painted upside down, just for fun! A piece of original art has been created in minutes, ready to be showcased. Not that there are many empty spaces – every area on Celebrity Beyond has original art, from arresting sculptures like the massive elephant balanced so delicately by the pool, to the vivid photography of people, birds, animals, fish and more that fill the walls of the ship.
Celebrity Beyond has also injected enormous energy into performance entertainment. Clever, award-winning main theatre shows immerse audiences in sound, light and movement. In Wonder at Eden, a three-storey, multi-media venue that magically morphs from dining area to performance space, another live performance cast boggles your mind with everything from tap dancing to super-human feats of strength, all in a theatre-in-the-round style that culminates in an everyone-out-of-your-seat dance party. The Jazz Joint is yet another live performance area that draws you into the fun of a 1920s-style speakeasy while live musicians entertain in lounges all around the ship.
If evenings are electrifying on Beyond, days are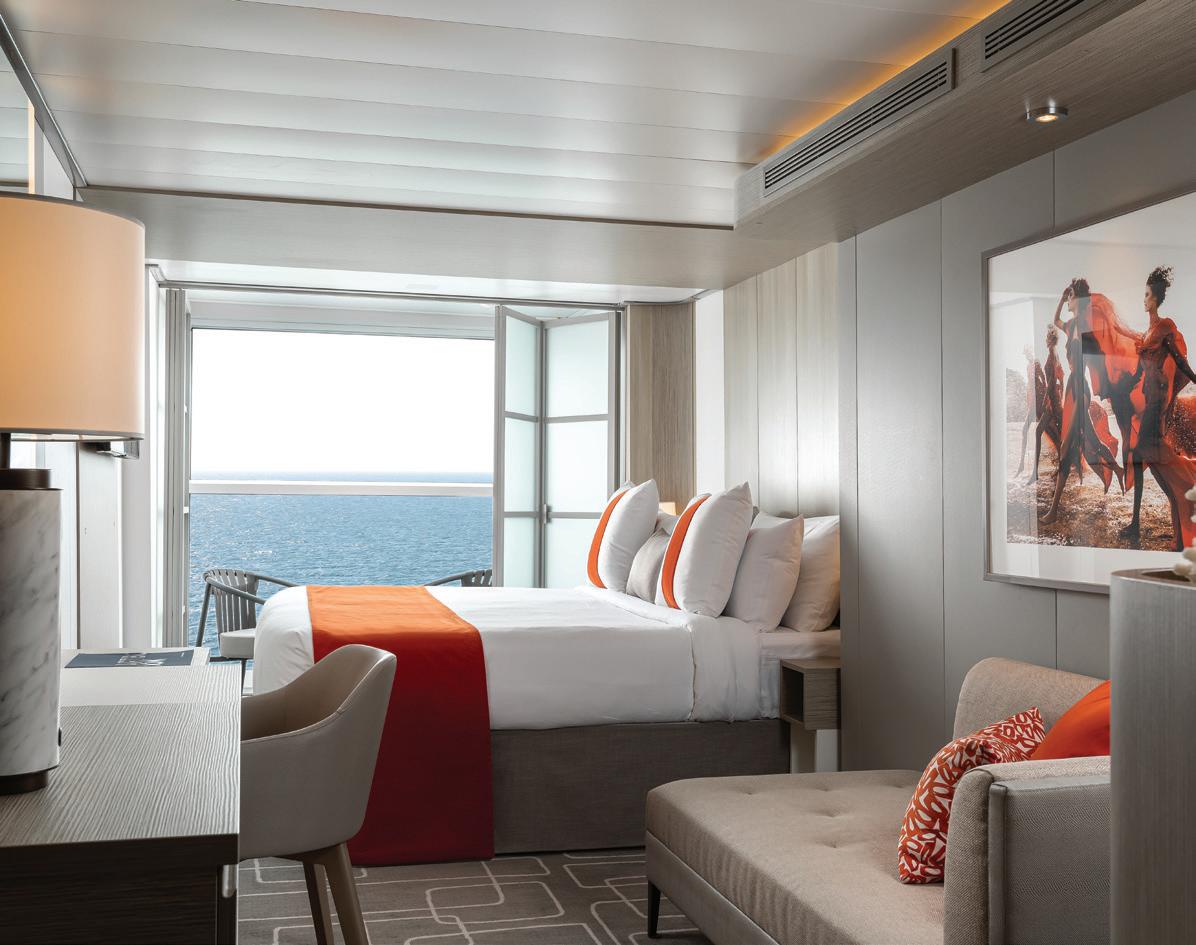 22 TRAVEL PROFESSIONAL
CELEBRITY BEYOND
PHOTOS COURTESY NORWEGIAN CRUISE LINE
Infinite Veranda stateroom Retreat Lounge
The Sunset Bar
fun and blissfully relaxing, whether you choose a shore excursion or stay aboard to enjoy a luxurious treatment at The Spa. Some will find comfy lounge chairs amongst the lush greenery on the park-like upper deck or loll by the sparkling outdoor pool or in the equally beautiful Solarium, which offers its own pool, completely sheltered from the elements.
We loved the newly imagined Sunset Bar with its stunning décor by celebrated designer Nate Berkus. This bar on the Beyond is a new version of an old favourite and it is twice as large now. With its Moroccan-inspired design, cascading terraces, and conversation niches it offers a fabulous Beach Club ambiance and spectacular views from its aft location. It's the place to be!
Our stateroom on Celebrity Beyond was well-appointed, comfortable, and sleekly minimalist, in a palette of soft greys with an enormous electric window that slid down to open to the winds and the sun, negating the need for a balcony. Guests interested in more privacy and an added level of luxury chose ultra-elegant suites and villas in The Retreat, where they enjoyed not only premium dining at Blu and the exquisite Luminae at The Retreat but also their private sundeck, pool, and lounge with services of a Retreat concierge and drinks and wine included through the day and evening.
For my part, I was most impressed by the friendly staff and crew and the forward-looking attitude Celebrity takes towards women in its organization. Not only is the cruise line led by president and CEO Lisa Lutoff-Perlo, but the ship itself, Celebrity's newest and most innovative, is captained by Kate McCue, an accomplished mariner who embodies the barrier-breaking spirit of Celebrity Beyond. And it was christened by Olympian, Simone Biles, one of the greatest gymnasts of all time.
CRUISE EDITION SPRING 2023 23
PHOTOS
COURTESY CELEBRITY
Le Voyage
Martini Bar
GREAT EXPLORERS PONANT'S LE CHAMPLAIN
A petite yacht with a chic French atmosphere, designed to explore the world.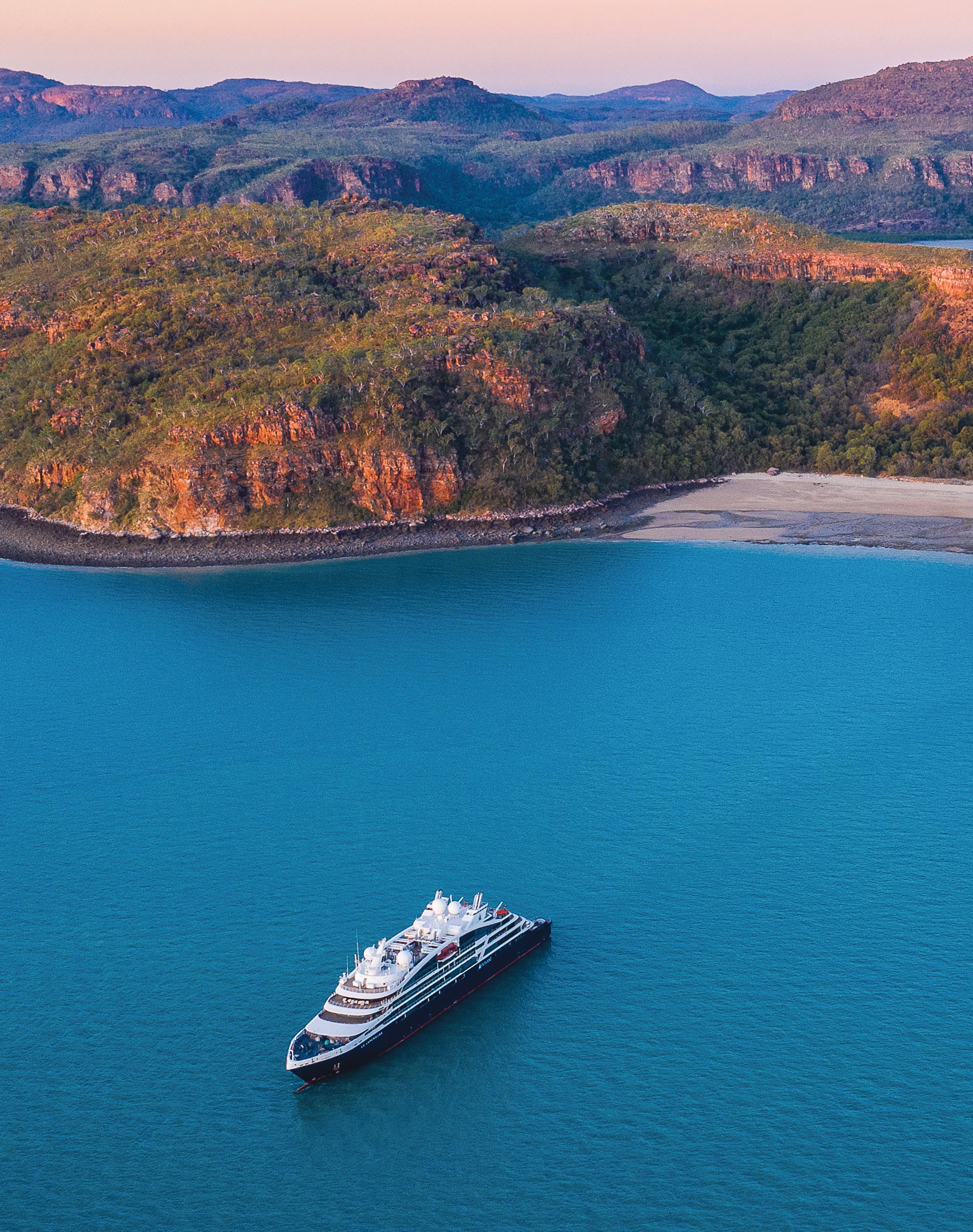 By Tim Johnson
24 TRAVEL PROFESSIONAL
RELAXING IN MY stateroom, post-lunch, during a long, lazy sea day, teetering on the edge of a nap, the realization comes all at once. We had made good, fast progress since our departure from the tiny, lovely Spanish island of Minorca, steaming steadily west toward Sicily. But now, looking out the window of my stateroom, it's unmistakable – and highly unusual.
The ship is no longer moving. At all. Rising from my cushy king bed, I stride outside the glass slider onto the balcony to confirm it. The waves are calm, the sea, just an endless expanse of blue. Pulling on a pair of jeans, I head to reception to see what's up when an announcement stops me short and turns me around for a costume change. "On va se baigner," Claire, the cruise director, announces, in part. My French is definitely rusty, but I recognize enough words to realize the main message before she repeats it in English. Which is: get ready, folks, because it's time for a swim.
I'm on board Ponant's Le Champlain for seven nights, sailing from Barcelona to Malta. Built to be small and intimate, this Explorer yacht is also equipped for adventure. Everything is overlaid with French flair. And while we call at some traditional cruise ports, the vessel's relatively tiny size means it can navigate into equally small, shallow, unlikely harbours.
And, we can also, of course, pause mid-voyage for a little dip.
CRUISE EDITION SPRING 2023 25
PHOTOS COURTESY PONANT
The ship features a unique retractable marina that the crew can lower to three different positions to launch Zodiacs to explore wild and beautiful places. Today the marina doubles as our waterfront deck and diving board. Staff line up to hand out pool noodles, and guests leap into the gentle swell. Even the captain gets a little time to enjoy this vast, natural piscine, emerging finally to supervise, with a wet swimsuit on the bottom and formal epaulettes on top.
It's a fitting look for a trip that brings together fancy and fanciful, and Le Champlain is the perfect craft to deliver both. The second of Ponant's six Explorer Class ships, it's named for Samuel de Champlain, the "father of New France" who travelled to the New World, creating an accurate coastal map, establishing settlements in modern-day Canada, and crossing the Atlantic more than 20 times.
But he presumably didn't do so in the comfort and class available on the ship that bears his name. The culinary experiences are top-notch, supervised by Michelin-starred chef Alain Ducasse. The 92 staterooms are snug but perfectly appointed, making you feel as if you're sleeping on a luxury yacht. Evening shows in the 188-seat theatre are unmistakably French, with touches of the Moulin Rouge.
Public spaces are gracious and perfectly sized, with an upscale design aesthetic that's never too fussy. The elegant yet relaxed onboard lifestyle includes Champagne, wine, beer and cocktails, and gratuities, all included in the fare.
The pool deck on the stern opens to the ocean on two levels, perfect for an open-air lunch or a late-afternoon Spritz. A forward lounge offers direct access to an outside deck for wildlife viewing –it's the place to settle in for a quiet afternoon with a book, or with a Scotch or digestif after dinner. And the subaquatic Blue Eye Lounge is a marvel. Inspired by Jacques
Cousteau and Jules Verne, it is the world's first undersea lounge on a ship. Sip a martini while the boundless depths of the sea appear outside the windows, clearly visible, but held back by 18 panels of glass.
"We go where nobody else is going," the captain tells me during a bridge visit. "We're mainly focusing on the small places." While our voyage calls at larger ports like Mallorca and Palermo, we manage to see much tinier, less-visited places, including Trapani (Sicily) and Minorca.
The latter, which literally means "smaller island," has a legendary harbour – one rarely seen by cruise ships. Using a scheduling flexibility that would be unimaginable on a larger ship, the captain delays our early morning arrival so
more guests can experience it. I'm enjoying my first cup of coffee on the aft deck when I realize what's going on.
We roll softly into one of the longest deep-water harbours in the Mediterranean, slender but almost six kilometres in length. Soft light bathes the scene – colourful homes in pinks and oranges, climbing the hillsides. White sailboats, sails puffed, are out for an early spin. The old fortifications still look formidable despite their obvious obsolescence. The beauty of the scene keeps unfolding as we dock in the capital, Mahon, and meet a guide for a trip across the small island.
"We don't get any of the bigger ships here," she explains as we coast in a coach across verdant fields. "They must be small enough to enter, turn
26 TRAVEL PROFESSIONAL
PONANT LE CHAMPLAIN
PHOTOS COURTESY PONANT
Panoramic Restaurant
Stateroom
CRUISE EDITION SPRING 2023 27
PHOTO: TIM JOHNSON
PHOTO: TIM JOHNSON
The Blue Eye
Le Champlain Lounge
around, and sail back out." Mahon's deep-water harbour has long been legendary, she notes, a famous place for refuge when the weather gets rough at sea. If the wind and the waves are too much, sailors used to say, then make a run for Mahon.
We pass tiny, whitewashed towns with Moorish names, some of them dating back to the Arab arrival in the 10th century. This is a place where many civilizations blew through on the trade winds, each one leaving their mark on the language, people, culture, and culinary traditions. Phoenicians, Romans –and, of course, the Ottomans.
We arrive on the far side of the island to tour the old capital of Ciutadella. Walking down the cobblestones between ostentatious palaces owned by rich shipping families, each one trying to out-do each other, we arrive at the Cathedral. Once a 14th-century mosque,
it was converted, the former minaret now a bell tower. In the friendly little fish market, a young woman tells me that the waters here are deep and rich with sea life.
"Everything here comes from this port – we can even tell you the boat that caught it," she says. On ice, all around, I see prawns and cuttlefish and squid and monkfish. Some will be used for that Spanish classic, paella.
But when I get back on board and head to the pool deck, the souschef is preparing and serving a French favourite instead. Beef or tuna tartare, made right in front of you. I settle back as the ship readies to sail, back out that long, deep harbour.
Will we swim again? That's anyone's guess here on Le Champlain. But I'll certainly keep my swimsuit handy for the rest of the voyage, just in case.
Ponant's Explorer Class ships are built to provide class, luxury, and adventure. Voyages range from the Mediterranean to East Asia, Canada to the Caribbean. The cruise line also has vessels which sail to both Polar regions and many places in between. I sailed seven days from Barcelona, calling at Valencia, Mallorca, Minorca, Trapani, Palermo and Valletta (Malta).
28 TRAVEL PROFESSIONAL TIM JOHNSON
/
TUULIJUMALA
SHUTTERSTOCK
PONANT LE CHAMPLAIN
Ciutadella, Minorca
"We go where nobody else is going," the captain tells me. "We're mainly focusing on the small places."
FLYING FAR BEYOND ORDINARY
Welcome to Air Canada Signature Service.
When premium travel is a priority, treat your customers to an elevated end-to-end experience. They'll enjoy:
• Personalized assistance from industry-leading concierges at Toronto, Montreal and Vancouver airports
• Air Canada Chauffeur Service powered by Porsche, for select customers at Toronto and Vancouver airports
• Dishes from award-winning chef, David Hawksworth in our Toronto and Vancouver Air Canada Signature Suites
• Ultimate comfort in our Executive or classic lie-flat pods
Learn more at aircanada.com/SignatureService
SPLENDOUR IN THE HEART OF PROVENCE
On
the idyllic Rhône River, sailing through the south of France, AmaWaterways delivers history, artistic charm, and gastronomic delight at every turn
By Ming Tappin
THERE'S NOTHING LIKE springtime in Provence, where vibrant bougainvillea explodes over wrought iron balconies, and the mistral winds usher in fresh air and clear skies.
I have come to the marvellous Provençal town of Avignon to embark on the AmaKristina, a sleek vessel of white and blue operated by the award-winning river line, AmaWaterways. After spending the past few days in Nice, an early TGV train brought me to the ship before 11 a.m. Check-in isn't until 3 p.m., but my concern about being turned away quickly evaporates when I am warmly welcomed onboard by Head Waiter André, who proudly shows me around the vessel. After enjoying a light lunch in the lounge (a choice every day) and a stroll along the river bank, I return to find André ready to escort me to my room, with a glass of Champagne at the ready.
My home for the next seven days is beautifully appointed with a large, river-facing bed, a writing desk,
a spacious bath with double sinks, and a roomy rain shower. There's not one but two balconies – one allows me to sit outside to admire the river, while the other is Juliet-style with a sliding glass door to offer views and fresh air in case of inclement weather.
Although I take advantage of my spacious abode, one of my favourite river cruising pastimes is sitting up on deck to admire the passing scenery. On the Rhône, it is idyllic as ever, with hardly another vessel in sight. We sail mainly near the shore, within earshot of laughing children, barking dogs, and cyclists' bells. Electric trains whizz alongside, whistling as they pass through tile-roofed villages and disappear into tunnels. Rolling hills are terraced with vineyards, and the occasional castle ruin peers through the forest. This is the glorious French countryside at its best, and I, along with the other guests, am in my element as we absorb all the sights and sounds of France.
But the real reason I've come is to savour the en-
30 TRAVEL PROFESSIONAL
chanting Provençal towns and indulge in the gastronomy along the Côtes du Rhône. Sailing from Avignon, we make port in Arles, Viviers, Tournon, and Vienne before arriving in Lyon. History abounds here, as the river naturally served as a conduit for exploration, colonization and commerce. The stone walls of lovely Avignon lead to the grounds of the Palais des Papes, the 14th-century palace that played as important a role in the Catholic Church as the Vatican does today. Castles and ruins are here, too, in medieval Tarascon and Roman-occupied Vienne.
Arles, which Vincent Van Gogh called home for over a year, also houses a treasured past. The Rhône river bank, the yellow house he rented, the arena where he watched bullfights, and the Café du Forum (now Café La Nuit but still sporting its signature yellow awning) all became subjects of Vincent's masterpieces and a significant chapter of his storied life.
Beyond the academics, there is fun too. On the out-
skirts of Grignan, we go hunting for the prized "black diamond" truffles, led by an adorable Lagotto Romagnolo pup with a curly white coat and floppy ears. There is a steam train excursion through the Doux Valley and a light projection show inside a limestone quarry in Les Baux. In between are a smattering of market tours, wine tastings, hiking and biking adventures.
As with all cruising, food and drink are plentiful but with AmaWaterways, menus are curated to highlight regional cuisine. They are an esteemed member of the Chaîne des Rôtisseurs, a prestigious International culinary society. As such, we feast on river-caught fish, locally farmed meats, artisan cheeses and vegetables in season. A treat one evening is the seven-course Chef's Table dinner served in a cozy restaurant tucked at the back of the ship. With an open kitchen, we can watch the Chef prepare our meals before André delivers each course, explaining its origin and creation. On the menu are fresh walleye, Argentinean beef striploin
CRUISE EDITION SPRING 2023 31
Avignon
and grilled tiger shrimp, complemented with heirloom tomatoes, wild broccoli and root vegetables sourced from the Rhône valley. The wines, of course, are delightful. Rhône valley vintages and blends created from Syrah, Viognier, Marsanne and Rousanne grapes are carefully chosen to pair with every meal, complemented with varietals hailing from nearby Bordeaux and Beaujolais.
All that good eating could spell danger for the waistline, so it's good that all our walking tours feature an "active" option, taking a longer route with more steps and at a faster pace. (There are also options for those who prefer a more relaxed exploration). Erni, the ship's Wellness Coach, also runs an impressive roster of fitness classes every morning, before lunch and in the afternoon. Alas, there are too many distractions (or perhaps, excuses) to prevent me from attending any. I do, however, manage to take two fantastic cycling excursions. In Avignon, we bike
around the quiet Île de la Barthelasse, strewn with farmers' fields and fruit orchards. In Lyon, our guide leads us through the scenic Parc de la Tête d'Or before crossing over to meander along the adjoining Saône River. And in Tournon, I pride myself on eschewing the red wine and chocolate pairing tour for the Tain L'Hermitage hike. Although it does end with wine tasting, the reward feels justified after a vigorous climb on the vineyard slopes.
As I disembark in Lyon at the week's end, I feel like I accomplished what I came for. I've sailed nearly 150 miles upriver, immersed myself in history, and walked in the footsteps of Van Gogh. The Mistral winds refreshed my mind; my body is sated by the extraordinary flavours and vintages of the Côtes du Rhône and the excellent service and delightful onboard atmosphere created by the staff and crew of AmaWaterways. Now onward, to tackle those fitness classes and make Erni proud.
32 TRAVEL PROFESSIONAL
AMAKRISTINA
Lounge
Café Terrace at Night by Vincent Van Gogh, 1888
Stateroom
CRUISE EDITION SPRING 2023 33 Lyon
AUTHENTIC ANTARCTIC EXPEDITIONS
By Toby Saltzman
WHEN NATURE CHILLS your plans, forcing a spontaneous change of course, your journey can turn more spectacular than anticipated. That was the scene south of the Antarctic Circle when Silver Endeavour delivered experiences beyond its guests' dreams.
By then, on the maiden Antarctic voyage of Silversea's newest expedition ship, we had seen how expedition leader Marieke Egan's instinctive decisions and Captain Niklas Peterstamm's skillful maneuvers of the highest-rated PC6, ICE-1A-Class polar vessel would enable landings on the White Continent for thrilling encounters with penguins, seals and other sea life.
From the start, Silver Endeavour's Antarctica expedition program emphasizes the value of every day to maximize experiences. Guests fast-track two days by flying the two-hour 'Antarctica Bridge' from Punta Arenas over the typically turbulent Drake Passage to
34 TRAVEL PROFESSIONAL
King George Island. Upon arrival – already attired in Silversea's complimentary, pre-delivered, waterproof gear – we boarded Zodiacs for a quick jaunt to the ship.
It was immediately evident the world's most luxurious expedition ship – this 200-guest, 200-crew vessel built in 2021 – is designed for a sumptuous cruising lifestyle.
Elegant lounges are perfect for après-adventure camaraderie. The cushy Observation Lounge offers panoramic views of glacial landscapes while the long fireplace in the Arts Café evokes the atmosphere of a grand ski resort. Popular places onboard include the glassed-in solarium where The Grill eatery surrounds its indoor pool, an outdoor whirlpool, state-of-the art gym and Otivm Spa.
The all-balcony-suites are indulgent sanctuaries of calm, featuring personal butler service and luxe details including a bar stocked with fresh water, choice spirits and liquors.
CRUISE EDITION SPRING 2023 35
As on all Silversea ships, the line's four signature restaurants offer superb dining experiences with fresh produce, cheeses, meats, wines and chocolates sourced from Chile's Puerto Williams. La Dame serves classic French cuisine; Il Terrazzino, Italian dishes; The Grill, steakhouse fare, and The Restaurant prepares continental favourites plus Chilean-inspired delicacies.
The first morning, the Explorer Lounge buzzed with excitement as we cruised past gleaming snowclad mountains toward Danco Island. Said Silversea executive Conrad Combrink: "Silver Endeavour is a game changer in Antarctica and her beauty is more than skin deep." The hull's shape makes it stable and swift up to 20 knots. With dynamic positioning, the ship can linger in place or quickly turn.
Marieke explained the need to be flexible with spontaneous changes in case of unpredictable weather, winds or ice shifting at the landing sites.
"In Antarctica," she said, "Mother Nature dictates, and humans obey."
Detailing the expedition team's experience and skills, Marieke noted that daily briefings would include lectures on the region's wildlife, science, geology or history. She gave strict rules to distance from animals and avoid penguin paths, jokingly predicted that we might catch "Polar Fever," an unabashed love for Antarctica.
Deep in the heart of the Antarctic Peninsula, Danco Island is home to a huge colony of Gentoo Penguins. By the time our Zodiacs reached the rocky landing, the team had marked safe walking routes right up to the summit. As the first humans to arrive so early in the spring, we attracted the fearless penguins, many of whom threw their heads back to emit loud, trumpeting sounds, as if announcing our presence. Notable for the white stripe on their head, their orange-red bill and pink feet, the Gentoos waddled carefree, their long, spikey tails sashaying side to side. Watching their antics as they flirted, chased, fought and cuddled, we quickly realized that mating season was in full swing. They waddled in line, as if in a vertical parade up the snowy hill, their quest seeming incredible, until we learned these smart birds knew the peak melts first, creating optimum rookeries for nests, far from predator seals and whales.
En route back to the ship, our guide deftly navigated the Zodiac around mammoth icebergs to show how various surfaces suggest their age and state of melt. He explained that chunky flat surfaces show where they calved from a glacier, while smooth or pebbled surfaces mean the iceberg rolled over in the ocean.
Nearing the icebergs' sapphire grottos, we heard the gurgling sounds of air bubbles popping as ice melted. Along the way, we laughed at four penguins leaping like porpoises in and out of the water as they swam to shore.
Back in my suite, relaxing with Champagne and caviar delivered by my butler, I felt the first surge of 'Polar Fever.'
Misty skies greeted the morning as Silver Endeavour reached Cuverville Island. Brilliant white after a fresh snowfall, the massive mountain is home to the Antarctica Peninsula's largest breeding colony of Gentoo species. With 6,500 penguins, it's a haven for seabirds, particularly predator Southern Giant Petrels that devour eggs and chicks.
After determining that mist would hamper safe landings, Captain Peterstamm repositioned, passing icebergs towering like floating cathedrals, and headed to the breathtaking enclave of Orne Harbour. Surrounded by a semi-circle of peaked mountains that reflected blue skies and sunshine, this area is populated by Chinstrap Penguins, recognizable by a white
36 TRAVEL PROFESSIONAL
SILVER ENDEAVOUR
Veranda Suite
Observation Lounge
The Restaurant, Silver Endeavour
CRUISE EDITION SPRING 2023 37
While Silver Endeavour drifted in Neko Harbour, a crucial bird and biodiversity area, many guests kayaked or rode Zodiacs around ice floes, watching huge Weddell Seals bask on ice and penguins swim in groups.
stripe under the chin. After the team cleared a path through knee-deep snow, some guests hiked to the peak for views. I preferred mingling with the wildlife.
Like Gentoos, Chinstraps approached us curiously, though judging by their flirting, chasing, cooing and pecking, most were intent on courting mates. Calm waters gave kayakers the chance to explore Orne's shoreline and see sunbathing seals.
The next day brimmed with nature delights. At Petermann Island, sightings of humpback whales, seals, seabirds and thousands of penguins, including spunky Adélies, enthralled each guest whether they kayaked, hiked or lingered ashore. In Pleneau Bay – dubbed Iceberg Graveyard for its colossal formations – waters teemed with seabirds diving for food.
On deck early next morning, we cheered as we crossed the Antarctic Circle. Upon arriving at Detaille Island, a crucial British outpost during WWII, the expedition team cleared a landing but soon declared it unsafe after winds blew in.
Said Marieke: "This is true expedition cruising. We will sail further south to Marguerite Bay, to a place where few people have been."
The agile Silver Endeavour sailed into Marguerite Bay where we experienced the authentic suspense and joy of expedition cruising. When moving ice made the first-choice landing at Jenny Island impossible, Captain Peterstamm quickly changed course to Pourquoi Pas. On this protected island, Adélie penguins scur-
ried forward, extending flippers as if in fond embrace.
Later that afternoon, when waters calmed, we returned to Jenny Island. After the team pushed ice aside, guests climbed to a ridge for close views of elephant seals lounging on the shore. In the evening, as we sailed north through scenic Lemaire Channel, we gathered on deck to watch humpback whales spraying and breaching near glacier walls.
The next day was even more exhilarating. While Silver Endeavour drifted in Neko Harbour, a crucial bird and biodiversity area, many guests kayaked or rode Zodiacs around ice floes, watching huge Weddell Seals bask on ice and penguins swim in groups. When a Southern Giant Petrel suddenly swooped down, it scared smaller sea birds away. The biggest thrills, however, came when we approached Wilhelmina Bay. Finding the entrance blocked with massive sea ice twice as wide as the ship, Captain Peterstamm was able to test Silver Endeavour's ice-breaking capabilities. After successfully cutting through to create a wide pocket of calm water, he invited guests to take the polar plunge. Sixty people dared to jump for this Antarctic bragging rite. Not I.
On the last night of the voyage, after the captain thanked us for our flexibility and cheerful, adventurous spirits, Marieke added, "The Antarctic never ceases to amaze. You never know what you are going to get, but whatever you get is fantastic." Her words certainly rang true for our authentic Antarctic expedition.
38 TRAVEL PROFESSIONAL
SILVER ENDEAVOUR
Virgin Voyages – a Visionary Concept
Borne from a desire to offer cruising for a wide range of guests and to make the experience as enjoyable as possible, Sir Richard Branson created Virgin Voyages for an adults-only (18+) audience that offers a new twist to traditional cruising.
A sailing onboard Virgin is unlike any other. There are stateroom beds that transform into a sitting area during the day, hammocks on the balconies, unlimited Wi-Fi, and complimentary dining in more than 20 eateries – a welcome feature for a large-ship line.
Naturally, music is found throughout Virgin Voyages' fleet, which includes Scarlet Lady, Valiant Lady, Resilient Lady, and the soon-to-launch Brilliant Lady. Guests enjoy extensive music collections in each stateroom, DJs on the pool deck, dance parties and a terrific onboard vintage vinyl store. The high-end 'Rockstar' suites are even outfitted with guitar collections and music rooms – definitely something different!
Other unique venues include a tattoo parlour, a Korean barbeque spot, a vegan-forward restaurant and a food court-inspired eatery in place of a buffet. There's also an expansive area dedicated to wellness, along with a wide variety of complimentary classes including spin, bungee fitness, barre, high-intensity interval training and boxing.
Virgin Voyages isn't your grandmother's cruise line but it isn't a party ship either. The four identical sister ships sail in the Caribbean, the Mediterranean and the South Pacific, and various locales in between. Itineraries blend onboard sophistication with a lively ambiance (and a wee bit of naughtiness thrown in). Simply put, Virgin Voyages is an industry game changer, precisely what Sir Richard had in mind.
FEATURE THIS CRUISE EDITION SPRING 2023 39
Scarlet Lady
CRUISE LINES 2023 FOR THE MONEY