MAY / JUNE 2023
Coastal Exposures
THE OSIDER MAY / JUNE 2023
Crouch Street full of springtime color.
Photo by Zach Cordner
Coastal Exposures
THE OSIDER MAY / JUNE 2023
Superbloom in full-effect along the San Luis Rey bike trail.
Photo by Jesse Lopez
OPEN ROOMS BETTER CONNECT THE INTERIOR TO THE WORLD OUTSIDE. Dramatically open interior spaces to the outdoors, filling them with natural light and fresh air.
OPEN SPACES FOLD | SLIDE | SWING LACANTINADOORS.COM EXPAND YOUR LIFESTYLE CABANACONCEPTS.COM 760-512-DOOR
CONTENTS MAY / JUNE 2023
DEPARTMENTS
2 COASTAL EXPOSURES
Featuring our best images of Oceanside on tap Photography by Zach Cordner and Jesse Lopez
8 SET IN STONE Kicking off summertime
12 OCEANSIDE'S FINEST • Angelica Campos
16 HIDDEN GEMS • Booze Brothers
18 FIELD TRIP • to Antarctica with OHS' Justin Moodie
20 HOMEGROWN • Colin Chapman
24 ARTS • OMA Exhibits
50 COMMUNITY • Pride by the Beach
54 LOCAL BUSINESS • Cassidy Porter Faces
56 LOCAL BUSINESS • Neighborhood Barber Shop RESTAURANT REVIEW
58 COASTAL • Naegi
60 COASTAL • Mak Mak Organic
62 COASTAL • Frida's Taquiera
64 RESTAURANT AND BAR GUIDE
The Osider guide to all the best bars and eateries in town
70 FAST FORWARD TO YESTERDAY Mission Avenue and Cleveland Street
FEATURES
32 TEN THINGS YOU DIDN'T KNOW ABOUT OCEANSIDE'S MOTELS: Learn about the motels along Coast Highway, the Strand, and neighboring streets
36 OBC SOUTHSIDE SHOOTOUT: Catch up on Oside's very own surf competition
42 BEACH SOCCER CHAMPIONSHIPS
Don't miss BeSoCha at Harbor Beach
44 STAR THEATRE: Check out this year's lineup of spectacular performances
1802 South Coast Hwy • 760-439-6355
VOLUME 10 / ISSUE 3
Thank You For 35 Years of Your Support! @beachbreakcafe beachbreakcafe.net
SET IN STONE
A word from the publisher
Are we there yet? Last issue we spoke about springtime being just around the corner, but at the time, I thought we would now be in the early summer kick-off for this issue.
It feels like we are still waiting for spring to truly kick in. I can't remember a stranger year of weather in the last 25 years. The good news is that Oceanside is poised for an amazing summer. All we need now are some warmer ocean temps, consistent sunshine, and the invite to the first of many summertime BBQ's to enjoy.
Maybe the dredge will provide enough sand to cover up the rocks blanketing our coast long enough to accommodate the droves of beach goers this year, too. We love the summer months here at The Osider and look forward to all the above.
In this issue, we kick it off with a feature article showcasing our amazing surfing community with the first annual Oceanside Boardriders Club Southside Shootout surf event. We're also covering plenty of great new restaurant options to check out and a look back at ten things you didn't know about classic Oside motels.
Weather permitting, grab your most comfortable beach chair, load the cooler with some cold refreshments, and enjoy this issue on the beautiful beaches here in the O.
Jamey Stone
KEVIN MIJARES Oceanside's annual dredging of the harbor has begun, which means our northernmost beaches will have sand as summer approaches. 8
Discover a new level of taste Eat Di erent Daily Happy Hour 3:00-6:00 pm $1 oyster Thursdays 3:00 pm to close 760.433.1900 | www.lighthouseoceanside.com 262 harbor drive south, suite 201 | oceanside, ca 92054 LighthouseOYStER B RA LLIRG& Oceanside, CA osides favorite ahi stack
PUBLISHER
Jamey Stone /Publisher/Co-Founder stone@theosider.com
EDITORIAL
Zach Cordner/Creative Director/Co-Founder zach@theosider.com
Dwayne Carter/Design Director dwayne@theosider.com
Shelby Rowe /Editor shelbyamrowe@gmail.com
R.I.P. Aaron Schmidt /Editorial Director (1972-2022)
ADVERTISING
Nolan Woodrell /Advertising Director nolan@theosider.com
Kathleen Larson /Advertising Sales bepollinated@gmail.com

ADMINISTRATION
Alicia Stone
CONTRIBUTORS
Eric Klier, Priscilla IezzI, Alondra Figueroa, Katie LaLicata, Jesse Lopez, Kristi Hawthorne, Kevin Mijares, Kailoa Powers, Elizabeth Schwartze, Tray Seidler, Alicia Stone
SPECIAL THANKS
Oceanside Historical Society, Tim Wrisley, Amber Lussier, Alondra Figueroa, Bruce The Trenchcoat Guy, Anamarina Hernandez, The Carter Family, The Woodrell Family, The Becker Family, Ron Goodin, Bailey Stone, Braden Stone, Judy Endorf, The Hoffer Family, Steve and Linda Josepho, Jean Josepho, Bottom Line Management, Oceanside Museum of Art, and all of our advertisers
Facebook.com/TheOsiderMagazine @theosidermag
All inquiries, please contact info@theosider.com
PUBLISHED BY: Full Sail Media Inc. © 2023
The Osider Magazine 3124 San Luis Rey Road Oceanside, CA 92058
On the Cover: Timo Simmers channeling his kinetic energy.
Celebrating 35 years in business 50% OFF ALL DIAMOND JEWLERY! *Free Jewlery cleaning with this ad! TRUST TO BUY YOUR GOLD 322 S outh Coast Highway Oceanside Ca 92054 760-722-2200 Buy, Sell & Thrive Oceanside!
CONTENTS MAY / JUNE 2023 VOLUME 10 / ISSUE 3
Photo by Zach Cordner
Oceanside's Finest ANGELICA CAMPOS
For those who watch ABC 10News, Angelica Campos may be a familiar face. She is the evening meteorologist, broadcasting Monday through Friday at 4pm, 5pm, 6pm, 7pm, and 11pm.
How she landed here, in Oceanside and in her dream job, wasn't from a string of luck or random chance. Rather, her accomplishments are a direct product of true grit and incredibly hard work.
"When I was thirteen years old, my parents moved from Costa Rica to Georgia and I didn't speak any English—which I think is one of the best parts of my story. I basically self-taught myself with a dictionary and books, and the movie Forest Gump, which I learned every line from that movie," Campos said.
For Campos, accomplishing her academic and career goals was the epitome of the American dream. She focused so hard on her studies that she graduated early from college, got an internship at Accuweather in Pennsylvania, all while getting her second degree in meteorology.
"I was a professional overachiever," Campos said. "And, I still am"
Thanks to her mother who instilled the importance of going to school and getting a good career, Campos knew she had to go after her dreams. But, getting there was a mountainous effort—an undeniable challenge that Campos dedicated herself to wholeheartedly.
"I was so focused on learning a second language, I didn't see middle school and high school the same as other kids. I was learning another language and school was twice as hard because I had to go to school and figure out what I was learning that day and, if anything didn't make sense, I would have to reteach myself. My
parents couldn't help me —they didn't speak the language either."
Campos committed herself to being the best, and her efforts paid off. She moved from Accuweather to Fox8 News in Cleveland, Ohio, where she was the morning and weekend meteorologist before finding her dream job in San Diego as the evening meteorologist.
"At that point, everything I knew was striving for a career and everyone kept asking me, 'what's next?' And, for me, really what's next was having a family. Which is the chapter I'm in."
"I always mention Oceanside because, one, it's my home, and, two, I know a lot of people watch and the weather matters in Oceanside. It matters everywhere but of course you're always going to favor where you're from."
Once Campos moved to Oceanside, she met her husband, who is in the Marines, and eighteen months later, they married. They now have two children together and are happily raising their family right here in Oceanside.
The pair are outdoor thrill-seekers, indulging in activities like running, cycling, surfing, and even skydiving.
"When I first moved to Oceanside, I was skydiving even when I was pregnant with my first—until it was safe, which is usually around twelve weeks."
When skydiving was no longer possible, Campos found some other activities to keep her occupied while pregnant, like participating in
seven triathlons. Her husband is a past Ironman participant, further influencing her son's love for swimming, biking, and running. Simply put, it's in his blood
"Running is the one thing I've been able to keep up as a mom. People may see me on the strand running with my stroller, usually blaring music," Campos said. "We live in a beautiful place, with Oceanside being a great place for family. There are so many fun activities and great restaurants. We just love it so much."
The love Campos has for Oceanside is shown in her work as she frequently calls out Oceanside in her broadcasts.
"I always mention Oceanside because, one, it's my home, and, two, I know a lot of people watch and the weather matters in Oceanside. It matters everywhere but of course you're always going to favor where you're from."
Campos' story is one of true hard work and character, making her a proud addition to the Oceanside community. For those coming from immigrant families, her story may sound familiar, and Campos hopes she can be a source of inspiration for those facing similar challenges.
"I have tried to just be a good mentor for younger kids. I know there are a lot of Hispanics in Oceanside, and I hope they see me and say, 'you know, I can get there, too.' It's not impossible and no, it wasn't easy, but this is the land of opportunities and it's up to us to choose what we want for ourselves and for our lives."
Because of her hard work, love for our community, and aspiration to influence the next generation to go after their dreams, we proudly consider Angelica Campos one of Oceanside's Finest.
WORDS: SHELBY ROWE
13
PHOTO: ZACH CORDNER
14
15
Hidden Gems
BOOZE BROTHERS
WORDS: ERIC KLIER
PHOTOS: ZACH CORDNER
San Diego is widely regarded as the craft beer capital of America, and it's for good reason.
We have over 150 local breweries in San Diego County. With so many breweries, it's hard to survive but Booze Brothers has been going strong since 2013 in Vista off the 78, also known as the "Hops Highway."
The Booze Brothers are David and Donny Firth who started brewing at home in 2008 and haven't looked back since. David told me, "We wanted to make a comfortable place for our friends to enjoy each other and drink great beer."
In 2013, Booze Brothers opened their brewery doors and have been growing ever since with an array of delicious styles of craft beer. In January 2020, they decided to open a tasting room on Mission Avenue which has beer enthusiasts raving. The tasting room offers many different styles of beer from very light, like the delicious Penny Blonde and Courage Lager, to my favorite, the Ramble On IPA. They also have stouts and their own sour label called Owl Farm, which has multiple mouth watering flavors.
The tasting room also has a bunch of apparel and merchandise featuring artwork from artist Ben Horton, who first gained notoriety from his graphics on skateboard decks. They have a free pool table and plenty of room for hanging out with friends and family. Plus, it's dog friendly.
There's also delicious food available at the tasting room from neighbors, Rosewood Kitchen. You can order from the bar and your food is delivered through the window next to it. You can enjoy your food and drinks inside or out on the patio to people watch and enjoy Oceanside's amazing weather.
Their friendly and knowledgeable staff are always ready to help you pick out whatever beer you may be looking for. If you are into craft beer and looking for a cool atmosphere, Booze Brothers is a great place to visit.
Booze Brothers Oceanside 606 Mission Avenue (760) 385-3973 boozebros.com @boozebros THE
MAY / JUNE 2023
OSIDER
16
Owners David and Donny Firth
Field Trip
JUSTIN MOODIE
Let's bring Antarctica to Oceanside! How? Thanks to Oceanside High School teacher Justin Moodie, who traveled approximately 8,000 miles as a Grosvenor Teacher Fellow with National Geographic and Lindblad Expeditions—the southernmost continent arrived at Oceanside. The powerful photos taken by Mr. Moodie on his expedition engages inquiry-based learning that will benefit OHS students, and Oceanside, for years to come.
For the past five years, Justin Moodie (Mr. Moodie), has served as the CTE (Career Technical Education) Photography & Arts Teacher at OHS. With over twenty years in education and two master's degrees, OHS and its students have benefitted tremendously under his supervision as Design Academy Lead and Department Chair of Industrial Arts.
Justin grew up locally, attending Torrey Pines High School. In February 2023, he completed a lifelong dream on his trip to Antarctica as one of three teachers selected to explore the continent on National Geographic 's fourteen-day expedition.
"What really struck me is that I've wanted to go (to Antarctica) for as long as I can remember. It's sort of magical to feel like I really earned the
privilege of going—it was a tremendous honor. The first step off the ship onto land was a really special moment," Moodie confesses.
Antarctica is still a wild frontier, and largely unexplored. It's quite a trek to the South Pole of the Earth that very few people make. What we learn about Antarctica comes from documentaries and photos. It's a privilege to be chosen by National Geographic, and an honor to now have Justin's first-hand knowledge from his immersive professional learning experience.
Each day of the expedition included two or three landings in 0°F ocean temperature and 20°F air temperature (not including wind chill factor).
Justin explains, "I always had a singular vision of what it looks like. It was so different every single time we got off the ship. It was like landing on different planets each time. The wildlife is beautiful and engaging. Before I left, I assumed I would be taking pictures of animals, but there is this surreal trance that the ice delivers. It's crazy, it's not like anything else."
Upon returning from Antarctica, Mr. Moodie is even more inspired to bring the world to OHS students. Justin professes, "I love Oceanside High School. I'm teaching exploration, and the
message I'm bringing back is that there is a whole world out there to be explored, and it starts right here in Oceanside. I have observed that students struggle to ask questions so we provide them with the space to ask questions—to develop inquiry learning. The kids are creating an investigation. What do you need to go find the answers?"
It's a common sight for OHS Photography students to go off campus and explore the world outside the school walls. And, it shows in their photos, artwork, and education. Mr. Moodie's students have a high pass rate because they want to be in his class, they want to be in school, and they want to learn!
He also notes the students really upscale their game when they have a real product to deliver to a real client. Their photos and art are showing up at public places, such as Oceanside Museum of Art (OMA), City Hall, Oceanside Library, The Seabird Resort, and even the Museum of Photographic Arts in Balboa Park.
Justin believes, "that creative expression is one of the best ways for young people to create a personal connection to any subject." The OHS photography students take weekly adventures off campus for photo opportunities. "When we
THE OSIDER MAY / JUNE 2023
WORDS: ELIZABETH SCHWARTZE PHOTOS: JUSTIN MOODIE
JESSE LOPEZ/OHS PIRATE PICS
18
Photos from OHS Photography & Arts Teacher, Mr. Moodie, on his trip to Antarctica with National Geographic.
explore our neighborhood, take walks to the beach, they'll remember that," Justin explains.
The epic photos from his Antarctica expedition tell a story that students can digest. The polar studies (Arctic and Antarctic) are essential for understanding climate change, and how that affects daily life in Oceanside. Thanks to National Geographic and Mr. Moodie's perseverance, the studies, stories, and photos can be utilized in the OHS classrooms, and beyond.
COLIN CHAPMAN AKA DJ CHAPS ONE
To be able to say you're a true San Diegan is one thing, but to be able to say you're a lifelong Osider is even better. That is exactly the case for Colin Chapman, aka DJ Chaps One.
Colin grew up in the Fire Mountain neighborhood on Ridgeway Street just above Lincoln Middle School. Like most Southern California beach kids, Chaps could be found surfing the local beaches and skateboarding around his hood most days of his early youth.
Although his love for surfing was strong, it was music that eventually took him over in 1993. Once he saw those turntables spinning, there was no turning back and DJ Chaps one was born.
The '90s hip hop scene was growing and Chaps, along with close friend DJ Pain, immersed themselves in the culture. Spending all their money on new records and equipment was a no brainer, and they soon found themselves spinning all over SD. House parties, local clubs, and anywhere the scene was popping.
Fast forward to current times and Colin is now a family man raising his three boys, Jace, Jackson, and Jasper with his beautiful wife, Rachel. The kids keep them busy with all the different activities the boys are into. They also homeschool the kids, but you can still find Colin surfing at North Jetty or the Pier with a tight group of friends.
His DJ career is in full swing, playing a number of local events like Oside Flavor and First Fridays at The Tremont Collective to name a few. Chaps is a true Osider through and through. He will always call Oceanside home. He loves the diversity and pride in our community and is proud to be raising his family where he grew up right here in the O.
It's guys like Colin that make our city so amazing. If you ever get a chance, check him out at his next DJ event and if you see him in the surf, paddle up and say hello. Just don't cut him off, it won't end well for you.
Instagram: @djchapsone
Homegrown
WORDS: JAMEY STONE PHOTO: ZACH CORDNER
THE OSIDER MAY / JUNE 2023 20 THEOSIDER.COM
MONDAY TUESDAY WEDNESDAY THURSDAY FRIDAY SATURDAY SUNDAY 7 14 MOTHER'S DAY 19 28 1 FIRST DAY OF ASIAN PACIFIC AMERICAN HERITAGE MONTH 8 21 20 ARMED FORCES DAY Operation Appreciation 11am-4pm @ Civic Center Plaza Buffalo Alley 10K Trail Run 8:30-10:30am @ Camp Pendleton 29 MEMORIAL DAY 2 Comedy Night @ The Privateer Marketplace 7:30-8:30pm 9 Comedy Night @ The Privateer Marketplace 7:30-8:30pm 22 23 Comedy Night @ The Privateer Marketplace 7:30-8:30pm 30 Comedy Night @ The Privateer Marketplace 7:30-8:30pm 3 10 15 24 31 4 Farmer's Market 9am-1pm Sunset Market 5-9pm 11 Farmer's Market 9am-1pm Sunset Market 5-9pm 16 Comedy Night @ The Privateer Marketplace 7:30-8:30pm 25 Farmer's Market 9am-1pm Sunset Market 5-9pm Movies Under the Starts @ Harrah's Top Gun: Maverick 5 CINCO DE MAYO First Friday @ Tremont Collective 12 17 26 6 Change Your Mind Festival 11am-4pm @ Junior Seau Oceanside Pier Amphitheatre Sammy Johnson @ Harrah's 13 18 Farmer's Market 9am-1pm Sunset Market 5-9pm 27 MAY 2023 ZACH CORDNER Community Events Calendar May/June 2023 ZACH CORDNER
JUNE 2023
This year's Oceanside Independence Parade rolls down PCH on Saturday, June 24th from 10am-12pm.
MONDAY TUESDAY WEDNESDAY THURSDAY FRIDAY SATURDAY SUNDAY 4 Beach Soccer Championships @ Harbor Beach 11 18 FATHER'S DAY Mission San Luis Rey Fiesta 11am-8pm 25 5 12 19 JUNETEENTH 26 6 Comedy Night @ The Privateer Marketplace 7:30-8:30pm 13 USA Surfing Championships and Team Trials @ Oceanside Harbor North Jetty Race Across the West (RAW) and Race Across America (RAAM) @ The Pier12:00-1:30pm 20 Comedy Night @ The Privateer Marketplace 7:30-8:30pm 27 Comedy Night @ The Privateer Marketplace 7:30-8:30pm 7 SAN DIEGO COUNTY FAIR STARTS 14 USA Surfing Championships and Team Trials @ Oceanside Harbor North Jetty 21 28 1 FIRST DAY OF LGBTQ+ PRIDE MONTH Farmer's Market 9am-1pm Sunset Market 5-9pm 8 Farmer's Market 9am-1pm Sunset Market 5-9pm 15 Farmer's Market 9am-1pm Sunset Market 5-9pm 22 Farmer's Market 9am-1pm Sunset Market 5-9pm 29 Farmer's Market 9am-1pm Sunset Market 5-9pm 2 First Friday @ Tremont Collective Beach Soccer Championships @ Harbor Beach Save Ferris @ Harrah's 9 16 Mission San Luis Rey Fiesta 6-10pm Tim Dillon Live @ Harrah's 23 30 3 Beach Soccer Championships @ Harbor Beach Pride by the Beach @ Civic Center Plaza 12pm 10 Run to the Radar @ Camp Pendleton 17 Summer Kickoff Event @ Carrillo Pottery 12:00-4:00 pm Mission San Luis Rey Fiesta 11am-10pm 24 Oceanside Independance Parade 10am-12pm
RENORDO BOWEN
JESSE LOPEZ
OMA EXHIBITS
Artists are the Gardeners of Life. They live inspired, or maybe even haunted, by the need to create. Their art is their gift to interpret the mundane, the normal, and present masterpieces that return awe and inspiration to the masses. It's these kinds of creatives that can spin sunflower seeds into Medusa's mane or weave toys into images that feel like a kaleidoscope of sensory intoxication.
It's then places like the OMA (Oceanside Museum of Art) that exhibit these collections, making life for everyday people a treat to be indulged. Yes, Oceanside has its very own art museum! The two current standing exhibitions
and artists offer visual creations that are a feast for the eyes and heart. In a world of instant gratification, there is a novelty, a mastery really, in tangible creations that are an accumulation of a lifetime of work.
Robert Xavier Burden presents a body of work that is a once in a lifetime experience. This collection, aptly titled Relics, is on loan to the OMA and these pieces will never be seen together ever again.
Something special offered by Burden and OMA is that one piece is actually in the process of live painting while on exhibit at the museum. Not only is this unique and rare, but it allows
patrons to get a behind the scenes glance at the meticulous, possibly even maddening, detail that Robert puts into every piece of work. The hours, days, years he contributes to even just one painting is almost incomprehensible. To spend life in this way is either a stroke of brilliance, or a nod of insanity, or an ode to the merging of both.
Words alone trying to describe what Burden has created is like a whisper in a shouting match. The detail, the merging of history, of different genres of art, the capacity of his pure talent to wed politics with religiosity, animals, and Star Wars…well, this is the kind of exhibition that
Arts THE OSIDER MAY / JUNE 2023
WORDS: KATIE LALICATA
24
Melissa Meier's intricate and breathtaking art is worth seeing in person at OMA.
isn't meant to be described, but seen by the human eye itself.
Melissa Meier invites people on a whimsical journey of her own. Drawing inspiration from nature, culture, and her upbringing in Brazil, it's impossible to witness her art and not feel drawn or pulled by her enchantment of the natural world. From porcupine spines, to wheat, delicate divine stalk of lavender, to sturdy palpable textures of seashells and crystals, there isn't a wisp of the earth that is safe from her imaginative excellence.
It's not just the garments and her creative luminosity, but the hunger and ingenuity to weave
the earth into wear. It's the exuberance of lush jungles and carnival festivals delicately, yet explosively celebrated in work. Not only does she piece together a myriad of textures and material, but she then captures these perishable creations in photos. The photos allow her artwork to keep on living even after it has completed its cycle to perish itself back to the very earth from which it came. The ethos of seasons and intricacy of nature displayed in Meier's works offer an inspiration to find this joyfulness inside oneself.
The allure about these bodies of work, being shown together, is that aside from the mind-blowing
characteristics of the work itself, both of these artists dance with their desire to bring a sense of childlike awe and curiosity from their fingertips into the world.
Both of these exhibitions are on display at The Oceanside Museum of Art through June and open to the public for viewing seven days a week
Oceanside Museum of Art is located 704 Pier View Way. For more info go to: oma-online.org.
JESSE LOPEZ (2) 25
Robert Xavier Burden working on his latest masterpiece at his OMA exhibit.
REGISTER NOW O C E A N S I D E P L E I N A I R F E S T I VAL J U L Y 1 5 — 2 2 P A I N T I N G S O U T H E R N C A L I F O R N I A I N T H E O P E N A I R QUICK PAINT CHALLENGE•PAINT OUTS•WORKSHOPS•EASEL SALES•CELEBRATION•JURIED EXHIBITION•NETWORKING *EARLY BIRD ENDS MAY 1, 2023 Pictured:GeoffAllen StrandGlow —
Please come and join us for some great fun to benefit the children and programs of Ivey Ranch Park Association, Inc.
Over 100 awesome packages including weekend getaways, theme parks, sporting events, concerts, fine dining, art, jewelry, and much more!
To purchase tickets, or for more information, contact: Ivey Ranch Park Assoc., Inc. 110 Rancho Del Oro Drive Oceanside, 92057 760-722-4839 iveyranch@yahoo.com [ Outback Steakhouse BBQ [ Raffles & Kid's Corral [ ROTC Flag Presentation [ Hay Rides [ Riding Demonstrations [ Music Entertainment
3:00
to 7:00
Ivey Ranch Park
Saturday October 14, 2023
pm
pm At
110 Rancho Del Oro Drive, Oceanside, 92057
Fun for the Whole Family!
Silent Auction
Western Hoedown
Ranch
Get Tickets 
The 13th Annual Ivey
Park
CARLSBAD: 3055 Harding St.
Hours 9am-9:30pm Sat-Sun open at 8am
OCEANSIDE: 125 Old Grove Rd. #8
Hours 9am-9pm Sat-Sun open at 8am
Order online and save time:
POLLOSMARIA.COM
For catering Info call (760) 707-7665
NOW
SERVING BREAKFAST!
Things You Didn't Know About
TEN WORDS: KRISTI HAWTHORNE PHOTOS COURTESY OF OCEANSIDE HISTORICAL SOCIETY
Oceanside Motels
32
For many decades, Oceanside visitors and vacationers relied on small, locally-owned motels situated along Highway 101, aka Hill Street/Coast Highway, or on Oceanside's Strand and nearby coastal streets.
Motels, sometimes referred to as a motor inn or motor lodge, were designed for travelers and short stays, whereas hotels offered vacationers amenities such as a main lobby, room service, and a swimming pool.
While some of these motels have been gone for several years, many of these properties are still in use today, with some converted into rentals.
33
1960s illustration of the Seahorse Leisure Lodge at 622 N. The Strand.
TEN
Things You Didn't Know About
1.
Dr. and Mrs. Clifford E. Brodie opened the Brodie-O-Tel in South Oceanside at 2001 South Hill Street (Coast Highway) in 1939. The motel was built by Tifal and King, builders of a number of auto courts along Highway 101 in Southern California. In 1949, it was renamed the Ellis Motel after its new owners, Mr. and Mrs. Fred Ellis. A new neon sign brought attention to the newly renovated property located on the southwest corner of Vista Way and Hill Street.
2. Another South Oceanside motel was the Sea Bird Motel at 2034 South Hill Street, constructed in the 1940s and operated by Mr. and Mrs. Elmer Ehlers. One of several in the South Oceanside area, the Sea Bird advertised itself as "the showplace of Oceanside" with rooms furnished "in the latest style." In 1955, three rooms were added to the then seven-unit property, along with a large enclosed patio "to protect patrons from chilling ocean breezes" covered with coral and yellow Plexiglas. A large open yard provided guests additional leisure space with outdoor patio furniture.
and offered a "semi-private" concrete pad for its guests to enjoy with steps directly to the beach.
South Pacific Street. The Sea Crest Apartments and Motel offered guests a kitchen, garages, and an "extra sleeping room."
3.
In the early 1940s, Max McComas was issued a permit to build what he would name the McComas Terrace Motel at 416 South Strand. The small complex included a set of bungalows
4. Earl Hoskins owned the Siesta by the Sea Motel at 620 South Strand, built in 1950 at a cost of $14,000. The ten-unit property was sold in 1959 for a mere $100,000 to Milton Leishman. It was converted to apartments by the late 1970s.
5. In 1952, P. J. McKissick built a two-story multi-unit building at a cost of $45,000 at 1036
6. The Penn-Fin Shore Motel was located at 814 North Strand and owned by Albert and Mary Finn. Built in 1954, it was expanded a year later to a total of fourteen units, which included "ultra-modern rooms, single units, and kitchen apartments." The motel advertised that it was "approved by AAA" and "tastefully and comfortably furnished."
McComas Terrace Motel at 416 S. Strand.
Oceanside Motels 34
7. Flora Dodson owned the Dodson Motel at 1607 South Hill Street in the 1950s. After her death, it was renamed the Hill Top Motel and purchased in 1957 by Mr. and Mrs. Leonard D. Robinson. Located just south of Morse Street, it offered all the comforts of home with "free T.V.," along with in-room kitchens, carpeted rooms, and "Climate at Its Best."
8. The Riviera Apartment Motel at 202 Sixth Street (Surfrider Way) was built in the mid-1950s. The apartment portion of the property was named The Neptune. Both properties offered kitchenettes in each unit, laundry facilities, a shuffleboard court, and "ocean view sundeck." Across the street at 201 Sixth Street (Surfrider Way), another apartment building called the Las Flores, originally built in
1951, was converted and renamed to the Bel-Air Motel, owned by Neil and Marge Barr.
9.
In 1958, Mike Daugherty, manager of the popular MiraMar Restaurant, announced construction of a new motel by the same name. Oliver M. Morris, owner of the property, planned a 32-unit motel. Morris was well known locally as the former owner of the Carlsbad Hotel and a co-owner of the Bel-Aire Hotel in West Los Angeles. The new motel was designed by the architectural firm of Paderewski, Mitchell and Dean of San Diego. The two-story complex featured "soundproof walls and floors, tile baths, electric heat, switchboard telephone service, television, and a heated swimming pool," built at a cost of $250,000.
10. The Seahorse Leisure Lodge was built in 1962, replacing an older property named the Virginia Lee by the Sea Apartments and Hotel. Located at 622 North Strand, it was one of the largest local motels, with 46 rooms and a coffee shop. Its unique design and distinctive marquee made it a standout along the coastline for several years.
Other locally owned properties longtime residents may remember include the Seven Gables Motel, the Alta Mar, Buccaneer, Bridge Motor Inn, Lighthouse, Pacific Motor Lodge, Spin Drift, Knotty Pine Cottages, Sand Piper, and the Pier Motel.
For more information about Oceanside's history, please visit oceansidehistoricalsociety.org.
202 6th St. 35
Riviera Apartment Motel
at
Oceanside Boardriders Club Southside Shootout
WORDS: JAMEY STONE
36
Josh Maynard throwing caution to the wind.
KEVIN MIJARES 37
It's no secret that Oceanside has and always will be a surf town. For generations, Oside has produced the most consistent waves on the San Diego coastline. With that said, it has also produced some amazing surfers. As our town continues to grow, so does the number of new surfers in the local breaks around town.
That's where the Oceanside Boardriders Club (OBC) comes into play. Starting in 2020, OBC was created with the goal of bringing the
surf community together to protect our heritage, teach the new surfers about our history, and to give back to our city through the local surf community.
The OBC was officially formed as a 501C nonprofit with the goal to support the Oceanside surfers through connectivity. The organization prides itself on helping with a range of community outreach, such as helping families with loss, fighting cancer, and whatever else they can support through events and funding. They also
compete against other cities throughout the USA in the West Coast Boardriders Club event series.
In March, the OBC proudly launched the first annual, members-only Southside Shootout surf event at the Pier with nine different divisions ranging from young to old, Pro Am, and, of course, the women's division. There was also an amazing open division air show heat to raise funds for Zach Rhinehart's cancer battle. A thousand dollars were raised with heat entries and the OBC matched it, bringing the total to $2000.00.
38
The Shootout went off with major sponsor support from local businesses, like The Proper 32, PCH mortgage, Surface Sun Care, Surf Ride, Chemistry Surfboards, Chris Abad Real Estate, Manera Wetsuits, and Paccto. There was food donated from LTH, Ryes and Grind, Senor Grubby's, and Shootz Fish X Beer. Each finalist was awarded a custom resin trophy hand crafted by Jason Bennett, along with bragging rights as the inaugural winner of the first event ever.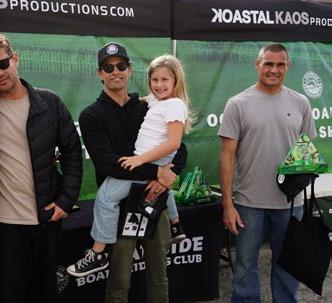 The surf was a clean two-to-three feet and the conditions were perfect for both days, along with a magical sandbar peak working on the southside of the P ier and everyone was ripping.
The OBC would like to thank all the sponsors and board members for making this event the beginning of something special that will last for years to come. They would also like to thank all of the OBC members for being part of the club. You don't have to surf to become a member and
all are welcome to share in a great program that benefits so many Osiders.
To become a member or learn more about the club, the website is listed below. The future is bright for surfing in Oceanside and the Oceanside Boardriders Club is proud to be part of such a special community.
@oceansideboardridersclub
Oceansideboardridersclub.org
Timo in full rotation.
KAILOA POWERS
PHOTOS BY: KAILOA POWERS, ZACH CORDNER, KEVIN MIJARES, JESSE LOPEZ
40
THE Performers
14 AND UNDER
1st Tyler Knatz
2nd Sonny Witholt
3rd Drake Montgomerey
4th Ramon Carrilo
15 -19
1st Ryder Smith
2nd Timo Simmers
3rd Maverick Billings
4th Curren Bain
WOMENS
1st Hayden Seuss
2nd Coral Mcduffy
3rd Kyla Peterson
4th Sara Mcfarlane
5th Claudia Ryan
20-29
1st Tanner Waite
2nd Joshua Chester
3rd Yehuda Benhamo
4th Josh Maynard
30-39
1st Chris Abad
2nd John Daniels
3rd Reid Chambers
4th Tj Metcalf
40-49
1st Igor Lumertz
2nd Jason Bennett
3rd Blaine Robinson
4th Justin Heit
50 AND UP
1st Chuy Reyna
2nd Erik Krammer
3rd Kyle Holmes
4th Tom Steenbock
41
BEACH SOCCER CHAMPIONSHIPS
Harbor Beach hosts
BeSoCha
BeSoCha is back! Beach Soccer Championships, that is, and Oceanside's Harbor Beach will be a flurry of soccer activity from June 2 - 4, with "the largest beach soccer festival on the West Coast." Now in its fifteenth year, 2023 promises to be a year for the record books with 10,000 participants and 50,000 attendees.
The supporters and sponsors anticipate larger crowds and exciting soccer being played by all contenders. Thanks to San Diego Wave FC, professional women's soccer will be played on the beach, in addition to the professional mens soccer brackets—a very unique experience to have pro brackets on the beach.
It's a chance to have fun in the sun and watch incredible soccer being played by both amateur and pro teams. BeSoCha kicks off summer and provides a unique sporting event that's free for everyone, and fun for all ages with "big beach energy," while raising and donating over $250,000 dollars to local youth programs!
WORDS: ELIZABETH SCHWARTZE
PHOTOS: KEVIN MIJARES
42
What started off in 2007 as a non-traditional way to kick off the traditional soccer season by Oside's own founder and director, Frank Zimmerman, has grown into an unrivaled soccer beach fest. One of the major factors to kids quitting soccer was too much pressure to perform. Through research, Zimmerman and his partners discovered that beach soccer was a fantastic sport for kids to play competitively without pressure. Since the beach is fun and unpredictable terrain, the kids enjoy the game and team camaraderie without the pressure to win.
BeSoCha operates on Oceanside Harbor Beach, with the grand stadium at the south jetty, comprising 20 courts and 200+ teams. According
to Zimmerman, "by moving the stadium to the south jetty, it's a full event at the mouth of Harbor Beach, and is quite a moving sight to come up over that hill and see the soccer stadium."
The Beach Soccer Championship attracts youth teams from across the country. Over the years, the professional division has drawn top talent from across the globe, with teams from Mexico, Spain, Italy, United Arab Emirates, and Brazil. There's local talent present, like Oceanside resident, Antonio Chavez, who grew up playing soccer in Oceanside and is part of the U.S. Men's Beach Soccer National Team.
Thanks to the local nonprofit, Independent Order of Odd Fellows (IOOF), a service organization,
there is a beer garden, too! The BeSoCha Cantina will offer local craft beers in the designated courtside beer garden.
With Urbn Water providing a Bike-to-the-Beach initiative, there is an entire lot dedicated to bike parking, an excellent choice to access the event. Staying true to the reasons BeSoCha was created—a festival with soccer, music, and LOTS OF FUN UNDER THE SUN is delivered to all!
CHRIS BROSAN
Make sure to visit Oceanside Harbor Beach June 2 - 4, 2023. For more info go to beachsoccerusa.org
43
BeSoCha's Frank Zimmerman
STAR THEATRE SHINING BRIGHTLY IN OCEANSIDE
The Star is shining brightly in Oceanside! Yes, that's right, the local iconic landmark, Star Theatre, is shining brighter than ever since it was built in 1956.
The luminescent stars that punctuate the north side of Oceanside on Coast Highway 101 have received much needed renovations over the past years, and Star Theatre Company is thriving. Under the direction of David Schulz, Producing Artistic Director, the performances, shows, sets, and acting have upscaled immensely since coming on board in 2009. And the good news is…2023 is kicking off to a great start!
2023 is Star Theatre's biggest and most theatrical season to date. "I wanted to choose shows that had a large cast, so I can fit as many actors on stage as possible, and the stories are enchanting. I want it to be a really fun night at the theater —two and a half hours of an escape," explains Schulz.
And, the 2023 lineup is phenomenal!
Neil Simon's Rumors: February 17 - 26
The Little Mermaid: April 28 - May 7
Beauty and the Beast: July 14 - 23
Matilda: September 8 - 17
Dirty Rotten Scoundrels: October 20 - 29
Annie: December 7 - 10
A beautiful element to Star Theatre is that so many of their actors are everyday citizens that have been called to the stage. Some actors have day jobs, or are students by day, and stage actors on the nights and weekends. The casting calls are open to the public, with no previous acting experience required.
With so many budding theater enthusiasts and actors around town, Star Theatre provides a variety of opportunities for all acting levels. Star Theatre Company Academy includes: Actors Collective, Teen Triple Threat, Musical Theatre 101, Star Swing Choir, and this summer, for
children 7-13, Star Theatre Company offers a Musical Theatre Camp. This year's theme is Seussical Kids.
"These two-week Musical Theatre camps will entertain and inspire as your young actors prepare to perform the spectacular Seussical Kids! The inspirational and upbeat music will keep your children moving and learning as we explore the world of acting and music together!"
As the landscape of downtown Oceanside changes, it's reassuring to see an investment made in the buildings and institutions that recall our Oceanside culture. Star Theatre Company is a nostalgic safe haven, where so many memories were once made and so many are yet to be made. It's an affordable night of family fun and a beacon of Oceanside hospitality. Make sure to include a night at Star Theatre in 2023, and catch one of the amazingly entertaining shows!
The Star Theatre is located at 402 N Coast Highway. For more info go to startheatreco.com
44
WORDS: ELIZABETH SCHWARTZE
"OUR AUDIENCE IS GROWING AS WE GROW—WE'RE MATURING TOGETHER," PROCLAIMS SCHULZ.
PHOTOS COURTESY OF STAR THEATRE
45
The full cast of this year's production of The Little Mermaid.
Get Your Fill At The Seabird! O'side local? Ask about our Hang Ten discount! Scan To Reser ve ENJOY FRESH, CALIFORNIA GARDEN-TO-TABLE DELICACIES.
47
*Hats are not waterproof, but Bruce the Trenchcoat Guy is!
Get
Osider
THEOSIDER.COM!
your
hats at
ZACH CORDNER
Ale House Ale EST. 2006 Enzo's BBQ Ale House 4111 Oceanside Boulevard (760) 643-9602 • enzosbbq.com @enzosbbqalehouse Now open seven days a week: 11am to 9:30pm Sunday - Thursday 11am to 10:30pm Friday + Saturday
PRIDE BY THE BEACH
We can hardly believe that June 3 marks the sixteenth year of Pride by the Beach in Oceanside! What started out as a show of celebratory support for a small burgeoning community by the North County LGBTQ Resource Center has now grown into an amazing fun-filled festival. The event prides itself on being open to all of the Oceanside community and is kid friendly!
I had the pleasure of sitting down with Pride by the Beach director, Roxanne Deathridge. She shared that last year's festival, even fresh out of COVID-19, drew over 20,000 people!
This year, homegrown Osider, DJ Inspire, will be hosting and headlining the all day event. Notably, Fernando Lopez, the director of San Diego Pride, will be a keynote speaker.
Roxanne made it clear that the goal of this year's speakers is to show the world and, especially our youth, that you can be gay and still grow up to be successful and truly happy. They are also
very proud to be featuring local queer artists throughout the festival to share their beautiful talent with our community.
In case you were doubting if Pride by the Beach is family friendly…Roxanne wants everyone to know that the festival is definitely a family event. In fact, Pride by the Beach is the only free, familyfriendly Pride event in the area. They are really showing this by creating a celebration that is alcohol and tobacco free, so people of all ages can enjoy the event.
Pride by the Beach will be featuring a variety of food vendors and community services to showcase all that our town has to offer. You can visit the Vista Community Clinic booth to get support for medical and health services. They'll have super fun activities for the kids, like face painting, letters of love, an educational area, as well as a youth zone. There will be an OUSD booth and the local school GSA's (Gay Straight Alliance) will be
representing their schools, so be sure to swing by and support them! All this is in addition to the two stages filled with lively music and entertainment!
At The Osider, we wholeheartedly support the growing LGBTQ+ community throughout our wonderful city. We'd like to encourage everyone to attend this year's Pride by the Beach to show their support, but to also have an absolutely fabulous time with some new friends. We hope to see you there!
If you're looking for services or support throughout the rest of the year, be sure to check out the North County LGBTQ Resource Center located at 3220 Mission Avenue, or go to ncresourcecenter.org
This year's Pride by the Beach will be located at the Downtown Civic Center on June 3 from 12pm-6pm.
For more information go to pridebythebeach.org
Community THE OSIDER MAY / JUNE 2023
50
WORDS: ALONDRA FIGUEROA PHOTOS: ZACH CORDNER
" It's an event where absolutely everyone is welcome. All of our kids are going to be there and it's just going to be a fun day, an event for all of us to come together!"
51
-Roxanne Deathridge
Dear Disciples of Deals, Come on down! 928 N. COAST HWY, OCEANSIDE, CA 760-721-1101 VisitOceanside.org SCAN FOR DISCOUNTED LOCAL ATTRACTIONS OSID23013 - O'sider Magazine CWC AD 7-625x4-625 REFRESH.indd 1 2/10/23 11:54 AM
Deli & Prepared Foods • Vitamins • Natural Cosmetics • Local Organic Produce • Clean Label Grocery • Fine Wines and Cheeses 2009 South Coast Highway (760) 433-2757 creamofthecropnatural.com facebook.com/Cream-of-the-Crop twitter.com/CreamOfTHE_Crop We have a full line of organic and local natural foods. Cream of the Crop Family owned since 1989 Store Hours: 8am to 9pm every day Also available: 1/2, 3/4 day & Overnight private fishing charters • Seniors • Military • Groups • Schools Discounts available for: Oceanside's Premier Landing 1/2 & 3/4 day open party sportsfishing Whale watching and Marine life adventures Diginified burials at Sea (Military Honors arranged as well) 315 Harbor Drive South Oceanside CA 92054 760-450-0403 Never a service charge for our online booking system oceansideseacenter.com Info@oceansideseacenter.com 53
CASSIDY PORTER FACES
You probably can't be any more of a local business than Cassidy Porter Faces located on Cassidy Street, owned and operated by a woman named Cassidy whose parents lived just off of Cassidy Street when she was born.
You could say it was a little bit of destiny and a whole lot of passion and hard work that went into creating this successful, beautiful little studio just a few blocks from the beach in South O.
Cassidy Porter (née Stoddard) was born and raised in Oceanside and attended Palmquist and Lincoln before finishing school in Vista. At sixteen, while working her first job as a receptionist in a salon, she fell in love with the atmosphere. She wanted a career in the beauty industry but first needed to experience college life.
"After one year at the University of Oregon, I realized college was not the path for me and it was time to move home and pursue my dream job. I became a licensed Esthetician in 2015 and began taking clients at Spa Samudra in Carlsbad."
After organically growing her client base, Cassidy opened Faces in early 2020. She persisted through COVID-19 and during the shutdown days of the pandemic, she gathered close friends and family and turned her space into a small factory to sew masks for the community.
Faces offers top of the line, fully customized facials that are both relaxing and effective, as well as corrective treatments including a variety of chemical peels and LED and DMK Enzyme
Therapies. In addition to skin treatments, she offers lash and brow services that are low maintenance and meant to enhance natural beauty.
The reception area houses a full wall consistently stocked with different brands of high quality skin care products available for clients to continue their dream skin regimen at home. Appointments are available with Cassidy or with her fellow esthetician, Sydney Leichtfuss.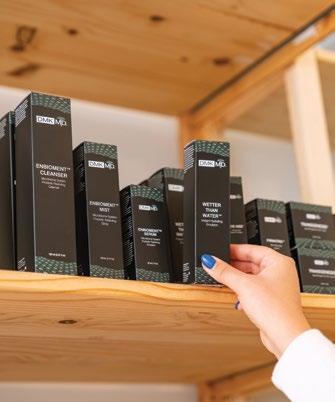 Several of Cassidy's family members also own businesses in Oceanside and when she found her current space available, she knew it was where she would feel most at home.
"One of my favorite things about this location is that many of my clients are able to walk here. I could stand outside all day and chit chat with familiar faces. I love our little corner of the neighborhood and the sense of community it provides."
Cassidy's hopes for the future mirror her views on the immense growth that has happened here.
"My goals for my business are constantly changing between keeping it as small as possible and the dream of growing it bigger and bigger. It's just like part of me feels sad our city is losing some of its small beach town charm but I'm excited about all the new things we have to offer. At first I hated the idea of the large resorts going up at the beach but I can't lie...I do love being five minutes away from sitting at a nice bar overlooking the ocean with a good espresso martini."
THE OSIDER MAY / JUNE 2023 Cassidy
606 Cassidy St. Unit C (760) 994-9391 cassidyporterfaces.com @cassidyporterfaces
Porter Faces
Local Business
WORDS: ALICIA STONE PHOTOS: PRISCILLA IEZZI
54
Cassidy Porter
Local Business
NEIGHBORHOOD BARBERSHOP
With summertime just around the corner, everyone wants to look and feel their best. That's why you need to go check out Sam and the crew at Neighborhood Barber Shop.
The barbers here are ready to line you up and all have local roots. Owner, Sam Greko, is originally from the big Island of Hawaii and grew up surfing and skateboarding there. When he and his wife, Natalie, moved to Oceanside in 2006, they instantly knew Oside was the place where he would grow his roots. Soon after settling down
here, they started their family with Sonny, their first-born boy.
The newly formed family was starting to take shape. The next step was to go for it and open up the barber shop. The first location was formed in South O in 2021, then moved to his current location on Wisconsin Avenue in August 2022. The shop is decorated with Oceanside inspired skateboards and cool surf photos from local photographers.
There are five barbers on staff and they take walk-ins daily. The vibe is super chill and inviting, just
the way Sam likes it. Sam and his crew love the cultural diversity here in the O. His barber shop is tailor made for this community and he loves the pride Osiders have for our city. The large windows make for great people watching as you get your cut. The foot traffic is also a bonus for walk in business, says Sam.
So, now that you have your beach body ready for summer, why not go get a fresh cut and shave just blocks from the beach. Trust me when I tell you that the Neighborhood Barber Shop will get you dialed in and looking proper for that next summertime BBQ.
Neighborhood Barbershop
493 Wisconsin Avenue, Suite B (442) 266-8251
@neighborhoodbarber.shop
THE OSIDER MAY / JUNE 2023
WORDS: JAMEY STONE PHOTOS: ZACH CORDNER
56
Owner Sam Greko, center, with the Neighborhood crew.
OPEN 7AM-2PM EVERY DAY OCEANFRONT BREAKFAST ACAI & ESPRESSO 1508 S.PACIFIC ST.• OCEANSIDE BUCCANEER-CAFE.COM
Dining: Coastal
NAEGI
The sandwiches can't be beat at Naegi. From chicken to shrimp—and even wagyu—the menu at Naegi offers more than you'd expect from the small corner restaurant in South O.
Right off of Coast Highway in the same location as the OG Beach Break spot (for you longtime locals who remember), the Naegi team is serving up hot, fresh sandwiches at an impressive and mind-blowing culinary level.
Sister restaurant to the upscale and swanky immersive Japanese dining experience, Matsu, Naegi shares the same craftsmanship in their recipes but in a more casual and approachable setting—and at a much lower price point.
Owner, William Eick, is the mastermind behind Naegi and Matsu, blessing our town with two completely different tastes in Japanese cuisine. While Matsu offers a seven-course meal over three hours, Naegi provides the exact opposite. Here, you can expect fast, affordable, and accessible Japanese style sandwiches for the whole family.
The menu is pretty much strictly sandwiches, with the exception of their weekly specials. The karaage chicken sandwich, which won Best of Flavor at Oside Flavor in 2021, is one of the best items on the menu. It's oh-so-crispy on the outside and melt-in-your-mouth buttery on the inside. Fried chicken sandwiches have become an artform, and the Karaage Sando at Naegi is one all chicken connoisseurs ought to try.
The best part? The sandwich is simple. I'm talking cabbage, mayo, and chicken on a homemade milk bun—that's it. The complexity of the flavors isn't from mountainous toppings or smothering sauces, but rather from a simple recipe done incredibly well with intentional ingredients.
"We do what we do and we do it well," Eick said. "We wanted something we can replicate over and over, and keep the flavors consistent. We asked 'what's the easiest for Americans to wrap their heads around?' And fried chicken was
always the big one. So, from there, we asked how can we make it ours and Japanese, and it turned into a sando and it's totally cool. Eat it with lunch, eat it for dinner, eat it with a beer. It's accessible, fresh, quality, and fast."
This particular chicken sandwich represents the Naegi legacy because, before having a brick and mortar location, Naegi was slanging chicken sandwiches from their pop-ups and food truck. After satisfying enough people and gaining the right amount of exposure, they opened up their location, finding a home when Panca closed, and expanded their menu to deliver even more mouth-watering tastes.
Another house favorite is the Ebi Filet-O sandwich, even topping the chicken sandwich for some. Again, it's simple, yet tasty as hell with panko-breaded shrimp, thousand island dressing, and cabbage on a homemade milk bun.
The Wagyu Smashmelt is also impressive. They take the leftover A5 Wagyu fat and trim from Matsu and, in zero-waste fashion, mix it with an 80/20 chuck mix to give their burger patty wagyu flavor with beefy texture. For only $3 more, you can get an extra patty, which is unheard of for you wagyu lovers. It's like the high-end In-N-Out burger of your dreams.
While Eick has worked in every type of restaurant imaginable, his speciality lies in
Japanese cuisine. Hailing from the Bay Area, Eick set up shop in Oceanside eighteen years ago and has made a name for himself through the quality of his craft. He has a hand in multiple culinary operations around town and plans to expand Naegi. Those plans are yet to be determined, but it's safe to say we're highly anticipating whatever he crafts up next.
Naegi 1902 S Coast Highway (760) 696-3069 eatatnaegi.com @eatnaegi
THE OSIDER MAY / JUNE 2023
Ebi Filet-O
WORDS: SHELBY ROWE PHOTOS: ZACH CORDNER
Karaage Sando
Wagyu Smashmelt
58
Owner, Chef William Eick
Mention this ad and receive $100 off any EBC Co. electric bike purchase Try our Ride n Dine! it's a one hour dining experience at a local O'sider restaurant, then enjoy a two hour scoot around town. Explore Oceanside and Carlsbad by air, then land with a Ride n Fly adventure. Mention this ad and receive $10 off any Fat tire scooter rental and $5 off any e-bike rental "Best ebikes in town, even better service!" -Jamey Stone Publisher, Osider Magazine 306 N Cleveland St. Oceanside, CA 92054 Call 760-717-8150 to make reservations or a demo ride! GET OUT AND RIDE! BICYCLE & E-BIKE RENTALS, SALES & SERVICE 2028 S Coast Hwy, Oceanside, CA 92054 760-710-1478 SoCalBike.com
MAK MAK ORGANIC
Who doesn't love Asian street food? Usually, you have to drive down to the Convoy District to get these types of flavors, but—thankfully—not anymore.
Mak Mak Organic, situated downtown off of Mission Avenue, is providing Oside with impeccable Asian street food. Here, you can find staple dishes in Asian cuisine spanning across Thailand, Philippines, S Korea, Vietnam, Indonesia, Japan, Taiwan, and Singapore.
Inspired by his own travels, owner James Limjoco opened Mak Mak Organic to serve tried and true recipes that have lived on for generations. He's taken multiple trips overseas to hone in on these tastes, meeting with street vendors, restaurant owners, and friends to learn the techniques needed to create these dishes with the same craftsmanship right here in Oside.
Asian street food, James says, is made with an incredible level of precision. These vendors make the same dishes day in and day out, refining a craft they can practically do with their eyes closed. They know what ingredients to use and how much of it, the perfect amount of heat, and the exact smoke point needed to get the same amazing taste every time. It's a labor of love, and James has made it a priority to weave the same passion into his menu.
"We have selected our favorite bites from some of the culinary capitals of the world, tasted dozens of varieties of the same dish, learned the intricacies of the flavors, techniques, and explored ingredients, from many different chefs and vendors," the website reads. "We have used all this
accumulation of knowledge to put together what we feel are the best versions of some of the most iconic dishes in street food."
Being a scratch kitchen, everything at Mak Mak is made in house and sourced with the finest, local ingredients. Take the dumplings, which are made fresh every single morning, or the Thai poached chicken, which is made with Pasture Bird, free range chicken, from Temecula.
On the menu, you'll find wings, which are a common street food in Vietnam, lumpia, which is a beloved traditional Filipino dish, and iconic Hainanese Chicken from Singapore—just to name a few. For you vegetarians, there's also crispy tofu on the menu that's melt-in-your-mouth delicious.
The array of sauces available add to the party of flavors, spanning from Japanese teriyaki to Korean gojuchang, plus Thai peanut and Indonesian sambal oelek infused sweet chili sauce. Again, all of these sauces are made fresh, in-house.
Mak Mak, which means 'very very' in Thai, is a place where you can get delicious and healthy food in a casual fast-dining setting. With an emphasis on health-conscious meals, most of the traditional dishes that call for pork have been swapped for organic chicken. James, who noticed a lack of quick and healthy food options in North County, designed Mak Mak to fill that exact gap.
While Mak Mak is designed to be a fast, healthy alternative, it's also a great place to hangout and enjoy some bomb food and delicious drinks. With outdoor seating in the sun and oh-so-delicious
homemade seltzers made with fresh fruit puree (you'll never want another White Claw again after you try this), it's bound to be a popular summer hangout spot. Of course, any seltzer can be made sans alcohol for a delectable mocktail.
Simply put, if you love Asian street food, you're going to love this place. So, for all you foodies dying to try something new, Mak Mak Organic should definitely be your next stop. You won't regret it!
Mak Mak Organic 121 N Cleveland St (760) 696-3123 makmakorganic.com @makmak_organic Dining: Coastal THE OSIDER MAY / JUNE 2023
WORDS: SHELBY ROWE PHOTOS: PRISCILLA IEZZI
Mak Mak Wings
60
Owner, James Limjoco
1714 S Coast Hwy Oceanside, CA 92054 (760) 722-6323 ANITASMEXICANFOODRESTAURANT.COM For more inforamation visit us at Authentic Mexican Food with Local Roots Family Owned Established 1973
Dining: Coastal
FRIDA'S TAQUERIA
Passion. Love. Meat. Add it up and what does it equate? Tacos! Frida's Taqueria to be exact. It's a natural progression really. At least for the Ayala's, these are three of the most basic ingredients in life.
There's an undeniable, infectious energy that flows out of Roberto when he's in his element. Every taco tastes of the finest quality meat seasoned with family recipes of sauce and spices, then carefully piled into the folds of a warm, tasty tortilla. A vessel for delivery that can be loaded with any variety of their home made salsa.
Tacos are the foundation of a Taqueria, but the menu here doesn't shy away from dancing to its own playful beat. Massive Birria Burritos, Quesatacos, Al Pastor Mulitas, and ginormous offerings of Adobada Nachos add to the impressive resume of ways to present their love for meat and feeding people. Ever heard of a Papa Asada? This hunk of a dish is a huge roasted potato piled to the heavens with meat, cheese, homemade guacamole, and salsa. Just another love letter for the taste buds, sent with emphasis and served with a smile.
With over six different kinds of hand prepared and seasoned meats, a Trompo (a vertical rotating spit with meat marinated in a most sensational family recipe), and even a soyrizo option for plant based friends, it's easy to see the Ayala's know how to please and are here to stay.
Although many might just see "tacos," what Frida's and the Ayalas are sharing is their way of life. An embodied extension of their giving and generous hearts. Owners Gracie and Roberto Ayala have meat and tacos in their blood. These two met over twenty years ago at Gracie's father's butcher shop and the rest in history. Effortless in style, their path was anything but easy.
Coming from humble beginnings, they never gave up the callings of their hearts to serve Tijuana style street tacos to the people. To get there, and pay the bills, they both carried full time corporate jobs. Through pure hustle, dedication, and up to ten pop-ups per week at various street fairs, they became a staple to the San Diego food scene.
After years of being mobile food vendors, Gracie and Roberto settled into their first brick and mortar home. Leaving behind the comfort and security of their careers in late 2019, they dedicated themselves wholeheartedly to the dream.
Alas, what comes next: a global pandemic. With no safety net and no financial help in sight, the Ayala's did what comes natural to them. They leaned into community. With opportunities to feed first responders and neighborhoods, Roberto and Gracie held on to hope. Over the past three years, adversity has challenged their success, but again and again the communities of San Diego have come out to show them support, and with resounding
success a second brick and mortar of Frida's Taqueria has landed here in Oceanside.
East of the freeway at 2011 Mission, it's easy to locate by the vibrant Frida mural on the side of their restaurant. Celebrating legacy and culture, the name Frida's Tacos is an ode to the legendary Frida Kahlo herself and the masterful way she moved through life. One night Gracie dreamt of a Taqueria named Frida's, and Roberto loved the dream and name so much, the vision came to fruition. So, if you will, come to Frida's to enjoy a feast and buy into the belief—that dreams do in fact come true!
Frida's Taqueria 2011 Mission Ave (760) 696-3104 fridastaqueria.shop @fridas.taqueria THE OSIDER MAY / JUNE 2023
WORDS: KATIE LALICATA PHOTOS: ZACH CORDNER
62
Owners Roberto and Gracie Ayala
EAT | DRINK | SOCIALIZE
THANKS FOR THE SUPPORT OCEANSIDE DINE IN * TAKE OUT DOORDASH * UBER EATS * GRUBHUB
WINE TASTING * WINE WED * WINE CLUB
WINE PAIRING DINNERS
COMEDY TUESDAYS * LIVE MUSIC
1706 S. Coast Hwy. | Oceanside, CA 92054 (760)453-2500 | theprivateercoalfirepizza.com
Top Notch Barber Shop
3126 San Luis Rey Rd. Oceanside Ca, 92058
w i n e | b e e r | l i v e m u s i c Mon–Thurs Friday
DAILY
12 –
Room Hours Scan for Upcoming Events & Live Music
Saturday Sunday OPEN
3 – 8pm 3 – 10pm 12 – 10pm
8pm Tasting
Bar & Restaurant Guide
THE OSIDER
MAY / JUNE 2023
BAKERIES/DONUTS
101 BAGELS & SUBS
323 North Coast Hwy. (760) 421-6555
THE FAMOUS HIGH-PIE
250 N Pacific St.
HILL STREET DONUT HOUSE
1926 South Coast Hwy. (760) 439-7741
LA PERLA TAPATIA
1910 Mission Ave. (760) 721-8486
LE RENDEZ-VOUS FRENCH BAKERY
4225 Oceanside Blvd. (760) 414-9109
MISSION DONUT HOUSE
1502 Mission Ave. (760) 757-2979
MR. DONUTS 1950 Oceanside Blvd. (760) 967-6508
O'SIDE BAKERY
3815 Mission Ave. Suite 101 (760) 305-9500
PETITE MADELINE BAKERY
223 North Coast Hwy. (760) 231-7300
PARLOR DOUGHNUTS
331 N Cleveland St. (760) 231-5150
SAM'S DONUT SHOP
3504 College Blvd. Suite A (760) 945-0416
SK'S DONUTS
1129 South Coast Hwy. (760) 722-0455
SAN LUIS REY BAKERY & RESTAURANT
490 North El Camino Real (760) 433-7242
BAR AND GRILLS
19TEN OCEANSIDE
1910 Oceanside Blvd. (760) 730-5199
BEERTOWN
507 N Coast Hwy. (760) 826-2337
COCOCABANA
408 Pier View Way (760) 688-0195
THE DRAFT RESTAURANT & SPORTS BAR
4225 Oceanside Blvd. (760) 631-4700
FAIRWAYS KITCHEN & BAR
5201 Village Drive (760) 967-8400
FAT JOE'S O'SIDE
424 S Coast Hwy. (760) 722-5637
FRANKIE'S
406 Pier View Way (442) 266-2270
ANGELINA'S BAR & GRILL
3375 Mission Ave. (760) 433-5086
JUNKYARD GRILL & SPORTS BAR
3613 Ocean Ranch Blvd. (760) 231-6600
KNVS BAR 127 South Coast Hwy. (442) 655-9851
MISSION AVE. BAR & GRILL 711 Mission Ave. (760) 637–2222
OSIDE SPORTSBAR & GRILL 113 South Coast Hwy. (760) 722-5968
PACIFIC COAST SPIRITS
404 South Coast Hwy. (760) 453-7150
PCH SPORTS BAR & GRILL
1835 South Coast Hwy.
(760) 721-3955
RED ROOSTER
1985 Oceanside Blvd. (760) 754-8383
ROOKIE'S SPORTS GRILL
2216 South El Camino Real (760) 757-1123
TONY'S SPORTS BAR & GRILL 274 South Harbor Drive (760) 433-8466
BBQ
ENZO'S BBQ & ALEHOUSE
4111 Oceanside Boulevard (760) 643-9602
FELIX'S BBQ WITH SOUL
3613 Ocean Ranch Blvd. (760) 439-7072
GUAHAN GRILL
4259 Oceanside Blvd.
(760) 806-4826
HERITAGE BREWERY & BBQ
2002 South Coast Highway
PRIMO FOODS
606 Morse Street (760) 439-8711
MISS KIM'S BY THAT BOY GOOD 207 N Coast Hwy. (760) 433-4227
THAT BOY GOOD
326 North Horne Street (760) 754-1275
BREAKFAST DINERS AND CAFÉS
101 CAFÉ 631 South Coast Hwy. (760) 722-5220
BEACHBREAK CAFÉ
1802 South Coast Hwy. (760) 439-6355 beachbreakcafe.net
THE BUNKER HOUSE CAFÉ
322 North Cleveland Street (760) 400-0520
COME ON OVER CAFÉ 2405 Oceanside Blvd. (760) 201-3393
THE BROKEN YOLK CAFE 2434 Vista Way (760) 967-9655
THE BREAKFAST MUG
1401 South El Camino Real (760) 231-1010
BUCCANEER CAFÉ
1508 South Pacific Street (760) 966-1804
DON'S COUNTRY KITCHEN
1938 South Coast Hwy. (760) 722-7337
ELENA'S CAFE FRENCH CREPES
511 Pier View Way (240) 644-3205
GRANDMA'S RESTAURANT
3613 Ocean Ranch Blvd (760) 757-8777
HARBOR HOUSE CAFÉ
714 North Coast Hwy. (760) 722-2254
HIGH/LOW 201 North Myers Street (760) 512-3329
LE CITRON
524 S Coast Hwy (760) 696-3737
MARY'S FAMILY RESTAURANT 307 North Coast Hwy. (760) 722-3052
PIPER 105 Mission Avenue (760) 512-3816
START FRESH CAFÉ
1034 South Coast Hwy. (760) 439-7940
STRATFORD AT THE HARBOR 280 South Harbor Drive (760) 453-2073
SWAMI'S CAFÉ
202 North Coast Hwy. (760) 966-1203
RYES & GRIND 236 South Coast Hwy.
TOASTED GASTROBRUNCH
339 North Cleveland Street (760) 836-0500
BREWERIES/TAP ROOMS
BAGBY BEER COMPANY 601 South Coast Hwy. (760) 270-9075
BELCHING BEAVER BREWERY 1334 Rocky Point Drive (760) 599-5832
BLACK PLAGUE BREWING 2550 Jason Court (760) 631-8110
BOOZE BROTHERS BREWERY 606 Mission Ave. (760) 385-3973
BREAKWATER BREWING 101 North Coast Hwy. (760) 433-6064
CRAFT COAST BREWING 275 Mission Ave. (760) 231-1432
KILOWATT BREWING OCEANSIDE TAPROOM & PROVISIONS 406 Mission Ave. (760) 231-1997
NORTHERN PINE BREWING 326 N. Horne St. (760) 754-1434
OCEANSIDE ALE WORKS 1800 Ord Way (760) 295-0731
OCEANSIDE BREWING COMPANY 312-314 Via Del Norte (760) 453-7900
POUR HOUSE 1903 South Coast Hwy. (760) 730-5944
SOUTH O BREWING COMPANY 1575 South Coast Hwy. (442) 266-8244
STONE COMPANY STORE 310 North Tremont Street (760) 529-0002
TAP THAT 3207 Roymar Road Suite E (760) 433-4827
TIPPING PINT BREWING 3229 Roymar Road (760) 586-2898
64
BURGERS
ANGELO'S BURGERS
621 North Coast Hwy. (760) 757-5161
ANGELO'S BURGERS
1050 South Coast Hwy. (760) 757-4064
ANGELO'S BURGERS
2035 South Coast Hwy. (760) 757-4064
THE HABIT BURGER GRILL
2267 South El Camino Real (760) 433-3390
PAUL'S PLACE
3671 Mission Ave. (760) 721-0124
PIT STOP DINER
3825 Mission Ave. (760) 901-4299
TY'S BURGER HOUSE
515 Mission Street (760) 757-5890
CHICKEN SHOP
ANGRY CHICKZ
612 Mission Ave (442) 266-2167
DAVE'S HOT CHICKEN
4201 Oceanside Blvd Ste A (442) 291-1830
CHINESE
CHIN'S SZECHWAN CUISINE
4140 Oceanside Blvd. (760) 631-4808
CHINA FUSION
4225 Oceanside Blvd (760) 726-8888
CHU'S QUIK WOK 815 College Blvd. (760) 726-7771
GREAT WOK OF CHINA
4635 Frazee Road (760) 439-8939
PICK UP STIX
125 Old Grove Road (760) 967-4081
QUIK WOK
2184 Vista Way (760) 439-2228
COFFEE/TEA/JUICE
BANANA DANG
115 South Coast Hwy.
(760) 846-0162
BLISS TEA & TREATS
301 Mission Ave. (442) 500-4796
BLACK ROCK COFFEE BAR
1918 Oceanside Blvd. (760) 722-7133
BOUND COFFEE COMPANY
2110 S Coast Hwy Suite C
(442) 266-2259
BROWN CUP
401 North Coast Hwy. (760) 231-7968
TZONE
318 Pier View Way (760) 299-5678
CAMP COFFEE COMPANY
101 N Cleveland Street (442) 266-2504
CAPTAIN'S GROUNDS COFFEE
1832 South Coast Hwy. (760) 522-4271
COATL COFFEE
105 Copperwood Way Ste. B (833) 332-6285
COMMUNAL 602 South Tremont St. (619) 376-5710
THE CUP
206 Wisconsin Ave. (760) 231-9817
EVERBOWL
2535 Vista Way (760) 754-1572
JB JUICE & COFFEE
4635 Frazee Road (760) 529-0807
JITTERS COFFEE PUB
510 North Coast Hwy. (760) 967-7886
LIVING TEA BREWERY & TASTING ROOM
302 Wisconsin Ave (760) 231-9986
LOLLICUP
4121 Oceanside Blvd. (760) 295-0824
NAUTICAL BEAN COFFEE CO. 240 Harbor Drive South (760) 722-4851
NORTH COUNTY ROASTERY
129 South Coast Hwy.
PIER VIEW COFFEE COMPANY
300 Pier View Way (760) 966-1150
PLANTOLOGY CAFE
913 South Coast Hwy. (760) 805-3258
ROOTS CRAFT JUICE
631 South Cleveland St
TAPIOCA EXPRESS
2611 Vista Way (760) 722-8279
REVOLUTION ROASTERS
1836 South Coast Hwy.
(760) 529-9736
DELI/SANDWICHES
101 BAGELS & SUBS
323 North Coast Hwy. (760) 421-6555
BEACH HUT DELI
280 Mission Ave. (760) 529-9767
BOARD & BREW
2213 S El Camino Real (760) 688-9217
THE CHEESESTEAK GRILL
1771 South Oceanside Blvd. (760) 529-0077
CREAM OF THE CROP
2009 South Coast Hwy. (760) 433-2757
creamofthecropnatural.com
HARBOR PELICAN
1380 North Pacific Street (760) 722-5853
I LOVE BAGELS CAFE
3910 Vista Way (760) 945-3838
I LOVE BAGELS CAFE
4101 Avenida Del Oro (760) 216-6611
JERSEY MIKE'S
302 Mission Ave (760) 435-0783
NAEGI
1902 South Coast Hwy.
RYES & GRIND
236 South Coast Hwy.
SUBMARINA 3809 Plaza Drive (760) 945-7840
Z-MARKET 3200 Mission Ave. (760) 967-2184
FILIPINO
MISSION ASIAN MARKET
3320 Mission Ave. (760) 722-8024
GASTROPUB
FLYING PIG PUB & KITCHEN
509 Mission Ave. (760) 453-2940
LOCAL TAP HOUSE
308 South Coast Hwy. (760) 547-1469
MASTERS KITCHEN AND COCKTAIL 208 South Coast Hwy. (760) 231-6278
ROSEWOOD KITCHEN
608 Mission Ave. (760) 231-5886
HAWAIIAN
L&L HAWAIIAN BARBECUE 510 Oceanside Blvd. Ste 102 (760) 231-1142
HOMESTYLE HAWAIIAN 1950 Oceanside Blvd. Suite R (760) 696-3030
L&L HAWAIIAN BARBECUE 4225 Oceanside Blvd. (760) 726-0888
MAUI HAWAIIAN BBQ 2455 Vista Way (760) 722-8383
OHANA HAWAIIAN BBQ 459 College Blvd. (760) 630-6800
THE SWITCHBOARD 131 South Coast Hwy. (442) 266-2781
ICE CREAM/FROZEN YOGURT BASKIN ROBBINS 1112 South Coast Hwy. (760) 722-0654
DISFRUTA 610 N Redondo Drive (760) 583-5681
FRUGOS YOGURT 3509 Cannon Road (760) 732-1000
FUGU TAIYAKI 410 Mission Ave. (760) 696-3366
HANDEL'S HOMEMADE ICE CREAM 228 North Coast Hwy. (442) 266-8552
LA MICHOACANA PLUS 1060 Mission Ave. (760) 696-3602
MENCHIE'S FROZEN YOGURT 2525C Vista Way (760) 730-5728
NANA AND POP'S SWEET SHOP 280 Harbor Drive (760) 722-1723
OCEAN RAINBOW 3784 Mission Ave. (760) 435-0750
RED CUP FROZEN YOGURT 301 Mission Ave. (760) 637-2189
RICOS ANTOJITOS
3753 Mission Ave. (760) 231-7793
INDIAN
CURRY & MORE
600 Mission Ave. (442) 266-8366
65
Bar & Restaurant Guide
THE OSIDER MAY / JUNE 2023
TURMERIC HUT
125 Old Grove Rd. Suite 4 (760) 470-3415
INDONESIAN
DIJA MARA
232 S. Coast Hwy. (760) 231-5376
ITALIAN/PIZZA
ALLMINE
119 South Coast Hwy. (760) 966-6888
BEST PIZZA & BREW
OCEANSIDE
1639 S Coast Hwy. (760) 435-1000
BIG BOB'S BEST PIZZA
3617 Ocean Ranch Blvd. (760) 231-5050
BLADE 1936
401 Seagaze Drive (760) 231-1456
BROOKLYN BOYZ PIZZA
2183 Vista Way (760) 757-4992
CUSIMANO'S PIZZERIA
3809 Plaza Drive (760) 414-1200
DOMINIC'S AT THE HARBOR
RESTAURANT & PIZZERIA
268 Harbor Drive South (760) 754-1881
FUNK N GOOD PIZZA
209 North Tremont Street (760) 231-5173
FRATELLI'S
3915 Mission Ave. (760) 696-9007
GIANNI'S PIZZA
3910 West Vista Way (760) 724-2670
GRAZIANO'S PIZZARIA
101 Old Grove Road (760) 231-5990
KILLER PIZZA FROM MARS
3772 Mission Ave. (760) 722-6060
KNOCKOUT PIZZA
401 Mission Ave. (760) 722-8888
MANGIA E BEVI
3613 Ocean Ranch Blvd. (760) 231-1225
MOUNTAIN MIKE'S PIZZA 455 College Blvd. (760) 295-3121
THE PRIVATEER COAL FIRE PIZZA 1706 Pacific Coast Hwy. (760) 453-2500 theprivateercoalfirepizza.com
ROMA'S PIZZA & GRILL
617 North Redondo Drive (760) 757-2003
ROUND TABLE PIZZA 3440 Marron Road (760) 434-5977
TONY PEPPERONI PIZZERIA 805 College Blvd. (760) 726-6400
TWO BROTHERS FROM ITALY 4760 Oceanside Blvd. (760) 758-3638
1001 South Coast Hwy. (760) 758-3638
UPPER CRUST PIZZA 4196 Oceanside Blvd. (760) 630-9330
VENETOS 608 North Coast Hwy. (760) 722-1228
ZIGZAG PIZZA 333 North Myers Street (760) 433-1555
JAMAICAN
ONE LOVE ISLAND CUISINE 4225 Oceanside Blvd. (760) 685-4618
JAPANESE/SUSHI/POKE
CAFÉ DE THAI & SUSHI 4196 Oceanside Blvd. (760) 945-5533
GO GO JAPAN SUSHI
4121 Oceanside Blvd (760) 630-1288
HARNEY SUSHI
301 Mission Ave (760) 967-1820 harneysushi.com
KAMPAI SUSHI 1906 Oceanside Blvd. (760) 757-1484
KYOTO'S JAPANESE MARKET
559 Greenbrier Drive
(760) 757-5456
LOVE BOAT SUSHI
125 Old Grove Road (760) 721-3737
MATSU 626 South Tremont Street (760) 231-6331
THE POKI CAFE
3910 West Vista Way
(760) 458-3986
POKI POKI
3480 Marron Road
(760) 295-9086
POKI POKI #2
4140 Oceanside Blvd. (760) 295-4924
RISING SUN SUSHI
272 South Harbor Drive (760) 277-0582
SUNSHINE KITCHEN
1006 Mission Ave. (442) 222-1811
SUSHI4REEL 4750 Oceanside Blvd. Suite A-20 (760) 659-6784
TERI CAFÉ 2216 South El Camino Real (760) 722-8399
TERI CAFÉ II
3809 Plaza Drive (760) 945-8888
TEN GU RAMEN 2183 Vista Way B-2 (760) 696-3266
THE POKE CAFÉ 3910 Vista Way (760) 458-3986
UMI JAPANESE GRILL & CAFÉ
401 Mission Ave. (760) 439-3566
WARAII SUSHI
4225 Oceanside Blvd. (760) 630-3770
WICKED POKE 2401 Vista Way (760) 529-0774
THE WHET NOODLE 1815 South Coast Hwy. (760) 453-2738
WRENCH & RODENT
SEABASSTROPUB 1815 South Coast Hwy. (760) 271-0531
WU LAN RAMEN TAP HOUSE
4645 Frazee Road Suite F (760) 453-7526
YUKIYA SUSHI 2415 Vista Way (760) 439-3283
KOREAN
GAJA KOREAN BBQ 2693 Vista Way (760) 231-1195
M. BBQ
2216 S El Camino Real (760) 433-1888
SONU BBQ
3744 Mission Ave. (760) 696-3686
ZZANG HOT DOG & CHICKEN
409 Mission Ave (760) 231-5335
MEDITERRANEAN
MAAN'S MEDITERRANEAN GRILL
4259 Oceanside Blvd. Ste.107 (760) 726-2249
PITA GUYS 4111 Oceanside Blvd, Ste 102 (760) 295-2636
MEXICAN
ANITA'S MEXICAN RESTAURANT & CANTINA 2250 South El Camino Real (760) 757-7745
ANITA'S MEXICAN RESTAURANT & CANTINA 1714 South Coast Hwy. (760) 722-6323 anitasoceanside101.com
CAFÉ ROSARITA 1816 Oceanside Blvd. (760) 722-6224
CARLITO'S CHICKEN 158 Roymar Road (760) 433-3427
CEJA'S MEXICAN DINER & GRILL 4259 Oceanside Blvd. (760) 945-2199
COLIMA'S MEXICAN RESTAURANT 404 Pier View Way (760) 439-4045
DE KOTIJA'S TACO SHOP 3504 College Blvd (760) 758-0399
DIEGO'S MEXICAN FOOD 1030 South Coast Hwy. (760) 721-1985 EL MUNDO DE MARISCOS 3110 San Luis Rey Road (760) 754-8922
FIESTA MEXICANA 3784 Mission Ave. (760) 757-9872
FRIDA'S TAQUERIA 2011 Mission Ave (760) 696-3104
GOURMET TAMALES 3616 Ocean Ranch Blvd. (760) 439-3343
JOHNNY MANANA'S 308 Mission Ave (760) 721-9999
JORGE'S MEXICATESSEN 1129 South Coast Hwy. (760) 696-3072
KING BURRITO 3490 Marron Road (760) 720-9747
LA FUENTE DE MARISCOS
2936 Oceanside Blvd. (760) 529-0150
LA PERLA TAPATIA
625 North Redondo Drive (760) 722-2877
LA PERLA TAPATIA
1910 Mission Ave (760) 721-8486
LOS TACOS
2183 Vista Way (760) 757-8226
MARIETA'S
485 Vandegrift Blvd. (760) 967-1769
MARISCOS HUALTUCO
3110 San Luis Rey Rd. (760) 754-8922
MARISCOS EL PULPO LOKO
1906 Oceanside Blvd. (760) 547-5624
MARISCOS ENSENADA
1405 South El Camino Real (760) 967-6024
MI ASADOR MEXICAN AND SEAFOOD RESTAURANT
4750 Oceanside Blvd. (760) 806-6684
MIRAMAR FISH TACOS & BEER
41 Douglas Drive (760) 721-2147
PEDRO'S TACOS
656 Benet Road (760) 722-7221
POLLOS MARIA
125 Old Grove Road (760) 435-9071 pollosmaria.com
ROBERTO'S TACO SHOP #13
518 Oceanside Blvd. (760) 757-2377
SAN LUIS REY BAKERY & RESTAURANT
490 North El Camino Real (760) 433-7242
SANCHO'S TACOS
400 Mission Ave. (760) 231-8228
SEÑOR GRUBBYS
311 N. Tremont St. (760) 721-6040 eatgrubbys.com
TONY'S FRESH MEXICAN FOOD
2983 Via Las Rosas (760) 433-5004
VALERIE'S TACO SHOP
3617 Ocean Ranch Blvd. (760) 712-1296
VALERIE'S TACO SHOP
1006 Mission Ave. (760) 231-1824
VALERIES TACO STAND
2213 S El Camino Real (760) 231-5458
VALLE
222 North Pacific St. (760) 512-3328
NEPALESE HIMALAYAN BISTRO 4225 Oceanside Blvd. Ste. W (760) 631-1800
PERUVIAN
CASERA LATIN KITCHEN & BAKERY 4225 Oceanside Blvd. Ste. D (442) 222-1332
SEAFOOD CRAB PUB 3766 Mission Ave Suite 111 (760) 696-3577
333 PACIFIC 333 North Pacific Street (760) 433-3333
HARBOR FISH & CHIPS 276 Harbor Drive South (760) 722-4977
HELLO BETTY FISH HOUSE 211 Mission Ave. (760) 722-1008
JOE'S CRAB SHACK 314 Harbor Drive (760) 722-1345
LIGHTHOUSE OYSTER BAR & GRILL 262 Harbor Drive South (760) 433-1900 lighthouseoceanside.com
MARISCO'S ENSENADA 1405 South El Camino Real (760) 967-6024
OCEANSIDE BROILER 1325 North Harbor Drive (760) 722-3474
Q&A RESTAURANT & OYSTER BAR 408 Pier View Way (760) 688-7249
SHOOTZ FISH & BEER 602 South Tremont St. (760) 696-3524 shootzfishxbeer.com
TIN FISH OCEANSIDE 302 North The Strand (760) 966-0007
STEAKHOUSES
333 PACIFIC 333 North Pacific Street (760) 433-3333
HUNTER STEAK HOUSE
1221 Vista Way (760) 433-2633
THAI CAFÉ DE THAI & SUSHI 4196 Oceanside Blvd. (760) 945-5533
MAK MAK ORGANIC 121 N Cleveland St (760) 696-3123
OCEAN THAI 2455 Vista Way (760) 722-9779
OCEAN THAI 3846 Mission Ave #A3 (760) 967-9901
RIM TALAY 508 Mission Ave (760) 435-2007
SABAI SABAI
THAI KITCHEN 1906 Oceanside Blvd. (760) 529-5597
SAVORY THAI 3829 Plaza Drive (760) 806-9606
THAI THAI 4121 Oceanside Blvd. (760) 295-5445
THAI GARDEN 4750 Oceanside Blvd. (760) 940-1009
THAI TABLE 1910 Oceanside Blvd. (760) 721-4850
VEGAN
ERIS FOOD CO 302 Wisconsin Ave. (760) 231-9986
THE PLOT 1733 South Coast Hwy. (442) 266-820 theplotrestaurant.com
VIETNAMESE
MR. PHO 4750 Oceanside Blvd. (760) 940-1306
PHO BOWL & GRILL 1006 Mission Ave. Ste. C (760) 453-2999
ND BANH MI 4160 Oceanside Blvd Ste. 169 (760) 726-4650.
PHO HA 3905 Mission Ave (760) 754-5267
PHO HOUSE 3753 Mission Ave. (760) 754-9999
PHO OCEANSIDE 518 Oceanside Blvd. (760) 754-2828
YUMMY PHO 4225 Oceanside Blvd. (760) 631-1800
WINE BARS/WINERIES
BEACH HOUSE WINERY 1534 Sleeping Indian Road (760) 732-3236
BUNKER HOUSE CAFE 322 North Cleveland St. (760) 967-7727
COOMBER CRAFT WINES 611 Mission Ave. (760) 231-8022 coomberwines.com
GOLDEN COAST MEAD 4093 Oceanside Blvd Ste G. (760) 630-4468
HANGAR 76 3229 Roymar Rd.
ORFILA VINEYARDS & WINERY 221 N Cleveland Street (760) 755-7040
THE MILLER'S TABLE 514 S Coast Hwy. (442) 615-7200
THE PRIVATEER MARKETPLACE & WINE BAR 1704 South Coast Hwy. (760) 453-2254 privateer-marketplace.com
PUBLISHER Jamey Stone Stone@theosider.com (760) 533-1003
ADVERTISING DIRECTOR Nolan Woodrell nolan@theosider.com (949) 542-9653
ADVERTISING REP Kathleen Larson bepollinated@gmail.com (808) 780-6635
facebook.com/theosidermagazine
@
Follow TO ADVERTISE in The Osider contact: THEOSIDER.COM
theosidermag
DWAYNE CARTER
HERITAGESKTBDS.COM R.I.P. Rodney Johnson, Aaron Schmidt Check out our web store! @heritagesktbds HeritageSKTBDS 1019 S. Coast Highway 442-266-8002 Oceanside CA 92054 SKATEBOARDING & CULTURE
MAIL BOXES OF OCEANSIDE PACKING & SHIPPING CELEBRATING 40 YEARS OF SERVING THE COMMUNITY 603 Seagaze Dr. Oceanside, CA 92054 Phone: (760) 722-4226 | Fax: (760) 757-3128 mb@oside.sdcoxmail.com | mboside.com PRIVATE MAILBOX RENTAL WITH A PHYSICAL STREET ADDRESS AND 24 HOUR ACCESS Thank you for your support
FAST >> FORWARD to Yesterday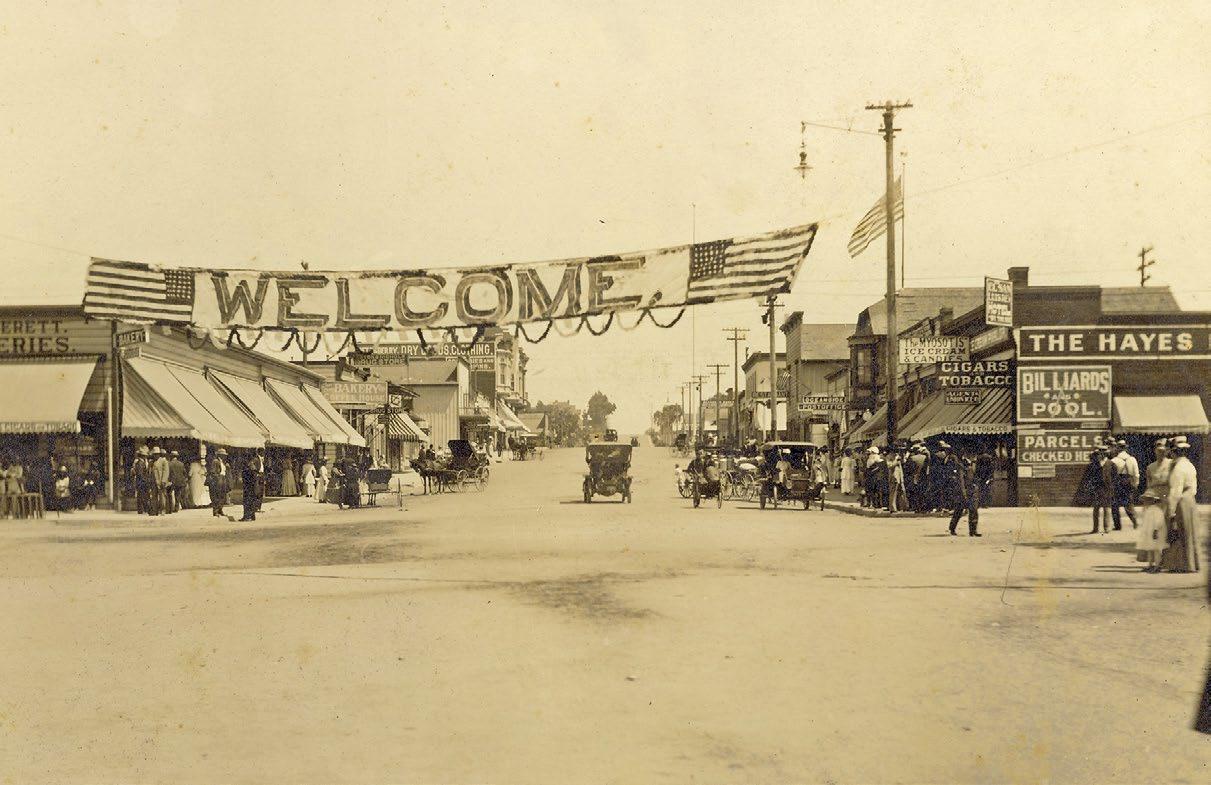 KEVIN MIJARES OCEANSIDE HISTORICAL SOCIETY 2023 1916
Avenue and Cleveland Street 70
Mission
shop organic produce, all natural meats, fresh seafood, deli sandwiches, juice and coffee bar, wellness and supplements and more! for weekly ads or to order online visit frazierfarmsmarket.com Set your table this summer with Frazier Farms! OCEANSIDE 1820 Oceanside Blvd. (760) 429-2092 LA MESA 8401 Fletcher Pkwy. (619) 309-4024 PROUD PARTNER OF PADRES RADIO NETWORK VISTA 225 Vista Village Dr. (760) 758-7175 FOLLOW US @FrazierFarmsMarket $10 off $50 or more Restrictions apply. This coupon excludes all alcoholic beverages. Cannot be used towards gift card purchases. Minimum $50 pretax purchase required. Cannot be combined with additional discounts. Limit one coupon per visit. One time use only. Must present this coupon to redeem. Cashier, scan barcode. Valid at all Frazier Farms locations through 6/30/2023.
Must be 18 or older to attend shows. Tickets and info at HarrahsSoCal.com. Entertainment subject to change or cancellation. Must be 21 or older to gamble and attend events. Know When To Stop Before You Start ®. Gambling Problem? Call 1-800-GAMBLER. Owned by the Rincon Band of Luiseño Indians. Managed by HCAL, LLC. ©2023, Caesars License Company, LLC. All rights reserved. Mohamed Ramadan and DJ Aseel 2023 Friday, May 5 Save Ferris Performing Poolside at Dive Friday, June 2 Gov't Mule Sunday, June 11 Tim Dillon Live Friday, June 16 Mike Epps Saturday, September 9 The Music of ABBA: Direct from Sweden Saturday, May 27 Sammy Johnson Performing Poolside at Dive Saturday, May 6 Josh Turner Long Black Train 20th Anniversary Tour Friday, August 18 Edén Munoz Consejos Gratis 2023 Tour Saturday, September 16