16 minute read
Kauai Builds Momentum
New projects mount across the Garden Isle
1Hotel Hanalei Bay, a sustainable-luxury renovation of the former Princeville Resort, is slated to start later this summer, according to general contractor Layton Construction Co.
"The project includes the creation of a new wellness center and a full renovation of the lobby, all 252 guest rooms and the pool area," says Will Summerhays, Layton's executive vice president. The multimillion-dollar project arrives as Kauai's building permits also show promise. According to Kauai Will Summerhays Mayor Derek S. K. Kawakami, Kauai building permits issued through the end of June are valued at $162.6 million, a nearly 39 percent gain over last year's six-month tally of $117 million.
Ryan Ouye, president of Service Mayor Kawakami Rentals and Supplies Inc., says that
(left): Members of the County of Kauai, state officials, Ahe Group, Layton Construction and Kai'wa Construction celebrate groundbreaking and blessing for Pua Loke Housing in May. PHOTO COURTESY LAYTON CONSTRUCTION CO.
while Kauai construction took a downturn from March through part of May, "ever since the county of Kauai started to open up, we are starting to see more projects move forward toward completion."
Strong Suit
Housing, typically strong on Kauai, is moving forward in fiscal year 2021 with four new projects.
The Kauai County Housing Agency is facilitating all of them, Kawakami says, and will be "partnering with Ahe Group on the Pua Loke Street Affordable Housing Project ($28 million)."
"We are starting to see more projects move forward toward completion." —Ryan Ouye
Layton Construction broke ground in May on Pua Loke's Lihue site. Plans call for 54 one-to-three-bedroom units in three four-story residential buildings adjoining a community center— all wood-framed with cement board siding. Layton will also provide parking and site work. When Pua Loke wraps in August next year, it will aim for LEED Platinum and "will be the first four-story wood-framed structure in Kauai," Summerhays says.
Pua Loke will provide onsite social services and recreational activities to residents at no cost, says Makani Maeva, president and CEO of Ahe Group, the project's developer.
"Pua Loke will be a bright, new, affordable family rental community in a previously underutilized site," Maeva says. "This project is unique because it will assist families transitioning from homelessness as well as those earning up to 100 Makani Maeva
Koa'e Makana Workforce Housing
Commercial • Resorts and Hotels • Healthcare Multi-Family and Residential Condominiums • Institutional Industrial • Tenant Improvements • Design-Build
OAHU: 98-724 Kuahao Pl • Pearl City, HI 96782-3113 • Ph: 808.487.2441 • Fax: 808.487.2445 KAUAI: 4011 Halau St • Lihue, Kauai, HI 96766-1415 • Ph: 808.245.3975 • Fax: 808.245.3977
www.shioihawaii.com
Lic# ABC-1 2379
Thanks for Letting us Serve You!
Call for more info: 808-245-7171
Trash Bin renTals
P. O. Box 662261 Lihue, HI 96766 • info@pccchawaii.com
Pacific Concrete Cutting & Coring, Inc.
89907 Pacific Concrete Cutting & Coring INC. Info Card.indd 1 & 10/16/14 4:10 PM
National Concrete Sawing LIC. NO ABC-24013
SAWCUTTING * CORE DRILLING * DEMOLITION * ABATEMENT * STRUCTURAL SCANNING
LOCATIONS ON KAUAI, OAHU, MAUI, AND BIG ISLAND Call 808-245-7171 OR email julie@pccchawaii.com for information
percent of the area median income." The project, says Summerhays, "has been a wonderful opportunity for Layton Construction to work on providing additional housing options to the local community."
Other FY21 County housing projects, Kawakami says, include breaking ground on Lima Ola Phase I infrastructure ($18 million—$20 million), identifying and completing pre-development work on a North Shore project ($9 million), and completing pre-development on a new multi-family project in Lihue ($200,000).
Kealaula on Pua Loke, a current Shioi Construction affordable housing project PHOTO COURTESY SHIOI CONSTRUCTION INC. Pua Loke's future residence buildings will be Kauai's first four-story wood-framed structures. RENDERING COURTESY AHE GROUP/DESIGN PARTNERS INC.
Shioi Construction Inc. is GC on Kealaula on Pua Loke, Ahe Group's affordable housing project across the street from the Layton site.
After breaking ground in March, Shioi is raising 12 structures—11 duplexes and one administration building—and is targeting a November wrap. "Specific scope includes slab-ongrade, post-and-pier, rough and finish carpentry, drywall and insulation, roofing, gravel sidewalks and concrete curbing," says Roy Y. Shioi, company president. JD Painting & Decorating is handling interior and exterior painting.
Shioi is also finishing up on $30.5 million Koa'e Workforce Housing, and as of August, Shioi says, the contractor is "replicating that 'Old Koloa Town' feeling" at brand-new Koloa Village, a $14.5 million project.
The project includes "shell building construction of one single-story and seven two-story buildings, wood frame with connecting upper walkways and two elevators and six restrooms,"
Best Concrete. Best Service. Best Price. We meet YOUR schedule. We adjust to YOUR needs.
KAUAI CONCRETE & ROCK
Phone: (808) 332-6677 Fax: (808) 332-7095 scottp@kauaiaggregates.com sarah@kauaiconcrete.llc
Shioi Construction is currently building Koloa Village, valued at $14.5 million. PHOTO COURTESY SHIOI CONSTRUCTION INC.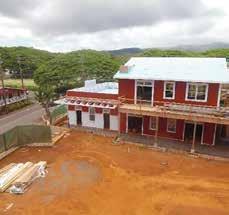 he says. "Four buildings have rooftop public access. One building will have 14 micro-units for lease to store owners. Upper walkways and lower areas at storefronts have ipe decking and interior courtyards, stamped concrete. Each building has a different design and paint colors, representing 'Old Koloa Town'." Shioi expects to wrap in January 2021.
Unlimited Construction Services Inc. is targeting a September wrap for
Waimea Huakai affordable housing, a current project by Unlimited Construction PHOTO COURTESY UNLIMITED CONSTRUCTION SERVICES INC.
Waimea Huakai, says Jason Thon, the firm's executive vice president. Ahe Group's $19.6 million affordable rental housing project features three two-story garden-style buildings containing 35 multi-family units, a community center, common laundry facilities and a management office.
Unlimited is slated to begin construction in January on Koloa Makai, another new Kauai residential development.
COMMITTED TO OUR CUSTOMERS
"Each building has a different design and paint colors, representing 'Old Koloa Town'." —Roy Y. Shioi
FREQUENT, AFFORDABLE INTER-ISLAND SHIPPING SERVICES
www.YoungBrothersHawaii.com
Hospital Rounds
Layton in June broke ground on the Wilcox Medical Center–Emergency Generator System Replacement for Hawaii Pacific Health in Lihue. The project, Summerhays says, "involves adding a second floor to house three new emergency generators, paralleling switchgear, automatic transfer switches and associated electrical equipment."
Kauai Island Utility Corporative (KIUC) transformers currently located on-grade on the north side of the central utility plant, he says, will be
Insurance Prep
"Builders Risk Insurance" and "installation floaters" are good basic property insurance policies for general contractors and subcontractors, says Daniel Gick, Atlas Insurance Agency assistant vice president, construction.
"Both general contractors and subcontractors typically also need insurance coverage for their Daniel Gick equipment and tools," he says. Also, coverage for specific damages— flood, for example—sometimes needs to be added.
In general, property insurance rates, including builders insurance, have been rising over the past two to three years, Gick says. "This is primarily the result of the large losses sustained across the Mainland a few years ago" due to Hurricane Katrina and other "catastrophic (CAT) perils."
CAT perils have also raised the level of deductibles. "For a $100 million project, when it's near completion, the deductible for a CAT peril loss can be as high as $2 million to $5 million," Gick says. "This creates a high financial burden on owners and general contractors for large projects."
Gick says builders can take steps to reduce losses from severe storm/CAT events. These include: • "Closing in" the structure as it goes up. This includes the walls and window openings, as well as the roof as it goes on. • Storing materials that are more susceptible to water damage, like drywall, off the ground and in enclosed spaces. • Planning a project "lay-down" yard that is easily accessible and minimizes risks to workers. • Writing a "Project Storm Preparation and Response Plan" with a checklist of steps that protect the project from an imminent storm.
Firms such as Atlas Insurance "can help Kauai builders, owners and contractors by clearly understanding a contractor's or project's relevant risks and communicating them appropriately to our clients and the insurance carriers we'll approach," Gick says.
"Our safety and loss control consultants will conduct project inspections and provide feedback to our clients. Atlas will also approach a broad array of carriers that are appropriate for a specific client or project. The more carriers we have competing for the business in question, the better probability of favorable coverage considerations and premium price."
KAUAI CRANE SERVICES
Oversize & Overweight Hauling Lift Heavy • Lift Far 175 Ton Krupp KMK 5175 80 Ton Krupp 70 GMT-AT 60 Ton Linkbelt HTC 1060 38 Ton Boom Truck 35 Ton Grove RT 65S 18 Ton Grove RT 56
For Info Call: (808) 639-7115
STRUCTURE MOVING AND LIFTING
State-wide Buildings, Containers, Industrial Equipment CRANE SERVICE – Kauai only 18, 35, 60, 175 Ton Cranes
GENERAL CONTRACTOR
Commercial, Agricultural, Light Industrial, Historical Restorations, Vernacular Residential
LODGING AVAILABLE IN WAIMEA, KAUAI
Contractor Friendly • www.westkauailodging.com
BC 20520
Big Island (808) 776-1868
Waimea, Kauai (808) 338-0021
removed and new KIUC transformers will be located across Kuene Road.
"Our project team is working on and within a fully functioning utility building," Summerhays says. "Constant coordination, planning and consideration will be necessary to mitigate impacts to hospital daily activities and utilities."
Layton expects to wrap next summer.
Shioi Construction is slated for a July start on a $1.6 million, 2,728-square-foot renovation to the Samuel Mahelona Memorial Hospital Psychiatric Unit's existing Behavioral Health Unit and Nurses' Station.
"Kauai is one of our islands that is the busiest right now." —Bobby Whitworth
"The scope of work includes abatement, demolition, removal and replacing finishes, fixtures and equipment with new," Shioi says. "Within the unit, finish hardware, toilet accessories, plumbing fixtures, electrical fixtures and equipment enclosures are required to be anti-ligature-approved. The wood-clad doors, wall coverings and flooring are manufactured to be tamper- and pick-resistant."
Shioi expects to wrap next May.
Community Centers
Nan Inc. has submitted the low bid—$18.5 million—on the Kauai Community Correctional Center— New Medium Security Housing project in Lihue.
Shioi expects to wrap in October on the $3.2 million Waimea Canyon Playcourt. Shioi is installing metal building flooring in a 14,000-squarefoot enclosure, which is fully fenced with basketball courts that transition to a volleyball court.
Unlimited plans to start construction this summer on the Wainiha Community Resilience Facility, Hanalei's new emergency response staging area with a reported value of $2.2 million.
Roads, Bridges and Wells "The one Engineering Division project on the Capital Improvement
Project that recently broke ground is the Improvements to Maluhia Road and Koloa Road project," Kawakami says. "The total construction cost is about $20 million."
Kawakami says the county's Island Wide Road Resurfacing project "is currently in progress and consists of reconstruction and resurfacing of 107 roads, or 25.02 miles."
Hawaiian Dredging Construction Co. Inc. is currently repairing two county bridges: the Kapaa Stream Bridge and the Opaekaa Bridge.
The new Kapaa Stream Bridge, an approximately $24 million Federal Highway Administration project, replaces the existing Kealia Stream Bridge with a new single-span precast girder bridge, and is scheduled for a December wrap.
The Opaekaa Bridge Repair/ Rehabilitation, an approximately $3.8 million Kauai County project, replaces the existing bridge with a new singlelane, single-span bridge using steel girders to support a concrete deck. Pieces of steel members were recycled and incorporated into new decorative
MAHALO HAWAII!
Shioi's Waimea Canyon Playcourt project, valued at $3.2 million PHOTO COURTESY SHIOI CONSTRUCTION INC.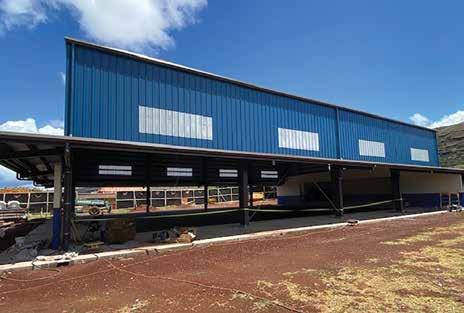 trusses to preserve some of the bridge's history. The project is scheduled for a September wrap.
In Koloa, Unlimited's improvements to area wells are proceeding apace, and provide "significant improvements to the Koloa Well 16 site, which consists
of three wells that support the current and future developments in the area," says Thon.
"Unlimited Construction replaced the deep well pump and motor in Well 16B that was out of service for over a decade. New discharge piping, along
SALES • RENTALS • PARTS • SERVICE
Hawthorne Cat has everything you need for your jobsite. Call us today for all of your construction and power systems equipment, rentals, parts, and service support needs to keep your business running.
Waipahu | 808.677.9111 Kauai | 808.245.4058 Maui | 808.667.3160 Hilo | 808.961.3437 Kona | 808.329.4521 Guam | 671.649.4228
www.hawthornecat.com
Local Support
As Kauai construction ramps up, leading local suppliers are expanding inventories and services.
Hawthorne Pacific Kauai Branch
Construction on Kauai's new Hawthorne Cat facility in Lihue has been completed, says Bobby Whitworth, the dealer's Hawaii general manager. "With our new facility, we'll have overhead crane capability. We'll also have a hydraulic bench to perform hydraulic cylinder work on-island." Previously, he says, hydraulic cylinders were sent to Oahu to be repaired or resealed. Kauai builders, Whitworth says, will enjoy "a lot quicker up-time due to the new facility."
Honsador Lumber-Lihue
"We are excited for 2020 as we are launching two services that will enable us to stay in better touch with our customers," says Bill Butner, Honsador Lumber–Lihue general manager. "Honsador now has a texting service that allows us yet one more way to communicate with our customers. You can either call or text our main line: (808) Bill Butner 246-2412. No need to keep multiple contacts in your phone.
"We have also launched a delivery confirmation system. This will give us real-time visibility to the location of our delivery fleet throughout the day. This will allow us to give more accurate ETAs on jobsite deliveries along with notifications sent by text when the load has arrived."
Butner says lumber is holding Honsador's steady spot in 2020 as its number-one category. Siding, siding trims, drywall and cabinets, and Honsador's "Island Homes Collection" packages are also "doing well. 2020 has been a breakout year for these house packages," he says.
HPM Building Supply Kauai (Kapaa, Lawai)
"Wood framing is our top seller on Kauai," says Joe McEvoy, HPM's Kauai regional manager. "As a lumber supplier, we pride ourselves on top quality lumber material and products that our customers can rely on and trust.
"Plywood siding is also very frequently used for Joe McEvoy homes here. One of our most popular products for residential projects is our T1-11 plywood siding. This plywood siding is an all-wood exterior-grade panel, which can be used in any number of home projects … (and) features a rough-sawn textured face for a beautiful rustic appearance."
McEvoy says HPM also carries full product lines for Kauai's busy residential market— "wire mesh, rebar, and our curation of concrete and cement products."
Currently, McEvoy says, "we
Hawthorne Cat's new Lihue facility features overhead crane capability and a hydraulic bench. PHOTO COURTESY HAWTHORNE CAT
encourage our customers to place phone orders for no-contact purchases to have their items be collected and brought out to their vehicle for them. As a result, our customers spend less time in our lumberyards and more time on the jobsite."
Service Rentals and Supplies Inc. (Lihue)
Ryan Ouye, Service Rentals president, says the "most popular equipment rentals on Kauai are our aerial and compaction equipment. We have been specialists in these types of equipment for over 25 years.
"Our company on a statewide scale has started to integrate more eco-friendly equipment into the market. We see a massive potential for battery-powered machinery in the lawn and garden industry due to the quiet nature of the equipment. We will be trying to expand our fleet with more machinery that focuses on renewable types of energy like solar.
"Our focus for the Kauai market is new types of light towers. We are particularly interested in LED models to replace our current fleet."
with several valves, was installed to discharge water from Well B, and a new control building was constructed. New motor control centers for wells and a disinfection system were installed in the control building for both Wells 16A and 16B."
Well 16B is now connected to the Department of Water's data system, Thon says. "This allows them to monitor and control the system remotely along with the other two wells in the same site."
Clearing the Decks
Julie Simonton, Pacific Concrete Cutting & Coring Inc. vice president, says Kauai hotels and commercial establishments "have been taking advantage of the reduction in tourism to perform improvements at their properties." PCCC, she says, is currently Julie Simonton
PCCC is supplying demolition and abatement services to many current Kauai projects. PHOTO COURTESY PACIFIC CONCRETE CUTTING & CORING INC.
As Kauai hospitality properties renovate, JD Painting is currently repainting the Grand Hyatt Kauai exterior. PHOTO COURTESY JD PAINTING & DECORATING INC. performing demolition and abatement services at many Kauai renovations, including working with Nova Group at Makaha Ridge on power plant and electrical distribution system upgrades, with Kawailoa Development at the Grand Hyatt Kauai on pool deck repairs, with W.W. Clyde on the demolition of Hanapepe Bridge, and demolition of the Young Brothers Building at Nawiliwili Harbor for the Department of Transportation.
"We are anticipating to start the 1 Hotel renovation project in early August," she says.
Positive Indicators
In the near future when Layton wraps on the 1 Hotel Hanalei Bay, Summerhays says, the new hotel will incorporate stunning outdoor spaces that "capture breathtaking ocean views and allow guests to breathe in the fresh air."
Right now, as Kauai construction keeps expanding, local builders are also breathBobby Whitworth ing a little easier. Bobby Whitworth, Hawthorne Cat's Hawaii general manager, says that for Hawthorne Cat, "Kauai is one of our islands that is the busiest right now."
Kauai construction through 2021, he says, is "very, very bright."
WE GOT YOU COVERED We got all your Equipment Rental and Sales needs:
CONCRETE (Mixers, Scanners, Finishers etc.) LIGHTING (Light Towers, Light Stands) GENERATORS (Portable to Towable) PUMPS (Trash, Submersible) WELDERS MACHINES (Arc, Mig) CHIPPERS HAMMERS (Rotory Hammer 35# to 70#) COMPACTION EQUIPMENT (Rammers, Plate Tampers) LAWN EQUIPMENT (Blowers, Mowers Trimmers etc.)
CAMERA SYSTEM
And much more...
Please contact our knowledgeable staff
THE LATEST IN BATTERY OPERATED EQUIPMENT
Cordless batterypowered rammers are ideal for indoor construction and renovation projects; poorly ventilated areas including trenches as well as sound-sensitive areas such as hospitals. The compact TuffTruk is ideal for interior demolition, environmental remediation, general construction, landscaping and utility work. The standard 10.6 ft³ capacity polyeth- ylene tub is 34 in. wide and passes through 36-inch openings. The world's only batteryoperated, cordless vibratory plate for completely emissions-free operation. With a battery run time that is sufficient for a full working day, these plates are an excellent choice for new commercial interior or renovation projects.
Wacker Neuson dual power is the innovative solution for an emission-free auxiliary drive. In addition to the integrated diesel engine, the electro-hydraulic unit HPU8 can be connected to the 803 compact excavator if necessary. The excavator can be operated electrically and emission-free if necessary.
5 BRANCHES TO SERVE YOU BETTER! KAHULUI • KAILUA-KONA • KAUAI • LAHAINA • OAHU