RECONNECTING WITH OUR GLOBAL AUDIENCE ANNUAL REVIEW 2021-2022
CONTENTS
This summary of STEP's work covers the period 1 November 2021 to 31 October 2022. Financial information covers the period 1 April 2021 to 31 March 2022.
To see our full annual accounts, please visit https://www.step.org/what-we-do/step-annual-report
page 2/14
WELCOME FROM THE CHAIR
As I write this foreword, I am fast approaching the end of my time as worldwide Chair of STEP.
In January, I will pass on the baton.
It has been an absolute privilege and honour to serve as STEP's Chair for the past two years. The time has gone quickly and so much has been achieved. I took on the role in January 2021, when much of the world was still largely in lockdown due to the pandemic. I remember thinking at the beginning of 2020 that things would be back to 'normal' within a few months and certainly by the end of that year.
While many of our members started to get back on track over the course of that year, disruption continued for many of us. It was not until October 2021 that I was finally able to attend an in-person STEP Board meeting with most of the Board, and the beginning of 2022 that we finally managed to get back to in-person conferences. It has been wonderful over this past year to have the opportunity to travel again. The
benefits of catching up in person really cannot be overstated!
This past year has seen some great progress in several areas, which you will see for yourself as you read through this publication. I thought I would share my 'top picks'.
COMING TOGETHER AT STEP GLOBAL CONGRESS
After two years of postponement, it was with great excitement that I travelled to London in July to attend STEP's flagship thought leadership event. I joined over 350 delegates from 47 countries to hear leading practitioners speaking on the overarching issues impacting our industries and professions. Over the course of the two days, I reconnected with
old friends and made new ones; attended a range of thought-provoking sessions and experienced the exquisite Wallace Collection. A wonderful return to 'normal'.
LAYING THE FOUNDATIONS FOR EQUALITY, DIVERSITY AND INCLUSION
In January, we set out STEP's commitment to equality, diversity and inclusion (EDI), publishing our Guiding Principles. This was the first step in an important journey to ensure that all our people – members, volunteers and staff – regardless of background or personal circumstance, feel valued and included.
EDI goes to the heart of STEP's values of community, collaboration, integrity and continuous learning. I am proud to have led the organisation as we embark on
'It has been wonderful over this past year to have the opportunity to travel again. The benefits of catching up in person really cannot be overstated!'
contents page 3/14
Continued...
WELCOME FROM THE CHAIR
this journey. I look forward to the benefits that focusing on this area will bring in the future. Members of our Council EDI Working Group, led by Assad Abdullatiff TEP, talk about why this is so important to them on page 12. This group is the driving force behind this work, and I thank them for their continued commitment.
BUILDING OUR PROFILE AND MAKING A DIFFERENCE
The past year has seen us progress our 'thought leadership' work. This is all about building our profile and demonstrating our capability and credibility. In doing so, we create awareness of and demand for our members' expertise.
You will probably have seen some of the outputs of this – thousands of people have downloaded our reports and registered for associated events. We have also launched a public campaign to raise awareness
about planning for what happens to a person's digital assets after they are gone.
The 'digital memories' video has been viewed by hundreds of thousands of people globally, we have had tens of thousands of visits to the campaign website and we have had media coverage in multiple countries. The campaign has helped us meet with social media companies to explore working with them to improve their legacy settings. A huge success with more to come.
HARNESSING THE POWER OF VOLUNTEERS
I am so proud of our Power of Volunteers initiative, which we launched this year to help us understand the contributions made by our volunteers around the world on local and national STEP boards. Through a series of workshops we are finding out more about our volunteers and their roles, what they think about STEP
and its future and their role in it. We thank everyone for taking part and sharing in the workshops. This initiative will continue next year and is critical to informing the STEP of the future.
There is so much more – but I'll let you read on to find out about the rest.
All that is left is to say is thank you: to my colleagues on STEP's Board and Council, and across all our committees and branches who give so much to make STEP such a vibrant community; to STEP's executive team, led by Mark Walley as our intrepid CEO, and staff in Head Office and across the world who work so hard to deliver for our members; and to our 21,000 members who make this unique organisation so special. I look forward with huge optimism to what the next few years will bring.
page 4/14 contents
NancyLGoldingKCTEP
'EDI goes to the heart of STEP's values of community, collaboration, integrity and continuous learning.'
CEO REPORT: MARK WALLEY
What a year it has been. In and out of lockdown, snatching face-to-face meetings and seeing the good intentions of having all our Board and Council together frustrated by travel restrictions or people isolating. And then the pure joy of all being in the same room. We got through it together and continue to thrive as an organisation. STEP people are committed, resourceful and resilient.
When I was asked last year what I hoped to be reporting this time round, one of those hopes was reliant on the restrictions of COVID-19 having been eased. I wanted to be able to see more STEP people (members, volunteers and staff) face to face.
Thankfully, that has been possible. While we made good use of technology during the pandemic to stay connected, the energy of being in the same room with 100 or more delegates at a STEP conference cannot be replicated online. And this is important. Connection, networking and coming together to share knowledge are at the very heart of why STEP exists.
Diploma. We did so in July at STEP's Global Congress in London. The new modular approach allows each candidate much greater scope to tailor topics to their needs. That is a big leap forward.
100 new members. More and more people are seeing the value and importance of what we do and want to be part of it.
I had also said that I wanted to be able to report that we had re-launched the STEP
Education remains our number one priority. It is closely followed by our thought leadership work, which is really starting to pay off. It demonstrates our deep knowledge and builds credibility with our stakeholders.
Thousands of practitioners have attended our thought leadership webinars and downloaded our research reports and publications. These activities have also directly resulted in more than 1,000 membership enquiries and more than
Despite the lingering restrictions of the pandemic, we have continued to maintain our membership numbers. We now have our China branch and local committee in place, and a dedicated Chinese education partner delivering the STEP Diploma in the region. Income has also rebounded as sponsors have supported in-person events across the globe. The lessons of the pandemic have been taken and applied to new ways of working and delivering events.
Continued...
'The energy of being in the same room with 100 or more delegates at a STEP conference cannot be replicated online. And this is important. Connection, networking and coming together to share knowledge are at the very heart of why STEP exists.'
contents page 5/14
CEO REPORT: MARK WALLEY
We've also seen some successes within our staff Head Office team: we were particularly proud to be accredited as a Best Companies 'One to Watch' organisation, and recognised as one of the UK's 'Best Companies to Work For' following our staff engagement survey earlier this year. STEP made the Top 50 London Small Companies and Not-forProfit Bodies for 2022.
Our thought leadership work will focus on digital assets and mental capacity during the year ahead. These topics have global reach and we have exciting plans for them.
to all and builds knowledge within the profession. The CPD audit will help us identify opportunities, themes and topics.
We will also focus on what STEP's operating model might look like. How can volunteers, branches, regions and the Head Office team best deliver what members want and need in a post-pandemic world? How we work has been challenged in almost every conceivable way during the pandemic. We are mobilising a huge consultation on this through our 'Power of Volunteers' workstream, which is being sponsored directly by our Chair, Nancy Golding.
THIS TIME NEXT YEAR?
An even better STEP. While our latest member survey results continue to show that STEP is a healthy and thriving organisation, it would be too easy to sit back and be satisfied with the high overall scores. We are conscious that the survey has highlighted a few areas (whether by geography or other demographic) where we can be doing better. By this time next year, we will understand what makes this the case and will have started to address the issues.
As part of our education priority, we want to ensure that our CPD offer is accessible
We will also have made significant progress in improving our inclusiveness as part of our commitment to our EDI principles. We will see the difference in our committee make up, conference speakers, contributors to our publications and in governance processes.
'More and more people are seeing the value and importance of what we do and want to be part of it.'
page 6/14 contents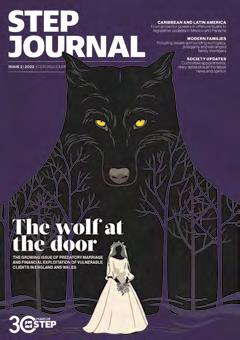 EDUCATION AND PROFESSIONAL DEVELOPMENT CPD: TECHNICAL AND NEWS RESOURCES STEP's qualifications and CPD resources will become the global benchmark for the industry Launched STEP Diploma in China with PUYI Education PEOPLE TOOK A STEP QUALIFICATION INDUSTRY NEWS 265,000 pageviews LAUNCHED OUR MORE FLEXIBLE STEP DIPLOMA DELIVERING OUR STRATEGY 192,000 pageviews BRANCH CPD EVENTS* 270 *just those added to step.org EXCELLENCE AWARDS WINNERS 10 ISSUES 203 ARTICLES STEP will be a world-leading authority on chosen topics with our expertise recognised and sought by policymakers, regulators, the media and other key stakeholders PRODUCED TWO NEW PUBLICATIONS LAUNCHED TWO ONLINE HUBS FOR PRACTITIONERS 1.8m SOCIAL MEDIA REACH 62k POST CLICKS 20 MEDIA MENTIONS #DigitalMemories PUBLIC CAMPAIGN LAUNCHED 19k pageviews of 2,506 new members as a direct result of thought leadership reports and webinars PEOPLE ATTENDED THREE THOUGHT LEADERSHIP WEBINARS PIECES OF MEDIA COVERAGE 50 STAKEHOLDER MEETINGS 57 WITH: COP | FATF | GTAP | HMCTS | HMRC | MOJ | NCA | OPG | OTS SOCIAL MEDIA FOLLOWERS (+18%) DELIVERING OUR STRATEGY THOUGHT LEADERSHIP, POLICY AND PROFILE
page 9/14 contents GLOBAL SPECIAL INTEREST GROUP MEMBERSHIP INCREASED BY 5% TO 19,173 841 NEW TEPS 93% MEMBERSHIP RENEWAL RATE 1,947 NEW MEMBERS IN THE LAST 12 MONTHS 21,022 TOTAL MEMBERSHIP We will strengthen our position in core markets and enter new jurisdictions that represent the greatest opportunities for STEP to add value and grow as at 31 October 2022 98 503 39 accredited offices in Employer Partner organisations across countries 2,813 MEMBERS CURRENTLY STUDYING A STEP CERTIFICATE TOTAL NUMBER OF MEMBERS CURRENTLY TAKING THE ESSAY ROUTE DELIVERING OUR STRATEGY MARKETS AND SECTORS STEP will diversify and grow its profitable revenue outside of subscriptions income DIVERSIFICATION OF INCOME EVENTS REGISTRATIONS FOR EVENTS Swiss & Liechtenstein STEP Federation Alpine Conference 302 delegates STEP LATAM Conference Sold out at 354 delegates STEP Miami Summit Sold out at 370 delegates 347 delegates from over 40 countries STEP Global Congress SPONSORSHIP REVENUE UP 139% year-on-year Testamentary Capacity course pilot DELIVERING OUR STRATEGY IN ONE DAY SOLD OUT A RECORD 337 Private Client Awards entries received from 27 countries
page 11/14 contents 91% 74% 84% 75% 75% Setting and upholding high professional standards Informing public policy Promoting education Connecting practitioners globally Inspiring confidence in families HOW WELL ARE WE DELIVERING ON OUR MISSION? GOOD/EXCELLENT GOOD/EXCELLENT GOOD/EXCELLENT GOOD/EXCELLENT GOOD/EXCELLENT HIGHLIGHTS INCLUDE: 92% of members say that keeping up to date with industry developments is the most important aspect of their membership subscription 84% rated STEP membership value as good or excellent 44% of 142 non-members who completed the survey said they wanted to join STEP 1,307 members and non-members took part in the 2022 'Your Opinion Matters' survey. This represents a 95% confidence level as a reflection of member views. +47 NET PROMOTER SCORE How likely are STEP members to recommend us to a friend or colleague? 2022 SURVEY HIGHLIGHTS
LIVING OUR VALUES
and
What are the benefits to STEP in embracing EDI?
As STEP has become a truly global organisation, embracing EDI is vital in ensuring fair representation across our membership.
Why is EDI important to you?
Embracing EDI not only helps firms to reflect their client base in their advisors, it also fosters increased collaboration and prevents groupthink.
What are the benefits to STEP in embracing EDI?
STEP represents leadership in our industry.
Like any good leader, it must set the tone when it comes to matters of equality, diversity and inclusion. We cannot be complacent when it comes to fostering diversity of thought and encouraging inclusion, participation and engagement of individuals who represent the broad constituency we service.
Why is EDI important to you?
EDI is important to me because the best ideas are rarely generated in an echochamber of homogeneity.
What are the benefits to STEP in embracing EDI?
STEP is already a very diverse organisation with 21,000 members in 96 countries. By embracing EDI principles, we want all our members and staff to feel that regardless of background or personal circumstance, they are recognised, respected, valued, promoted and celebrated. It will also help to combat negative stereotypes or unconscious biases and enable STEP to benefit from the broadest range of perspectives, widen its pool of talents and enhance its reputation.
Why is EDI important to you?
As a member of an ethnic minority myself, I am very mindful of the impact that prejudice and discrimination may have on an individual's professional development. Therefore, I strongly believe in a process that ensures fair treatment and opportunity for all. I don't think that there must be any justification around EDI – it is just the right, human thing to do as we are all equal.
page 12/14 contents
James von Simson TEP, UK
Equality, diversity
inclusion: thoughts from Council members involved in STEP's EDI Working Group
Assad Abdullatiff TEP, Mauritius
Leanne Kaufmann TEP, Canada
page 13/14 contents Subscriptions Course and Lecture Sponsorship Exam Fees Other Head Office Course and Lecture Professional Fees Website and IT Advertising and Marketing Exam Fees Branch Administration Other 17.8% 13.2% INCOME GENERATION 2021/22 TOTAL INCOME £9,053,342 TOTAL EXPENDITURE £8,527,028 EXPENSE ALLOCATION 2021/22 Increased total income by Increased total operating expenses by As in-person events have started to return, we have seen an increase in both conference and sponsorship income. Conference income increased by GBP566k (12.5%) and sponsorship income increased by GBP325k (15.3%). The return of in-person events has also resulted in costs increasing by GBP465k (9.5%). OUR FINANCES Finances from 1 April 2021 to 31 March 2022
ABOUT STEP
STEP is a global professional body, comprising lawyers, accountants, trustees and other practitioners that help families plan for their futures.
Our mission is to inspire confidence in families planning their assets across generations by setting and upholding high professional standards, informing public policy, promoting education, and connecting practitioners globally to share knowledge and best practice.
Full STEP members, known as TEPs, are internationally recognised as experts in their field, with proven qualifications and experience.
STEP
Artillery House, 11-19 Artillery Row, London, SW1P 1RT, United Kingdom
Telephone: +44 (0) 203 752 3700
Email: step@step.org
A company limited by guarantee and incorporated in England and Wales under the Companies Act 1985. Registered number 2632423. Registered Office: Artillery House, 11-19 Artillery Row, London, SW1P 1RT United Kingdom
contents page 14/14
© STEP 2022