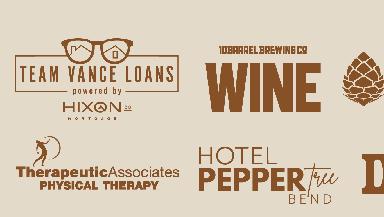 2023 LITTLE WOODY FESTIVAL 1 - A PORTION OF THE PROCEEDS TO BENEFIT DESCHUTES HISTORICAL MUSEUMBA R R E L - A G ED
SEPTEMBER1-2 2023 FEST I VAL THELITTLEWOODY.COM
BEER, CIDER & WHISKEY
2023 LITTLE WOODY FESTIVAL 2 721 D es p e ra do Ct Si s t e r s , O R |541.549.1963 | t h reec reeksb rewi n g co m BEST BAR / PUB: S I STE RS
WINNER
HOMEG
Friday September 1 st 5-10 pm
Saturday September 2 nd 12-10 pm
The Little Woody Barrel-Aged Beer, Cider & Whiskey Festival
celebrates craft barrel-aged beer, cider and whiskey from across the Northwest. The Little Woody takes place on the lawn of the Deschutes Historical Museum at 129 Northwest Idaho Ave. in downtown Bend, Oregon.
To commemorate one of Central Oregon's hallmarks—craft beer—and lend a nod to the historic techniques used by brewers with oaken casks, The Little Woody features small-batch beers aged in wood barrels by top Northwest breweries.
The 2023 Little Woody will also feature a tasting of small-batch American rye whiskeys and bourbons from regional favorites, live music and local food vendors.
Join us at the Bend Beer Run!
In addition to your four Beer Run beer stops along the route – your Beer Run registration now includes free entry into The Little Woody festival. Sip your beer while listening to live music, play some games or stay and enjoy some barrel-aged brews.
$20 $25 $30 $40
The Gnomaste Includes tasting glass and entry into festival with no tokens.
The Gnomie Homie Includes tasting glass and 8 tokens. $30 at the gate.
Go Big or Go Gnome Includes tasting glass and 12 tokens. $35 at the gate.
VIP / The Big Woody Includes tasting glass, 10 tokens and Little Woody t-shirt. Early access to the event on Friday night $45 at the gate.
Additional drink tokens can be purchased at the event for $1. Samples range from 2-6 tokens.
for tickets and more information
2023 LITTLE WOODY FESTIVAL 3
PRICING
VIP ADMISSION BEGINS AT 4PM ON FRIDAY
SCAN HERE
BENDTICKET.COM