169 OAKES DRIVE MINEOLA
169 OAKES DRIVE MINEOLA
A Modern Masterpiece Awaits
Welcome to a magnificently renovated modern masterpiece home with a spectacular open concept layout and 4,302 sqft. of total living space in the heart of prestigious Mineola East on one of its best streets. This property has been exquisitely designed in 2022 with sensational touches throughout. It is rare to see the kind of attention to detail and elegant opulence exuded in every space as you walk through renovations that are uncompromising.
Customized for luxury and leisure living, this home is nestled in a lovely, family friendly neighbourhood surrounded by majestic mature trees, perennial gardens, and other multimillion dollar properties. It is close to top schools, The Mississauga Golf and Country Club, Port Credit Village, Sherway Gardens, parks, and just a few minutes' drive to the lake; after all, true luxury encompasses both the location and its surroundings.
We begin on the manicured front grounds with a 4-vehicle driveway and interlock stone driveway leading to a beautiful composite wood covered porch with a hanging swing and ambient pot lighting. Enter through a lovely 3-bolt solid wood front door onto a foyer with a custom built-in bench in between 2 closets complemented by a shiplap feature wall.
One of the first exceptional spaces is the dining room with its striking floor to ceiling porcelain tile feature wall and built-in electric fireplace. The stylish black grid modern farmhouse picture windows allow guests to enjoy the front yard and porch.
Open to the living room, kitchen, breakfast area, as well as the riser staircase, the rest of the main level's space boasts a remarkable stylish look with a contemporary design complemented by gorgeous wide plank engineered naked white oak hardwood floors. The sprawling interiors, as well as the rest of this home, are designed to be sunlit sanctuaries emanating with natural light from expansive windows.
Some of the spacious 5 bedrooms and 4 baths include custom accent walls with the primary conveniently located on the main level featuring a 5-piece ensuite.
For your culinary realm, the chef's kitchen offers several high-end appliances, stunning full height custom cabinetry, and a cozy coffee nook.
There are few properties built combining the various aspects of luxury living with the cutting edge customization of this home.
169 OAKES DRIVE // MINEOLA
8
169 OAKES DRIVE // MINEOLA 9
10
169 OAKES DRIVE // MINEOLA 11
Distinguished Living
From the exceptional wide plank engineered naked white oak hardwood floors on the main and upper level, to the expansive venting skylights, these features were created to leave a lasting impression.
Together with the marvelous black grid modern farmhouse windows and dazzling feature walls throughout, your guests will be treated to lavish comfort, accentuated by opulent design brushstrokes.
169 OAKES DRIVE // MINEOLA 13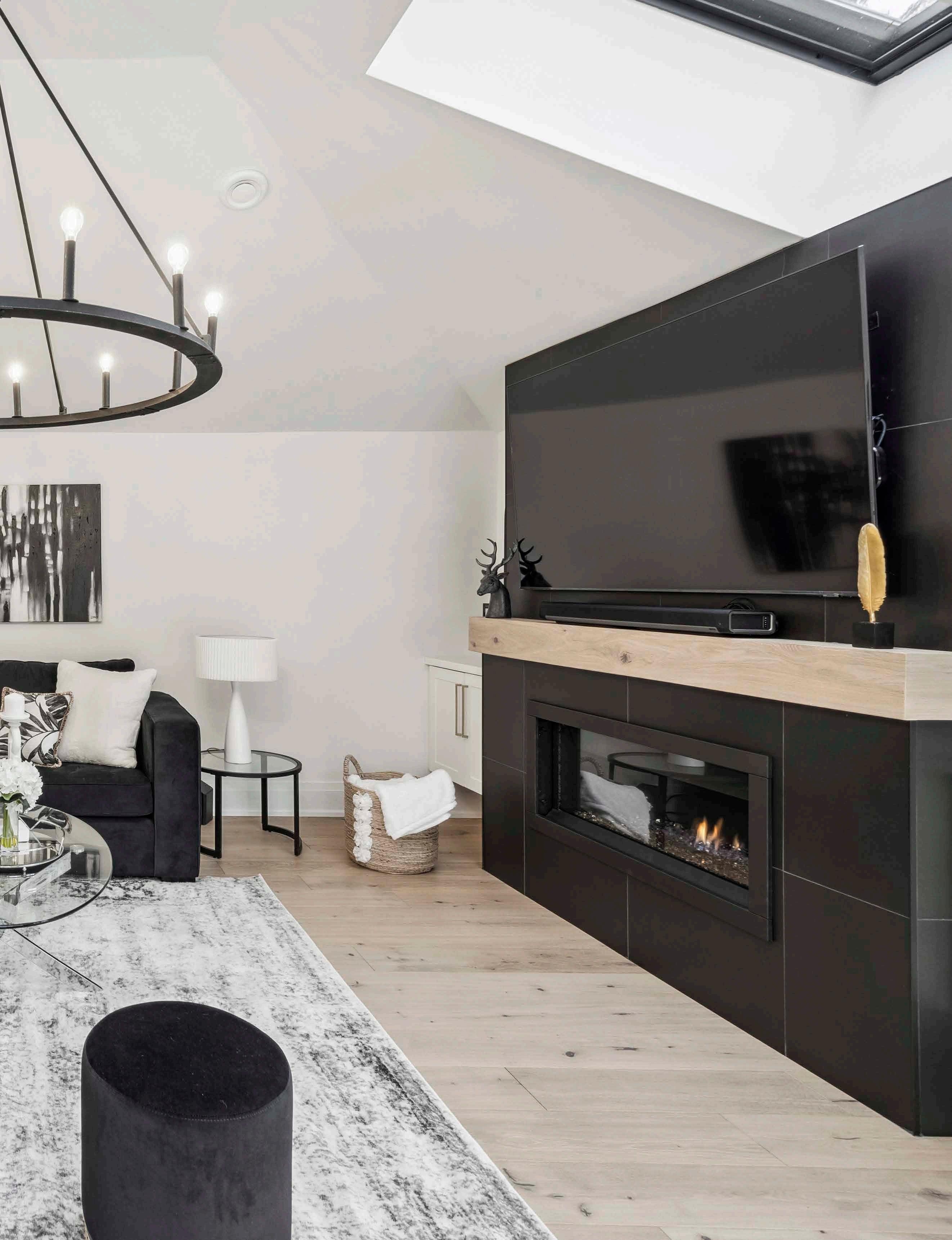 17
18
169 OAKES DRIVE // MINEOLA 19
Culinary Delights
Details and size matter when you are taking care of your family's daily meals. The resplendent and vast contemporary kitchen is a work of art with its bright, full-height soft closing shaker style deep set cabinetry and built-in luxury appliances elegantly contrasting against the dark coloured centre island and second built-in dining breakfast table with barstool seating.
This phenomenal space overlooks the front and backyard and includes a black grid modern farmhouse double sliding door walk-out to the backyard patio. With all these features at your disposal, you are ensured to have the ultimate gathering place for cooking and hosting in style.
20
169 OAKES DRIVE // MINEOLA
A Masterful Realm
Your rest sanctum has been exceptionally designed with a fabulous millwork accent wall complemented by a chandelier and 2 pendant low hanging light fixtures. The expansive windows overlook the side yard and fill the room with natural light. Indeed, your sumptuous haven after a long day.
24
169 OAKES DRIVE // MINEOLA
Spa Splendour
Pamper yourself in a 5-piece ensuite featuring a porcelain tile feature wall surround, porcelain tile floors, a built-in double sink vanity with lower push latch drawers, a walk-in glass shower, and a freestanding deep soaker bathtub.
169 OAKES DRIVE // MINEOLA
30
169 OAKES DRIVE // MINEOLA 31
Exceptional Spaces
Living Well
The lower level offers a fantastic opportunity for entertainment featuring a rec room with wide plank vinyl floors, floor to ceiling shiplap feature wall with a built-in electric fireplace, and above grade windows. In addition, there is a splendid 4-piece bath with porcelain floors, walk-in shower, and infrared sauna.
169 OAKES DRIVE // MINEOLA
Backyard Oasis
The professionally landscaped backyard features a delightful stone patio surround and an inground acid-wash concrete saltwater pool with a stone waterfall and a custom built-in hot tub area. Also, there is exterior sconce lighting adorning the property, a gas line hook up for a future outdoor kitchen, and a double entry shed with built-in shelving.
This is a home that was renovated to provide your loved ones with the state of the art luxury and convenience you deserve.
38
40
169 OAKES DRIVE // MINEOLA 41
44
169 OAKES DRIVE // MINEOLA 45
1267 MISSISSAUGA ROAD // MISSISSAUGA 47
48
Sales
647
peterphilip@ppreteam.com ppreteam.com
Peter Philip Papousek
Representative
891 2489