SERVICE AT A HIGHER LEVEL
othemostrewardingresults andexperiencepossible.
OUR VALUES
Integrityisimportant
Commitmentisimportant
Competence,Patience,and Professionalism areimportant
Charityisimportant
Faithisimportant
Peopleareimportant
"I'm ahappytravelerwhoispassionateaboutGod,familyandserving otherswell.Ilovegoodfood,goodwine,greatfriends,awarm fireand ajobwelldone.Onewordtosummarize:grateful."
As part of the innovative foundation of The Milam Group, we strive to achieve a level of service that surpasses the traditionally accepted standard in real estate.
As your real estate agent and consultant, we promise to:
Listen and hear your needs
Inform you, guide you and advocate for your best interest
Help position you for success
Provide sincere, professional and confidential representation
Be honest, fair, ethical and timely
Provide up-to-date information on market trends and housing values
Ensure you understand the process and the steps involved in pricing, marketing and negotiations
Provide on-going consultation on risk reduction and protection
Manage and reduce any turbulence that can occur throughout the transaction
Reduce stress and facilitate understanding
Coordinate all aspects of closing on your behalf
Keep the burden of each task offyou
Communicate with you through every step of the process
Provide References to Preferred Home Service Providers
Provide a supportive, efficient and effectiveTEAM of professionals
Our Transaction Coordinator will:
Provides all parties electronic copies of contract, addenda and amendments
Provides our client with an at-a-glance summation of contract highlights
Sends Lender and Title Company copies of contract
Manages client's file and keeps everyone on track with contractual deadlines
Checks in with Lender weekly regarding progress, appraisal and closing disclosure
Sets all appointments for inspections and contractors
Available to answer questions regarding paperwork and procedure
Coordinates final walk through and closing
Stays one-step ahead of the process to clear the way for a smooth transaction
THE MILAM GROUP AT FRIDRICH & CLARK REALTY, LLC ••• 0 615.263.4800 D 615.414.9069 THEMILAMGROUP.COM
Groupourbusinessvisionistoprovideourclientsthevery best--theverybestclientservicesandtheverybestresults.
AtTheMilam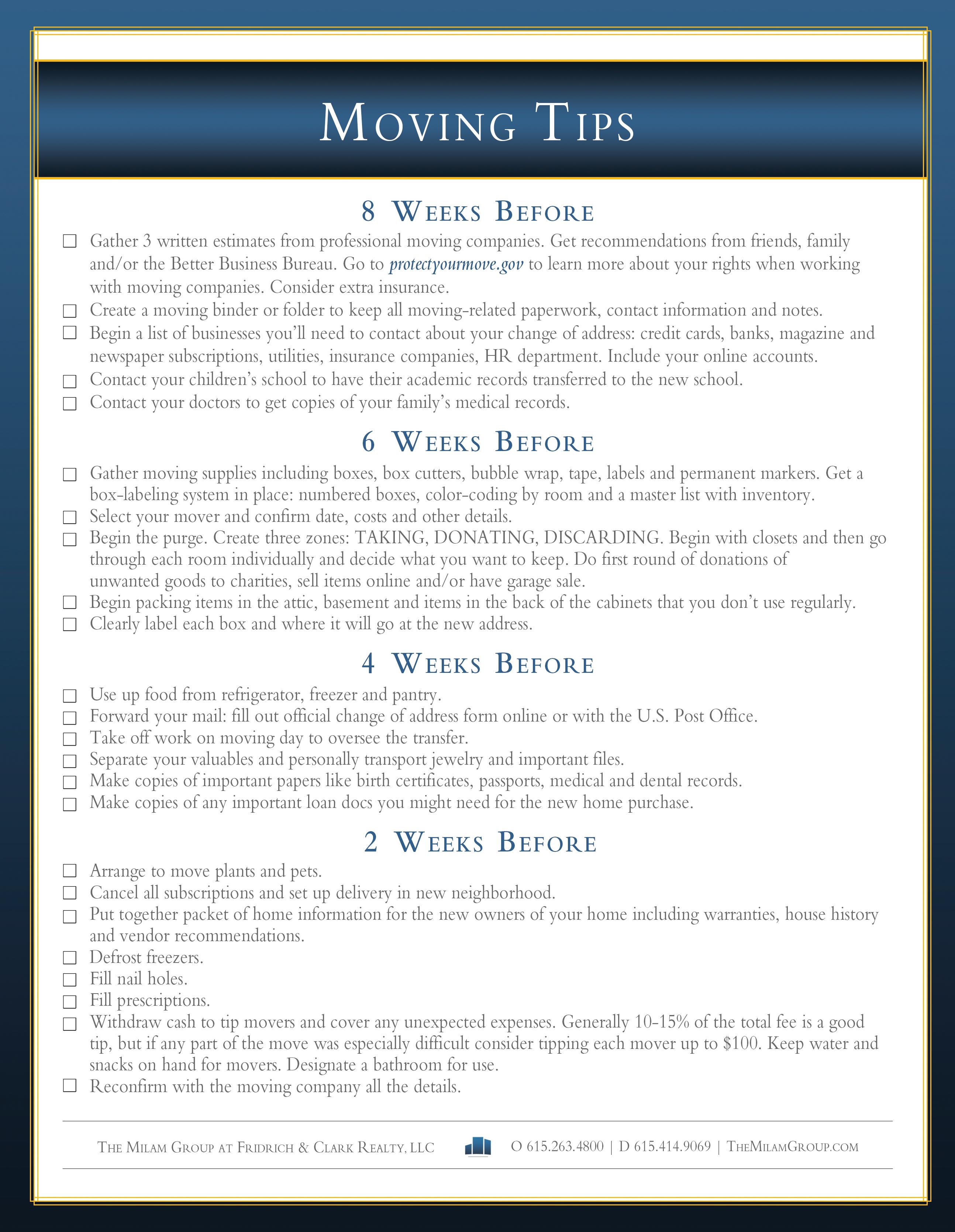 "The Milam Group are outstanding communicators and have established a great system. I never felt as if I was without an answer. They helped me navigate 3 major and highly successful transactions. Based upon this proven track record, I would never consider using anyone else for my real estate needs. They are professional, timely, and honest and have found great opportunities for me despite a competitive market. This is an A++ group!"
- Whitney
"Donnel was professional and approachable from the first moment we met. When we found the right home, her guidance and advice saved the day on winning the bid. As first-time home buyers, she never tired of answering our questions throughout the entire process, and walked us through each step with our best interest at heart. We are very pleased with The Milam Group and could not have asked for a better team."
- Anna
"Donnel was extremely helpful throughout our entire home search. Even when we had to take an unexpected break in the middle of the process, she was patient, encouraging, and it always felt like she had our back. Her husband Bob also stepped in on occassion, and was also a pleasure to work with. Would highly the Milams for anyone in the Nashville area."
- Emmons
"We came to Nashville having never even visited the city. Nancy talked with us ahead of the visit, developed a plan and narrowed the scope until we had our perfect home. Nancy guided us well in the negotiations and empowered us during the process. Finally she had every type of provider for any need. All of this was accomplished during the pandemic with huge restrictions."
- Aaron
"Donnel and her group make an amazing team. They were always on top of communicating with us by phone, e-mail and text. The use of technology really helped as we were out of state and had a limited amount of time to complete the transaction. Awesome work! You have set a new record high for Realtors. 10+!"
-Ruth
"My family has had an outstanding experience working with Bob and his team this past year. Not only are they experienced professionals in real estate but they are extremely knowledgeable, kind, resourceful and just plain terrific to be around. Throughout the entire process of meeting & working with him, I always felt we were with the best agent in the area. Whenever I mentioned our agent to anyone, every single person who knew him (and most did) talked about what a great person he is and what a great company he has. It's all true."
GreenHillsOffice 3825BedfordAvenue,Suite102 Nashville,TN 37215 615-327-4800 BrentwoodOffice 5200MarylandWay,Suite101 Brentwood,TN 37027 615-263-4800