4 minute read
Tenacity. Grit. Determination. Success
Policy & Pride
Laura Spaulding's path to success was one that would have defeated many. But for her, the obstacles in her way fueled her drive and fire to become successful on her terms.
"My experiences definitely pushed me to become self-employed," Spaulding said. "Before I started my business, I had to lie and hide to feed my family."
Spaulding's story is all too common in the LGBTQ community. What's not common, is Spaulding's drive and unwillingness to accept that she could not have the life she wanted because of bigotry or discrimination.
"Until your rights have been voted on, you are privileged," Spaulding explained. "I love that I have created a safe space in business for a diverse group of people.
Spaulding's story is harrowing. She was kicked out of her home at 17 when she came out as lesbian and has not spoken with her family since. She moved in with a friend to finish high school and then enlisted in the military. It wasn't long before the "don't ask, don't tell" military went on a mission to out Spaulding and two others and forced them out of the military.
"They asked, we didn't tell, and they went on a witch hunt to get us out," she reported. "One month I was given an award and the next, I was stripped of all accomplishments and discharged. They literally took the clothes off our backs and put us out. One of the women who was discharged later died by suicide. The military was her life. That discharge was the cause of her death."
Adding insult to injury, because of the discharge papers, finding employment was nearly impossible.
"The military had stamped 'homosexual' on the discharge papers, and no one would hire me," Spaulding said. "I had to petition to have the papers changed so that I couldwork. I wish I had saved that now – it's historic."
After spending some time in Michigan with a friend, Spaulding threw a dart at a map and landed in Knoxville, Tennessee. She enrolled in the University of Tennessee at Knoxville, worked a restaurant job, but faced housing discrimination in the process of getting settled.
"We couldn't rent a one-bedroom apartment," she recalled. "They would not rent to a same-sex couple. They wouldn't even rent us a two-bedroom – same reason. At that point, I had it. I was in awe. I just couldn't believe it. I had it out with the woman at that point. The South is not a friendly place to live."
"I had to lie and hide to feed my family."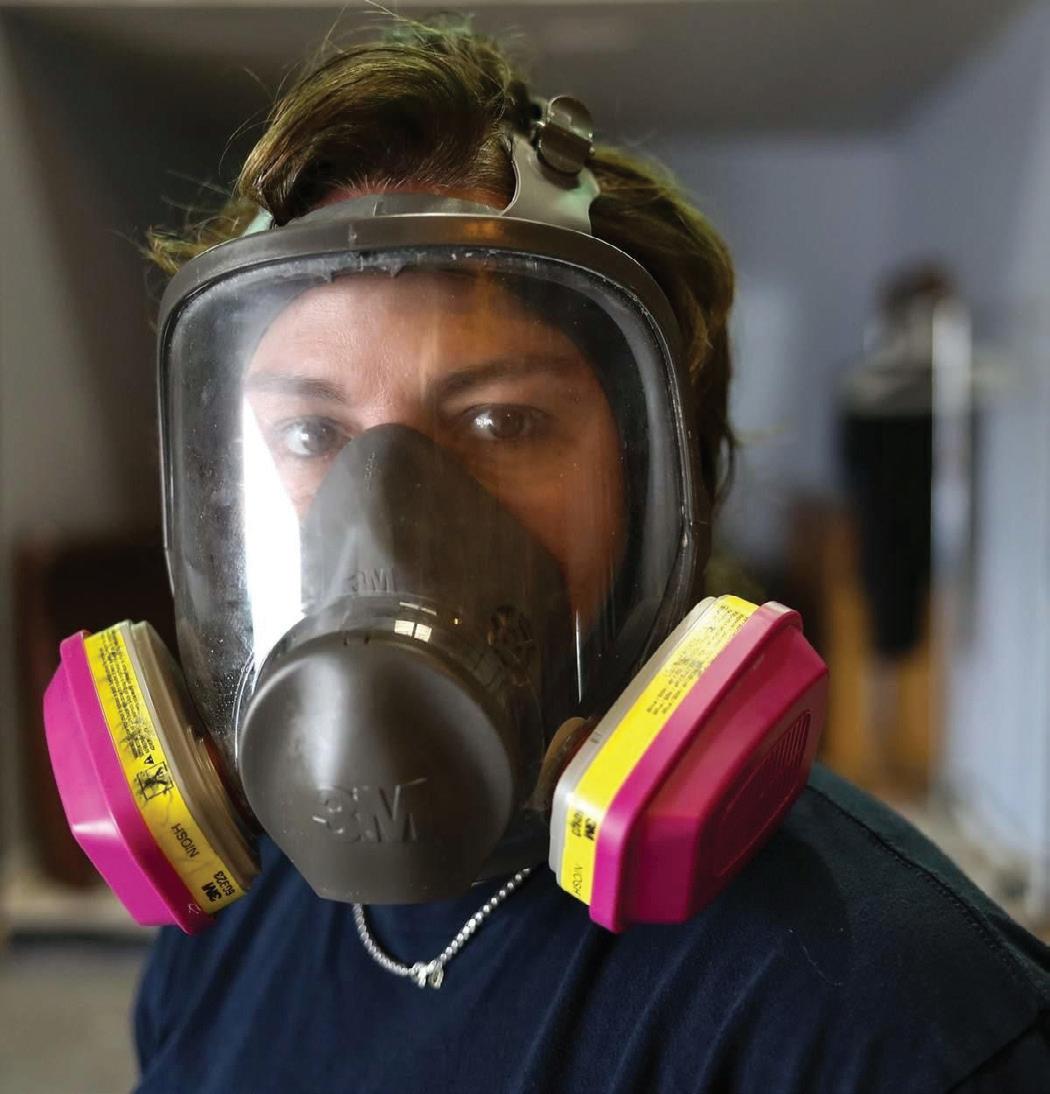 In spite of and even because of her struggles, Spaulding decided she would live her life on her terms. After working as a police officer and narcotics detective, she realized she would never have the life she wanted if she didn't make it on her own. She started slowly doing crime scene cleanup and grew her business into one of the most successful, fastest-growing franchises specializing in crime scene cleanup. Even so, she still faced discrimination.
"I have never gotten a loan for my business," she said. "When I went for one to begin franchising, I was told by four straight, white men in a bank, 'We are going to pass.' There was no reason given, and I met the criteria. But at the time, I was married to a woman."
Spaulding's team is diverse and her company, a haven for those who need it.
"It makes me happy to provide refuge," Spaulding said with pride. "We only have two heterosexual, white males on our team. Everyone else is diverse. And we support them unconditionally. For us, the customer is not always right. We have had some issues. One customer, after an estimate, said 'we don't want any gays in our house.' We just told them that we were not the right company for them. We do not accommodate that behavior. Some companies will, and I believe when you do that, you compromise your ethics."
For Spaulding, organizations like the newly formed Pride Council of the International Franchise Association are a good step in the right direction. Her participation in the National Gay and Lesbian Chamber of Commerce has been a game-changer that has opened doors for her.
To know Spaulding is to love her. Her grit, tenacity and desire to provide opportunity and success for others are inspirational.
"My goal with my business is to make 100 people millionaires through Spaulding Decon," she said.
And while social change is slow, Spaulding is not. There is no doubt she will achieve her goal.
To learn more about Spaulding Decon, please visit: https://spauldingdecon.com/