8 minute read
The Future of Risk: How The Floow and Direct Line Group are Using Their Work on the MOVE_UK Project to Influence the Future of Insurance in an Autonomous World
The Future of Risk: How The Floow and Direct Line Group are Using Their Work on the MOVE_UK Project to Influence the Future of Insurance in an Autonomous World
The future of mobility… it sounds scary, exciting and too far into the future for us to imagine. However, autonomous vehicles, electric cars and smart motorways are all already becoming a reality in 2019 due to semi-autonomous features, such as automatic braking assistance, automatic lane centering and cruise control, already being present in some of the cars on the road today.
However, there is a lack of research into human behaviour on the roads and how new technologies affect driving styles and the behaviours exhibited when a driver is behind the wheel. Therefore, the ability to truly understand human behaviour is the most important element when considering the move towards full autonomy on our roads.
Understanding Human Behaviour Through the MOVE_UK Project
The Floow and Direct Line Group have both spent the last three years working on the MOVE_UK project bringing together six world-leading organisations, including Bosch, Jaguar Land Rover, TRL and the Royal Borough of Greenwich, with the aim to reduce the timescale and cost to analyse data from autonomous vehicles through live trials in realworld environments.
The project finished earlier this year and the findings we gained will play an important role in how we tackle the future of mobility and the introduction of autonomous vehicles onto our roads.
Throughout the duration of the MOVE_UK project, a fleet of Jaguar Land Rover vehicles were driven around the Royal Borough of Greenwich by numerous drivers covering over 100,000 miles. These vehicles were fitted with advanced sensors and recording equipment to collect a wide range of data that would support a series of analysis and that would be fundamental to gaining a better understanding of how human drivers would interact with autonomous vehicles.
The data gave us an understanding of some of the issues that autonomous vehicles could face once introduced onto our roads, particularly in the time leading up to full autonomy where a mixture of fully autonomous, semi-autonomous and nonautonomous vehicles will be sharing the road.
"Understanding the impact of autonomous vehicles on insurance is vital for us as a business and for the customers we serve..."
For example, a situation likely to prove difficult from a legislation, insurance and safety perspective might be:
1. How do we know who is in control - the driver (human) or the vehicle (machine)?
2. How do we deal with unexpected and unanticipated human behaviours such as a pedestrian walking out in front of a vehicle?
Data from MOVE_UK shows the clear need for autonomous vehicles and insurance to focus on unpredictable behaviours. It also highlights the large task ahead for insurers in futureproofing their business for the changing environment by rethinking insurance policies that take into account autonomy within a vehicle. These changes become more important alongside other changing mobility factors such as the use of telematics data to understand driver behaviour, the prevalence of the sharing economy and UBI policies.
The UK Government's Ambitious Plans for Autonomy
Our work on MOVE_UK has become even more necessary as the UK government recently published their ZENZIC/UK-GOV 2030 report which includes a detailed roadmap to the introduction of autonomy on the UK's roads by 2030.
However, a lot of work needs to be done over a wide number of areas from communicating changes with the general public to the building and testing of vehicles on the UK's roads, as well as putting in place the appropriate changes to vehicle and driver licences.
One part of the roadmap which is particularly important to Direct Line Group and The Floow, concerns the insurance industry, with plans for the introduction of new legislation for insurance and underwriting to be put in place within the next five years. This is likely to have an impact on any motor insurer, who does business in the UK, and how they deliver services to their policyholders in the future.
So how does an insurer prepare for these ambitious plans, which deal with many unknowns, when they are in the business of risk? Insurance has already evolved somewhat over the last 5-10 years due to the proliferation of technology companies offering new and flexible solutions, such as pay-as-you-go insurance and the use of telematics data to provide a better understanding of driver behaviours and risk. This also comes at a time when fewer people are choosing to own a vehicle or learn to drive, instead opting for alternative transport systems on offer.
Therefore how can the UK's insurers get ready for these necessary changes in such a short space of time and stay relevant in the rapidly changing market around them?
Working in Collaboration to Ensure an Autonomous Future Which Works for Insurers
As many insurers work to catch up with the changing face of insurance, mobility and technology, Direct Line Group are ahead of the game. Not only have they been out in market with telematics propositions across their brands for a number of years but we are working closely with them to ensure that they can continue to deliver an exceptional experience for their policyholders based on telematics data and behavioural scores.
Using our insights from the MOVE_UK project, we are also working to understand how data can be better shared between vehicle and insurer and how the data collected from telematics - when added to vehicle data - can provide a more complete picture of a vehicle's behaviour.
This has led us to build prototype scores around tailgating and dwell judgement (how good a driver is at determining if it is safe to pull out at a junction) - something we wrote about in further detail in issue 3 of Driven. Going forward, it will allow us to build more accurate insurance models, helping future insurance products and pricing be more closely linked to risk.
By working collaboratively, we're already well ahead of others in our market. We're both heavily engaged in pushing this topic with relevant parties, including policymakers, to ensure it is high on their agenda as well as continuing to be involved in government projects to gain further understanding in this area. We believe all of this work will help us, and other organisations, to develop and ensure a safe, smart and fair autonomous future for our roads.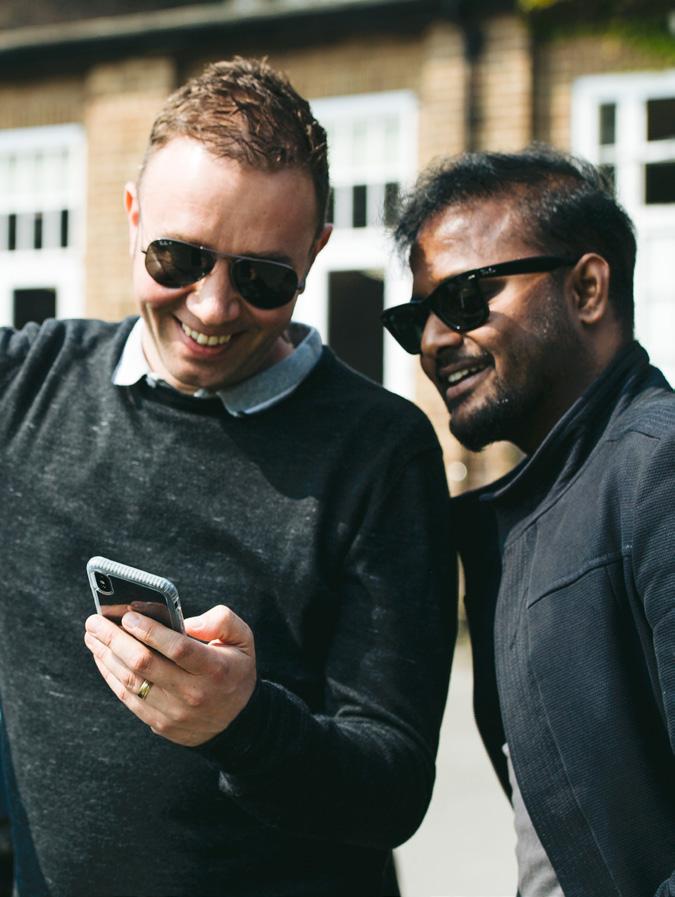 Speaking at the end of the MOVE_UK project, Director of Motor Development at Direct Line Group, Dan Freedman, commented on what it will be important for Direct Line Group to focus on going forward; "Understanding the impact of autonomous vehicles on insurance is vital for us as a business and for the customers we serve.
"The Connected Validation process will allow us to get a much quicker understanding on how autonomous cars will interact with other cars, pedestrians and infrastructure and will play an important role when it comes to identifying the risks that will give consumers the confidence to embrace the technology."
Ensuring Everyone Benefits From MOVE_UK's Work
The insights provided by The Floow, as a result of their analysis of the data collected from MOVE_UK vehicles and sensors, went on to inform recommendations for Event Data Recorder (EDRs) standards for autonomous vehicles which was made available to the UN and UK regulators for their consideration regarding future mobility.
The proposal details recommendations surrounding EDRs and how they will need to meet the requirements of insurers whilst also being acceptable to vehicle manufacturers when used within autonomous vehicles. This includes recommendations surrounding minimal specifications for regulation of the data that autonomous vehicles must record in the event of an incident so authorised stakeholders can understand where liability lies when dealing with claims.
We submitted this report because we want to ensure that any vehicle having some form of autonomous steering control must have an EDR capability. This is something which is typically deployed in the US but not supported by current EU regulations. Based on our work on MOVE_UK, we specified requirements for next generation EDRs so as to provide greater understanding of extreme vehicle events encompassing autonomous control. We feel it is something which should be provided for new vehicles to ensure fair understanding of liability protecting those involved in an incident.
The Floow and Direct Line Group have decided to make public this project deliverable in order to draw attention to these key recommendations which will help to ensure the standards of future insurance are high; we believe this is a clear step towards achieving this.
Sam Chapman also presented this work recently at the Cenex-LCV event in Millbrook. He used this as an opportunity to talk to an audience full of major stakeholders, key manufacturers and UK government officials about the future of connected insurance and the impacts that autonomous vehicles could have on this area.
It is clear that autonomous vehicles, whether fully autonomous or not, will be on our roads sooner rather than later. For insurers, they need to be prepared and able to provide viable solutions for this new age of mobility. One way of doing this relates to being able to quickly and easily make the decision of who is at fault in the event of a claim - human or machine.
Currently insurers have negligible data to be able to make these decisions therefore the recommendations we have made to the UN, as a result of our work on the MOVE_UK project, have been made in an attempt to change and address this huge issue for insurers.
Summary
There is a lot of work to be done still to ensure that the UK, and other countries, are ready for varying degrees of autonomy to be introduced onto our roads. Although, autonomy is already here in the basic form, drivers are still very much in control of the vehicle currently but this is set to change rapidly.
"Autonomous vehicles will need to be programmed to accommodate this real-world behaviour..."
It will be vital for vehicle manufacturers, insurers and telematics service providers to work together to provide clear insight so claims can effectively be processed and the impacts of human behaviour on autonomous vehicles can be better understood and fairly treated. However, data on its own does not allow for a detailed understanding of risk which is why it needs to be analysed to provide the detailed driver behaviour insights required for the future of mobility.
At The Floow and Direct Line Group, we will continue to work collaboratively to gather further insights and ensure the future of mobility is safe and fair for everyone as well as continuing to support regulators to ensure we meet the UK government's ambitious plans to have autonomous vehicles on our roads by 2030.
Speaking about the MOVE_UK project, Chief Innovation Officer at The Floow, Dr Sam Chapman, said; "Real world experience counts for a lot and we've discovered that [through MOVE_UK research], not unexpectedly, humans do not drive to the letter of the law - people speed, cut each other up and make all manner of mistakes.
"Their interpretation of hazards and safety is markedly different than the Highway Code would have you expect. Autonomous vehicles will need to be programmed to accommodate this real-world behaviour. This will be a critical factor to consider when planning for autonomous mobility in the future and determining how risk is managed."
To find out more about the MOVE_UK project, visit their website and you can read more about Sam's talk at Cenex-LCV in this issue of Driven or on The Floow's blog.