July/Aug. 2023 Vol. 2 Issue 2
Warith
Jumu'ah
NEWYORK/NEWJERSEY ®
www.ladyespecs.com
Defeating The Distractions
I'm a firm believer in God-given purpose and assignments. Huami Magazine is a result of answered prayers and isolated conversations with God. I could hear God's voice mainly due to my ability to block out any unnecessary noise and ultimately focus on what I was seeking God for. I had a yearning for something more, something greater than myself, but I knew I didn't possess the ability to visualize it by my own efforts. I had no choice but to rest on what I needed for God to show me.
The experience I just described exemplifies the power of defeating distractions blocking and holding our blessings and purposes hostage. Distractions are often present as a means to prevent us from seeing or hearing the things needed to grow. Distractions are only effective when we allow them to be. Even more, distractions have no power unless we give them power.
What are you allowing to have relevance in your life that serves as a distraction? What are you giving energy and attention but serves you no purpose or benefit? If you can identify what is fruitful and what is not in your life, you will take the first step in clearing the path to what is purposed for you—your destiny.
Distractions can present themselves in various ways and forms. Distractions can be friends or associates. Distractions often appear in text messages, emails, and other places such as social media platforms. Distractions can begin as small meaningless occurrences but can grow into things that consume your time and affect how you act, move, and live.
We must eliminate distractions to reach our goals and live more purposeful lives. We must focus on the things that help us become the most excellent versions of ourselves. While many things in life can be reproduced and duplicated, time isn't one of them, and with the time that life offers us, we must make the most of it.
My best advice is for you to live your life to the fullest potential by identifying and defeating distractions.
4 Howard Gaither Photography Tamara Smith www.huamimagazine.com Terry L. Watson Publisher Dorjae' McClammey Writer Joy Rogers Writer Terry Watson Writer Monica Montgomery Writer Ashleigh Crawley Photographer Terri Jackson Photographer Bernard Smith Photographer General Inquiries huami.newyork@gmail.com Email Want To Advertise? Call 336-340-7844 Mykel Media Company LLC Greensboro, NC 2023 All Rights Reserved Scan The QR Code Above To Visit Our Website terry.editor@yahoo.com 336-340-7844 A Letter From The Editor
Terry
L. Watson
5 The Passionate Rebel LLC Warith Jumu'ah JULY/AUGUST 2023 NEW YORK/NEW JERSEY CONTENTS 6 On The Cover Also Featured 14 10 30 Alter Egos Band They are bringing a North Carolina flavor the sound of Go-Go. Learn more about what they've done to succeed. Greensboro, NC
Homeownership and assisting others with obtaining financial wealth is her top objective. Learn more about her. Charleston, SC
Shakeima Chatman
began as a childhood assigment has developed in a career. Braiding and more is how she makes it happen. Milwaukee, WI
Michea Jones
What
Uncle Reggie's Catering Reggie Rhoades
Le
Iconic Truth Band Kiing
26 24 20
25
I Am The Vibe, LLC Jessica Brown
Huami Magazine Cutest Baby Robert Duece Austin
Passionate Rebel LLC
By Terry L. Watson
Warith EL-Amin Jumu'ah family's foundation is based on growing through education and being a voice of leadership in their community.
The Newark, NJ, native, Muslim, and Morgan State University Alumni owns Passionate Rebel LLC, home of the Passionate Rebels. In what Warith describes as an eclectic, unique, and impactful brand, he's used their platform to create educational opportunities to assist students and community members in pursuing their passions. They've been able to offer educational workshops catered to grades 6-12, as well as colleges and universities.
"I launched Passionate Rebel in June 2014. The vision and need to create something great were innate. I firmly believe that certain "wants" grow within you. The "want" for people to become the best version of themselves has always been in me. When launching the brand, I felt I could encourage people to be great through fashion and education. Fast forward nine years later, I know my purpose has always been to inspire people to rebel against not following their passion," he says.
Warith says he loves the new opportunities he's blessed to come across as a business owner. He shares, "Every day is a new experience for me as a brand owner and entrepreneur. My schedule is always different. I sacrifice a lot to do what I do, yet the biggest part of my love for Passionate Rebel is the number of lives I can touch from all walks of life. People email, message me, or call to tell me how they love the brand and the mission. Building something from the mud up with true faith and belief that our brand is needed is refreshing."
NY/NJ - July/August 2023 HuamiMagazine.com 7
Photos Provided by Warith Jumu'ah
Creatives young and old alike, Warith says inspires him the most. "Everyone taps into their inner Passionate Rebel to pursue something they love and something that speaks to their heart. Doing this without knowing if it'll succeed is a courageous thing to do!"
Warith says he finds inspiration in the philosophy his parents' instilled in him. He shares that creating a story for the world to remember you is important. "Seeing what my parents have done throughout the years to raise my brothers and me is amazing. They helped shape my educational views and instilled in me the importance of helping to raise up the community. Without their examples and guidance, the Passionate Rebel Foundation wouldn't be what it is today." Warith says it's important for him to serve others. "Life is about movement. Moving in a great direction to make a greater transition. As a community, we can only transition by aiding each other. Throughout my life, my parents always told me it's essential to pay it forward. There's a lot of young Passionate Rebels who are in search of positive voices to encourage them to follow paths they're passionate about. I'm blessed to be one of those voices who can genuinely advise them about the importance of following their passion."
In building his brand, Warith has faced some challenges. A big hurdle he faced was battling with the need for name recognition. "We were fresh out the gate in trying to brand ourselves. No one knew who we were; investors weren't knocking on our doors. The worry was how to get our message to the world without acknowledgment. I overcame that worry by maintaining my faith and understanding the community I was trying to uplift. I tapped into my creative side and worked until it worked," he says.
Looking ahead, Warith says he has a lot of goals for the Passionate Rebel brand. He is looking to work on implementing their "The Passionate Rebels Are" curriculum in various school districts. In September 2024, Passionate Rebel will display a new fashion collection in Paris Fashion Week FW2024 with Fashion Week-Studio. Also, he's working towards opening a Passionate Rebel store that will create several opportunities outside of fashion for various Passionate Rebels.
To learn more about the Passionate Rebels brand, please visit their website.
h
www.passionaterebel.net
HuamiMagazine.com NY/NJ - July/August 2023 8
The Chatman Group
By Terry L. Watson
Shakeima Clark Chatman's mission is to help every individual to possess land, as God has promised them.
Shakeima Clark Chatman is the owner of The Chatman Group and a broker associate with Keller Williams Realty. In her career, she has earned a reputation for being a woman of action and has helped countless families realize the American dream of home ownership throughout the Lowcountry community of Charleston, SC.
The Chatman Group with Keller Williams Realty is a team of black female real estate agents who help individuals build wealth by selling, buying, or investing in real estate throughout South Carolina and North Carolina.
A native of Charleston, Shakeima is a mother and a 1996 graduate of South Carolina State University and holds a Bachelor of Science Degree in Elementary Education. Before starting her real estate career, Shakeima served in various other fields, including education, corporate training, and software consulting. Shakeima's real estate career also affords her the flexibility to develop and nurture her true passion and vision, which is mentoring teenage girls through her nonprofit organization, D.I.V.A.S In Training. Her organization's mission is to bring out moral excellence in teenage girls so that they can aspire for success, power, and honor. Their Dream, Sparkle, Shine Conference has inspired and empowered over 1000 girls in just six years.
Shakeima's journey of becoming an accomplished real estate agent began in 2011 after a career in software consulting ended. She says, "I was licensed in June 2011 and took a leap of faith in December of the same year. I quit my corporate job and jumped into real estate fulltime. I gave myself six months to make it work; however, it took me nine months to get to my first sale. Twelve years later, I'm still here."
11
Photos Provided by Shakeima Chatman
Shakeima believes in the power of connecting with members of her community. In the Spring of 2017, she released her first book, Possess the Land: The Believer's Guide to Home Buying. In the Summer of 2019, she released the Possess the Land Home Buyer Workshop. She has hosted an Affordable Housing Town Hall Meeting to address the shortage of affordable housing in Charleston and the surrounding area.
When asked what she loves most about her career, Shakeima says it's the opportunity to help buyers and sellers realize their real estate goals. "I get joy helping a first-time buyer purchase their first property. I also find joy in helping clients use their equity to upgrade to their dream home. Additionally, when I can help families' close chapters in their lives by settling the estate of a loved one, or help a couple move on peacefully after a divorce, and even assist clients with moving on to the next chapter in their lives in another city; I know that I am operating in my purpose," she shares.
12
"As a kid, I didn't know that the place I held so dear was a rental for my grandmother. She had rented the same home for over 30 years until her landlord died. After the death of her landlord, she had to move after the home was sold, causing us to lose all our family memories. I vowed that that would never be my story."
The lineage of strong black women in Shakeima's family, she says, has had the most significant impact on her life. "My mother, Dianna Clark, had me at 17 years old, but she never allowed being a teenage mother to stop her from succeeding. I grew up watching her constantly improve herself and strive for the next level, to her about to enter retirement as a Systems Administrator for a Fortune 500 Company. My grandmothers, both of them, did not have a high school diploma, yet they were some of my greatest teachers. My maternal grandmother, Edna Singleton, was one of my biggest cheerleaders and always made me believe I could do anything. My paternal grandmother, Mattie Tell, was the first entrepreneur I knew. She never looked for a handout. If there wasn't an opportunity, she created one. Growing up with these strong examples, failure and mediocrity was never an option," Shakeima confesses.
Shakeima continues to describe how her grandmother, Edna Singleton, impacted her life. "As a little girl, my grandmother's house always held memories for me. It was the place where my family gathered for every holiday and Sunday dinner. Her home was where I spent carefree summers with my cousins growing up. As a kid, I didn't know that the place I held so dear was a rental for my grandmother. She had rented the same home for over 30 years until her landlord died. After the death of her landlord, she had to move after the home was sold, causing us to lose all our family memories. I vowed that that would never be my story; I would ensure that I left an inheritance for my family and help others do the same."
As one can imagine, Real estate can be a very stressful business. Shakeima shares a few of them, from dealing with all the complexities of a transaction and managing client's expectations and emotions during the process to consistently ensuring that you have a constant flow of business. "The biggest challenge that I have faced is adapting to the economic environment and riding the waves and rollercoasters of the real estate market. I've managed them by always staying current on what is happening in the market, adapting as needed, and being wise with my expenses. Diversifying my income has also been beneficial. In addition to my real estate team, I have a credit repair and a real estate coaching business," she shares. Shakeima practices what she preaches as she owns a rental property also.
As life continues for Shakeima, she says her goal is to grow her team and steer them away from the routine of conducting day-to-day transactions. She also plans to focus more on marketing for her team and developing agents within The Chatman Group. Doing so, she says, will allow her to focus more on coaching and speaking and helping real estate agents grow their businesses. "I see myself on stages impacting agents' lives across the nation," she says.
To learn more about Shakeima and The Chatman Group, please visit their website.
www.thechatmangroupsc.com h
13
Bringing North Carolina Flavor to D.C. Gogo!
By Monica Montgomery
The room is decked out in all things elegant. Women in dazzling evening gowns and gentlemen in tuxedos. Formal was the theme for the evening. The entertainment for the night is announced, and the band stands at the ready as three unassumingly beautiful women take their place out front. Anita Baker's Rapture of Love started, and the women started to sway. As the patrons dined, they weren't swaying but bobbing their heads to a familiar song with a distinct D.C. GoGo drumbeat. The lead singer's voice was sultry and robust, complimented by the harmonies of her bandmates. Before the night was out, all formality went out the door as the three ladies dressed in crimson red, saffron yellow, and seductive green joined patrons who had shed their heels and picked up their hems to let their hair down. Alter Egos Band was in full effect.
"We bring the party!" Donalja James aka The Voiceness, the band's founding owner and big sister, said enthusiastically. "The music genre GoGo is all about keeping the party going."
Alter Egos is an All-Female Front-Line Band that brings a unique style of entertainment through the eclectic sounds of funk, jazz, neo-soul, R&B, and rock. They command and captivate audiences while prompting them to dance to the dynamic sounds of go go music.
The success of this band is all in the name… Alter Egos. "The name Alter Egos represents who we are as individuals and how all that comes together to create our flavor of the genre GoGo," explains Jacqui Pippens , part owner and one of the front singers. "D. Mia is the rocker, I'm the Neo-Soul singer, and Donalja is a jack of all trades. She sings she's a lyricist, writes plays, acts, and is one of the dopes poets and spoken word artists in the area. She does it all and does it well!" Jacqui's sentiment is Amened by bandmate D. Mia Hill.
The formation of Alter Egos was literally a dream come true. "We were all friends before the band's formation," explains D. Mia Hill, the multi-talented rocker and jolt of energy behind the band. "I've known Donalja since 2005 and met Jacqui in 2011. We were all part of another group Donalja formed called the Stiletto Ladies. We had gone on to pursue our individual music projects or bands but remained close friends. Donalja James, known for her adventurous spirit, is a visionary and inspiration for the group. She's not just a dreamer; she encourages others to realize their dreams.
"The way things usually happen for me is they come to me in a dream. In this particular dream, I was in a theater, and I had my two friends. There was Jacqui Renee on one side and D. Mia on the other. When I woke up, I was super excited. I told my partner at the time, "Look, I think I want to do a GoGo show!"
NY/NJ - July/August 2023 HuamiMagazine.com 15
Photos Provided by Still Shots Photography
Lisa Ferguson - Manager
Donalja called Jacqui, who came on board without hesitation. Next, they brought D. Mia in. "In 2015, I was on hiatus from music and was managing a local bar when Donalja and Jacqui walked in, looking like they were up to something. I poured them a drink and waited for the pitch." Then Donalja says, "I had a dream…" que ominous music!" The women laugh as they reminisce on the moment. When D. Mia heard the idea of the three of them doing a GoGo show, she was all in.
"I thought it was going to be this one-time thing. Me and my two good friends putting on a show, entertaining the people, and having a great time was just what I needed at the time," Donalja shares. Little did either of the ladies know at the time that it would instantly become the musical force of nature it is today.
Six weeks later, they performed to a sold-out crowd, officially putting The Alter Egos band on the radar of every GoGo fan in the Greensboro area. "The show took place on September 6th at Churchill's. It was standing-room only, and we had a blast!" D. Mia explains. "After the show, someone came up and asked, 'What's the name of your band,' before I could think about it, Jacqui said, 'Alter Egos.' That was the moment I knew I was in a band," she laughed. "The rest is history."
By history, D. Mia means that they were approached by the concert promoter and asked if they wanted to perform at another one of their major events. "R&R productions approached us. They have been in the business for twenty-plus years, and everything they do is big!" Donalja explained. "They invited us to perform at the North Carolina A&T Homecoming. That launched us in ways we hadn't imagined all from the one show we threw together in six weeks."
True to their name, each band member brings an invaluable wealth of knowledge, talent, and resources that have helped grow Alter Egos from a one-night-only opportunity of a lifetime to the ever-evolving, momentum-gaining juggernaut it is today. "What Jacqui doesn't advertise is that she is a walking, talking music library," Donalja explains. "As a former DJ who still moves in those circles, she is an unlimited resource for music in just about every genre. After the first show's success, Jacqui came up with so many amazing ideas for music and styles we could put our spin on that the one show effortlessly became a lifestyle."
The connection to music and each other was effortless, but becoming a band with sister friends strained their relationships. "We aren't just bandmates. We are a family," Donalja said with sincerity. "Going from being just sisters to bandmates and business partners can be a rough transition." The connection between Donalja, D. Mia, and Jacqui has seen them through marriages, divorce, the birth of children, domestic abuse, financial hardship, and devastating loss. They have celebrated victories and mourned losses together more times than they care to admit, so it was essential to the health of their relationships to prioritize what was most important. As the founder, band manager, and booking agent Donalja found herself wearing several heavy hats that threatened the health and balance of the band.
HuamiMagazine.com NY/NJ - July/August 2023 16
Jacqui Pippens
"This band life has been a journey of ups and downs for all of us," Admits D. Mia. "I have quit three times. When I say I love these ladies, it is no exaggeration. I truly love them. Donalja and I have been through so much that I can't tell it all. When the business aspect of our relationship began to bleed into and overshadow our personal relationship, I had no problem choosing which was more important. I wanted my friend and wasn't willing to sacrifice that relationship for anything. So, if that meant quitting the band to maintain my relationship with my sister, it was an easy decision. Then came Lisa."
Lisa Ferguson is the band manager and booking agent for the Alter Egos. As a career entrepreneur and business owner, she knows how to run and maintain a successful business operation. As a sister-friend and super fan of the band, her role goes well beyond booking gigs, setting schedules, and keeping the band organized.
"I thank God for Lisa. She brings the balance we were missing and desperately needed," D. Mia explains. "Oh my God, yes! We love Lisa so much!" Donalja exclaimed. "I was struggling to keep up. The stress of managing the band and maintaining a life and friendship balance was taking its toll on us all."
Lisa, a fan of great music, met Jacqui in college. She came to the first show and instantly believed in the Alter Egos movement. "When I say these ladies bring it, I mean they let it all go! When the show is over, they have left it all out on the floor," Lisa explains. "I was sold after the first show. When they started performing regularly, I kept going to the shows and saw them giving their all every time. I also noticed that they needed help keeping the train on the tracks. I know firsthand the struggle that creative people have as they straddle the fence between creativity and the logistics of the business. I also know how hard it is to trust someone to help carry your vision in the direction you want." It took time, but Lisa was able to gain the trust of Donalja and Jacqui. Alter Egos has flourished in unimaginable ways with all the pieces in place.
Despite continuing to maintain individual pursuits, whether it be other music projects, careers, and families, the ladies of Alter Egos vision remain aligned. The culmination of their individual greatness fuels the growth of the band. The group is looking to the future with great expectations.
HuamiMagazine.com NY/NJ - July/August 2023 18
D. Mia Hill
"We are looking to move into the corporate entertaining arena. We have been approached about doing different events, and think we would do extremely well there," Donalja explains. "Not to mention making our original music," D. Mia adds. "Jacqui has a project coming out soon, and we are so excited for her!" Jacqui blushes, and the group cheers. "I am about to release an EP, 'The Reveal.' The single 'Story' will be out at the end of June," Jacqui shared. "As for the future of the band, I see us getting better and better over time. As we live, learn, and grow, I see us staying true to the culture of GoGo and exposing more people to this amazing all-inclusive genre."
"I agree," D. Mia adds. "I see us staying true to the culture while making it our own. Shout out to Chuck Brown, the godfather of GoGo, who's from North Carolina. Most people are familiar with D.C. GoGo, but we do it a little differently, which helps to set us apart. So taking things to the next level and continuing to stand out while honoring the culture is what I see in the future for us."
"I can see lights and major stages in their future," Lisa says confidently. "They are so flexible and malleable that they can easily take on any arena and make it their own." "As everyone has explained, it is important to stay true to the culture of GoGo. We also want to commit to evolving the culture to make sure this music and genre we love stay relevant. We want this music to keep the party going for generations," Donalja explains.
The Alter Egos band is rooted in each member's love and respect for the other. Their relationships have grown, causing individual growth in each of them. GoGo is the ultimate party music that fuses R&B, Latin, and Jazz, all propelled by the excitement of the percussive drum beat.
NY/NJ - July/August 2023 HuamiMagazine.com 19
Donalja James aka "The Voiceness"
"I thought it was going to be this one-time thing. Me and my two good friends putting on a show, entertaining the people, and having a great time was just what I needed at the time."
Donalja James h
I Am The Vibe, LLC Jessica Brown
By Terry L. Watson
I Am The Vibe LLC is the product and vision of Indianapolis, IN, resident Jessica Brown. She says her mission is to activate the mind, body, and soul of others through scent and sound.
Jessica describes herself as a candlemaking mommy of one precious little human, Kyce. Her academic achievements involve obtaining a Bachelor of Science in Early Childhood Education from Indiana Wesleyan University as of May 2021. Her business journey began in December 2019, before the Covid 19 pandemic. She says, "I started to experience burnout and needed a new way to decompress from my everyday stressors. One thing I noticed about myself was my consistency in burning and buying candles. Not one night did I come home, not light a candle or listen to music. I purchased my first DIY and created an amazing candle. Soon I was on YouTube, learning about the candle-making process and the overall candle industry." The rest is, well..... history.
With her brand, I Am The Vibe, Jessica currently offers uniquely scented candles designed in both 8-ounce tins and 10-ounce jars. Each candle dropped under the brand has a specialty playlist exclusively for the purchaser. "We shine a light on local artists here in Indianapolis, hoping to expand this within the next year or so. Our playlist focuses on rhythm, blues, jazz, and gospel music. We also offer car diffusers as well as incense and room sprays. By the end of this summer, we will offer local candle-making classes for local children and families."
NY/NJ - July/August 2023 HuamiMagazine.com 21
Photos Provided by Jessica Brown
Jessica shares she really loves curating and blending different scents. She also loves listening to and coming across different artists to enhance the vibe of her candles. She also enjoys experiencing the look on her customers' faces when they can smell and experience the vibe in person.
When asked what drives her, Jessica says it's her son and knowing that he'll one day have something to be proud of her for. "That means the world to me," she says. I am also inspired by building both black and generational wealth and rebuilding the black family dynamic."
While only being in business for a few years, Jessica says she wouldn't change much about how things have happened. "I wouldn't change a thing. I am growing as an entrepreneur every day, and I am so thankful to have the opportunity to be on the journey so many others are afraid to take on truly. It has not been an easy journey thus far, and I don't expect it to get any easier anytime soon; however, I know who I am and what I was placed here to do," she shares.
She advises those considering jumping into the sea of entrepreneurship to never stop doing their work. "You know what you need; you must be your best self. Keep up with those things to give the best version of yourself to those around you. Also, get acquainted with YouTube University and always test and do your research, no matter what industry your brand/business may fall into."
Please visit their website to learn more about I Am The Vibe, LLC.
www.iamthevibellc.com
HuamiMagazine.com NY/NJ - July/August 2023 22
"One thing I noticed about myself was my consistency in burning and buying candles.
Not one night did I come home, not light a candle or listen to music."
Kiing Le. The Leader of Iconic Truth
Are you looking for new music to add to your playlists? If so, then you must consider Charlotte, NC, very own Kiing Le and the Iconic Truth Band. Iconic Truth Band has the "I.T." factor capturing a unique and infectious Go-Go vibe. While displaying various components of percussion and vocal excellence, audiences will always be enlightened and entertained.
Born and raised in South East Washington, DC, Kiingi, a natural neo-soul artist, moved to North Carolina in his thirties to pursue music. Surprisingly, he didn't start as a go-go artist; Kiing was pursing other interests. He was a personal trainer and owned a company, Get Fit For A King. Soon his focus would change, or more so, get in alignment with his true passion for music.
Kiing's pursuit of music grew while living in Charlotte. He joined a few R&B bands as a lead vocalist. This was his platform until a friend took him to see a go-go band in Charlotte. After attending a few of their shows, Kiing auditioned to be a vocalist, but he didn't make the cut. Determined to succeed, he didn't let that stop him and eventually earned the role of the band's talker. He says, a talker is like an orchestrator; they give shoutouts and help boost the crowd's energy. "If you know the talker and the talker knows you, you're popular." From the platform of band talker, everything started to fall into place for Kiing.
He would stay with that particular band for nearly eight years before leaping to do his own thing. Thus the birth of The Iconic Truth Band happened. Launched in 2020, Iconic Truth started with Kiing, his cousin Darnell, and Keena Thompson. The band chose the name 'Iconic Truth' because it genuinely reflects their energy. Kiing says his mentee told him, "You all are iconic, and that's the truth". The group was excited about the opportunity to be a fresh new face on the band scene and a new voice for Go-Go.
Like anything else that starts from scratch, there were some hurdles and obstacles the band had to endure. Kiing says, "It was a struggle at first. We would practice in a little section of my home. We had different artists moving in and out, but everything eventually fell into place."
At one point, Kiing was ready to give it all up. When he started Iconic Truth, it took a toll on his family because of the time and focus he was putting into the band. However, after hearing his music on the radio and his brother's constant encouragement, he was motivated to continue the journey. He, unfortunately, lost his mother in 2022, but before she passed away, she gave him a folder with his complete bio of work that he did in D.C. When he asked why, she said, "It's yours." He says that was her way of reminding him who he was. "You're Kiing Le, don't stop; keep it going. She was so proud of me." From that moment, no matter the trials and tribulations, he decided to move forward.
When asked what he loves most about the band, Kiing says he loves the creativity his band brings. "Everyone is so individual, and together, we make Go-Go magic. We can take Mary Had a little lamb and make it into a cranking Go-Go song. What's interesting is how we work to formulate an original sound through each song and have fun with it simultaneously. As a band, we focus on doing what feels good without trying to fit anyone's mold. We want everyone on that stage and in the audience to live in their iconic truth."
Kiing isn't just a musician; he is also a businessman. He owns a production company, DC2NC Productions, which allows musicians and bands to go schedule live performances. He also contracts DJ's, comedians, vocals, and more. He also has a clothing line called 'I Don't Think You Ready", a spinoff to his onstage performance. Kiing has also found a way to combine his music love with personal training. On his podcast Cardio Conversation, Kiing talks music with guests while they work out. Additionally, he has enjoyed some memorable moments in his career, such as performing with Mint Condition and SWV, traveling, and performing with other big bands and celebrities. He has also written a song for Tone-X, the voice of V101.9 FM in Charlotte.
Kiing advises upcoming artists to persevere, stay consistent, and connect themselves with people who will challenge them. "Remember always to follow your heart and passion and trust your gut. Most importantly, always put the creator first with everything you do, and everything else will fall in place."
Kiing's primary goal is to be known as The King of Southern Go-Go. He says it's time for Iconic Truth to be known as the "go-to Go-Go band" in the South. He wants his name to be in the company of other greats such as Chuck Brown, Little Benny, The Masters, Big G from Backyard Band, and many more.
In the future, Kiing Le and Iconic Truth Band will continue to be involved with community awareness programs and teach kids more about live music and performing arts, "Performing arts saved my life, and that is something I want to give back to the community."
By Dorjea' McClammey Photos Provided by Todd Youngblood h
24
MAGAZINE Robert Duece Austin
Cutest Baby
To submit photographs to be placed in the Huami Magazine Cutest Baby feature, please send a detailed email to huami.cutestbaby@gmail.com
The son of Staci Simms and Anthony Austin
Uncle Reggie's Catering
By Terry L. Watson
If you are looking for proof, check their reviews. Uncle Reggie's Catering is regarded as one the best catering services available in the Richmond, VA, area and is known for its Mac n Cheese (Smac Mac).
Owned and operated by Richmond native Reggie Rhoades, Uncle Reggie's Catering offers a variety of items for their clients, including brunch, lunch, and dinner. They also offer a buffet, drop off, or drop off with setup services for events. Additionally, they allow their clients to customize menus to fit their events. Reggie shares that his services are designed to be professional and affordable.
Reggie describes himself as someone who loves to cook. He earned his culinary degree from Virginia College in 2007 and started his catering company shortly after. He has been married to his wife, Alisha, for 20 years, and they share four beautiful kids; Quintrell, Mariah, Jordan, and Reginald Jr. They also have a grandson, Dazai.
27 NY/NJ - July/August 2023 HuamiMagazine.com
Photos Provided by Uncle Reggie's Catering
Uncle Reggie's Catering came to life because Reggie was connected to the right person and at the right time. He shares, "My wife's best friend Kenya Bundy had a catering business when I graduated from culinary school. Her business was thriving, and she would have to turn down many potential clients due to her already being booked. She brought the idea of catering to me, and I thought it sounded like a good idea, so I gave it a try. Kenya took me under her wing and taught me everything about catering, and I have been blossoming ever since."
Besides cooking, Reggie says he loves making people happy through his food. He also loves meeting different people regularly and experiencing different venues. He credits his mother for instilling the importance of working hard and being consistent in everything he does. "My mother is my rock, and I love her to the ends of the earth," he says.
Reggie advises others who may follow a path similar to his to have realistic expectations. "Running a catering business is a fun but sometimes stressful job. You have to ensure with every event that you give 100% to your clients no matter what. It is your job to help make their event as successful as possible," he says.
Moving forward, Reggie says he plans to own a food truck. He says he would also like to do more travel catering jobs for artists. He mentions that he just finished a catering job for the Lacrae tour.
To learn more about Uncle Reggie's Catering, please visit their website.
HuamiMagazine.com NY/NJ - July/August 2023 28
"My wife's best friend Kenya Bundy had a catering business when I graduated from culinary school. Her business was thriving, and she would have to turn down many potential clients due to her already being booked. She brought the idea of catering to me, and I thought it sounded like a good idea, so I gave it a try."
Chea Butterz Beauty Michea Jones
By Terry L. Watson
Photos Provided by Michea Jones
Michea Jones, pronounced (My-Shay), is the owner of Chea Butterz Beauty, also known in the Milwaukee, WI, community as The Braid Spa. Chea Butterz Beauty offers a wide range of luxury braiding and esthetics services, including every type of braid, from micro to the extra large knotless. Their services include styled feed-in braids (the new name for French braids), and a half weave and half braid option. They also have esthetics services, including waxing, facials, body treatments, body sculpting, lashes, brows, and more.
Michea says that Chea Butterz Beauty's targeted audience is any male and female between the ages of (5-100) looking to enhance their beauty, whether through getting their hair done, cleaning their skin, or sculpting their body.
Michea describes herself as a hard-working, driven individual who isn't afraid of challenges. She says, "I have dealt with many challenges throughout my life, which has molded me into the woman I am today. Growing up under the poverty level was one of the main challenges my siblings and I faced. Yet, that never stopped my mom from providing for us. Before my mother died, she taught me how to survive. Those values showed up in my life once I was on my own."
At the age of nine, Michea's mom first put a baby doll with hair in front of her. It was then she learned how to braid. "My mom braided her also, and I would take the clients she didn't want to do. However, I wasn't making much money braiding for my mom, so I lost interest. That was my attitude every other year in regard to braiding. I would do it for a while; then I would stop. After high school, I decided to stop braiding and get my degree. But in the mix of school, my mom died. I was in my sophomore year of undergrad, and her passing hit me hard. I was only 19 and had nowhere to live. I eventually landed on my Godparents' couch until I could make enough money to move. Once I got the hang of living on my own and paying bills, I realized I was missing something; braiding. Braiding was my connection to my mom. Soon, I had a two-bedroom home and turned the spare room into a "room shop". I started taking clients in my home and charged what I wanted. I began to feel a sense of belonging," Michae says. Today, she has a salon suite almost four times the size of her "room shop", with independent contractors working alongside her. Things have changed for the better for Michea.
31
"My mom braided her also, and I would take the clients she didn't want to do. However, I wasn't making much money braiding for my mom, so I lost interest."
Chea Butterz Beauty began in 2018, the year before Michea finished college. It began under the name, Bliss Essential Goods, and offered skin care products. Michea wanted to combine her braiding services with her skin care products, and thus Chea Butterz Beauty was born.
When she graduated from the University of Wisconsin Milwaukee in 2019 with a BA in Psychology, Michea realized, Therapy wasn't something she wanted to pursue then. "I wanted to learn about skin just as much as I knew about braids. I wanted to be legit in the skin care and esthetics world, so I went back to school and attended Milwaukee Area Technical College Mequon Skyn Spa," she shares. Michea graduated in 2021 as a state Licensed Aesthetican; in 2021, Chea Butterz Beauty LLC became a registered business through Wisconsin. Michea was no longer operating in her "room shop". She was legitimately established in her existing space.
Michea shares what she loves most about being a business owner is the opportunity to write her own story. "My business is what molded me to be," she says. Michea also loves people. "I'm a giver by nature, and I want to make people feel good. I serve others in hopes of making their day just like they made mine when they chose Chea Butterz Beauty."
Michea says her "why" has to be bigger than the "no's" of others. Having this type of mentality is what drives her. " I have to remember each day why I am doing this. I must keep going even without the support of others. I am also encouraged when I am supported by those I didn't expect to support me," she says.
Her advice to other aspiring entrepreneurs is to believe in what God has given you. "The vision that God gave you was meant only for you, so don't let anyone tell you you can't because God already showed you that you can."
In addition to running her business, Michea teaches at Universal Scholars Academy. She shares that she doesn't desire to teach in a classroom setting but still loves to teach, which is why she plans to return to school and get her cosmetology and esthetics instructor licenses. "I want to open the first black-owned Braid Spa Institute in Milwaukee and offer professional braiding and esthetics classes to individuals between the ages of 18-50. I also want to obtain my Masters in Counseling and open a Therapy salon, a first of its kind. I will call it Hairapy, and it will be designed for both men and women and offer a professional space to unwind, relax, and vent while getting serviced," Michea says.
HuamiMagazine.com NY/NJ - July/August 2023 32
Chea Butterz Beauty LLC 2266 N. Prospect Avenue Milwaukee, WI 53202 414-376-1198 414-316-7165 (text) h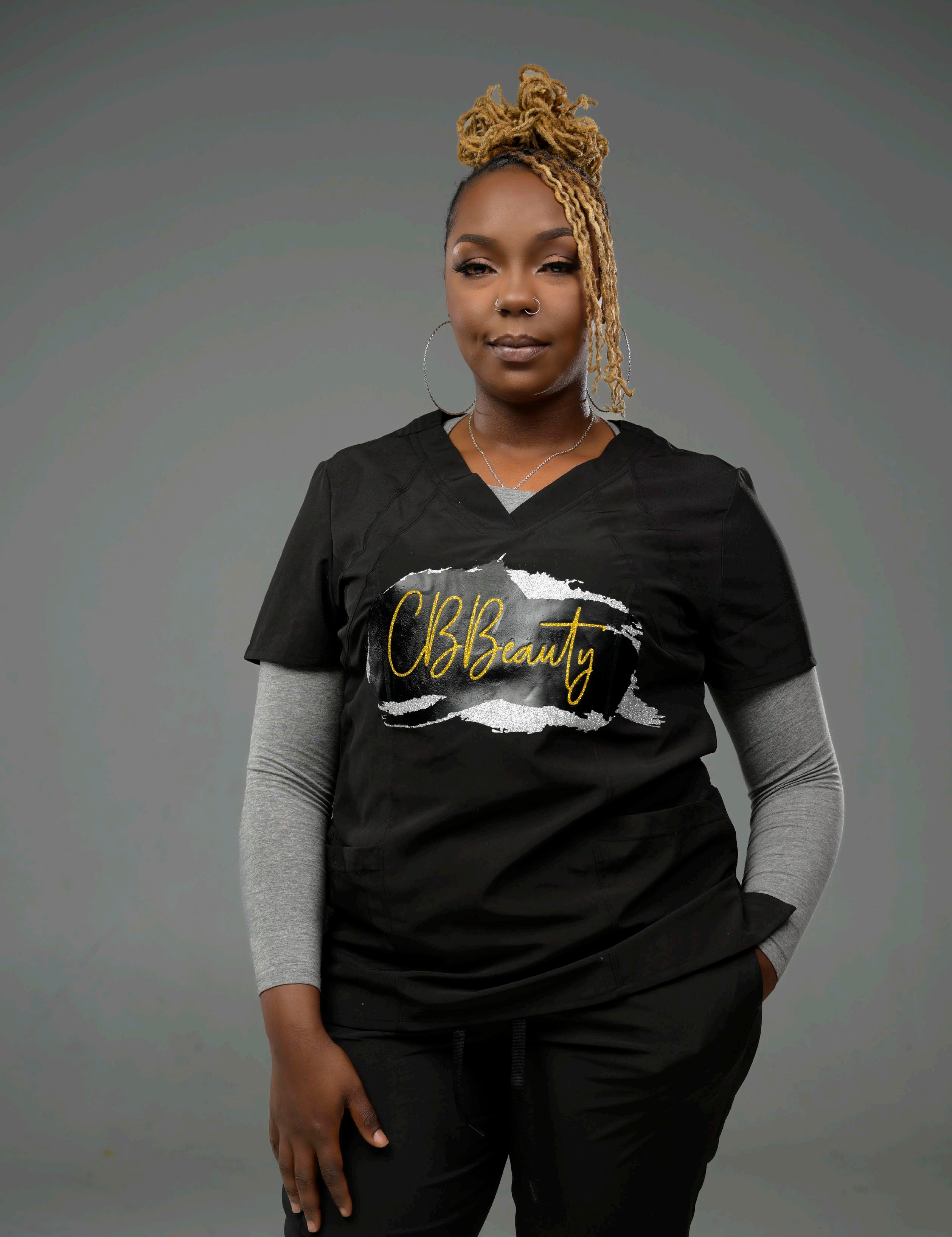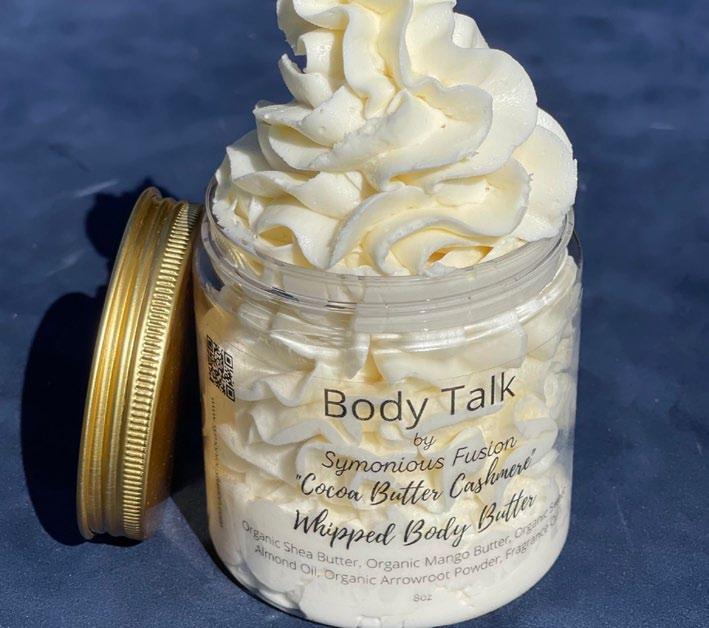 A Fusion of Scents & Harmony for the Body www.SymoniousFusion.com Handmade Soaps Body Scrubs Body Butters and more.....
ARKANSAS DALLAS/ FORT WORTH CALIFORNIA CHARLOTTE MISSISSIPPI NEW YORK/NJ PHILADELPHIA HAMPTON ROADS CHICAGO MEMPHIS NASHVILLE DENVER INDIANAPOLIS RALEIGH/ DURHAM MILWAUKEE Established 2007 A Mykel Media Company LLC Publication www.huamimagazine.com Published for 23 States and 30 Markets / Online & In Print Scan Our QR Code For More Details