Professor
Bridging Cyber In Black America
MILWAUKEE ® Jan./Feb. 2023 Volume 1 Issue 12
My Dreams Are Windows To My Freedom
A Letter From The Editor
There Are No If, Ands, Or Buts About It!
I am a self-proclaimed dreamer. Many of the things I possess or may be involved with, at some point, I probably dreamed about it. Being physically fit, I dreamed about losing all the weight I was carrying around while stuffing my face with food. Singing in the church choir, I dreamed about it, while practicing in my car over one of WOW Greatest Gospel productions.
A Letter from the Editor
What if tomorrow didn't arrive? All of your plans, hopes and dreams wouldn't have a street to park on. What if everything that you decided to put off until tomorrow never happened? There would be no reason to save for a rainy day, and you could spare someone the trouble of making promises. What if your last opportunity seemingly expired today? What would you do?
In short words, I will typically act on something if I dare to dream about it. I have used the gift to dream while sinking in some of my lowest moments. I wanted more, and dreaming of something better made it almost feel like I was there. I learned that there is power in what we dream about.
Terry L. Watson Publisher
www.huamimagazine.com
In that same breath, my dreams have been filled with thoughts of hope and sometimes regret. If I could turn back the hands of time, I would. If I could reverse some of the experiences of my life, I would. If I had the ability to reach back into my past and open some of the doors that were shut and close some that I walked through, I would. One might ask me why, and my response is quite direct; I would if I could.
I've been told that I often seem like I do too much. Honestly, I feel like I am not doing enough and I'm a firm believer in knowing that God wouldn't put anything on me that I couldn't handle. I sometimes wonder how life would be if I chose to sit idle and accept what it presented to me. I have found that to be very boring. In my opinion, opportunity is a blessing that isn't afforded to everyone. A challenge to me is an adventure. What is the worst that can happen? If I do nothing, I fail, and if I try I don't, but instead learn something new about myself. Relinquish your pride and in return acquire life.
Now, it's not my intent to sound as if I do not appreciate the life God has blessed me with. My message is quite the opposite. I love my life and all that has helped to make it what it is. Still, I wish I could have avoided some unnecessary experiences. However, I am wise enough to know that everything has been necessary. It is all part of God's plan for me.
Acknowledging and accepting where and how my life began instills a sense of reality into my heart. Dreaming of places where I wish I could be also encourages me to keep striving for that which is greater.
The best advice ever given to me happened when someone told me to make my tomorrow happen today. In doing so I have pressed my way through doors with a key that only hope provided. I have also learned the difference between what God blesses me with and what life can burden me with as well. I compare it to knowing when to be confident and when to be quiet, because someone may get it confused with being arrogant.
Make you tomorrow happen today, but most importantly make it count. Life is but a whisper and we must put ourselves in a position to hear what it is telling us.
My message is simple. Life is but a whisper, and I refuse to get lost in the chaos and confusion. There is way too much for me to do, and if I never achieve all that I dream of, I will remain enthusiastic about what tomorrow promises. Tomorrow, if it comes, is provided by God. And when God blesses me with another day to live, He also blesses me with another day to dream and get to work.
Terry L. Watson
Monica Montgomery Writer Ellen Richardson Writer
Terry L. Watson Writer Dorjea' McClammey Writer
Todd Youngblood Photographer Still Shots Photography Photographer
Tamara Smith
Editor In Chief Terry L. Watson Alana Allen - Deputy Editor Writers Tonya Dixon Terry L. Watson Alana Allen Jeuron Dove
Photographers Perfect Lenz Photography Shaw Photography Group Still Shots Photography
General Inquiries Email
Todd Youngblood Photography
mykelmedia@yahoo.com (336) 340-7844
Want To Advertise? Call
Photo by Shaw Photography Group
4 4 HuamiMagazine.com November/December 2014 Want To Advertise? Call (336)340-7844
HUAMI MAGAZINE is published quarterly by the Mykel Media Company. Any reproduction of any portion of this publication is prohibited without written permission from the publisher prior to doing so. Mykel Media doesn't accept responsibility for statements made by individuals featured or advertisers. Comments concerning this publication E-mail at terrywatson@huamimagazine.com On The Cover
Terry L. Watson Editor/Founder
Mykel Media Company LLC Greensboro, NC 2023 All Rights Reserved Scan The QR Code Above To Visit Our Website
www.huamimagazine.com
huami.milwaukee@gmail.com
336-340-7844
terry.editor@yahoo.com 336-340-7844
Bridging Cyber in Black America
Ricky West
She has always had a love for kids. So much so, she a foundation to serve the.
Greensboro, NC
Nadine Gentles
She has built a business that honors the memory of her mother. It is also taking the fashion world by storm.
Gulfport, MS
When a man looks good, he feels good. Learn more about his product made just for the beard. Charleston, SC
JAN./FEB. 2023
CONTENTS 6
Also
MILWAUKEE
On The Cover
Featured
Michael Arnett
34 14 22
Shaunielle Foster
Huami Magazine Cutest Baby Juliana Jackson
2nd Semester Consignment Monica Grays
Your
LLC
37 28 18 10
Simply Celeste's Catering Celeste Talley
Story Financial
Shehara L. Wooten
Bridging Cyber In Black America
By Terry L. Watson Photos Provided by Ricky West
Professor Ricky West is no stranger to the classroom. He is a graduate of the University of South Carolina and South University. He respectfully brandishes a Bachelor of Science in Integrated Information Technology and a Masters in Business Administration. Professor West, as he prefers to be called, kicked off his IT career as an IT Specialist for Richland One School District. There, he enjoyed helping scholars and teachers use technology strategically to uplift learning and retention.
His first entrepreneurial venture was Tiny Techz, LLC and Tekk Solutions, LLC, both happening during the period of 2009 and 2016. He shares, "In the early 2000s, I noticed a problem in the market and educational system. Educators and school leaders struggled to dissect STEM and STEAM education into practical learning objectives and classroom activities. Using the Tiny Techz platform, we developed a curriculum, STEM-based field activities, and afterschool STEM programs for parents and school districts alike," he says.
Today, Professor West is the founder of Bridging Cyber Incorporated (BCI). BCI is a black and family-owned business and has several key supporters. Based in Wyoming, BCI's corporate mission is to create a cyber talent marketplace that is backed by intelligence and capable of converting aspiration into career sustainability to achieve superior results for people of color. Additionally, Bridging Cyber owns start-up entities Bridging Cyber Training (Largo, Maryland), Xodus Project North (Ottawa, Ontario) & CertWallet, Inc.
In 2016, Professor West transitioned his life to Maryland, finding true love and wedding vows with his wife, LaNice. He also continued his passion for teaching.
BCI's Security Operation Center (SOC) is a vocational school. It is powered by B2B, and provides custom talent needs and simulated cyber range specialty training. "We provide exam preparation coaching and specialty training courses for novice students," Professor West shares. BCT is similar to the military version of AIT. Unlike a traditional boot camp for new soldiers, AIT offers specialized training for specific job needs.
BCI's Xodus Project North (XPN) is an international brand that promotes domestic services to communities worldwide. "Xodus' vision is to diversify the cyber talent pool and create equitable career opportunities for communities of color. It is done by incubating cyber skills to increase marketability and employing top talent. Ultimately, I wanted Xodus to become the modern-day version of the underground railroad for black cyber talent, such as a members-only exclusive global pipeline connecting talent with careers," Professor West says. "Since July 2022, I have been planting seeds in different countries to meet our five-year goal of bringing this project to fruition. Currently, we are preparing to launch operations in Ottawa, Canada, and working on new partnership opportunities in Rwanda and South Africa."
Milwaukee - Jan./Feb. 2023 HuamiMagazine.com 7
BCI's other product, CertWallet, is a membership-as-aservice web application that provides certification monitoring and management services to professionals in competitive industries. It is scheduled to launch in February 2023 and is expected to relieve the agony often experienced by professionals who seek to maintain a competitive advantage among their peers. Professor West says CertWallet will track credentials expiration dates and provide renewal assistance to members creating longer sustainability in their career fields.
Professor West says his father instilled something very important into him at an early age. "If you find a problem, then don't stop until you have a solution". He says, "With my first company, Tiny Techz, schools were having a problem identifying how to incorporate STEM in the classroom to promote innovative learning and career exploration. So, I designed a curriculum development company to provide school advisory services and implement an afterschool program for middle and high school students. My platform also brought awareness to the technical deficit in STEM. Bridging Cyber followed the same energy. If you look at cyber training, you have a non-existing cyber education presence in high school, yet you have a demanding shortage talent gap that doesn't require post-secondary degrees to compete on the other side. There is so much pressure to quickly train, earn certifications, and develop skill confidence between those endpoints. That's a huge problem."
He continued to press the issue. In 2016, while in retirement, Professor West became a traveling technical trainer, traveling domestically and facilitating boot camp courses for companies and military posts. "My wife challenged me to stop working with so many training companies and use my talent to open my dream school," he says. And so he did.
Professor West says he loves chasing light bulbs in his students. "It's fulfilling comparing students of any age on the first day of walking into my classroom and watching their minds expand to a greater height by day five," he shares. "It's not about money for me. I am all about the mission behind the service. If I accomplish my mission, then the money will follow. I love knowing my creativity will hugely impact someone's life."
Along the journey of building his brand, Professor West has faced some challenges. One has been dealing with a saturated market. Gracefully, he says they have maintained earnings of over $90K in just four years and still seek ways to corner the market. They have also had to deal with the Covid 19 pandemic. Another challenge was experiencing the abuse of venture capitalists. He says not operating in desperation made the difference.
Getting Black Americans involved in tech and cyber is essential to Professor West. He says, "Black people represent less than 10% of the cyber professionals worldwide in the industry. There are over one million cybersecurity vacancies in the United States, with the number one in-demand job title being cybersecurity analyst. Tech and Cyber are competitive industries based on certifications and skills and offer competitive salaries to anyone eligible. This is why I need to get people of color involved. There are opportunities available".
In the coming editions of Huami Magazine, we will share more information and details about what Professor West is doing with Bridging Cyber. To learn more about their products and services, please visit their website.
8
"Black people represent less than 10% of the cyber professionals worldwide in the industry. There are over one million cybersecurity vacancies in the United States, with the number one in-demand job title being cybersecurity analyst."
www.BridgingCyber.com h
Shehara L. Wooten
Your Story Financial LLC
By Terry L. Watson
Photos Provided by Shehara L. Wooten
One of the essential ingredients needed to succeed is having goals and a plan to accomplish those goals. Dallas, TX, resident Shehara L. Wooten, CFP®, has made it her business to help others with arranging them both.
She owns two companies, Your Story Financial and Your Story Financial Academy. Your Story Financial focuses on one-on-one, life-centered financial planning for STEM professionals and families. These services also include comprehensive financial planning and investment management.
Your Story Financial Academy's mission to reach even more professionals to further the movement to close the racial wealth gap. They strive to accomplish this with educational speaking events, a signature online group coaching program, Wealth Gap Closers™️ Method, and Shehara's book entitled, "In the Meantime: Own Your Financial Narrative".
Shehara has enjoyed over 17 years of marriage with her husband, Sean. She has two younger sisters and is a proud auntie of her adorable niece and nephews. She also has over 18 years of experience in financial services, a journey that began with earning a B.S. in Electrical and Computer Engineering.
Shehara eventually changed careers to pursue her purpose of helping clients achieve financial success. After doing so, and in her first financial services role, Shehara worked with a global financial services company and has never looked back.
Milwaukee - Jan./Feb. 2023 HuamiMagazine.com 11
"Our virtual firm is based in Dallas, Texas, serving clients all across the United States. Don't hesitate any longer. A solid financial plan is a sure way to reach those money goals. Get the financial security you and your family need or desire and give wings to your dreams."
Years later, Shehara says she chose the role of a financial advisor to help people improve their financial position more significantly. "As time progressed, I desired to help people craft amazing financial success stories and close their personal wealth gap," she says. "As a fee-only CERTIFIED FINANCIAL PLANNER™️ professional and Financial Life-Planner Strategist, I help STEM professionals gain access to solid financial planning, whether at the beginning of their financial journey or have already begun,"she says.
Another title that Shehara brandishes is that of author. Her production, "In the Meantime: Own Your Financial Narrative", is an additional tool she utilizes to help her clients obtain financial independence.
Shehara says she loves her chosen career and the opportunities she is afforded to help others build wealth. Her genuine love for serving is rooted in her relationship with Jesus Christ. She also relies on encouragement and support from her husband and parents.
Like most business owners, she has also faced challenges in business. For Shehara, one is understanding her client base. She has countered these challenges by engaging in mastermind sessions within her profession, researching and interviewing potential clients, and utilizing the services of a business strategy coach.
For anyone looking to become a financial professional, specifically a CERTIFIED FINANCIAL PLANNER™️ professional, Shehara offers the following advice. "Find and interview other CFP® professionals. Connect with like-minded, ambitious professionals, and hire a business coach. You can also join a group coaching program. Finally, take the time to understand what your purpose and passions are." To learn more about Shehara L. Wooten and Your Story Financial, please visit their website. h
12
www.yourstoryfinancial.com
Dorcas Couture CustomsNadine
By Terry L. Watson Photos Provided by Nadine Gentles
Nadine Gentles is a woman of faith, a lover of life, and someone who enjoys all things creative and beautiful. The Jamaican-born entrepreneur is the daughter of Winston and the late Dorcas Gentles. Nadine migrated to the United States in 2001 and landed in the Gulfport area of Mississippi. Her first three years in the US was spent working odd jobs. She also attended Mississippi Gulf Coast Community College and received a degree in Human Services, and pursued a bachelor's degree in Fashion Merchandising.
Nadine is also the owner of Dorcas Couture Customs. With her company, she offers custom designs from start to finish for events, including Bridal parties and Grooms packages, special events, proms, birthdays, and more. Her pieces are one of a kind and are designed to be budget-friendly. She shares that when her son, Javaughn, a fashion designer who studied at Mississippi State University, wanted to learn how to sew, she knew they were on to something. "It was 2015, and within the first weeks of me teaching him, he grasped it, and that is how Dorcas Couture Customs was formed," she says.
Nadine shares she would like to think of herself as a more couture designer with an urban flare. "My brand started in 2015 as a tribute to my mom, Dorcas Gentles., who passed away in October 2010. Her love for sewing and the teaching she poured into me as a child prepared me for success."
So, how did the journey begin for Nadine? She shares, "I started sewing at 16 years old. At first, I hated it; however, my mom encouraged me to continue, and now, I am obsessed." Nadine first began by sewing an all-African attire. She points out how she loved the vibrant prints and texture of the wax fabric. She offered maxi skirts only for a bit, but as her experience developed, she transitioned to more of a formal esthetic.
Milwaukee - Jan./Feb. 2023 HuamiMagazine.com 15
"I started sewing at 16 years old. At first, I hated it; however, my mom encouraged me to continue, and now, I am obsessed."
"Sewing is my comfort and safe space. I love to tell stories with my garments. I also desire to create items for women of all shapes, sizes, colors, and ethnicity," Nadine says.
With each piece that Nadine creates, there is a message and meaning attached to it. "I believe that every design has energy. The design process comes from a place of worship. It's a ministry, and I thank God for the gift He has blessed me with. Designing and teaching others the art of sewing is my way of uplifting and empowering others," she says. Over the years, Nadine has taught more than 100 women and men how to sew, with many of her students using their education to create a stream of income.
As previously mentioned, Nadine's life has been greatly impacted by her mother. She also credits her son Javaughn for stepping up and assisting her with finding ways to keep her mother's memory alive. Dorcas was given to Nadine's mom by her mother, the late Monica Bowen. Dorcas is a biblical name and Nadine says Dorcas' character describes her mom accurately. "My mom embraced her name and her calling to serve others, and I pray I can do the same."
When Nadine first started taking orders, her community embraced her. The first prom season was 2016 and she produced items for a wedding party. In her authentic Jamaican accent Nadine describes what that experience was like. "Many times I didn't know how to create the pieces they ordered. I am very critical so if it's not looking right, it's not going out. I would give up, stressed, say my prayers and go to bed. Sometimes I would dream of the piece and how to do it . God brought back to my remembrance what my mom and my teachers taught me back home. I also read and practice a lot. I am always in designer mode and I have thousands of screenshots of designs and looks I want to try. I love challenging myself. I am always learning and I never give up."
It is evident that Nadine is walking in her calling and enjoying the rewards of doing so. In the previous eight years, Nadine's designs have graced New Orleans Fashion Week, Georgia Peach Fashion Week, Mobile Fashion Week, Houston Fashion Week, Coastal Fashion Week, London Fashion Week, and Juneteenth Fashion Shows. She has been invited to the Project Runway and won best designer with the Fashion Life Tour. Additionally, she had the opportunity to design a gown for the 75th Tony Awards in New York City.
Her advice is clear for anyone who may follow a path similar to the one she has traveled. "You must be dedicated, find your niche, be true to yourself, know your skill level, and practice, practice. You can learn from everyone. Master your craft. Know your worth. Failure is not an option."
Looking to the future, Nadine says she plans to open a fashion Design College, and pass on what I have been taught to others. She also plans to continue introducing others to the fashion and design field. h
HuamiMagazine.com Milwaukee - Jan./Feb. 2023 16
www.mydorcascouture.com 228-234-9573
Simply Celeste's
By Joy Rogers Photos Provided by Celeste Talley
When it comes to good food, Phoenix, AZ, resident Celeste Talley knows all about it. Celeste is widely recognized as a Celebrity Chef. Her expert cooking skills come into play with her being the owner of Simply Celeste's Catering, a full-scale catering company based in Phoenix.
Celeste prides herself on her brand promise of providing excellent service that creates a stressfree and memorable event for every one of its clients. Simply Celeste's specializes in southernstyle cajun cuisine. "My team and I will come to you and prepare your meal onsite, allowing you to experience me in my element. My goal is to relieve the stress of cooking by curating a delicious meal from start to finish," she says. Celeste's services are ideal for Birthday Celebrations, Bachelor and Bachelorette Parties, Anniversaries, and other Social Gatherings.
"There is something unique and special about the bonding that goes on when people gather to have a meal," Celeste says with excitement while speaking of the excitement she experiences when executing her passion for preparing food for others. "
Twelve years ago, Chef Celeste relocated to Arizona, however, her roots trace back to the east coast. She is originally from New Jersey and is the youngest of six children. She obtained her bachelor's degree in business and communication from Arizona State University. Additionally, she has been married to her husband, John, for eleven years, and they have one seven-month-old daughter, Arielle.
20
How did her journey in business begin? "I had the idea to open a catering business, yet, I didn't have any indepth information on how to go about it," she says. The motivation for starting her business derives from Celeste's passion for cooking, her love of excellent cuisine, and a tradition of entrepreneurship experienced by her family. She later rented out a shared commercial kitchen facility to bring her dreams to fruition.
Celeste shares she developed a love for cooking at a young age. "My father instilled in me an entrepreneurial mindset and love for cooking. I bonded with him heavily through food. I was always in the kitchen with him as my other siblings did not have the same interest in cooking that I did. He taught me how to cook, and I witnessed him and my mother run their own restaurant in the 90s called "Hearts of Lettuce". Celeste's father's niche was healthy cuisine, including salads, sandwiches, and soups.
After receiving advice from her father, Celeste set her sights on making her dream of owning her own business a reality. She did her research and wrote out recipes, yet unlike her father, her vision wasn't to set up shop in a brick-and-mortar establishment; instead, her vision involved operating a catering service.
The launch party for Simply Celeste's occurred during a tasting for her friends and family and continued on from that point. Unfortunately and unexpectedly, her father passed away in 2017. Yet, Celeste has been committed to operating her company in his legacy. "We talked about food every day and that was okay with me. He loved to hear about what I had made for dinner and wanted to know all about my catering events. I was devastated when my father passed, but I wanted to keep his legacy alive. The best way to do that is to honor him through how I live and run my company. I do what I do because of his influence," she says.
Cooking is something Celeste says she loves to do. "I love to cook in general, it is something I am really passionate about. I love experimenting with different flavors and seasonings, and I also love serving people and putting smiles on their faces," she says.
Moving forward, Celeste is working towards building out the cheesecake subsidiary portion of her business and making them available for sale in grocery stores and other restaurants. Presently, she is seeking to expand her staff and build a team of permanent employees. This may include a Sioux Chef, several prep cooks, and servers for events. She is also working on building brand awareness for her services through social media and other marketing strategies. "The goal is to drive repeat business through superior customer experiences," she says.
To learn more about Simply Celeste's Catering, please visit their website. h
HuamiMagazine.com 21
Milwaukee - Jan./Feb. 2023
www.simplyceleste.com
TheBeardedOne.
By Terry L. Watson Photos Provided by Michael Arnett
The saying goes that when a man looks good, he feels good. Budding entrepreneur Michael Arnett of Charleston, SC, has set his sights on ensuring it becomes a reality for all men who desire it.
The 59-year-old father, husband, caretaker, and retired Police Officer is a native of Harlem, NY, but was raised in the Bronx. Living in a melting pot, Michael saw different nationalities and cultures of people. That experience helped him grow as an individual. He says he was determined to escape his environment and see the world.
His story is that of someone who has persevered despite what his surroundings presented to him. He shares, "I lived in public housing (the PJ's) for 25 years. I come from a two-parent household, along with two other siblings. We had great examples as parents; my father was a Police Officer, and my mom worked as a Secretary. My parents always told me to work hard, and that anything is possible. My dad told me I could be better than him and that nobody was going to give me anything."
Michael always loved fashion. After graduating from vocational high school in 1981, he enrolled at a community college. He attended school full-time and worked full-time. His major was graphic arts and advertising. Michael successfully received his associate degree in 1985. "After college, I worked several jobs but wasn't satisfied. In 1987, I joined the US Air Force, served for five years, and spent time in the Gulf during Desert Storm. After leaving the military, I worked until I became a police officer and was accepted into the academy in 1997. I later retired in 2018 and started on a mission of entrepreneurship, fueled by my love for fashion and to be different," he says. In 2020, Michael relocated to his current home in Charleston to care for his mom.
Milwaukee - Jan./Feb. 2023 HuamiMagazine.com 23
Today, Michael is the owner of TheBeardedOne., a clothing apparel company that produces T-shirts, Hats (Bucket and Farmer), and Hoodies. Michael's clothes are geared toward the Bearded community and cater to individuals with mustaches, goatees, etc.
Michael says TheBeardedOne. began after he grew a beard in late 2017. "I began to think about how to incorporate my beard into my business model. After going back and forth, I figured out how to make it happen in December 2020."
While he has a genuine love for fashion, Michael says he also finds enjoyment in being different. "Fashion is what you make it! I have made a business out of fashion, and because I am the owner, I can do what I want and not answer to anyone," he says.
Like most small business owners, TheBeardedOne. has faced its share of challenges. Michael says some have been finding a way to navigate through a saturated T-shirt market and rough economy. He has also had to deal with operating with limited resources. "I have overcome the saturation by offering different and unique clothes of good quality. I have found good quality clothing and still profit from my prices. With limited resources, I have attended more networking workshops and located events that allowed me to vend and showcase my apparel," he says. Michael is also a member of the cigar club, Good Times Gang. That connection, he says, allows him to network with people from all over the country.
While his journey has been a little challenging, Michael says he wouldn't change much about the way things have happened. "I would not change anything. The trials and tribulations are a part of life. You can grow from them or fall back and blame everyone else for your misfortunes. My advice to others who may follow in my footsteps is to keep God first in everything you do. You must have a plan, execute, network, and bring the love of what you do to your business. Stay focused and cut back folks that don't have the same energy as you. And don't be scared to let the world know you are here," he says.
Living in New York prepared Michael for life at an early age. Moving forward, he plans to continue to grow his brand. He also hopes to purchase a van and convert it into a mobile store. He also hopes to have a storefront to display his apparel and help out other local fashion-based companies by displaying their apparel in his store.
HuamiMagazine.com Milwaukee - Jan./Feb. 2023 24
Instagram @TheBeardedOne.
An Eight Week Course of Education
Week 1 - Introduction of all material over eight weeks. They are adapting with family and friends with a newborn. What are the challenges faced, and how can I overcome them? Healthy Parenting and Relationships (Partnership with Family and Consumer Sciences Professionals). Members will use the whole session to share their experiences and struggles associated with adjusting with pregnancy.
Goal: Members will gain an understanding of their peers and the struggles they each face. Members will begin to assess the challenges associated with parenting with family and friends.
Outcome: Members will begin to develop a relationship with their peers, thus establishing a bond and connecting with one another. Understanding healthy relationships (Family, Partners, and Friendships).
Week 2 - Staying Positive Coping Skills (Mom and Baby)
This session will include role-play, video clips, and class activities to complete about parenting.
Goal: Members will develop coping skills to assist with managing emotions and challenges faced.
Outcome: Members will be more equipped to manage their behavior positively and change their mindset to positive thinking and speaking.
Week 3 - Money Matters (Budgeting, Savings, Credit)
This class will build on the "Budgeting Skills" class. It will also include worksheets and important literature on budgeting and saving money.
Goal: Members will obtain skills to manage money and food stamps.
Outcome: Members will develop budgeting skills, thus reducing the amount of dependence on others. Members will become aware of shopping tips, utilizations of coupons, and resources to help save and budget funds.
Week 4 - Computer Literacy/Interview Prep
Members will participate in role-play and hands-on learning. Staff will cover interview skills and resources related to interview clothing. Staff will require all members to practice skills learned and discussed on the computer.
Goal: Members will become knowledgeable of soft computer skills and learn essential interviewing tips.
Outcome: Members will develop or refresh their computer skills, which are needed to navigate computers and the web. Members will gain the necessary skills as it relates to interviewing preparation.
Week 5 - Parenting and Breastfeeding Speaker
A WIC speaker will cover the entire class.
Goal: Members will learn the benefits of breastfeeding and healthy eating.
Objective: Members will take advantage of the learned material and start the process of familiarizing themselves with breastfeeding and other options.
Week 6 - Career and College Readiness (Partnership with Community College and Trade Schools). The speaker for this class will be from a Professional Job/School.
Goal: Educate single moms eligible to work on how to apply for jobs and submit school applications. Teach singles how to write a resume. Somebody will also give College Prep information.
Outcome: Members will be ready for job training interviews.
Week 7 - ADL's (Activity of Daily Living)
This class will cover Basic ADL's of caring for self and infant. Self Care and Postpartum Depression.
Goal: Members will learn the importance of personal self-care needs associated with parenting.
Outcome: Members will implement newly learned skills and establish improved self-care to assist with parenting needs. They will also learn about the effectiveness of reducing stress levels during mommy time.
Week 8 - Safe Sex/Pregnancy Prevention
A Health Provider will come in and speak on: Prevention of Teen Pregnancy and Sexually Transmitted Diseases. Birth Control methods and safe sex options.
Goal: Members will learn about the statistics of teen moms. Members will learn about STD's and the risk of unprotected sex.
Outcome: Members will become more familiar with and aware of risks associated with unprotected sex and pregnancy prevention.
Review/Survey / Where am I now? / Graduation
The first thirty minutes of class will consist of completing a survey of learned material and the usefulness of the course. Staff will use this time to review any material or resources needed. The remaining hour and a half of class will be used for Graduation and to celebrate the completion of the course.
Goal: Members will gain a sense of accomplishment and fulfillment.
Outcome: Members recognize the importance of parenting. They will have a different outlook on life as a single parent with the information they learned over the eight weeks. They will learn how to be better parents to their children.
www.levelupptg.com
26
h
We Had Fun!
November 19, 2022
2nd Semester Consignment Shop
By Terry L. Watson Photos Provided by Monica Grays
How important are teachers' roles in educating and preparing young people for the future? An appropriate answer would be vitally important. In today's classrooms, teachers are presented with various challenges. Still, one that remains at the forefront is having adequate tools and resources to aid in the deployment of their instruction. Fortunately, there is someone who has stepped into the gap.
Monica Grays of Cleveland, OH, is the owner of 2nd Semester Consignment Shop. Her company is a resale education store and tutoring program. They help local teachers and parents who are operating on a budget educate children by recycling new and gently used educational materials. Her tutoring program serves students in grades PreK12, in all subjects.
2nd Semester was born in 2016 after Monica switched positions and realized there was no place to store or sell her materials, which were compiled over 20 years. "My husband suggested I take them to the consignment shop. After much research, I realized that no such shop existed. So, three months later, 2nd Semester Consignment Shop arose as the only consignment store for education," she says.
For the past 25 years, Monica has taught elementary and gifted education in the City of Cleveland. She is a mother of five children and has enjoyed eighteen years of marriage with her husband. She says she loves the Lord and loves to serve her community.
29
"My husband suggested I take them to the consignment shop. After much research, I realized that no such shop existed. So, three months later, 2nd Semester Consignment Shop arose as the only consignment store for education."
Monica says she loves serving and helping individuals. "I help teachers save money, lots of money on their classroom's needs. I also provide free business training to local small business owners. My goal is to help other small businesses by establishing a free and comfortable environment to learn and grow," she shares.
One of the biggest struggles in Monica's business was a need for more knowledge. As a result, she hid away, hoping to figure out how to grow without the help of others. After years of figuring it out, she connected with some programs designed to help small businesses. This exposed her business to more opportunities and resources she didn't know existed. That lesson was something Monica needed, and she says, "I appreciate the support of family and friends, and I advise against any new business owner to do what I did. Instead, I would encourage them to seek counseling or coaching support to begin their journey."
As Monica prepares for the future, education and being a resource for students and teachers will continue to be her primary focus. She says, I will continue helping and serving others. However, God leads me. My very next colossal project is called Naomi. After a very discouraging report about Cleveland being the worst livable city, I decided it was time for our local African-American women to begin a change. This event will allow our women to get together to start a conversation about how we can impact the future of women in Cleveland," she says.
Additional information about the Naomi Women of Distinction Luncheon can be found at www.naomicle.com. For more information about 2nd Semester Consignment Shop, please visit their website. www.2ndsemestershop.com
HuamiMagazine.com Milwaukee - Jan./Feb. 2023 30
Timothy Fowler Boys to Men Foundation
By Terry L. Watson Photos Provided by Todd Youngblood
Timothy Fowler of Charlotte, NC, is the founder of Boys To Men Foundation. His organization provides thousands of boys, ages (9-17) who are referred through partnerships with local school districts and juvenile court systems) with positive alternatives and a robust support network. The mentoring program presents opportunities for enrichment, exposure, support, and guidance through group mentoring sessions led by trained volunteers and mentors. They also connect young men with consistent, positive male role models who foster effective relationships, community involvement, interactive teaching, and open communication in a loving and nurturing environment.
Timothy was born and raised in Brooklyn, NY. He grew up in a household with seven kids and says his father took care of them and ensured they always had a roof over their heads. Today, Timothy is a father of a teenage son, and he has a daughter who attends Spelman College in Atlanta, GA. Timothy graduated from Medgar Evers College with a BA in Elementary Education in 1995. He has worked as a Pre-K teacher for nearly 30 years. His first teaching position happened at P.S.190 in Brooklyn, and upon moving to Charlotte in 2005, Timothy worked as a Pre-K teacher at Morehead Stem Academy. Currently, he works as a Pre-K teacher at Highland Renaissance Academy.
Upon graduating from Medgar Evers College, Timothy began a career in education and has served as a role model for young people ever since. In 2008, he founded the Boys to Men Foundation. BTM's workforce development benefits two groups: It builds character for mentees as they acquire knowledge, skills, and aptitude for gainful employment. It also benefits employers who participate in the apprenticeship program by providing an effective means of communication with a familiar candidate pool, helping to meet their demand for stellar employees.
Timothy's desire to serve started a long time ago. He shares, "Back in my hometown of Brooklyn, I first noticed the nonexistent presence of positive male role models in underprivileged communities. Out of this need, I started my quest to counsel young teens through programs like Big Brothers Big Sisters of America. I was a Big Brother for over five years and worked at the YMCA, and I continue to be active today. As a young male, I would always strive to bring people of all walks of life together. While attending Medgar Evers, I started a program called the Black and Latino Male Initiative. The initiative's goal was to bring males together to discuss common issues affecting society at that time. When I moved to Charlotte, I continued that initiative by starting the Boys to Men Foundation."
Timothy understands that he must care about others who need help outside his immediate family. "It's a selfless act to fight for someone who is virtually a stranger until that relationship unravels. Ninety percent of our boys come from single-parent households. For these young men to have someone they can trust enough and be vulnerable with to reach out when they need help is invaluable," he says.
Timothy says his life was greatly impacted by his grandmother, who lived in Wilmington, NC. As a young boy, he would travel there every summer to visit her. He witnessed her give back to her community and how she poured into anyone, regardless if they were members of her family. This explains why he loves giving people new experiences and watching them grow. "Every day is different. I always tell my mentees they help me grow just as much as we help them," he shares.
For BTM, Timothy says operational funding is always tough. "There are a lot of non-profits that all need funding, so it's a competitive environment. Fortunately, we have cultivated some great relationships with local businesses. Finding good people to help me carry out this organization's vision and mission has also been a challenge. Yet, we are moving ahead and always looking for good people to help us," he says.
Timothy says BTM's goal for the upcoming year is to form more partnerships with local businesses and corporations to aid in their effort to empower young men. h
704-858-3790 www.btmfoundation.org
33
It's All About Her Love For Kids
By Dorjae' McClammey Photos Provided by Shaunielle Foster
Who has a bigger heart than Shaunielle Foster? She is the founder and CEO of Footsteps to Follow, a non-profit organization based in Guilford County, NC, that focuses on special needs children and the inclusion of the buddy system for standard children.
A native of New York, Shaun, as she prefers to be acknowledged, has cemented her "footstep" in the modeling industry and is highly sought after for her creative expertise and fashion savvy.
Modeling is something that Shaun grasped at the young age of three. Soon she was appearing in commercials and print ads. Living in a city that never sleeps offered her opportunities at every corner. However, these opportunities did not focus on just modeling but allowed her to branch out and explore different arts, such as dancing and performing arts. Growing up in multiple industries, she felt the need for modeling would let you express who you are regardless of what the person is wearing. And the rest is history.
"It all began in 2009 with a simple conversation. My friend and I were discussing their child who had special needs. While talking, they realized there were no opportunities available for the young person to participate in the fashion and model world without being stigmatized. At that moment, the idea for Footsteps to Follow came to life," Shaun says.
For Shaun, it is all about loving her kids. The open platform that Footsteps To Follow have gives children ages with special needs between the ages of two to 18, a sense of inclusiveness in the fashion world. With bi-annual fashion shows during April and October, they can forget their disabilities and enjoy themselves. Shaun's mentoring program, "The Buddy System," allows them to be matched and create life-long friendships with other children who don't have the same setbacks or illnesses.
Milwaukee - Jan./Feb. 2023 HuamiMagazine.com 35
Another project Shaun has her hands in is a workshop called 'Stytches.' It allows the kids to create their own garments and showcase them during the fashion show that Footsteps To Follow produces. She has also created various partnerships with her community members to ensure the kids in her program and her community are receiving everything they need. One partnership is with the local HBCU, North Carolina A&T State University. Together, they pair each of her kids with a mentor from other local non-profits. Another program called 'Wrapped Up In Music' serves kids who are patients in local hospitals.
Shaun's love doesn't end there. She has been a foster parent for seven and a half years and has fostered over 290 children. "I felt like it was necessary to be able to be more than just a bridge gap for so many children," she says. She has also found a way to get her family involved with her programs. Her son Kingzton, a young KidPreneur and model, has created an all-natural self-care line called "Kingz Korner." He has all-natural lip therapy, bath bombs, awareness suds, and more. The colors of his logo are dedicated to his mother and represent all she has done for kids in the foster system. "Green is for missing children, blue is for adoption, and yellow is for unconditional love." Shaun also has launched 'Fatz15', a clothing line dedicated to her daughter Daisha who she calls Fatz because she barely weighed five pounds at birth.
Although there have been challenges along the way, Shaun says she is unphased about them. "I always find the silver lining. It's not about the challenge; it's about finding the solution," she says. As for the future, she is working on acquiring a brick-and-mortar location for her programs.
For anyone looking to follow in Shaun's remarkable footsteps, her advice is to be authentically you; there is only one. "Follow your hopes, dreams, and heart, and be passionate about what you do. Doing so will not feel like work."
To learn more about Shaunielle Foster and Footsteps to Follow, please contact them directly. h
HuamiMagazine.com Milwaukee - Jan./Feb. 2023 36
Cutest Baby
The daughter of Brianna Jackson Granddaughter of Ed & Raquel Browning Great Granddaughter of Annie Browning & Lisa
To submit photographs to be placed in the Huami Magazine Cutest Baby feature, please send a detailed email to huami.cutestbaby@gmail.com
MAGAZINE
Juliana Marie Jackson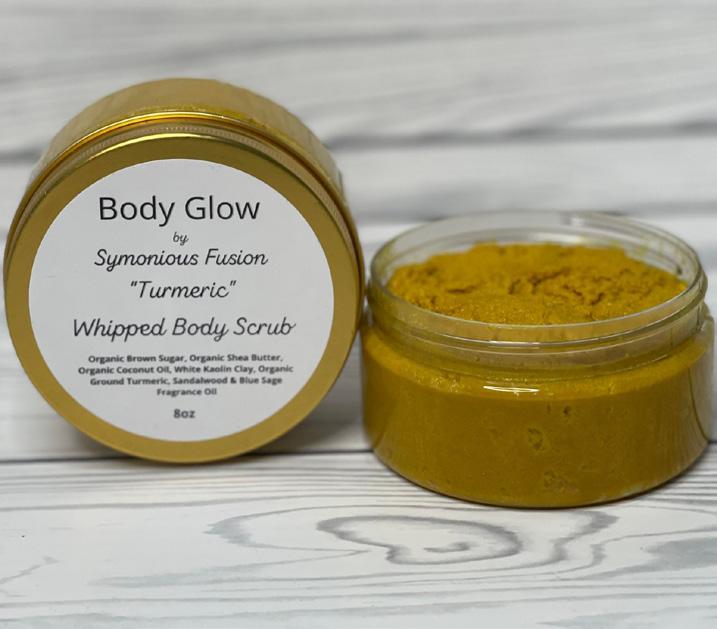 A Fusion of Scents & Harmony for the Body www.SymoniousFusion.com Handmade Soaps Body Scrubs Body Butters and more.....
www.ladyespecs.com
ExclusiveSpecsForMen
Women
and