MEMPHIS ® Nov./Dec. 2022 Volume 3 Issue 8 Innate Success & Dress For Success Memphis Fifty-Four Busineses Served inTwo Years
Yesterday Prepared Me For What's Next
It seemed like only yesterday when the first edition of Huami Magazine was published. In November 2007, a vision given to me by God became my reality. I have shared the story of publishing Huami Magazine, first having a conversation with God, then taking the leap and stepping out faithfully in response to God's call. Still, I often reflect on the first edition and become reminded of how awesome God is.
While I was confident in my ability to fulfill the assignment, I admit I didn't have all the answers initially. Ten years earlier, in 1997, I researched the magazine publishing industry, specifically in the Triad area of North Carolina. I did this to learn more about what is required to publish a magazine, including how to manage a publishing company, etc. Amongst all of the information obtained, I never inquired about how to support my new media company financially. That would eventually pose a problem for me and Huami Magazine.
Finances and their availability is vital to the survival of any business. I self-funded operating costs for quite some time, especially in the first few years of existence. However, all of a sudden, things changed. Huami Magazine would enjoy the love and support from unlikely sources, including individuals who never exhibited an interest in the product. Doors would soon open and opportunities flowed. Things were looking up for Mykel Media Company, LLC.
As the face and founder of Huami Magazine, I worked hard to spread brand awareness. During this time, there were other challenges I would face, but having the support of the magazine wasn't one of them. Sales were so good that everything needed to keep our doors open, we received it. God saw something good about Huami Magazine and He made provisions to ensure
The message that I want to remind the readers of Huami Magazine is simple. When God gives you an assignment, He will also make provisions for you to see it through. All that we have to do is show up for the assignment.
L. Watson
www.huamimagazine.com
Terry L Watson Publisher
Terry L. Watson Writer
Monica Montgomery Writer
Dorjea' McClammey Writer Joy Rogers Writer
Tamara Smith
Still Shots Photography Photographer Katrena Wize Photographer
General Inquiries huami.memphis@gmail.com
336-340-7844
Mykel Media Company LLC Greensboro, NC 2022 All Rights Reserved
Email Want To Advertise? Call 336-340-7844
4
Scan The QR Code Above To Visit Our Website terry.editor@yahoo.com
A Letter From The Editor
Terry
Tarik Gant
This man can take you places. Learn how has built his own ride sharing company. Nashville, TN
Learn how she stepped out on faith and built her company. Rock City Staffing Agency. Little Rock, AR
Flem Peacher VI
He has stepped into his calling and continued the legacy of his father. Learn more K-9 Safety Consultants. Detroit, MI
Innate Success Corp
NOV./DEC. 2022 MEMPHIS CONTENTS 6 On The Cover Also
Huami Magazine Cutest Baby Braxton Moore An Eye For Interior Design Dymetra McCaskill 33 29 King's Lemonade Corey & Amir Serving Their Community The New Black Collective 36 22
Dr. Shmeka Gibson
Featured
30
26
Vivian Brittenum
34
Innate Success & Dress For Success Memphis
Fifty-Four Busineses Served inTwo Years
Dress for Success Memphis collaborates with Innate Success Corp. to offer the Business Mentorship and Successful Women in Business Mentorship Program. The program utilizes the Changing the Mindset Concept© developed by Innate Success, a framework to help individuals interested in business and entrepreneurship. Innate Success launched the program as a pilot in the Fall of 2020, and with the help of Dress for Success Memphis, the program flourished and now has an organizational home. The program aims to help small businesses develop or enhance effective and sustainable business practices. The program participants were not required to have an established business, but if they had the time, desire and commitment, the program would help them achieve their goal of entrepreneurship.
The six month business mentorship program offers intensive business, legal and financial consulting, and resources to help companies to upskill and upscale their business. This program is available to start-ups, grassroots, and small business owners with an operating budget of less than $250,000 annually. This program has helped over 50 African American and people of color business leaders and raised over $75,000 in grant funding to continue to support the work. The goal is to help these businesses create an organizational infrastructure and enhance stability to upscale the economy and communities.
Innate Success and Dress for Success Memphis celebrated in September with the businesses that completed the mentorship program from Fall 2020 -To spring 2022. During that time, the program offered five cohorts of individuals that worked together to help strengthen their business infrastructure, develop programming to secure funding, and implement marketing plans to engage their consumer base. The theme for the weekend was "For Us by Us." All activities and vendors used for the weekend celebration were participants from the program. The weekend offered an opportunity for all the businesses to come together and celebrate their achievements and continued Success. The weekend started on Friday with a community pop-up shop. We had over 32 businesses present from the mentorship program selling products and providing services. A professional photo shoot was offered for the upcoming class and past participants on Saturday morning, and we hosted the fundraising gala and pitch party on Saturday night.
The gala allowed the guests present to hear from past participants, network and collaborate with others and promote their businesses and brand. Innate Success provided a grant opportunity to the program participants, including a live pitch competition. We had 15 applications submitted, and five applicants were selected to participate in the pitch competition. Two businesses were recipients of the funding opportunity. Shandrisha Lawson, Executive Director of Soaring High Inc., and Michella Williams, Executive Director of A Brighter Future, were awarded based on their grant application and pitch delivery. Anyone interested in the business mentorship program can register at: https://www.innatesuccess.com/mentorship-program
6
Innate Success Corp.
Dr. Shmeka Gibson is an author, international speaker, business owner, and college professor. Shmeka is the founder and CEO of Innate Success and Founder of Changing the Mindset Inc. Innate Success Corporation started in 2018 as S.G. Consulting and Data LLC. After three years of growth and support, S.G. Consulting and Data LLC. rebranded. The name change occurred in July 2020, and Innate Success's doors opened for business in January 2021. Innate Success Corp. provides various business options, tools, and resources needed to develop business owners, organize business practices, enhance individual leader traits, and promote potential business leaders. Innate Success Core provides contract services to organizations needing organizational infrastructure development and program management, research, and applying for funding opportunities and data analytics. Our other popular program model under the Innate Success model is I.S. cares which houses the Mentorship Program.
After a year of working with her consulting business, she created a proofof-concept model, Changing the Mindset©. This model was created as a guide in Innate Success to help business owners apply skills to change how they perceive and modify their behaviors. The model became a trilogy of books, 5 E-Books, and a bullying and technology non-profit called "Changing the Mindset." This organization teaches youth nationally and internationally about bullying prevention and how to excel in technology skills.
h
www.flow.page/innatesuccess
Dress For Success Memphis
Rhonda Treadwell is a pillar in workforce development and career preparedness in Memphis, TN. Rhonda is the Executive Director of Dress for Success Memphis. Dress for Success Memphis is a non-profit organization that provides the following:
• Interview and work-appropriate attire.
• Confidence boosts.
• Career development for women transitioning into the workplace.
Dress for Success Memphis addresses those gray areas, including but not limited to communications skills, customer service skills, understanding work ethics, and navigating the world of work as related to the different industry requirements and mandates. The primary goal is to ensure women can provide for themselves and their families and become marketable, productive citizens that impact the community's growth as positive impacts for all. It has been an honor to serve, to reinvigorate this program, and to make sure we exist to help those who need and want to help themselves.
Join us in this journey as we attempt to make a positive imprint on the economy through our programming in Memphis.
Donate today at: https://dressforsuccessmemphis.networkforgood.com/ projects/116198-holiday-giving
7
h
memphis@dressforsuccess.org
Torri Thomas Jones
The Learning Group is a consulting group that provides the following services and more to districts (specific teachers); -pacing and lesson planning -observation -coteaching -tutorial -professional development -technology integration.
Torri launched her business in 2022 after noticing that teachers needed additional support that the school does not always provide. Torri was once a teacher that lacked the support that she currently provides these teachers. The additional educational support, professional development, and guidance help them feel more confident, effective, and successful in their teaching environment.
Since starting the program, Torri has secured multiple contracts across many school districts. She enjoys business ownership and the impact she has made in the lives of her clients. Torri's children are her inspiration, and she plans to create a legacy for them. Torri plans are to create a client base of up to 5-7 schools each academic school year and have a staff to interact with all subject areas (Math, Science, English, and social studies), provide support for a parent, as well as support for other faculty in the schools.
8
torritjones2020@gmail.com personal-torritjones2020@gmail.com professional-learninggroup4u@gmail.com professional number-6624666062 h
The Learning Group
Pamela Hines Social Builders
of Social Builders. Social Builders is a nonprofit organization dedicated to meeting the needs of youth and adults. Their purpose is to transform and drive clear and high expectations, to impact behavior, to lead and promote effective leadership, to engage by building selfconfidence, and to implement protocol and etiquette training.
The program provides hands-on training for social-emotional learning, skills needed to build interpersonal skills and self-awareness, behavior issues, self-esteem, and emotions. The program offers workshops and role-playing for circumstances and helps youth and adults overcome obstacles.
Social Builders is dedicated to meeting the needs of youth and adults. The goal is to transform and provide clear and high expectations, behavior modification, promote leadership, build self-confidence, and implement protocol and etiquette training. Social Builders help participants overcome obstacles from a real-life experience standing on the platform for Social Emotional Learning and development through reallife perspectives and experiences.
Pamela is thankful and overly blessed for her husband and children. Pamela is passionate about helping and serving people in the community and embracing new challenges.
h
9
phines2014@yahoo.com
Connie Shannon
Second 2 None Grill and Catering LLC
Connie Shannon is the Head Chef for Second 2 NONE Grill and Catering LLC. Connie is a food service professional who has worked in food service since the age of 19. Connie provides catering to any small or large food service event, from birthday parties, church anniversaries, family reunions, class reunions, and weddings, and can offer a diverse menu to accommodate clients.
Connie started in her grandmother's kitchen, watching her make the best-fried chicken and green Kool-aide EVER. Her aunt Willie Mae taught her almost everything she knew. Her aunt had many talents, and cooking was her best talent (besides fishing). They taught her the basics, and with time, Connie developed a love for cooking.
Since her enrollment in the program, Connie has hosted over ten catering events and hopes to host ten monthly. Connie is transitioning from working for others to developing a plan to work for herself. Connie is interested in developing other skills to enhance her business, such as ice carving, food art, and unique recipes. She believes that with food, creativity is unlimited, and with God all things are possible for her.
Connie truly believes she is 2nd to None, creative, consistent, and honest. In the future, Connie hopes to have a Food Truck and Event Center.
HuamiMagazine.com Memphis - Nov./Dec. 2022 10
h
second2nonegrill@gmail.com
Dominique Manning Artful Essence
Dominique Manning, CEO of Artful Essence, is a woman of many artistic talents. She's located in Memphis, TN, and is an artist, photographer, and licensed nail technician. Artful Essence offers paint-andsip events, art workshops, photography sessions, and creative home décor.
Dominique launched Artful Essence in June 2022. However, Dominique's love for visual art started in her early childhood. Over time, she became increasingly passionate about painting, photography, and creative home décor!
She started this business to shift the perspectives of individuals who may not consider themselves creative by providing unique products and services that offer them a fun, new, artsy outlook on life.
She loves having the freedom to pursue her dreams and being able to witness how her accomplishments can have a positive effect on the lives of others. She wants to leave her creative mark on the world and be remembered as an honest and fair businesswoman who strived for greatness! The thought of financial freedom and creating generational wealth for her son inspires her the most.
Connect with us out on Instagram @ artful.essence, Etsy at shopArtfulEssence and on Linktree at linktr.ee/artfulessence
h
contact.artfulessence@gmail.com
11
Casina Chambers
Casina's Elusive Designs and Keepsakes
Casina Chambers is a designer with Casina's Elusive Designs and Keepsakes. Casina creates unique, timeless jewelry and accessories that can easily breathe new life into your wardrobe.
h
cedandk@gmail.com
HuamiMagazine.com Memphis - Nov./Dec. 2022 12
Stephanie McDowell Teach Me To Fish
Stephanie McDowell is the Executive Director of Teach Me to Fish. Teach Me to Fish is a non-profit organization that work with young male offenders.
TMTF provides housing, life-skills, education, parenting skills, mental health support and rehabilitation back into the community.
13
chrispeytonmom@yahoo.com
h
Margot Aleman Voz
Latina Inc.
Margot Aleman is the Executive Director for Voz Latina Inc. Voz Latina is a non-profit organization that provides services to Hispanic and LatinX families. Voz Latina offer services in mental health and provides intensive skills development for these families. Voz Latina's goal is to equip these families to be independent and self-sufficient in the United States.
14
h
16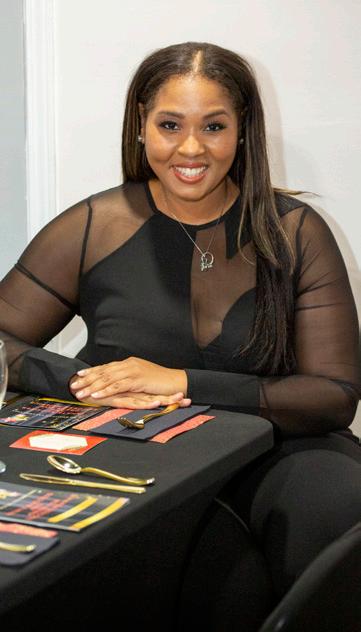 17
Pictured
Cohort One
Cohort Two
Not
18
Pictured Left to Right: Kai'rys Slayer, Sherry Bougard, Kamishea Kemp and Julia Content
Not Pictured: Deidre Pryor, Keisha Spencer, Duriyah Caldwell, LaSonya Livingston, Tiara Conway, La'Kesha Walker, Dominique Worthen and Ronnie Foster Jr.
Left to Right: Leo Ethridge, Chad Evans, Kevin D Tate and John Odum
Pictured: Jourdan Martin, Stephen Anderson, Tavion Drain, Cameron Jones, Eric Cloy
Cohort Three
Pictured
Not Pictured:
Cohort Four
Not
Cohort Five
Not
Left to Right: Michella Williams, Brittany Wright, Jaylah Whittaker, Shandrisha Lawson and Chanesha Gant
Kendra Peterson, Janece Walker, Ashlee S. Jones, Kaylah Johnson, Latura Alexander, Hattridria Taylor, Nadia Perry, Helen Caldwell, Jaria Sharkey, Carjamin Scott, Elisheba Mrozik, and Aimee Bilger
Pictured Left to Right: Tamieka Jones, Verna V. Nickelberry, Danesha Roper, Foluke Houston, Asia King
Pictured: Arieale Munson and Phoenix J Ma'ri
Pictured Left to Right:
Stephanie McDowell, Pamela Hines, Dominique Manning, Torri Jones, Margot Aleman, Casina Chambers and Connie Shannon
Pictured: Stephanie Hines
HuamiMagazine.com Memphis - Nov./Dec. 2022 22
By Terry L. Watson Photos Provided by The New Black Collective
Action is a necessary component required to bring change to a community. The type of action to which others who desire change will respond to. The kind of action that addresses the concerns and problems of a community and produces solutions that improve living conditions. Such an organization exists, and is answering the call for change.
Based in Houston, TX, The New Black Collective was developed by four high school friends; Ebony Joiner, Shaquala Warren, Kevin Thomas, and Jasmine Bledsoe. With each member reigning from Waco, TX, they share a variety of degrees and certifications from HBCUs to Ivy Leagues. Another member, DeAundra Moore, serves as Program Manager and is passionate about empowering and supporting others through direct community interaction.
Launched in 2019, The New Black Collective is a nonprofit organization that services the minority community through community outreach programs. The idea was born out of a need each member was aware of. They also genuinely wanted to give children and adults something positive to look up to.
Memphis - Nov./Dec. 2022 HuamiMagazine.com 23
"To amplify the quality of life in our community, promote culture, and education; through community intitiatives and partnerships with other organizations."
Led by Jasmine, who believes in giving back and enriching her community, The New Black Collective operates under the mission to implement community initiatives that improve access to education, investments, opportunity, and sustainable services. "I learned that surrounding myself with people who can help me is like being surrounded by tangible Godliness," Jasmine says. The group offers curated programs that are free to the community. They also host annual events, including a Back 2 School Drive and Coats N' Cocoa, and collaborate with other organizations and businesses in Waco, and Waco ISD.
What motivates the group as a whole? They say, "God and people. Our love for God has inspired us to love people aloud. Our people inspire us so much. Knowing that we come from a strong people who have built so many things from the ground up is an inspiration. The tenacity and perseverance of those that have come before us will always be true inspirations. They did, we can."
Like any other startup, The New Black Collective has endured its share of trial and error. One challenge they shared was that learning what works for them as a business and what doesn't serve them has been pivotal in their journey. They were able to overcome such challenges through mentorship and counsel. "We believe one does not know everything. So we talk to people that know a little bit more than we do and apply what we've learned," they said.
Moving forward, the plan for The New Black Collective is to be a legacy of labor and love. They also hope to expand and build sustainable and forward-thinking programs. To learn more about the program and to find ways on how to get involved with their programs, please visit their website.
HuamiMagazine.com Memphis - Nov./Dec. 2022 24
"I learned that surrounding myself with people who can help me is like being surrounded by tangible Godliness."
Jasmine Bledsoe President
h
Rock City Staffing Agency, LLC
By Terry L. Watson
Photos Provided by Vivian Brittenum
Vivian Brittenum is the owner of Rock City Staffing Agency. Based in Little Rock, AR, her company is a locally owned and operated professional staffing and recruiting agency. Vivian says her team is dedicated to providing their clients with top-notch service, industry-leading solutions, and skilled talent. "At Rock City, we take great pride and purpose in what we do. That's why we always seek to outperform client expectations. We cover many staffing situations, including temporary, temp-to-perm, contract, and direct hire. We specialize in placing administrative, information technology, customer service, warehouse, and light manufacturing," she says.
Vivian is a native of Forrest City, AR, but has called central Arkansas home for the past 28 years. She is a divorced mother of two fantastic children, Miracle, 21, and Praylyn, 19. She acquired her MBA with an emphasis in Information Technology and an MS in Management and Leadership with an emphasis in Project Management from Webster University. She also obtained her BS in Management Information Systems from Park University with a minor in Human Resources.
Some additional certifications she holds include a nationally Certified Public Manager as well as a Certified Arkansas Governmental Manager from UA Little Rock. She is a Certified Woman Entrepreneur from Cornell University, a graduate of Leadership Greater Little Rock, past Chairman of Auditing Committee for Southern Gas Federal Credit Union, past Diversity and Inclusion committee member for the City of Little Rock, Commissioner for the City of Jacksonville, past-chairman of the Board of Adjustment, and past chairman of the Planning Commission and a graduate of the Rock It! Lab Accelerator Program.
Memphis - Nov./Dec. 2022 HuamiMagazine.com 27
"At Rock City, we take great pride and purpose in what we do. That's why we always seek to outperform client expectations."
Vivian shares how her faith in God has shaped her life from the very beginning. "I am so grateful to God for choosing me for such a time as this. Life for me began in Forrest City. My parents were teenagers when I was born. My mom, Barbara Paulette, was a senior in high school. My father, Leon Jones, Sr. was attending college in another city. In a sense, my mom and I grew up together. She raised me and my two sisters, Tracy and Tajuan in a strict Pentecostal household. We were in the church from sun-up until sundown at least four days a week. That is where my faith began and where I learned to trust and believe in God. My mom and dad worked hard to provide for my sisters and me. Mom worked for a time in factories making garments and televisions before she decided that was not the life she wanted for herself or her daughters. She decided to further her education and became a CNA, became certified in early childhood education, and worked as a transport driver before settling down in the classroom. That's where I got my inquisitive mind and my love of learning. My dad, Pat Haggins, has owned and operated a well-respected construction business for over forty years. My father, Leon Jones, Sr has been self-employed for 48 years. They both stepped out on faith, took a chance on themselves, worked hard, and are now reaping the benefits of following God's path. That's where I inherited my entrepreneurial spirit.," she shares.
After getting married and moving to the central Arkansas area, Vivian knew this was where she could flourish. The big city lights, highways, fast cars, and endless opportunities, she says, it was time for her to walk in the calling God has on her life.
Vivian says her job isn't about just having a source of income or building generational wealth for her family. "I have a God-given passion for helping others, so placing someone in a job offers me a sense of personal fulfillment and professional growth. I am so blessed to wake up every morning with the opportunity and be a blessing to someone else."
When her youngest graduated high school, she felt God telling me that now was her time. Finally, on September 14, 2021, God spoke to me and said now is the time! I stepped out on faith, drove to my job, and resigned in the parking lot! I knew it was now or never. I chose my NOW! I came home and incorporated Rock City Staffing Agency and have not looked back," she explains.
Without any doubt, Vivian is sure she is walking in the plan God has for her because He gave her the idea to open a staffing agency and the name of the business. "I did not know much about the staffing and recruiting world, nor did I have any savings to fund a business. All I had was faith and trust in God," she shares. A week after opening her business, Vivian was blessed with a $1000 small business grant. Still, she didn't know where to begin or how to open a staffing and recruiting agency, but she says God provided everything needed to get her company going. "I don't have a choice but to be successful," she says.
Now fully operational, Rock City Staffing LLC has positioned itself as a premier staffing agency. Vivian's advice to others who may follow in her footsteps is to pray, pray, and pray some more. "Keep God at the forefront. Do your research. Find good mentors. Go for it!"
Moving forward, she hopes to continue to follow God's plan. "Rock City Staffing Agency is just the beginning. There is so much more that's going to be birthed from this. We are going to use this platform to do the Kingdom's work," she shares. To learn more about Vivian Brittenum and Rock City Staffing Agency, please visit their website.
HuamiMagazine.com Memphis - Nov./Dec. 2022 28
City Staffing Agency LLC www.rockcitystaffing.com h
Vivian
Brittenum Rock
By Terry L. Watson Photos Provided by Dymetra Caskill
Dymetra McCaskill of Denver, CO, has a unique eye for detail. Her ability to look at a blank canvas and create works of art has propelled her to being one of America's top African American interior designers.
Along with being a mother, grandmother, sister, and daughter, Dymetra is the owner and founder of Urban Esthetic Interiors, LLC. As a black designer, you will notice hints of cultural esthetics, vibrant colors, and warm textures. She describes it as a whole vibe!
With her company, Dymetra offers one-on-one, personalized design experiences and collaborates with her clients to create what she describes as a beautiful space.
Dymetra was born and raised in Denver. There she attended school and obtained a Business Management degree. All of her family resides in Denver, including the matriarch of her family, who is now a great-great-grandmother. Dymetra is also a lover of music and says, "If you come to my home, there's always music playing and candles burning. I'm always tinkering around with something design related," she says.
Urban Esthetic Interiors, LLC came to life in 2020 during the Covid 19 pandemic. "I worked full-time as a flight attendant, and because of the pandemic, I was temporarily furloughed. During that time, I was able to divert all of my attention to interior design, develop a business model, improve my skill set, and work," Dymetra says.
When asked what she loves about having her own company, she says it's all about the art of design. "I love beginning with a blank canvas and using my imagination to create a work of art. There are so many moving parts, which can be challenging at times, but that is what drives me. I test the limits with each project, make bold choices, and experiment with new trends."
While Dymetra says she is inspired by her friends and family's support and encouragement, she specifically acknowledges her mother for being the most significant source. Dymetra says her mom was the first to let her use a miter saw, which she thought was just a "guy thing" at the time. "I gained confidence, and it allowed me to feel limitless," she says. Growing up, Dymetra says her mother would always rearrange furniture and have beautiful plants throughout the house. She shares that everything had its place. Even more, Dymetra's dad is a pretty good designer in his own right. "Dad designs with class and deliberate pieces. His home shows like a model home, and I always wanted that for my space," she says.
Additionally, Dymetra says that all things visually beautiful inspire her. "My son, who mimic's my feature wall ideas, inspires me. My four-month-old grandson, who greets me with bright eyes and the happiest smile, inspires me. My sisters, who consistently root for me, inspire me. My aunt, who always eloquently encourages me, inspires me. My gramma, who covers me in prayer every day, showers me in love, and shows me how a fierce black woman moves and shakes in this world inspires me," she says.
Things are going great for Dymetra, and she says there isn't much she would change about how things have happened for her in business. If anything, she says she wishes she would have started sooner but also that she firmly believes that everything happens when it's supposed to happen. "I've encountered some challenges and made plenty of mistakes; however, the beauty lies in knowing they are learning lessons. I'm creating my own formula, which makes me unique, bringing about some uncertainty, but it's a beautiful mystery. I'm hopeful and excited about what's to come," Dymetra says.
Her advice to others who may follow a path similar to hers is not to allow fear to keep you from leaping. "Keep some of your thoughts and plans private, and if you decide to share them, do so with those you know will encourage you. Remember, we're always students, so we never stop learning. This is a constantly evolving business, so be prepared to operate consistently with your creativity. Whatever your dreams and desires are, release them into the wind. Allow yourself to imagine all the possibilities, keep your intentions pure, and enjoy the ride."
By the sounds of it, Dymetra has a bright road ahead of her. Futuristically, Dymetra plans to add to her existing brand, which will include designing commercial spaces and offering my products through retail. "If I'm not in your city, I would love for anyone to have access to an Urban Esthetic Interiors experience," she says.
h
Memphis - Nov./Dec. 2022 HuamiMagazine.com 29
30
By Terry L. Watson Photos Provided by Unity Ride LLC
Unity Ride LLC is more than a driving service. Owner and founder Tarik Gant says it's a hospitality service as well. When one gets into one Unity's vehicles, they will find snacks such as chips, fruit, popcorn, fruit bars, and cakes, as well as beverages such as juice, tea, water, and more. Unity Ride provides local trips, long-distance trips, one-way trips, round trips, and chauffeuring services by the hour. They also do mobile pick-up and deliveries, including groceries and restaurants.
Tarik graduated from Antioch High School and attended Tennessee State University and American Baptist College. There he studied psychology and theology. Amazingly, Tarik says he realized at age 37 that college wasn't necessary for him to do what he loved to do. "I realized that I wasn't going to find the perfect job. I had to create it," he says.
Tarik describes himself as a family man. Though now separated from his wife, his three children are homeschooled and often ride with him. Their mother works two jobs and he shares, "My children ride with me just about everyday. The only time they do not ride with me is when it's a rider I'm not familiar with and or there is not enough room for them and my passengers," he says.
Based in Nashville, TN, Unity Ride LLC was birthed from Tarik's understanding of the need for more transportation services and as a response to a life-changing situation he endured. "In 2015, my wife miscarried the first child we conceived together. Although we lost the child in the first trimester, we never knew the sex of the child. I never wanted the baby to be forgotten. I felt that the miscarriage challenged us greatly and strengthened our union. I decided to name the baby Unity. That's how the name Unity Ride came to life. Not only is it a business, but It is in honor of the baby I never got to hold and see in the flesh," he says.
Memphis - Nov./Dec. 2022 HuamiMagazine.com 31
Four years later, in 2019, Tarik launched Unity Ride LLC. "I learned I am passionate about transporting people safely and providing an entertaining and freespirited atmosphere while driving for Uber part-time. One night while driving for Uber, I thought I could provide the same services. So from that point, the rest is history," he says.
Unity Ride LLC serves Nashville and the surrounding areas mostly. Tarik says there is no place in the United States his company will not travel to. When asked what he loves most about what he does, he says, "I love the connections that I make. The friendships, bonds, business, and even family through the people I meet. I love it when the service is so good that my riders express love towards my children and me. Whether they express it verbally or through gestures, I'm grateful most for the connections. Next to that, I love traveling to different places," he says.
While Tarik has enjoyed the successes of business ownership, he has also faced some challenges. He says that shortly after launching, he was hit with the Covid 19 pandemic at the beginning of 2020. "The world shut down right after I quit my full-time job and started Unity Ride LLC. I overcame that challenge by continuing to advertise and meet riders. My consistency and passion helped me to overcame that challenge," he says.
Another challenge Unity faced was losing money from riders that would ride but would not pay. "I lost a lot of money when I allowed riders to pay me after they received my services. It was a tough lesson to learn, but I overcame it with a strict policy of having the riders pay invoices before they get into the vehicle," he says.
Tarik obviously loves the things that currenlty happening with Unity Ride. He also says there is nothing he would change about his experience in business thus far. "I know that everything is happening the way it should be. I know i'm on the right path and doing what I came here to do, so I wouldn't change a thing about the journey," Tarik shares.
His advice to others who may follow in footsteps is simple. "Stay in the moment, keep the initial vision alive, and remain conscious of how far you've come," he says. In the future, Tarik's plans for Unity Ride is to add a full fleet of vehicles provided for all drivers. He also plans to have Unity Ride Stations nationwide, and provide job security for drivers. "The possibilities are limitless and I plan to give each one that comes to mind, a chance," Tarik says.
To learn more about Unity Ride LLC, please visit their website.
www.unity-ride.com h
HuamiMagazine.com Memphis - Nov./Dec. 2022 32
The son of LaSaudia Moore
To submit photographs to be placed in the Huami Magazine Cutest Baby feature, please send a detailed email to huami.cutestbaby@gmail.com Cutest Baby
MAGAZINE
Braxton Moore
K-9 Safety Consultants LLC
By Monica Montgomery Photos Provided by Flem Peacher VI
Family is essential to Flem Preacher Sr. He is the sixth Flem Preacher in his family and the second generation of leadership in the K-9 Safety Consultants firm.
K-9 Safety Consultants LLC was launched on January 29, 1985, by founder Flem Peacher V of Detroit, Michigan. K9 Safety Consultants is a household name and brand people can trust. K9 Safety Consultants has trained private firms, law enforcement agencies, celebrities, athletes, and the general public. The "K9 Safety Method" enhances the relationship and communication between dog owners and their furry friends.
Flem Peacher VI, the company's CEO, and his wife, Talitha Peacher, the company administrator, along with his sister, Flemesha (Peacher) Armstrong, president, are in charge of securing the family-run company for the next generation.
The founder of K-9 Safety Consultants was Flem Peacher V. This business was not just a job but a calling. Birth from tragedy, the founder Flem Peacher V built a legacy that would span over forty years.
"Our story started with a near-fatal mauling. When my dad was around thirteen, he was walking down the street, and a neighbor's pit bull got loose. The vicious attack left my father close to death. Needless to say, that experience traumatized him. After surviving that attack, my father was terrified of dogs. It didn't matter what kind. He couldn't be around them or see them. If someone said the word, he would panic, looking around to see if there was a dog nearby. My grandfather was concerned and didn't want his son to continue to live in terror. He firmly believed that the best way to get over your fear was to face them head-on. So, my grandparents bought my father a puppy. This helped him see that not all dogs were the same. As he bonded with the dog, my grandparents noticed that he had an unusual gift for training the dog. This confirms that everything happens for a reason. If not for the attack, the talent my father possessed may have never been revealed."
After overcoming his fear, Flem's father fell in love with dogs. Everyone around him noticed his unique gift of reading a dog's behavior. They also noticed that he could train dogs to perform practically anything on command. Through experience, he began to develop what is known as the "K9 Safety Method." This method has been proven and used worldwide to transform millions of dogs into model citizens. "After marrying my mother, my dad moved to Arlington, Texas, and went on to receive many specialty certifications. Including Schutzhund training."
34
According to the United Schutzhund Clubs of America or USCA, "Schutzhund is a German word meaning "protection dog." It refers to a sport that focuses on developing and evaluating dog traits that make them more useful and happier companions to their owners. Schutzhund's work concentrates on three parts. Many are familiar with the obedience work of the American Kennel Club's affiliates and will recognize the first two parts, tracking and obedience. The Schutzhund standards for the third part, protection work, are similar to those for dogs in police work."
Upon returning to Detroit with his wife, young son, and daughter in tow, Flem's father, saw the need to add another layer to the training of personal security dogs. "When my father moved us back to Detroit recognized that the dogs had to be able to discern their environment. With the crime rate as high as it was, the animal couldn't properly protect its owner in the streets of Detroit if they weren't trained to do so. So, he trained them in real conditions."
This led Flem's father to go door to door, offering his services. "He went from house to house asking people to let him transform their dogs. And that's how it started. One house, one client, one dog at a time."
Eventually, word spread about the success Flem's father was having, and their clientele grew. By the time Flem was ready to take over the business, the Peacher name was known by dog owners across the country.
One of the many things K-9 Safety consultants prides itself on is that they not only train the dog, but we train the owner. "What makes us unique is that we train the client and their dog. Because the dog is only as good as its handler, and the handler is only as good as the coach. As coaches, we have to educate and empower the handler. Once the owner or handler has completely boughtin to the theory behind what we do, you see a different kind of relationship between the dog and its owner."
K-9 Safety Consultants' "both sides of the leash" approach to training gives them success with dogs that most people won't work with or own. "We are known for dealing with the dogs that most people have given up on," Flem explains. "We have partnered with rescue organizations and taken on dogs sentenced to be euthanized. We've found that most people don't know how to handle or respond to dogs with behavior issues. Like us, dogs have emotional issues and trauma, but they cannot express it the way we do. That's where our approach excels."
Flem and his sister Flemesha were raised watching, helping, and being trained by their father in the family business. Their mother was the executive administrator, and their father the CEO. Just like his name, Flem knew that K-9 Consultants would be passed on to him one day. At the age of twenty-one, he and his wife were newly married and had just purchased their first home. They were starting their new life together, and Flem was preparing to take up the torch when the recession hit.
"It had always been my dream to run the business, but because of the recession, there was no business. Our clients had to choose between paying basic utilities and paying for dog training. All I could do was stand by and watch our business, legacy, and my father's hard work dry up. My father did everything he could to keep the doors open, but eventually, in about 2007, the banks foreclosed, and K-9 Safety Consultants was no more," Flem confessed. With fewer clients, employees were laid off. "It was the toughest period in my life. We lost our home and our car. We lost everything. I've been a certified master trainer since I was thirteen. I didn't know anything else."
After losing everything, Flem found himself at what he said was his lowest point. "I had to work, so a friend connected me with a job as a part-time lunch aid, making $8.00 an hour. I was at my lowest point. My parents were multi-millionaires, so I never knew the kind of struggle I was experiencing. God was humbling me. Ministry wasn't on my radar then, but God had plans."
Taking the job as a lunch aid, Flem trusted that there was something bigger ahead. Like his dad, it wasn't long before people noticed his unique talent. "The students at my school were rough. But they needed someone to give them structure and show them that they cared. Although I was just an aid, I didn't sit by and allow them to be disrespectful. I knew how to give constructive discipline, and people took notice."
Even in his dark place, God showed favor to Flem. Within ten years, he went from being a part-time cafeteria aid to Dean of students. "I didn't want there to be a reason I couldn't progress, so I went to school to show myself approved." After losing everything, Flem and his family were finally starting to stand on firm financial ground. But the dream he thought was dead was only sleeping.
"K-9 Safety Consultants had closed physically, but it was always on my mind. So, once I made decent money and we were stable, I started training dogs again. I started just like my father did. I went door to door."
It wasn't long before K-9 Safety Consultants was back in business with over two thousand clients. Flem could leave education and go full-time into the training business again.
The company continues to prosper and be a blessing to its community. They won the business of the year in 2022. And through their K-9 Cadet program, they have mentored twentyfive hundred children and youth, ages nine to eighteen, because the Peacher family legacy is bigger than dog training. They have also granted scholarships to students who what to further their education.
"This has truly been a rollercoaster ride, but I wouldn't do anything differently. God has blessed us beyond measure with a life and legacy that I pray will last another forty years."
35
www.k9safetytraining.com 248-991-2896
& King's Lemonade LLC
By Terry L. Watson Photos Provided by King's Lemonade LLC
There's always a good time to drink lemonade; fortunately, a young group of inspiring entrepreneurs in Durham, NC, has made it their business to quench the thirst of lemonade drinkers.
Founded in October 2020, King's Lemonade LLC is a siblingowned and operated business led by Corey Jr. and Ami. They also share ownership with their older sister, Jada Lyons-O'Kelly. With the support of their mother, Erica, and other family members, the duo has created over 25 delicious flavors of freshly squeezed homemade lemonades. Erica is the formal operator of the business and describes herself as the "Momager" and "Queen".
So how do they make it happen? Corey is responsible for squeezing lemons, cutting fruit, creating new recipes, assisting with purchasing supplies, loading and unloading supplies, and serving as a cashier at events. Amir is responsible for the same duties as Corey; however, he is also the spokesman.
Initially, the idea of the business came about while Corey and Amir were at home during the Covid 19 pandemic. During this time, everyone was bored and just tired of doing the same routine, day after day. Like most families, the pandemic required most families to resort to a life of isolation. In some cases, the pandemic even added a financial strain on their budgets. Erica's family experienced both. "The pandemic changed how we moved, so we collectively decided to think of various ways to generate additional income. We came up with various ideas, and finally, the boys decided they wanted to have a lemonade stand. I encouraged them to expand their thoughts, think bigger, and even start an entire lemonade business. With the support of their father, Corey Sr., everyone agreed. Next, we needed to create a name for the business. Everyone threw out various ideas for names but none really stuck. Finally, Corey Jr. blurted out "King's Lemonade!" I asked him why he chose that name and he said "because I'm a king, momma!" That's how King's Lemonade was birthed," Erica says.
Memphis - Nov./Dec. 2022 HuamiMagazine.com 37
King's Lemonade currently has over 25 flavors of delicious, freshly squeezed homemade lemonades in various sizes. Some of their most popular ones are Strawberry Lemonade, Pineapple Lemonade, Blue Raspberry Lemonade, Strawberry Lemonade, Very Berry Lemonade, and their classic Original Lemonade. King's Lemonade can be purchased online, year round, and they also deliver locally within a twenty-five-mile radius of Chapel Hill, NC, for an additional fee. At various locations, King's Lemonade can also be found around the Triangle and Triad areas.
Owning a business has been an enjoyable experience for both Erica and her two sons. She shares, "I truly enjoy learning with my children. I didn't go to school for business. I actually went to school for Criminal Justice. Teaching my kids how to provide for themselves for the future is very important to me. They now have the opportunity to continue to build and grow their business and brand and provide job opportunities for others."
Amir shares that working with family is easily the greatest challenge he has faced in his young business career. "No one knows how to support you like your family, but no one knows how to push your buttons like family also. Working with my mother and brother has proven to be stressful, and I'd be lying if I say if I haven't thought about waving the white flag at one time, but after seeing how well-received our products are, I can firmly say that I believe in what I do."
Erica says she is inspired by her children and the support of her community for their business. Corey Jr. says the positive feedback from the customers also inspires him. Amir says, "While revenue is a great inspiration, an even bigger inspiration is what I can hopefully tell the people that see what I do and are either encouraged in entrepreneurship themselves, or to support small businesses like mine."
Erica, Amir, and Corey encourage anyone who may follow in their footsteps to be unafraid. Amir's message is to embrace struggle and loss and, while doing so, continue to swing on. "There are days where our product doesn't sell as well as we had hoped, and it can get discouraging. Never give up, swing on. Sometimes a closed door can open another window. Another window will open for you soon enough."
Moving forward, Erica says her plans for both of her children's businesses are to continue to assist them with making each better. "We would love to see King's Lemonade in various stores and online," she says. With persistence and good flavors available, the sky's the limit for King's Lemonade.
To learn more about them, please visit their website.
www.kingslemonade.shop
h
www.ladyespecs.com
ExclusiveSpecsForMen and Women