Nov./Dec. 2022 Volume 4 Issue 8 ® GREENVILLE/SPARTANBURG Lomax Tax & Financial Services
Yesterday Prepared Me For What's Next
There Are No If, Ands, Or Buts About It!
It seemed like only yesterday when the first edition of Huami Magazine was published. In November 2007, a vision given to me by God became my reality. I have shared the story of publishing Huami Magazine, first having a conversation with God, then taking the leap and stepping out faithfully in response to God's call. Still, I often reflect on the first edition and become reminded of how awesome God is.
A Letter from the Editor
What if tomorrow didn't arrive? All of your plans, hopes and dreams wouldn't have a street to park on. What if everything that you decided to put off until tomorrow never happened? There would be no reason to save for a rainy day, and you could spare someone the trouble of making promises. What if your last opportunity seemingly expired today? What would you do?
While I was confident in my ability to fulfill the assignment, I admit I didn't have all the answers initially. Ten years earlier, in 1997, I researched the magazine publishing industry, specifically in the Triad area of North Carolina. I did this to learn more about what is required to publish a magazine, including how to manage a publishing company, etc. Amongst all of the information obtained, I never inquired about how to support my new media company financially. That would eventually pose a problem for me and Huami Magazine.
I've been told that I often seem like I do too much. Honestly, I feel like I am not doing enough and I'm a firm believer in knowing that God wouldn't put anything on me that I couldn't handle. I sometimes wonder how life would be if I chose to sit idle and accept what it presented to me. I have found that to be very boring. In my opinion, opportunity is a blessing that isn't afforded to everyone. A challenge to me is an adventure. What is the worst that can happen? If I do nothing, I fail, and if I try I don't, but instead learn something new about myself. Relinquish your pride and in return acquire life.
Finances and their availability is vital to the survival of any business. I self-funded operating costs for quite some time, especially in the first few years of existence. However, all of a sudden, things changed. Huami Magazine would enjoy the love and support from unlikely sources, including individuals who never exhibited an interest in the product. Doors would soon open and opportunities flowed. Things were looking up for Mykel Media Company, LLC.
The best advice ever given to me happened when someone told me to make my tomorrow happen today. In doing so I have pressed my way through doors with a key that only hope provided. I have also learned the difference between what God blesses me with and what life can burden me with as well. I compare it to knowing when to be confident and when to be quiet, because someone may get it confused with being arrogant.
As the face and founder of Huami Magazine, I worked hard to spread brand awareness. During this time, there were other challenges I would face, but having the support of the magazine wasn't one of them. Sales were so good that everything needed to keep our doors open, we received it. God saw something good about Huami Magazine and He made provisions to ensure
Make you tomorrow happen today, but most importantly make it count. Life is but a whisper and we must put ourselves in a position to hear what it is telling us.
The message that I want to remind the readers of Huami Magazine is simple. When God gives you an assignment, He will also make provisions for you to see it through. All that we have to do is show up for the assignment.
Terry L. Watson
Terry L. Watson Editor/Founder
Terry L. Watson Publisher
www.huamimagazine.com
Editor In Chief
Dorjae McClammey Writer
Terry L. Watson
Terry L. Watson Writer Monica Montgomery Writer
Alana Allen - Deputy Editor
Terry L. Watson Writer
Bernard Smith Photographer
Still Shots Photography Photographer
Tamara Smith
Writers Tonya Dixon Terry L. Watson Alana Allen Jeuron Dove
Todd Youngblood Photographer Angela Maria Photographer
Photographers
Debra Attaway Photographer
Todd Youngblood Photography
Howard Gaither Photography
Perfect Lenz Photography Shaw Photography Group Still Shots Photography Who Shotya Photography
www.huamimagazine.com huami.greenville@gmail.com (336)340-7844
Layout Mykel Media Company
E-mail at terrywatson@huamimagazine.com
Photo by Shaw Photography Group
4 4 HuamiMagazine.com November/December 2014 Want To Advertise? Call (336)340-7844
On The Cover
To Visit Our Website Greensboro, NC 2022 All Rights Reserved
Want To Advertise? Call 336-340-7844 Scan The QR Code Above
A Letter From The Editor
Tarik Gant
This man can take you places. Learn how has built his own ride sharing company. Nashville, TN
Dymetra McCaskill
She has a unique eye for style and design. Learn more about her journey in business. Denver, CO
Yohmina Kasey
Meet the face and founder of Selfless Foundation Inc. She is finding a way to give back to her community and help others. Greensboro, NC
Huami Magazine Cutest Baby Braxton Moore
Footrprints In Africa
Tammy Moore
Lomax Tax and Financial Services Kenya Lomax-Sims NOV./DEC. 2022 GREENVILLE/SPARTANBURG CONTENTS 37 18 12 24 6 On The Cover Also
38 41 30
He Has Universal Appeal Donnie C. Young Scrubs Unlimited & Apparel Timmie Mitchell
Featured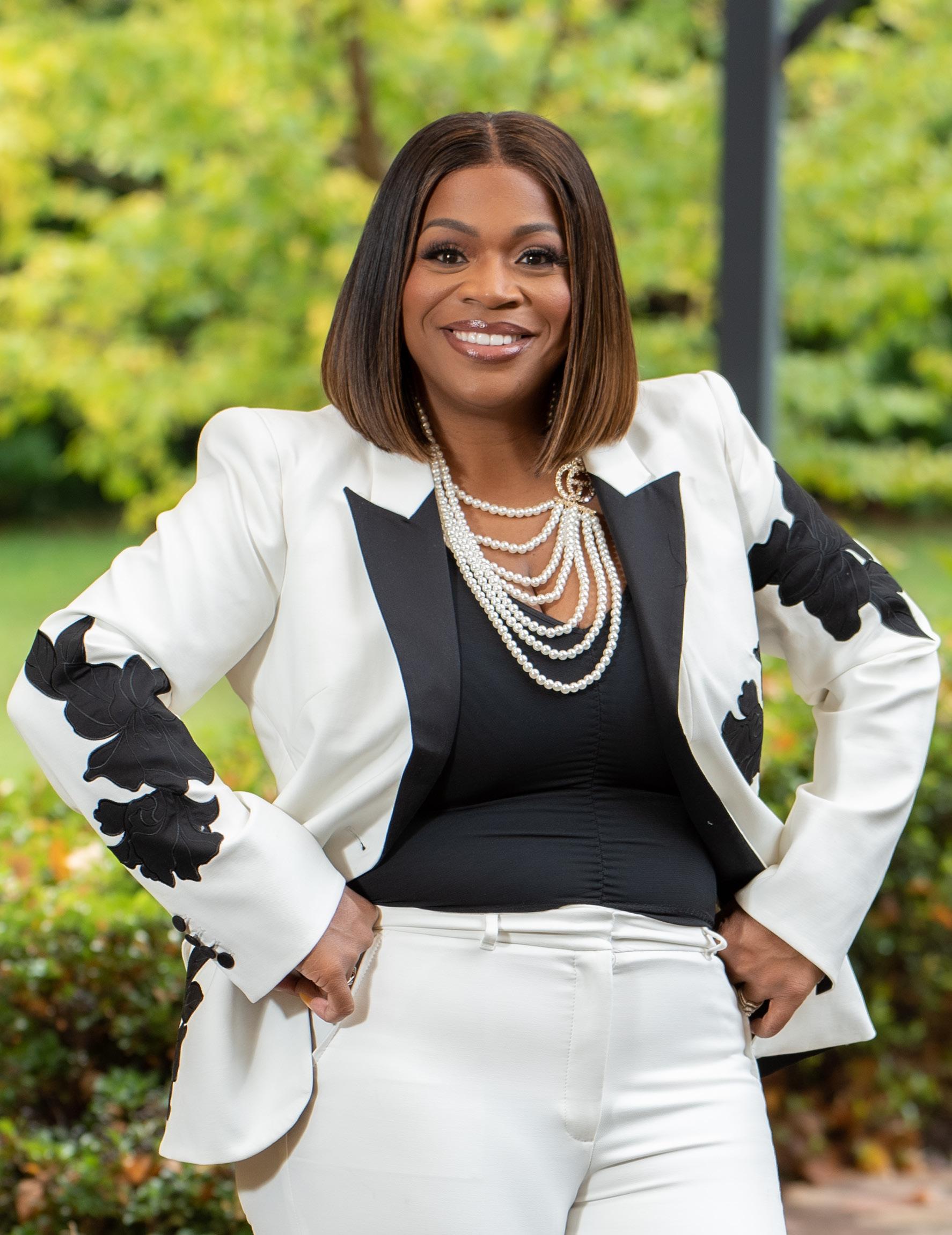 Lomax Tax & Financial Services
By Terry L. Watson Photos Provided by B Smith Photography
Kenya Lomax-Sims of Greenville, SC, is known as the "Queen of the $100 dollar Tax Return". She is also the owner of Lomax Tax and Financial Services LLC, a full-service accounting firm dedicated to helping clients with their tax needs.
In addition to being a business professional, Kenya is a loving mother and wife to her husband Gregory, a union that has spanned ten years. Together, they have five kids; Antonio, Stephen, Erin, Nairuby, and Gregory Jr., and one grandson, Caidyn. Kenya grew up in a loving, religious household with an entrepreneurial spirit. Furthermore, being a business owner did not come by happenstance as her father, mother, cousins, and husband owned or still owned a business.
Her father was a pastor, businessman, and restaurant owner. From there, Kenya saw the good and the bad of running a business but still received the spark to start her own. Her mother opened Lomax Hats and Tax Boutique, and a cousin also ran a tax business. These two extraordinary ladies helped Kenya realize that she also wanted her own in the tax world.
7
"We may be a small operation, but we have a big heart. We love our clients, and they love us back. This is what I love most about being a business owner, being able to serve others."
Kenya began her journey from humble beginnings. With the help of her cousin and the motivation from financial gain, Kenya worked hard to create her tax firm. She worked with her for two years before working with her mother until she became an independent operation. Kenya worked job to job every tax season until being able to work it full-time in 2004. She would rent office spaces until God blessed her with space to call her own. "God has been the anchor to everything I have done," she confesses.
In addition to being an accountant, Kenya is a real estate agent and life insurance producer with the Posey Group. Those additional skills have made Lomax Tax and Financial Services a full-service center capable of offering tax preparation, life insurance, and home sales. Lomax also provides free financial literacy consultations and tips to help others acquire the education and preparedness needed to operate a business effectively.
Launched in 2005, Lomax Tax and Financial Services is a small firm whose motto is, "Everyone is a name and not a number." Kenya understands the needs of her clients and strives to ensure everyone who walks through her doors feels appreciated and welcome. "We may be a small operation, but we have a big heart. We love our clients, and they love us back. This is what I love most about being a business owner, being able to serve others. From birth, I was taught how to serve. Before you lead anyone, you have to know how to serve," she says.
While there have been many great things Kenya has experienced as a business owner, she has also encountered some challenges. One of these was acquiring the needed capital to finance her business. Yet, she remained determined to succeed and persevered; by doing so, Lomax Tax and Financial Services LLC exist.
HuamiMagazine.com Greenville/Spartanburg - Nov./Dec. 2022 8
Kenya shares that her desire to leave her children a legacy is what keeps her going. As she continues to grow, Kenya plans to make Lomax Tax and Financial Services a one-stop shop for everything taxes, financing, and real estate. She also wants to dispel any misconceptions others may have about the tax system. "Most people dread all things taxes and deathly fear the IRS. With us, there is nothing to fear. We are not the typical tax office that shuts its doors on April 15th. We are always accessible and will help each client every step of the way. This includes tax planning and tax preparation," she says.
Her advice to others who may follow a similar path as she has is very clear. "No matter who you are, no matter what you have done, there is no limit to what you can do. I learned from my past that no matter how bad it gets, that nothing is too hard for God, and He will always make a way. I began in the back of an office building and eventually obtained the whole building. God opened up endless doors for me and allowed me to continue to work through Him," she says. "If you desire to enjoy a career such as the one I have, I advise you to start working for a tax preparation business first and learn how to do the business. Be ready when it's your turn to step out because it can come any minute."
11
learn more
Tax
LLC,
Kenya Lomax-Sims Lomax Tax and Financial Services LLC 215 West Antrim Drive - Suite C Greenville, SC 29607 864-626-3143 www.lomaxfasttaxes.com h
To
about Lomax
and Financial Services
please contact them directly or visit their website.
By Dorjae' McClammey Photos Provided by Angela Maria Photography
On the surface, Donnie Young appears to be an average African American male. However, if one looks a little deeper into who he is, one will find a lot more to this serial entrepreneur's story. For the most part, his journey has come with a few ups and downs and bumps and bruises. Still, Donnie has found a way to persevere and now lives a life of gratitude and grace while exemplifying the love of God.
Born and raised in South Carolina, Donnie comes from humble beginnings. His mother passed away when he was just a baby, and his father was imprisoned shortly after. At such a young age and without his parents, what was next for Donnie? What would his future look like? As if someone sounded the horns, Donnie's village stepped into place with his grandmother and aunt answering the call.
During his childhood, Donnie enjoyed playing all sports, including football. There is where Donnie could be found, on the football field, he says, until the pressure of wanting more in life pushed him toward the wrong crowd. "I looked to the streets to find my way. I began selling drugs and soon got entangled in crime. I was charged with accessory to murder and found myself sitting in a jail cell, alone," he says. Donnie was eventually cleared of that accusation, but his past would soon catch up with him, and soon Donnie would find himself back in prison, he says, for being framed for a crime that he did not commit or know anything about. "I wasn't supposed to be in there, but I used that time to my advantage. I slowed down, sat quietly, analyzed my mistakes, and educated myself."
Donnie says, "Prison won't teach you how to be a man, but it will give you the blueprint." While incarcerated, Donnie learned as many trades as possible such as cooking to brick masonry and obtained his G.E.D. He was a model prisoner and gained a good rapport with other inmates and officers. "I was motivated to make it out and make something of myself, but most of all, I was inspired by the fear of ending up like my father."
13
"I looked to the streets to find my way. I began selling drugs and soon got entangled in crime. I was charged with accessory to murder and found myself sitting in a jail cell, alone."
Once released, Donnie was determined not to find himself in an idle situation. He went straight to working multiple jobs and mastering a new trade at each one. "When I did something, I pretty much mastered it, making it a point to be the best at it," he says. Things were going well for Donnie but he knew there was more he could be doing, specifically for himself. That is when the spirit of entrepreneurship sat on him, and he hasn't looked back.
Donnie shares that he became tired of growing so much with his skills and not with the companies he was employed by. He decided to break away and create his own business and do it the way he knew how, with excellence. In 2016, he launched his first brand, Universal Lawn and Floor, a high-quality landscaping and lawn care business. Under the Universal brand, he owns several sub-companies. One is Universal Flooring, which covers all floor maintenance, such as striping and waxing commercial floors and flooring installation. "Laminate, tile, vinyl, carpet, and subfloor. Anything flooring, we can install it," Donnie says.
Other companies Donnie has produced are Universal Power Washing Solution and Uni-Klean. These offer services such as pressure cleaning driveways and homes, as well as commercial cleaning. He has also developed Universal Credit Repair and Business Consultation and UNI-Wellness.
The word "Universal" is purposely incorporated into all of Donnie's companies. He says that word is his staple. "I am 'Mr. Universal'. I can apply my brand to anything, no matter what you need, I can handle it," he says. Moreover, Donnie's work speaks for itself. That is obvious and he has several awards to validate that. He's won 'Best of Taylors' award twice and 'The Nextdoor Neighborhood Favorite' award, amongst many others.
HuamiMagazine.com Greenville/Spartanburg - Nov./Dec. 2022 14
It is apparent that Donnie has his hands and mind involved in many things, and that is by design. He shares that while he serves many industries, his primary objective is to impact his community positively. "My past has been challenging, but I've decided to allow my lifes' lessons to help others. I can do this by employing and providing real opportunities to members of my community. I want to provide an outlet for people facing obstacles, as I have. I understand that all it takes is for someone to be given an opportunity, and I am happy to be in a position to do so," he says. "Just like how I was tired of struggling, I'm even more tired of seeing others struggle."
Moreover, Donnie's testimony is that he got it out of the mud, period. "I'm a very, very hard worker. I never quit, I never give up or listen to the naysayers. When people tell me I can't do something, it makes me try harder," he says.
What is next for this self-driven entrepreneur? He says, Don't think for a second that he will be slowing down anytime soon. Donnie says he's just getting started. He has plans to continue growing as a businessman and will add real estate to his list of services in 2023. It is pretty clear there isn't much that he can't accomplish once he sets his sights on it. To learn more about Donnie Young, and all of his brands, please visit his website or contact him directly.
17
uniklean8@gmail.com www.debtcleanse.com/UCRABC www.facebook.com/UniversalLawnandFloor dcyoung372@gmail.com h
Footprints In Africa
By Monica Montgomery Photos Provided by Tammy Moore
Footprints in Africa, a subsidiary of Chayil Enterprises LLC., is a 501 (c)(3) nonprofit organization committed to aiding the people of Africa, in poverty-stricken communities, with the skills and opportunities that will support economic stability for individuals and their families. The founder and visionary Tammy Darmell Moore says, "Footprints in Africa is not here to give aid but to assist. We don't want just to put a bandage on the problem. We are here to provide sustainable ways for the people we encounter to care for themselves and the people of their communities." Ms. Moore, a single mother of grown children, decided that once her youngest was out of college, she would see the world. "I love to travel. Other people like to shop or go the shows and dine out. I'm not knocking anyone for what they like to do, but for me, I love to travel." Moore, a selfproclaimed military brat, was now free to move about the country and the world.
"My friends often asked me when I was going to Africa. I had decided to wait until the year of return because I wanted my trip to Africa to be more than memorable. I wanted it to be momentous."
The Year of Return, Ghana 2019', a yearlong program of activities marking the 400th anniversary of the first recorded enslaved Africans to the US. While everyone was flooding Ghana, Tammy went to Ethiopia. "I planned to tour the continent, but I wanted to visit Ethiopia first. It was Africa before colonization."
Moore's connection with the country and the continent was instant and almost symbiotic. "I immediately fell in love with the people, the food, and the culture. I was in awe of how beautiful the people were."
The organization's name, Footprints in Africa, has a three-fold meaning, but it all started because of a little girl and a pair of sneakers. "While I was out in the bush, I met a little girl who asked me for my shoes. I was wearing some black and white Nike Air Max, and she liked them. She was wearing
19
shoes, but they were in horrible condition. They were so worn that one foot was protruding out of the shoe. I felt bad. I wanted to take my shoes off right there, but I was about five miles from the tour bus, and the terrain was rough, and let's just be honest, I wasn't ready to walk barefoot in the Ethiopian bush," Tammy says, laughing. "But… I decided that I would find that little girl and give her my shoes when I came back."
Tammy's visit to Ethiopia was in the fall of 2019, and she had plans to return in February 2020. Unfortunately, rumors of an unknown virus were spreading across the globe, and the FAA was canceling and restricting flights. "When I was notified that we weren't allowed to fly, no one would tell me why. Our trip kept getting delayed until finally, on March 18th, the city of Greenville, North Carolina, was shut down due to the Covid-19 pandemic."
Like most citizens during the lockdown, Tammy found herself with nothing but time. "I'm not one to sit around and twiddle my thumbs, so I decided to clean out my closets. As I was clearing things out, I had a thought. Why take one pair of shoes to Ethiopia when I can take back multiple pairs? So, I contacted family members and friends via text and phone calls. I figured they were doing the same thing I was. I told them if they had shoes in good condition to send them to me."
Within two weeks, Tammy had collected over one hundred pairs of shoes. "This wasn't a social media drive or anything like that. These donations came from my immediate circle of friends and family. I was blown away. All I had to do was ask, and this was the reaction I got from my close circle of friends. I asked myself, how much more could we do?"
Tammy and her supporters are finding new answers to that question daily. In addition to their Soles for Africa initiative, there are several other projects the group is using to help people in poverty-stricken areas of Africa to live healthier and financially independent lives.
"We have our Life Gardens project that is currently in Kenya but will be starting in Ethiopia soon. Life Gardens is a partnership between Footprints in Africa and Thrive for Good to twelve Kenyan schools. These gardens are a source of food and good nutrition; they lower the cost of school fees, feed students and teachers, and generate revenue, allowing the schools to purchase supplies for the students," Tammy explains with pride.
"Then there is the Legacy Scholarship in The Gambia, where we are helping with tuition for students seeking higher education so they can give back to their communities. When I learned that one semester in university was about the same as my Luis Vuitton handbag, I decided immediately that I could help. There is no application process at this time. We choose the recipients based on where we find the most need. Students are carefully researched to ensure they are enrolled and have the academic prowess to complete their degree program," Tammy assures.
20
The most crucial thing Tammy wants to convey is that Footprints in Africa is about helping Africans receive a fair wage for their trade. Africans are culturally rich and creative but often aren't given proper credit or compensation for their artistry and craftsmanship. With the Alkebulan, Footprints in Africa's Cultural Emporium, people can purchase directly from the artist or vendor in Africa. We have products from all fifty-four countries in Africa," Tammy explains with excitement.
"We have our own tea line called Justea. Most of the world's tea comes from Africa, but it's shipped and repackaged, and the true farmers get pennies on the dollar. Justea comes directly from the tea farmer to you. What we have done is partnered with a company in Canada that works with tea farmers. These farmers employ over three hundred workers, most of whom are women, and pay them a fair wage to work the land. When you purchase tea from us, you will get information on the farmer and the farm in Africa your tea came from."
In the two years since the foundation was started, Footprints in Africa has made it its mission to empower people in the poverty-stricken areas of Africa with as much support as possible. They have been successful, but like all great initiatives, it takes money.
"The one obstacle we have had to contend with is donations. Because we are still dealing with the fallout from the pandemic, people are timid about giving. It's understandable because nobody wants to be caught off guard by all of the new threats. We have been blessed to have a core group of supporters we call our FIA (fiya) tribe. They are champions for our cause. We would be nowhere without their constant support."
With the momentum Footprints in Africa is gaining, the future looks bright. "We hope to add more recipients for the Legacy Scholarship and extend it to students who want to attend trade school. We understand that university isn't for everyone," Tammy acknowledges. "And to help fund our projects, we are launching our Legacy Society. This is a way for supporters who believe in what we are doing to continue to give posthumously. They could name us as a charity in their estate."
As stated before, the name Footprints in Africa has a three-fold meaning. "This all started because the little girl asked from my shoes. But it has grown into so much more. While I was in the bush, I saw more footprints than I saw shoe prints. This meant there were more people without than with. The other aspect comes from my desire to leave something behind. I desire to leave my mark, my footprint in the continent's soil that has made an indelible mark on me." h
Greenville/Spartanburg - Nov./Dec. 2022 HuamiMagazine.com 23
Doing Business My Way
By Dorjae' McClammey Photos Provided by Todd Youngblood
Timmie Mitchell can easily be described as a go-getter. She is the founder of Scrubs Unlimited & Apparel LLC, along with her two business partners, Danielle Griffin and Dawan Feely. Launched in April 2022, her company offers an array of styles and scrub sets, including separates, compression socks, fanny packs, clogs, aprons, and personalized badges. Scrubs Unlimited & Apparel also provides group sales and discounts for nurses, nursing students, and schools.
Born in Monrovia, Liberia, which is located in West Africa, Timmie, along with her two younger sisters, moved to Durham, NC, when she was only nine years old. She says the transition was not easy, mainly due to the drastic culture change. Timmie was bullied a lot because of her small size, home environment, family income, and her accent. With all of those challenges, Timmie says it was tough for her to make friends.
With all that chaos around her, Timmie was determined to stay focused and get her education. She attended Shaw University in Raleigh, NC, and gained her longtime best friend and business partner, Danielle Griffin. In 1997, Timmie graduated from Shaw with her bachelor's degree in Business Administration and Management. From there, she moved to Greensboro, NC, before settling in Charlotte, her residence for the past ten years. In Charlotte, she is surrounded by her two wonderful daughters, her family, and many friends.
Greenville/Spartanburg - Nov./Dec. 2022 HuamiMagazine.com 25
"You must learn to invest in yourself and your business and not give up. Never give up on achieving your goals in life. Remember that along your journey, you will receive some yesses for every no, but you must remain persistent and patient."
Once settled in the Queen City, Timmie did not hesitate to jump into the work field, a strategic move she made to provide her daughters a better opportunity to succeed than she did as a child.
While Timmie's primary focus is Scrubs Unlimited & Apparel LLC, she has dabbled into other business ventures. She is also the sole owner of Liberian Lady Investment LLCs, a property preservation and renovation company. With the services offered, vendors, banks, realtors, and more can fix and preserve foreclosed properties. She also owns Mitchell Notary and Signing Service LLC, a mobile notary and loan signing entity that serves all of North Carolina. Additionally, Timmie is a real estate investor and partner with Guaranteed Homes LLC, owned by Dawan Feely. With this company, Timmie helps renovate homes and build properties for communities in South Carolina and assists clients with repairing their credit.
Timmie shares she has always desired to create a business that would last a lifetime, and one connected to the medical field made perfect sense. Why? It's neverending, Timmie explains. Once her vision was realized, the next step was to get the business off the ground. She says the beginning was a little rocky. "I wasn't making many sales, but I kept true to my faith, and by the grace of God, it did a full 360. The rest is history. Scrubs Unlimited & Apparel went from barely making sales to generating between $500 and $1,000 worth of weekly orders," she says.
Even though things have been better for Timmie and Scrubs Unlimited & Apparel, she remains grounded. Timmie shares she still loves being able to provide medical professionals with uniforms that make them look and feel good at an affordable price. As for Liberian Lady Investments LLC, Timmie continues to assist clients with preserving one property at a time. This includes working along with Guaranteed Homes to build and help clients get into their dream homes while educating them on ways to improve their overall credit.
HuamiMagazine.com Greenville/Spartanburg - Nov./Dec. 2022 26
Timmie says she is proud to be a true African American woman and for the opportunity to show her children what faith, determination, and hard work look like. "I want them to know that no matter their challenges, they can achieve anything. I am proof of that," she says. "I always wanted my own business, and now I have multiple. What better example for them to have than me."
For anyone wanting to follow in her steps, Timmie advises you to do your research, "Google is your best friend. You must learn to invest in yourself and your business and not give up. Never give up on achieving your goals in life. Remember that along your journey, you will receive some yesses for every no, but you must remain persistent and patient."
Moving forward, you can expect big things from Timmie Mitchell. In addition to expanding Liberian Lady Investment LLC and continuing her partmentship with Guaranteed Homes, Timmie and her partners plan to open storefronts/boutiques in Charlotte and South Carolina for Scrubs Unlimited & Apparel. The first boutique grand opening is in January 2023 in uptown charlotte. The expansion will also include the release of her custom line of scrubs. Please visit her website to learn more about Timmie Mithcell and all of her businesses. h
29
www.scrubsunlimitedapparel.com www.lladypropertypreservation.com www.mitchellnotarysigningservices.com www.guaranteedhomesllc.com
Yohmina Kasey
I Consult, I Counsel, I Serve
By Dorjae McClammey Photos Provided by Still Shots Photography
Yohmina Kasey of Greensboro, NC, wears many hats. On the one hand, she is an intelligent social entrepreneur; on the other, she leads a non-profit organization that focuses on improving the lives of young adults.
Born and raised in Penhook, VA, Yohmina received a Bachelors Degree in Social Work from the University of North Carolina at Greensboro. Next, she followed that feat by acquiring her Masters of Social Work from the University of South Carolina in Columbia, SC. Not finished, Yohmina decided to plant her roots, transition back to Greensboro, and jump-start her career.
As a Licensed Clinical Social Worker, Yohmina started her own practice, Peculiar Counseling and Consulting, nearly 12 years ago. Peculiar Counseling and Consulting is a group of private practice licensed therapists, social workers, and counselors. Together, they assist individuals, couples, and families with life challenges. They have years of experience and training in mental health counseling services.
The name "Peculiar" came from Yohmina wanting her agency to be unique regarding the quality of services provided and how each therapist is genuinely passionate about the therapy they deliver. She says "As the owner, I always wanted to be accessible to every client that walks through our doors no matter how big we get."
In 2014, Yohmina wanted to expand her practice by providing services that would fill the gaps in clinical services. She answered this yearning with the development of the Selfless Foundation. Its mission is to provide innovative services and solutions to address social issues related to poverty, education, and healthcare. It provides transitional living services and intensive recovery support for young adults.
31
Intensive recovery support services, also know and the "Selfless Souls" program provides help for single mothers who are recovering from substance use. We help them find employment, housing, childcare and provide lasting support to assist them with maintaining their sobriety," she shares. "Our goal has always been to decrease child abuse with Selfless Souls because we know that much child abuse and neglect occurs when parents are involved with substance use."
Another component offered by the Selfless Foundation is Exposed Transitional Living Services. This resource helps young adults between the ages of 16 to 21 transition to adulthood. This includes individuals who've faced certain hardships, such as homelessness, and need assistance with learning how to live independently. Yohmina's team of Social Workers work with these young adults to provide much needed support to prevent homelessness, assist them with becoming employable while exposing them to different opportunities outside their current situation. Selfless Foundation also has 'Skills on Wheels and the 'Tutor Bar,' a mobile tutoring service for lowincome households. Fundraising efforts are underway, and Yohmina plans to launch these new services in 2023.
Like any other business, Peculiar Counseling and Consulting has faced challenges. This includes learning how to manage her company and understanding the protocols that come along with it. Whatever the challenge, Yohmina has been committed to working through them in order to continue to serve. "As a Clinical Social Worker, people do not come to you because life is going great, they come to you because there are serious challenges presenting in their life. You have to really be passionate about this work in order to have longevity in this field. Having good work life balance for myself, helps me provide the best service I can to the people I serve." she says.
Yohmina says she loves working in a field that keeps her grounded and connected with life and everyday people. "There is never a dull day," she stated, but her services are needed by someone everyday.
HuamiMagazine.com Greenville/Spartanburg - Nov./Dec. 2022 32
Yohmina's main inspiration comes from seeing the difference that Social Workers make in people's lives. "I can not see myself doing anything but Social Work, mainly because there is so much to do. Finding a career you love is nothing to take for granted, and I am glad I found my passion early in life," she says.
As a Clinical Social Worker, Yohmina finds inspiration in the opportunity to work with individuals from all walks of life. She says, "The broadness of my chosen field leaves much room to impact lives in any direction. Social Workers exist because there is a need in every social institution, we survive because of the various ways that we impact lives. Getting it right and truly making a difference is what keeps me going."
If you're looking to follow in Yohmina's footsteps, her advice is to try everything. "Because the field of Social Work is so broad, it is very important that you try to work wit h a variety of populations in order to find your spot. Finding out what you don't like in this field is just as important as finding out what you do like, so try everything," she says.
Moving forward, Yohmina says you can expect Peculiar Counseling and Consulting, as well as Selfless Foundation, to expand across the rural areas of North Carolina. She says the exact needs in Guilford County also exist in surrounding counties, and her team is prepared to serve.
Finally, Yohmina shares a quote upon which she has built her brand and life, which clearly defines her perspective of service. "Doing unto others is part of the solution. Selflessness is the solution to many of the problems in the world we're facing."
Please visit their website to learn more about Peculiar Counseling and Consulting and Selfless Foundation.
35
Peculiar Counseling and Consulting Inc. Selfless Foundation Inc. Main Office: 16 Oak Branch Drive Suite A Greensboro, NC 27407 www.peculiarcounseling.com www.selflessusa.org 336-285-7616 Yohmina Kasey h
I can not see myself doing anything but Social Work, mainly because there is so much to do. Finding a career you love is nothing to take for granted, and I am glad I found my passion early in life
HuamiMagazine.com Greenville/Spartanburg - Nov./Dec. 2022
To
please send
to
The son of LaSaudia Moore
submit photographs to be placed in the Huami Magazine Cutest Baby feature,
a detailed email
huami.cutestbaby@gmail.com Cutest Baby
MAGAZINE
Braxton Moore
By Terry L. Watson Photos Provided by Unity Ride LLC
Unity Ride LLC is more than a driving service. Owner and founder Tarik Gant says it's a hospitality service as well. When one gets into one Unity's vehicles, they will find snacks such as chips, fruit, popcorn, fruit bars, and cakes, as well as beverages such as juice, tea, water, and more. Unity Ride provides local trips, long-distance trips, one-way trips, round trips, and chauffeuring services by the hour. They also do mobile pick-up and deliveries, including groceries and restaurants.
Tarik graduated from Antioch High School and attended Tennessee State University and American Baptist College. There he studied psychology and theology. Amazingly, Tarik says he realized at age 37 that college wasn't necessary for him to do what he loved to do. "I realized that I wasn't going to find the perfect job. I had to create it," he says.
Tarik describes himself as a family man. Though now separated from his wife, his three children are homeschooled and often ride with him. Their mother works two jobs and he shares, "My children ride with me just about everyday. The only time they do not ride with me is when it's a rider I'm not familiar with and or there is not enough room for them and my passengers," he says.
Based in Nashville, TN, Unity Ride LLC was birthed from Tarik's understanding of the need for more transportation services and as a response to a life-changing situation he endured. "In 2015, my wife miscarried the first child we conceived together. Although we lost the child in the first trimester, we never knew the sex of the child. I never wanted the baby to be forgotten. I felt that the miscarriage challenged us greatly and strengthened our union. I decided to name the baby Unity. That's how the name Unity Ride came to life. Not only is it a business, but It is in honor of the baby I never got to hold and see in the flesh," he says.
Greenville/Spartanburg - Nov./Dec. 2022 HuamiMagazine.com 39
Four years later, in 2019, Tarik launched Unity Ride LLC. "I learned I am passionate about transporting people safely and providing an entertaining and freespirited atmosphere while driving for Uber part-time. One night while driving for Uber, I thought I could provide the same services. So from that point, the rest is history," he says.
Unity Ride LLC serves Nashville and the surrounding areas mostly. Tarik says there is no place in the United States his company will not travel to. When asked what he loves most about what he does, he says, "I love the connections that I make. The friendships, bonds, business, and even family through the people I meet. I love it when the service is so good that my riders express love towards my children and me. Whether they express it verbally or through gestures, I'm grateful most for the connections. Next to that, I love traveling to different places," he says.
While Tarik has enjoyed the successes of business ownership, he has also faced some challenges. He says that shortly after launching, he was hit with the Covid 19 pandemic at the beginning of 2020. "The world shut down right after I quit my full-time job and started Unity Ride LLC. I overcame that challenge by continuing to advertise and meet riders. My consistency and passion helped me to overcame that challenge," he says.
Another challenge Unity faced was losing money from riders that would ride but would not pay. "I lost a lot of money when I allowed riders to pay me after they received my services. It was a tough lesson to learn, but I overcame it with a strict policy of having the riders pay invoices before they get into the vehicle," he says.
Tarik obviously loves the things that currenlty happening with Unity Ride. He also says there is nothing he would change about his experience in business thus far. "I know that everything is happening the way it should be. I know i'm on the right path and doing what I came here to do, so I wouldn't change a thing about the journey," Tarik shares.
His advice to others who may follow in footsteps is simple. "Stay in the moment, keep the initial vision alive, and remain conscious of how far you've come," he says. In the future, Tarik's plans for Unity Ride is to add a full fleet of vehicles provided for all drivers. He also plans to have Unity Ride Stations nationwide, and provide job security for drivers. "The possibilities are limitless and I plan to give each one that comes to mind, a chance," Tarik says.
To learn more about Unity Ride LLC, please visit their website.
www.unity-ride.com h
40
By Terry L. Watson Photos Provided by Dymetra Caskill
Dymetra McCaskill of Denver, CO, has a unique eye for detail. Her ability to look at a blank canvas and create works of art has propelled her to being one of America's top African American interior designers.
Along with being a mother, grandmother, sister, and daughter, Dymetra is the owner and founder of Urban Esthetic Interiors, LLC. As a black designer, you will notice hints of cultural esthetics, vibrant colors, and warm textures. She describes it as a whole vibe!
With her company, Dymetra offers one-on-one, personalized design experiences and collaborates with her clients to create what she describes as a beautiful space.
Dymetra was born and raised in Denver. There she attended school and obtained a Business Management degree. All of her family resides in Denver, including the matriarch of her family, who is now a great-great-grandmother. Dymetra is also a lover of music and says, "If you come to my home, there's always music playing and candles burning. I'm always tinkering around with something design related," she says.
Urban Esthetic Interiors, LLC came to life in 2020 during the Covid 19 pandemic. "I worked full-time as a flight attendant, and because of the pandemic, I was temporarily furloughed. During that time, I was able to divert all of my attention to interior design, develop a business model, improve my skill set, and work," Dymetra says.
When asked what she loves about having her own company, she says it's all about the art of design. "I love beginning with a blank canvas and using my imagination to create a work of art. There are so many moving parts, which can be challenging at times, but that is what drives me. I test the limits with each project, make bold choices, and experiment with new trends."
While Dymetra says she is inspired by her friends and family's support and encouragement, she specifically acknowledges her mother for being the most significant source. Dymetra says her mom was the first to let her use a miter saw, which she thought was just a "guy thing" at the time. "I gained confidence, and it allowed me to feel limitless," she says. Growing up, Dymetra says her mother would always rearrange furniture and have beautiful plants throughout the house. She shares that everything had its place. Even more, Dymetra's dad is a pretty good designer in his own right. "Dad designs with class and deliberate pieces. His home shows like a model home, and I always wanted that for my space," she says.
Additionally, Dymetra says that all things visually beautiful inspire her. "My son, who mimic's my feature wall ideas, inspires me. My four-month-old grandson, who greets me with bright eyes and the happiest smile, inspires me. My sisters, who consistently root for me, inspire me. My aunt, who always eloquently encourages me, inspires me. My gramma, who covers me in prayer every day, showers me in love, and shows me how a fierce black woman moves and shakes in this world inspires me," she says.
Things are going great for Dymetra, and she says there isn't much she would change about how things have happened for her in business. If anything, she says she wishes she would have started sooner but also that she firmly believes that everything happens when it's supposed to happen. "I've encountered some challenges and made plenty of mistakes; however, the beauty lies in knowing they are learning lessons. I'm creating my own formula, which makes me unique, bringing about some uncertainty, but it's a beautiful mystery. I'm hopeful and excited about what's to come," Dymetra says.
Her advice to others who may follow a path similar to hers is not to allow fear to keep you from leaping. "Keep some of your thoughts and plans private, and if you decide to share them, do so with those you know will encourage you. Remember, we're always students, so we never stop learning. This is a constantly evolving business, so be prepared to operate consistently with your creativity. Whatever your dreams and desires are, release them into the wind. Allow yourself to imagine all the possibilities, keep your intentions pure, and enjoy the ride."
By the sounds of it, Dymetra has a bright road ahead of her. Futuristically, Dymetra plans to add to her existing brand, which will include designing commercial spaces and offering my products through retail. "If I'm not in your city, I would love for anyone to have access to an Urban Esthetic Interiors experience," she says.
h
41
16A Oak Branch Drive Greensboro, NC 27407 336-285-7616 www.peculiarcounseling.com Let us help you find strength in your pain with our professional counseling services. We utilize a variety of approaches to assist you with life challenges and we strive to provide a comfortable, safe environment to heal, learn and grow. Blue Cross Blue Shield, Healthy Blue, Medicaid, Medicare, United Health Care/Optum, Wellcare, AmeriHealth Caritas, Tri-Care, Carolina Complete, and EAP In-Person And Teleheatlh Counseling Offered By Experienced Licensed Counselors Providing Distinctive Solutions For Life, Family And Work
www.ladyespecs.com