OutHustle Your Struggle
July/August 2023 Vol. 1 Issue 10 ARIZONA ®
Defeating The Distractions
I'm a firm believer in God-given purpose and assignments. Huami Magazine is a result of answered prayers and isolated conversations with God. I could hear God's voice mainly due to my ability to block out any unnecessary noise and ultimately focus on what I was seeking God for. I had a yearning for something more, something greater than myself, but I knew I didn't possess the ability to visualize it by my own efforts. I had no choice but to rest on what I needed for God to show me.
The experience I just described exemplifies the power of defeating distractions blocking and holding our blessings and purposes hostage. Distractions are often present as a means to prevent us from seeing or hearing the things needed to grow. Distractions are only effective when we allow them to be. Even more, distractions have no power unless we give them power.
What are you allowing to have relevance in your life that serves as a distraction? What are you giving energy and attention but serves you no purpose or benefit? If you can identify what is fruitful and what is not in your life, you will take the first step in clearing the path to what is purposed for you—your destiny.
Distractions can present themselves in various ways and forms. Distractions can be friends or associates. Distractions often appear in text messages, emails, and other places such as social media platforms. Distractions can begin as small meaningless occurrences but can grow into things that consume your time and affect how you act, move, and live.
We must eliminate distractions to reach our goals and live more purposeful lives. We must focus on the things that help us become the most excellent versions of ourselves. While many things in life can be reproduced and duplicated, time isn't one of them, and with the time that life offers us, we must make the most of it.
My best advice is for you to live your life to the fullest potential by identifying and defeating distractions.
Howard Gaither Photography Tamara Smith www.huamimagazine.com Terry L. Watson Publisher Monica Montgomery Writer Marrissa Dick Writer Terry L. Watson Writer Dorjea' McClammey Writer Todd Youngblood Photographer 29Eleven Photography Photographer John Jenkins Photographer Email Want To Advertise? Call 336-340-7844 Mykel Media Company LLC Greensboro, NC 2023 All Rights Reserved Scan The QR Code Above To Visit Our Website terry.editor@yahoo.com 336-340-7844 huami.arizona@gmail.com (336)340-7844 A Letter From The Editor
Terry L. Watson
Once she learned the true definition of a life poverty, she took action to ensure her family would not reside there. Learn more about her.
OutHustle Your Struggle Therosia Reynolds JULY/AUGUST 2023 ARIZONA CONTENTS 6 On The Cover Also Featured 24 Michea Jones What began as a childhood assigment has developed in a career. Braiding and more is how she makes it happen. Milwaukee, WI 10 Angel Johnson Her goal was to provide other women with more suitable active wear options. Learn more about how she did it. Denver, CO 28
Reeder
Jensine
Greenville, SC
Reggie
The Iconic Truth Kiing Le Supplemental Education Cassandra Bruington 14 18 34 Huami Magazine Cutest Baby Robert Duece Austin 38
Uncle Reggie's Catering
Rhoades
OutHustle Your Struggle
By Terry L. Watson Photos Provided by Therosia Reynolds
One thing is for sure; there is no quit in Therosia Reynolds. She is the Renaissance and Creole artist from South Phoenix, AZ. She is also an entrepreneur with diverse talents in visual art, spoken word, and vocals. Her creations are deeply rooted in her spiritual beliefs and revolve around hope, love, and liberation themes. That is who she is.
Therosia obtained her BA in Psychology from Ottawa University. She is a renowned live painter, winning the city Art Battle championship with 20-minute full portrait paintings that captivate fans. She's the resident live painter for Poetic Soul and Homebase events, known for their large followings. Her dynamic live paint performances and vibrant portraiture have wowed audiences. Notably, at the East Valley NAACP freedom fund awards, Therosia's live painting, accompanied by dance to live music, immediately sold the completed piece. Her art exhibitions showcase live paintings and studio works at esteemed institutions like ASU, Millet House Gallery, U of A, Scottsdale Center for the Performing Arts, and Modified Arts.
Therosia, the spoken word and vocal maestro, has blessed the stage with her artistry, opening for heavy hitters like the Roots, Erykah Badu, and Musiq Soulchild. Yasiel Puig was blessed with Therosia's presence as a featured artist at his poetry event. She's the real deal, setting the urban scene ablaze with her lyrical prowess and soulful vibes.
The company that Therosia owns is called OutHustle Your Struggle, but she operates with three brands. There is her personal brand as an artist, Therosia. There is the clothing brand called OutHustle Your Struggle, and lastly, there is her current work and separate brand, Soul Food & Superheroes.
As an artist, Therosia provides fine art centered around people of color and their unique experiences. Additional services she offers include live painting, speaking, teaching, and performing as a spoken word artist and singer. Her business includes fine art, prints, and various art merchandise, including clothing, based on her artwork.
Therosia is a Creole descendant of the African diaspora and Indigenous American tribes. She shares that she grew up between worship of the Black American church and the war stories of a red-lined, predominantly African American South Phoenix. "My mother is an Evangelist and Pastor who raised my brothers and me. My father is a mechanic who has struggled with addiction. I am biologically the youngest of three children, but when you add my step and god siblings, there were about 20 of us, mostly male," she says.
7
Interestingly enough, Therosia's art education began without any formal training. She says, "My mother says I began being an artist as soon as I knew paper and pen went together." Regarding poetry, signs of that gift appeared at a young age for Therosia also. "I have been doing little mini concerts in my bedroom since I was about three years old. It began by listening to my mother, who was a poet, do poetry," she says.
Art continued to play a huge role in his life. "In the 8th grade, I developed Pseudotumor Cerebri or Idiopathic Intracranial Hypertension. It is a debilitating condition, meaning I would spend months in and out of school. While out of school, I would have to take classes at home. The only elective that could come to my house was art. That is how I gained private art lessons. My teacher was disabled, paralyzed from the waist down. My condition meant I went through intermittent paralysis, and he was the perfect teacher for me at the time. He required that I do my work. He gave me grace but no excuses. I learned a lot from him, not just about art but also about perseverance."
Community service is also very important to Therosia. She says, "I serve my community because they belong to me, and I belong to them. They are the people who nourished, mentored, loved, taught, and cared for me. They are my ancestors, brothers, sisters, aunties and uncles, nephews and nieces, and my family. Without them, there is no me."
A number of things have impacted Therosia's life and career. "Having idiopathic intracranial hypertension was one of them. It has also had the biggest impact on my relationship with God. When I look at humanity, I see the Imago Dei. Each human is the image of God, and I strive to honor that and live in a way that honors the presence of God in everyone," she says.
In regards to sharing information with those who may follow a similar path as she has, Therosia gives a strong message. She says, "Fiercely defend your own voice but also be willing to grow in learning who you really are. Be very gracious and loyal to yourself. Do not take offense when people don't recognize your beauty or greatness. It's not personal, it's ignorance."
8
Moving forward, Therosia is preparing for the second installment of her soul food and superhero series, which is scheduled for August 11, 2023. The installation includes a collaboration with the University of Arizona and has been backed by the Arizona Commission on the Arts. The show features an augmented reality tour of the show and AI and digital art collaborations. This show is also her seven-year anniversary show as a full-time artist. "I couldn't be more grateful, and I'm excited to see people's experience of the work, and I am so overjoyed to be able to share this work and the collaborations behind the scenes to make it possible," she says.
Therosia Reynolds OutHustle Your Struggle
9
Facebook @Therosia Instagram @therosia @soulfoodsuperheroes
"I serve my community because they belong to me, and I belong to them. They are the people who nourished, mentored, loved, taught, and cared for me. They are my ancestors, brothers, sisters, aunties and uncles, nephews and nieces, and my family. Without them, there is no me."
h
I Can Overcome,
By Terry L. Watson Photos Provided by Angel Johnson
Angel Johnson is sort of a world traveler. Her feet have touched down in many places, such as Kuwait, Qatar, and Afghanistan. However, she is still a true Southern girl.
Originally from Charleston, SC, she attended the Citadel Military College there and is one of the first one hundred black women to graduate from there in its 150 year history. Her next move, she was commissioned into the United States Air Force as a Second Lieutenant and enjoyed an eight-year career there, obtaining the rank of Captain while, of course, traveling abroad.
All of her experiences have shaped Angel into the person she is. Today, she resides in Denver, CO, and owns ICONI. "I consider myself a start-up founder that likes leggings," Angel says. Her company offers products for men and women, such as leggings, sports bras, shirts, shorts, and tops. Angel adds, "ICONI activewear delivers motivation and empowerment, and we guarantee to safeguard and support our customers' bodies. More importantly, we aim to ensure our customers can focus on their workouts instead of see-through, non-supportive, low-quality, and boring activewear."
ICONI is an acronym for "I Can Overcome, Nothing Is Impossible"."The ICONI logo represents power, strength, and versatility. The base is a power button representing your power to accomplish your goals. The overlay is the Adinkra symbol for strength and versatility. It takes all these elements to control your total wellness, especially when starting a fitness journey."
11
"I consider myself a start-up founder that likes leggings."
ICONI Leggings
www.iconi.com
Facebook @ICONI Leggings
Instagram @ iconileggings
Tiktok @ iconileggings
Twiter @ iconileggings
HuamiMagazine.com Arizona - July/August 2023 12
While still in the military, Angel started her company. The idea came about in October 2019, but the company was launched in January 2020. Angel says, "I got tired of spending so much money on activewear. I never understood why women's activewear was see-through, and I wanted to change that. I also learned that other women shared the same concern, as well as others regarding active wear."
To build the ICONI brand, Angel utilized the power of social media. "I asked questions about the issue other women had about activewear. One thing I learned was the issue they had with leggings falling down. I thought to myself, well, I need to ensure that leggings will not fall while my clients work out. I need to make sure they are not see-through and have compression. I used social media and the feedback from my friends to help create the best products."
In addition to finding ICONI products on their website, they can be purchased from their Amazon store. Their goal is also to have them available in five to seven boutique stores and gyms by the end of 2023. "We are moving slowly with distribution because gyms will reach out to us to have our products available in their business, but they are not an inclusive environment. We only want to work with inclusive environments because our customer base is very diverse."
Angel credits her mother, Pearl, with having the most considerable influence on her life. "She has always taught me the value of having a hard work ethic. She taught me the value of working hard at some things and keep going," Angel said.
After launching her brand, Angel faced the challenge of the Covid 19 pandemic. She had an activewear line, and her original marketing goal was to go into the gyms, but most gyms across the country were closed. She overcame this challenge by networking and applying to various databases and even hired a marketing company to assist with her marketing needs. Those challenges Angel shares have only made her a stronger and wiser businesswoman.
There have been some highs and lows with running her company, Angel shares. One high was when it was listed as one of Oprah Winfrey's favorite things in November 2020. Angel says that experience turned her side hustle mentality into a fully-fledged business. Since its inception, they have done over half a million dollars in sales. Now, with the assistance of outside investors and a marketing company, the projections look promising.
Looking ahead, Angel says she hopes to give back and mentor other aspiring entrepreneurs. She also wants to expand their size range and incorporate more fabric technologies into their clothing.
To learn more about ICONI, please visit their website. h
13
Uncle Reggie's Catering
By Terry L. Watson
If you are looking for proof, check their reviews. Uncle Reggie's Catering is regarded as one the best catering services available in the Richmond, VA, area and is known for its Mac n Cheese (Smac Mac).
Owned and operated by Richmond native Reggie Rhoades, Uncle Reggie's Catering offers a variety of items for their clients, including brunch, lunch, and dinner. They also offer a buffet, drop off, or drop off with setup services for events. Additionally, they allow their clients to customize menus to fit their events. Reggie shares that his services are designed to be professional and affordable.
Reggie describes himself as someone who loves to cook. He earned his culinary degree from Virginia College in 2007 and started his catering company shortly after. He has been married to his wife, Alisha, for 20 years, and they share four beautiful kids; Quintrell, Mariah, Jordan, and Reginald Jr. They also have a grandson, Dazai.
Arizona - July/August 2023 HuamiMagazine.com 15
Photos Provided by Uncle Reggie's Catering
Uncle Reggie's Catering came to life because Reggie was connected to the right person and at the right time. He shares, "My wife's best friend Kenya Bundy had a catering business when I graduated from culinary school. Her business was thriving, and she would have to turn down many potential clients due to her already being booked. She brought the idea of catering to me, and I thought it sounded like a good idea, so I gave it a try. Kenya took me under her wing and taught me everything about catering, and I have been blossoming ever since."
Besides cooking, Reggie says he loves making people happy through his food. He also loves meeting different people regularly and experiencing different venues. He credits his mother for instilling the importance of working hard and being consistent in everything he does. "My mother is my rock, and I love her to the ends of the earth," he says.
Reggie advises others who may follow a path similar to his to have realistic expectations. "Running a catering business is a fun but sometimes stressful job. You have to ensure with every event that you give 100% to your clients no matter what. It is your job to help make their event as successful as possible," he says.
Moving forward, Reggie says he plans to own a food truck. He says he would also like to do more travel catering jobs for artists. He mentions that he just finished a catering job for the Lacrae tour.
To learn more about Uncle Reggie's Catering, please visit their website.
www.unclereggiescatering.com
16
"My wife's best friend Kenya Bundy had a catering business when I graduated from culinary school. Her business was thriving, and she would have to turn down many potential clients due to her already being booked. She brought the idea of catering to me, and
I thought it sounded like a good idea, so I gave it a try."
h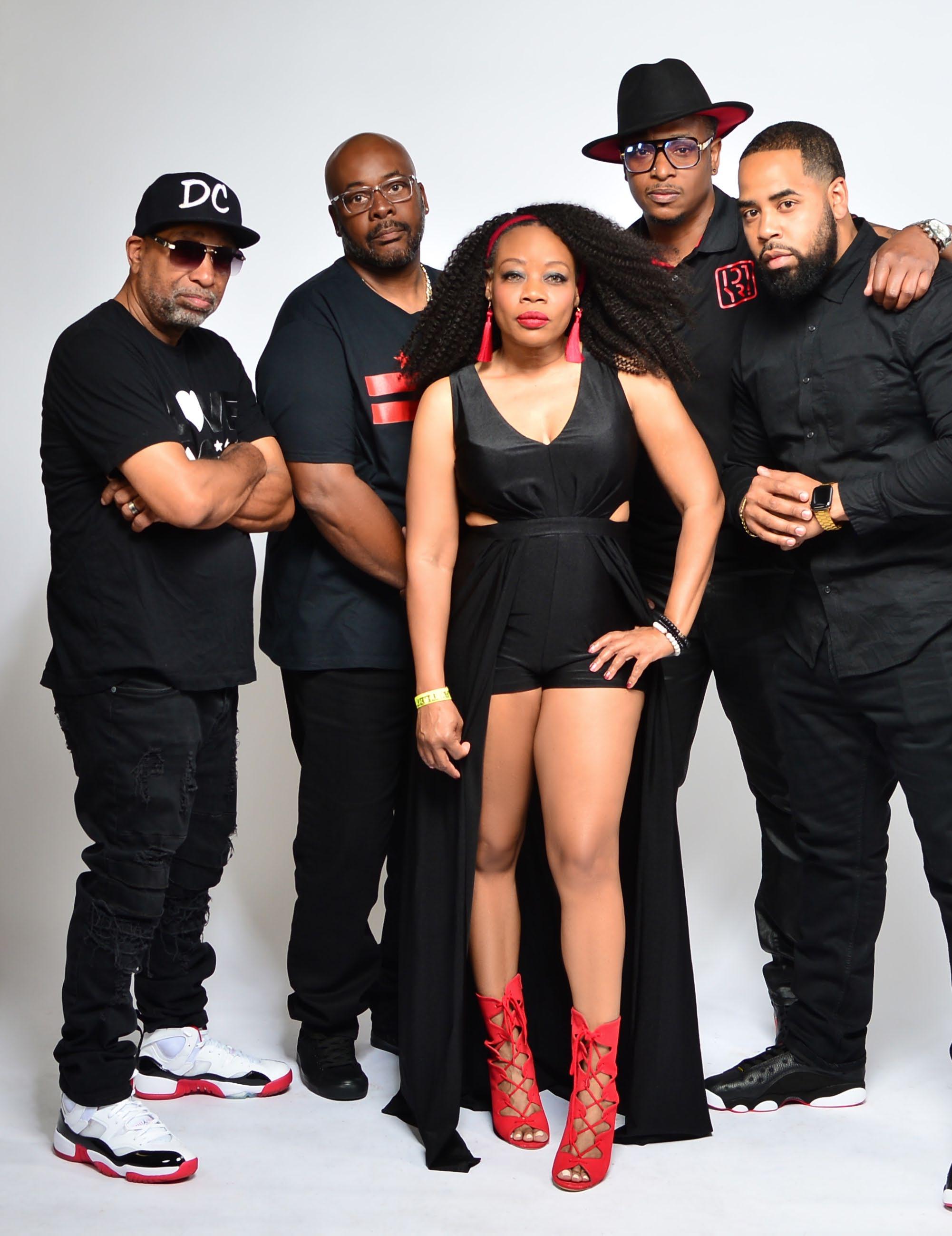 are all Iconic..... That's the Truth"
By Dorjea'McClammey Photos Provided by Todd Youngblood
Are you looking for new music to add to your playlists? If so, then you must consider Charlotte, NC, very own Kiing Le and the Iconic Truth Band. Iconic Truth Band has the "I.T." factor capturing a unique and infectious Go-Go vibe. While displaying various components of percussion and vocal excellence, audiences will always be enlightened and entertained.
Born and raised in South East Washington, DC, Kiingi, a natural neo-soul artist, moved to North Carolina in his thirties to pursue music. Surprisingly, he didn't start as a go-go artist; Kiing was pursing other interests. He was a personal trainer and owned a company, Get Fit For A King. Soon his focus would change, or more so, get in alignment with his true passion for music.
Kiing's pursuit of music grew while living in Charlotte. He joined a few R&B bands as a lead vocalist. This was his platform until a friend took him to see a go-go band in Charlotte. After attending a few of their shows, Kiing auditioned to be a vocalist, but he didn't make the cut. Determined to succeed, he didn't let that stop him and eventually earned the role of the band's talker. He says, a talker is like an orchestrator; they give shoutouts and help boost the crowd's energy. "If you know the talker and the talker knows you, you're popular." From the platform of band talker, everything started to fall into place for Kiing.
He would stay with that particular band for nearly eight years before leaping to do his own thing. Thus the birth of The Iconic Truth Band happened. Launched in 2020, Iconic Truth started with Kiing, his cousin Darnell, and Keena Thompson. The band chose the name 'Iconic Truth' because it genuinely reflects their energy. Kiing says his mentee told him, "You all are iconic, and that's the truth". The group was excited about the opportunity to be a fresh new face on the band scene and a new voice for Go-Go.
Arizona - July/August 2023 HuamiMagazine.com 19
"You
Like anything else that starts from scratch, there were some hurdles and obstacles the band had to endure. Kiing says, "It was a struggle at first. We would practice in a little section of my home. We had different artists moving in and out, but everything eventually fell into place."
At one point, Kiing was ready to give it all up. When he started Iconic Truth, it took a toll on his family because of the time and focus he was putting into the band. However, after hearing his music on the radio and his brother's constant encouragement, he was motivated to continue the journey. He, unfortunately, lost his mother in 2022, but before she passed away, she gave him a folder with his complete bio of work that he did in D.C. When he asked why, she said, "It's yours." He says that was her way of reminding him who he was. "You're Kiing Le, don't stop; keep it going. She was so proud of me." From that moment, no matter the trials and tribulations, he decided to move forward.
When asked what he loves most about the band, Kiing says he loves the creativity his band brings. "Everyone is so individual, and together, we make Go-Go magic. We can take Mary Had a little lamb and make it into a cranking Go-Go song. What's interesting is how we work to formulate an original sound through each song and have fun with it simultaneously. As a band, we focus on doing what feels good without trying to fit anyone's mold. We want everyone on that stage and in the audience to live in their iconic truth."
HuamiMagazine.com Arizona - July/August 2023 20
"Everyone is so individual, and together, we make Go-Go magic. We can take Mary Had a little lamb and make it into a cranking Go-Go song. What's interesting is how we work to formulate an original sound through each song and have fun with it simultaneously. As a band, we focus on doing what feels good without trying to fit anyone's mold. We want everyone on that stage and in the audience to live in their iconic truth."
Kiing isn't just a musician; he is also a businessman. He owns a production company, DC2NC Productions, which allows musicians and bands to go schedule live performances. He also contracts DJ's, comedians, vocals, and more. He also has a clothing line called 'I Don't Think You Ready", a spinoff to his onstage performance. Kiing has also found a way to combine his music love with personal training. On his podcast Cardio Conversation, Kiing talks music with guests while they work out. Additionally, he has enjoyed some memorable moments in his career, such as performing with Mint Condition and SWV, traveling, and performing with other big bands and celebrities. He has also written a song for Tone-X, the voice of V101.9 FM in Charlotte.
Kiing advises upcoming artists to persevere, stay consistent, and connect themselves with people who will challenge them. "Remember always to follow your heart and passion and trust your gut. Most importantly, always put the creator first with everything you do, and everything else will fall in place."
Kiing's primary goal is to be known as The King of Southern Go-Go. He says it's time for Iconic Truth to be known as the "go-to Go-Go band" in the South. He wants his name to be in the company of other greats such as Chuck Brown, Little Benny, The Masters, Big G from Backyard Band, and many more.
In the future, Kiing Le and Iconic Truth Band will continue to be involved with community awareness programs and teach kids more about live music and performing arts, "Performing arts saved my life, and that is something I want to give back to the community."
h
23
Band members pictured from left to right
Irvin, Darnell DC, Keena, Kiing Le. -Top, David (Fish), Howard
Chea Butterz Beauty Michea Jones
By Terry L. Watson
Photos Provided by Michea Jones
Michea Jones, pronounced (My-Shay), is the owner of Chea Butterz Beauty, also known in the Milwaukee, WI, community as The Braid Spa. Chea Butterz Beauty offers a wide range of luxury braiding and esthetics services, including every type of braid, from micro to the extra large knotless. Their services include styled feed-in braids (the new name for French braids), and a half weave and half braid option. They also have esthetics services, including waxing, facials, body treatments, body sculpting, lashes, brows, and more.
Michea says that Chea Butterz Beauty's targeted audience is any male and female between the ages of (5-100) looking to enhance their beauty, whether through getting their hair done, cleaning their skin, or sculpting their body.
Michea describes herself as a hard-working, driven individual who isn't afraid of challenges. She says, "I have dealt with many challenges throughout my life, which has molded me into the woman I am today. Growing up under the poverty level was one of the main challenges my siblings and I faced. Yet, that never stopped my mom from providing for us. Before my mother died, she taught me how to survive. Those values showed up in my life once I was on my own."
At the age of nine, Michea's mom first put a baby doll with hair in front of her. It was then she learned how to braid. "My mom braided hair also, and I would take the clients she didn't want to do. However, I wasn't making much money braiding for my mom, so I lost interest. That was my attitude every other year in regard to braiding. I would do it for a while; then I would stop. After high school, I decided to stop braiding and get my degree. But in the mix of school, my mom died. I was in my sophomore year of undergrad, and her passing hit me hard. I was only 19 and had nowhere to live. I eventually landed on my Godparents' couch until I could make enough money to move. Once I got the hang of living on my own and paying bills, I realized I was missing something; braiding. Braiding was my connection to my mom. Soon, I had a two-bedroom home and turned the spare room into a "room shop". I started taking clients in my home and charged what I wanted. I began to feel a sense of belonging," Michae says. Today, she has a salon suite almost four times the size of her "room shop", with independent contractors working alongside her. Things have changed for the better for Michea.
25
"My mom braided hair also, and I would take the clients she didn't want to do. However, I wasn't making much money braiding for my mom, so I lost interest."
Chea Butterz Beauty began in 2018, the year before Michea finished college. It began under the name, Bliss Essential Goods, and offered skin care products. Michea wanted to combine her braiding services with her skin care products, and thus Chea Butterz Beauty was born.
When she graduated from the University of Wisconsin Milwaukee in 2019 with a BA in Psychology, Michea realized, Therapy wasn't something she wanted to pursue then. "I wanted to learn about skin just as much as I knew about braids. I wanted to be legit in the skin care and esthetics world, so I went back to school and attended Milwaukee Area Technical College Mequon Skyn Spa," she shares. Michea graduated in 2021 as a state Licensed Aesthetican; in 2021, Chea Butterz Beauty LLC became a registered business through Wisconsin. Michea was no longer operating in her "room shop". She was legitimately established in her existing space.
Michea shares what she loves most about being a business owner is the opportunity to write her own story. "My business is what molded me to be," she says. Michea also loves people. "I'm a giver by nature, and I want to make people feel good. I serve others in hopes of making their day just like they made mine when they chose Chea Butterz Beauty."
Michea says her "why" has to be bigger than the "no's" of others. Having this type of mentality is what drives her. " I have to remember each day why I am doing this. I must keep going even without the support of others. I am also encouraged when I am supported by those I didn't expect to support me," she says.
Her advice to other aspiring entrepreneurs is to believe in what God has given you. "The vision that God gave you was meant only for you, so don't let anyone tell you you can't because God already showed you that you can."
In addition to running her business, Michea teaches at Universal Scholars Academy. She shares that she doesn't desire to teach in a classroom setting but still loves to teach, which is why she plans to return to school and get her cosmetology and esthetics instructor licenses. "I want to open the first black-owned Braid Spa Institute in Milwaukee and offer professional braiding and esthetics classes to individuals between the ages of 18-50. I also want to obtain my Masters in Counseling and open a Therapy salon, a first of its kind. I will call it Hairapy, and it will be designed for both men and women and offer a professional space to unwind, relax, and vent while getting serviced," Michea says.
HuamiMagazine.com Arizona - July/August 2023 26
Chea Butterz Beauty LLC 2266 N. Prospect Avenue Milwaukee, WI 53202 414-376-1198 414-316-7165 (text) h
The Source Unlimited LLC
By Terry L. Watson
Without question, Jensine Reeder is a lover of all people. The Greenville, SC, resident has a reputation for giving and pouring into others. She has intentionally made limitless connections across the beauty, technology, and nonprofit sectors and provided hope and opportunities while doing so.
Jensine's story reflects the life of someone who has refused to be denied or misled. She shares, "Family has always been important to me. I grew up in Greenville, SC, as the oldest of five siblings, and Southern Baptist ideals shaped my adolescent identity. While the church offered community, support, and love, it also led me to believe that money, specifically desiring money, is bad. I scraped by for years to make ends meet. I hoarded basic supplies like toilet paper and worked tirelessly for less than minimum wage to feed myself and my family. My efforts kept us fed, and we were alive but not truly living. I knew deep in my bones that I was capable of more, and we deserved more."
Jensine says her career and entrepreneurship journeys taught her wealth is not inherently evil. "I learned that money is neither good nor bad but simply a tool. What matters is how you use it. Money provides stability and offers opportunities. I wanted to allow my children to pursue their education, dreams, and passions and access the best care and resources money could buy. Furthermore, I never wanted my children to feel the suffocating fear of living paycheck to paycheck. So, I carved out a new career path for myself and climbed from minimum wage jobs to a salaried position," she says. However, little did she know her journey out of poverty had only begun.
Today, Jensine owns Source Unlimited LLC, a consulting firm dedicated to connecting small businesses, nonprofit organizations, and corporations with the resources necessary to thrive professionally. "We offer nonprofit IT consulting services to ensure data collection procedures are efficient and accompanied by effective workflow processes," Jensine says. "That enhanced efficiency better positions organizations for additional funding opportunities and enables organizations to tell their stories."
One of the services offered by The Source Unlimited is Professional Nonprofit IT Consulting. Her goal is to ensure data collection software and procedures are efficient and accompanied by effective workflow processes. "This positions the organization for additional funding opportunities," she says. Another product offered is Elevation Coaching™, designed for small business professionals, which offers small business establishment for Limited Liability Corporation (LLC), Incorporation (Inc), Sole Proprietorship, and Nonprofit (501(c)(3) establishment. Additionally, they offer coaching with a phased approach to growing their clients' businesses.
Another product offered, which is designed for individuals, is Elevation Coaching™. Jensine asks, "Are you ready for your elevation journey? We offer a process to tap into your highest self and elevate your thinking about yourself, your purpose, and your life! My services are for anyone with a vision to start or expand their business and needs guidance, support, and accountability."
Jensine's creative side is displayed with Goddess Wraps by Jensine™, which was launched in 2021. She hand-makes vibrant satin-lined headwraps with 100% Cotton Ankara fabric lined with high-quality satin. She says the line resulted from her doing some soul-searching and learning what her life's purpose was. Annually, a portion of their sales are donated to organizations that focus on raising awareness about breast cancer and alopecia. Additionally, Jensine provides virtual and in-person wrap services for photoshoots, date nights, weddings, birthday celebrations, anniversary events, and more.
29
Photos Provided by Stacey Gardin
Jensine says her journey in poverty began in 2012 while working as a paralegal at a private law firm. She overheard a conversation between the attorneys about a client who didn't understand their life of poverty. At that moment, Jensine learned there was a difference between being poor and being in poverty. "I was in shock because, according to my family and friends, I was doing well for myself because I had a good job, a car, and was renting a home. I then researched what career I could transition to in order to increase my income to make enough money to be above the federal poverty line," she says.
Her next move was returning to college to get her degree in Computer Technology at Greenville Technical College. While being a full-time student, she worked on campus in the Engineering and Technology computer lab, an experience that allowed her to sharpen her skills and gain professional experience. Jensine shares that with the support of her family, friends, and church members, she graduated with honors in 2014 with a degree in Computer Technology.
Continuing her educational journey as a working mother required great personal sacrifice, Jensine confesses, but she was ready to pursue a career in technology. She soon started her consulting business, The Source Unlimited. In no time, doors began to open in her favor. Jensine says, "The United Way of Greenville County was searching for a Database Administrator. I applied and got the contract, and that seven-year opportunity helped me find my niche within the technology field. I also assisted over 222 Greenville County nonprofits with acquiring over $4 million in grant funding." She was off and running, and The Source Unlimited LLC was birthed in 2014.
Jensine's new career helped her purchase her first home in 2015. "My children and I were so happy to have a place to call home," she says. Her children also inspired her to share her story with others and pursue public speaking engagements throughout the Upstate community.
HuamiMagazine.com Arizona - July/August 2023 30
I was in shock because, according to my family and friends, I was doing well for myself. I had a good job, a car, and was renting a home."
Jensine Reeder
31
When asked what she loves most about her journey in business, Jensine says it's the opportunities she has to mentor entrepreneurs, business owners, executives, and professionals. She enjoys transforming their lives, careers, and mindsets through the power of radical self-discovery, self-care, and self-love. "I also love the opportunity to honor my Afro-Indigenous heritage with Goddess Wraps by Jensine."
Jensine emphasizes that external success cannot exist without internal success, and when she reflects on the fear, anger, and grief that consumed her at the beginning of her journey, she's overwhelmed with joy. "I cherish and appreciate the peace, prosperity, and stability my family knows now. I am also humbled by the blessings God placed in my life," she said.
Jensine thanks the members of her community for their constant support. She also thanks her mother for always breathing life into her vision. "Thank you, Mom, for being the wind beneath my wings!" Her advice to others who may follow in her footsteps is simple. "Life will never be without trials and tribulations, but we are strong, creative, and gifted enough to turn those trials and tribulations into something more. Whether it takes a year, a decade, or multiple decades, you can transform your life. You have everything you need within you to start and succeed."
The future looks very bright for this savvy businesswoman. Jensine's businesses and brands are growing, and soon she will launch a new men's line at the beginning of 2024. To learn more about The Source Unlimited LLC, please visit their website. h
800-783-8862
33 Jensine Reeder - The Source Unlimited www.source864.com
Supplemental Education LLC Cassandra
By Terry L. Watson
Bruington
Cassandra Bruington of Kansas City, MO, is an educator, speaker, and connector who uses her gift of encouraging others to pursue purpose and use their God-given talents to make the world better.
Her love for helping others to become the greatest version of themselves has opened many doors of opportunity for her. One is Supplemental Education LLC, a virtual tutoring service catering to Kindergarten through 12th-grade children. They also create customized learning roadmaps focusing on a child's strengths to address their unique learning needs and reach their learning goals.
Cassandra says, "We match students with qualified tutors who specialize in building strong relationships with families. One-on-one tutoring sessions are targeted and engaging, and our students experience accelerated academic, social, and emotional growth. Even more, our services are virtual, which means we can reach students from any location!"
An added bonus gives parents and tutors personalized ongoing coaching, training, and support through monthly workshops and video tutorials. Cassandra also offers a learning resource library with topics ranging from how to plan an engaging read-aloud to how to make learning from home real and fun!
Cassandra shares she loves empowering parents and teachers with the mindsets, skills, and knowledge that unlocks extraordinary learning. She thrives in building relationships through humor, humility, and connection while empowering children, parents, and educators to reach their fullest potential.
"I launched Supplemental Education LLC in 2020 to ensure that children grow and thrive in the world. In two years, my business has supported more than ten families in six cities nationwide. My students' results range from 100% on math assessments to scoring in the 82nd percentile in a global reading assessment," she says.
The ideal client for Supplement Education is parents who recognize their role is significant. "We call them Parent Plus. A Parent Plus is ready and willing to make adjustments to center their child's success. They know their child best and so they know what's best for their child. A Parent Plus doesn't need a teaching degree to advocate for their child's education, and they possess a superpower that allows them to think, say, and do what's best for them. They have love."
The Parent Plus workshops help parents develop a plan for success by getting clear of a specific goal, setting tangible steps toward it, and scheduling success and celebration. During this process, parents are positioned as their child's first teachers and have the option to enroll them in virtual tutorings, such as one-on-one parent coaching or live monthly group coaching and accountability.
35
Photos Provided by Cassandra
We match students with qualified tutors who specialize in building strong relationships with families. One-on-one tutoring sessions are targeted and engaging, and our students experience accelerated academic, social, and emotional growth."
Cassandra's passion for teaching took her to the island of Costa Rica. She taught and led literacy for our Early Childhood, Elementary, and Middle School there. Her classroom and curriculum support extended to the high school setting as well. When Cassandra returned to the States, she wanted to partner with parents and help them accelerate their children's success, but she needed clarity on how to proceed. She asked her parents and colleagues, and Cassandra's answer came from writing a book, 'ABCs: How to Help Your Child Succeed in School'. That was a precursor for her work during the COVID-19 virtual school crisis. While on bed rest during the onset of the pandemic, Cassandra began supporting a rising 5th grader in developing foundational reading and literacy skills. At the same time, she started coaching a Black American teacher who was working with English Language Learners in Mexico. Cassandra welcomed the challenge.
Cassandra was able to accomplish all of this while she was pregnant with her son. Not to mention, her son had recently received a diagnosis of spina bifida and was recovering from prenatal surgery. She pushed through and assisted others as much as possible while on bed rest. "After I had my son, I launched Supplemental Education. I knew more parents needed the type of support I was able to offer during the pandemic. After launching, I recruited and onboarded 15 teachers, enrolled in business coaching, and grew my client base. The rest is history!
The impact Cassandra's company has made has not gone unnoticed. She says, "I am changing education one family at a time. I love that parents own their power, and we partner with them as they lead their child's learning success. It's beautiful to hear about students whose growth means they no longer require tutoring. I find comfort in knowing that when students reach a new hurdle in learning, Supplemental Education is the first place they think of for support and accelerated results."
36
Cassandra's parents, she admits, have mostly impacted her life. She says, "My dad grew up between NYC and South Carolina, and my mom was born and raised in St. Matthews. They met as kids and grew up knowing one another's families. Their love story is beautiful, and they have always been committed to building a strong family of relatives and friends centered around Jesus Christ," she says.
Raised as a child of parents who served in the military, Cassandra traveled often. Her parents supported her when she wanted to travel to Paris, Italy, and Prague in middle school. When Cassandra studied abroad in South Korea and South Africa, they also helped fund her extracurricular aspirations. "I am doing what I love because of their example."
One of Cassandra's biggest challenges was her unborn son being diagnosed with Spina Bifida – Myelomeningocele in 2020. After hearing all my options, she agreed to undergo surgery while pregnant so surgeons could stitch his back closed, giving him a chance to live and one day walk. Three and half weeks later, Cassandra lay on the operating table, fully aware of the risks but hopeful of the outcome. Then the world shut down due to the spread of the Coronavirus. She spent three months on bed rest, away from loved ones with limited visitors. During this period, she attended weekly ultrasound appointments until she delivered her son, Josiah, by C-section, as scheduled. Today he's walking.
Cassandra advises others who may experience a journey in life or business similar to hers to stay the course. "It doesn't mean things won't shift and evolve, but if you're willing to grow, you'll get clearer and clearer with each step you take. Entrepreneurship is worth personal development alone. As you change, so will the world," she shares. "Also, invest in yourself first. Look good, feel good, be good, and do good every day," she says.
As the future looks bright for Cassandra and Supplemental Education LLC, she is excited to partner with schools and school districts. "The answer to every issue in education lies in our ability to awaken, empower, and re-position parents...indefinitely. As school leadership partners with Supplemental Education, I'm convinced we can change education, one family at a time."
To learn more about Supplemental Education, please visit their website. www.supp-ed.com
37
MAGAZINE Robert Duece Austin
Cutest Baby
To submit photographs to be placed in the Huami Magazine Cutest Baby feature, please send a detailed email to huami.cutestbaby@gmail.com
The son of Staci Simms and Anthony Austin
ARKANSAS DALLAS/ FORT WORTH PHILADELPHIA MEMPHIS INDIANAPOLIS www.huamimagazine.com Published for 23 States and 30 Markets / Online & In Print Established 2007 A Mykel Media Company LLC Publication Scan Our QR Code For More Details For Advertisement Opportunities Within Arizona and Around The United States Please Call 336-340-7844
HuamiMagazine.com Arizona - July/August 2023 40 ExclusiveSpecsForMen and Women www.ladyespecs.com