CREATING CONNECTIONS
Recognize and motivate employees using promotional marketing
WE KNOW YOU ARE BUSY
Your daily challenges are many and sometimes prove to be more than one can handle. As a leader, the last thing you want to do is fall short of expectations. That's where we deliver. If you need to encourage teamwork, reward performance, welcome new hires, improve safety or find the right employee giveaway, we're here to help.
Our unmatched breadth of promotional marketing and graphic communications capabilities enables us to take a holistic approach in delivering the right level of service and support to address your promotional product, employee program or marketing communications needs. All while helping you to improve employee satisfaction, engagement and retention, establishing HR as a true value-added department within the organization.
On the following pages, see how Taylor can help solve the challenges of busy human resources professionals just like you.
Table of Contents Rewards and Recognition 5 Recruitment 7 Corporate Events 9 Training 11 Onboarding 13 Safety 15 Health and Wellness 17 Life Events 18 Diversity 20 How We Do It 22
BUYER PERSONA Helping Sarah Impress
4 | Taylor
Rewards and Recognition
As a new hire into the human resources department, Sarah was immediately assigned to develop an employee appreciation program. Having never put together such a program and really wanting to impress her new employer, Sarah needed serious help. Through our industry-leading communications and promotional marketing expertise, Taylor can apply a strategic approach for Sarah's appreciation program to emotionally connect and reward deserving employees, while motivating others to aspire higher.
Recognition Drives Results
Foster proactivity and more positive work environments through actively managed recognitionand rewards programs.
Motivate Higher Performance
Integrate peer-to-peer rewards programs for more authentic expressions of appreciation and accomplishment across co-workers and teams.
Better Than Cash
Improve engagement with non-monetary rewards. Items like travel, merchandise or digital tokens get talked about frequently and recognized participants are more likely to feel appreciated with tangible, non-cash items.
Product Ideas
Creating Connections | 5
Making Kelly Stand Out
6 | Taylor
BUYER PERSONA
Recruitment
Kelly works in a highly competitive industry and has been charged with putting together this year's college recruiting fair. She's ready to take up the challenge of gaining the attention of skilled recruits, as well as differentiating her company in a crowded expo space. Kelly knows she needs to knock it out of the park with the right giveaways to stand out and reach the best and brightest. Taylor can make promotional products a differentiator that helps drive booth traffic while being able to tell her company's story. Using memorable merchandise and engaging communications, we are able to deliver product ideas and solutions that not only align with her company's brand, but also connect and resonate with job seekers.
Technology on Display
Give them what they want and need with branded smartphone accessories, USB drives, Bluetooth speakers, chargers and more.
Viral Branding
Create a buzz with custom-printed pins, stickers, LED blinkers and decals for grassroots brand visibility across campus.
Augmented Reality (AR)
Make brochures, handouts and other branded merchandise pop with augmented reality. Build memorable connections with your information via videos, animations, games and more. We can help create your AR experience while also producing and printing materials for use.
Product Ideas
Creating Connections | 7
BUYER PERSONA
Allowing Neil to Shine
8 | Taylor
Corporate Events
Neil was recently promoted to department head. One of his many new responsibilities is the production of an off-site leadership conference. With over 500 people attending, as well as the company's board of directors and divisional vice presidents, this summit is highly visible within the company and presents Neil with a make-orbreak opportunity. To help him bring it all together, Taylor delivers complete end-to-end solutions. From event planning assistance and communications development to the production of on-site signage and corporate gifts, we are a one-stop shop to make his corporate event shine.
Coming and Going
Present arrival and departing gifts to make sure it's an event they won't forget.
Functional Yet Fun
Give branded meeting agendas, journal books, pens and more to help attendees make the most of their event.
Clear and Focused
Deliver a mix of electronic and printed communications to provide pre-event teasers, agendas and hotel information, mid-event activity updates, and post-event follow-up messages. We can help you craft, develop and deploy messages to attendees and their guests across all media.
Product Ideas
Creating Connections | 9
BUYER
PERSONA
Driving Engagement for Chloe
10 | Taylor
Training
As the training and development officer for her company, Chloe understands that educating employees can sometimes get a bit boring and tedious. From training on laws, regulations and corporate policies to the introduction of new products and go-to-market strategies, she is looking for a better way to motivate and engage employees across all levels of her training initiatives. Taylor's expertise in program ideation and product selection can help to increase participation, improve completion rates and amplify the success of employee training programs by making sessions more interesting and enjoyable.
Make It Fun
Start classes with branded snack items or logo sports bottles to enhance the learning environment with food and drink.
Reward Learning
Introduce milestone gifts that recognize and award employees for the completion of required training sessions and motivate them to keep learning.
Deliver Utility
Provide giveaways to help employees succeed in taking online and classroom courses. Logoed journals and pens help them jot class notes and reminders. Branded earbuds allow them to take web-based courses without interrupting others. And finally, nothing alleviates classroom tension like custom stress balls, squeezies and fidget spinners when employees need a quick break.
Product Ideas
Creating Connections | 11
BUYER PERSONA Uniting Sophia's Team
12 | Taylor
Onboarding
Sophia's company recently acquired a new business. Beyond the daily processing of compliance, payroll and other integration paperwork for new employees, she has also been assigned to help welcome them to the company. Sophia needs skilled assistance to introduce the company's culture and values while making these new team members feel appreciated and valued. Taylor can simplify her day while also making her look great. By understanding her budget and needs, we provide expert help to organize onboarding programs from promotional items and branded apparel to fully customized welcome kits.
Form Meets Function
Useful products help new employees get up and running quickly and do their jobs better.
Wear the Brand
Help new hires feel part of the team at work or play with custom-printed gear. Higher quality apparel also increases wearability and brand impressions outside of the workplace.
Welcome Aboard
Deliver new hire kits with branded merchandise to create immediate employee connections with their new company. Also, welcome family members with special mailers sent to the new employee's home to show added appreciation.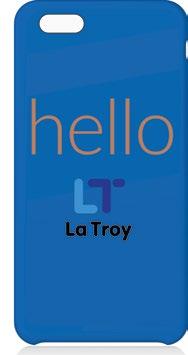 Product Ideas
Creating Connections | 13
BUYER PERSONA
Meeting Charlie's Challenges
14 | Taylor
Safety
As part of his yearly review, Charlie was challenged to help improve workplace safety across the company. Covering both office and factory space, he knows that his audience is as diverse as the safety hazards they face and he needs quick and memorable ways to generate company-wide awareness. Taylor's single-source communications and merchandising specialists can create a complete range of impactful education programs, employee communications and branded merchandise to reinforce a safety-focused culture and reduce on-thejob injuries.
Encourage Involvement
Ensure ongoing participation in safety initiatives through safety weeks, milestone celebrations, lunchand-learns and ongoing promotions.
Make It Memorable
Distribute reminder products ― like high-visibility stickers, safety glasses, work gloves, earplugs and emergency guides ― and make these easily accessible to keep safety-related issues top of mind.
Incentivize Safety
Create a "safety first" employee mentality by providing added enticements for achieving safety goals and through giveaways, contests and awards. Acknowledge employee accomplishments with a digital rewards program using haptic technology to provide extra motivation through electronic gift cards, music and gift tokens to local shopping, restaurants and entertainment.
Product Ideas
Creating Connections | 15
BUYER PERSONA Implementing Sharon's Vision 16 | Taylor
Health and Wellness
In an effort to keep health insurance costs stable, Sharon undertook a new corporate wellness initiative to promote healthier employee lifestyles. She knows that getting participation and buy-in for workers to make better diet and exercise choices will require something engaging and fun. From concept to delivery, Taylor understands what it takes to create awareness and drive action for health and wellness. Through a mix of coordinated communications, team events and motivating premium items, we can help Sharon manage this program while making it enjoyable to incentivize healthier lifestyles.
Suitable Reminders
Spur employees to maintain healthy activities with workout planners, fitness kits, water bottles, imprinted wristbands and more.
Healthy Encouragement
Deliver empowerment tools like portion plates, cookbooks, lunch coolers and health journals to help employees make better food and meal selections.
Create Rewards
Improve employee participation through tiered giveaways and rewards for achieving key milestones, like miles walked or pounds lost. Items can include pedometers, fitness trackers and headphones to help support and sustain their physical activities.
Product Ideas
Creating Connections | 17
LIFE EVENTS
Celebrating Life with Tammy
18 | Taylor
Life Events
Tammy's company has transitioned to a work at home environment and has been losing employees. She conducted a survey to discover why. The results concluded that work from home employees are feeling isolated and disassociated with their company. Tammy knew that she needed to bridge the gap between each employee's personal life and work life and turned to Taylor for insight on how to accomplish the goal.
Taylor suggested that Tammy work with her department managers to relay life event information to her via spreadsheet every other Monday. Tammy would compile the info according to life event and place an appropriate order per group such as branded onesies for new babies, branded key rings to new home owners, and branded kitchen accessorizes for newly weds.. Managers reported team members showing appreciation and that they felt a stronger bond with each of their remote employees after items were delivered to their doorstep.
Celebrate Together
Recognize your employees' great achievements and raise the bar across the board. Celebrate years of services, promotions, retirement, and even personal life goals like finishing a marathon or being awarded a scholarship.
Simple & Efficient
Send your best wishes via a greeting card for personal life events like birthdays or weddings. Cards are also a great way to show your solidarity during hardships as employees matter as a whole on and off the clock.
Product Ideas
Be Unforgettable
The day one has a child or buys their first home are days people don't easily forget. Tie your company to their memories of happiness by offering useful promo items like new branded drinkware set, keychains, or self-care items.
Creating Connections | 19
DIVERSITY
Embracing Differences with Roger
20 | Taylor
Diversity
Rogers 's company has a zero-tolerance policy for discrimination. He wanted to increase this policy recognition while fostering and encouraging positive and healthy viewpoints on diversity. The first steps were to recognize the diverse groups under their corporate umbrella, develop unique company sanctioned logos, and finally add recognition of these groups to the corporate website.
To take the initiative further, Roger reached out to Taylor for ideas. Taylor knows that developing community often comes with enjoying events together and suggested a Diversity Days event. At Diversity Days, prizes were awarded to participants during team building exercises. Group representatives were then elected and asked to maintain correspondence with Roger who could offer HR advice and distribute branded items that encourage group unity.
Events
Sponsor company-wide events that celebrate cultural richness such as food, music, games, and prizes.
Inclusion
Raise awareness of diversity to create a united front against hate and discrimination. Encourage employees to feel like part of a group with branded apparel.
Fundraisers / Sponsorship
Show solidarity with youth by sponsoring fundraisers to support their growth and development within your community. Encourage conversations that foster growth and positive development at tradeshows.
Product Ideas
Creating Connections | 21
How We Do It
Taylor has the scale to address your needs with the flexibility to make spot purchases for specific events. Our process achieves a balance of cost control and superior service to deliver the right level of support to meet your needs.
Product Ideation
We analyze your needs and marketplace to determine which items will appeal the most to your target recipients.
National Merchandising Support
Your service team will recommend items that will engage your targets based on demographic and geographic preferences, while providing end-user feedback to help you make more informed decisions.
Superior Sourcing
Our operations allow us more purchasing leverage to ensure you get favorable pricing on every order, no matter how small.
22 | Taylor
Online Stores
We can implement web-based portals for ordering a wide variety of items according to your needs.
Virtual Inventory
Our close relationships with leading manufacturers allow us to stock small quantities for on-demand decoration or embroidery of items.
Distribution Savings
We offer same-day shipping to a number of locations with the ability to consolidate shipments from a single source to save on freight charges.
Creating Connections | 23
LEARN MORE
With over 100 years of experience, Taylor is a business communications company that strengthens your customer's experience, enhances your business efficiency and increases your profitability with solutions that help you both run and grow your business. Armed with innovative, customer-centric ideas, our investment in worldclass technologies, capabilities and production facilities ensures a seamless solution for all of your business communications needs.
We're pros at promo and a whole lot more. Contact us today to see how we can make a difference for you and your employees.
taylor.com
1725 Roe Crest Drive, North Mankato, MN 56003 800.631.7644 | taylor.com © 2023 Taylor