F R O M FIBER T O FINISH
FROM THE TO ROOMLOOMYOUR
Worry-free livable luxury, indoors or out. Design your space knowing that Perennials' vibrant colors will continue to beautify your living areas for many years, and parties, to come.
Perennials' 100% solution–dyed acrylic fabrics and rugs are easy to maintain and bleach cleanable, without sacrificing design or comfort.
PERFORMANCETRUELUXURYTRUE
Perennials' blend of beauty, cleanability and durability lets you live fearlessly, knowing that a little spill won't demolish your drapery or ruin your upholstery.
Resistant to staining, fading, and mildew.
Color, fiber, finish. Every detail matters. Our obsession with producing superior fabrics and rugs is matched only by your obsession with designing exceptional spaces.
PERENNIALS IS IN DETAILSTHE
From fiber technology to design, quality, customer service and final delivery, our attention to detail in every step of the production process ensures the highest quality products for our clients. Our fixation results in technically superior fabrics and rugs that are easily maintained and are fade–, mildew– and mold–resistant.
The Perennials Yarn Mark symbolizes our unyielding commitment to industry–leading performance and style. Look for this mark as your guarantee that a fabric is made with Perennials genuine 100% solution–dyed acrylic fiber technology.
IT STARTS WITH InCOLORafashion-driven world, color is key. We're always thinking about color. We start planning months - sometimes years - ahead, searching for inspiration around the world, listening to client requests, and testing and prototyping new fiber colors. Natural and man–made pigments are then used to create the new colors we introduce to our palette.
Raw pigments such as these are used in making a liquid acrylic polymer which is then transformed into Perennials' amazing fibers. Every color is thoroughly tested for performance and colorfastness before it is added to our yarn bank.
Our 100% solution dyed acrylic fiber begins as a liquid acrylic polymer solution. The solution is injected with elemental pigments, then extruded, aligned, stretched, crimped and cut, resulting in fiber that looks and feels like natural cotton. This process ensures that our fiber is completely permeated with color, enabling our fabrics and rugs to endure the elements better than yarn dyed or piece dyed fabrics.
FROM LIQUID POLYMER TO PERFECT FIBERS
We believe that understanding this difference between the fibers used in performance fabrics allows our clients to choose products that not only live up to, but surpass, their expectations. Not only does the solution–dyed acrylic fiber offer a more natural look and feel, the polymer itself has an inherent resistance to ultraviolet degradation which exceeds other fibers such as polypropylene, olefin and polyester. Another inherent characteristic is resistance to bleach, so the fiber will not lose strength or tenacity when bleach is needed for tough stains. Because color pigments are part of the solution that creates the fiber, the colors in Perennials fabrics won't fade or bleach away.
SPIN N I NG A YARN
Now the real fun begins. Our product development team begins to spin and ply innovative new yarns for use in casement, upholstery, awning fabrics, and rugs. Creating unique chenille, bouclé, slub and plied yarns allow for infinite design possibilities. Our plied yarns allow the team to create new possibilities like the braided rope used in the Flatwoven rope rugs.
ToFINISHenhancetheinherent stain resistance of our 100% solution dyed acrylic fibers, every inch of every Perennials fabric is treated with Perennials performance finish. More than just a coating, Perennials performance finish molecularly bonds with the fibers, providing long–lasting protection even after repeated washings. Water or substances such as wine or ketchup simply run off the surface or can be easily rinsed off with plain water.
PERENNIALS PERFORMANCE
Many clients have strict guidelines they are asked to follow when selecting fabrics for projects. All of our fabrics are submitted to independent, certified testing laboratories, where a barrage of tests are conducted on each and every pattern that we have developed.
TESTING
The results of these tests are published in our literature or are available upon request. In addition to rigorous testing, inspections are important at Perennials. Every yard is subjected to no less than three inspections before the order leaves our dock.
Throughout this extensive testing, our fabrics are subjected to the harshest of conditions to achieve certified results for abrasion resistance (Wyzenbeek, ASTM D4157), breaking and tear strength (ASTM D3597/ D5034, ASTM D2261), brush pill (ASTM D3511) and flammability (California Bulletin TB117-2013, NFPA 260/UFAC Class 1).
Both accelerated ultraviolet testing in the Arizona desert and actual use show that Perennials will stand up to sunlight for at least three years without fading.
FADING RESISTANT TO
While Perennials fabrics and rugs look beautiful season after season, other pretenders can go pale in less than six weeks.
All Perennials 100% solution–dyed acrylic fabrics and rugs are backed by a no–fade guarantee, valid for three years from the date of purchase. We take personal pride in caring about our product and our reputation. Years of research have proven that 100% solution–dyed acrylic is the superior performance product for indoors or out.
HANDMADEMADE-TO-ORDER, RUGS
Perennials Luxury Performance Rugs are incredibly easy to care for, so you won't have to worry about spills or fading. They are even tough enough to be cleaned with Everybleach.rugis made–to–order in any size, shape or colorway you can imagine. If time is short and you need it quickly, Perennials offers a variety of Ready–to–Roll rugs, pre–made in standard sizes, constructions, and colorway options.
Made exclusively with Perennials' 100% solution–dyed acrylic yarns, every rug resists fading and is bleach–cleanable. Soft to the touch and underfoot, a Perennials rug will surely add comfort and beauty to any indoor or outdoor living space. Our rugs are hand–knotted and handwoven in our state–of–the–art facilities located in Gujarat, India. Perennials' skilled rug artisans craft unparalleled performance and luxury into every inch of every rug.
KNOT IT. WEAVE IT. STEP ON IT.
Flatwoven: Ideal for indoors or out, these handwoven rugs combine subtle color blends and tailored bindings with Perennials performance. With extra comfort in mind, flatwoven rugs bring an elevated level of softness to your toes without sacrificing beauty or performance.
Perennials offers FIVE rug constructions that will make your feet smile
Flatwoven Rope: Perennials flatwoven rope rugs are our interpretation of natural–fiber rugs, such as sisal and jute. We simply added 100% solution–dyed acrylic performance to the earthy textures and organic imperfections that these rugs are adored for.
Chenille Flatwoven: Perennials chenille flatwoven rugs offer all the beauty and performance of our flatwoven rugs while supple chenille yarns bring an elevated level of softness to our toes.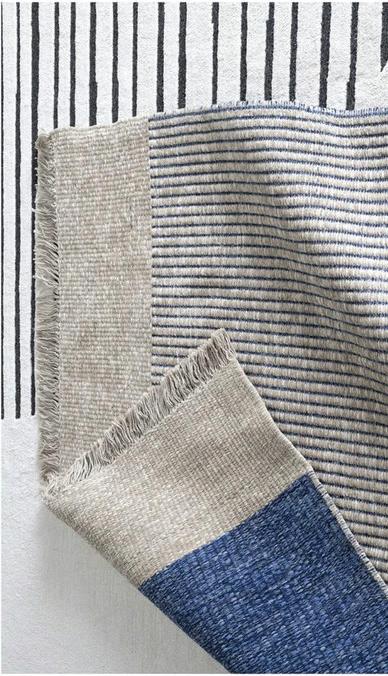 Dropstitch: Toeing the line between flatwoven and pile rugs, the dimensional structure of our dropstitch rugs combines the subtle color blends of our flatwoven rugs with low pile height elements for a deeply textural effect.
Tibetan Knot: Perfect for use indoors or in covered areas, the lush pile of our Tibetan knot rugs will leave your feet begging to go bare. Each heirloom rug is hand–knotted with 80 knots per square inch with an average pile height of 10mm.
PERENNIALS GREEN
In today's industries, terms like "sustainability", "eco-friendly", and "green" are tossed around haphazardly by companies. We believe in being completely transparent about our efforts to offset the carbon footprint of Perennials. To start, less waste is created when products are made to last years and years. Perennials advocates for caring of the environment as a major part of its company culture, and is committed to producing textiles in an environmentally responsible way.
The water used during the fiber manufacturing process is purified and returned to its natural source. Environmentally friendly natural gas provides the energy needed to generate steam and electricity for multiple aspects of the fiber production. Waste is safely recycled through incineration, with the heat being used as an additional energy source in the steam network during fiber production. Water used in the finishing of our products is purified, which allows for some of the water to be used for such things as landscape irrigation and some to be recycled back to the finishing process for reuse. Additional information regarding chemical compliance is available upon request.
From fiber technology to design, quality, customer service and final delivery, our obsession with every step in the production process provides assurance to our clients. This is why we can offer an industry–leading guarantee.
FROM FIBER TO FINISH TO YOU
Be
All Perennials 100% solution-dyed acrylic fabrics and rugs are backed by a no–fade guarantee valid for three years from the date of purchase (with the exception of Cabana,™ which has a five year warranty). confident when you select fabrics and rugs identified by the Perennials Yarn Mark that you will receive a product that lives up to our name: enduring, constant and fun.
CARE & CLEANING
We recommend cleaning Perennials fabrics and rugs with natural soap in lukewarm water. Commercial cleaners, such as Dawn, Formula 409, and Oxiclean have also been used with success. Sponge briskly and rinse thoroughly with clean water and air-dry. Acrylic does not support mildew growth; however, mildew may grow on dirt and residue that has not been removed from the fabric.
CLEANING WITH BLEACH
Diluted chlorine bleach will not affect the coloration of the fiber and is therefore acceptable for stubborn stain removal. Chlorine bleach, strong chemicals or harsh detergents can eventually affect the strength of any fiber or cloth, so we suggest a solution of one part bleach to two parts water. Rinse thoroughly to remove all residual cleaning agents.
CLEANING VELVETS
Lightly vacuum any loose dirt from the surface of the fabric. Brush with a soft brush in the direction of the pile. To remove wrinkling, apply steam gently while softly brushing. To prevent damage to the pile or the backing, do not place steamer directly on the pile of the fabric, or the backing.
CLEANING CUSHIONS
When cleaning a cushion constructed of exterior foam, we recommend flushing it with water and allowing it to air–dry without removing the cover. For upholstery or cushions constructed with interior foam, spot clean and blot with a damp cloth to remove the stain and any residue.
Perennials rugs should be regularly vacuumed to remove loose dirt or soil. Be sure to use a vacuum without a beater brush. Stubborn stains may be power–washed or treated with a bleach solution. Thorough rinsing is essential. Allow rug to dry completely before re–installing.
CLEANING RUGS
Although products with Perennials performance finish stand up to repeated cleaning, additional soil–resistant finish may be reapplied as needed. Professional cleaning of Perennials fabrics and rugs (with any solvent except for trichlorethylene; low heat only) is always recommended for tough stains. Specific details for care and cleaning are available in the Perennials specification guide as well as at perennialsfabrics.com.
PERENNIALSFABRICS.COMU.S.888.322.4773INTL+1214.638.4162