Dear Sun Prairie Area Community,
The 2022–2023 school year began in celebration. It was a new page in the history of the Sun Prairie Area School District. With our grand openings of Sun Prairie West High School, Central Heights Middle School, the renovated Sun Prairie East High School, and the newly relocated Prairie Phoenix Academy, our staff, students, and community came together in appreciation for the completion of the reconfiguration project and in anticipation of a wonderful school year. The 2022–2023 school year ended in recognition of our graduates and their accomplishments during their educational journey through the Sun Prairie Area School District. All three high schools joined in one last moment of reflection on their shared experiences and in hope for futures yet to be discovered. And, between these two bookends, the District faced challenges that were opportunities for us to bring our vision and mission to life. We saw outstanding student achievements both in and out of the classroom, and we saw challenges that we are committed to resolving. The pages of this report include the celebrations, opportunities, achievements, challenges, and recognitions of the 2022–2023 school year. We were honored to be a part of all of it, and we hope this report gives you insight into our work in service of the students, families, staff, and communities that make up the Sun Prairie Area School District. With deep gratitude and appreciation,
2 | 2022–2023 A REPORT WITH GRATITUDE TO OUR COMMUNITY
Dr. Brad Saron Superintendent
WHAT'S INSIDE 2022–2027 Strategic Framework 3 Board of Education 4 Statement of Equity 5 2022–2023 by the Numbers 6 Culture of Educational Excellence 7 » 13 Culture of Engagement & Inclusion 14 » 18 Culture of Operational Excellence 19 » 21 Commitment to Equity 22 » 26 Community Schools 27 » 28 Continuous Improvement 29 Graduation 2023 30 » 31 Athletics, Clubs & Activities 32 » 39
2022–2023 A REPORT WITH GRATITUDE TO OUR COMMUNITY | 3
The Board of Education is the governing board of the Sun Prairie Area School District.
The Board leads, directs, and supervises the affairs of the District through policy development and accountability. The Board serves and is accountable to the community, primarily by ensuring that the District achieves the results described in the Board's Student Results Policies and that it operates according to the values expressed in the Board's Operational Expectations Policies.
The Board is committed to community partnerships and transparency, and this annual report is just one example of our intentional communication plan. Board meeting agendas are always available through BoardDocs, our meetings are streamed on KSun, and our contact information is available online. We thank the community members who volunteered to serve on our first Community Voices group to help broaden our perspectives as we work through our new policy review cycle. We are honored that our community has entrusted us to be members of the Board, and we will continue working hard to ensure that we serve Every Child, Every Day.
Thank you to our outgoing Board members for their years of service to the School District:
Tom Weber served 12 years, including 6 years as Board President. He provided our community with strong and steady leadership, and we are a better school district because of him. He is a true servant leader, and we wish him the best in his School Board "retirement"!
Carol Albright dedicated a total of 50 years to our District between her first year of teaching in 1973 and her 9 years of service to the Board after her retirement. In that time, she taught Spanish and Communication Arts and helped with many clubs and plays. We are grateful for the expertise she shared and for all her inspiring stories of traveling the world.
Carson Schmoldt and Embree Way served as student School Board members representing their high school peers at the Board table. We thank both of them for sharing their insights and experiences.
We welcome our new Board members, Lisa Goldsberry, Katey Kamoku, Jojo Knauss, and Isabella Roberts! We are glad to have you with us and look forward to working with you this year.
THANK Y OU !
STUDENT SCHOOL BOARD REPRESENTATIVES
Eli Gillitzer | Mrinank Panda | Isabella Roberts | Jojo Knauss
The Sun Prairie Area School District Board of Education sincerely thanks our community for supporting the referendum during the last election. Your investment allowed us to maintain class sizes and improve services for our students, maintain competitive employee wages and benefits, and increase the equity of our learning environments. This year marked the completion of our secondary space reconfiguration, and we are proud to add the Central Heights Huskies and the West Wolves to our family of schools. Our class of 2023 Wolves and Cardinals graduated in a shared ceremony this year, and we cannot wait to see what they accomplish in the future!
4 | 2022–2023 A REPORT WITH GRATITUDE TO OUR COMMUNITY BOARD OF EDUCATION
Diana McFarland President
Lisa Goldsberry Clerk/Treasurer
Bryn Horton Member
Katey Kamoku Member
Latoya Holiday Vice President / Governance Officer
Dr. Steve Schroeder Member
Alwyn Foster Member
AT THE SUN PRAIRIE AREA SCHOOL DISTRICT, WE STAND BY OUR STUDENTS, STAFF, AND FAMILIES.
The Mission of the Sun Prairie Area School District is to inspire and prepare every child, every day, by providing relevant, engaging, and innovative learning experiences in and out of the classroom.
The SPASD celebrates and values our diverse community. We support and are inclusive of all students, staff, families, and community members of all races, ethnicities, faiths, national origins, home language(s), socioeconomic status, immigration status, political viewpoints, abilities, sexual orientations, and gender identities.
In order to realize our Mission, we are committed to changing the foundational inequities that we acknowledge exist in our system, and we unequivocally state as follows:
We stand by our Black and Brown students, staff, and families. We will continue to speak and act swiftly against statements of bigotry, social injustice, discrimination, racism, and hate that may plague members of our community. We are committed to developing and implementing strategies and best practices that dismantle racism, bigotry, and ethnic oppression within all aspects of our schools and School District.
We stand by our immigrant students, staff, and families. All are welcome and safe in our schools regardless of immigration status.
We stand by our students, staff, and families with disabilities. We will continue to staunchly protect the rights of people of all abilities and create educational environments in which all educators collaborate for high educational outcomes for all students.
We stand by our LGBTQIA+ students, staff, and families. We take seriously our responsibility to provide safe, nondiscriminatory, and inclusive environments for people of all orientations and identities, as they reflect our diverse community.
We stand by our students, staff, and families of lower socioeconomic status. We will do all we can to meet the nutritional, physical, and emotional needs of all students regardless of their economic status.
ALL CHILDREN WILL BE SAFE AND LOVED IN OUR SCHOOLS. . . . EVERY CHILD, EVERY DAY.
Revised 9/11/2023
2022–2023 A REPORT WITH GRATITUDE TO OUR COMMUNITY | 5 STATEMENT OF EQUITY
15 SCHOOLS
2,262,735 SQUARE FEET OF FACILITIES LOCATED ON
438 ACRES OF LAND
1,662 STUDENTS IN GRADES 6 – 12 PARTICIPATED IN ONE OR MORE SCHOOL CHOIR, BAND, OR ORCHESTRA PROGRAMS
OVER
8,300 STUDENTS
SUPPORTED BY 4 & 7 BOARD MEMBERS STUDENT REPRESENTATIVES
4,100 STUDENTS RODE THE BUS DAILY
8 COMMUNITY SCHOOL SITES
25,000 HOURS OF COMMUNITY USE OF FACILITIES
WE HAVE STUDENTS FROM
15 DIFFERENT COUNTRIES
30 ADVANCED PLACEMENT COURSES AND
23 DUAL-CREDIT COURSES
39 LANGUAGES REPRESENTED TOP FIVE ENGLISH SPANISH HMONG TELUGU TAMIL
STUDENTS PARTICIPATED IN OUR 4 K PROGRAM AT
454 & 9 PARTNER SITES 2 SCHOOL SITES
1,283 BREAKFASTS SERVED PER DAY AND
4,114 LUNCHES SERVED PER DAY
32.5% STUDENTS WERE ELIGIBLE FOR FREE & REDUCED LUNCHES DURING 2022 – 2023
REDUCED MEALS 26.8%
32.5%
6 | 2022–2023 A REPORT WITH GRATITUDE TO OUR COMMUNITY 2022 –2023 BY THE NUMBERS
FREE AND
2021–2022 30.2% 2019–2020 28.4% 2020–2021
2022–2023
CULTURE OF EDUCATIONAL EXCELLENCE
Our District's instructional framework is an interrelated set of systems and expectations that guide curriculum, instruction, assessment, and learning climate. This framework combines the specific expectations for student learning with strategies and practices to guide teaching and assessment.
Strategic Plan in Action:
Student Experience Goal
Educational experiences in Sun Prairie will be rigorous and aligned to standards. Exceptional experiences include student goal setting, active student participation in their learning, and multiple opportunities and means for students to demonstrate their learning.
Student Learning Environment Goal
The educational environment establishes the conditions in which every child feels welcome and able to succeed. In order to provide the necessary conditions for learning, educators create spaces where the classroom community accepts and supports the development of all students as people, where learning partnerships thrive between students and adults, and where there is an established culture of care.
PROGRAM SPOTLIGHT
Audio and video recording continue to be areas of growing student interest, especially as digital publication spaces have become more accessible. This student interest was incorporated into the design work for the high schools. Director of Digital Media, Innovation & Strategy, Dr. Curt Mould, says, "We recognize the influence of hip hop on our culture, and providing the necessary equipment and skilled studio staff was essential to bringing student interest and passion to life through the recording arts." Marcus Porter works at all three high schools, each with its own studio space. He says, "Students are learning to write songs, make beats, record and engineer their own music, and run the studio."
A big thank-you to the Sun Prairie Education Foundation for a grant that will help support more training on the use of studio equipment at all three high schools.
2022–2023 A REPORT WITH GRATITUDE TO OUR COMMUNITY | 7 CULTURE OF EDUCATIONAL EXCELLENCE
SP30 is our students' advisory period, commonly known as "homeroom" in education. As we continue to meet our students where they are, SP30 allows our teachers to address students' development as it relates to their Academic and Career Plan (ACP), Positive Behavior Interventions and Support (PBIS), Social and Emotional Learning (SEL), and school expectations and norms (CARES) in real-time. Students in our high schools are placed in an SP30 class as ninth graders, and they stay in that same SP30 class throughout their entire high school career. Students in our middle schools are placed in an SP30 class with one of their house teachers or an assigned elective teacher. The intention is to keep the groups smaller in order to support the development of strong relationships between students and staff. This allows for a safe and consistent space to engage in honest and productive conversations and activities with trusted educators and peers. Additionally, this allows teachers to encourage and incorporate student voices in conversations and planning.
Congratulations to Mr. McVeigh and the Sun Prairie Jazz Ensemble. This group of students from SP East and SP West was selected as 1 of 15 finalist bands to perform in New York for the 28th Essentially Ellington Festival.
DID YOU KNOW?
The American Red Cross CPR unit is in full swing. 225 SP West students are aiming for certification in Adult/ Child/Infant First Aid, AED, and CPR. Ms. Ortiz's goal as the health teacher is to have over 75% of the students certified in First Aid and CPR by 2025.
Students have been making quite the splash at SP East. Fourth-grade students from some of our elementary schools went to learn from high school students in the lifeguarding class. It's great watching students across different grade levels and schools helping one another learn!
Our Building Bridges program is celebrating its 10th anniversary. We partner with Dane County Human Services and Catholic Charities to provide short-term crisis stabilization, wraparound case management, and service coordination for students and families who are experiencing mental-health challenges. Due to a growing need for student support, another position in our District has been added for the 2023–2024 school year.
8 | 2022–2023 A REPORT WITH GRATITUDE TO OUR COMMUNITY CULTURE OF EDUCATIONAL EXCELLENCE
The concert choirs from SP East and SP West recorded a song for NBC 15's "Sounds of the Season," which aired during the winter break.
Band students at all three of our middle schools and at Sun Prairie East and West high schools had the opportunity to work with and learn from Sammy Miller and the Congregation, a Manhattan-based jazz quintet.
Eighth graders were recognized at the Sustain Dane Live Forward Awards for a project they did at Patrick Marsh with Ms. Rivera. The students talked about their project, which involved collecting wasted food during lunch, analyzing the data about the food, and then using the data to develop a plan to reduce waste. Their plan helped reduce Patrick Marsh's food waste by 60%.
Some swingin' alumni spanning nearly 50 years (classes of 1975–2022) were represented in this year's Alumni Jazz Band as part of the Annual Holiday Big Band Dance! We love to see our Alumni come back and support their schools.
French students enrolled in French III, French IV, and AP French at both SP East and SP West visited the Art Institute of Chicago. In addition to exploring and interacting with all types of artwork, the students were able to build on their knowledge of Francophone culture while seeing many French paintings up close and in person. Highlights of the day included the impressionist wing of the museum as well as a walk through Millennium Park!
2022–2023 A REPORT WITH GRATITUDE TO OUR COMMUNITY | 9 CULTURE OF EDUCATIONAL EXCELLENCE
Congratulations to the SP East Envirothon Team on winning the Wisconsin State Envirothon competition for the second year in a row! In July, they went on to represent the state of Wisconsin at the International Envirothon in New Brunswick, Canada.
Congratulations to Emily of SP East and the Sun Prairie FFA for being accepted into the 2023–2024 class of the Wisconsin Agriculture Youth Council hosted by the Department of Agriculture, Trade, and Consumer Protection (DATCP)! Emily is one of 15 students from across the state chosen for this program. The purpose of the Wisconsin Agriculture Youth Council is to encourage young people to engage with the state government and increase their awareness of DATCP's interactions with Wisconsin's agriculture industry.
Ag in Action
FFA students participated in the Dane County Fair. Our students showed multiple barrows, gilts, heifers, and steers. It was a successful week with many blue ribbons all around! Some FFA students also ran the Kiddie Farm area throughout the week, teaching youth about the importance of agriculture.
DID YOU KNOW?
Biological Engineering students grow 20 POUNDS OF LETTUCE A WEEK for the lunch program at SP East. It's an excellent opportunity for some hands-on learning while helping the school.
10 | 2022–2023 A REPORT WITH GRATITUDE TO OUR COMMUNITY CULTURE OF EDUCATIONAL EXCELLENCE
Sun Prairie Served as a Cohost for the Urban Collaborative Spring Meeting
This conference was an amazing experience for hundreds of educators who are working toward anti-racist teaching and learning. Attendees from across the country participated in a tour of Westside, Royal Oaks, Prairie View, and SP West.
Conference attendees offered the following feedback about our schools:
"I am excited for you for the instructional focus that is coming. With your UDL (Universal Design for Learning) base, you are primed and ready for amazing outcomes for all students."
"Representation matters, and we saw it everywhere we looked in your school. Diversity, equity, and inclusion were very apparent!"
"I recognized the deliberate, thoughtful, and intentional measures being taken to create a diverse and inclusive setting. It was a welcoming environment, and the school climate was truly positive. Clean school environment. The focus on care was evident. I was impressed."
"I want to go there. I want my kids to go there!"
During the Urban Collaborative conference, Executive Director Lauren Katzman and international artist Kyle Holbrook presented our District with a mural that was created throughout the conference.
The highlight of the conference for many of us was learning from Dr. Gloria LadsonBillings. Pictured below are attendess from our District with Dr. Ladson-Billings.
The second cohort of our Madison College STEM Program graduated.
Twenty Sun Prairie high school students successfully completed the requirements necessary for STEM graduation, which was held on the Madison College campus on May 16th. Several students graduated with full associate degrees, and all plan to continue their post-secondary education either at Madison College or through direct admission into a four-year university (UW–Madison, Notre Dame, Columbia, NYU, UW–Platteville).
The STEM program is an offshoot of the Early College Credit Program (ECCP) that affords students the opportunity to participate in technical college programs while enrolled at a local high school. Students who are selected to participate in STEM have to demonstrate excellent attendance (90%+), an affinity for math/ science/technology, and a solid academic record (GPA 2.5+). Students are selected through an interview process and review of materials. The program is primarily intended for first-generation college students, particularly those coming from ethnically, racially, and/ or economically diverse backgrounds. This partnership with Madison College continues to open doors for our students!
2022–2023 A REPORT WITH GRATITUDE TO OUR COMMUNITY | 11 CULTURE OF EDUCATIONAL EXCELLENCE
FUN AT SUMMER SCHOOL
PROGRAM SPOTLIGHT
The Adapted Sports League gives students with disabilities an opportunity to participate in athletics. Sadie Brown is an adapted physical education teacher in the District who works with her colleagues to adapt or modify activities so that kids with special needs can be active with their peers and improve their gross motor skills in physical education classes. Sadie was instrumental in creating the Adapted Sports League, which launched in the fall of 2022 in conjunction with our Athletic Department.
The Adapted Sports League at both SP East and SP West has increased accessibility and equity in high school athletics. Students in grades 9–12 with IEPs or 504s who otherwise have been unable to access competitive athletics now have the opportunity to participate in soccer, hockey, and wiffle ball.
"The Adapted Sports League is transformative," said Brown. "Students with disabilities have the right to extracurricular opportunities like every other high school student. It is also a great opportunity for the rest of our student body to support, encourage, and cheer on students with disabilities."
"Adding this competitive sports option for our high school students with disabilities is extremely exciting," said Director of Student Services, Jennifer Apodaca. "Our District strives to find new and innovative opportunities to help all students succeed inside and outside of the classroom, and the Adapted Sports League will do just that."
12 | 2022–2023 A REPORT WITH GRATITUDE TO OUR COMMUNITY CULTURE OF EDUCATIONAL EXCELLENCE
DID YOU KNOW?
19.9 was the average SPASD student's ACT score
1,001 students were engaged in advanced coursework
1,319 students took at least one language course
878 students took one or more AP classes
STAFF SPOTLIGHT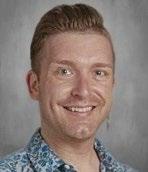 MEET TONY JENNARO
COORDINATOR OF MULTILINGUAL EDUCATION
Tony comes to us with a deep background in bilingual education, having served in a variety of roles in Wisconsin and Nicaragua, including classroom teacher, bilingual resource teacher, chair of multilingual education, dual-language immersion program coordinator, and teacher mentor for new Spanish-English bilingual educators, across both elementary and secondary schools. The Coordinator of Multilingual Education will continue to serve and support multilingual education in all of our 15 schools, as well as provide targeted support to our new Spanish-English dual-language immersion programs which opened at Northside and Westside in the fall of 2023.
STUDENT SPOTLIGHT
MEET ALIZA KRUGER
Sun Prairie West student Aliza Kruger moved to Sun Prairie from California. In her previous district, there was an active shooter event at the high school her sister attended, which was only five minutes away from her middle school. After the first active threat drill of 2022, Aliza approached Associate Principal Chad Whalley asked about getting Stop the Bleed kits for the classrooms, as these saved lives in her sister's high school. That conversation led to Aliza organizing an initiative to equip each high school classroom with at least one kit as well as a campaign to teach students and faculty how to use the kits. She wrote a grant to the Sun Prairie Education Foundation asking for money to make this happen. The Education Foundation awarded her a check for the full amount requested ($6,600) to complete this project at all three high schools: 100 kits for SP East, 100 for SP West, and 20 for PPA. Our district nurse, Elizabeth Feisthammel, helped order the various components for the kits, and our student Safety Ambassadors assembled them. Aliza partnered with a local surgeon to create videos to support the education piece of the initiative.
The Sun Prairie Area School District has had a Stop the Bleed program in place since 2017, with staff trained in bleeding control measures and multiple Stop the Bleed kits in every school building, but this initiative allowed us to have kits in all high school classrooms.
2022–2023 A REPORT WITH GRATITUDE TO OUR COMMUNITY | 13 CULTURE OF EDUCATIONAL EXCELLENCE
Pictured third from the right with her family and members of the Sun Prairie Education Foundation
The 1,400+ employees of the SPASD serve our District in dozens of job categories, from teachers to custodians, from instructional aides to school nutrition servers, and from administrative assistants to groundskeepers.
Strategic Plan in Action: Community of Exceptional & Diverse Educators & Staff Goal
Strive to proactively recruit, retain, and engage diverse and exceptional talent.
CULTURE OF ENGAGEMENT & INCLUSION CONGRATULATIONS TO OUR STAFF!
ELEMENTARY PRINCIPAL OF THE YEAR!
Nikki Harcus, Principal of Westside Elementary School, found out at a surprise assembly that she was named Wisconsin Elementary Principal of the Year by the Association of Wisconsin School Administrators (AWSA)! Mrs. Harcus has served as the principal of Westside for the past seven years. Under her leadership, the school has adopted a core value of believing all students can achieve at high levels and that all staff can create the conditions to make it possible. She will be honored by AWSA later this fall.
Eric Nee, Director of Athletics and Activities, has been recognized by The National Interscholastic Athletic Administrators Association (NIAAA) as a Certified Master Athletic Administrator. He has demonstrated exemplary knowledge, contributions, and ongoing professional development in the field of interscholastic athletic administration.
SP West science teacher Tess Reimer was recognized by the Wisconsin Society of Science Teachers (WSST) for her outstanding work in science education in Wisconsin. The scholarship is given annually to individuals who are in their first five years of teaching and have demonstrated enthusiasm and passion for science teaching as well as significant potential for future leadership in science education.
Mr. Kyree Brooks, Associate Principal at Central Heights Middle School, was named by Madison365 as one of Wisconsin's Most Influential Black Leaders. We are proud to have Mr. Brooks working with our students and staff.
Mr. Patrick Bencher from Royal Oaks received the 2022 Energy Educator of the Year Award from the Wisconsin K–12 Energy Education Program, WPPI, and Sun Prairie Utilities. He was one of only two educators in Wisconsin to earn this recognition in 2022.
14 | 2022–2023 A REPORT WITH GRATITUDE TO OUR COMMUNITY CULTURE OF
ENGAGEMENT & INCLUSION
Former superintendent Dr. Tim Culver and current superintendent Dr. Brad Saron surprised first-grade teacher Mrs. Jill Roggenbauer in her classroom before she retired at the end of the school year. Over the course of 15 years, these superintendents have been reading buddies in her classroom through the Business Education Partnership. Each student gets a copy of the book that is read to them every month.
Our Employee Wellness Clinic continues to benefit our staff and their families. Our claims avoidance total from the Employee Wellness Clinic totaled $733,769, which was more than our total cost of running the clinic. This allowed us to lower our overall medical loss ratio. The District continues to try to balance the need to stay competitive in compensation with facing rising healthcare costs and plan changes.
Developing and supporting our staff is a priority. During the 2022/23 school year, we offered 289 PROFESSIONAL LEARNING WORKSHOPS to our staff, with 4,690 staff attending.
PROUD TO BE A PART OF SPASD
We asked our staff to respond to this statement: "All things considered, the District is a good place to work." Over the last three years, we've seen an overall positive trend as we've transitioned our secondary schools (grades 6–12) and as we've moved out of the pandemic.
EDUCATOR RETENTION RATE
TOUCHSTONE KARATE led a free self-defense class for our staff and family members.
Our staff contributed $2,500 to United Way programs.
2022–2023 A REPORT WITH GRATITUDE TO OUR COMMUNITY | 15 CULTURE OF ENGAGEMENT & INCLUSION
2017 – 2018 89.7% › 2018 – 2019 92.1% › 2019 – 2020 93.8% › 2020 – 2021 90.0% › 2021 – 2022 86.1% › 2022 – 2023 89.7%
Percentage of staff that responded "agree / strongly agree" to "All things considered, the District is a good place to work." (n = number of respondents) YEAR 2020/21 2021/22 2022/23 73.5% (n = 775) 62.5% (n = 851) 85.3% (n = 829)
WE WERE PROUD TO BE VOTED BEST PLACE TO WORK IN SUN PRAIRIE!
Strategic Plan in Action: Communications & Community Engagement Goal
Excel in how we collaborate and communicate with all careholders, and build relationships that promote positive outcomes for students.
Wall of Success: Sun Prairie welcomed back Barry Lee Moe from the class of 1997 as the 2023 Wall of Success / Distinguished Alumni Award recipient! Barry visited all three high schools, talking with students, touring the facilities, and even seeing a performance by the cast of The Addams Family! During the award ceremony, Barry was presented with a Wall of Success plaque. Guests also heard remarks from Barry's high school choir teacher, Mary Schmidt. Barry's plaque has been added to the Wall of Success located at the Historic Hilltop Campus.
Barry Lee Moe is a celebrity hairstylist, makeup artist, and wig-maker based in Los Angeles and New York. He has won Emmy Awards for his work on the critically acclaimed television series Pose and on Netflix's Hollywood. He has worked with Jennifer Lopez, Maya Rudolph, Michaela Jae Rodriguez, and Tori Amos. Barry also works with Black Beauty Roster, an organization dedicated to expanding opportunities for Black and Brown creatives in the entertainment industry.
WE LOVE TO SEE OUR STUDENTS GIVE BACK!
Mrs. Reneau's kindergarten class at Royal Oaks collected donations for care kits (socks, wet wipes, toothbrushes, toothpaste, and deodorant). Students assembled the kits and donated them to Sunshine Place.
The Horizon and Meadow View music clubs had the opportunity to sing the national anthem at a Madison Capitols hockey game.
Ms. Hansen, Ms. Leider, and Ms. Speth welcomed Girl Scouts into the teaching kitchens at SP West to help them earn their cooking merit badge.
Fifth-grade students at Token Springs joined the residents at New Perspective Senior Living for some reading, crafts, and storytelling.
16 | 2022–2023 A REPORT WITH GRATITUDE TO OUR COMMUNITY CULTURE OF
& INCLUSION
ENGAGEMENT
SP West hosted its first Reality Rocks. At this event, sponsored by the Sun Prairie Business and Education Partnership, students got to practice managing finances with some help from local businesses and community partners. Students spent time in their Economics classes preparing for the event and then reflecting on what they learned afterward. Because Economics is one of our graduation requirements, all students have access to this amazing financial literacy learning experience!
SP East also had its own Reality Rocks event earlier in the year.
ONCE A WILDCAT, ALWAYS A WILDCAT!
We were so happy to welcome Audrey Lukes back to Westside to celebrate her 95th birthday! Audrey worked at Westside when it opened in 1966.
A huge thank-you to Sun Prairie Masonic Lodge #143 for their $3,000 donation to the Hunger Hero campaign! Their donation will be used to help families afford school meals, contributing to the District's ongoing commitment to never let students go hungry.
Students from Prairie Phoenix Academy volunteered at C.A.R.D.S. Closet. They organized and cleaned the clothing closet as part of a summer school project.
Members of the SP West football team helped clean out the landscaping beds at Sunshine Place. The team went back every couple of weeks to weed and make sure the property looked good.
2022–2023 A REPORT WITH GRATITUDE TO OUR COMMUNITY | 17 CULTURE OF ENGAGEMENT & INCLUSION
THANK YOU TO ALL OF OUR COMMUNITY PARTNERS WHO HAVE DONATED TO OUR HUNGER HERO CAMPAIGN THROUGHOUT THE YEAR.
SP West hosted Edcamp Madison with over 100 attendees from three states, including forty-five Sun Prairie teachers. Edcamps are free public events that leverage the knowledge and experiences of attendees by allowing educators to collaboratively determine topics for discussion the day of the event. Educators facilitate sessions by using their experiences to drive conversation with their peers. Educators are encouraged to find Edcamp sessions that best meet their needs to maximize learning.
"Ed Camp is always a worthwhile day of learning and collaborating with other educators. I always leave Ed Camp with a new idea, tool, or perspective." —Staff Member
DID YOU KNOW?
Central Heights Middle School staff provided and served
517 MEALS
at the Sunshine Supper on May 22nd. Sunshine Supper, a program sponsored by Sunshine Place, provides a nutritious meal to individuals and families who would otherwise go without.
Our schools participated in the Bank of Sun Prairie Food Pantry School Challenge, collecting over 37,000 pounds of food for the Sun Prairie Food Pantry. Northside Elementary School collected the most food this year—an incredible 89 pounds per student.
The Communications Team won the following awards for its work last year:
Wisconsin School Public Relations Association Awards
• Award of Excellence & Best in Category - School Event Calendar
• Award of Excellence - Annual Report
• Award of Excellence - Six Years of Continuous Improvement Report
National School Public Relations Association Awards
• Award of Excellence - Sun Prairie Experience Newsletter
• Award of Merit - Adapted Sports League Video
• Award of Merit - Digital History Walls
• Award of Merit - School Site Communications Playbook
18 | 2022–2023 A REPORT WITH GRATITUDE TO OUR COMMUNITY CULTURE OF
&
ENGAGEMENT
INCLUSION
CULTURE OF OPERATIONAL EXCELLENCE
Strategic Plan in Action: Finance and Facilities Goals
Prioritize the investment of our resources to support educational experiences in and out of the classroom, the physical environment for students and staff, and the teams serving our organizational mission.
GRAND OPENINGS
Thanks to our community's support, we celebrated the grand openings of Sun Prairie West High School, Prairie Phoenix Academy, Central Heights Middle School, and the grand reopening of Sun Prairie East High School. These improvements introduced new and updated spaces where students and staff can work together. Over 1,000 community members joined us for these special occasions. We are truly grateful for your ongoing support during this period of change. Everything our schools achieve is made possible by your support!
Classroom Furniture Updates
At schools such as Central Heights, Patrick Marsh, and Prairie View, a transformation is underway regarding classroom furniture. Funding from sources like the referendum and innovative initiatives is being channeled into this endeavor. We are acquiring versatile furniture that is designed for collaborative learning environments within classrooms. This furniture plays an important role in enhancing students' and teachers' abilities to collaborate more effectively.
2022–2023 A REPORT WITH GRATITUDE TO OUR COMMUNITY | 19 CULTURE OF OPERATIONAL EXCELLENCE
TOP: SP East Ribbon Cutting | LEFT: Prairie Phoenix Academy | MIDDLE: Central Heights | RIGHT: SP West Ribbon Cutting
Advocating for Students
School Board member Bryn Horton and Superintendent Saron were among many who testified at the Joint Finance Committee hearing in support of public schools and funding sources to support our students.
Excellence in Masonry
The Bank of Sun Prairie Stadium at Ashley Field and Sun Prairie West High School have won awards for Excellence in Masonry. Thank you to Findorff and all of our project partners for their work on these award-winning facilities!
Safety
Director
of School
Operations, Dr. Nick Reichhoff, spoke at a press conference about successes the District has had in preventing unsafe incidents by collaborating with the state's Speak Up, Speak Out program. Safety in our schools is important work that all of us can help with. If you see something, say something!
Former Prairie Phoenix Academy Building Removed
The building at 160 South Street, the former historic home of Prairie Phoenix Academy, was completely deconstructed. The concrete was crushed into fill material, which was used to level out most of the building site. This allowed for the recycling of most of the building materials and also for leaving good building materials in the ground for possible projects in the future. The contents of a time capsule were removed upon demolition and are now on display for the community at the Sun Prairie Museum. Prairie Phoenix Academy was relocated to the west end of the Hilltop Campus.
20 | 2022–2023 A REPORT WITH GRATITUDE TO OUR COMMUNITY CULTURE OF OPERATIONAL
EXCELLENCE
Sustainability
Prairie View Middle School and Royal Oaks Elementary School participated in the 2022–2023 Trex Plastic Film Recycling Challenge. The competition ran from America Recycles Day (November 15th) to Earth Day (April 22nd). With drop boxes located at the schools and at the District Support Center, we collected over 330 pounds of plastic film, including grocery bags, bubble wrap, sandwich bags, and pallet wrap—the equivalent of 40 large 50-gallon trash bags, each containing roughly 600 small plastic shopping bags.
CENTER STAGE:
142 CONCERTS
142 music concerts, including those of our high school, middle school, and elementary school choirs, bands, and orchestras, were held in our theaters.
Finance
Student Nutrition
Our Nutrition Team is continuously expanding its innovative and nutritious menu. Students have the opportunity to sample potential menu items and give feedback. New additions to the menu for 2022-2023 included Sriracha chicken, Asian chicken salad, red curry pork with rice, and more.
The team prides itself on making food from scratch with fresh ingredients. Some of those ingredients are grown right here in Sun Prairie. The high school Global Food and Sustainability Academy uses hydroponic systems to grow lettuce for the Nutrition Team to use in school lunches. This partnership provides a great hands-on learning opportunity for our students and helps create a local, sustainable food source for our schools.
OUR PERFORMING ARTS VENUES CONTINUE TO BE WELL USED BY OUR COMMUNITY
261 SHOWS
261 different talent shows, awards programs, meetings, seminars, and presentations were held in our facilities, totaling more than 856 hours of use.
750 HOURS
Rentals from area groups, including Sun Prairie Civic Theater, area dance studios, and Sun Prairie Community Band and Chorus totaled 750 hours.
671 DAYS IN USE
East PAC - 197 days
West PAC - 137 days
West Small Theater - 155 days
West PAC Lobby - 51 days
Central Heights Theater 131 days
279 DAYS
During the 2022–2023 school year, at least one of our venues was in use on a total of 279 days.
Once again, we want to thank our community for supporting the 2022 Operating Referendum. Thanks to you, we have maintained our small class sizes, continued to have competitive employee wages and benefits plans, kept our older facilities up-to-date, continued to fund our high-quality substitute educator program, and promoted mental-health services for students. In a difficult state funding environment, your support makes a world of difference.
$130 MILLION
The general dayto-day budget for the District is $130 million.
$16 MILLION
The District funds $16 million ABOVE what the state and federal budget provides for special education.
82 PERCENT
About 82% of the District's budget is for salaries and benefits.
2022–2023 A REPORT WITH GRATITUDE TO OUR COMMUNITY | 21 CULTURE OF OPERATIONAL EXCELLENCE
PAC = PERFORMING ARTS CENTER
COMMITMENT TO EQUITY
All aspects of District operations, from the Board to the Strategic Plan and from our site excellence to our community partnerships, represent our plan to support students who struggle to reach their full potential, students who deserve the very best from all of us because they are leaders for our future, and students who have been marginalized and lack access and opportunities to fully thrive as scholars in our public school system. Simply stated, our SPASD Equity Framework helps us to get to "Every" in our endeavor to achieve Every Child, Every Day.
22 | 2022–2023 A REPORT WITH GRATITUDE TO OUR COMMUNITY COMMITMENT TO EQUITY
BLACK HISTORY MONTH EVENTS
Read Your Heart
Out
Westside, Creekside, and Royal Oaks celebrated Read Your Heart Out events this year. Community members, families, and students came together to read books about the great accomplishments made by African Americans in US history! Thank you to everyone who read to our students.
Mandela Barnes visited PPA, SP East, and SP West scholars as a culminating activity to our Black History Month celebration. Our talented BSU students shared performances, including dancing, spoken word, and singing. It was an inspirational day for our students and staff.
SP West Principal, Jennifer Ploeger, met with students to discuss their plans for National FFA week and she encouraged them to celebrate the intersectionality of this event and Black History Month. Students took that charge to heart and created a poster series to celebrate Black agriculturalists. Not only are these posters being used in SPASD, but they have also been shared with both the State and National FFA and are going up in high schools across the country. A shoutout to staff members Ms. Herman and Mr. Capodarco for helping to make this happen and to students Lilli, Daniel, and Emily for their great work.
Department of Systemic Equity and Inclusion Community Cabinet
The DSEI Community Cabinet was created as a diverse careholder group charged with helping to improve communication, transparency, and relational trust between the District and the community. The DSEI Community Cabinet meets monthly to learn, share, grow, and connect on important topics.
Juneteenth Event
Our staff welcomed 450+ community members who came out to celebrate Freedom Day.
Our staff had fun meeting families at the Multicultural Fair.
2022–2023 A REPORT WITH GRATITUDE TO OUR COMMUNITY | 23 COMMITMENT TO EQUITY
FIFTH ANNUAL BLACK EXCELLENCE ACHIEVEMENT MAKERS (BEAM) AWARDS
BEAM Awards "shine a beaming light" on the positive examples of Black excellence and achievement in the community. BEAM Awards founder, Marilyn Ruffin, along with the BEAM Committee, Sun Prairie community, and the District celebrated over 800 students and adult leaders receiving awards at the fifth annual Sun Prairie BEAM Awards. The District was a proud platinum-level sponsor of this event, which recognized people in our schools and community who model Exemplary Peer Leadership, Excellence in Responsibility, Excellence in Teamwork, Excellence in Academics, and Extraordinary Growth and Outstanding Adult Leadership.
24 | 2022–2023 A REPORT WITH GRATITUDE TO OUR COMMUNITY COMMITMENT TO EQUITY
AVID (ADVANCEMENT VIA INDIVIDUAL DETERMINATION)
Middle school scholars and staff came together for an AVID signing ceremony! The event was designed to welcome our approximately 300 seventh- and eighth-grade students into the AVID program and to celebrate their success and future in AVID.
AVID is a college-readiness system designed to increase school-wide learning and performance for students. Currently, AVID is offered to our students in grades 7–12. The program targets students in the academic middle who have the desire to go to college and the willingness to work hard. We celebrated and honored the successes and accomplishments of our AVID senior scholars at our combined AVID SP East and SP West Senior Celebration! In total, 76 students were featured.
OVER $1 MILLION IN SCHOLARSHIPS HAS BEEN AWARDED TO OUR AVID SCHOLARS
100% OF AVID GRADUATES HAVE BEEN ACCEPTED INTO COLLEGE
Recruiting Staff
Our Employee Relations Manager and our Director of Systemic Equity & Inclusion visited Howard University, an HBCU (Historically Black College or University), in Washington, DC, to proactively recruit diverse and exceptional talent to our District.
Parent Leadership Council Meetings
The Parent Leadership Council (a volunteer group made up of SCO members from each elementary school) meets monthly to discuss family engagement at their schools. Three work groups are identifying equitable student experiences, equitable support for staff, and equitable funding so that all students at all of our schools have access.
2022–2023 A REPORT WITH GRATITUDE TO OUR COMMUNITY | 25 COMMITMENT TO EQUITY
THE BLACK STUDENT UNION HBCU TOUR
The Black Student Union took 50 students on a tour of nine Historically Black Colleges and Universities (HBCU) in three states.
The tour included stops at:
The National Civil Rights Museum (MEMPHIS, TN)
Edmund Pettus Bridge (SELMA, AL)
The National Memorial for Peace and Justice (MONTGOMERY, AL)
Alabama State University (MONTGOMERY, AL)
Tuskegee University (TUSKEGEE, AL)
Martin Luther King Jr. National Historical Park (ATLANTA, GA)
Morehouse College (ATLANTA, GA)
Spelman College (ATLANTA, GA)
Clark Atlanta University (ATLANTA, GA)
Meharry Medical College (NASHVILLE, TN)
Some of the other conferences that our students were able to attend thanks to sponsorships with American Family and others included:
Black Girl Magic at Madison College
African American Youth Conference at UW–Milwaukee
100 Black Men of Madison Trip to the Capitol with Dr. Rose
African American Quiz Bowl with 100 Black Men of Madison
26 | 2022–2023 A REPORT WITH GRATITUDE TO OUR COMMUNITY COMMITMENT TO EQUITY
COMMUNITY SCHOOLS
A Community School is a strategy that coordinates relationships and resources through a public school to accelerate equitable outcomes in health, education, and employment. We partner with stakeholders to create the conditions students, families, and neighborhoods need to thrive.
In 2022–2023, we celebrated 10 years of Community Schools here in Sun Prairie. The collaboration between the City of Sun Prairie and the Sun Prairie Area School District continues to support our shared vision of a community in which all children thrive in school and in our community.
In 2022–2023, we added three new sites as full-service Community Schools: Creekside Elementary, Central Heights Middle School, and Prairie View Middle School.
THE COMMUNITY SCHOOLS STRATEGY HAS FOUR PILLARS THAT GUIDE THE WORK OF DEVELOPING AND DEEPENING SERVICES, PROGRAMS, AND ACTIVITIES:
PILLAR 1: Integrated Student Supports works to ensure that students, staff, and families have access to basic need supports.
• Throughout the school year, Community Schools site coordinators were out in neighborhoods every Wednesday providing food, toiletries, and educational activities alongside our partners at Sunshine Place, Dane County Public Health, the Sun Prairie Public Library, and Neighborhood Navigators. Our team received the Community Service Award from the Sun Prairie Public Library for this work.
• School-based food pantries and clothing closets exist at five of our eight Community Schools sites, providing access to food and clothing for students, staff, and families who are in need of a little extra support. These services operate in partnership with Sunshine Place and the Sun Prairie Emergency Food Pantry. These services are up and running for 2023–2024 at our three new Community Schools.
2022–2023 A REPORT WITH GRATITUDE TO OUR COMMUNITY | 27 COMMUNITY SCHOOLS
PILLAR 2: Expanded & Enriched Learning Opportunities provides access to out-of-school programs and activities for students of all ages.
• Out-of-school programs for school-aged students include the Fly Birds Afterschool Club at C. H. Bird, a partnership with the Boys & Girls Club for Northside students, the Kids Achieve Together (KAT) program at Westside, the Thursday tutoring program at Creekside, the Dream Leaders Afterschool Club at Prairie Phoenix Academy, and the Saturday Scholars program at Creekside in partnership with 100 Black Men of Madison, Inc.
• Westside and C. H. Bird run a Walking School Bus that helps to ensure that students without bus transportation arrive safely and on time to and from school. A collaboration of staff and volunteers serve as Walking School Bus "drivers," walking the students to and from school five days a week.
• We also offer programs during extended break times. In 2022–2023, Creekside hosted an acting class during spring break, in partnership with IACT.
• Community Schools also partners with local organizations to provide opportunities for adults to connect, learn, and grow. In 2022–2023, we offered English language courses in partnership with Literacy Network, and grief support groups in partnership with Door Creek Church.
PILLAR 3: Family & Community Engagement works to celebrate all members of our community and to provide opportunities for cultivating relationships across school and community.
• Site coordinators work in partnership with their principals and parent leadership groups to support and grow family nights for each school. These may take place in parks, at schools, or at
community partner sites. The goal is to connect families with one another, with school staff, and with community resources.
• Community Schools leads collaborative planning groups that hosted four major community events in 2022–2023:
» Community Movie Night, in partnership with the Boys & Girls Club
» Sixth Annual Juneteenth Celebration, in partnership with the City of Sun Prairie and a committee of community leaders
» Make Music Day, in partnership with Prairie Music & Arts, the Sun Prairie YMCA, and the Sun Prairie Public Library
» First Annual Sun Prairie Pridefest, in partnership with the City of Sun Prairie, Prairie Music & Arts, and a committee of community leaders
PILLAR 4: Shared Leadership & Collaborative Practices is central to how this strategy is implemented. When we aim to serve the whole child, the whole family, and the whole neighborhood, we know that we are better and stronger together.
• Site leadership teams help to lead the work at each Community School site. The members of these teams include alderpersons, school administrators, school staff, faith-based organizations, nonprofit organizations, and family leaders. These teams are coordinated by site coordinators.
• The Community Schools Executive Team, made up of diverse stakeholders, supports the work District-wide.
Visit us online at:
www.sunprairieschools.org/community-schools to learn more about what we do as well as upcoming events, programs, and activities.
28 | 2022–2023 A REPORT WITH GRATITUDE TO OUR COMMUNITY COMMUNITY SCHOOLS
CONTINUOUS IMPROVEMENT
At the heart of our School District's vision lies a strategic organizational capacity that encapsulates our core values and aspirations: Our Commitment to Equity and Excellence through Continuous Improvement. While celebrating the notable strides we have taken in various instructional domains, we remain resolutely focused on our pursuit of progress. Acknowledging that there are realms where enhancement is essential, we are committed to fostering an environment of unwavering equity and uncompromising excellence.
ELEMENTARY READING
GOAL: District % on third-grade reading level in FastBridge Assessment Tool reaches 60.6%.
RESULTS: District % moved from 57.7% to 55.8%.
ELEMENTARY MATH
GOAL: District % on third-grade math level in FastBridge Assessment Tool reaches 60.8%.
RESULTS: District % moved from 61.7% to 63.7%. While we are making progress in elementary math and exceeding our goal, we are continuously improving across all grade levels until all learners are proficient or advanced.
SCHOOL SITE COMMUNICATIONS SATISFACTION
1 2
GOAL: 85% of survey respondents at all 15 schools respond "satisfied" or "very satisfied" when asked what their level of satisfation with the communication that comes from their student's school. | RESULTS: Our goal to increase parent and caregiver satisfaction was inconsistent across our 15 campuses, with only 9 of 15 meeting the District's goal of 85% "satisfied" or "very satisfied." Of the 7 schools that did not meet their goal, almost all were secondary sites. The District's average was 84.49% satisfaction.
HUMAN RESOURCES
GOAL: Make continued efforts to ensure that the staff of the SPASD reflects the communities we serve. The percentage of employees of color who answer "agree / strongly agree" to the annual survey statement "All things considered, this is a good place to work" will increase to 80% or higher.
RESULTS: The response from staff of color to the statement moved from 52.7% saying "agree / strongly agree" to 61.3%.
3 4
2022–2023 A REPORT WITH GRATITUDE TO OUR COMMUNITY | 29 CONTINUOUS
IMPROVEMENT
628 SENIORS FROM SP EAST, SP WEST, AND PRAIRIE PHOENIX ACADEMY GRADUATED TOGETHER AT THE ALLIANT ENERGY CENTER.
It was a special day, celebrating and recognizing our graduating seniors for completing their high school careers. Because they started together, the students wanted to graduate together as one united class.
30 | 2022–2023 A REPORT WITH GRATITUDE TO OUR COMMUNITY GRADUATION 2023
The SP East Cardinals advanced to play in the State Softball Semi-Final, which coincided with graduation. Four of our seniors were honored in a special ceremony.
CONGRATULATIONS TO THE PRAIRIE PHOENIX ACADEMY CLASS OF 2023 FOR YOUR AMAZING ACCOMPLISHMENTS!
We are so excited to see our Phoenixes rise up and fly!
Some members of the class of 2023 walked through their elementary schools one last time before graduation.
2022–2023 A REPORT WITH GRATITUDE TO OUR COMMUNITY | 31 GRADUATION 2023
ATHLETICS, CLUBS & ACTIVITIES
Nurturing a diverse range of student talent, our trio of high schools proudly offers an array of sports and clubs. These extracurricular avenues, holding equal significance to our broader support strategies, provide invaluable experiences beyond the classroom. With their dedication and determination, our sports teams have been crafting inspiring legacies. Here is a glimpse of just some of their achievements:
TOTAL BIG 8 CONFERENCE CHAMPIONSHIPS » 129
Congratulations to our STATE CHAMPION girls' bowling team! The team, which includes athletes from SP East, SP West, Marshall, and Cambridge, entered the state tournament leading all qualifiers, including both boys' and girls' teams. With their number 1 seed, they went right to the championship match against Sheboygan!
The SP United wrestling team was the Big 8 Conference Team champion!
The SP East softball team was the Big 8 Conference champions and the number 1 seed in their section for the playoffs! Congratulations!
Members of our SP East and West girls' and SP West boys' swim teams advanced to the state meet!
32 | 2022–2023 A REPORT WITH GRATITUDE TO OUR COMMUNITY ATHLETICS, CLUBS & ACTIVITIES
The SP West girls' track team placed first at regionals!
The SP East boys' and girls' track teams each placed second at regionals!
The boys' and girls' cross country teams competed at the state meet. Shaela and Jonah ran at state for SP East, and Jojo and Mateo set new records for SP West!
The SP United gymnastics team was sectional runner-up!
The Sun Prairie United dance team placed fifth in Division 1 Hip Hop at the Southern WACPC Regionals, sending them to the WACPC State Dance Competition!
The Sun Prairie Adapted Sports League allows students of varying abilities to play a number of sports, including soccer, wiffle ball, and floor hockey.
2022–2023 A REPORT WITH GRATITUDE TO OUR COMMUNITY | 33 ATHLETICS, CLUBS & ACTIVITIES
34 | 2022–2023 A REPORT WITH GRATITUDE TO OUR COMMUNITY ATHLETICS, CLUBS & ACTIVITIES
2022–2023 A REPORT WITH GRATITUDE TO OUR COMMUNITY | 35 ATHLETICS, CLUBS & ACTIVITIES
CONGRATULATIONS TO OUR COACHES
SP East Baseball
SP East Softball
SP East head softball coach, Jamie Olson, was named Coach of the Year by the Wisconsin Softball Coaches Association!
Rob Hamilton, former Sun Prairie East head baseball coach, was inducted into the Wisconsin Baseball Coaches Hall of Fame. Hamilton's career as Sun Prairie's head coach made his Hall of Fame case undeniable. He won 447 games as the leader of the Cardinals, which included 11 Big 8 conference titles, 15 sectionals appearances, 12 state tournament appearances, and six Wisconsin state championships. These accolades earned Coach Hamilton Big 8 Coach of the Year honors four times and WBCA Coach of the Year twice. He retired following the 2022 season.
REAL TEAM PLAYERS
Sydney Schmidt, a 21-year-old volunteer with The Ability Center, visited Sun Prairie East High School to help teach physical education classes about adaptive wheelchair athletics. Schmidt had been a promising athlete in middle school, but autoimmune diseases left her relying on a wheelchair. Wheelchair basketball helped to reignite her athletic passion, and she progressed to where she could try to join the under-25 USA women's wheelchair basketball team. However, she lacked a suitable wheelchair needed to help her reach the next level. Members of the SP East physical education class Schmidt visited saw an opportunity to support a fellow athlete. Many of them were members of SP East's Cardinal Leadership Team, a group of athletes who work to make the community a better place through volunteering and fundraising. They worked together to raise $5,000 for Sydney to purchase a custom wheelchair. They presented her with the check at a class in April. Thanks in part to the support of our amazing students, Sydney now has the opportunity to try out for Team USA in October.
Tuesday, April 11th, was a special day for our SP East and West softball players, as it was their first time playing against each other. It had been difficult for team members to be apart from friends they have played with for years, so Coach Ellyn Presto came up with a great idea to make it an extra special day! The idea stemmed from Ellyn's work in our District with students with autism and her own personal connections. Hits for Autism was brainstormed with the help of both the SP East and SP West coaching staff and booster clubs. Both booster clubs came together to help organize and run a silent auction and a 50/50 raffle during the game. All money raised before and during this event was donated to the Autism Society of South Central Wisconsin. The players all wore matching autism shirts while they stood on the field for the starting lineups with some of our students with autism from around the District. One of our amazing Creekside fifth graders with autism threw the first pitch, and two SP East students from our unified choir sang the national anthem. It was an amazing day full of smiles, acceptance, and joy! We are so grateful for all the support from the SP East and SP West softball coaches, players, and parents.
36 | 2022–2023 A REPORT WITH GRATITUDE TO OUR COMMUNITY
ATHLETICS, CLUBS & ACTIVITIES
Photo credit: Garvey Images
STUDENT ATHLETE SPOTLIGHTS
1,000 POINTS
During a playoff game, SP West basketball player Marie Outlay became the fourth player in Sun Prairie girls' basketball history to score 1,000 points in their high school career! Congratulations, Marie!
GOLD MEDALS
SP West student Lily Rosenthal competed in U.S. Paralympic Track and Field Championships in Chula Vista, California. At the meet, Lily won gold medals in three events for the T62 Division: the 100M dash, long jump, and discus. She set an American record with a gold medal in the discus!
WIAA SCHOLAR ATHLETE AWARD
Lucy Strey was selected as one of 32 statewide finalists for the prestigious 2023 WIAA Scholar Athlete Award! Only four boys and four girls from each of the four WIAA divisions were selected, based on both athletic and academic achievement.
HONORING OUR COMMUNITY MEMBERS
A new records board funded by the Steve Riggins family was installed near the SP East track. Steve was a Sun Prairie High School teacher and cross country and track coach for over 30 years. His positive impact on everyone he met is fondly remembered.
The Peter Twedell family donated money to the District for the naming of the SP East fieldhouse in his honor. Pete was a scorekeeper for both boys and girls basketball for 46 years.
2022–2023 A REPORT WITH GRATITUDE TO OUR COMMUNITY | 37 ATHLETICS, CLUBS & ACTIVITIES
Deb Riggins is pictured here at the groundbreaking.
Terry Twedell is pictured here with her friends and the game ball.
CLUBS & EXTRACURRICULAR ACTIVITIES
Two Sun Prairie West Mock Trial teams competed in their first regional tournament at the Dane County Courthouse in downtown Madison. They had a combined record of 7–1, with 17 perfect scores. Team 1 went 4–0, winning the regional tournament and qualifying for the state tournament. Sun Prairie has not fielded a team in the past decade. On top of this, 16 of the 20 members are freshmen, along with 3 sophomores and 1 junior.
Future Farmers of America members from SP East and SP West attended the 95th National FFA Convention in Indianapolis. Four Sun Prairie students– Jackson, Emma, Daniel, and Mylerson–who won the Wisconsin Environmental Science and Natural Resources Career Development Event back in April, got their chance to compete nationally at the convention. They were ranked in the silver category as a team, and Emma scored at the gold level individually.
Jackson took first place in our state's FFA Prepared Speaking Leadership Development event. He will represent the Wisconsin FFA at the National FFA Convention in November.
The SP West Forensics team placed second at the state tournament while SP East placed seventh. Sun Prairie also had more state champions than any other high school!
38 | 2022–2023 A REPORT WITH GRATITUDE TO OUR COMMUNITY ATHLETICS, CLUBS & ACTIVITIES
THEATER PERFORMANCES
The Addams Family cast and crew held their kids camp in April, with 127 third- through eighth-grade students from the District attending. The cast and crew worked feverishly to create a fun morning of dancing, singing, crafting, snacking, touring, and performing for the students.
JERRY AWARD WINNERS
Sun Prairie East presents: The Addams Family
SHARON WHITE OUTSTANDING COSTUMING
KAT MARTINEZ
OUTSTANDING SUPPORTING PERFORMANCE
Sun Prairie West presents: Grease: The Musical
SP WEST STAGE CREW OUTSTANDING STAGE CREW
SAM BRUENIG
OUTSTANDING SUPPORTING PERFORMANCE
2022–2023 A REPORT WITH GRATITUDE TO OUR COMMUNITY | 39 ATHLETICS, CLUBS & ACTIVITIES