www.themediaonline.co.za ISSUE 192 AUGUST 2022 Independent Industry Intell I women in MAKHETSI PHAKOA Tarryn Temmers ANELE MDODA Dineo Mahloele Rachel Irvine And still, we rise ONLINE TROLLS: BACKLASH AGAINST WOMEN JOURNALISTS I AGEISM IN ADVERTISING HOW THE NICENESS NINJA RUNS THE VILLAGE I THE MODERN SCREEN QUEENS Saira Abrahams TINY KOAHO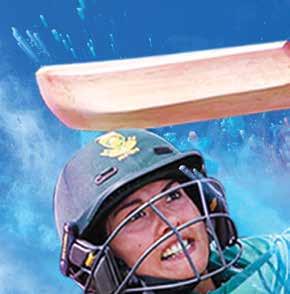 The late Archbishop Desmond Tutu once said, "Do your little bit of good where you are; it's those little bits of good put together that overwhelm the world."
MTN SEA vice president Yolanda Cuba posted a video on Twitter, the agony clear on her face, after the mass rape of eight women taking part in a video shoot outside Krugersdorp. Enough is enough, she said, echoing millions of women across South Africa. Of course we should pay tribute to those 20 000 women who marched on the Union Buildings in 1956, to protest against the extension of the pass laws to women. And we should celebrate the quite extraordinary achievements of women in our country in so many fields and disciplines. We must celebrate our Constitution and the rights it affords us all. We celebrate the role models who inspire us, the activists who fight for us, the sportswomen whose achievements lift us, the pioneers and entrepreneurs who are clearing the way for others to follow. But we cannot forget the millions of women, stuck in an endless cycle of poverty, often accompanied by violence, who cannot see past simply surviving each day.
I celebrated hearing that Quote This Woman+ received $50 000 from the Google News Iniative to boost its platform promoting over 600 expert sources, made up of women, and people from other marginalised groups, that journalists working throughout Africa can access when looking for somebody to interview for their newsAndstories.froma media perspective, The Media gets a chance to hear from women in our industry, and learn from their experiences. In this, the second issue of Women in The Media, we explore thoughts around skills – the skills we have and the skills we might need in the future. Thank you to all our contributors who generously gave of their time and expertise. The Media. Got to love it. Holdings (Pty) Ltd Hill on Empire, Empire Road Hillside JohannesburgParktownRoad)2193
themediaonline.co.za2 i THE MED i A from the editor SUPPLIEDIMAGE:
Postal Address: PO Box 1746 JohannesburgSaxonwold2193 Telephone: +27 11 280 3000 EDITORIAL Editor: Glenda glenda.nevill@cybersmart.co.zaNevill Content Manager: Raina rainaj@picasso.co.zaJulies Sub-Editor: Lucinda Jordaan Content Co-ordinator: Vanessa Payne Contributors: Saira Abrahams; Lélanie Butler; Laura Cooke; Karena Crerar; Glenda Daniels; Susie Hart, Virginia Hollis; Rachel Irvine; Tiny Koaho; Sihle Maake; Dineo Mahloehle; Lebo Madiba; Anele Mdoda; Elizabeth Ming; Palesa Mokomele; Palesa Molukanele; Caitlin Morgan; Kelebogile Nondzaba; Makhetsi Phakoa; Isla Prentis; Vanessa Raphaely; Pippa Raphaely-Walls; Gillian Rightford; Alungile Sixishe; Karyn Strybos; Tarryn Temmers; Khaya Twala; Jenna Verster; Irina Vlad DESIGN Head of Design: Jayne Macé-Ferguson Designer: Bulelwa Sotashe Cover images: Supplied SALES Sales Manager: Tarin-Lee wattst@picasso.co.zaWatts+27795047729 Sales Administrator: Neesha Klaaste PRODUCTION Production Editor: Shamiela Brenner Advertising Co-ordinator: Johan Labuschagne MANAGEMENT General Manager, Magazines: Jocelyne Bayer Copyright: The Media Online No portion of this magazine may be reproduced in any form without written consent of the publisher. The publisher is not responsible for unsolicited material. The Media Online is published by Arena Holdings. The opinions expressed are not necessarily those of Arena Holdings. All advertisements/advertorials have been paid for and therefore do not carry any endorsement by the publisher. INDEPENDENT INDUSTRY www.themediaonline.co.zaINTELLIGENCE
T he day before Women's Day, Cape Town media showed images of women protesting against gender-based violence holding aloft banners that read #PatrickMustFall. Who is Patrick? I wondered. Intrigued, I googled the hashtag. Grassroots news agency, GroundUp News, had the answer. 'Patrick', it reported, stands for 'Patriarchy'. The women were protesting against 'the patriarchy' and food insecurity. Other women posting on social media platforms questioned if Women's Month wasn't a misnomer. Should it not be End Patriarchy Month, they asked, wondering what was to celebrate as another teenager died in gang crossfire and the identity of a murdered 15-year-old whose body was stuffed into a wheelie bin was revealed.
16
(cnr
Glenda On the record… PUBLISHED BY Arena
It's those 'little bits of good' that create pools of light in what can often seem like a dark time. My inbox is filled with news from media companies doing their 'little bits of good' all over the country. In August, I often find out about women I've not heard of who are doing extraordinary things (and I wonder why our news media isn't covering those stories as a matter of course).
Media24 Lifestyle is the leading role player in the South African magazine industry. We publish 77% of the magazines sold nationally at magazine stands, and eight of our brands are among the top 10. Our interests extend to multiple platforms including digital media, television, video, eventing and ecommerce, as well as other diversification. We use the power of 360-degree brands and our culture of entrepreneurship to create experiences that can be accessed anytime, anywhere. Our Lifestyle content includes education, travel, food, fashion, beauty, agriculture, health and wellness, home and décor, and DIY.


KelebogileNondzaba
4 i THE MED i A Contents 2 FROM THE EDITOR 8 DOING IT HER WAY A NELE MDODA reflects on her 10 years in broadcasting since winning the Women in The M edia Rising Star Award in 2012 10 SCREEN QUEENS Women on screen are a far cry from the highly gendered screen roles of previous generations, writes L AURA COOKE
54 AR T OF NEGOTIATION Women tend to be more hesitant about negotiating than men, says IRINA VLAD, showing how the art of social intelligence can enhance negotiation skills themediaonline.co.za Cooke
THOUGHTS DINEO MAHLOELE believes marketers are responsible for upskilling themselves while ELIZABETH MING delves into the mysteries of the Metaverse 36 THE LURKING TROLLS Trolling, or online abuse of women journalists, is on the increase, writes G LENDA DANIELS
42 THOUGHTS A LUNGILE SIXISHE on the cost of connectivity and RACHEL IRVINE on the benefits of evolving
39 THOUGHTS PALESA MOKOMELE on being inspired and PIPPA R APHAELY-WELLS on WFH
24 THOUGHTS ISLA PRENTIS on bringing simplicity to the room and C AITLIN MORGAN on copywriting for digital 26 IT TAKES A VILLAGE 'Niceness Ninja' VANESSA R APHAELY on managing an online community where parents gather 'to laugh in the face of shambles' but also to help, connect, learn and share.
40 CURIOSITY AS A SUPERPOWER J ENNA VERSTER looks at how getting curious about yourself can set the stage for growth
Laura
19 A CAREER IN ANALYTICS Behind every 'kick-ass' ad campaign lies solid data driven research, insight and strategy, says PALESA MOLUKANELE 21 THOUGHTS K HAYA TWALA on adaptability and KARYN STRYBOS on continuous learning 22 SCHOOL OF THOUGHT GILLIAN RIGHTFORD has launched an online community for knowledge sharing and talent-building for people in marketing and advertising.
52 WE'RE SURE AS HELL A VIABLE MARKET T he advertising industry has to recognise the need to retain older, more experienced staff, cautions V IRGINIA HOLLIS
30 WE'RE ONLY HUMANZ AFTER ALL Female content creators are making their mark on the social media scene, says SAIRA ABRAHAMS 32 TAKE UP SPACE T he out of home industry is tough, but one that MAKHETSI P HAKOA has conquered in the activations space.
50 THOUGHTS L ÉLANIE BUTLER believes mentoring is a top strategy while KARENA CRERAR says we must break the cycle of disinformation
46 THOUGHTS S IHLE MAAKE sets the gold standard in mining communications and SUSIE HART on how influencers are a campaign priority a priority
34
10 44
44 THE IMPORTANCE OF LISTENING N o editor has all the answers, so always ask: 'Why?' advises K ELEBOGILE NONDZABA
14
15 THOUGHTS L EBO MADIBA on 'Influence' and TARRYN TEMMERS on the value of epic fails
47 PEOPLE BUY FROM PEOPLE Advertising is about more than influencing people's buying behaviour; it's about people, writes TINY KOAHO
Enrich your customers' lives with internationally award-winning content marketing. At New Media we tell the stories that matter most on platforms people love to use. For real ROI on your marketing spend, contact us today atStoryinfo@newmedia.co.zatime 2021 Eddie & Ozzie Awards (New York) 4 x golds, plus Editorial Team of the Year and Overall Editorial Excellence in Content Marketing 2021 International Content Marketing Awards (London) 2 x golds: Best Use of Innovative Technology and Designer of the Year 2022 Content Marketing Awards (New York) Gold: Best Use of Technology as Part of a Content Marketing Program
PERSPECTIVEUNIQUE
At Primedia, we love challenges. We turn business problems on their heads in order to have a different Thisperspective.istheethos our women live by. No challenge is too big or too small. This Women's month, and every other day of every month, and every other second and hour of every day, we celebrate all the women who make our company a beacon of hope. They mother every problem, until a unique solution is devised. We are proud you have chosen our company as your home, a place where you are allowed to thrive. A space where your uniqueness is celebrated because we know that there's only one of you in the nation. Phambili Mbokodo, Phambili! We will never let you faulter - no ma'am. We cheer you on, never give up, even when the naysayers try to pull you down, and tell you it cannot be Youdone.focus, you soldier on, and you give it your very best Thankshot. you for being you. Thank you for contributing to our excellence. Because of you, we continue to reach for the stars.
There have been times when it felt as if my compass was swaying me off course, directing me into pastures I would ordinarily have bypassed.
Ten years ago, I won Rising Star in the Women in The Media awards. This was a vote of confidence in my potential, and I was both humbled and honoured to receive this award. Previous recipients included some all-time media greats, such as Sbu Mpungose, Redi Tlhabi and Siki Mgabadeli. When I received this award, I was asked, "Anele, what does the future hold?" My response was crystal clear: I said that I would like to make my radio show the best drive show in the country and 'zero down' on getting a breakfast slot within the next five years. I spoke too, of my dream of a television talkFastshow.forward to 2022. Now, 10 years later, I have achieved more than I could ever have imagined back in 2012. I have been blessed tenfold – and there is not a single achievement in my life that I take for granted today. Not even for a short minute.
A decade after winning the Women in the Media's Rising Star award, ANELE MDODA has exceeded even her own expectations – and offers 10 salient pointers to charting your own course for success. "In the rIse and fall of opportunItIes and crIses, there have been steep learnIng curves, deep detours of dIstractIon and IllumInatIng shards of wIsdom." My journey has not always been easy – in the rise and fall of opportunities and crises, there have been steep learning curves, deep detours of distraction and illuminating shards of wisdom. There have been hands that have reached out to hoist me up when I felt as I was falling or had lost my Therefooting.havebeen occasions when others tripped me up, and there have been many times when I myself have taken terrible missteps and lost my way.
1 consIstency You are only as good as your last show; consistency is the only currency that matters. Never lower your standards, or your performance – even when you believe you have reached your peak. It can take a lifetime to get to the top, and Anele Mdoda
8 i THE MED i REFLECTIONSA themediaonline.co.za
I have risen on the heel of a determination that pumps me up every single day, filling me with an ever-ready charge and joy for life. I have risen on the crest of a supreme confidence and belief in myself, even when some doubted my prospects of reaching great heights. In a sentence, I have done it my way. Most of all, and above all, the last 10 years have been as much a time of learning, as it has been of growth and development. I have reflected on 10 things that I have learnt over this important epoch of my life and I hope this will inspire young women to reach for and live their dreams too.
I rise – by doing it my way
But, as I reflect on my journey over the past 10 years, I am in the very place, the exact spot I want to be.
A perfect orchestra is one that is in tune with itself and its audience. So too is a radio show. This requires an appreciation of everyone's role, of team strengths and weaknesses. Of the high notes, the low notes, and the silences in between. Respect everyone you work with in your team, for everyone offers something unique and precious.
10 Rest! Rest! Rest! Rest! Don't ever feel guilty about taking time off to rest, rejuvenate and reflect. A journey without pause points is a less conscious passage. As I reflect on my journey, I know it is far from over. I am excited about what the next 10 years holds. As the great poet Maya Angelou wrote in Still I Rise: Just like moons and like suns With the certainty of tides, Just like hopes springing high, Still I'll rise. To rise, and to keep rising is no easy feat. It requires effort, focus and consistency.
THE MEDIA I 9themediaonline.co.za
9 Listen Know what the people around you hold close to their hearts. If you know what your team values, you know how to keep them happy and loyal and good at what theyListendo. deeply to the aspirations, fears, challenges, and wonders of those around you. Learn what makes them smile with unbridled delight, know what worries keeps them awake at night, know what hopes they carry in their hearts. Know yourself. Know those around you.
You are never as good as they say you are, nor are you ever as bad. It is a glorious fix and rather seductive to float on the fanciful praise of fans, but the true wing of sustainable success is self-belief and self-confidence – especially when this vests on powerful foresight and vision. Remain pinned on self-belief as you rise – and also when you feel like you are plummeting. Self-belief is the queen of elevation. Rid yourself of self-doubt, for it is the surest way to fall. Define yourself to and for yourself, and the opinions of others will matter less.
2 seLf-beLief
There is no greater power than to build one's self, and those around you. To help others bloom and develop is the mark of a good leader. Be kind and patient with yourself and those around you as you kindle talent, and fuel dreams. Never allow bosses to slow-track your career or snuff out or diminish your dreams.
8 LeAdeRship Be patient… with yourself, your team –but never your bosses.
7 AdAptAbiLity Don't take phrases like: 'This is how things have always been done,' to heart – but learn how things have always been done so you can have the know-how of changing it to suit how you want things to bePowerdone. is being the change you want to see. Don't get sidetracked or off course –know what you want and steer everything towards that, even when current conditions appear contrary to your vision.
"poweR is being the chAnge you wAnt to see. don't get sidetRAcked oR off couRse … even when cuRRent conditions AppeAR contRARy to youR vision."
Anele Mdoda, host of Anele and the Club on 947, began her career as a radio DJ at the University of Pretoria in 2004, where she studied politics and international relations. Since then, Anele has worked as a radio DJ for South Africa's most popular commercial radio stations, and as a TV presenter too. An author and a mother, who is passionate about cooking and connecting with her audience across all platforms, Anele gives 100% of herself in everything she undertakes. just a moment to lose it all. A summit can, in a single moment, turn into a fall, if sure-footedness is lost, even for a single second. Steadiness and consistency are essential in any successful climb to the top. Keep steady and focused.
In his profound book, '7 Habits of Highly Successful People', Stephen R Covey spells it out beautifully: "We are what we repeatedly do. Excellence then, is not an act, but a habit." the airwaves, working in broadcasting will be an everyday tonic of pure happiness.
6 connection If you want to have a million listeners, you have to go out and meet a million people. Numbers count but people count more. Real time connectivity is the most valued and prized platform.Talk show hosts that count are those whose real studio time is in the hours spent side by side with listeners, in churches, at malls, at festivals, at funerals, at weddings, etc.
5 Respect You don't have to be the one who talks the most to be the most impactful; character bibles will keep the show going when the passion occasionally runs out.
In the words of Barack Obama: "Change will not come if we wait for some other person or some other time. We are the ones we have been waiting for. We are the change that we seek."
4 pAssion
Always know why you are a media player: are you doing it to be good or to be famous? Because if you are doing it to be famous… you won't have fun. Loving what you do, with the unmatched devotion of a mother's embrace, is the most powerful way of enjoying your everyday. To push and propel yourself on a firm love for your craft, rather than on the fleeting allure of stardom, is the best way to a fun-filled, fulfilling, and formidable career. For those with little true love for broadcasting, the airwaves will offer a short-lived affair with fame. For those with a true passion for
3 ReAch If the building does not see or hear you, neither will anyone one else; the people you work with are your first point of PR. Enchant and excite those around you for they are the most important gauge of your attitude and your authenticity. It is easy to create a swarm of admirers on a celebrity-lit red carpet, but harder to create a sanctuary of support. Be real, be true and work hard to garner the support of those with whom you work closely.
One has to love your listeners for them to love you.
SUPPLIIMAGE:ED
LAURA COOKE
Laura Cooke
"It's hard to be what you can't see and It's wonderful that women can now see themselves reflected as presIdents … or fIre fIghters and Investment bankers."
I
.
10 i THE MED i A SCREENS themediaonline.co.za
t's Women's Month again, when we pay tribute to the 20 000 women who marched to the Union Buildings on 9 August 1956, protesting against South Africa's pass laws. These brave women should always be remembered for standing up to the horrors of the Apartheid system. Today, Women's Month is also a celebration of the progress that has been made in moving towards gender equality. So we celebrate women leading in business, like Yolisa Phahle, CEO of General Entertainment and Connected Video at MultiChoice, who has been instrumental in driving 68% growth for Showmax in the last financial year. We celebrate storytellers like writer-director Kelsey Egan, whose debut film, Glasshouse, is up for Best Film at the SAFTAs after receiving five star reviews internationally. We celebrate stars like Sindi Dlathu, who is in line to win Best Actress: Telenovela for the third year in a row at the SAFTAs for her role as Lindiwe in The River, which is, again, the most nominated telenovela. We celebrate Coming 2 America star Nomzamo Mbatha stepping into an executive producer role on the upcoming epic Shaka Ilembe, where she'll also play Queen Nandi.
Whether it's in action, drama, romance or reality, our screen goddesses are finally reflecting women in all their complexities – and audiences are fully here for it, writes
The stars of the screens and the women behind the scenes
• The women of Temptation Island South Africa, putting their relationships through the ultimate test of dating sexy Similarly,singles.withour top four international titles, there's Josephine Langford as Tessa (a good girl falling for a bad boy) in After; Dakota Johnson as Anastasia Steele in the BDSM-mainstreaming Fifty Shades Darker; Amanda Collin as an android with And we celebrate the action stars who show that 'hit like a girl' should be a compliment these days, namely Maggie Q in The Protegé, Karen Gillan in Gunpowder Milkshake, Margot Robbie in Birds of Prey and The Fantabulous Emancipation of One Harley Quinn, Gal Gadot in Wonder Woman 1984 and Zack Snyder's Justice League, Queen Latifah in The Equalizer, and South Africa's very own Charlize Theron in Mad Max: Fury Road, all of which are on Showmax as I writeActionthis.films starring badass female action stars is a trend that has developed within my lifetime, kicking off into high gear in the 1980s with Sigourney Weaver in Alien and Linda Hamilton in the Terminator franchise. It's encouraging to see that the diversity of our female superheroes is finally starting to change too, with the likes of Lupita Nyong'o taking the lead in Black Panther: Wakanda Forever and Javicia Leslie as the first bisexual Batwoman – we need more of this, please.
Women on screen can be pretty much anything you can imagine now, a far cry from the highly gendered screen roles of previous generations. There's no longer a single story of what a woman's work is, or what women should look like or act like, and this is Very Good News. Showmax is full of inspirational women, but there is a danger in just telling aspirational stories, in focusing on the exceptions to the rule, in focusing on 'role models', in just combatting the misrepresentations that still persist. We'd never expect stories that only talk about the admirable things men do; we shouldn't want that for women either. Because, in real life, we are never just one thing. Our lives are rich, but messy; alternatively inspiring and dispiriting. We like ourselves, and don't; and sometimes we find ourselves wanting things we shouldn't, that we know won't be helpful. Sometimes we get it right; sometimes we get it very, very wrong. At Showmax, we are much more interested in acting like a mirror, and showing the way things are, rather than sanitising life in Africa and creating idealised depictions of how things should be. This applies to our representation of women, but also to our depiction of life in Africa as a whole. Instagram does idealised really well; LinkedIn does idealised career highlights well.
• Mbalenhle Mavimbela as Hlomu, marrying a man the nation saw hit her in The Wife, up for Best Telenovela at the SAFTA after winning two DSTV Mzansi Viewers' Choice Awards, topping Twitter and breaking multiple Showmax records; and
GROUNDBREAKING REFLECTIONS
Women were the leads in all of our 10 most watched titles on Showmax in South Africa in 2021. All six Showmax Originals on that list were driven by women:
All these groundbreaking women need to be celebrated. It's hard to be what you can't see and it's wonderful that women can now see themselves reflected on Showmax as presidents (The Republic) and therapists (In Treatment), detectives (Vigil) and comedians (The Sex Lives of College Girls), or fire fighters (Those Who Wish Me Dead) and investment bankers (Industry).
People come to Showmax for something else: for entertaining stories that are authentic and reflect the complexities of our lives.
"AS A GENERAL RULE, IT SEEmS ThAT OUR AUDIENCE wILL ChOOSE RELATABLE mESSINESS OvER ASpIRATIONAL GREATNESS." Kelsey Egan's debut film, Glasshouse, is up for Best Film at the SAFTAs.
• Babes Mampintsha marrying a man who the nation saw hit her in Uthando Lodumo – which also set a record for first-day views on Showmax at the time;
• The glamorous ladies of The Real Housewives of Durban, which set a record for first-day views on Showmax;
LEADING LADIES TREND
• Lea Vivier in a SAFTA-nominated performance as Yola in the psychological thriller DAM, the most nominated TV Drama at the SAFTAs;
• Cecilia Steyn as the cult leader in Devilsdorp, the most nominated documentary at the SAFTAs, and Jana Marx as the investigative journalist narrating the story;
THE MEDIAthemediaonline.co.za
The Wife topped Twitter every Thursday for two seasons as Mqhele, played by Bonke Khoza, was hailed Msanzi's 'National Husband' – before he beat Hlomu and broke the hearts of women across the country. This sparked important conversations around red flags – and why Hlomu, like so many South African women, missed them. Similarly, Showmax Originals like Devilsdorp, The Real Housewives of Durban and Lagos, Uthando Lodumo, Living the Dream With Somizi and Life With Kelly Khumalo all topped Twitter in South Africa. This wasn't always because
Maggie Q in The Protegé.
Roelofse; our head of operations Portia Heshu; our head of analytics Aliciela Cinches; Natalia Barros as our executive head of customer management; Philippa Heal as our in-house creative director; Lindiwe Hani and Vuyokazi Mhlope as our marketing leads on Showmax Originals, and Zibuyile Dladla as our talent liaison in PR, just to name a few. These women all make it clear everyday that there isn't a glass ceiling at Showmax. Instead our company inspires and enables women to reach the top on their chosen specialistTogether,areas.weare working to create the world we would like to see. Laura Cooke is head of communications at Connected Video, MultiChoice's streaming division, overseeing PR, content marketing and social media for Showmax in more than 80 countries. Under her leadership, Showmax won Online Strategy of the Year at the 2021 New Generation Awards, multiple Bookmark awards, and, most recently, the Gold award for Best Arts and Entertainment PR campaign at the 2022 PRISA Prism Awards. our audience agreed with the choices of the cast; often the most heated and helpful conversations were about the ways in which they didn't agree, and what they thought people should have done instead.
FLAWED REALITIES
"ThERE'S
no LongER A SIngLE SToRy oF WhAT A WomAn'S WoRk IS, oR WhAT WomEn ShouLD Look LIkE oR AcT LIkE, AnD ThIS IS VERy gooD nEWS."
12 i THE MED i A SCREENS themediaonline.co.za our audience will choose relatable messiness over aspirational greatness. But this sometimes creates challenges from a PR and social media perspective, where we need to make it clear that, as a streaming platform, Showmax doesn't endorse any actions or comments made on any of the content available, be it reality TV or fictional series and movies or documentaries. And we're not going to shy away from tough subjects because we believe good content should encourage debate on key issues in ourInsociety.thisregard, we are over-achieving.
SUPPLIIMAGES:ED
Stories where the lead character is perfect to begin with are never as interesting as the ones about people confronting their flaws. So we know we don't need to overcompensate in our depiction of women: we can let them be themselves, in ways that are often worth celebrating and sometimes worth criticising too – or at the very least having a laugh about. Since women are obviously the equal of men, then they can be not just equally amazing but equally flawed too. We work hard to keep the nuance throughout all the work we do, across all our marketing channels. This is helped by the fact that women lead by example in many areas of Showmax, from Yolisa as CEO to Nomsa Philiso overseeing our content creation; from Chanda Zulu managing our local content acquisition to Lauren McInnes as our head of marketing. Not to mention our head of product Lize
Empowerment starts with self W
ell over a decade ago, online content was, essentially, 'shovelware': aggregrated news and information sourced from print media. Today, most information in South Africa is consumed online by 41-million internet users, according to the Digital 2022 Global Overview Report. The public relations industry had to adapt quickly. At one point, PR was one of the gatekeepers of information, as it controlled the narrative to some degree. Today, PR companies and their clients have to play catch up to influencers, activists and laypersons who use social media to drive campaigns and mobilise the masses. By coupling media expertise with widely sourced data, PR companies and their clients can remain at the forefront of dominant agendas. We can then target specific audiences based on their tastes and locations, and feed them content that speaks to Moreover,them. more women are playing influential roles in the industry. We have the energy and ideas to keep the media on course in these tumultuous times. To further entrench ourselves as leaders, we would need to be equipped with tools that aid ourTodevelopment.keepabreast of the times, I furthered my education, taking up a post-graduate degree in digital transformation. It is a personal act of self-empowerment that ensures I navigate this new territory with confidence. To augment my personal development, I launched the Influence podcast in July. This gives me access to ideas from some of the greatest thinkers in this country –and the process of building the brand has taught me invaluable lessons as an industry leader; one of which is that intelligent conversation is needed to counter polarised thinking. At its heart, Influence looks to provide clarity on a world that is in constant flux. It is a place where listeners can access networked intelligence that helps them traverse an uncertain future.
• Agility means making continuous incremental improvements while navigating setbacks, learning from experiences, and keeping a healthy attitude • Curiosity is often undervalued but, put simply: when you stop asking questions, you stop learning and growing • Humility in the face of failure prompts you to take a step back, gain fresh perspective, and rebuild your determination to overcome the Continuouschallengelearning is a key part of nurturing professional growth. At New Media there is a large value placed on 'levelling up', where you're encouraged to look for opportunities to learn and grow.
Lebo Madiba
If you have the opportunity and means, always choose to invest your time to study further. This doesn't have to be through formal or expensive courses; you can access high-quality learning opportunities via free online courses, podcasts and platforms such as YouTube. Education can take other forms too. We constantly access new information simply by speaking to colleagues, clients, or I'vefriends.curated my social media to 'feed' me valuable information from sources I know will challenge, enlighten, or inspire me. Yes, if you're intentional about who you follow, you can use Facebook, Instagram, Twitter or even TikTok to keep you informed – and resist falling down the all-too-familiar rabbit hole!
When failure is just an option Iget the biggest gut wrench when I think about some of the epic fails that have peppered my 10-year journey in digital media. But the truth is, no matter how much I wish I'd never made mistakes or experienced things not going as planned, I can't deny those moments yielded some of my most significant experiences of professional growth. The one principle I've come to understand is to let go of the need to always feel well informed. With the incessant pace of innovation in the industry, the best thing you can do is perfectionismsubstitutewiththreethings:agility,curiosity,andhumility.
Tarryn Temmers
THETHOUGHTSMEDIAI 15
Lebo Madiba is the host of Influence and the founder of Powerhouse PR
Tarryn Temmers, digital strategy lead for the Story Station Division at New Media
A place of phenomenal women
From left to right: Clare O'Neil, Tsholofelo Maimane and Tholoana Ncheke
Feminist poet, Ntozake Shange wrote, "Where there is a woman, there is magic." At Primedia, women take pride of place, not only in Women's Month but all year round. This is part of the magic of Primedia. The Group's legendary proclivity for phenomenal talent and phenomenal women has seen a ready and steady rise and bloom of women across all levels and spheres of Primedia. Over the past few months, an abundance of females have been appointed to senior management positions at Primedia.
Among these are Clare O' Neil, Tholoana Ncheke and Tsholofelo Maimane.
CLARE O'NEIL, AN INNOVATIVE AND CONFIDENT LEADER There is a certain majesty to Clare O' Neil, Primedia's new chief operating officer. Clare laughs off this description, saying it is simply the shimmer of her silver-grey hair that lends her an air of authority. But connoisseurs of the South African media industry tell of Clare as a highly experienced,
The voices of women pulsate through Primedia's business operations in South Africa and Africa, giving this media and advertising group its signature vivacity and vigour.
themediaonline.co.za16 i THE MED i A
.
The Department of Women, Youth and Persons with Disabilities launched this years women's month under the theme 'Women's Socio-Economic Rights and Empowerment: Building Back Better for Women's Resilience'. It is a call to action to everyone to take tangible steps in responding to the most persistent challenges affecting the lives of women and girls. Tsholofelo believes in reaching out to uplift other women. "Our current democracy was positively shaped through the band of courage of women who stood together over the disempowering years of apartheid to ensure a better tomorrow," she says. "In August, we commemorate and celebrate the 20 000 women who marched to the Union Buildings 66 years ago to fight against the Pass Laws. Today's generation of women must pay homage to the women who made selfless sacrifices to ensure a more just and equitable society. As young women today we must embrace their courage and continue their noble legacy to ensure that the voice of women is forever heard, respected, and counted."
LAST WORD TO SERENA
highly revered professional, whose career in media and broadcasting is a showpiece of excellence in motion. Clare is a formidable woman who is accustomed to being in the forefront. A confident leader, she anchors her success on an adept proficiency to innovate and engineer solutions. She is that rare type of leader who not only imagines possibilities, but reaches for them with keen foresight and fixed determination that ensures success in the best and worst of times. This requires a resilience and agility that is an acquired trait of a leader who has accumulated wisdom along her way.
TSHOLOFELO MAIMANE, DYNAMIC AND VALUE-DRIVEN Tsholofelo Maimane, Primedia's new chief talent officer, is a model of dynamism and professionalism with a fierce commitment to excellence. She bubbles with enthusiasm as she speaks of her new role at Primedia. "My role is to partner with the businesses to attract, develop and deliver the highest degree of professionalism across Primedia's divisions," she says. The THIS MONTH, AND EVERY MONTH, PRIMEDIA WILL BE CHEERING FOR ITS PHENOMENAL WOMEN. IT IS ON THE BACK OF A STRONG AND FULLY FLEDGED COMMITMENT TO PROMOTING WOMEN'S PARTICIPATIONACCESS,AND GROWTH THAT WE WILL ENSURE THE FLOURISH OF SUCCESSFUL BUSINESSES AND A TRULY DEMOCRATIC NATION AS WOMEN IN POSITIONS OF INFLUENCE, WE MUST ENSURE WE KEEP THE CIRCLE OPEN FOR FUTURE WOMEN TO TAKE UP THE SPACE BY LEVERAGING OUR INFLUENCE
Tholoana speaks enthusiastically about how women bring intellectual capacity and emotional fortitude to the boardroom. Traits, she says, that are vital for the success of any institution. She cites a beautiful quote by Michelle Obama that says: "There is no limit to what we, as women, can accomplish".
The recent appointment of Tholoana Ncheke as Primedia Group's legal counsel in July is one of many recent celebrations and foregrounding of phenomenal women at Primedia. Confident and astute, Tholoana is a study in self-drive and selfdetermination. With an eagle-eyed, precision and geared legal skills, Tholoana is a lighthouse of legal finesse and a daily inspiration to those who seek her counsel and guidance.
Serena Williams wrote: "Every woman's success should be an inspiration to another. We're strongest when we cheer each other on." This is the ethos of Primedia. Intrinsic to the Primedia vision is the recognition and celebration of people and achievements. This month, and every month, Primedia will be cheering for its phenomenal women. This is sponsored content.
PARTNERTHECONTENTMEDIAI17themediaonline.co.za SUPPLIEDIMAGE: and business sector to create prized and premier opportunities for women is palpable. She puts it best: "The media and advertising industry is a place where crucial conversations take place, where the seeds of societal equity and gender parity can flourish if tended with care and compassion. There is no quick-fix magic formula – rather it is on the back of a strong and fully fledged commitment to promoting women's access, participation and growth that we will ensure the flourish of successful businesses and a truly democratic nation."
Clare describes herself as "firm but fair – compassion is key", she says with a heartfelt commitment that has seen her not only build media organisations, but also mentor dozens of young women in the art of communication, and the craft of media management. The magic of women's leadership is something Clare has promoted throughout her career.
Passionate about gender advancement and parity, Tholoana says: "The preamble of our Constitution sets out our ambitions to be a non-racist and non-sexist society. We can only achieve this if we are intentional about adopting this principle in the corporate world as well." Her passion for the need for South Africa's government queen of talent, Tsholofelo describes herself as a resilient leader who is self-aware, values-driven and inspired to build world-class talent throughout Primedia through attracting, developing and celebrating phenomenal people. She is delighted by the strides being made to ensure the centrality of women in key positions and in overall decision-making, and is cognisant of the significant role of women in shaping societies – yesterday, today and tomorrow.
THOLOANA NCHEKE, PASSIONATE ABOUT GENDER ADVANCEMENT
"It is noteworthy," Clare says, "that the Department of Women, Youth and Persons with Disabilities wrote recently about the need for breaking barriers to access in industries dominated by men. At Primedia, there is a clear and sincere programme to place women in the foreground, and recognise the worth women bring across all touchpoints of the Primedia Group companies."
"You can get officiallY certified for most of these free online courses run bY reputable companies, which leaders like mYself do recognise when recruiting." multinational entertainment group as their senior digital analyst. I still mined data,and I still had to clean, analyse and create models that would inform decisions. The major difference now though, was that I was helping the business build its consumer-facing brands and acquire customers.
Mixed media
a career in analytics t H e M e D ia i 19themediaonline.co.za
As women in marketing, we need to make young female talent aware of the wealth of new career opportunities available, writes data scientist PALESA MOLUKANELE. D
uring my matric year, I was chosen to attend a Technology for Women in Business (TWIB) event, an initiative by the Department of Trade and Industry. A special part of TWIB was its focus on encouraging young women to follow careers in science and technology through a programme called the Techno-Girl Programme, which I was a part of back in 2001. This exposure set me on a career course … or so I thought. I left university equipped with a Master's degree in Biophysics – one of the first black females to do so in South Africa. I had no idea that the creative world of marketing would ever be on my professionalFast-forwardradar.afew years and, after a stint as a research scientist, I joined a
From this first job in the media world, I enjoyed a stint in the health insurance sector. This marked a big change in my professional future. I found myself working as part of a marketing team, outside of my comfort zone. As a firm believer in change as the only constant, I embraced the challenge. I was an expert at analysing data and identifying trends and patterns, but packaging it into useful and understandable business insights propelled me in a direction that opened up the prospect of a whole new career path. I use this example to motivate my younger team members today. Behind every 'kick-ass' ad campaign on TV, every campaign on social media, every marketing campaign, lies solid data driven research, insight and strategy that can demonstrate ROI. The sense of satisfaction I gained from seeing how my skillset could culminate in a client being able to convert customers on a website or app sparked a love for media and marketing environments –I soaked up the opportunity to help clients help their customers make informed decisions about what to buy, when and how to buy it at the best possible price, while protecting them from fraud and scams. Underpinning all of this was the ability to gain true insights from data.
I joined the Wunderman Thompson SA team during the Covid-19 pandemic as head of data, insights & analytics. For me, my appointment reinforced the company's commitment to being a marketing partner for future-fit clients. I was now working in an environment that is part creative agency, part consultancy, part technology firm. I find myself, as a data scientist, perfectly positioned at the intersection of best-in-class agency capabilities Palesa Molukanele
The concept of 'Big Data' was on everyone's lips, and media businesses were beginning to appreciate that data could inform some big business decisions. Suddenly we were able to collect large amounts of data in femtoseconds, and had the ability to use platforms to efficiently store and process these large datasets. It was a data scientist's dream come true: to be able to map out customer journeys and feed recommendations engines more accurately.
Palesa Molukanele began her career in science and technology but has been lured to the world of marketing and media, where she now heads up data & analytics for the WundermanThompson group in South Africa. Her personal mantra: 'In God we trust, all others must bring data!' working alongside designers, measurement specialists, creative teams, technologists, SEO and paid media marketers, social media strategists and implementers.
I'm in a space where women are valued and allowed to bring their whole self in contributing to the success of the organisation, and the growth of our clients. My team and broader Centre of Integrated Marketing Communications Excellence is characterised by female leaders from all walks of life, so recruiting female talent is supported from the top down. I am championing the message that there's enormous opportunity ahead for young female talent who have data-related and analytical skills. By the end of 2023, we're going to be interacting online in what we call a cookie-less world – in simple-speak, it means brands and businesses will have to rethink how they intend to collect what we call first party data, and to build trust with audiences and customers about how that data gets used.
Prior assumptions about data scientists and analysts having to pursue careers only in the fields of science, engineering or technology have been blown apart – a fact borne out by our country's critical skills list. In early 2022, South Africa gazetted this long-awaited new Critical Skills List that had not been updated since 2014. The list clarifies that there is no longer an emphasis purely on technology and science, but also on roles in the world of marketing and CRM. It is encouraging to see roles such as chief information officer, customer service manager, data management manager and data scientist on the list. If I, as a woman working the fields on data and analytics, can introduce and harness this expertise to young, mostly previously disadvantaged girls, including those from rural areas with no proper infrastructure to keep up with the daily change we experience in the economy, half the battle will be won.
Data scientsts source data, gather that data, and collate it into digestible formats and work alongside strategists so that collaboratively we can offer our clients insights that are well-informed and measurable. Those of our clients who appreciate the value this adds to our strategic recommendations are already reaping the benefits. Those who, regrettably, believe data is only about percentages on a post-campaign report are only leveraging half of the total value analytics and insights can bring to a business.
The misconception many have is that you must have a university degree to be able to get into data and media. Today learning has become easily accessible through online platforms such as Udemy and the Analytics Academy. You can get officially certified for most of these free online courses run by reputable companies that leaders like myself do recognise when recruiting. My company has also partnered with GirlCode, a not-for-profit aimed at empowering young girls and women through technology. They believe that the more women get involved with technology, design, development and leadership, the more successful and diverse companies and their products will be in the future. The leadership teamam a part of shares that belief, and at the end of 2021 we sponsored five places for young talent to go through a bootcamp course, and then spend time immersed in our company for first-hand experience.
UNDERSTANDING THE VALUE OF DATA SCIENTISTS
"IF I, AS A wOmAN wORkING THE FIELDS ON DATA AND ANALYTICS, CAN INTRODUCE AND HARNESS THIS ExPERTISE TO YOUNG, mOSTLY PREVIOUSLY DISADVANTAGED GIRLS … HALF THE BATTLE wILL BE wON."
It is a microcosm of what our media and marketing landscape is today: creatives, strategists, technologists and data scientists coming together to solve business challenges for brands. I have built a team of 30-plus data ninjas – as we are fondly called by our colleagues – and I am proud to say the team features some immensely talented young women whom I have no doubt will move through the ranks in years to come. Strategists and my team members are 'joined at the hip', and creative concepts are always firmly rooted in data insights that my team members provide a litmus test for.
There won't be a business that will not have to make sure the right data strategy or technology infrastructure is in place, and there won't be a business or brand that won't need to employ ethical strategies in order to mine and manage customer data.
OPEN TO OPPORTUNITY
SUPPLIEDIMAGE:
The greatest value, in future, will come from 'closing the circle' – allowing data to inform strategies and tactics, tracking performance throughout to enable real-time optimisation, and interrogating results at the end so that both clients and agencies can learn invaluable lessons... and so the circle should continue. This approach can enable marketers to demonstrate ROI – it takes traditional advertising and marketing tactics way beyond the realm of pure reach, and catapults us into a world where marketing and data converge to drive best practice. It allows brands to shape, track and measure their marketing, customer experience and service activities in a way they have never before been able to do.
"PRIOR ASSUmPTIONS ABOUT DATA SCIENTISTS AND ANALYSTS HAVING TO PURSUE CAREERS ONLY IN THE FIELDS OF SCIENCE, ENGINEERING OR TECHNOLOGY HAVE BEEN BLOwN APART – A FACT BORNE OUT BY OUR COUNTRY'S CRITICAL SkILLS LIST."
themediaonline.co.za20 i THE MED i A A c A r EE r in A n A ly T ics
LEARNING IS ACCESSIBLE
Iwas proudly raised by my grandmother in Madadeni, a township in Newscastle in KwaZulu-Natal. I remember as a kid in the 1990s going on Mondays and Thursdays to buy the Ilanga lase Natal (The Natal Sun) for her. Back then Ilanga was one of the most widely-read Zulu newspapers in the province.
As a retired domestic worker, my grandmother enjoyed reading about what was happening in our region, and I fondly remember how I would sit next to her to help her read some of the news. I remember watching the news on TV2 in the days before the SABC restructured its television channels.
And I remember when there were noFast-forwardsmartphones.to 2022. Now I can read the news online via my smartphone, and access and share information on social media.
I have followed my grandmother's advice of not letting my background stand in my way of achieving my goals and I know she would be so proud of me for that, and the fact that I contribute towards what goes into the news today. My advice to all the creative, driven women in the media is to be adaptable and not be afraid to try new things, and to stay abreast of trends in the ever-changing media landscape.
THETHOUGHTSMEDIAI21 SUPPLIEDIMAGES:
Khaya Thwala is a public relations account manager at Flow Communications
Continuous growth is key I n my 17+ years of being a marketer, one thing that has remained constant is learning. I don't believe that you ever know enough to stop growing your knowledge. Whether it is via formal training or through research, our environments are constantly changing and evolving; if we don't stay ahead of the trends we will fall behind in our careers.
While traditional media played a central role in disseminating information in my youth, digital media has given people platforms to share and access information in real time. We can access facts, figures and statistics, through websites, social media channels and databases. Fact-checking – and, unfortunately, the spreading of fake news – is now easier than ever. So is access to learning. Working at Flow Communications, where we use all the communications tools at our disposal – including digital media – has enabled me to learn new digital skills from experienced professionals. I have taken the time to learn and understand different digital marketing tools that provide insights into how our clients' key target audiences consume and respond to media messaging. And have I learned so much! Who would have thought that you can actually have access to statistical data about media reach and engagement from various platforms?
Companies want to work with marketers who are knowledgeable in their field, willing to take calculated risks, and who value results. I joined my first marketing team at an online retailer doing web admin, and over the years I've worked in many different roles. Today, I'm a marketing manager with experience in both agencies and corporates. Each year, I've grown my knowledge in my area of expertise through short courses and online research. I became a team lead at an early age and, even though I've grown to thrive in the role over time, it wasn't something that I was trained for beforehand. This is common in leadership positions and, as a result, there's a lot of internal work and mistakes that happen as you find your feet. Eventually, I realised that people do things differently, they think differently – and that's ok. I believe there'd be better leadership in organisations if there were more training upfront. People generally rely on technical skills when they're in a non-managerial role, but dealing with people is a different ball game. It's not just about understanding them, it's also about understanding yourself, your triggers, and your personal biases. Recently, I was lucky enough to complete my Postgraduate in Management Practice through Henley Business School. It's a course that I'd highly recommend for any leader. Not only is there a focus on analysing your external operating environment, finance principles, strategy, and innovation (helping you in your career growth), but it also has a focus on self-reflection; something I believe that every leader must practice. Keep growing and amazing things will come your way.
Karyn Strybos is marketing manager of Everlytic themediaonline.co.za StrybosKaryn ThwalaKhaya
A future of digital promise
you learn on the job, that's all very well – but it's not enough. Regardless of your position in the industry – whether client or agency side, and whether in media, PR, advertising, social media, product development brand management R&D – there are some core foundations you simply must know. The principles of marketing, consumers, purchasing, media consumption, creativity and so on, are all essential building blocks.
.
Lifelong learning is to be encouraged in this field; build the basics and stay up to date with the trends. Most importantly, know enough to have a point of view.
Self-doubt cripples many women's careers – but with a little time and training, it's easier than you think to hone your skills and trust your perception, advises GILLIAN RIGHTFORD
22 i THE MED i A SCHOOL OF THOUGHT themediaonline.co.za
While developing my School of Thought marketing portal, I came across an interesting insight: that 'foundational' courses are not just for beginners or those new to a particular field; sometimes the Peter Principle applies (when people rise in the hierarchy of an organisation through promotion until they reach a level of respective incompetence), and executives land up being too senior to raise a hand and say: "Apologies, I have no idea what you're talking about."
Gillian Rightford If you're a woman in business you are no doubt familiar with the term 'Impostor Syndrome'. Much has been written about it – and although men occasionally suffer from it, there is tons of research underscoring the fact that women tend to doubt themselves and question their abilities far more than"Womenmen. tend to experience the syndrome in terms of their ability to perform; it manifests more in men as a fear of being unsuccessful. But in both cases the impact on confidence can be enormous," explains Mark Ritson in his recent article on the subject, 'Suffering from impostor syndrome? The cure is simpler than you think'. It seems particularly prominent in the marketing, communication and media industry. Perhaps it's made more difficult by the fast pace of change and the fact that for most topics, one can find thought leaders that either passionately endorse a way of thinking or vehemently criticise it. The raw truth is that most people, some of the time, are winging it. It's just impossible to know everything, and there is usually someone in the room that will know more than you, or appear to. Ritson states: "Marketers are prone to impostor syndrome, but solid training and a more realistic view of your peers' achievements will show your worries areHeunfounded."reckonsthat, actually, most often you will be the smartest person in the room by a long shot, and that the trick to believing this is to do two things: stay up to date with training; and back yourself moreWhatoften.sort of training? Well, if you've come in from outside of the broader marketing industry and told yourself (or been told) that marketing is something "Build the Basics and stay up to date with the trends. Most iMportantly, know enough to have a point of view."
Learn to banish Imposter Syndrome
One of the never-ending challenges in this industry is that people tend to chase after shiny new toys (Metaverse, AI etc), and if you don't appear to be au-fait with these, you start doubting your relevance. But relevance is built by understanding a mix of both classic thinking as well as 'new predictions', many of which are pie in the sky, with the data simply not supporting their cheerleaders.
It divides your time into urgent and important; not urgent and not important, and combinations thereof. The tool uses a table with four quadrants, and asks you to sort each of your tasks or activities into one. The four quadrants are:
nt-covAGEMEGUIDEAGEME.coctSUPPLIIMAGES:ED,www.AtIMEM/tIMEMAnnt-/tIMEMAnEy-MAtrIx
• Average:
• Average:
Lastly, training doesn't have to be formal either. Certainly workshops or online Gillian Rightford's career is a mix of marketing, strategy, advertising, teaching and leadership. She founded Adtherapy (helping marketers & agencies produce more effective output), launched The School of Thought (a knowledge-sharing, talent-building platform), and also consults, trains, lectures, coaches and speaks across the sector.
• Average:
Steven Covey's Time Management Matrix
Links/citations
There is a wealth of tools and resources on ways to build knowledge and stay up to date on all topics, at our fingertips – but the biggest single obstacle is simply that the one thing none of us ever seem to have enough of: time. There are many time management tricks, but when it comes to making time for learning, I am a firm fan of the importance of applying Steven Covey's Time Management Matrix, a classic tool for prioritisation, that helps you focus your attention on the tasks that matter most to your business and personal growth.
• High
• Quality (important, but not urgent): Planning, implementation, and your own development. Maximise the time spent in this area because it generates value in the long run. (urgent but not important): emails, paperwork, badly prepared meetings. Try to get rid of as much as possible.
THE MEDIAthemediaonline.co.za
• Necessity (urgent and important): Emergencies, deadlines, well-prepared meetings. These need to be done first.
• Deception
• Average: 15% • High Performing Individuals: Deception 65%-80%(urgent but not important): 50%-60% • High Performing Individuals: 15% Waste (not urgent and not important): 2%-3% Performing Individuals: less than 1% If you shift time from urgent and not important activities to important but not urgent activities – your productivity and efficiency will massively improve. Learning and training sits firmly in that block. It's usually not urgent (unless you have a KPI to achieve by a certain date), but it's important. So, ask yourself: what can you remove from your diary that will allow you to gift yourself learning and career development time?
modules are useful to grow surface level understanding, or dive in deeper into a masterclass of learning. But reading books and articles, watching recorded videos and attending conferences (both online and face to face) are equally helpful to growing your knowledge base and building your own thought leadership (and confidence). Choose a few key thought leaders in spaces you need to find out more about, and follow them on Twitter or LinkedIn. (PS: For the Metaverse and all things futuristic I would recommend Zoe
The School of Thought Steven Covey's Time Management Matrix: covey-time-management-matrixcareer-advice/career-development/https://www.indeed.com/
• Waste (not urgent and not important): Browsing. Reading random posts on Facebook. Junk mails. Waste is toxic. Don't touch it! Covey compared the percentage of time that highly effective people spent in each block compared to those with average time management. The differences are staggering. Necessity (urgent and important): 25%-30% • High Performing Individuals: Quality 20%-25%(important, but not urgent):
Caitlin Morgan, copywriter at Boomtown Agency
I have a challenge for you: next time you're about to use a term that you're not quite sure whether you understand –truly understand – first, spend some time researching the term; not just the fastest definition that you find, though. Then strip away the hype and focus on the simple, raw meaning.
Am I the only one who thinks that we've hit a crazy new level of jargon and hot topics in the world of marketing? Our industry has always been renowned for this – but let's just look back at terminology over the past few years to see how extreme this currently is. Take data, for example: from data science and big data, smart data, first-party data to third-party data and now zero-party data. Personalisation became mass personalisation; and let's not forget about the engagement, attention and then the attention economy. What type of marketing do I need? Inbound, outbound, push, pull, content, performance, native … the list goes on. We've seen a sharp rise in influencers –macro, micro and then nano – now in roll the content creators. And I haven't even touched on the number of acronyms that we use. Welcome to the Metaverse, NFTs and Web3 … I could keep going but you probably get my point by now. We're living in a world of words without meaning. These terms get thrown around offices and boardrooms every single day – and so often the individual using them doesn't even know what they mean.
Striking the digital touchpoint When I had completed my degree I felt extremely lost; I knew I wanted to be a creative, I just wasn't sure what that looked like as a career for me. I was fortunate enough to start out as a copywriter for a company that hosted international triathlons –because it was only once I started writing and read my first press release online that everything clicked. My copywriting journey began in the form of digital, and I believe it is the key to growing in all creative fields.
themediaonline.co.za24 i THE MED i THOUGHTSA SUPPLIEDIMAGES:
Isla Prentis, intelligence lead at Tirisano Consulting, a division of The MediaShop
It's time to let go of textbook definitions. We need to spend less time learning verbatim and more time finding true meaning and understanding. Our industry greatly under-appreciates the value of simplicity. If you want to stand out and add value, be the one who brings simplicity to the room, create that meaning andAtunderstanding.theendofthe day, we need to remember that the principles of media have not changed. We still need to determine two key factors: whom we reach, and how we build meaning for them. How we do either of those elements in 2022 and beyond – well, that's a whole new ball game.
Let go of textbook definitions
Prentisisla
Although I was employed in the Bayeza Graduate Programme as a digital copywriter in 2021, I was writing for media in all forms. I learnt so much about digital writing and how much power it holds – whether you are on concept, or Writingcreative.for digital isn't easy. The digital space is fast and intelligent and you need to get your message across in as few lines as possible. We may love using all our words but when online, people just want you to get to the point. And today, clients need your writing to be intuitive and work online. We all need to start thinking more digitally and make an effort to understand the digital world and learn the skills to adapt our writing for it. When you can adapt and understand the world of digital, your writing does more than just send a message to your target audience: it drives your strategy across all platforms – from your website to SEO, right through to creative campaigns. They all work together. We can no longer think of each media touchpoint in isolation – we always need to be thinking digital.
A creative that understands traditional and digital media is essential in today's ever-changing world, because they no longer work in isolation. It's not about being a creative copywriter or a digital copywriter; it's about being a writer that can craft copy that works across all touchpoints –because the line between traditional media and digital media is blurred. We all need to be able to write for digital if we want our clients and our campaigns to be successful.Ionlyrealised this when I started working at Boomtown in Gqeberha.
Caitlin Morgan
"When applied to publishing, this very businesspoplatformunconventionalofferssomeveryWerfulandcompellingadvantages."
We generally have a surge of applications after Saturday evening dinner parties and Sunday braais, as people discuss what they have read on the group around the fire and table. I load over 1 500 posts, 175 000+ reactions and 50 000 comments every 28 days. At any time, out of 45 000 Villagers on the Facebook group alone, 36 000 are online and active. These engagements are almost universally ... polite, kind, useful. Bullying, name-calling, trolling, hate speech are rare. Adherence to the rules is high. (As admin, I have probably thrown less than 50 people off the group for contravention of the rules, in the six years it has existed.)
VANESSA RAPHAELY outlines the difference between a pipe dream and a 'nice' publishing win.
Vanessa Raphaely
themediaonline.co.za26 i THE MED i A BUILDING A COMMUNITY
The Village is a safe, happy, harmonious space. When applied to publishing, this very unconventional platform offers some very powerful and compelling business advantages. Especially to someone, like myself, whose 30-year career prior was steeped in traditional lifestyle publishing: meeting many people's needs leads to high engagement, trust and deep network effect – the essential glue that ignites brands.
A safe, inclusive yet troll-free online space where humour and harmony prevail, that almost instantly generates leads into conversion… 'Niceness Ninja'
'It takes a village' ... and here's how to build one
My elevator pitch for The Village – a digital community of around 80 000 highly engaged parents of teens, tweens and young adults – is really simple: 'It's a kind, useful, non-judgemental Google for South African families.' Feeling lost? Fed up? Got a question? A problem? Stuck? On your last nerve? Or just a long-suffering parent of a tween, teen or young adult? You're not alone. On joining The Village, you will be instantly welcomed to a community of 47 000 parents on Facebook and a further 30 000 subscribers, united in our shared wish to make the world better for ALL our families. Being the parent of a tween, teen and young adult is one of the grimmest gigs there is. Honestly. All those books, podcasts and blogs about how hideous it is to raise babies and toddlers? Hold my beer. Excuse me while I laugh. It'll be a dark laugh –but hey, in tough times? tough times humour helps. The Village offers a digital space where parents gather. To laugh in the face of a shambles, cry, share, learn, connect and help each other, without fear of the judgement and cruelty so prevalent on social media. People become 'Villagers' to experience what humans are supposed to do to ensure safety and confidence: gather in large groups around a shared dream and valueAndsystem.theylove their Village. 80% of Villagers applying to join are referred by existing ones. Countless messages to me as admin, start with 'Thank you! I don't feel alone, anymore'; 'I thought it was just me, but I'm so grateful to find we are all in the same boat; 'I couldn't be without The Village; 'How did we survive before we had The Village?'
The Village is run by media consultant, journalist and author Vanessa Raphaely. (Plus One, published by Pan MacMillan SA and The Princess Pincushion children's book series, published by Art Publishers.)
"A positive review of A brAnd, service or business is AlwAys A powerful tool for conversion. A positive review from someone trusted, in A trAnspArent environment, known for integrity, is even more powerful still."
THREE IS A DYNASTY. WE ARE BETTER BY ALL THE WOMEN IN OUR COMPANY. HAPPY WOMEN'S MONTH
High degrees of confidence and trust, nurtured through robust but kind administration – Villagers call me 'The Niceness Ninja' – ensure that nastiness is kept to a microscopic minimum. Firm rules governing conduct (no religion, no arguments, no evangelism, no judgement, no arguments allowed) mean members of the community are not afraid to join in and speak. In doing so, together, we create positive, lively, authentic and honest User-Generated (UG) content. As a publishing model it is something special. A positive review of a brand, service or business is always a powerful tool for conversion. A positive review from someone trusted, in a transparent environment, known for integrity, is even more powerful still. A review of a product, service or brand, leading to conversation, discussion, shared enthusiasm and in-jokes, brings a brand to life and amplifies its relevance in ways that make the old, traditional form of advertising, (watch/read/listen/tune out/skip channels) seem passive and almost somnolent in Incomparison.thelastweek The Village has cleaned out a local manufacturer of handbags (at R1 349 each); enthusiastically sold each other collagen ('I was a skeptic, until I read that it works on The Village'); clamoured and formed a disorderly queue for a new Air Fryer (R4 999 per unit) and descended on Clicks in their numbers to buy a '"Tik Tok and Village sensation hair volumiser". What's more, we've also helped get laptops to deserving students, supported untold people in their darkest hours, answered questions ranging from depression to issues with Home Affairs, visas, and passports. A Villager described being caught 'on the job' by a curious tween on Sunday morning. We've comforted parents facing kids with learning difficulties and eating issues, offered holiday ideas, shared ideas for good secondhand cars and flattering clothing for moms. And, of course, we've weighed in, over and over, on the unholy triumverate of sex, drugs and any other bad behaviour our children feel like tossing our way.
All of this do-goodery is all very well, as I was repeatedly told by the doubtful (of which there were many) when I launched: "You know, I never thought it could stay harmonious, as it grew! Why don't you register it as an NGO? You'll never monetise it..." Frankly, I have too many expensive children myself, to slip gracefully into the shadows of unpaid good works. As a professional, l was always determined that I would have to be paid for any time, experience and skill I poured into it. So how do we monetise the community? We sell ads, promos, endorsements, surveys, sponsorships, informative Q&As, judicious seeding of threads. There really are few more valuable customers in a shitty economy than a parent who has no choice but to spend. (A nest of chicks with their beaks gaping open, squawking that: "Everyone else has it!" is almost impossible to ignore, it seems.) And moms, who make up 93% of The Village? They buy for themselves, their partner, their boy child, girl child and the family as
SUPPLIEDIMAGES:
Raphaely was also former content director of Associated Media (Cosmopolitan, House and Leisure, Marie Claire, Good Housekeeping among others). a whole. You get five consumers, if you talk to her! Bulls-eye. We publish a bi-annual guide to universities abroad (University Speaking), contract digizines (Instant Feast and Instantly Festive) plus publish FOMO, our monthly 'Best Of' digizine, created with UG content, to our nearly 30 000 subscriber base; a 12-page, 10-minute read with an open rate of I28%.amproud and happy to say that The Village, as a business, is doing very well. As a community, at 70 000+ members, it's still as supportive and kind as it was when we were just 200. It's rather lovely, even 'nice,' to prove naysayers wrong.
Female representation in the media sector has improved over the years, but more work, mentorship and collaboration are needed to ensure further progress.
MchunuBoni DeirdreKing Bronwen
28 i THE MED i A
Adelaide Joshua-Hill
Women are often the highest stillcompanies,employeesperformingattheirbuttheyfacelimited opportunities for career advancement. Kagiso Tiso Holdings (KTH) and its media company, Kagiso Media (KM), have attracted and retained some of South Africa's top female talent who share leadership experiences. What has been your biggest challenge and highlight as a woman in media?
Boni Mchunu – MD, East Coast Radio: The media industry is still very male-dominated. According to the World Economic Forum, even though the numbers of women in leadership positions are growing, women still occupy 23% less leadership positions than their male counterparts. As women in positions of influence, we must ensure we keep the circle open for future women to take up the space by leveraging our influence.
Adelaide Joshua-Hill – Head of Creative and Sales, Urban Brew Studios: I think the biggest challenge I faced was finding my strength and voice. I came into this industry at a late stage in my life, which brought a sense of insecurity when it came to voicing my opinion. However, today I can say that it was the very men I felt intimidated by who recognised my talent and supported me. After our Netflix production – 'Young, Famous and African' – premiered, I received a message from someone in my hometown, Eshowe, KwaZulu-Natal, telling me to keep going as I am an inspiration.
Deirdre King – MD, Jacaranda FM: A big challenge for me was that I spent the first 200 days in my MD role behind a screen during lockdown. It was incredibly challenging to join a new organisation and thedailyhadsamewereFortunately,potentialnuancesorrelationships,workplace,innewandablewithoutteambeingtomeetobservemycolleaguestheirgaugepickuponandissues.weallintheboatandtoadjusttoensurestation'ssuccess.
empathy,aboutmuchItheworkedwomenstrongIhavewithoverpast18years.havelearnedsofromthemleadingwithbelieving in yourself, and juggling being a mom with career ambitions. My biggest challenge has been to trust my voice. I have been called everything from overwhelming to being accused of not speaking up enough. As a woman, it's hard to find the right balance.
Creating future female leaders
Babalwa Ngonyama – Audit and Risk Committee Chair, Kagiso Media group and KTH: A leadership role in media is very challenging because the industry is still dominated by men, McLachlanLisl Stewart
Bronwen Stewart – CFO, Juta and Co: I tend not to think of anything as a challenge, but rather as an opportunity to grow. Being new in the industry comes with challenges, but it has enabled me to grow my skill set. Media is ever-changing, and the players who are most akin to their markets and can adapt swiftly, are the ones who survive and thrive.
Lisl McLachlan – CEO, Managers:FutureMy biggest highlight is the
Established in 1997, Kagiso Media (KM) is a black-managed company, wholly-owned by Kagiso Tiso Holdings, with interests in new media, content production, facilities hire, specialised publishing, radio broadcasting and television. Diversity is an essential part of the company's corporate culture. Treating others with respect and offering equal opportunity regardless of race, gender or sexual orientation allows KM to take full advantage of an available talented, experienced and creative workforce. Many of the company's accomplishments result from the collaboration of diverse individuals whose varying perspectives complement one another as they work together to achieve strategic goals.
Joshua-Hill: Mentorship, coaching, and collaboration not only build our young women and girls, but also strengthen our nation. Each one of us has something valuable to bring to the table; it's up to us to own that space.
What have you found most valuable or empowering within the KTH/KM
Ngonyama: It is fulfilling to watch other women in the organisation become impactful leaders. I have learned a lot from the women of Kagiso Media. This is sponsored content. AS WOMEN IN POSITIONS OF INFLUENCE, WE MUST ENSURE WE KEEP THE CIRCLE OPEN FOR FUTURE WOMEN TO TAKE UP THE SPACE BY LEVERAGING OUR INFLUENCE ABOUT KAGISO MEDIA
Stewart: The team at KM are committed to helping their people reach their true potential. I love that they have also allowed me to try new things, propose new ideas, execute exciting strategies, and trust me to lead the way.
NgonyamaBabalwa
Mpho Mazibuko – Head of HR, Mediamark: Collaboration allows individuals with different skills and abilities to work together toward a common goal. Mediamark lives this principle every day when we deliver for our clients. If you do this often enough, a synergy develops and working together becomes seamless.
Mchunu: I have been mentored and I believe in the mentorship philosophy. Mentorship helps one's level of confidence and enables women to problem-solve. The philosophy should be that if one woman wins, we all win.
Our business mission is to build communities for good Three valuable points displayed by the business make me feel empowered: the environment;businessitinvolveswomen responsibility; and it encourages women to be authentically themselves.
King: I've seen how powerful mentorship and collaboration can be when you set the intention of lending a hand to the women with whom we do business. Being intentional about opening doors for women, reaching out when you need to collaborate, providing platforms for more women to gain more business experience or simply taking the time to share your past experiences is vital.
McLachlan: Many women in leadership roles, myself included, suffer from imposter syndrome. So we often doubt our power and hold back. Mentorship and coaching can not only help us find our voice, but also believe in isourselves.extremely important. Wise people don't learn from their fromtheyexperiences,ownlearnthe experiences of others. You want to climb on others' shoulders so you can see farther ahead and look at the past. Mentorship helps with storytelling for the upcoming generation of leaders. That's how you build the culture and strength of an organisation. We, the leadership of KM, can't do it alone, we must encourage and empower our people.
King: Simply appointing women like myself and Boni Mchunu to leadership positions is immensely empowering. We are valued and empowered to lead and direct the business, ensuring that we create similar opportunities for deserving women.
Stewart: Coaching and mentorship are vital because often women don't lack the knowledge, but rather the confidence to operate effectively. It is important to find the correct mentor who will be frank with you, no matter how brutal, and guide you through those uncertain moments.
MazibukoMpho
PARTNERTHECONTENTMEDIAI29 SUPPLIEDIMAGE: and sometimes the roles in the space are not set by people with different points of view. It is challenging to change those roles to be inclusive and to speak to all genders. The women who come behind me shouldn't go through the challenges I have experienced. We can ensure that by challenging policies and changing processes. The great thing about working in media is that we have a microphone we can use to connect and empower society. We always try to be conscious of society as a group and make sure we bring hope to South Africa and Africa. How can mentorship, coaching, and collaboration in the industry help women progress?
Mazibuko: That I matter. My leadership qualities are valued and accepted. The group is deliberate about transformation and ensuring that women are given opportunities.
McLachlan: KTH has been a supportive and nurturing environment. What I have found most valuable is that my opinion matters. Leadership at KTH actively seeks your opinion, this helps women feel heard and respected.
Moguls in the making
emale creators are making their mark on the social media scene, increasingly coming into their own as content creators and entrepreneurs in the space, leveraging the platforms and profiles they've built to enhance themselves as brands and entrepreneurs. In fact, around 60-70% of influencers who signed up with influencer marketing platform Humanz in the last year were female. This tallies with social media audience statistics for 2022 that revealed Instagram's ad audience in South Africa to be 53.3% female. With more women consuming content on social media, there is naturally a greater demand for content that speaks to the female experience from a variety of different perspectives.
With more women than men consuming content on social media, it's no shocker that local female content creators are striding onto centre stage as major influencers. SAIRA ABRAHAMS shares the platforms and tools helping them achieve this.
F
Saira Abrahams
"We're seeing an increase in the number of female influencers Who are leveraging their social media presence to start their oWn business ventures."
Female content creators are a lot more confident in themselves and their abilities, probably as a result of watching the likes of Pearl Thusi, Nadia Jaftha, Boithumelo Thulo and so many other female personalities create successful brands for themselves through social media. But we can't deny that having access to the right growth opportunities has a huge impact on the personal and professional development of these young women too.
30 i THE MED i A WOMEN CREATORS themediaonline.co.za
Knowledge-sharing programmes like the Humanz Influencer Marketing Academy, which provides useful information and guidance on how content creators on the platform can improve their appeal, content and ability to deliver results for marketers, are one such Furthermore,example.foranindustry that is still in its infancy in South Africa, influencer marketing still has some way to go in terms of developing a standard of best practice, especially for content creators to work with and aspire to. The Humanz Academy is a step towards achieving this, in addition to providing up-and-coming
Instagram's ad audience in South Africa is reportedly 53.3% female.
"FOR WOMEN ESpECIALLy, HAvINg A pLATFORM THAT ALLOWS THEM TO ACCEpT WORk THAT THEy WANT TO DO, AND TO bE FAIRLy COMpENSATED FOR THAT WORk, IS ExTREMELy vALuAbLE."
For women especially, having a platform that allows them to accept work that they want to do, and to be fairly compensated for that work, is extremely valuable –particularly in the face of challenges such as the gender pay gap and 'imposter syndrome' that often plagues women in theBeingworkplace.acontent creator is not as simple or easy as posting pretty pictures; there is a lot of strategy, hours of editing and effort that go into making a successful online brand and personality. This is why being recognised for your hard work is also important for the development and sustainability of content creators. Consequently, platforms like the DStv Content Creator Awards that celebrates creators and brands for producing 'thumb-stopping content' are crucial – not just in making creators feel seen and heard, but for the advancement of the industry as a whole.
Saira Abrahams is the managing director at Humanz Africa. Abrahams has held a number of senior leadership positions in her career, including her roles as director of client services and marketing and later agency director for the Middle East and Africa region with TLC marketing, as well as studio management positions with the likes of PwC prior to this, all of which contribute to her strong background in digital marketing that spans nearly a decade.
THE MEDIA I 31themediaonline.co.za SUPPLIEDIMAGES:
content game, gain valuable industry, brand and digital insights, and take more accountability in steering their own careers and development.
content creators with access to useful, career-boosting information and support. Along with learning and networking opportunities, Humanz of course gives content creators a safe, reliable and efficient platform to boost their earnings. Creators can submit bids to public campaigns or respond to private brand campaign invitations – and since campaigns come in all shapes and sizes, there's plenty of opportunity for everyone, regardless of follower count. This I believe has been game-changing for local content creators in general – gone are the days of 'winging it' or accepting lower rates for work, or even work that does not align with your interests, all in the name of exposure.
WOMEN AND THE RISE OF SOCIAL COMMERCE While many start out as content creators, we're seeing an increase in the number of female influencers who are leveraging their social media presence to start their own business ventures. The launch of Pearl Thusi's hair care brand, Black Pearl, is a good example; other prominent examples include Bonang Matheba, who used her fame, social media presence and reach to launch her luxury beverage brand, House of BNG. There are many dynamic, talented young women taking centre stage on our phone screens, on billboards and in malls, all of whom are realising the power of harnessing social media for business and e-commerce while building their profiles as personal brands and Achievingbusinesses.thislevelof success involves building a presence, following and key relationships with audiences and brands. From a Humanz perspective, we meet these needs for content creators by providing a range of tools and information – such as profile analytics and a Humanz score – so content creators can see themselves the way a brand would, and build their brands and business ventures from there.
While tools like these are available to all content creators on the Humanz platform, women are increasingly making use of them to help boost their
The content creator-verse has expanded at an unprecedented rate over the last few years. It's been a privilege to be able to provide a platform for talented creators to improve themselves and earning potential, but even more refreshing to observe women coming into their own and taking ownership of their career trajectories in the space, from humble beginnings as influencers to social media moguls and beyond.
"WITH MORE WOMEN CONSuMINg CONTENT ON SOCIAL MEDIA, THERE IS NATuRALLy A gREATER DEMAND FOR CONTENT THAT SpEAkS TO THE FEMALE ExpERIENCE."
OUT OF HOME themediaonline.co.za
MAKHETSI PHAKOA had not even heard of activations when she stepped into an out of home media company – yet carved a career trajectory that will inspire countless young women. Icame to my career path unintentionally. When I left the University of Pretoria and moved to Johannesburg, I joined an out of home media company, initially as a data analyst assisting the sales team. I soon discovered that I preferred to be in front of the client, and that I had a natural flare for client service and sales, so I became an account executive in the sales and marketing department instead. This is where my passion for media really started. I was eventually offered the role of country specialist: sales and marketing account manager for Botswana and Kenya, which gave me the opportunity to travel to other countries to meet with clients and gain a proper understanding of their business. This was a real highlight, and an eye opener; it taught me the value of knowing your clients and treating their business as your business. In 2011 I moved to ProActive, an activations agency within the Provantage Media Group. Since then, I've held various positions within the company. When I first interviewed for the position, I wasn't familiar MakhetsiPhakoa with the term 'activations', but it sounded like something that I was passionate about – events and project management. I have always loved organising and hosting social occasions: I was the resident host of friends' baby showers and stokvel gettogethers, and an MC at weddings. Now I had found a profession that let me put my passion to work, and I have never looked back. I have been fortunate to have experienced several highlights in my career. One of the most memorable of these was when a client requested that we facilitate a conference for the merger of two organisations. I was selected to present their various brands, strategies and plans to their employees – even though I didn't work for either of the twoAlthoughorganisations.presenting meant that I was on my feet for an excruciating six hours, this was a hugely empowering and rewarding experience, especially as I had represented both organisations so well, most employees asked which department I worked for, as they hadn't seen me in their offices yet!
OOH! The things I've learned
I have recently taken up the position of head of sales and client service for ProActive, and I'm excited by the many opportunities that this brings, including the chance to lead in an encouraging manner – one that gives everyone a share of voice. I know that a lot is expected from those to whom a lot is given, and I have no doubt that I will be held
32 i THE MED i A
MOTIVATED BY A SENSE OF PURPOSE
be someone that you are not, as you will have to carry that façade for a long time. Clients are people just like you: they are parents, spouses, they get stuck in traffic and experience load shedding – and they are very quick to call a bluff. Put your best foot forward at all times, but be yourself. Make their business your business –take time to really get to know your client and their brands. Research what their competitors are doing, look at what's being done globally by similar brands, and always look out for the best way to make their money go further. Don't just be about getting the business, but focus on maintaining the business and relationship over time. Take up space A final piece of advice that I would give to any woman considering a career in media accountable for the many responsibilities that come with this role. Nevertheless, I'm particularly excited that this role will give me the chance to make a positive impact in people's lives, especially through the rollout of Spaza Media, which we recently launched. With this, we want to disrupt the landscape of the informal spaza market through innovative branding solutions. We partner with spaza shop owners to offer advertisers the opportunity to brand entire spaza shopfronts, which brings consistent remuneration to the shop owners and also develops small to medium enterprises within the informal market. These businesses are responsible for managing aspects such as rental collection and branding maintenance, to ensure messaging stays pristine throughout a campaign. I think this is a valuable innovation, one that transforms media opportunities to bring value to the surrounding communities and gets our partners involved in the country's economic transformation. So, from a personal perspective, I'm really excited that my new role gives me an opportunity to give back, and proud to be in a position that allows me to make a tangible difference that allows a family to put food on the table. This is what drives me and gets me out of bed each morning.
THE MEDIAthemediaonline.co.za
LESSONS LEARNT This is the advice I would give to my younger self, or any other woman looking to enter my industry:
SUPPLIIMAGES:ED
Use every opportunity to bank experience Always keep learning on the job. In our industry, no two campaigns are the same – although the objectives might be similar, the execution is different each time. So, every day is an opportunity to learn something new. In addition, I treat every campaign as an opportunity to 'bank' experience and grow my knowledge of my own and other industries, and this pays off: I find that clients take comfort in dealing with someone with experience. Try to keep abreast of industry news and grow your general knowledge. And don't be afraid to reach out and ask for help and mentorship; there are always more people rooting for your success than you think. Victory loves preparation I learned very early on in my career that victory loves preparation. Whether it's a presentation, an activation, a workshop, a meeting – no matter what the situation or challenge, if you want to succeed, you must prepare well. Have your elevator pitch at the tip of your tongue, and always practice your presentations; if you haven't practiced, it will be noticed. Also: never take any engagement for granted, because it could change the whole trajectory of your career. Whether it's a Teams meeting, a lunch, or Friday afternoon drinks, always be prepared with what you want to get out or put into the engagement. People's time is precious, don't waste it.
Always be yourself When it comes to building a relationship with clients, be genuine. Don't pretend to Makhetsi Phakoa joined Provantage in 2011 as an account manager, later serving as senior account manager and business unit head before her recent promotion to head of sales and client service for ProActive, a division of the Provantage Media Group.
"NEVER TAkE ANy ENgAgEmENT fOR gRANTEd, bEcAUSE iT cOULd chANgE ThE whOLE TRAjEcTORy Of yOUR cAREER." Spaza Media is an exciting new business division.
MahloeleDineo
Upskill for future growth W
At the Matrix Group, we have compulsory meet-and-greet with new staff members to get to know them better. This helps us to better understand what they are passionate about. It's great for our staff to know that they can make a difference in other departments and in the broader group. I recently had one of our MDs interview women in leadership on life and careers in their company. This will come in handy in the future when she is asked to chair a panel. Learning should also come from the very same people who buy and use your products on a daily basis. Whether through lazy thinking or lack of time, marketers tend to gravitate towards a blanket approach to sales, forgetting nuances, circumstances, languages and class. Marketers have the responsibility of upskilling themselves by making an effort to better understand the ever-evolving media landscape.
Learn while you earn The media industry is changing at a rapid pace, forcing us to grasp new concepts and adapt with the times. Currently, we are seeing the rise of web 3.0 and the mysterious Metaverse – the next frontier of the internet, that welcomes a new area of digital change which allows for collaboration in virtualBrandsspaces.such as Volkswagen, with #GameOnVW, and Puma's partnership with 10KTF on their NFT project, are already playing in this new digital world. The rise of the Metaverse will challenge the way we interact with technology and, naturally, will contribute to the increased demand for certain skills. To prepare for this changing digital landscape, it is important to be curious and continue to learn, grow and explore the world around us.
To keep great people within an organisation, leaders should ensure career development takes place regularly. According to a new McKinsey & Company study, done between April 2021 and April 2022, lack of career advancement and development was identified as the top reason why people quit their jobs. The second is the lack of compensation and the third is uncaring and uninspiring leaders. My fourth reason would be: people leave people. People join organisations for their own reasons. They may win awards or have rockstars as leaders, but I believe new staff shouldn't join organisations expecting to execute only what they were hired to do.
Given this industry's many rapid changes, it is crucial to constantly review and develop people on their strengths and ensure that we get our clients' brands to the right audience, using the right platforms.
I always encourage people in the media industry to be forward thinking by staying up to date with industry trends and events. This will allow you to evolve and recognise the skills that are growing in demand. Not only will this increase your employability, it will also open up doors to new career paths.
Red & Yellow has always been recognised as an institution where talented people go to further their careers and develop new, industry-focused skills. In addition to our highly sought-after digital marketing certificates and advanced diplomas in user-centred design, and marketing and advertising, we have launched part-time programmes to enable you to advance your career in your own time, with highly sought-after qualifications. The addition of our 'Designing for the Metaverse' online short course demonstrates our commitment to being at the forefront of technology and supporting the rising demand for critical skills to navigate this futuristic space. This online short course will equip you with the required skills to design digital real estate, populate it with assets and avatars and even engage in NFT commerce. Students will be empowered with all the required skills to bring creativity to the digital world.
Dineo Mahloele is the managing director of the Matrix Group.
e have all come to understand and appreciate that skills come not only from books and learning institutions but also from our everyday experiences. When my daughter was in Grade 3 (almost four years ago), the principal was adamant that children should learn critical thinking. I saw her vision then, and I'm seeing it now.
I strongly believe online short courses and part-time programmes are excellent tools for us to further our education and learn new skills. You can earn while you learn, and so can upskill while still meeting the demands of your day job –and gaining valuable skills to future-proof your career.
Elizabeth Lee Ming
themediaonline.co.za34 i THE MED i THOUGHTSA SUPPLIEDIMAGES:
Elizabeth Lee Ming, head of marketing at the Red & Yellow Creative School of Business
Online trolls threatening their physical safety to silence their voices overshadow the triumph of women journalists cracking the glass ceiling. GLENDA DANIELS shares insights and recommendations on corrective action.
The range of online harassment of women journalists include vilification on Twitter and Facebook, mainly through slander: 'bitch, 'slut, 'you will be raped', 'we know where you live', to photoshopped images of them in sexual positions, resulting in emotional trauma and sometimes even self-censorship, or leaving journalism.
themediaonline.co.za36 i THE MED i A ONLINE HARASSMENT
CRACKING GLASS CEILINGS
Glenda Daniels
A glass ceiling is an invisible but real barrier to advancement of women in the workplace, where they can be blocked by sexism, sexist practices, sexual harassment, patriarchal views and prejudices, in hiring and promotions as well as salary disparities with men, according to the International Women's Media Foundation. There can also be gains for women when they break through the glass ceiling, and then a 'backlash' against thisAndtriumph.so,in South Africa, women cracked the glass ceiling, somewhat, when huge gains were made by having an equal number of women and men in newsrooms, as the Glass Ceilings research showed – yet, simultaneously, the anti-feminism backlash accelerated in the form of cyber misogyny.
Trolling (online bullying and harassment), which includes some of the ugliest forms of sexism, is used to try and silence women in media. Cyber misogyny may be a fairly recent phenomenon over the past decade but, like the speed of the social media that spawned it, is guaranteed to spiral out of control if not addressed seriously. Global studies show that trolling affects women more than men. Cyber misogyny, expressed via online sexual harassment through to stalking and threat of violence, is a psychological – and potentially physical – risk when it spills out into the physical world, to the safety of women journalists. It is also a threat to the active participation of women in the public sphere and civil society debate, and on social media platforms.
The list of names of South African women journalists who have been harassed online continues to grow: Pauli van Wyk (Daily Maverick), Ranjeni Munusamy (ex-Sunday Times), Ferial Haffajee (Daily Maverick), Karyn Maughan (News24), the late Karima Brown (702) Lindsay Dentlinger (eNCA), Tshidi Madia (EWN), Carien du Plessis (freelance), Qaanitah Hunter (News24), Marianne Thamm (Daily Maverick), Slindelo Masikane (eNCA), Julia Madibogo (City Press), Susan Comrie (amaBhungane), and more. One of the most significant findings in the largest local research on this topic to date – Genderlink's Glass Ceilings: women in South African media houses 2018 – was that trolling, or online abuse of women journalists, was on the increase.
Cyber misogyny: meet the trolls behind the glass ceiling
CYBER MISOGYNY IS RAMPANT INTERNATIONALLY An international study detailed how female journalists face 'rampant' online harassment. In the Journalist's Resource, published by Harvard Kennedy School Shorenstein Centre, Denise-Marie Ordway wrote what in-depth interviews with
The online harassment of women journalists is an anti-feminism backlash against those who have made some gains towards equality in what was traditionally a male space: political reporting, investigative journalism, and free expression on social media.
Women's voices add diversity in the public sphere that deepens democracy. Otherwise, it is just the same old elites talking the same language, with male, liberal, white narratives dominating ideologies.
As Michele Weldon, director of Medill Public Thought Leaders, observed: "If you have a newsroom that's predominantly male, then the story ideas, source choices and way a story is presented will reflect that point of view. When that happens, you get a skewed view of the world and that's not what the world is like."
• A veteran newspaper journalist in the U.S. received hundreds of messages after writing about Donald Trump from the perspective of a Muslim woman. "I was shocked by the dehumanisation and demonisation that exploded on Twitter and Facebook as well as direct email to the point to where I thought I should get security cameras."
Glenda Daniels is Associate Professor and HOD in Media Studies at Wits University. She is author of the books: Power and Loss in South African Journalism: news in the age of social media (2020, Wits Press); Fight for Democracy: The ANC and Media in South Africa (2012, Wits Press), and co-author of Glass Ceilings: women in South African media houses, 2018 (2018, Gender Links). She sits on the council of Sanef and the Press Council of South Africa. Another suggestion was to create a link, an online tracker that will both report such incidents and follow the perpetrators.
The problem in South Africa is that there is little recognition of the problem. Government tells media to report issues to the police, who don't recognise this as serious violence. They laugh: "But what is this, cyberbullying?" one woman journalist recalled. The big tech companies, that enjoy 'engagement' and 'traction' for their platforms, are not moderating their platforms effectively and hate speech is not removed fast enough, so there needs to be alliances to pressure big tech into action against the trolls. So far the only local sectors raising their voices on this are civil society organisations in the media space, such as Sanef and Gender Links. The digital world, hailed as enabling greater democracy by levelling the playing fields for women, has ironically given rise to cyberbullying and misogyny. It's high time this was taken seriously and trolls were named, shamed and punished for this traumatic violence against women journalists.
NAME AND SHAME THE TROLLS
Research on the topic, through interviews with women journalists, shows that this is a serious reality for female reporters working in the political reporting and investigative journalism spaces. Clearly, this is the area to watch and monitor. Women journalists said that media houses needed to provide more support victims and locate cyber bullies and stalkers.
THE MEDIA I 37themediaonline.co.za SUPPLIEDIMAGE:
Perhaps the strongest recommendation, from most women journalists, is to raise awareness of the scourge and its impact, to prompt corrective action. This would apply to all relevant sectors and stakeholders including the government, police, political parties, media players and big tech companies, such as Twitter and Facebook.
"The attack is patriarchal and gendered: I am the woman as cow and bitch. The contrivers couldn't get more stereotypical if they tried," was Haffajee's response. Tshidi Madia was body-shamed on social media. Lindsay Dentlinger was harassed and called racist; she was accused of telling a black interviewee to don a mask during the Covid-19 pandemic, but not doing so with white interviewees. These are only a few example of local experiences. International research such as Unesco's discussion paper: 'The Chilling: global trends in online violence against women journalists' confirm that women are the most targeted group, and the attacks areInsexualised.SouthAfrica, women journalists said they had been victims of unknown email or cellphone correspondents issuing violent threats, bullying and trolling, often of a sexual nature.
"Consistently, the journalists we interviewed saw online gendered harassment as hampering their efforts to report the news, engage with the communities they cover, or have a voice in the digital sphere," wrote Gina Masullo Chen, assistant professor of journalism at the University of Texas at Austin. The study contained vivid descriptions of the abuses women faced, in their own words: • An online editor from Germany said: "The feedback (on this article) was not criticism, it was threats, it was death threats, it was calls for rape."
dozens of female journalists from across the globe revealed: women in news suffer from sexist remarks to threats of rape. Ordway said researchers found that the strategies women used to deal with such abuse can disrupt their newsroom routines, even prompting some to change the way they report the news.
Reporters are often required by their editors and media companies to promote their work, and interact with audiences, online. But audience engagement can have ugly consequences, as some people use Twitter, Facebook and other online platforms to attack members of the press.
"THE ATTACk IS pATRIARCHAL AND gENDERED: I AM THE wOMAN AS COw AND bITCH.
RECOMMENDATIONS
THE CONTRIvERS COuLDN'T gET MORE STEREOTypICAL If THEy TRIED".
A few years ago, the Australian Broadcasting Corporation began social media defence classes as an intervention – a strategy media educator Jenna Price (who was threatened online, with rape) welcomed, saying media employers "… need to practice responsible corporate citizenship and ensure their staff have the social media skills and the emotional support required … it needs policy, strategy andKarimaaction."Brown was once sent a brinjal emoji, which represents a penis – depicting rape. Qaanitah Hunter was SMS-ed a picture of a gun by the ANC after she uncovered corruption. Pauli van Wyk was called 'bitch', 'witch', 'cunt'. She was told to "go to hell Satan" by the EFF after she uncovered the VBS corruption stories. In the Zuma era, Ferial Haffajee's 'pictures' were all over the internet, manufactured as memes by the Gupta troll farm factory in TheIndia.mastermind was Bell Pottinger, the defunct multinational PR firm employed by the Guptas, who introduced the term 'white monopoly capital' into the South African lexicon as part of their propaganda campaign. Anton Rupert was made the face of the WMC. Haffajee had never met Rupert, but a photoshopped image of Rupert walking a dog, with Haffajee's face on the dog's body, went viral.
"There needs to be some kind of way we can immediately report someone who we see is bullying or trolling us online. Another comment included: "The IT department should build strong defensive software that will protect all employees."
For women in leadership positions, balancing their own needs with those of others is an ongoing challenge.
There has been a growing need for human resources leaders to ensure women get the support theyDespiteneed. the positive strides made over the past decade, women still face additional pressures in the workplace compared to men – and they usually have a much longer and steeper ladder to climb.
Kagiso Media Radio's Talent and HR Operations Manager Dané de Klerk says balancing their own needs with those of others remains a challenge for women in leadership positions.
"I believe the biggest challenge women in leadership positions face is that they are so busy nurturing others they often neglect themselves. They don't give themselves permission to pause to practice mindfulness and look after their general wellbeing and mental health," she says.
De Klerk, who has worked in the industry for more than 18 years, uses her coaching experience to guide employees to discover their potential and develop their skills. Her mission is to ensure equal opportunities for women.
THE POWER OF COLLABORATION
De Klerk believes that collaboration is a powerful tool that women in leadership should use to their advantage. "I have learned that the moment you are open to collaboration, magic happens. The magic lies in leading yourself, others, the business and society. Working together for a common purpose makes the impossible possible," she says.
"A woman plays multiple roles in her daily life, especially in the media industry, which is a fast, 24-hours-a-day business. It never stops.
themediaonline.co.za38 i THE MED i A PARTNER CONTENT
"I would like to see the programme create opportunities and experiences for women in the workplace where they can continually learn, grow and succeed by being innovative and embracing new ideas; foster a self-discovery journey that celebrates openness, courage and balance; and evolve personally and professionally," she says.
THE BIGGEST CHALLENGE WOMEN IN LEADERSHIP POSITIONS FACE IS THAT THEY ARE SO BUSY NURTURING OTHERS THEY OFTEN NEGLECT THEMSELVES
The magic lies in leading yourself
• Encourage self and others – reflecting on their actions to ensure that they are living their purpose and values.
• Be relevant – provide learning opportunities by investing in themselves and their teams.
• Empower themselves and others through encouraging collaboration and innovation.
"Be brave and trust your gut. Real growth happens outside of your comfort zone. Don't be afraid to take risks. You have your own voice – use it. Trust what you feel and what you know." This is sponsored content.
Dané de Klerk
De Klerk recently designed an executive development course – designed to uplift and empower employees – with the University of Stellenbosch Business School. She believes the programme helped women in the organisation align their personal values with the organisational values to:
One of the most important factors in our continued success as a dynamic, remote company is communication. Not having an office means that there are no watercooler catch-ups or boardroom status meetings. We rely heavily on emails, phone calls, Teams meetings and Whatsapp. It doesn't work for everyone – but, for us, it's just become part of our daily routine. To become the leaders in our field we had to be flexible and dynamic – and that is only possible if like-minded people come together and actively work to find solutions. Working from home is by no means easy (ask any of the moms on our team) but the benefits far outweigh theOurnegatives.peopleare easily our most important priority. Because of this approach, our company has become a magnet for other talented individuals. Excellence attracts excellence. And we've survived a pandemic for goodness sakes. At this rate, we can do anything.
They are all highly experienced experts, most of whom worked at radio stations in their earlier careers. What attracted them to Ultimate Media was the freedom to balance their lives, to go to their kids' swimming lessons, visit the dentist… basically, to work based on output, not on hours.
Face it: the office is out
THETHOUGHTSMEDIAI 39
17-year-oldsensepatientsacommunicatesinglepatientstheskillsintosubject–(GermandirectorinspiresdangerAdichie'sChimamamandaTEDtalkonTheofasinglestorymedaily.TodayIworkasthecommunicationsforaglobalNGO:DKMSAfricaBoneMarrowDonorCenter)andmyroleistoelevatethecriticalofbloodstemcelltransplantationthenationaldiscourse.Themixofrequiredforthisjob–alongwithnuancesofallourstakeholders,anddonors,meansthateverydaywehaveanopportunitytodecisively,creativelyandincompassionatebutfactualmanner.AndtheprivilegeofofferingavoicetoanddonorsgivesmethesameoffulfilmentIgotwhenIwasalearner. SUPPLIEDIMAGES: MokomelePalesa
The quality of the work that our team puts out is consistently excellent, and we feel that their willingness to go the extra mile and put in the extra hours is because they feel supported and have access to all the necessary tools for success.
Award-winning Nigerian author
Ultimate Media was doing WFH (work from home) long before Covid-19, but we didn't plan it thatWhenway.we started the company in 2011 with three employees, an office clearly wasn't necessary, but we assumed it was something we would naturally evolve into as we grew. Today, we have 30 employees – but we're even further away from getting an office than ever before. We all know the practical pros of WFH: the savings in time, travel, supplementary costs – and the danger of returning to the inefficient corporate culture that we had all escaped. But what has most surprised us has been the positive HR benefit. It is our staff who resist the idea of an office and, in our business, having happy staff is everything.
Palesa Mokomele is communications director for DKMS Africa
Pippa Raphaely-Walls is co-founder and director at Ultimate Media Raphaely-WallsPippa
When storytelling is in your blood I was 17 when I got my first bite into media. My inspirational English teacher, Dr Merrington, encouraged me to pour my thoughts onto paper – and to enter literary competitions. Responding to an ad calling for contributions from school-goers, I wrote in, and was selected as one of the winners. Each contributor won R1,500; our local newspaper ran the story and featured me and my mom. This was the beginning of a career in media for me, and that moment really spurred me on. After matric, I studied media and went on to do my MA at Leeds University. I later worked as a ministerial spokesperson and learned about the critical role of media and communication in South Africa's diverse, multi-faceted society – and all these skills have contributed to form a very nuanced media and communications professional. With a changing media landscape and the adoption of social media as our daily bread, I've leaned on tech-savvy millenials to translate my ideas, but I love data and find the entire study fascinating. This is where I see a lot of potential for organisations – especially in the NGO space where I am now. What does it mean to be a woman in my media sphere today? For me it means don't discount your life experience – it's important and a vital fragment of life in SA and life as a citizen of the world. It demands authenticity; be authentic, and be teachable. Learn new skills and do not be tied to your story.
Most people end up in journalism because they are inquisitive, enjoy asking questions and have the drive to dig below the surface to find out what is really going on. When I was a rookie in the newsroom, I quickly learnt that this is one of the few professions where you have the licence to be extremely nosy. Not that everyone is happy with this! But when you finally get answers to all those questions, it is highly satisfying – you uncover wrongdoing, hold people accountable, resolve issues and at worst, turn complex topics into digestible reading. Being able to ask the right questions is an art, whether interviewing people or working out how much you don't know aboutToddlerssomething.arehighly skilled at this. Like little scientists, they approach life with open minds and experiment to see how things work. They're also relentless with the 'what?' and 'why?'. With this approach, they learn a lot about themselves and the world around them. What I love about my son is his sense of wonder. The highlight of his week is visiting the local library. I still remember the first time he discovered the library. As a bookworm, he was beside himself. He ran up and down the aisles, loudly ooh-ing and aah-ing at every book cover. For a two-year-old, it was a magical concept that he could choose up to 20 entirely different books to take home, read them and then return them for another 20. As often as he liked. they may pull your hair because it gets your attention (even if it's negative). A lot of my time parenting is spent asking questions that start with "I wonder…?"
Together we have learnt the names of all sorts of construction vehicles, and interesting facts about sea creatures and dinosaurs. He's also inspired me to get curious about the motivations for his behaviour. Toddlers often get labelled naughty when they're simply trying to learn about the world or communicate a need with the only language or behaviour they have available. If they can't verbalise that they want to spend time with you, Jenna Verster
40 i THE MED THE NEWSROOM themediaonline.co.za
Curiosity as a superpower in the newsroom
Faced with our mortality, we had to make some drastic changes to the way we lived and worked. There's nothing like holding a meeting with screeching baby on the couch, while you contemplate whether your sniffle is just a cold or Covid-19, to put you in touch with your thoughts and feelings. The 'Great Resignation' has shown that we are waking up to the meaning of work in our lives and the value of connections, whether at home or in the office. We're working on our purpose and ourselves. It's this sort of disruption to the status quo that can be energising as an individual and
CHALLENGING THE STATUS QUO
How harnessing an inquisitive nature makes you a better newsroom leader, person and parent. JENNA VERSTER takes a deep dive into current affairs and self-revelation.
As adults, we don't always extend this inquisitive process to ourselves or how weEvenwork.the best journalists and editors get tired. The profession has taken a beating in recent years. It's hard to be inspired and innovative when journalists across the globe are losing their jobs and the inboxes of those left behind are full of toxic messages from strangers. The pandemic was a wake-up call. I think it was akin to an accelerated mid-life crisis for so many people.
curiousSoprofessional.howcangettingaboutyourselfsetthestageforgrowth?Perhapsyouseeyourselfasa
THE MEDIAcoffeepirouettingherscholarship.thanksUniversityleadershipprestigiousatJennathemediaonline.co.zaVersteristhenightnewseditorNews24.SheisenrolledinthejournalismandinnovationprogrammewiththeofCentralLancashire,toaGoogleNewsInitiativeBesidesadventureswithhusbandandtoddler,sherelishesinballetclassandsippingaalonewhilepeoplewatching. SUPPLIEDIMAGES:
Shirish Kulkarni from The Bureau of Investigative Journalism, meanwhile, has done interesting work around journalism processes. He argues that the future of journalism is modular. Instead of creating one story about an event for readers, modules of journalism can be combined manually or automatically in different ways to give readers stories that meet their diverseAnotherneeds.thing we've been looking at in our postgrad class is how we're doing as leaders. It's one thing to manage a team and another to lead. Did you choose a leadership title? Or were you just so competent that you got promoted to that role? How are your teams really doing? Empathic and inspiring leaders have never been more important. When we get curious about the people we lead, we don't take things at face value. We create space in our professional relationships for depth, understanding, growth, and ultimately, loyalty. When a great writer suddenly delivers sub-standard copy, we might assume they're having a bad day. Or feel they're making our life difficult. It's easy to take things personally when we're stressed. We're only human afterThisall.is where we could put on our toddler/parenting hats… taking a moment to observe and then testing our assumptions with gentle questioning. Sometimes we may just ask ourselves questions. Other times, it might mean sitting down with the people in our teams to find out what's really going on. Once we know what's happening, certain type of editor or journalist. Tough as nails. Or mediocre. Maybe someone who knows the ropes backwards. Your labels may no longer be serving you. My journey meant ditching a lot of limiting beliefs that I carried without scrutiny. Imposter. Lazy. Stupid. These were things I believed to be true because they were sewn into my source code. Thanks to therapists and trusted individuals over the years, I was equipped with the right questions to dig deeper and evaluate what was true. Challenging my beliefs made me see it was not only luck, but hard work and the privilege to study that propelled me to get my Master's degree and the job I have.What labels are holding you back? What paths might your life take if you no longer believe things you take for granted? Getting curious as a media professional also means knowing how you operate amid uncertainty and stressful situations. What triggers you? Where do you find your flow? What you do well and what makes you happy may be two different things. These answers, and the action you take from them, may be the antidote to Iburnout.havechecked in with lots of media players in the last year about their state of mind. Whether working in TV, digital or print, they nearly all report symptoms of burnout. They know they are good at journalism. But they've re-evaluated their lives and some have decided it's not enough for them anymore. Some have found their joy in hobbies. Others are nurturing side hustles and embracing their mistakes as they learn new things. A few have left journalism altogether. Sadly, they didn't have the capacity or time to turn inwards.
BIG PICTURE THINKING
Since January, I have been fortunate enough to take two hours from work every week to think about the big picture in media with talented editors and media leaders around the world. We have all seen the power in intentionally stepping away from the craziness of daily operations to get curious together in our digital postgrad classroom.
"IT's HaRd To BE INsPIREd aNd INNovaTIvE wHEN joURNalIsTs aCRoss THE GloBE aRE losING THEIR joBs aNd THE INBoxEs of THosE lEfT BEHINd aRE fUll of ToxIC mEssaGEs fRom sTRaNGERs."
"so How CaN GETTING CURIoUs aBoUT yoURsElf sET THE sTaGE foR GRowTH?"
On one level, we're digging deeper into our products/services, processes, positions, and paradigms (Tidd & BessantLookingmodel).atthese elements in different ways creates a breeding ground for innovation. Take News24's new CrimeCheck application: anyone can access crime stats on the police's website. But this data journalism tool specifically answers the question of how safe your neighbourhood is. You can understand your relative risk of falling victim to a crime, thanks to the tool calculating per capita crime rates on a basket of crime indices. This service provides context in a world of noise. There are plenty other examples of people challenging or changing the ways in which we tell stories and understand the world. I love what video publisher SEEN's co-founder Yusuf Omar is doing with wearables and augmented reality. He made an augmented reality app that helps Muslims wearing smart glasses understand the Quran with translations while praying in Arabic.
themediaonline.co.za
Many of them continue to do so. You can also pick up skills from your peers. That's what makes networking so important. As an entrepreneur, for example, I've found incredible value in belonging to the Entrepreneur's Organisation (EO). No matter what career track you're on, there are formal and informal organisations and groupings that you can benefit from being a part of. Less formally, I try to make time to catch up with colleagues in the PR and media industries whenever I can because they're usually alert to trends I'm not, and vice versa. All that costs you is the price of a couple of drinks and maybe a meal, if you're feeling generous. Finally, the most valuable skill is to realise that you need to constantly evolve and learn. It doesn't cost anything, but it's probably one of the more difficult ones to master.
Rachel Irvine is the founder of Irvine Partners, an integrated marketing agency with offices in London, Cape Town, Johannesburg, Lagos, Nairobi and Accra.
Irvine 42 I THE MEDIA AlungileSixishe
To learn and evolve is the most valuable skill In South Africa particularly, we tend to put a lot of emphasis on formal education as the best way to develop skills. While there is definitely value in that, it's not accessible to everyone and undoubtedly has its limits. Fortunately, there are a number of other avenues available, whether you're in media or any otherFromfield.a hard skills perspective, there are free online courses such as Google's Digital Skills for Africa, that are designed to help people grow their businesses and develop their careers. These courses are all accredited, meaning that they are certified as credible, and you can put them on your CV. The Fundamentals of Digital Marketing course, for instance, is accredited by the Interactive Advertising Burea (IAB). That said, in my experiences as a journalist, entrepreneur, PR and communications practitioner, some of the most important skills I've picked up haven't come from courses – but from other people. Watching how those who've been there and done it all do their jobs helped inform the way I did mine. Whether it was seasoned journalists and editors in the newsrooms I worked in; colleagues in the world of PR, or even clients who've conquered their own niches, all demonstrated valuable skills that I've picked up on over the years.
Alungile Sixishe, CEO, Motherland OMNi
THOUGHTS SUPPLIEDIMAGES:
Rachel
Authentic engagement Yale University's most popular class, boasting the most enrolments in its 300-year history, is The Science of Well-Being. It uncovers the source and practice of human happiness – with the core exercises pointing towards creating authentic communication within ourselves, and with those whose presence we value. Having been in the media space from a stakeholder, sales leadership, and business intelligence perspective it has been quite the journey to see how marketing has changed direction from mass messaging to one at scale. Beyond the trends, lasting impact and brand love always come from relatable, trustworthy, and empathetic communication. In our area of expertise, we get to engage with consumers at ground level, and understand communities from a granular perspective, and engage in training and education where we learn about the nuances of the communities we serve and, in turn, impart knowledge and experience to their future leaders andThesecommunicators.engagements give us insights into the receptivity of these communities, and how we, along with the brands whose messages we facilitate, can participate organically.
In a space where the cost of connectivity and communications is high, Motherland OMNi bridges the gap through access and information distribution. Global marketing partner Brilliant Noise reminds us, "Resilient brands are born out of a belief that is shared with customers. They recognise and value a common purpose. A common purpose is credible and meaningful for both customers and employees." This is our ethos and the foundation of the platforms that we advocate. They give back, give hope, offer representation, upskill, and allow their communities to thrive and be heard. These principles must apply across the board, regardless of where that communication takes place. As the media fraternity, we must meet audiences and tribes where they are, but we can also enable their journey to where we're going – while giving them the experience of a lifetime.
Being in the radio advertising industry most of my career, I have accumulated truckloads of knowledge on what a business owner or an advertiser really wants. What is it that convinces the client to sign off that proposal? What strategies and processes must be followed by your sales team to ensure your radio station gets the deal? The answer is really simple: creative concepts, creative ideas and innovative
And that is why the answer to recovery is in the message; the concept; the creative. What's your next big idea? Get those creative juices flowing! There is a radio station willing to take your hand with your crazy idea…
showt I me! AdvertorIA l
Not you. Nobody wants to hear about your great service and years of experience. Let them rather experience your great service and your knowledge through your creative message and the sale will follow. Speak a language your audience understands – the language they want to hear. Be pro-active with your marketing planning, think ahead, take risks and also do campaigns that you don't like. If you only do what you like, you might be missing out on an audience. People differ; audiences differ; interests, beliefs and values differ. Your messages should speak to all of them. Our businesses have suffered enough. We had to change the way we do business. We had to be creative and innovative in order to survive. And we did survive.
Never underestimate the power of radio. Audio. Theatre of the mind.
"Don'tsolutions.ask me if I want to advertise. Tell me what to advertise, why and how." An effective and powerful radio advertising campaign is all about the message – what you say, how you say it, and how often you can repeat it. You as an advertiser have the power to change the way you do business. You have the power to start a message or a campaign and own it, you have the power to control your word of mouth, you have the power to change your industry and the way people think about it and experience it. It's all there. You just need to change the way you think and you need to think about what the consumer wants. What do they want to hear? How can you make your message relevant to your target audience? Why should they act? What is in it for them?
It's show t AdvertorIAme!
Now… lights, microphones, action!
It's
MAGAZINES 44 i THE MED i A SUPPLIEDIMAGE:
Learning to lead by example
n my eight years as editor I have learnt how different we are as people; how we see and interpret things differently. I have learnt that it is important to listen to your team. No editor has all the answers, and sometimes the best solutions and ideas come from within your team. I have learnt that being a leader means being a good listener and when people feel listened to and valued, they feel free and safe to speak up and share ideas – and this is what helps us grow as a team. gave them an opportunity to learn and prove their worth. When you are given an opportunity like this – trust me, you don't want to mess it up. Yes, you will make mistakes – but that is part of gaining experience.Mystyleis to ask questions, do research to see how other people do things, and always ask: 'Why?' then come up with what works for me. I have also learnt the importance of giving people a chance, no matter the role they play. You will be surprised at what you can learn from listening to different people. I learn from experience and as they say, that it is the best teacher! I think young journalists should keep relevant in terms of the direction that the media industry is currently headed. They need to learn or acquire unique skills that will create different kinds of content; for example, creating content through visuals or images and video is big now. We live in a fast-paced world where people don't have time to read (sad, but true) and therefore one needs to find ways to grab your audience's attention through visuals. Finally, I believe as women we need to learn to embrace each other and offer mentoring where it is needed. I would also like to see more female leaders and managers in the media industry, especially, running the big titles. Women have proven themselves to be far more capable and we need to get with the times as a country and in the world.
themediaonline.co.za
KelebogileNondzaba
I have learnt, and am still learning, to be patient; not to take things personally, and to let go – especially of things I have no control over. I am also learning that I am constantly evolving. I am learning to stop putting myself in a box, which is veryMyimportant.mediastudies degree at Wits University was quite broad in that it included TV, print, radio, marketing and anthropology. But learning on the job was definitely the key for me. Theory helps in terms of you having something to produce when looking or applying for a job, but the real learning and experience comes from doing the actual work. I wish companies would look into offering young people the opportunity to learn and acquire skills instead of overlooking them due to lack of experience. Everyone with experience, myself included, has that because someone Kelebogile (Lebo) Nondzaba has been in the industry for over eight years, working across different media platforms, from print to digital, before finding her home with SA Home Owner She brings an invigorating approach to the magazine, and curates content to stimulate its readers with fresh ideas for their homes.
"When people feel listened to and valued, they feel free and safe to speak up and share ideas."
As editor of South African Home Owner, one of the most popular local home and décor magazines, NONDZABAKELEBOGILE has learnt a lot on her route to heading a print magazine that also boasts close to half a Facebookmillionfans.
I
celebrating Published in OctOber 2022 To advertise in the upcoming issue of Celebrating Women, please contact: Tarin-Lee Watts Business Development and Project Manager 087 379 7119 | 079 504 www.businessmediamags.co.za7729wattst@picasso.co.za Publisher PICASSO HEADLINE, A PROUD DIVISION OF ARENA HOLDINGS (Pty) Ltd Hill on Empire 16 Empire Road (cnr Hillside Road), Parktown, Johannesburg Postal Address: PO Box 12500, Mill Street, Cape Town, 8001
Harmony is clearly embracing inclusivity, and this is evident in the company's multiple inclusion in the Bloomberg Gender-Equality Index over the last four years. By employing phenomenal and confident women who are experts in their respective fields, Harmony and the industry are slowly turning the tide against male domination in the mining sector.
Two months later, I was thrilled to see Harmony appoint Boipelo Lekubo, a young black woman, as chief financial officer. When Lekubo was elevated to the position of the financial director three years later, my faith in Harmony's women empowerment programme went up several notches, especially as a few other women had also been promoted into strategic positions within theInspired,organisation.Irecalled the words of Anja Langenbucher, a Bill & Melinda Gates Foundation director: "At the core of every problem we're trying to solve, from poverty to diseases, is the power of women and girls. We can't achieve our goals if half of the world's population continues to be left behind, and their talent and their potential continue to go untapped."
Clearly, the company knows the importance of empowering women at work. I am sure all women employees are inspired by the fact that the company is providing them with a chance to make a leap in their careers. Harmony encourages young people to chase their dreams as they are working for an entity that invests in the growth of its female employees. For empowerment to succeed, women in senior positions need to provide more guidance and mentorship to young females entering the mining industry. Most of us have been fortunate to have an incredible network of women that has been critical to our growth. The best advice to women is to spend more time cultivating such a network. It is priceless.
Recognising the power of influencers in taking brand communication and consumer engagement to new levels is how we believe brands can achieve unlimited opportunity and success.
themediaonline.co.za THOUGHTS
Finally, the most prominent barrier many women must overcome is in our heads, grappling with self-doubt, and imposter syndrome – as well as the external barriers of having to justify our roles and our existence in an organisation. Demolishing that internal hurdle and the external ones becomes more scalable.
Susie Hart, head of brand at The Unlimited
Going for gold W hen I joined Harmony in April 2017, it was great to come into a space where I got to witness a few other women employed in the gold mining industry, which had not fully warmed up to the benefits of a diverse workforce.
Unlimiting influence The influence of everyday people is, increasingly, a heavy-duty asset in marketing strategies, holding an immense power for inclusion – particularly of women. As marketers, we need to be both champions and guardians of this influence and the people who can help our brands wield it. This is because brands are massively powerful tools for change, and they are in our hands. We're seeing a shift in South Africa, as a real social conscience develops where individuals are actively driven to take responsibility for resolving socio-economic issues, and playing an active role in being the change that's needed. Brands need to reflect and support this growing social awareness if they want to play a positive role in motivating individuals, communities and business to do better. It is possible for brands to blaze a trail for the benefit of all our people – but it requires us to connect with influencers and work with them responsibly. Mobile devices and connectivity have played a huge role in creating this burgeoning era of influencers. Essentially, technology has unlimited all spheres of Butinfluence.forthis influence to be effective for brands, the approach needs to be authentic, transparent, sincere and well communicated. When the use of influencers is insufficiently considered, messaging has a tendency to become conflicting, scrambled or confusing for consumer audiences. An alignment in values between brands and influencers is essential for positive impact. With aligned brand values, the inclusion of influencers can sensibly move from being a campaign afterthought, to a priority. This is because we know that people will inevitably buy into ideas and products when these are matched to the opinions of people they respect and can relate or aspire to in their daily lives.
The Unlimited has this month collaborated with 170 influencers to amplify The Story of UN – a bold brand campaign that unshackles old ways of being and challenges South Africans to #UnlimitYourLife.
Sihle Maake is the head of communications at Harmony
SUPPLIEDIMAGES: MaakeSihle Susie Hart 46 i THE MED i A
Tiny Koaho Play to strengthsyour Advertising is essentially all about people. But beyond influencing buying behaviour with persuasive writesbasicmessages,sellingliesarule:peoplebuyfrompeople,
Iam one of a set of twin girls born into a business family in Gqeberha. Newspapers were a part of our lives – not only were they prominently displayed in my parents' and grandparents' store, but it was also an unspoken tradition for all of us to read the newspaper every day. So it's not that surprising that my first paid gig was as a freelance movie columnist for The Herald newspaper. And when I completed my BComm degree in accounting and economics, it was the media industry that called. I learnt from the bottom up, and got to understand almost every aspect of print media. One of my career highlights is being part of the team making up the plates used in the old printing press that was housed at The Herald offices in the Baakens Valley building. But my career path didn't take a direct line – and was not confined to print media. I spent four years at a PE-based advertising and PR agency, then nearly four more at a Cape Town-based communications agency, before joining the Arena Group family in 2000. Initially, I signed on as brand manager for The Evening Post, but when that paper folded later in the year, I made the switch into the company's advertising departments – and the rest is history. I love that advertising is essentially all about people. It is about more than influencing people's buying behaviour with persuasive selling messages. You learn more about your client, and about people, in this industry. And you learn a basic rule of advertising: people buy from people. and these experiences all opened myInhorizons.2014,Iwas nominated by the company to represent it in the drive towards greater gender balance in the media. Women in News (WIN) South Africa was launched in partnership with WAN-IFRA member association PDMSA and the South African National Editors' Forum (Sanef). I was one of 19 women who made up the first cohort of the programme. It was driven through Wits University, which afforded me a mentor to help streamline and craft my way forward. The journey didn't come without its obstacles. To build teams you must make everyone feel included. You have to build a network within and outside your category of business focus and expertise. If you want to change how people have been doing things in the past, they must believe in your vision. I strive to do things right the first time, I double-check everything; a small error in advertising may be costly or cause irreparable harm. Paying attention to detail plays a major role in your success in Playadvertising.toyour strengths, build up a network of trusted colleagues, coaches, mentors and advisors with whom you can bounce ideas and scenarios, and also give you sound advice. I believe in proper training, support and continuous coaching and mentoring – especially for more women in media. This is why I believe networking, connectivity, constant learning and mentorship are all major contributing factors to individual success. I've been fortunate to have had a few mentors; one of them, Ernest Theron, constantly highlighted my potential. This gave me the confidence to raise my hand for opportunities, and when the company launched a Xhosa newspaper called Ilizwi, I applied, and became a women issues columnist for the publication. I have worked in circulation, publisher's office, production, handling complaints, and more,
Tiny Koaho.
THE MEDIA I 47 ON ADVERTISING SUPPLIEDIMAGE:
Tiny Koaho is the general manager: sales for Arena Holdings. With over two decades of diverse experience in media, she is renowned for building teams and driving revenue and market share. She holds a BComm in industrial psychology, public relations and project management and a certificate in media management from Wits University.
"I love that advertIsIng Is essentIally all about people."
Inclusion & Unlocks Val As a leading business in the and inclusion practices relat An Essential pillar of o The trend toward women in l pillar of our ESG strategy. We are proud to share th management are women. There are several ways bu management advancement education. Examples of JCDe www.jcdecauxafric
e
usinesses
Supporting women-led NGOs that focus on skills development and employment Supporting women entrepreneurs and businesses led by women
Empowerment of Women lue In Business & The Economy media industry, it is essential to have clear strategies, policies, processes to the advancement of women to senior leadership levels. our Environmental, Social, and Gover nance (ESG) Strategy leadership positions seems to be on the rise, at JCDecaux, it is an essential at 38% of the total JCDecaux Africa workforce & 35% of the senior can support women in business ranging from employment, opportunities, through the business supply chain, mentorship and caux South Africa initiatives: South Africaca.com
ting
t
themediaonline.co.za THOUGHTS 50 i THE MED i A SUPPLIEDIMAGES:
omen represent a dynamic pool of talent in the workforce and are strong drivers of economic growth. Many women who have managed to throughbreakthe glass ceilings in industryleadersrespectedthatformuch-neededrespectivetheirindustrieshavealsobecomevoicestransformationandparity.It'snosurprisethemostfemaleinanyarethose who take it upon themselves to be a role model and mentor to others. I consider it my duty to invest in the development of the women I work with – to keep enabling progress and retain a focus on the future. Life is challenging, and work life more so, especially in the media industry. As a media player, you will face hurdles and hard times. You will be confronted with challenges that no one has prepared you for. To help overcome this, set clearly defined life goals to help keep you on your path of development and prevent others from deterring you or telling you it can't beThroughoutdone. my career I have faced diverse hardships and challenging circumstances; it is my ambition and desire to be the best version of myself that has enabled me to persevere, learn and grow. I believe we women tend to rise to the challenge we are confronted with, and I would encourage women to keep evolving, learning and developing. We women in senior leadership positions have an obligation to mentor and support other women in the workplace – to aid in their professional development, to help build their confidence, and to guide them through challenges as they advance in their careers. I believe mentoring is one of the top strategies to help close the gender gap in business leadership.
Mentor for the win
Karena Crerar is CEO of Edelman Africa Karena Crerar LélanieButler
W
informationareperceived;channelsourselvestocontent,wesoWithinformation'.mediachannelsimportanttohowconveystoriesandwewillneedcontinuetoupskillinhowthesearebeingwhoandwhatcrediblenewsandsourcesthat can be relied on, and how we can build trusted relationships with them to break the cycle of disinformation and move into a new era of trust with consistent, fact-based, trustworthy information.
Lélanie Butler is director of innovation and projects for South Africa at JCDecaux.
Of incredible truths and the quest for trust In the Public Relations and Communications industry, connections and trust with the media sector are important not only to our own reputational standing in the sector, but also to the success of our clients' communications strategies and reputations. As we continue to see levels of trust in media declining, we have a responsibility to impart this knowledge and understanding to our clients so that content they put out – or that we put out on their behalf – does not continue to feed the disinformation cycle so prevalent in society today. Our 2022 Edelman Trust Barometer findings showed peoples' concerns about disinformation and fake news is at an all time high. Three out of four respondents globally are concerned about false information or fake news. In fact, none of the major information sources are trusted as a source of general news and information. Whether it's search engines, traditional media or owned media, the picture is not showing a good trend. Social media is also seen has highly distrusted, down ten points in levels of trust since just last year. We also see that the importance of quality and reliable information cannot be overstated. In fact, when we look at the media as a critically important institution in society, and the actions or behaviors that would help build trust in that institution, the number one most powerful trust builder is 'providing quality
Leading with empathy builds trust, business capability and talent
PARTNERTHECONTENTMEDIAI51themediaonline.co.za OrganisatiOns shOuld prOvide mOre OppOrtunities fOr emplOyees tO understand each Other's rOles, perspectives and values tO imprOve cOllabOratiOn
However, as more offices began their return-to-work strategy, empathy was once again required. It was only by listening to the team's concerns and trusting that they would continue to work to their best ability that we found our tailored hybrid working model. With mentoring, I've seen new recruits flourish when they get more access to experienced team members. Once again, we must return to the role of empathy in these developmental successes. A recent study, 'Do high performers always obtain supervisory career mentoring? The role of perspective-taking', published in the Journal of Occupational and Organizational Psychology, showed that this trait was more important in the mentee than the mentor. The study revealed that if the protégés struggled to understand the perspectives of their colleagues, it would be significantly more difficult to develop them regardless of talent, and the mentor would become less engaged in the process. The study found that organisations should provide more opportunities for employees to understand each other's roles, perspectives and values to improve collaboration. We should be celebrating, valuing and nurturing empathy as a leadership trait and an essential business skill. This is sponsored content. Karena Crerar
Empathic leadership is the key to fostering economic growth, developing and retaining talent, and creating the next generation of professionals, writes Edelman Africa CEO Karena Crerar. forced to work from home, work-life-balance dynamics had to be re-examined, and the encroachment of work into personal life had to be kept strictly in check.
At Edelman, Trust is at our core. Our annual Trust Barometer focuses on the trust relationship between people and society's four main institutions (Government, Business, NGOs and Media), and it is these insights that guide our approach to our client's communications programming. But, having worked on both sides of the public relations coin, I've noticed that the trust between colleagues, managers, and clients is equally important. Building this trust within a business is about leading with empathy. A research paper, 'Empathy and Trust: Into a Better Workplace', published in the 2016 Journal of Business Economics , showed the interlinking nature of trust and empathy as the key factors in building stronger relationships between any two parties. Therefore, it's natural that the most successful businesses are those with leaders who listen to their employees' challenges and make the effort to understand their lives. Not only do relationships improve, but research endorsed by the World Economic Forum shows that revenues can also be boosted. It has been proven that workers under stress to reach financial targets were statistically more likely to achieve them in more empathic work environments. understanding rOles, perspectives and values The global pandemic shifted the way most industries do their work. When we were all
themediaonline.co.za52 i THE MED i A SPEAKING OUT
REMODEL MENTORSHIP What the industry is not good at doing is recognising the need to retain older, more experienced staff who can mentor and guide younger ones. Once upon a time you could employ an inexperienced 22-year-old, throw them in the deepend, and they'd swim. This was before media became complicated. Today you cannot do that; there is too much data to be ploughed through to make a recommendation. And even if you know "MaRkETINg ONLy TO THE 25-49 agE gROuP aND IgNORINg THE 50+ SEgMENT IS MyOPIc." scenes that makes the work environment veryNowuncomfortable.jumpforward to when the kids are much older and no longer reliant on you and you're ready to take on a bigger role. Will you get that manager/director position? Maybe, if you are still in your 40s, but once you hit 50? Hmmm, doubtful. Whatever you do, do not leave your job when you are in your 50s because very few companies will employ a woman who is over 50 – which is a shame. Employers do not seem to understand that they are throwing away skills and experience that have taken years to hone –all because they think that mature people are the less likely to be able to understand today's advertising/media landscape.
Ageism advertising,in why so many have it so wrong
a VIaBLE MaRkET The 50+ market is very different today to what it was 20 years ago. We're not 'old', we just can't run the 100m in under 10 seconds. But we are sure as hell a viable market. Our needs have changed a little, our tastes have matured. Our lifestyles evolved and it's more about us; we don't have to pay school fees, so we have the disposable income to travel, go to expensive restaurants, and buy 'stuff' that makes us happy. So why are we not
VIRGINIA HOLLIS outlines the priceless benefits of hiring, retaining and appealing to an ageing market –and why brands shouldn't ignore this segment. Mark Twain famously claimed that: "Age is an issue of mind over matter. If you don't mind, it doesn't matter." Sadly, this is not true. Ageing is a fact of life, as much as we'd like to stop it, we can't; unfortunately, we cannot be like Benjamin Button and age backwards. Yet there is an inherent prejudice against employing older women in this industry – and it's been like that since I first started Traditionally,out.women would come into the industry in their 20s, get married a few years later, have kids and maybe they take off a couple of years to raise their kids. A lot of women today cannot afford to do that, and return to work mere months after childbirth. Nothing wrong with this, right? The problem is the prejudice that follows; in the eyes of employers you are no longer that 'always available, reliable employee' who can be counted on to get the job done, day or night. You're almost a liability because you have family obligations that you cannot ignore: sick kids, school holidays, PTA meetings. We lose a lot of talented women because they put their families first – unless your agency has women at the helm, there is a lot of grumbling and mumbling behind the a market that advertisers want to talk to? Surely marketers want to sell products to people who can afford to buy them? I do empathise with today's agencies; their margins are really squeezed, and clients are more demanding than ever. Agencies are being forced to hire cheaper, which means younger. So, it is very easy for the HR departments to stress that candidates be digital natives, to avoid offending older candidates. The truth is that older, more experienced candidates areThereexpensive.isalso the belief that older people do not understand the digital channels, and this is just not true. As media people we steered these channels into existence, and it is our job to understand the strengths and weaknesses of all media. I may not have to implement and manage a programmatic campaign, but I must understand how a programmatic campaign will benefit a strategy and why it is the rightWithstrategy.agecomes experience, knowledge, and good judgement. Some call this wisdom. As we get older, we learn all sorts of soft and hard skills; we develop our own sense of self and a view of the world and the people around us. Wisdom is not driven by age, it is a mindset. You can be very wise at 25, and very doff at 55, and vice versa. It all depends on how receptive you are to new ideas (media platforms) and new ways of doing things. The desire to learn is not controlled by how old you are.
The rest of the world has started realising how important this market is and they are incorporating them into ad campaigns, putting them on the covers of magazines, bringing them back into theSouthindustry.Africa, it's your turn. how to source the data, do you know how to interpret it? Over the years I have seen dreadful mistakes where young planners misread data, and bring shame on themselves and their agencies. It is not entirely their fault; these mistakes happen because there is no one guiding Mentoringthem.issomething everyone talks about, and everyone knows is important. Unfortunately, it is not something that most agencies do. Quality mentoring costs Virginia Hollis a lot. First, you need people with solid experience, and they are not cheap; also, they need to have the ability to mentor, which is not everyone's strength. Employers then need to allow the mentor to spend a percentage of their time actively doing so. This cost is sizeable, and not necessarily affordable for all agencies – but the benefits are priceless.
SUPPLIEDIMAGE:
There are ways of structuring this that can work for agencies, mentees and the women who have decided to
Virginia Hollis has garnered extensive experience as an active player in the wider media industry over 30 years. She is the former MD of The MediaShop and current owner of strategic consultancy Magnetic Connection as well as co-owner of TV content integrator G2 Connection. She is also the Chairperson of Media Research Forum, has judged at Cannes, AdFocus and Chaired the Loeries Media panel. She also received the Media Legend Award at the MOST Awards in 2011.
return to the industry after retirement or retrenchment – or are seeking a fulltime position after freelancing. Contract them with the responsibility of mentoring your junior staff. Create real deliverables within given timeframes for the mentors, and then reward them on completion. As an industry we desperately need more skilled staff, but this does not mean having to overload already overworked staff. If we do not initiate an industry-wide mentorship scheme, we will definitely exacerbate the problem. Avoid costly mistakes and having clients move their media in-house: make an effort to retain, or bring the skilled 50+ (and 60+) back into the media Marketingindustry.onlyto the 25-49 age group and ignoring the 50+ segment is myopic. Us 50+ folk have access to and use digital media on a daily basis; we stream, socialise, bank and purchase online; media is an important part of our lives … I'm sure that this older age group is responsible for more than 60% of international travel and luxury purchases, I do not have data to back this up, but it makes sense. So why ignore this extremely valuable market?
5. Playing social roles efficiently: This ability allows people to adapt to different social environments. Having a clear idea of what's expected of us in a variety of different settings reduces stress in any situation and enables more constructive interactions.
6. Self-image and impression management: This is the ability to present ourselves in a way that connects with others without stretching too far from our natural personality.
2. Knowledge of social rules and roles: When you interact with a group, knowing their social rules, customs, and idiosyncrasies are a fundamental skill for socially intelligent people.
Closely linked to emotional intelligence, which is essentially about self-management, social intelligence takes this further in our interaction with others. Defined as the capacity to know oneself and to know others, social intelligence is the capacity to effectively "communicate and form relationships with empathy and assertiveness", according to an article by the Institute for the Future of Education.
3. Listening skills: Active listening is instrumental in the development of social intelligence; it helps to connect with other people, prevents conflict, and enables learning through dialogue.
Titled 'What is social intelligence and why it should be taught at schools', the article outlines the abilities required for effective communication based on empathy, self-knowledge, listening, and reading of emotions. Here is my edited extract of these abilities:
Social intelligence: Key to the art of negotiation
SOCIAL INTELLIGENCE
4. Understanding how other people's emotions work: Understanding what triggers people's emotions (either negatively or positively) is a key component in the exercise of empathy. This takes into consideration the attributes and sensibilities of other people, which makes the message authentic and effective.
54 i THE MED i A SKILLS themediaonline.co.za
Take a moment to think about how many times a day you convince someone to agree withHasyou.your child agreed to get dressed for school only if they get to wear their green socks? Has your friend agreed to meet at the gym instead of at Happy Hour? Has your partner offered to take out the garbage on the basis that you cook dinner? Has your boss agreed to shift your deadline so that you can take that extraAccordingmeeting?to 'Women Don't Ask: Negotiation and the Gender Divide', two-and-a-half more women than men said they feel "a great deal of apprehension" about negotiating, whereas men initiate negotiations about four times as often as women. As example, women will pay as much as R20 000 more to avoid negotiating the price of a car, and 20% of adult women say they never negotiate at all, even though they often recognise negotiation as appropriate – and even necessary. These statistics underscore the female population's hesitancy to negotiate – or acknowledgement that they can negotiate and is a driving force behind societal and economic issues such as wage parity, or why men feel a lot more confident stepping into a car dealership. Now, let's go back to the beginning of this article. Re-read the first paragraph.
If the daily scenarios mentioned upfront seem at all familiar to you, welcome to the art of negotiation. Whether you're aware of it or not, you negotiate – with friends, family, colleagues – in almost every interaction. What's often lacking is an understanding of how to hone this skill and make it work for you. In my career, I have worked every job imaginable. From selling pest control and hygiene to granite slabs and sex toys (yes, you read that correctly). I believe that you become a good negotiator by understanding people, reading different personalities well and knowing what to say to influence decisions in your favour. This is referred to as social intelligence; it is the primary foundation in building your confidence as a master negotiator.
1. Verbal and non-verbal fluency: Effective communication is supported by verbal and non-verbal expressions as the primary platforms for sending any message.
I credit the social intelligence that I've learnt through experience with many successes in my career, including the signing of my first multi-million Rand deal when I was 24 and relatively new to the media industry. Understanding and acknowledging that my approach to the situation worked is what helped build my confidence for future negotiations: It's simply about utilising what you've learnt from your first negotiation (whether successful or not), which may be daunting Almost every human interaction relies on some level of negotiation – yet women notoriously fail to recognise their skill in this art. IRINA VLAD helps unlock critical abilities for career growth.
3. Goal-setting: Once you've gone through understanding and alignment, this is the opportunity to discuss the ideal outcome with the person you're in negotiations with from both sides – and then work back to find middle ground. By setting a goal, you create a clear path for yourself on the things that are important to you from the agreement. This means that you have full knowledge, during the negotiation, on what you're willing to let go of and what you refuse to budge on.
Links/citations Women Don't Ask: Negotiation and the Gender Divide (Linda Babcock and Sara Laschever, Princeton University Press,What2021)issocial intelligence and why it should be taught at schools. Sofía García-Bullé. Institute for the Future of Education. September 23, 2019. Irina Vlad "Active listening is instrumentAl in the development of sociAl intelligence."
If I had to summarise the key steps that I use in every situation – whether a personal or business deal – to sway the conversation and decision-making in my favour, I'd simplify them as:
1. Understanding: Make sure that the person you are dealing with always feels heard and understood before you start making demands, suggestions, or asking for money. Have you ever been in a conversation with someone who ignores your comments in order to steer the conversation back to them? There is nothing more exasperating and off-putting than a person blatantly disregarding your input to focus on their output. Be extremely mindful of this.
THE MEDIA I 55themediaonline.co.za SUPPLIEDIMAGE: that people are inclined to work with you; you must be flexible and approachable yet assertive enough to get what you want from the interaction. To some, this comes naturally; to others, social intelligence is learnt through practice and experience. and uncomfortable, and appreciating the experience as personal growth.
2. Alignment: Always go over objectives with the person you're negotiating with. In business, this means ticking the proverbial boxes of the deal to ensure you are able to fulfil what is being asked. This, in turn, also means that the person you're making the deal with is aligned with your requirements – whether that be payment terms or timelines.
I am by no means saying that every discussion I've had on agreements has been smooth sailing. As a woman in business, and a businessperson in general, I have had my fair share of failure; however, it's always about the recovery and the drive to continue trying rather than the moment of failure. For example, I recall an instance where I was in a boardroom full of men where none of them would look me in the eye or answer my questions directly and would only work through my male manager. Did this bother me? Yes. Did I give up trying? No. Through a lot of hard work, using the social intelligence I had learnt as a foundation, and following my three steps in every situation, I eventually was able to not only prove myself to them and help them understand (and appreciate) the value I bring to the table, but to this day I am still a trusted advisor of theirs when it comes to media buying. My advice to women wanting to become proficient in their negotiation skills, other than those already spoken about, is to find a business mentor whose skills you admire and learn from them. Watch how they interact in the agreement; listen to the words they are saying and notice how they take the time to understand and interpret the request. While skills training courses are easy to come by, there is no better way to learn and improve your skills than with practice. In conclusion, and if there is anything you take from this article, remember that it's important to be the full package when it comes to being a good negotiator so Irina Vlad, founder of Ivie Media, has over a decade's worth of experience in media strategy, planning and buying, specialising in broadcast, digital and OOH media. A skilled professional with a talent for negotiation, she is renowned for identifying innovative opportunities that deliver above and beyond the initial brief.