GOVERNMENTFEDERAL
ENGINEERING | TECHNOLOGY + EQUIPMENT PLANNING COMMISSIONING | SUSTAINABILITY | BUILDING ENCLOSURE
Since our founding in 1968, SSR has become a leader among engineering firms in designing, consulting, and commissioning projects for public and private clients across the United States and around the world. Whether it's new construction or modernizing existing spaces, we have the depth of experience required to respond to client needs. Our professionals offer a full range of engineering system designs and consulting services required by today's complex facilities. Our team focuses on providing system solutions that are operationally flexible, efficient, and sustainable Federal government facilities include a range of building types and systems. We are able to provide the full range of consulting services needed for this specialized field. Our experience spans hospitals, housing, offices, prisons, laboratories, infrastructure, and education facilities for a variety of federal agencies.
WE ARE SMITH SECKMAN REID, AND WE'RE IN THE BUSINESS OF EXCEPTIONALPROVIDINGCLIENTEXPERIENCES.
GET TO KNOW US Smith Seckman Reid, Inc. is a 100% andsuccessesexperiences.onyearsLeveragingandcommissioning,toforcepeoplefirmengineeringemployee-ownedandconsultingthatbelievesinputtingfirst.Youarethedrivingbehindourdedicationprovidingengineering,sustainability,technologysolutions.ourmorethan50ofexpertise,we'refocusedprovidingexceptionalclientWeknowthatyourareoursuccesses—weintendtosucceed.
DENVER MEMPHIS HOUSTON ATLANTA CRESTVIEW TAMPASARASOTACLEVELANDOAKDALE WASHINGTON DC FT. MYERS WORTHFORTDESDALLASNEWMOINESORLEANS NASHVILLE SSR CHICAGOHEADQUARTERSHUNTSVILLESSR OFFICE ADDITIONALLOCATIONFIRMRESOURCES CHARLOTTE AUBURN/OPELIKA AUSTIN PHOENIX
BUILDING ENCLOSURE Building Enclosure Commissioning Roof FacilityEnclosureConsultingTestingCondition Assessments & DesignInvestigations&Design Consulting SiteCIVILPlanning & Development Grading & Drainage Erosion & Sediment Control Stormwater Management Surveying & Mapping DataMachineWirelessSCADAProcessCONTROLSComplianceFacilityDayEnvironmentContinuousMANAGEMENTCOMPLIANCEContinuousRetro-CommissioningTotalCOMMISSIONINGHydrologyBuildingCommissioningCommissioning®ANDFACILITYComplianceReadinessofCareReviews2ComplianceManagementConsultingEducation/TrainingANDINTEGRATIONControlCommunicationsControl&GuardingCollection
WHAT WE DO TrainingLocationSolutionsMobileDataManagementInfrastructureSystemSYSTEMSGEOGRAPHICHydraulicFoamCleanWetFIREProgramFinancialIntegratedWaterCollectionWastewaterWaterENVIRONMENTALCoordinationPowerUninterruptibleStandbyDaylightingInteriorPowerELECTRICALDistribution&ExteriorLightingPowerFacilitiesPowerConditioningStudiesTreatment&DistributionTreatment&Reclamation/ReuseWaterPlanningAnalysisManagementPROTECTION&DrySprinklerSystemsAgentSystemsSystemsModelingINFORMATION(GIS)Design&ImplementationMapping&AssetMigration&Web-basedGeospatialAnalytics CentralMECHANICALEnergy Plants Building Automation Systems Energy Management CFD CampusGeo-ExchangeAnalysisDistribution Systems High Performance HVAC BuildingPLUMBINGCogenerationWater Supply & Sewer Gas WaterSystemsUseAudits & Management Greywater & Rainwater Systems Process Pure Water Solar Water Foundations,STRUCTURALHeatingDeep& Shallow Reinforced, Pre-Stressed, & PostTensioned Concrete Steel SeismicFailureFabricationAnalysisEvaluations & Retrofit BuildingSustainabilityConsultingGreenSUSTAINABILITYBuildingCertificationConsultingPerformanceConsulting TECHNOLOGY + EQUIPMENT HealthcarePLANNING Technology + Equipment Planning Healthcare Consulting Equipment CommunicationPlanningSystems Design Security RoadwayPortAirportsSignalizationRoadwaysTRANSPORTATIONMoveTransitionProcurementAssetAudiovisualConsultingDesignManagementPlanningManagement&BridgesFacilitiesPlanning& Safety IntelligentAudits Transportation ConstructionSystems Engineering Inspection Continuous Commissioning®, CC® and PCC® are registered trademarks of the Texas A&M Engineering Experiment Station, a member of the Texas A&M University System, an agency of the State of Texas.
SAN ANTONIO, TX
SAN ANTONIO MILITARY MEDICAL CENTER
SSR provided mechanical, electrical, plumbing, and commissioning services for the Brooke Army Medical Center (BAMC) renovation within the existing hospital. BAMC is home to one of the largest education components in the military. All renovations to clinic and treatment spaces included the addition and incorporation of resident-related teaching facilities. In an effort to expand the San Antonio Military Medical Center (SAMMC) North Campus, the BAMC facility was renovated, affecting all eight floors. The renovations were phased to provide uninterrupted services to patients and their families. Multiple construction packages were issued to meet the established deadline. This project included the renovation of the following areas/units: labor and delivery, cardiac cauterization lab, burn unit, physical therapy, kitchen, and education classrooms. The design included interstitial space for building systems between each occupied floor to accommodate floor elevation compatibilities with the existing hospital.
Replacement will be a world class, state-of-the-art facility serving a unique and dynamic healthcare mission: to establish care of active duty military, their families, and other eligible beneficiaries living in and around the Kaiserslautern military community. The new facility will also establish a medical hub within the European Theater of Operations to serve soldiers returning from SSRdeployment.isunder contract direct to the U.S. Army Corps of Engineers, Europe District through a five year IDIQ to provide total facility/whole building commissioning services.
ThePlan.plan describes the consolidation of MACH into an Army Health clinic within the footprint of the existing Fort Jackson MACH. The Medical Area Development Plan also includes recommendations on incorporating mission and functions from other supporting medical facilities on Fort Jackson.
RHINE BARRACKSORDNANCEMEDICAL CENTER
FORT JACKSON MEDICAL AREA DEVELOPMENT PLAN
FORT JACKSON, SC The scope of this work effort included the review and analysis of health, dental, laboratory, and veterinary services, and other supporting medical services for U.S. Army Installation Fort Jackson in order to produce a Medical Area Development
TheKAISERSLAUTERN,REPLACEMENTGERMANYnewRhineOrdnanceBarracks-Medical Center
ALBUQUERQUE, NM
The three-story, 110,317 SF building is located off the primary military installation and part of a campus that consists of the Veterans Affair (VA) hospital, Kirtland Medical Clinic (Bldg 1200), and Kirtland Dental Clinic (Bldg 1205).
BETHESDA, MD SSR provided enhanced commissioning services for repair projects at Walter Reed National Medical Center. The Building 1 repair project was located in the facility which included the Presidential Zone of the medical center. The scope of work for this project included two repair projects consisting of renovation of administrative spaces in Building 1 of the Walter Reed National Naval Military Medical Center and Building 9 Dental and Oral Maxiofacial Clinic of the Walter Reed National Military Medical Center. The project was completed with a construction cost of $9.5 million.
BUILDING
WALTER REED NATIONAL MEDICAL CENTER BUILDING 1 AND 9
KIRTLAND AIR FORCE BASE MEDICAL CENTER
The project was a renovation of a facility built in 1989. SSR was a sub consultant hired to deliver mechanical, electrical, plumbing, and low-voltage engineering designs for this project. The scope included light, medium and heavy renovation as well as Comprehensive Interior Design (CID) upgrades.
The main design goals for the clinic include creating a patient and family-centered environment; improving the quality and safety of healthcare delivery; supporting the care of the whole person enhanced by contact with nature and positive distractions; developing a positive work environment; and designing for maximum standardization and future flexibility and growth.
The Fort Knox Medical Clinic will replace the functions of the current, aging Ireland Army Community Hospital, one of the oldest hospitals serving the armed forces. Built in the mid-1950s, the current facility serves more than 40,000 service members, army civilians, and military families.
FORT KNOX MEDICAL CLINIC
FORTstandards.KNOX, KY
This complex design-build project included the release of three design packaged at overlapping intervals, requiring an extensive level of coordination. The project is designed to meet LEED Silver® certification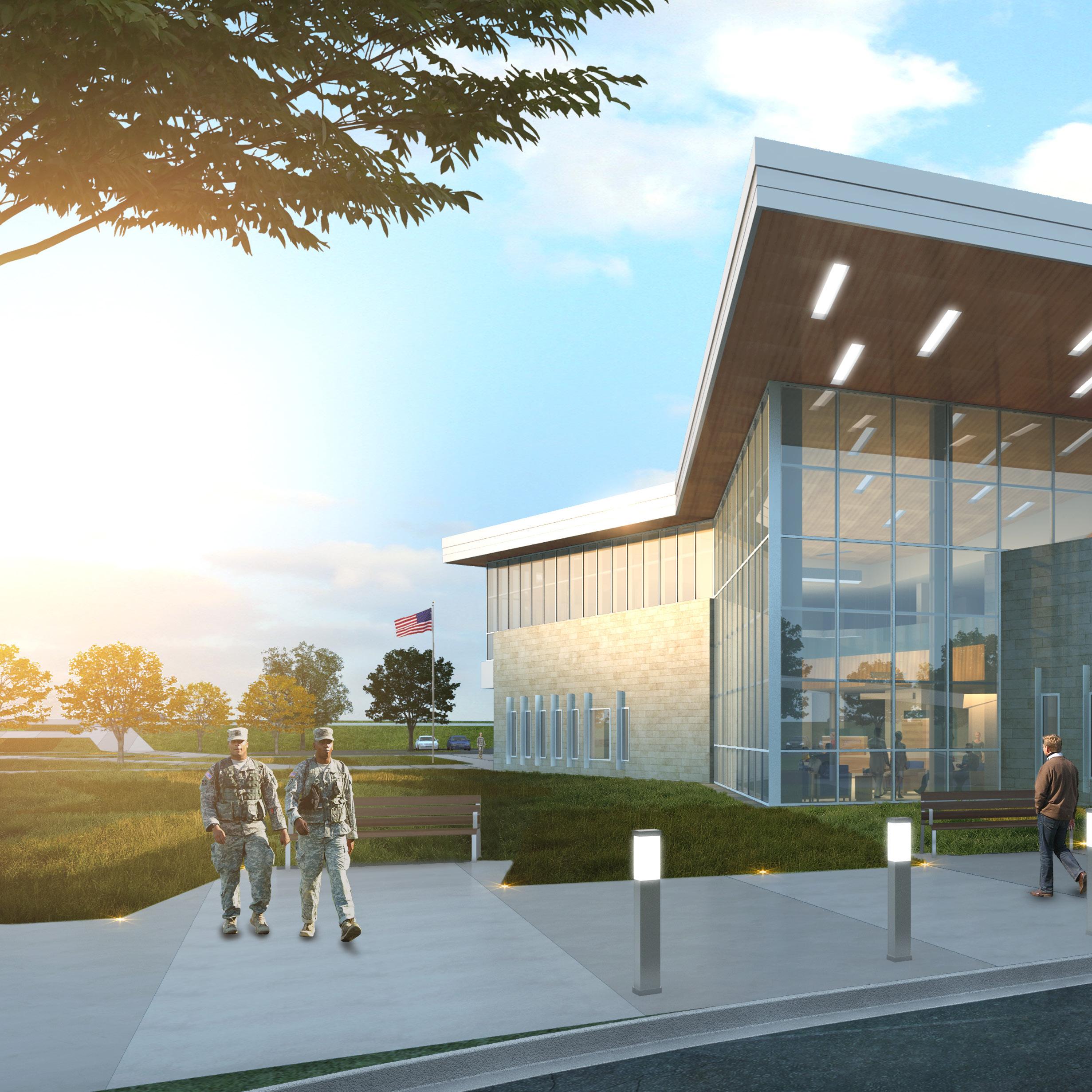 VETERANS ADMINISTRATION
MEMPHIS, TN As the prime consultant, SSR led a team to expand and modernize the OR at the VA Medical Center located in Memphis, TN. The project completely renovated approximately 20,000 SF of building 1 — third floor surgical services space and added an additional 21,000 SF to the surgery area. This addition increased the number of operating rooms from seven to 10 and to provide the necessary support space for this increase. This added one operating room each for general surgery, cardiac surgery and endovascular surgery. This project included SSR's mechanical, electrical, plumbing, structural, and fire protection (FPE) services.
TheTAMPA,CENTERFLJamesA.
J.A. HALEY POLYTRAUMA
Haley VA Polytrauma Center is a 170,000 SF addition constructed above the existing Spinal Cord Injury Center at the Tampa Veterans' Affairs Medical Center campus. The project included an 8,372 SF therapy pool building and 11,000 SF of renovations to existing hospital. An integral part of the holistic rehabilitation and recovery process, the interior environment fosters healing by including features such as abundant light, natural vegetation, and water features in a soothing pallet — a design inspired by the colors and textures of the Florida landscape, representing freedom, strength, and renewal.
VETERANS ADMINISTRATION MEDICAL CENTER
VETERANS andaudiology,theservicesdrawings,SSRinfusionforoutpatientisTheTULSA,HEALTHCAREADMINISTRATIONCENTEROKnewErnestChildersVAHealthCareCentera140,000SFfacilitythatwillconsolidateallservicesforVeteransinTulsaandallowmorecomplexservicestobeoffered,suchasandmammography.isprovidingmedicalequipmentplanningandprocurement,andmovemanagementforthetwo-storyfacility.Oncecompletedfacilitywillincludeimaging,procedural,dental,ophthalmology,clinics,physicaltherapy,mentalhealthservices. VETERANS healthophthalmology,includesplanningdrawingsSSRbothconstructionaAdministrationtheToCOLUMBUS,OUTPATIENTADMINISTRATIONCLINICGAbetterservethenearly30,000veteransinChattahoocheeValleyarea,theVeteran'siscurrentlyunderconstructionwithnew70,000SFfacilitytotaling$62.4millionincosts.The12-acrefacilitywillhouseprimarycareandmentalhealthclinicservices.isprovidingredlinereviewsofarchitecturalaswellasmedicalequipmentandprocurementservices.Theprojectimaging,procedural,dental,audiology,clinics,physicaltherapy,andmentalservices.
OAK RIDGE, TN
Oak Ridge National Laboratory (ORNL) is the largest U.S. Department of Energy science and energy laboratory, conducting basic and applied research to deliver transformative solutions to compelling problems in energy and security. ORNL is a government-owned facility, managed by UT-Battelle for the U.S. Department of Energy (DOE). Building 6010 is a two-story facility that has approximately 16,700 SF on the ground floor (includes a large mechanical room) and 11,500 SF on the second floor in addition to a basement. The initial basement and single-story component were constructed in 1966 and three second floor additions were constructed between the 1960's and 1980's. The scope of this project is the renovation of the building ground and second floor's into office and administrative space, renovation of space into a Vault Type Room (VTR) (secure room for classified work) and the addition of a high bay as part of the VTR. Renovation of the ground and second floors includes building envelope renovation of windows, new mechanical, electrical, and plumbing systems to support the building VTR high bay and ground floor office and administrative space.
OAK RIDGE NATIONAL LAB
STANLEY J. ROSKOWSKI U.S. COURTHOUSE
SSR provided commissioning and LEED facilitation services for the 197,000 SF U.S. Courthouse. The sixstory facility is located on six acres of green space in downtown Rockford, IL. Since the General Services Administration requires projects to be LEED® certified, SSR was brought on the project team as the LEED facilitator. In addition to LEED facilitation, we provided fundamental and enhanced commissioning services for this LEED NC Gold® certified project. ROCKFORD, IL
MARINE CORPS AIR STATION
MC200-T BRANCH MEDICAL/ DENTAL CLINIC IWAKUNI, JAPAN SSR was contracted by the U.S. Army Corps of Engineers under contract No: W912DY-13-D-0124/ W912DY17F0324 to perform the commissioning and code verification for the fire and life safety systems along with the integrated interaction with the mechanical and electrical systems for the MC200-T Branch Medical/Dental Clinic located on Marine Corps Air Station (MCAS) in Iwakuni, Japan. This complex facility is a four-story, 143,710 SF medical dental clinic that was designed and constructed by the Government of Japan at a construction cost of $140 million.
AFGHANISTAN NATIONAL POLICE REGIONAL TRAINING KANDAHARCENTERPROVINCE, AFGHANISTAN SSR provided master planning as well as civil, environmental, structural, mechanical, plumbing, and electrical design services for the Regional Police Training Center a design-build project in Kandahar, Afghanistan. As the overall design manager SSR hired and oversaw the architectural services for the buildings to be designed and modified from the site-adapted buildings provided by the USACE as part of the contract. The 1,000acre site is designed to accommodate 3,000 soldiers and was completely standalone in regards to all of its utilities.
MC0517-T MEDICAL-DENTAL FACILITY CAMP SCHWAB OKINAWA, JAPAN NFPA 99 establishes criteria for levels of healthcare services or systems based on risk to the patients, staff, or visitors in health care facilities to minimize the hazards of fire, explosion, and SSRelectricity.provided mechanical, electrial, plumbing, and technology consulting services to complete a draft NFPA 99 Risk Assessment for Camp Schwab's MC0517-T Dental Facilty. The draft NFPA 99 Risk Assesmement will act as the guideline for the official and binding risk assessment, to be executived by a host nation design team during the development of the MC0517-T dental facility construction documents.
SSRCx provided commissioning specifications, conducted commisionability plan reviews, and prepared preliminary and final design phase commissioning plans.
TheSPANGDAHLEM,CONTROLMANAGEMENTSYSTEMGERMANYAirForceisrequiredtosaveenergy and will do so in part by operating and maintaining heating and cooling systems in the most overall energy-efficient and economical manner possible. To efficiently achieve energy savings, heating, ventilation, and air conditioning (HVAC) systems controlled by an Energy Management Control System (EMCS) should operate to maintain appropriate temperatures and humidity levels according to facility usage type and schedules.
SPANGDAHLEM AIR BASE ENERGY
NATIONAL SECURITY CAMPUS
The new National Nuclear Security Administration (NNSA) National Security Campus in Kansas City, MO, protects some of the nation's premier security assets. The facility's nearly 2,500 workers manufacture non-nuclear mechanical, electronic, and engineered materials for national defense systems. The project includes nearly 1.5 million SF of manufacturing spaces, laboratories, office space, and warehouses. This project is LEED Gold® certified. This is a highly complex, heavily phased fast-track design-build lease project. The project had 18 design release packages. The commissioning review of each release included a concept design review, design development review, and construction document review along with back checks for each review. KANSAS CITY, MO
CONTACT US www.ssr-inc.cominfo@ssr-inc.com