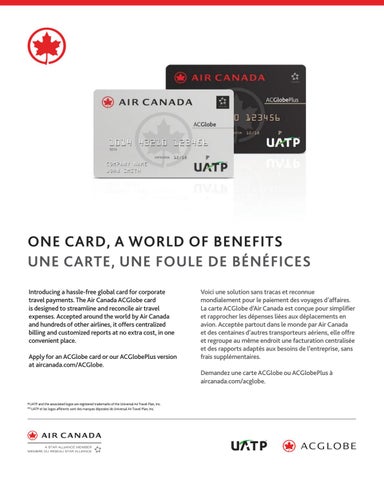 ONE CARD, A WORLD OF BENEFITS UNE CARTE, UNE FOULE DE BÉNÉFICES Introducing a hassle-free global card for corporate travel payments. The Air Canada ACGlobe card is designed to streamline and reconcile air travel expenses. Accepted around the world by Air Canada and hundreds of other airlines, it offers centralized billing and customized reports at no extra cost, in one convenient place. Apply for an ACGlobe card or our ACGlobePlus version at aircanada.com/ACGlobe.
® UATP and the associated logos are registered trademarks of the Universal Air Travel Plan, Inc. MD UATP et les logos afférents sont des marques déposées de Universal Air Travel Plan, Inc.
Voici une solution sans tracas et reconnue mondialement pour le paiement des voyages d'affaires. La carte ACGlobe d'Air Canada est conçue pour simplifier et rapprocher les dépenses liées aux déplacements en avion. Acceptée partout dans le monde par Air Canada et des centaines d'autres transporteurs aériens, elle offre et regroupe au même endroit une facturation centralisée et des rapports adaptés aux besoins de l'entreprise, sans frais supplémentaires. Demandez une carte ACGlobe ou ACGlobePlus à aircanada.com/acglobe.
Air Canada enRoute — February / février 2018  
All Eyes on Team Canada / Rivés sur équipe Canada
Air Canada enRoute — February / février 2018  
Published on Jan 26, 2018  
All Eyes on Team Canada / Rivés sur équipe Canada