2022 READERS' CHOICE AWARDS ...THE RESULTS ARE IN! PAGE 8 PLUS: TIPS ON BLACKJACK • CRAPS • VIDEO POKER & MORE! Covering casinos in Mississippi, Louisiana, Florida, Alabama, Indiana, Missouri, Ohio, Minnesota, Michigan, Wisconsin, and more! FLIGHTLINE: A HORSE LIKE NO OTHER PAGE 4 CRAPS: BEST BET IN THE CASINO? PAGE 18 GAMINGANDDESTINATIONS.COM $5.00 JANUARY / FEBRUARY 2023 - VOL. 25 ISSUE 1
When you visit Coastal Mississippi, you will be met with southern charm, miles of scenic shoreline, and white sand beaches. Not to mention fabulous casino resorts, beautiful championship golf courses, world-class restaurants serving freshly caught coastal cuisine, headliner concerts, and thrilling attractions.
With itineraries to meet every budget, why not start planning your next getaway today?
COASTALMISSISSIPPI.COM ™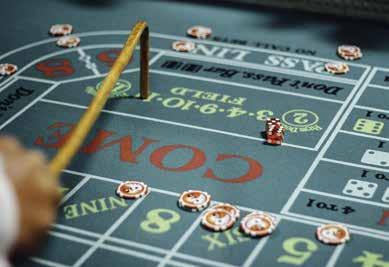 IN THIS ISSUE ON THE COVER 2023 Readers' Choice Awards: Gaming enthusiasts from around the region have voted, and the awards have been announced. Check out the top properties in categories ranging from best suites and rooms to restaurants and buffets. 8 Gulf Coast 9 Tunica & Mid-South 10 Louisiana & Missouri 11 Indiana 12 Iowa & Michigan 14 Minnesota & Wisconsin ARTICLES & EDITORIAL 2 Casino Scene: Hot Happenings at Our Preferred Properties Get the scoop on what's happening at our preferred properties around the region. 4 Breeders' Cup Classic Champion Spotlight: Flightline – What could have been… 16 Top Cruise Line: Sail the Seas with Celebrity Cruises, the top pick for cruising by our readers. 16 Top Slot: Bull Blitz by Konami Gaming Find out why this hot new slot is all the rage and hitting casino floors nationwide. 18 Craps: Best Bet in the Casino? 19 Casino Strategy: Short Run Decisions 20 Sports Betting: Moneylines and Halftime Spreads Find us on Facebook @SouthernGaming @MidwestCasinos 4 16 18