THE ARTISAN
1November 2022The Artisan Magazine Vol I Issue IV November 2022
THE WORLD OF ST. PETE ART & CULTURE FOOD STYLINGOCEAN BLUEBETH EXPOSED MAGAZINE JAN - CERAMICS NIKKI DEVEREUX
2 November 2022 The Artisan Magazine Where art and fine dining meet in St Pete Open Tuesday through Sunday - Lunch, Dinner, Brunch - Live Jazz on Thursdays For online reservations go to theleftbankbistro.com • 1225 Dr. MLK Jr. St N, St Petersburg, FL 33701 To book your private party or make a reservation • 727-256-1691 NOVEMBER 19, 2022 SAT 8:00 PM
3November 2022The Artisan Magazine Duke Energy, St. Pete-Clearwater International Airport Sponsors: Mascoll Florida CraftArt Festival 2022 November 19-20 Watch glass-blowing and wheel-thrown ceramics. Enjoy food trucks, wine, craft beers, and music. FREE to the public Downtown St. PetersburgCentral Ave. between 4th and 6th Streets Meet the nation's topne craft artists Join the Collectors' Circle • Support artists with your purchase award 501 Central Ave., St. Petersburg FloridaCraftArt.org Presenting Sponsor: Woods Palmer Fox 25th ANNUAL Amit Carter Emerging Artists sponsors are ARTicles Gallery, Color Concepts Printing, Concierge Financial Organization, Duncan McClellan and DMG School Project, Michael and Andrea Graham, Kathryn Howd and Edward Rucks, Jennifer and Je Lovelady, Jones & Dunn Legacy Group Premier Sotheby's International Realty, Massey Law Group, David and Becky Ramsey, Barbara Sansone, The Artisan Magazine, Wood eld Fine Art Gallery, and WUSF.
4 November 2022 The Artisan Magazine 8 News/Events Happenin' This Month 12 Cover Artist Nikki Devereaux Scan the code for advertising information 6 Publisher Letter Just a Note 20 Ceramisist Jan Richardson The Artisan Magazine Volume I | Issue IV November 2022 18 Literature Maureen | aenea | Alexandra 29 Indigo Jones Bob Devin Jones - "Saints" 21 Photography Beth Reynolds 24 Biz Spotlight Ocean Blue 28 Aluna's Zodiac Horoscopes CONTENTS 30 Portfolio Around Town 10 Food Stylin' Rebecca Martin 26 Artist Bio/Show D YaeL kelly
5November 2022The Artisan Magazine SUBSCRIPTIONS Gulfport's free self-guided tour of professional artist's studios and sale. Saturday, Dec 3: 10am–5pm Sunday, Dec 4: 11am–4pm ArtJonesStudioTour.com 518.692.7742 @WeAreArtJones 2022 Get The Artisan Magazine Delivered to your home each month! 2901 Beach Blvd. South, Gulfport, FL BrendaMcMahonGallery.com Ceramics • painting • jewelry • Glass VOTED "the best independent art gallerY" - st pete life magazine Celebrating the Glass Art of Susan Gott October is Women in Business & Breast Cancer Awareness Month. The Flirtation, Susan Gott. Photo: Silvermoon
The heat wanes, the rains abate, the population of birds increase, including "snowbirds". The downtown condo that has room for 250, with only 50 residents during summer is now filling up to capacity. The people, the animals and yes, the economy returns! I am so looking forward to the shows, the festivals, the openings, the music, etc. throughout fall, winter and spring!
As 2022 begins to come to a close, hopefully so do the residual effects of Covid. No doubt it will be with us for a long time.
Go shopping, keep it local, buy art for the holidays!
We have readjusted some distribution of The Artisan. We now have many lo cations in hotels, shops and restaurants on the beaches! The goal here is to put St. Pete, its art and culture, in front of visitors to Florida. So that we are not just "preach ing to choir". Thank you Duncan.
I hope you make the time during the coming holidays to spend time with family and friends. After the past couple of years I think we all have a greater appreciation for our relationships. And remember, art is a gift that lasts a lifetime!
VOTE! Keith Matter/Publisher
P.O. Box 791, St. Petersburg, FL 33731 www.TheArtisanMagazine.com 813-842-3818
info@TheArtisanMagazine.com
SUBSCRIBE
Don't miss an
of
publishing
www.TheArtisanMagazine.com/subscribe
Robin O'Dell has also been a contributing writer for such publications as Arts Coast Magazine, Bay Art Files, and Image Magazine. Her former positions include Curator of Photography at the Museum of Fine Arts in St. Peters burg and Curator of Collections at the Florida Museum of Photographic Arts in Tampa.
©2022
ADVERTISE
25,000+ Readers per issue! Increase your brand exposure. Info@TheArtisanMagazine.com 813-842-3818
Columnist at Registry Tampa Bay, Contributing Writer at American Stage, Arts Ambassador at Creative Pinellas, Host of Beauty & The 'Burg arts & culture podcast at Helium Radio Network, Contributor, Creative Pinellas Arts Coast Magazine.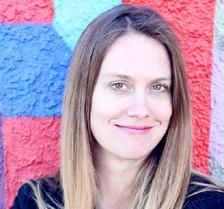 Maureen is a direct descendant of carnies, carpenters and fishermen. She is the author of three books of poetry, Exploring My Options (2006), Longing for the Deep End (2011) and Feast (2021). She founded the literary arts organization, Keep St. Pete Lit
6 November 2022 The Artisan Magazine
The Artisan Magazine is published monthly and is distributed to more than 300 businesses and street boxes throughout St. Pete, Gulfport and the beaches Submit articles, photos, events and news to: info@TheArtisanMagazine.com
The Artisan Magazine. All rights reserved. The views expressed within are not necessarily those of the Publisher. Ed itorial submissions are welcome. Publisher reserves the right to reject or edit submissions for length and clarity. The Publisher is not responsible for errors or omissions. The Artisan Magazine reserves the right to reject or edit advertisements. The Artisan Magazine is not responsible for errors in advertisements beyond the cost of advertising space.
issue! Subscribe now and we will send you a printed edition within a week
each
date.
Maureen McDole
Robin O' Dell
Cindy Stovall
Bob Devin Jones
Founder of the studio @620, Bob is a native of Los An geles, has been a theatre worker for over forty years. He began as an actor performing in Shakespeare Fes tivals, including Oregon, Berkeley, Illinois, Idaho, and in St. Petersburg.
"THE MOST VISIBLE, WIDELY-READ, GLOSSY, ART & CULTURE-BASED MAGAZINE IN ST. PETE!" 25,000+ READERS/ISSUE
CONTRIBUTORS INSIDE THE WORLD OF ST. PETE ART & CULTURE
Aluna Michaels
Aluna Michaels is a second-generation astrologer. She also holds a Masters in Spiritual Counseling and has been teaching and consulting for more than three decades.
Danni Matter
Danni is a writer & photographer living in St. Pete. She has shot for and assisted in studios in numerous cities in Florida. She attended Florida International University in Miami.
A NOTE: