TRAILBLAZER
is the official
District
it
and
EDITOR-IN-CHIEF
in
is intended for the internal circulation among the members of District
and to promote the ideas and goals of
International, a non profit educational organization of clubsthroughouttheworlddedicated to teaching skills in public speaking andleadership.
Publisher and/or Editor does not take the responsibility for the
or opinion of the articles or authors
and its logos
in
DISTRICT
In this edition we are introducing messages fromourpastandcurrentDistrictleaderswho engaged with the members of District 116 and encouraged us to take leadership positions. Their empowerment enhanced our skillsandenabledustogrow.
Spot Light of this edition will be Nisha Shivram,DTM,whomadetheToastmastersin Qatarproudbybecomingoneof thetopeight contestants to contest in the World Championship of Public Speaking 2022 held in Nashville, USA Toastmasters International's Presidential citation award winners from District 116 Sonny Varghese, DTM and Vicky Ferrer, DTM will inspire us with the story about their journey in Toastmasters.
Special attraction of this edition are the chosen articles of our members who participated in the PRM Special Award 2022 '23forNewsletterarticles.
A successful leader understands that one can get true power not by exercising control, but byempoweringothers Our District Director's theme for the term 2022 '23is'EngagetoEmpower' Hence,the first edition of District Publication 'Trailblazer'iswiththesametheme'Engage toEmpower' .
Publisher RajeshVC,DTM ContentEditor ShareefMihlar AssistantEditor AnusreeDKazhutholan 2022-2023DISTRICTOFFICERS DistrictDirector RajeshVC,DTM ProgramQualityDirector RavishankarJ ClubGrowthDirector SabeenaMK,DTM AdministrationManager GirishJain,DTM FinanceManager AbhijitKuwalekar,DTM PRManager NoorudeenVeetykadan,DTM LogisticsManager SabariPrasad,DTM Webmaster KumaranC.S HeadofArabicClubAffairs FatimaZahraJebbour CONTACTINFORMATION RajeshVC,DTM: +974 31304533 NoorudeenV,DTM: +974 33529140 TRAILBLAZER
publicationof
116, Qatar
published by
quarterly
every term. This Publication
116
Toastmasters
The
authenticity
published. Toastmasters International
are trademarks registered
the USA, Canadaandmanyothercountries. REGION 11 | QATAR
116 LayoutEditor SmithaPunnen ImmediatePastDistrictDirector ManzoorMoideen,DTM
SmithaPunnen
Felix Manzano 03TRAILBLAZER ABLE OFT GeneralInformation ToastmatersInternational05 District116World'sNo.106 Messages DistrictDirector08 ProgramQualityDirector09 ClubGrowthDirector10 InternationalDirector11 PublicRelationsManager12 Articles EngageToEmpower13 DistrictOpenHouseAndClubBuilding16 2022ConventionMemories18 TwoStepWaltz 23 FiveYearsStrategicPlanforD116 27 Features Spotlight WCPS2022Finalist21 YouAreAmazing'VerityPrice'26 34/42 HallOfFame PresidentialAward 15 17 17 20 34 42 25 ONTENTSC 23
04 TRAILBLAZER
WhatisToastmasters? ToastmastersInternational is a non profit educational organization that teaches public speaking and leadership skills through a worldwide network of clubs. Headquartered in Englewood, Colo., the organization's membership exceeds 300,000 in more than 15,800 clubs in 149 countries. Since 1924, Toastmasters International has helped people from diversebackgroundsbecomemoreconfidentspeakers,communicators,andleaders. 300,000 149 15,800+ CClubsMountries embers WithToastmastersLearningNeverStop! Improveyourpublicspeakingskills1 2 Buildleadershipskills 3 Maximizeyourpotential 4 Enjoyunlimitedpersonalgrowth 5 6 7 8 WorkOnnetworkinginasmalland supportingenvironment PracticewritingSpeechesand PresentinginaGroup Gainacompetitiveadvantage intheworkplace Buildselfconfidenceandselfawareness Source:toastmasters.org ABRIEFABOUTTOASTMASTERSINTERNATIONAL 05TRAILBLAZER
DearMembersofDistrict116, Itisagreatprivilegefor metoassociatewithall to impart a few details ofhowDistrict116was formed and how it achieved hat-trick as World No. 1 in Toastmasters.
In March 2018 Board of Directors of Toastmasters International made a decision to make Qatar as an independentdistrictduetogeo political situation prevailed in the region. They assigned the District with the No 116P The word "P" denotes that District 116 is a Provisional District and not a full fledged District. Infact,itwasaprematurebirth of District 116. Though we knew Qatar will eventually become an independent District.Wedidn'texpectthatit wouldhappensosoonin2018.
Senior Toastmaster leaders in Qatar wholeheartedly welcomedthenewdistrictwith effect from 1st July 2018 and started working to prove that Qatar can stand on its own as an independent District. The firstTrioelectedwere:
DistrictDirector: RajeswarSundaresan,DTM
Program Quality Director: RaghavanMenon,DTM
Club Growth Director: ThayalanKailayapillai,DTM
AsaTrio,thefirstchallengewe took up was to remove the Provisional District status and make District 116 as a full fledged District. We made our ambitious goals for the first year 2018 2019 and convened the first ever District 116 Ex Com meeting on 29th June 2018 to inform the ex com aboutthegoalsandtheactions tobetaken.
We invited past Region Advisor SonnyVarghese,DTMasaguest speakertomotivatethenewex com. During his address Mr. Sonny motivated the team to aim for WORLD NO.1 Position. From that day onwards each andeveryplanandactionwere aimed at becoming the world No.1 district in the first year itself
With the support of committed and dedicated district leaders, regular guidance and motivation from senior Toastmasters and the unwaveringsupportofthe
THAYALAN, DTM
excited members of the new District (116) we became the first ever SMEDLEY DISTINGHUISHED DISTRICT byendofMarch2019.
Toastmasters International introduced a new district recognition status "Smedley Distinguished District" mid way through 2018 2019 Toastmastersyear,andDistrict 116wasthefirsteverDistrictto achievethat Wecontinuedour effortsvigorouslyandachieved WorldNo1positioninthefirst yearitself.
The next year 2019 2020 we made our goals to achieve World No.1 position again under the leadership of Raghavan Menon, DTM and were progressing well till January2020.Thenwegotthe shockofCovid19Pandemic.It hadshakenourprogressasit
DISTRICT116&IT'SHATTRICKOFWORLDNO.1
06 TRAILBLAZER
a challenging situation, we all stoodtogetherandadaptedto onlinemeetings.Webroughtin Past International Presidents and past World Champions
started the term 2020 2021
my leadership amidst
with online
Once again, we aimed to become World No.1.
slowly losing
meetings
work
statusforthe3rdtimeinarow asahat trick.Personally,itwas ablessingformethatIamthe onlyDistrictTriothatispartof all three years of world No 1 position.
our achievements ensured our members are continuously engaged, enriched
Restricted Club-3 Advanced Club 5 Alumni Club 4 Professional Association 12 Community Club-12 DISTRICT116&IT'SHATTRICKOFWORLDNO.1 createdanuncertaintyandour members losing jobs and gettingpaycuts.Thoughitwas
of Public speaking through Leadership Lecture series and communication Coaching series respectively and engagedthemembersand We
under
Covid 19
environment.
Members started
interest in online
but still we managed to
as a teamandachievedWorldNo1 All
andempowered.
gave confidence to them. As a result, once again we achieved WorldNo.1position. DebatingClub 1 CorporateClub 27 OpenClub-36 Ladies Club 5 Language Club 11 ClubDemography TRAILBLAZER EDITORIAL TEAM Co-ordinators NoorudeenV,DTM SmithaPunnen ProofReading ShareefMihlar AssistantEditor AnusreeKazhutholan BrandCompliance BinduPillai THAYALAN, DTM 07TRAILBLAZER
MESSAGEFROMDISTRICTDIRECTOR
Congratulations to all leaders and members for leading the District towards Distinguisihed Status for the term 2021-22. Serving the Distinguished DistrictasDistrictDirectorisa proud and privilege. The commitmentanddedicationof members is highly commendable
The credit of District being recognized at the global level goes to members and leaders oftheDistrict.Thisremindsme of a quote by Oprah Winfrey " People forget what you said, Peopleforgetwhatyoudidbut people will never forget how you made them feel". District 116 is committed in making ourmembersfeelspecial.
TEAM Together everyone achieves more . Time and again we the members of District116togetherwillmake the District proud and membersfeelspecial.
I would urge every member to haveonegoalforterm2022 23 andletstogethercelebratethe success of achieving it which would in turn add value to DistrictSuccess.
Every member is special and unique, every goal a members achieve not only adds value to you,butwillelevateyourclub, Area , Division and District to greaterheights
RAJESH VC, DTM
I believe that I am the person who has taken most benefit out of Toastmasters membership. Engage to Empower is my mantra of life and theme of District Director fortheterm.Iamsurethatthis themecantransformlife
ENGAGE TO EMPOWER , Toastmasters Where Leadersaremade.
08 TRAILBLAZER
MESSAGEFROMPROGRAMQUALITYDIRECTOR
Dear District 116 Members,
Today our world is tangled withmore&newchallengesas never before. The recent unprecedented time not only choked the world but demanded the mankind to learn new competencies and become more resilient. The Worldhaschangedalotinlast 2 to 3 years. It is no more the same & never will be. So is Toastmastersresponsetoo.
The organization has introduced enhanced learning mechanism & technology
support to empower individuals with higher competitive edge towards facing adverse situations & adapttonewnormsasnormal.
To ensure members stay enlightened & enriched, it is vital to create an awareness effectively & efficiently on the opportunities through differentmedia.
Our District 116 Public Relations Manager and his team has taken their duties in commendable way to serve & support members feel Toastmastersexperiencemore interesting. We started this term with an exciting & well receivedtrainingonPRrelated knowledge&Skills.
It was followed inviting WCPS 2021 Verity Price, DTM for an enlightening training on crafting a winning speech & Benefits for a Corporate Club, training on Hybrid Meetings & Contest Management, Conflict Resolutiontonameafew Our
The line of communication & coordination, publicizing efforts between District & members have turned very effective.Iamgladtonotethe first edition of our District's newsletter TRAILBLAZER for this term is published by our PRTeam.Thisnameresonates an everlasting excellence our District has set in for many to get inspired from. I am sure everyreaderwouldexperience the ripple effects in their takeaways I wish all memberscontinuesuccessin thistermandbeyond.
RAVISHANKAR J
09TRAILBLAZER
MESSAGEFROMCLUBGROWTHDIRECTOR
Congratulations to the Chief Editor Smitha Bindu, District PR Manager Noorudheen, DTM and the entire Team for bringing out this beautiful District 116 newsletter, "Trail Blazer".
InToastmastersheartbeatand pulse are our members. Let's always start with our heart to make a difference. It is easy when we understand the role of head, heart and hands in leadership. People who are connected has high happiness index. Let's develop connection with others and maintain the relationship Life is too short to live for ourselves.Let'smakeachange inthelivesofothers
A leader is successful when the followers are empowered.
A leader is the one who walk away when the followers have emergedasleaders.Aleaderis the one who join the team when needed. A leader let the people to come forward to take all credits of the victory and will come forward to take thepaininthechallenges.This isthepromiseofaleaderwith a purpose. I urge all of you to beinthisjourneytorealizethe power of the leader and communicator within you to risestronger.
Whenever I attend a club meeting, I see myself as a better person I could see that atleast103timeslasttermasI havevisited103clubmeetings lastterm Mykindadvicetoall of you who are new to toastmasters is "Never give up".
SABEENA MK, DTM
It is our perseverance and consistency pay back to show our commitment and hard work.Indeed,theresultwillbe visible and glorious to rise stronger. You will see a better you, who is able to communicate better than before,clearerthanbeforeand who is capable to make a change in others to help them torisestronger.
10 TRAILBLAZER
MESSAGEFROMINTERNATIONALDIRECTOR
Firstly, Congratulations To D116 Family on the milestone achievedasthefirstquarterof the term comes to an end. Usually, First Quarters are spent to network, know each other and understanding the" know how" of achieving common and personal goals. This is the time to take the analysis to then next level where we check the requirements, resources, and tools, that we might need to add or modify to stand tall towardstheendoftheterm.
In all these analyses, we add "People" first. Our common goals parallelly contributes to true transformation and wellbeingofthemembers
When we reach to the final lapse, the design, the finished productmustnotsurprisetous a high level, because our analysis paves the way to the outcome,eventuallythedesign phase. If first quarter didn't give you that opportunity to think much and if we lost on ournetworkingmoments,
MESSAGEFROMDISTRICTPRM
Its never to late to start that now. Eventually, lets analyse well and then rightfully march towards the design and embracetheoutcome.
Pee- Ka- Boo: 'Publicity, Communication and Branding'.
Areyoureadytogetengaged?
In the beginning of the term our District Director announced that his theme of the term will be 'Engage to Empower'.WhenIheardthese words, I was bit worried. Because getting engaged may require committing our time, energy and even a part of our lifetosomeoneelse.Itoldour DistrictDirector;atthesetimes itisgoingtobedifficultforme. He said, nothing is difficult if you have a proper plan and willingness to execute So first make a plan on how you are going to perform your role as the Public Relations Manager (PRM) of our District. Then I made a plan, my engagement plan.
My plan to engage with our membersbyconductingonline Trainingsandin personPublic Relation (PR) events. In this regard, we have started conducting a series EducationalWorkshoptotrain ourmembersonvariousPublic Relation(PR)activities.Weaim to empower them to do their PR activities on their own. We have named this Public Relation Trainings series as 'Peekaboo'. Peekaboo is actuallyahideandseekgame which many children loves to play
So, with these trainings, we wish to bring out all the good thingswhicharehiddeninour district
Pee-Ka-Boo is also an abbreviation I used for 'Publicity, Communication and Branding', which are the three major activities any PR personneedstoperform. Branding The first module in "Peekaboo" PR trainings Part 1 was on Toastmasters Branding.
NOORUDEEN V, DTM
ALI SHAHABAZ ALI, DTM
11TRAILBLAZER
NOORUDEEN V, DTM
Withthismodule,myideawas to persuade members to comply with Toastmasters Branding Guidelines while creating their promotional materials. In the Second training event, we conducted training modules on 'Creating brandcompliantflyer'byusing
Power Point and CANVA We are continuing to give awareness on Toastmasters brandingtoallourmembers.
Publicity The second and third training in "Peekaboo" PR trainings were on Creating Websites and Social Media Publicity Websites and Social Media are excellent tools for publicity.Thus,thesemodules were conducted to encourage Cl cr So to
our activities in various social media pages In the month of July2022,wegot44%increase innewpagelikesinFacebook, in Linkedin we got 25.8% increase in new followers and in Instagram we got 96.1% increase in reach and 150% in engagement. We are not lacking behind in publicity in Print and TV media. We have received coverage of all major events conducted by the District in the largest daily English Newspaper in Qatar We are working on to telecast aTVprogramalsosoon Communication- District Newsletter is an important tool to Communicate about
Special attraction of this NewsletteristhePRM'sSpecial Award for Newsletter Articles
We wish to encourage members of our district to bring out their hidden talents in writing articles. With this intention, we have announced that top articles of this News Letter will be awarded TrailblazerwasstartedbyPast District Public Relations Manager,GraceMoran,DTM.It was continued by Immediate Past District Public Relations Manager, Jan Carlos Rojas, DTM Wewishtocontinueitin thistermaswell.
I thank, appreciate and congratulate all the members of the Newsletter team for a is of e ur
Ter he District PR Team is also activelyenhancingpublicityof
MESSAGEFROMDISTRICTPRM
12 TRAILBLAZER
ENGAGETOEMPOWER
Iamtheproductofthistheme.
I believe that any individuals or organizations adopts this theme can surely transform their organization and members.EngagetoEmpower ismytaglineforlife.
Its always said that What we are what we repeatedly do. I believe that Engaging with Toastmasters programs will surely Empower individuals. My experience says Toastmasters is an organization which has the potential to Empower memberswith its simplicity in program where any member can easily engage with this program.
Today as District Director when I jot down this article, I lookbackandevaluatemyself to understand what's that specialty in me to lead the District. Have I undergone any sought of training to gain so much confidence and courage in leadership, Have I participated in any workshops anywhere which has helped me develop my effective communication and persuasiveskills.
Haveanyorganizationshelped me to understand the methodology of building good relationship which in turn can lead to happy and peaceful life. The answer for all this is NO, I have not attended any such trainings and workshops which have help me develop any of the above skills The only thing I did was engaged with Toastmasters program blindly and I am continuing myengagementtilldate.
VC,
The miracle of Engaging with Toastmastersissomethinglike being in a magical Library where contents of the books are fed to our mind automatically. Ralf C Smedley founder of Toastmasters says "Ours is the only Organization dedicatedtomembers".
FriendsandNetworkandWhat
not you name it, its all here and we all together learn and grow When we go through Toastmasterswegrowthrough inourlife.
When I look deep into this organization the above statement is a fact and true in all means. A members who joinstoastmasterscantakeall theprideinbeingamember If a member Engage with Toastmasters in letter and spirit he will surely be Empowered with Effective Communication, Confidence & Courage, Convince & Persuade, Delegate and DesignateLead&Follow, Engage to Empower
Toastmasters Where Leaders are made.
RAJESH
DTM
Engage to Empower is the theme of District 116 Director for the term 2022-23. Every District Directors of District 116 had different themes. The theme Engage to Empower is special for me as it has a lot of value.
13TRAILBLAZER
14 TRAILBLAZER
15TRAILBLAZER
DISTRICTOPENHOUSE&NEWCLUBBUILDING
Sabeena MK, DTM
By keeping HOPE (Helping Other People Every day) in mind,tospreadthebenefitsof Toastmasters to more people, District116conductedagrand District Open House on Saturday, 30th July 2022 at Crowne Plaza Hotel Doha. WCPS 2021 Verity Price conducted a session on Benefits of Toastmasters to corporate and community leadersandDistrict116.
Itwasagoldenopportunityto give back, to help others to learn what we learnt from Toastmasters. We are capable tomakethisworldabetter
placetoliveandwecanmake a change; Yes, one life at a time Experiencesharingby the corporate leaders who have been in Toastmasters for manyyearswasatestimonyto that. It was a captivating opportunity and eye opener foreveryonewhoattendedthe open house to understand the art of helping others by spreading the words of Toastmasters by forming new clubs. Wegot12leadsfromtheopen house to form new clubs Safari and BizTalk Toastmasters,Mesaieed
Toastmasters Club, Qatar Mothers Toastmasters and Agola Toastmasters have carried out their demo meetings already. More demo meetings are planned in the upcomingweeks.
District mission is "We build new clubs and support all clubsinachievingexcellence". This mission statement provides learning and leadership opportunities to district leaders and members. We never know what we are capable of until we try something new and accomplish it. Keeping the existing clubs are very important, but it shouldn't limitourselvesfromtryingand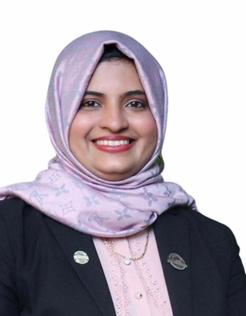 Ours is the only organization I know that is dedicated to the individual. We work together to bring out the best in each one of us and then we apply our skills to help othersDr. Ralph C Smedley.
16 TRAILBLAZER
DISTRICTOPENHOUSE&NEWCLUBBUILDING
challenging ourselves from new club formation. Else we willonlylearnandlivethefirst 50% of the district mission
There are a lot of learnings in the second half of the district mission which emphasizes the importance of forming new clubs. Fast learners unleash theirpotentialbyexploringthe maximum out of the mission and enjoy the outcome and success which make them more confident to move further forward. That is why BizTalk Toastmasters Club under the leadership of Area 28DirectorHabeeb,DivisionG Director Salman and their vibrant team & Safari Toastmasters Club under the leadership of Area 9 Director Anwar, Division C Director Pradeepandtheirfantabulous team were chartered on the 32nddayofthenewterm.Are you a bold and fast learner who wants to come out of the comfort zone and wants to benefit the maximum from your leadership role and membership? Let your action prove it and let us see you enjoyingitsoon.
Club building is not about convincing other people to startaclub.Itisabouthelping them discover how Toastmasters will bring them value Like everything in this world, has a procedure and step, new club formation also has some steps. The main stepsofclubbuildingare:Lead Generation, Initial Contact, Introduction meeting, Demonstration meeting, The charterprocess&theNewclub support. Each step is an opportunity to gather more information and learn better to see ourselves as a better person.
We should approach the lead to uncover and understand their needs and challenges, nottosellwhatwehave.Club building is a team effort. Find enough resources and ask for helpifneeded.
My kind advice to all of you who are in Toastmasters is "Never give up" It is our perseverance and consistency that pay back to show our commitment and hard work. Indeed, the result will be visible and glorious. You will seeabetteryou,whoisableto communicate, lead and serve betterthanbefore,andwhois capable to make a change in others.Let'smakeachange.
SABEENA MK, DTM 17TRAILBLAZER
2022CONVENTIONMEMORIES
MANI ROY, DTM
Since the time I joined Toastmasters in the year 2013, I have been dreaming to attend Toastmasters International Convention. Finally, this year I am fortunate to attend as 'First Timer'. It is a feast for eyes to watch 140 countries flags and Keynote Speech 'Magnetic' by Jim Cathcart in the opening ceremony.
Each year, thousands of Toastmasters, representing over 100 countries, battle for thetitleofWorldChampionof Public Speaking. This year's months long competition culminated at the 2022 International Convention held at Nashville, Tennessee, UnitedStatesofAmerica.
along with Malayalam song by our District Club Growth DirectorSabeena in late night 'Sing along'.
As District Hospitality Chair, took opportunity to invite International President Matt Kinsey for District Toastmasters Annual Conference (DTAC) 2023, Qatar.
I am excited and looking forward to attend 2023 Toastmasters International Convention in Nassau, Bahamas.Congratulations to Nisha ShivramfromourownDistrict 116, for being selected as one among 8 final list's contestant for World Champion of Public Speaking among the 28 semifinalistscompetedforthe title.
Cyril Junior Dim is the new World Champion of Public Speaking! Dim, from District 108 won with a speech titled, "Ndini." Congratulations to AlexandreMatte from District 123 for finishing in 2nd place with his speech, "Missing Ingredient,"andMasMahathir BinMohamadfrom District 51 for finishing in 3rd place with hisspeech,"TwoGifts."
Celebrated birthday with cake cutting of CEO Rex with popular songs still ringing in myearsindifferentlanguages,
Life time memories gathered in meet and exchanged contact numbers with many eminent Toastmasters from otherpartsoftheWorld.
18 TRAILBLAZER
2022CONVENTIONMEMORIES MANI ROY, DTM 19TRAILBLAZER
20 TRAILBLAZER
ONTHESPOTLIGHT Nisha Shivaram, DTM 21TRAILBLAZER
SPOTLIGHT-WCPSFINALIST
SHIVARAM, DTM
Nisha Shivram, DTM represented District 116 admirably at Toastmasters International World Championship of Public Speaking and became a Finalist from a field of thousands of Toastmasters representing over 100 countries. She has set a new benchmark for all toastmasters in the District 116, for which we are all proud of. Here are some interesting excerptsfromourconversationwiththeWCPSFinalist.
Tellusaboutyourfamily. IliveinQatarwithmyhusband
Rasheed He works as Assistant Sales Manager in Nabina. I have two kids. My son Kannan is 8 and daughter Gauri is 6. Both of them study in Bhavans Public School in 3rd and 1st grades respectively.
What was your favourite officerrole?
I started my excom journey as VP Membership in 2011 and moved on to become VPE and Club president. So far my favourite role is of VP Education as it gives an opportunity to encourage members to take up various roles, arrange the meeting, preparing agenda and be readyforlastminutesurprises. Its challenging yet an interestingrole. Share your experience of participatinginWCPS. An incredible experience it was!!Beingontheglobalstage with 7 other great speakers wasalifetimeachievementfor me. Surprisingly,therewasno nervousness, no butterflies in the stomach. It was purely becausetheaudiencewasvery encouraging and that gives you the energy to do better. I thoroughlyenjoyedandlearnt fromothercontestants.
What do you look for in a goodspeech?
A good speech is just like a tasty dish that has got all the ingredients in the right measure.Audiencemustenjoy the speech and learn somethingatthesametime If theyarenotenjoying,youwill lose them. If they don't learn anything, it means your speech lacks valuable message It is important that as a speaker we engage, entertain and educate all at thesametime.
What modern leader do you admireasapublicspeaker? Barrack Obama. He is a great orator with his unique style of sharingstories
What is your greatest fear while delivering a speech onstage? How do you tackle it?
My greatest fear is "What if audience would not understand the message the rightway".Iftheaudiencefails tounderstandthemessage,it means we didn't put it across intherightway.Eitherwhen usedcomplicatedwordsorwe used a story that didn't justify the message To tackle that, I presentthespeechatdifferent clubs in front of different et of peopletoseetheresponse.
Whatdoyouadvisespeakers to do immediately before goingonstage?
Take deep breaths and eat a banana30minsbeforeyougo on the stage Banana carries potassium that lowers down the anxiety levels. It is proven bymedicalassociations.
HowwouldyouadvisemeifI want to become a winning speakeroneday?
Always remember to give a universal message that everybody can relate with, practise it well and have fun onthestage.Ifyoudon'tenjoy your speech, chances are that nobodywouldeverenjoyit! Most importantly, never give up.
NISHA
22 TRAILBLAZER
FIVEYEARSSTRATEGICPLANOFDISTRICT116
District 116 Qatar became the first ever Smedley Distinguished District & No.1 District in the World, in its very first year of inception in 2018.
Proud to say that District 116 repeated this success of becoming the Smedley Distinguished&No1Districtin theWorldfor2moreyearsthat followed. When I attended the International Convention 2019 in Denver Colorado, USA, many leaders from other Districts asked me one question: What did you do to become No.1 District in the World? Let me reveal the secretbehindthissuccess.
It all started with the visit of our dear PIP Balraj Arunasalam, DTM to our baby District 116 P in 2019. District 116P was a baby District then. Qatar which was part of District 20 (consisting of 3 countries: Bahrain, Kuwait & Qatar) till 2018, became a Provisional District under certain unexpected geo political situations in the region. This situation (embargo) restricted Qatar members to travel to some of theneighboringGulfcountries.
Duetothisreason,TIBoardof Directors decided to make QataraProvisionalDistrict,all alone.Thoughitwasasurprise to the members, we considered it as an opportunity & took it up as a challenge.
So, when IPP Balraj Arunasalam, DTM visited us, we were still in that pleasant surprise.DuringtheDTAC2018 at Kuwait, Rajeswar Sundaresan, DTM was elected as the District Director, Kailapillai Thayalan, DTM as theClubGrowthDirector&me as the Program Quality Director.Though,allofuswere long time Toastmasters, managingaDistrict,thattooa new born District was a challenge. That's where the visit of an experienced person likeIPPBalrajArunasalm,DTM wasaboon.
Soon after our District Excom meeting,IPPBalrajArunasalm, DTMrequestedameetingwith the District Cabinet, which we readily agreed. It was during this meeting that IPP Balraj Arunasalm, DTM suggested us to create a 5 Year Strategic Plan starting 2019 20 and ending in 2023 24, for the District Hesaid:
RAGHAVAN MENON , DTM
"Your District being a baby District,youneedtocreatea5 Year plan that will give direction to the current & future District leaders in leadingtheDistrict.Duringthe 5th year, you must revisit and createanother5YearStrategic Plan based on the then changedsituations".
Let me explain about the strategic plan in general. Strategic Planning by definitionisadisciplinedeffort to produce fundamental decisions and actions that shape & guide what a cooperative is, what it does and why it does with a focus onthefuture Thereare5steps instrategicplanning.Theyare:
1.Vision(thedream).
2Mission(thewhatandwhy)
3.Objectives (how much of what will be accomplished & bywhen)
4.Strategies(thehow)
5Action Plan (what change will happen, who will do what &bywhentomakeithappen)
After many rounds of brainstorming sessions, District leaders, decided on these 5 steps of strategic planningasgivenbelow:
23TRAILBLAZER
Thanks to the planning & perfect execution by the leaders and members of the District 116, our District's performance over the years have been in line with our Strategic Plan We hope this willcontinue.
We hope the District to grow every year as per this plan. It is projected that by 2023-24, our District will have 120 Clubs & 10 Divisions.
That will be the time to propose to Toastmasters Internationaltocreateanother District from District 116 to ensure that the growth continues.Also,duringthe5th year(2023 24),wemustrevisit & rework on a Strategic Plan forthenext5years.
This will ensure that our District will grow as per the plan & will continue to be a Star District among all the Districts of Toastmasters International. Wishing all the Leaders and members of District 116, many successful yearsofhappylearning.
FIVEYEARSSTRATEGICPLANOFDISTRICT116
RAGHAVAN MENON , DTM 24 TRAILBLAZER
25TRAILBLAZER
YOUAREAMAZING:"VERITYPRICE"
Early morning of July 28th, 2022, District 116 Director, Rajesh VC, DTM, Club Growth Director Sabeena M. K, DTM, andIwereexcitedtowelcome the World Champion of Public Speaking (WCPS) 2021, Verity Price, DTM at Hamad International Airport with the bouquet
Although, the summer season was still on, but there was a sudden outburst of rain on thatparticularday.Asaresult, the heat of summer had dropped down and the atmospherewasidealtogivea warm welcome to someone special. We gave her a rousing welcome and she returned it with her kind praises for District 116 for inviting her to Qatar.
From the airport, we dropped her at Hotel Crowne Plaza, where her stay for the upcoming days in Qatar was planned Later,onbehalfofthe hospitality group, I accompanied her during the fourdaysofhertourinQatar.I wasoverwhelmedwithsuchan opportunity to be with the WCPS; it was really a "Wow" momentforme
Eachdaywasfilledwithenergy andenthusiasm.Westartedthe mornings with meetings followed by site seeing. In the evenings, we visited prominent historical places of Qatar Verity, Sabeena and I enjoyed the walk near the fountains at Aspire Park, the green lanes at Cornicheandthepavementsof SouqWaqif.
NAMRATA TAWDE
Wealsoaccompaniedherfora walk at the Dates festival and enjoyed various cuisines. Althoughshehadsprainedher ankle, but her enthusiasm remained the same and she continued enjoying every minuteoftourinQatar.
During the Toastmasters and GavelsTrainingworkshop,she spoke with the same zest and answeredeachquestionwitha smile. I noticed that her calmness and patience were amazing. It unveiled a new learningexperienceforme.
The most special attraction in all these programs were the songsshesungwithhersweet voice. Her songs engaged and enthralled Toastmasters and Gaveliersintheaudience.
Thesesweetmomentswhichwehadwithheraregoingtolastwithmeforever.I thankDistrict116leadersandHospitalityChair,ManiRoy,DTMforgivingmethis opportunitytobewithaworld-classpersonandthatwasnoneotherthanWorld ChampionofPublicSpeaking,VerityPrice.
26 TRAILBLAZER
TWO-STEPWALTZ MICHAEL WADER
I like to dance. So, when I think about engaging people to empower them, I think of a 2-STEP dance. 1. Within Toastmasters clubs, people come in and then leave at various levels and different lengths of time. But what encourages people to stay for a long time and volunteertofillmanydifferent district level positions? 2. Within Toastmasters clubs, somepeopletakefouryearsto finish one Pathway, while others finish one Pathway in oneyear Ibelievetheseissues succeed or fail for the same reason people around the world change jobs or stay with one company for a long time they like or do not like theSUPPORTtheyget.
After teaching Leadership for the last 27 years and being in leadership positions for over 40 years, I believe that there are essential skills to make a leader successful. Engaging people to feel empowered is one of these crucial skills. I also think we need to look at engaging two different groups the regular club members andtheExecutiveCommittees
STEP1.Empowerment
Suppose we want to develop ourmembersintoLeadersand ask them to fill district level positions.Inthatcase,itisour primary responsibility to SUPPORT the people while they are taking care of the district levelprocesses.
There is no need to micro manage people who have beeninTMforafewyearsand weretrainedfortheirposition. U.S. President Theodore Roosevelt said, "The best executiveistheonewhohas sense enough to pick good men to do what he wants done, and the self-restraint enough to keep from meddling with them while theydoit."
The best way to empower the good people we have chosen for district level positions is to let them engage in making decisions We chose them becausetheyhaveuniqueand valuableskills,andweneedto let them use those skills to benefit the whole district. As senior leaders, we do manage the awards program. We do not build the PR flyers We do not run the district training program.Thosetasksaredone bythepeoplewelead. The fastest way to get poor performance from our mid levelleadersisforthemnotto feel empowered enough to make decisions about processestheyareresponsible for. They need our encouragement and support todoagreatjob.
Our engagement with them should ensure we SUPPORT them with training and materials to get the job done correctly not tell them how to do it Give them opportunities to demonstrate and strengthen their Leadership skills, and you will be amazed by what they can accomplish.
STEP2. Understanding
If we want to keep members and see them grow into competent speakers, we need to remember they are our customers who need our SUPPORT Clubsneedtosupportalltheir members by ensuring they have a solid mentoring program for those who need help.
Whenpeoplejointoovercome their fear of public speaking, they usually do not rush in to overcomeit.Theyaretypically timid and need support to get started, and they need a good mentor Conversely, when people join to improve the qualityoftheirpublicspeaking habits, they want to fly through their Pathway with reckless abandon and need a goodmentor.Manyclubshave a poor mentoring system in place even though "mentoring" is part of every Pathway and has its own training materials set; PathwaysMentorProgram
27TRAILBLAZER
An old proverb states, "You can lead a horse to water, but you can't make them drink." Each Toastmaster memberisalittledifferentand needs to be mentored differently. Good mentors get to know their mentees personally and "understand what the member wants" to accomplish, not what the club wants them to accomplish. Supporting a new member does not mean we decide the destination for them, but instead help the member reachthegoaltheywant
Not everyone is suited to become a mentor, although it isarewardingexperiencetobe one. A good mentor adjusts the size of the steps to be taken to fit the mentee's needs. The key is are you ready to SUPPORT the needs ofthementee?
Itshouldnotbesurprisingthat those Toastmasters who become good mentors often become good district level leaders. These two steps both focus on SUPPORTING the needs of other people. It is difficult for us to help others grow as leaders and speakers without improving our own skills Providing support to others is like dancing the Two Step Waltz with your favorite partner a WIN/WIN situationforeveryone.
"People can not always follow in the steps of their mentor because their shoe size is probably different."
TWO STEPWALTZ MICHAEL WADER 28 TRAILBLAZER
Pee-Ka-Boo:'Publicity,CommunicationandBranding'. 29TRAILBLAZER
Since her childhood, my older daughter, Fathima, has been fascinated with colors. At first, pinkwasher'thecolor' From her toys to dress, everything shechoosewasinpink(mostly paleorbabypink).Eventually, mywholehousebecamepink. I was amazed with her fascinationforpink.Asaloving daddy, I too started wearing pinkshirts;myfriendswerebit skepticalthough.
Later, as she grew older, her choices began to flipflop. She started liking purple more than pink. When we went to a beautiful beach in Andaman Islands,shebecameenamored with the blue sea. So, she started liking both purple and blue as if it had a calming effectonher.Whenwewentto India, rainbows became a point of attraction for her on rainy days. Since rainbow colored her imagination, I began to wear shirts with varyingcolorsliketherainbow to do my part as a loving daddy. My friends were amazedandstartedcallingme 'DaddyColorful' .
Fast forward to 2020 and my youngerdaughterMaryamwas born.
Inayearshealsostartedliking Pink. I noticed that both my daughters have a personal connect towards colors. Their temperament and emotions arealsoconnectedwithcolors, which they reveal in their childish sketches and paintings.Maybe,theywantto tell me something through other means since they find it difficult to express their thoughts with words. I am a Toastmaster; I can express my thoughts with words But they are children and they express their sweet thoughts using colors.Insimplewords,where words fail to express our thoughts, colors succeed in doing it. Thus, I learned from my little children that if one wishes to express their thought, colors can also be useful.
So,asalovingdaddy,Istarted learningaboutcolors.AsIread about colors, I recalled some basics about colors which I had learnt in the art classes in school.
The Color Wheel: Colors that look good together are called "Colors in Harmony" and a colorwheelisusedtofindthe color harmonies. There are twotypesofcolorwheels:
Red, Yellow, Blue (RYB):
Used by Painters and it is based on mixing paint colors. Red, Green, Blue (RGB):
Used in Digital formats and it is based on mixing light.
DADDYCOLORFUL NOORUDEEN V, DTM
"The purest and most thoughtful minds are those that love color the most."
-John Ruskin
In school, I had learnt about Primary colors, Secondary colors and Tertiary colors.
However, when I became 'Daddy Colorful', I understoodthatitis bit more complex. Tounderstandit,we need to understand the color wheel and manymorethings.
30 TRAILBLAZER
DADDYCOLORFUL
ere are three secondary ors in RYB Color Wheel; nge,PurpleandGreen: ed+Yellow=Orange lue+Red=Purple ellow+Blue=Green RGBColorWheel;itisCyan, gentaandYellow. ed+Green=Yellow
I have taught all the above things to Fathima, who is 11 now. And the 2 year old Maryam has reached to OrangefromPink
Primary colors: Primary colorsarelikeprimenumbers. In mathematics, prime numbers are the numbers which cannot be created by multiplying two or more numberstogether.Similarly,in arts I had learnt that Primary colors are the colors which cannot be created by mixing twoormorecolorstogether
·In RYB color wheel, there are three primary colors; Red,YellowandBlueasthey cannotbecreatedbymixing twocolors.
·In RGB color wheel, there are three primary colors; Red, Green and Blue. When added together it creates purewhitelight
Here are the components of thecolorwheel: Secondary colors: Secondary colorsarethecolorswhichcan be created by mixing two or more primary colors, in its purestform.
2.Green+Blue=Cyan
3.Red+Blue=Magenta
Tertiary colors: In school I had learnt that Tertiary colors are the colors which can be created by mixing a primary colorandasecondarycolor.
There are Six tertiary colors in RYBColorWheel;
1.Red+Orange=Red.Orange (Vermilion)
2.Red+Purple=Red.Purple (Magenta)
3.Yellow+Orange= Yellow.Orange(Amber)
4Yellow+Green= Yellow.Green(Chartreuse)
5.Blue+Purple=Blue.Purple (Violet)
6.Blue+Green=Blue.Green (Teal)
InRGBColorWheel,the tertiarycolorsare, 1Red+Yellow=Orange
2.Red+Magenta=Rose
3.Green+Cyan=SpringGreen
4.Cyan+Blue=Azure
5.Blue+Magenta=Violet 6Yellow+Green=Chartreuse
Onedaylastweek,whenIwas replacing the cartridges of printer, Fathima noticed that only 3 colors (Cyan, Magenta andYellow)wereshownonthe boxofthecolorcartridge.
As informed before, Cyan, Magenta and Yellow are three Secondary colors in RGB color wheel Further, the key color for printing is Black. Hence, the printing cartridge has Cyan,Magenta,YellowandKey (Black). It is abbreviated as CMYK
CMYK color model is used in printing and its process is basedonaSubtractiveTheory.
Imagine printing colors on a white paper. When ink is added to the white paper, it actually blocks the white wavelengths to pass through it Thus, the ink subtracts the colors Red, Green and Blue from the white light resulting in Cyan, Magenta and Yellow. White Light minus Red gives Cyan,WhiteLightminusGreen givesMagentaandWhiteLight minusBluegivesYellow
"Are these 3 colors the mother of all colors?",sheasked.
NOORUDEEN V, DTM 31TRAILBLAZER
DADDYCOLORFUL
CMYKhasascaleof1to100.If Cis100,Mis100,Yis100andK is100,yougetblackcolor.But ifallare0,thenyougetwhite. It gives various other colors corresponding to the scales youchoose
CMYK
ToastmastersBrandColors:
Now, let us bring our interest towards the colors used in Toastmasters I started noticing Toastmasters Brand colorsin2018whenIfirstread
RGB
RGB: RGB color models are used in Digital formats and its process is based on Additive Theory.
the Brand Manual 2018. Back in those days, there were 6 approved colors in Toastmasters. Fast forward, in 2021Toastmasters
In RGB model, the primary colors Red, Green and Blue (RGB) are added in various proportions to form different colors
ThescaleusedinRGBisfrom0 to 255 So, when R is 0, G is 0 andBis0,yougetBlack(Black meansabsenceofcolor).When all R, G and B are 255 you get white. R, G & B are added in various proportions to form differentcolors.
International came up with a revised Brand Manual and it recommends usage of only 3 primary and 1 accent color. Boththesefactsarementioned belo
32 TRAILBLAZER NOORUDEEN V, DTM
DADDYCOLORFUL
Conclusion:
Although, colors attracted me always, I had never given it much thought. But my daughters motivated me to learn more about colors. As I startedlearningaboutcolors,I found it very exciting because colors are very emotive and hasalanguageofitsown.
The nature itself speaks to us inthelanguageofcolors.
Dark Blue sea can take us to a deep and calm thought. When it meets the sky of its lighter shadeatthehorizon,itgivesus asenseofhopeandaspiration. Red, Purple, Yellow flowers makesushappyanddelightful.
Icouldwriteonlysomebasicthingsabout I wish to continue my learning about colo natureandbeacolorfuldaddyalways.
AHEADOFTHECURVE
At the outset, let me congratulate all the leaders of District 116 Qatar for taking up leadership positions from the club onwards. Since members run Toastmasters clubs, each club offers volunteer leadership positions, and the leadership journey can go further up to Area, Division, District, and so on When you combine this with the leadership skills you can learn through the Pathways learning experience, you can not only build skills but also gain valuable experienceleadingateam.
Green grass and forests can refreshourmoodandprovidea senseofrelaxation.
Colorful Butterflies and birds have the power to stimulate instant stroke of cheerfulness and joy in us. Thus, if you notice the nature around us uses the language of colors to speaktous.
Rajeswar sundaresan, DTM
Inherent strengths in the District must be exploited for growth with the right strategies,focusedefforts,and specialized teams. I suggest a three fold approach to place the District to accomplish biggerandbetterpositioning.
1Analyze root causes when any slow down or decline is identified and proceed with solutions by purposeful strategic intervention. Good practices can be sought, solutions identified, and successreplicated
2.Create a knowledge repositoryandthinktankfrom Pastleadersandotherthought leaders in the District and throughbroaderinteractions.
3.Regular communication on progress, prospects, and gaps withpossiblesolutions
Change is a great blessing that brings in new opportunities, and leadership is a privilege to make this changing world a better place. Future leadership demands a more human approach, optimism, and agility.Trytoassesstoidentify your work style, and with a learners mindset, build your capacity to be readied for challenges.
Letuscontinuallylookforways to stay ahead of the curve by anticipating(ornotkeeping up with) thecurrent environment, developments, expectations, etc., to provide richer value to ourmembers.
33TRAILBLAZER NOORUDEEN V, DTM
Sonny Varghese, DTM
Please tell us when you joined Toastmasters and in whichclub?
1996,DohaToastmastersClub. Founder member of the First Club
What attracted you to Toastmasters?
In fact, nothing much. Since it was the First club, nobody knew anything about Toastmasters Since my friendsjoined,Ialsojoined.
Each year at the Toastmasters International Convention, the International President announces recipients for a Presidential Citation.Thiscitationispresentedtomembers who have shown continual support and dedication to the organization. Recipients of thiscitationareselectedatthesolediscretion oftheInternationalPresidentandthisyearwe have two leaders from District 116 who won this award - Sonny Varghese, DTM and Vicky Ferrer, DTM(followpage 42). Lets have a look attheir repliestoourquestions.
Tell us briefly about your recent toastmaster achievement. How do you feel?
Recently I was awarded "Presidential Citation" which was given to a select few every year by the International President for their dedication and contribution to Toastmasters.
Whatmessagewouldyoulike to share with toastmasters aspiring to follow in your footsteps?
Toastmasters will not only makeusagoodcommunicator and an effective leader, it will help us to become a better humanbeing
What is your biggest motivationinToastmasters?
It is an organisation of great friends with inclusiveness and always willing to help to bring outthebestinothers
HALLOFFAME-PRESIDENTIALAWARD
34 TRAILBLAZER
LIGHTHOUSE
LEO ORTEGA, DTM
Amidst this sometimes dark and chaotic world, there always stands a lighthouse. A guiding light that will lead us to the path of unchartered territories, a road to selfdiscovery, a track not usually taken by many. Icanstillrememberthatheart poundingmomentwhenIwas called to speak my mind on the topic: day and night. We were in a classroom and I felt likeakidwhojustaccidentally raised his hand and was acknowledged by the teacher. ItwastheveryfirstchaosIfelt inside with an unfamiliar audience. "I would prefer the night as it is peaceful and tranquil…" were the words that spewed out of my mouth without my mind minding. With the encouraging smiles and nods from the audience, I thinkIsawalighthousewhich mademecalmandearnedme the "Best Table Topics Speaker" award. From then on,mymentormadesureIam at my best in delivering my speeches
Fast forward to today, I am alreadyinmyseventhyearasa toastmaster. Like the many, I did not think about staying long,nottomentionbecoming a leader at least twice on top of the speech projects which are around 40+ in the legacy program.
Fromthemostlyshykidofthe countryside, I also grew to become talkative and later servelikealighthousetosome ofmyfellowtoastmasterswho I consider my friends and family. Taking on the experiences of my mentors, I learned just how important it is to have someone or rather people to guide you in your journey We are lucky to have mentorsintoastmasters!
Challenges never stop Commitments, personal and professional schedule conflicts, differing ideas, styles,andthelistgoeson.But when we start to dive into the unknown, we can chart new territories Inmyexperienceas a mentor, I became more aware of the needs of others. Before,Ionlycaredabouthow to proceed with my speeches. Now,Ihelpchartthefuturefor my mentees! While helping themtakeonnewthings,Ialso bond with them, build friendships and camaraderie. There is a relationship building opportunity that happens Somethingthatisan added value to our human existence
Mentoring also leads to self discovery.Icametoknowthat I only have an ounce of patience in my body. This mademerealizejusthowfast pacedthisworldisforme.Iam alwaysinahurrytodothisand do that Once done, move to the next and so on and so forth Not everyone can be lightning fast especially in learning new things. This self discovery allowed me to reflect on how to take things easy It takes time to get from point A to point B and a little more patience will make the ride smooth and less burdening.
This mentoring experience taught me to put in more attention to small things and be mindful of my actions.
35TRAILBLAZER
Be a lighthouse!
Lastly, being a lighthouse will provideyouanavenuetotake paths not usually taken by many.Wegooutofourwayto findthebestoptioninmaking thingsworkwithourmentees. Sometimes, we are hesitant and feel like we are short of everything a mentor should possess
That's life! And in this life, the world is blessed with other mentorsorlighthousesaswell, who bring forth support. So, whenthelightstartstoflicker, just reach out for help to refuel, and reignite our passion
Let us be a beacon of light to our fellow toastmasters, friends and family. Being a lighthouse is being an inspiration, a figure of hope in uncertain times.
Along the way, mentors may also feel discouraged and defeated. As if we are lost and cannot see even a tiny spec of light.
LIGHTHOUSE LEO ORTEGA, DTM 36 TRAILBLAZER
"Leave a lasting memory, use as few words as possible and strive with every fiber of your being to avoid being the type of person who rambles on and on with no end in sight more likely than not causing more listeners to sit and think to themselves. Oh, my goodness! Can somebody please make this stop?"
Remembertheselines,uttered by the 2019 World Champion of Public Aaron Beverly, in all honesty,Icouldattachthelink of his speech and my job would be done but Alas! An articleImustwrite.Tobeable to communicate effectively is an asset and this is precisely whymost,ifnotallofushave joined Toastmasters. And I'm sure you would agree that speaking or even writing for thatmatterwithprecisionand clarity is an important facet. Noonelikestomissthemark, and no one ever loves someone who rambles on and on. So here are a few things that I feel might work, well I believe they have worked for me: Know your audience Key to a successful speaker, knowing who you are talking to,somepeoplemightlikethe extra flavour, the added details,somepeoplejustwant to cut to the chase. Some audience members might like a mix of both So, you need to speak accordingly In fact, the samespeechcanbemadeinto many different versions to fit theaudience.
Vocabulary Itisnotaboutthe fancywords,itisnotaboutthe complicated words, it is about ensuring you are UNDERSTOOD, and nothing says understood more than SIMPLE.Wewantouraudience to understand us and not be confounded. I have seen speakers using complex, complicated,confusingwords, that leaves the audience scratching their head and the speaker themselves unsure of theirownwords.
Ofcourse,thereisnoharmin infusing and amalgamating words (see what I did there!!) thatwillmakeyourvocablook polished.Soitisgoodtolearn and keep yourself updated, and you don't have to limit yourself to just new words, learn phrases, figures of speech, similes and other creativewaysofpresentingthe sameidea.
Enunciation- We are all blessed with different roots and backgrounds and inherently different accents, while we celebrate our uniqueness and stay true to whoweare,
we can take steps to ensure thatweENUNCIATEourwords.
At times, all of us have a tendency to swallow our words or maybe even talk too fast. To enunciate is to ensure that we fully pronounce each word Now, mind you enunciating does not mean, talking in slow motion, that mostprobablywillannoyyour listener. Instead, it is about B E I N GC L E A R!(hmmm,did you read that too slow?) One waytoensureyoudothis,isby opening your mouth wide, to sayyourwordsout
Posture- Yep, you read that right, posture plays a huge part in your ability to speak with clarity. When you have therightposture,youwillhave good breath support. And another way of ensuring you have good breath support is speakingfromthediaphragm
MohamedQahtaniinhisworld championship winning speech correctly said 'Words have power'andmymantraiswhen youapplyKVEP Knowingyour audience, Vocabulary, Enunciation and Posture, you can exert this power with PRECISIONANDCLARITY.
SPEAKINGWITHPRECISIONANDCLARITY SHAREEF MIHL 37TRAILBLAZER
38 TRAILBLAZER
John C. Maxwell, American author
OverthepasttwoyearsIhave found myself faced with various tasks as a leader. A caseinpointiswithoneofmy organisations, the Pan African GameChangers.Everyyearwe host a Business entrepreneurs conference where we bring in entrepreneursandspeakersof notefromallovertheworld.It isaherculeantaskforoneman to try and execute alone. In Toastmasters terms, I could compare it to attempting to organise a Division Contest. Sadly, this year, in wanting to deliver the best of myself as a leader formyteam,theevent and the organization I ended up mentally exhausted halfwaythroughourplanning.
The same goes for my current journey as a leader in my Toastmasters Club To date, I havegoneallin,gladlytapping into my love of seeing others grow as leaders and communicators, that I have nearly disregarded the fact thatIwasdownwithaterrible coldandunforgivingcough.
It took mental exhaustion during the Business Conference planning, and physical exhaustion in Toastmasters for me to take a step back and realise that no manisanisland.AsmuchasI wanted to serve my organisationstothebestofmy abilities, I had to do so by callinginthecavalry.
Craig Groeschel said it best when he said, "When you delegate tasks, you create followers. When you delegate authority, you create leaders"
In my capacity as a leader, I eventually came to understandthatifyouwantto go fast, go alone, but if you want to go far, go together. Armed with this renewed perspective, I decided to delegate the things I knew in my heart would not be a train smash in the hands of someoneIknowandtrust.Itis necessary for rest and replenishmentofnotjustyour body,butthatofyourteam
When you are faced with a seemingly overwhelming project, do not be railroaded into adding more tasks onto your jam packed shoulders Appreciate that setting firm boundaries with yourself will inadvertentlyresultinpositive reverberations throughout yourteam.
Delegating the tasks for the Entrepreneurs Conference, and my club meeting preparations effectively not only saved me time, but it helped me as a leader and my team to develop as professionals,itpreparedusto manage larger teams, and inspired all of us to perform better.Icannotemphasizethis enough, delegation is an important management skill toworkonthroughyourcareer andinlife.
LEADERSHIPDELEGATIONANDEMPOWERMENT Tariro Dorcas Matibiri
"If you want to do a few small things right, do them yourself. If you want to do great things and make a big impact, learn to delegate."
39TRAILBLAZER
LEADERSHIPDELEGATIONANDEMPOWERMENT
Dr Carmen April
Once I understood the importance and benefits of delegation, I stood back and watched in awe as each successful project birthed an exceptional leader In delegating more than just tasks,butauthority,itgavethe peopleIworkedwithastateof empowerment.
The notion of empowerment remindsmeofthedaysIspent watchingmyniecebakingwith hermother.Itwasaboutmore than just ingredients and recipes or playing house. In watching my niece I saw how bakingwithhermotherhelped her harness imagination, empowermentandcreativity
Fromplayingwiththespatula, topretendingtomixflourand eggs in an empty bowl, she reached a stage of liberty where she was able to volunteer to wash the baking tools whenever her mother was done using them, always making sure that when her mother needed to use the mixing bowl it was washed, dry and ready for the next bake. Empowerment in the making
In hindsight, empowerment is not an esoteric phenomenon strictlyreservedforthosewho are born to lead. On the contrary, after spending time watching my niece and her mother in their baking element,Icametoacceptthat empowerment is a proven technique where leaders give their teams the necessary training, tools, resources, and guidancetosucceed
For our entrepreneur's conference, it meant equipping my team with the documents, contacts, layouts andguidancethattheyneeded totaketheprojectandseeitto fruition,whichImustsaythey did exceptionally well. Within myToastmasterscommunityit meant being humble enough toaskforassistance,handover projects and tasks to my teammates and trust that any and all meetings will be planned and delivered to standard.
After attempting a number of projects alone, trying to fly solo in my leadership journey, worried about asking for assistancelestIappearweak,I am now a firm believer in decentralized management that makes room for a lot of delegation,empowermentand accountability (with large dosesofhumility).
"Leaders become great, not because of their power but because of their ability to empower others."
Tariro Dorcas Matibiri
40 TRAILBLAZER
MANAGINGEMOTIONSOFTEAMMEMBERS Nadeesha Nilmin Perera
As leaders though we associate with different types of people that have different personality types, different communication styles, and different working styles, we should be able to help them and to motivate them Which couldeventuallyresultintheir growthtoworkasagoodteam member. So, the ability to adapt and read other people and understand other people is important as a leader. Moreover,communicatingwell with others and the ability to receive feedback is also very important.
Whentheemotionalsituations
arise, as leaders we should be abletorestoreorderandcalm members, while still respecting the team's emotional needs. Staying neutral without reacting until we get the clear idea on the matter, we should be able to speak and act quietly This is one of the best methods to manageemotions
Calling time out is also a wise decision to get a clear idea on the matter and to solve the issue without harming the dignityofthemembers. And also, by listening and carefullystudyingthesituation we would be able to find the reason behind the issues. Reflecting their reasons and affirming their feelings, can also help solve issues. And thenaddresstheissueinaway to enhance the team spirit by restructuring the team's work helpstominimizetheabilityto spread issues among members.
By looking at a problem in many different ways, calmly if we can find out solution, instead acting aggressively in stressful situations, we would beabletohavehighdegreeof emotional intelligence and minimizemostoftheissuesin the team or the organization. Since everything won't go as we hope and plan for, things could be changed in different ways
If we don't improve our emotional control, issues couldbeworsenandwillaffect the team or the organization. Most importantly we should notexplodewhenthingsdon't goonourwayandatthesame timewhenthingsgoaccording to plan, the credit should be given to the due person/persons. Incasethingsdidn'tgowellas planned, we shouldn't shutdown or upset them by harming their emotions, thoughts and feelingsMonitor and manage people's feelings, emotionsandideascoulddoa better task in managing emotions. Furthermore, pay attention to them, following uponthingsandgivethemthe chance to talk through these issues in private. Confidentiality is the next important thing we can do. Afteracknowledgingtheissue, we can speak to the members about the problems and discuss methods to solve them.
By listening to the team members carefully and reacting to them in a professional and reasonable way, by motivating them to enhance the team spirit, by putting ourselves in their shoes we should be able to manage emotions of team membersinapositivemanner.
"Leave your emotions at the door" This is the most awesome rule I ever heard
As a leader, it is critically important for leaders and people in leadership positions to have better communication and motivate them for the best.
41TRAILBLAZER
HALLOFFAME-PRESIDENTIALAWARD
Tell us briefly about your recent toastmaster achievement. How do feel?
from others. It's you, of yourself, of whom you must
Vicky Ferror, DTM
Please tell us when you joined Toastmasters and in whichclub?
IofficiallyjoinedToastmasters in 1999. I was the Founder Charter President of the first Toastmasters Club in Amman, Jordan. It was named International Toastmasters Club of Jordan. The second club I joined was Doha Toastmasters in early 2003. I hadjoinedabout22clubsuntil today and I am the Founder/CharterPresidentof6 clubsinQatarandinJordan.
What attracted you to Toastmasters?
There were three things that attractedme.Thefirstonewas lifelong learning It has been learning and sharing experienceforme.Thesecond onewascommunityserviceto the members and the youth. Toastmasters provides us an opportunity to uplift each other. Lastly, it was the camaraderie Toastmasters became my extended family especially when I became the first Filipina Jordanian District 20 Governor comprising of Bahrain, Jordan, Kuwait, Lebanon,Qatar,Omanandthe UAE. It was indeed a privilege to be supported by many in the Toastmasters family. Whenever I travel to any part of the world, I am warmly welcomed by fellow Toastmasters. Some of them have been my friends (family) formorethan20years!
I personally received President Citation Award from Acting President Ric Peck in Nashville, Tenne lastAugust18,2022.
I feel that the award is ano senseoffulfillmentforme and many of the Toastma from different parts of worldwhosupportedmei journey. This was an awar all of us. A special mentio my son DTM Hussam Ali hisgoodsoulrestinpeace) always encouraged me continue my service Toastmasters.
Whatmessagewouldyou to share with toastmas aspiring to follow in footsteps?
Do the things you love t with sincerity, commitm and authenticity. I did aspirenorexpecttoreceiv award at all. I al encouraged non member join and members to cont because of the coun benefits Volunteerasmen You will be happy to see t develop as Toastmasters as Better Persons. I am thr when they perform better me.Fouroutofmyfivechildren are Toastmasters. Two are DTMs and Past Area Directors. The Toastmasters passion is within my family and hopefully itwill spread to my grandchildren and great grandchildren. I remember this quote from Albert Schweitzer, a German French Theologian "You must notexpectanything
What is your biggest motivationinToastmasters?
I have several reasons to motivatemyself. Iamthankful to Toastmasters for adding valuetomycareerasaTrainer.
I am the Founder of Learner's Innovative Talkademy (LIT) thatofferscoursesonSkillsfor Life on line and in person. Please check out the website: https://littalkademy.com/ It was an honor and privilege to lead 7 countries in 2013 2014 asDistrict20Governorandthe Region11Advisorin2015 2016 covering Europe, UK and Ireland,theMiddleEast,South and West Africa. I had a successful tenure on both leadership positions. I have been mentoring countless speakers and leaders globally for the last 20 years. Helping others helps me in my life; their growth is my growth; their blessings are my blessings! It is such a unique honorformetocontinuewhat Iamdoingandwhataprivilege to know my fellow Toastmasters my extended family!
42 TRAILBLAZER
One of the most comforting phrases that I've heard was "one step at a time". It's not the usual motivational phrases of "keep going", "you're strong, you can do this", or "believe in yourself". One step at a time. Can you imagine the power these words have?
It gives us the courage to pause and think about the simple things that are often overlooked when we are used to a fast paced environment andhustleculture.Itmakesus more forgiving towards all fallouts and failures that happen. It humbles us to accept that our best will not always look the same. Sometimes, our best looks as simple as taking a break or spending more time with family and friends without the stress and pressure of work demands or academic responsibilities. It can even look like spending a day by ourselves to renew our physical energy levels and rejuvenate our mental health conditions.
Timeisahugesourceofmany anxieties, achievements, deadlines, and milestones, Unnecessary worries and endlessthoughtsofregretand what ifs manifest our refusal to accept change, and essentially,togrow
Change and growth require letting things go. Despite how painful they are, they're inevitable. Time waits for no one Humans might invent time machines and tricks like time travel, but time will continue to flow and be indifferent.
It'scommonfortherealization that time is indeed tyrannical and indifferent to be followed by some sort of nihilism, loss of hope, or general aimlessness that can be summarizedas"Ifeelsosmall and powerless, what's the point of it all?" This sense of powerlessness (poor locus of control)emergesfromourfear of change. Our inability to accurately tell what will happen next hinders us from makingchoicesandessentially from"living"
Another root cause of our dilemmas is our capacity and incapacity to manage our energy. It's no foreign news that an insufficient amount of sleep, nutrition, exercise, and restinfluenceourcapabilityto control our emotions and attention.
In many cases, our exhaustion orlackofenergyconsumesus morethanwecanhandle.Our bodies are designed to move and get exhausted and simultaneously programmed to restore themselves through rest. No amount of social pressures and worldly reasons candisprovethat.
The time ahead of us holds so much room for the potential for growth, improvement, and opportunities It's a matter of crafting our own lives at our own pace. While time and human energy are quintessentially scarce resources, we can rely on our set of values, ambitions, beliefs, support systems, and positive energy to let them replenish.
We have to eventually learn how to let things go and keep moving forward with our priorities and values set in place all while carefully and mindfully taking care of our peace of mind and energy. Only by living out 'one step at a time' tells us that and reinforceshowweareactually incontrolofourdecisionsand how we live our lives despite limitationsoftimeandenergy.
MICHAEL
TIMEANDHUMANENERGYMANAGEMENT
43TRAILBLAZER
DEEPTIA.POTNIS DISTINGUISHED TOASTMASTERS IN TOWN ANJALIA.PIMPLE AJAYAROGIYE ZEENATHUNSATHAR SURYANARAYANANKALYANARAMAN RLAKSHMISARADA MEENUPARASHAR DURGAMAVURU 44 TRAILBLAZER
C O N V E N T I ON
45TRAILBLAZER
WHERELEADERSAREMADE DISTRICT 116 I REGION 11 TRAILBLAZER VOLUME 3 I ISSUE 1 ENGAGETOEMPOWER BeapartofTrailblazerbysendingyour article to district116prm@gmail.com to get published in the next edition of Trailblazer. DISTRICTMISSION Webuildnewclubsandsupport allclubsinachievingexcellence.