6 minute read
Q&A: taylor mcnallie
Keep supporting Keep showing up Keep speaking out
PHOTO BY: JODY O PHOTOGRAPHY
Taylor McNallie, Co-founder of Inclusive Canada.
"Community services need to be for the people, by the people. Always."
Anti-racism activist Taylor McNallie on success, progress, trust and challenges
Taylor McNallie is the walking definition of a serial entrepreneur. She is a brand developer, marketing strategist and success mentor through her company Taylor Made Studios. She is the producer of the Taylor Made Radio Entertainment Network, which supports Canadian artists and musicians. Her podcast—Taylor Made Radio—was the first runner up for Best of Calgary in 2020. And she is a successful public speaker and host, gracing the stages as an emcee for local events, festivals, awards shows, celebrity panels and more.
As if this jam-packed career weren't enough to occupy both days and nights, McNallie is also the co-founder of Inclusive Canada (previously Rural Alberta Against Racism), which has branched out nationally to advocate for all marginalized people, and a member of the Defund2Fund Coalition, a group of Calgarians calling on city council to re-allocate 30 percent of its police budget to community service groups. In her spare time—and somehow she seems to find some—so far this year McNallie has hosted a Zoom chat for local Girl Guides; spoken with young girls and their families on Black history within Canada; joined the Edmonton Police Service's Commitment to Action committee meeting, which is open to the public; and been regularly present at local protests.
And somehow, McNallie still found time to talk to us about her involvement and experience advocating for Black Lives Matter in Calgary, Alta, and her increasingly public work as an anti-racist advocate.
with kelsey hannah
What does success look like to you in this work? Happiness, opportunities, justice, liberation. When Black and Indigenous Peoples thrive, that's when we've succeeded.
How much progress would you say has been made policy-wise in Calgary and Alberta since the BLM and RAAR (Rural Alberta Against Racism) rallies in Summer 2020? Which policies still need to be changed? Policy-wise, not enough. We're still only seeing minor moves in how we can communicate our wants and needs. This includes the creation of anti-racism committees, the police commission holding public meetings, police act reviews with community engagement, etc. While these initiatives are important in order to have our voices heard, they've been done before—the conversations are nothing new and the message from BIPOC individuals has been the same for years.
What our communities need is to see the defunding and demilitarization of law enforcement; police accountability; funding going into social supports and programs; better access to these services and programs; acknowledgment of the past regarding the treatment of BIPOC individuals in this country along with a proper education curriculum to include this knowledge; and reparations for our people. These demands are not a secret. Government officials know exactly what they need to do. At this point, we need less talk and more action.
You interviewed documentarist Marc Serpa Francoeur, whose work Above the Law/No Visible Trauma (2020) is a commentary on the social issue of systemic oppression and looks at "a deeply troubled police department and reveals the devastating consequences of unchecked police brutality." In your interview, you talk about how easy it is to find out about instances of police brutality in Calgary, but how difficult it is to gain access to those reports. You argue there should be full transparency and access of these reports for the tax-paying public. In what other ways do you feel ASIRT (Alberta Serious Incident Response Team) or the Alberta government could be better enabling the public's trust in the Calgary Police Service? To better enable the public's trust in police, they need to listen to the people. Again, defund and demilitarize—give that money to grassroots organizations and individuals already doing the work to care for their communities. They also need to take accountability for their actions when it comes to misconduct, taking direction from a community-appointed accountability board, rather than something like ASIRT or the Police Act, where it's basically cops investigating cops.
Law enforcement keeps the public out of its personal affairs and how they do things, and that needs to stop. Otherwise, who are they "serving and protecting" if they're not even listening to the people they're supposedly meant to "serve and protect?" Community services need to be for the people, by the people. Always.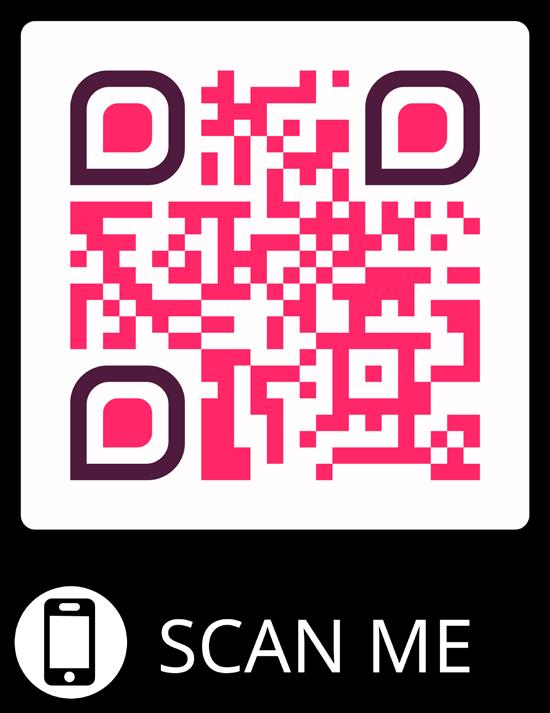 she/they/us
SCAN TO VISIT OUR WEBSITE AT www.shetheyusmag.com
How has COVID-19 brought new challenges to activism? Obviously it has greatly impacted in-person events and protests, which I feel always bring a better form of understanding, when you can see someone physically share their experiences and easily follow up afterwards to discuss what you've learned.
That being said, we've still travelled throughout Alberta for the last year, ensuring the momentum is not lost, and we have been able to hold some wonderful events and discussions online. One great thing about this digital protest era we're in is being able to provide resources on the spot and have others easily look into them further.
Communication has been tough, as we now lack that one-on-one aspect of interacting, but we're making it work.
What's next on your to-do list? To be honest, this is a loaded question, because sometimes I feel overwhelmed with the amount of work that needs to be done. In the short-term: Continue to provide educational content through social media, videos and podcasts. Hold events that promote the elimination of discrimination, and the advancement of affirmative action on the basis of race, gender, and ethnicity. Create opportunities for Black and Indigenous individuals, in order to begin building long-term equity within our communities. Continue working with government officials to change policies and ensure those responsible for misconduct are always held accountable. In the long term: Create a mentorship program for Black and Indigenous communities. Work with youth within schools and curated programs to provide education and opportunities for the future generation. Get more involved in mental health support for Black and Indigenous individuals—Inclusive Canada is collecting signatures for a petition that would proclaim Black Mental Health Day / Week in Alberta. Find out more: change.org/p/ black-mental-health-day-week-alberta Have fun, because people seem to get lost in Black pain rather than celebrating and encouraging Black joy.
Is there anything else you'd like to share? To all the non-racialized individuals who read this, just keep supporting. Keep showing up. Keep speaking out. This fight is long from over, and if Black and Indigenous Peoples can keep fighting, you can, too. Thank you.
For more information about
Inclusive Canada, check out their website (www.inclusivecanada. org), and follow Inclusive Canada on Facebook (@ InclusiveCA) and Instagram (@inclusivecanada). People can also financially support Inclusive Canada and their work by donating via e-transfer to info@ inclusivecanada.org. McNallie also recommended a number of resources for people interested in learning more about and supporting BLM in Alberta and Canada:
• A Fight for Equity • Alberta Social Justice Protests &
Events • Be the Change - Drumheller • Bear Clan Patrol Calgary • Bear Clan Patrol Edmonton
Beaver Hills House • Black and Indigenous Alliance • Black Lives Matter YYC • Idle No More - OFFICIAL • Indigenous People's for Equality • Lloydminster & Vermilion for
Equity • RDAR (Red Deer Against Racism) • The Community • Water Warriors YEG
FIND OUT MORE: for links, head to shetheyusmag.com/BLM
Where to find McNallie
Emcee & Public Speaker @Taylor_McNallie linktr.ee/taylor_mcnallie Owner - Taylor Made Studios @TaylorMadeStudiosYYC Co-Founder - Inclusive Canada @InclusiveCanada www.inclusivecanada.org Producer - Taylor Made Radio Entertainment Network @TaylorMadeRadio