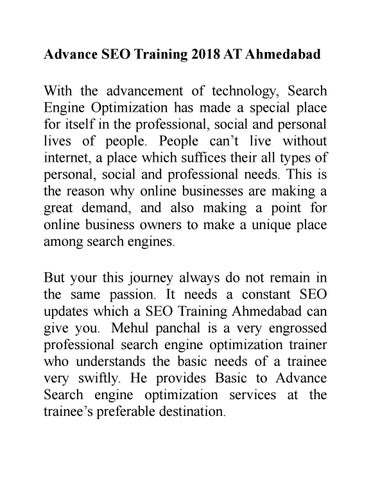 Advance SEO Training 2018 AT Ahmedabad With the advancement of technology, Search Engine Optimization has made a special place for itself in the professional, social and personal lives of people. People can't live without internet, a place which suffices their all types of personal, social and professional needs. This is the reason why online businesses are making a great demand, and also making a point for online business owners to make a unique place among search engines. But your this journey always do not remain in the same passion. It needs a constant SEO updates which a SEO Training Ahmedabad can give you. Mehul panchal is a very engrossed professional search engine optimization trainer who understands the basic needs of a trainee very swiftly. He provides Basic to Advance Search engine optimization services at the trainee's preferable destination.
---
Mehul sir already had the professional experience of web businesses and internet marketing. He has trained more than thousands of people till now in all parts of Gujarat. His service deliverance is based on quality, dedication, and punctuality towards your training session. He never compromises with training quality no matter what comes. So, if you got interested or want to learn the expert services of SEO Training Ahmedabad; just mail at mehulpanchal@gmail.com or Call to Mehul Panchal on this mob. Number: 9510352807 for SEO Training Course Structure. The trainees will receive individual search engine optimization cum internet marketing training within their pocket range. The training session as well as training fees is suitable and reasonable for all class trainees. Once you come in touch with Mehul sir, you would not think twice.
---
Benefits of Mehul Sir's Marketing Training Course:
Search
Engine
• Reading Advance Tutorials or Books cannot give you practical exposure, He provides practical exposure. • This Coaching will help in increasing the Specific visitors to your website • Targeting new regions and countries to expand the horizon of your web business. • Many companies are using SEO as a major tool of advertising • Highest Demand in IT Sector and other Industries. • After completion of this course Web owners or Trainee members can start Independent work. You might be thinking since there are more than 1 billion websites over the Internet. How do prospects discover yours?
---
This question can be easily solved by Mr. Mehul Panchal, a highly experienced SEO Trainer showering Training services in Ahmedabad, Ahmedabad, Varodara, Baroda, Mehsana and in other parts of Gujarat. Whatever your queries are related to search engines or search engine algorithm; don't hesitate because you are a college student, house wives or a person of unprofessional field. He easily accommodates with everyone no matter what your pocket range is. With SEO Training Ahmedabad Services from Mehul, a professional SEO consultant will help your website get discovered by: • Increasing Visibility in the Search Engines • Amplifying Qualified Traffic • Boosting Keyword Rankings SEO with Mehul Sir Includes: • Initial Website Consultation • Keyword Research
---
• Meta Data Alterations • Front Page Content Consultation • Review of Internal Text Links • Content Writing (additional charges may apply) • Review of and Implementation of Google Analytics/Google Webmaster Tools • Ranking / Status Reports and more Search engines reward websites that offer visitors excellent user experiences and valuable content. At SEO Training Ahmedabad; Mehul sir focuses on creating websites people like visiting and search engines like crawling. Article Source Computer Training Ahmedabad & SEO Training Surat
Advance seo training course 2015 at ahmedabad  
Advance seo training course 2015 at ahmedabad  
Published on Feb 14, 2018