IN SeaSon
your
guide
Catching Waves
Seacoast Magazine
on Stage: See a
or attend a
Live
show
festival
Surf tips & tricks, apparel, and more to
summer Living Cheers to the Coast
Where to get the best beer
2 In Season 2023
OPEN 7 DAYS Friday - Saturday 6am - 10pm Sunday-Thursday 6am - 9pm 207 Ocean Blvd, Seabrook 603-760-2836
CATALANO'S MARKET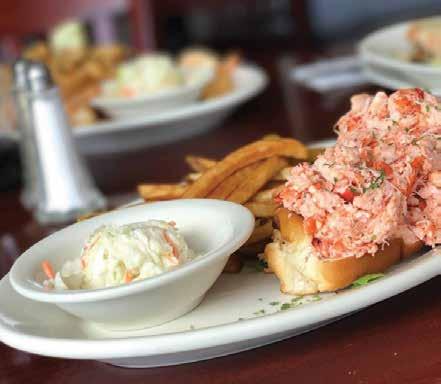 3 In Season 2023 In This Issue 6 A Word from Prescott Park Arts Festival 8 Center Stage 12 A Word from Hampton Area Chamber of Commerce 14 Catching Waves 18 A Word from Pro Portsmouth 20 Cheers to the Coast 25 Event Guide In Season 2023 A publication of The Hippo Published by QOL Publications 195 McGregor St., Manchester, NH, 03101 603-625-1855 (First copy free; additional copies $1 each) PUBLISHER Jody Reese jreese@hippopress.com EXECUTIVE EDITOR Amy Diaz adiaz@hippopress.com MANAGING EDITOR Angie Sykeny COPY EDITED BY Lisa Parsons EDITORIAL DESIGN Jennifer Gingras PRODUCTION Jennifer Gingras Brooke Fraser REPORTED BY Betty Gagne Lily Hartman ADVERTISING MANAGER Charlene Nichols ACCOUNT EXECUTIVES Roxanne Macaig Alyse Savage SUPPORT STAFF Tammie Boucher COVER Photo by Brooke Fraser Contributors Golf & World Famous Seafood Chowder & Lobster Rolls Daily Specials 12 Ocean Blvd., Seabrook Beach, NH Call for take out:* 603-760-2182 *Not available 5-8pm daily Order to go (add .50 per item) 12 Ocean Virtual Golf! Hours of Operation Taking Tee TimeDaily from 10am-8pm Make your Tee Time online: 12oceangrill.com Two state of the art golf simulators with 18+ different courses from around the country to choose from. IndoorGolf 140015 Your guide to making the most of Your summer adventures on the seacoast
Greetings and welcome to the inaugural issue of In Season, your guide to making the most of your summer adventures on the Seacoast.
In these pages, you'll find stories about some of the many personalities, locales and activities that make this region such an exciting place to live and visit.
From free outdoor concerts at Hampton Beach's Seashell Stage to intimate performances by the Seacoast Repertory Theatre in Portsmouth, the Seacoast has live entertainment for every audience.
Want to get out on the water? We found some of the best spots to catch a wave, plus insider tips from local surfers who know the Seacoast waters like the back of their board.
Get a taste of the coast's burgeoning craft brewery scene and the unique flavors created by the region's most innovative brewers.
Finally, check out our event guide for a comprehensive look at the months ahead. Whether you're a foodie, music-lover, nature enthusiast, or looking for something to do with the family, we've got you covered with all the details you need to plan your perfect summer itinerary.
Thank you for joining us on this journey to explore the best of what the Seacoast has to offer and to make this summer a summer to remember.
— Angie Sykeny, managing editor, In Season
4 In Season 2023 Editor's Note #1Miniature Golf Course The on the Entire Seacoast! Great Family Fun For All Ages Open Daily, 10am to 10pm (Weather Permitting) From Memorial Day to Labor Day Route 1, 812 Lafayette Rd, Hampton, NH - Look for the Waterfalls 603-926-5011 • www.smallgolf.com 2 for 1 Tuesday $$$COUPON$$$ BUY 1 ROUND, GET 1 ROUND FREE Valid Any Tuesday For 2 People • Must present coupon at time of admission • Cannot be combined with other offers Coupon Expires 9/30/23 SAVE up to $4 $$$COUPON$$$ 1 DOLLAR OFF PER PLAYER  • Must present coupon at time of admission • Cannot be combined with other offers Coupon Expires 9/30/23 Golf & Ice Cream for 4 $$$COUPON$$$ 4 GAMES OF GOLF & ICE CREAM, $41 • Must present coupon at time of admission • Cannot be combined with other offers Coupon Expires 9/30/23 FOR ONLY 140080
140104