1 Scrunch on the go Scrunch in the garden Scrunch in the bath Scrunch at home Scrunch on the beach
Here at we have been designing, manufacturing and selling our award-winning silicone toys for small hands for 18 years.
We remain completely obsessed with our attention to detail and accept no substitutes.
2023 sees the arrival of more new products, all designed with developing and enquiring minds at the heart of the range's objective. We seek to promote and encourage learning through fun and play, whether sifting, pouring, measuring or just messing about and splashing.
We remain proud of the eco credentials of all our recyclable and reusable 100% silicone products. We continue, as a company, to look carefully at the ways in which we can further reduce our carbon footprint.
We would like to see single use plastic toys replaced with our squidgy, soft, durable, foldable and recyclable products.
Travelling with is easy peasy as everything simply squashes into pockets, the smallest spaces and yet bounces back into shape when needed.
Roll them fold them them!
Capacity 1.5L, Size 15cms top diameter x 10cms base diameter x 13cms high excluding handle.
2 3
Old Rose
Duck Egg Blue Mushroom
4 5 Strawberry Red Teal Blue Sky
Sage
Lemon
Flamingo Pink
Denim Blue Dusty Light Purple
Anthracite
Dusty Light Purple
Spearmint
Pumpkin French Navy Denim Blue
The perfect tough hard wearing little spade for small hands. Made from recyclable phthalate free polypropylene, it measures 21 cms long x 5.7cms wide x 3.2 cms deep.
Pops into pockets and bags very easily.
Anthracite
6 7
Old Rose
Duck Egg Blue Dusty Light Purple
Mushroom
8 9
Teal
Sage Lemon Flamingo Pink
A tough hard wearing little rake for scraping and digging. Made from recyclable polypropylene and measuring 21 cms long x 4.5cms at its widest. A perfect little pal for the spade.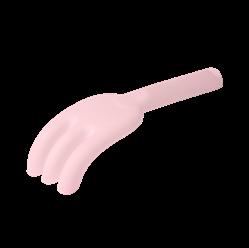 10 11
12 13
14 15 Duck Egg Blue + Blue Sky Spearmint + Lavender + Lemon + Pumpkin Our fabulous new double digger is the answer to a spade and rake in one. Made from 100% silicone it is double the fun as a two colour accessory and can be squashed up into the for easy packing! Size 21cms x 5 cms.
The is a gorgeously soft tactile edition to the range for young adventurers. With cute animal handles (a snail and a fish), enquiring young minds can seek and discover treasure by sifting earth, sand or mud through the bottom of the panner which sits perfectly on top of the our . When not in use it scrunches up neatly into the . Made from 100% recyclable silicone it measures 21 cms top dia excluding handles x 7 cms high x 14 cms base dia.
16 17
Old Rose
Teal
Duck Egg Blue French Navy
Flamingo Pink
Footprint
18 19 Old Rose Duck Egg Blue Mushroom Anthracite Dusty Light Purple Spearmint
Super soft and bendy sand moulds in adorable animal shapes for hours of fun in the sand. Made from 100% silicone these moulds are recyclable, reusable and eco-friendly. A set of 4 moulds all bundled up in a matching little net bag.
Set
20 21 Strawberry Red Mushroom Pumpkin Spearmint Teal Anthracite French Navy Sage Blue Sky Dusty Light Purple Frog Set Footprint Set Sage Lemon Flamingo Pink Duck Egg Blue Dusty Light Purple Old Rose
The most amazing super soft phthalate free recyclable PVC bouncy ball, measuring a ginormous 23 cms dia. when fully inflated. It comes with a straw and a stopper to inflate and deflate for hours of outdoor (or indoor?!) fun.
Old Rose Teal
Duck Egg Blue Anthracite
22 23
Our sticks to the side of the bath and can be poured, splatted and squashed for hours of bath time fun. It holds just over 200 ml so plenty of water for splashing and squashing his shell in the bath. He measures 21cms long x 11cms high x 3.5cms high.
24 25
Old Rose
Teal Teal
Duck Egg Blue French Navy
Sage
Our is designed in the shape of a cheeky puffer fish. Perfect for scooping up, pouring out, digging, shovelling, burrowing – simply hours of general fun both inside (ideal for the bath) or outside on the beach and in the garden.
Scoop measures 11.5cms high x 15 cms wide including his fins and 15cms deep so he can hold a lot of water!
Made from our usual high quality recyclable silicone.
26 27
Blue Sky
Old Rose Duck Egg Blue Sage
Flamingo Pink Strawberry Red Teal
Our new is a friendly smiling croc who just loves to pour….assisting development of fine motor skills and providing safe fun whether in the bath, on the beach or in the garden.
Made of our high quality super soft and tactile 100% silicone, croc is eco-friendly, reusable and recyclable. When completely full croc can carry 250ml, and his solid handle-tail has been cleverly designed so as not to harbour germs.
28 29
Old Rose Duck Egg Blue Sage
Flamingo Pink Strawberry Red Teal
Blue Sky Denim Blue Leprechaun Green
Mushroom
Our amazing silicone bath games stick to the side of the bath and allow hours of fun matching heads and tails. Beautiful quality printed silicone.
All supplied in a little bag. 20 silicone pieces measuring 5 x 7 cms.
Mushroom
30 31
Old Rose
Duck Egg Blue Anthracite
A wonderful easy to carry 100% silicone (super soft and bendy) watering can with rope and easy grip handle.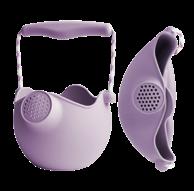 Oodles of uses, in the garden, in the bath, on the beach – anything to encourage the young to get out and about and play around with water.
Which colour to choose?
Size is 15.5 x 14.5 x 10.5 cms.
32 33
Old Rose Anthracite Duck Egg Blue Dusty Light Purple Mushroom Spearmint
34 35
Flamingo Pink Strawberry Red
Sage Teal French Navy
A gorgeous collapsible little pot suitable for seedlings, together with a trowel for busy hands. Available in a variety of colours, with matching watering cans and buckets – all set for the great outdoors.
This wonderful little pot has also been very popular with small hands on the beach at summertime and in the garden the rest of the year! Made from 100% soft silicone with an easy to grip handle and rope handles. Size: 11cms high x 8.5cms top dia x 7cms base dia and 2 cms high when flat packed.
Anthracite
Dusty Light Purple
Mushroom Spearmint
36 37
Old Rose
Duck Egg Blue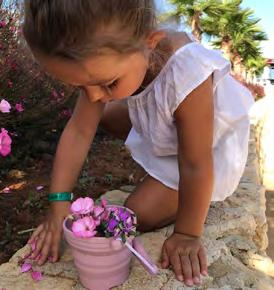 38 39
Teal French Navy
Dusty Light Purple
Flamingo Pink Strawberry Red Sage
The original for hours of fun. Measuring only 18 cms in diameter it flies perfectly and folds up into a pocket afterwards. Made of 100% recyclable silicone.
Duck Egg Blue Anthracite
Teal
40 41
Old Rose
are based on the traditional game played anywhere…..inside, outside or on the beach.
Position the ball on the ground and test accuracy skills by attempting to throw the silicone rings over the ball.
This set consists of 5 hoops (9.5cms diameter) and a 4cm dia solid ball – all made of our fabulous eco-friendly silicone.
Fun for everyone ….
Scandi Blue & White Multi Red, Green & White
42 43
44 45 Our new thermoplastic bag will carry a Scrunch-bucket, spade, rake, and sand moulds to take anywhere! It collapses absolutely flat so will take up no room! Size 25cms circular diameter excluding handles x 3ml!! Old Rose Lemon Duck Egg Blue Duck Egg Blue Flamingo Pink
This is our fabulous pack awayable folding bucket (another original!) which can hold a full 7 litres for those bigger tasks.
Still of the high quality silicone we always use, this super has a stainless steel reinforced handle for more strength. Measures: 20.5 cms high x 26 cms top dia without handles x 17 cms base dia.
46 47
Old Rose Duck Egg Blue Anthracite
Our silicone water balls are huge fun when splatting on the ground or squeezing and popping open to spray with water. Easy magnetic closure allows them to be secure when full but so easy to scrunch open.
Size: 7.5 cms diameter.
Pack on the left: pink/orange and teal/yellow
Pack on the right: yellow/teal and orange/pink
48 49
The most perfect gift idea.
An eco-friendly recyclable box covered in bubbles containing the and the cheeky who just loves to pour.
Full of fun for small people at bath time, or play time in general. Hair washing has become fun (at last) when Mr Crocodile or his friend the puffer fish scoop pour out the water….
Both scoop and croc are made of our usual high quality, soft and tactile recyclable 100% silicone.
50 51
and Crocodile Old Rose
and Crocodile Flamingo Pink
Duck Egg Blue Scoop and Crocodile Strawberry Red
and
and Crocodile Teal
Scoop
Scoop
Scoop and Crocodile
Scoop
Crocodile Sage Scoop
Designed to look like a little window box, we want to encourage our young ones to get out and about. The box contains a silicone watering can with rope handle just like our fabulous plus a collapsible silicone seedling pot and trowel. The set measures 27.5 cms long x 11cms wide x 11cms deep.
52 53
Spearmint
Old Rose
Anthracite Duck Egg Blue Dusty Light Purple Mushroom
54 55
Teal French Navy Sage
Flamingo Pink Strawberry Red
56 With a minimum order of £150, and an easy to use ordering process on our website, why not become a stockist? To order online, go to our website: www.scrunchkids.com Contact: kay.glennie@scrunchkids.com scrunchkidsuk get in touch... Roll them, fold them, them