Taste
Restoring the Reedy
INSIDE Upfront .....................................................2 SC Biz News Briefs .......................... 3 C-Suite ..................................................... 4 In Focus: Health Care/Life Sciences 18 LIST: Hospitals 22 BONUS LIST: Life Science Companies 23 At Work 24 Viewpoint 27
the Army An arms manufacturer that makes military and police weapons will open plant. Page 21
Arming
of Europe Gastro pub in Greenville inspired by couple's adventures abroad. Page 7
honored GSA Business Report celebrates stalwarts of the business community. Page 14
impact
7 million visitors that dropped in on the Greenville area in 2022 spent a surprising amount of money. Page 10 IN FOCUS: A better way to deliver meds
Greenville-headquartered company says it's ready to change the game. Page 18 VOLUME 26 NUMBER 6 ■ GSABUSINESS.COM MAY 2023 ■ $2.25 Part of the network How the new Reedy River Wetlands Preserve at Unity Park offers a glimpse of the forgotten history of the Reedy River while showcasing habitat restoration in an urban setting. Page 6
Icons
Tourism
The
A
Fewer SC workers tied up in traffic
Arecent review of commuting trends found that workers who travel 90 minutes or more to get to and from work fell by 1.5 million from 2019 to 2021. That represents a 32% decrease in the most intense commuters during the height of the COVID-19 pandemic. Apartment List, a data-driven property matching platform that analyzes data on multi-family real estate across the country, said that the global pandemic caused a significant shift in how people get to work, and part of that is fewer people are actually driving to work. That creates a ripple effect in easing congestion on the nation's highways.
In South Carolina, two of the state's three major metropolitan areas have experienced significant declines in commuters who spend the most time getting to work. From 2019 to 2021, Charleston saw a 25% decrease in these so-called Super Commuters, Apartment List's analysis found, with Columbia showing a 10% decline.
The Upstate was the only metro area that saw an increase in Super Commuters with 10% more workers spending more than 90 minutes driving to work.
While overall Super Commuters make up just under 2% of drivers hitting the roadways during rush hour in South Carolina, commute times can vary widely depending on where workers live, the latest estimates from the U.S. Census Bureau's American Community Survey show.
On average, South Carolinians have a 25.3 minute commute each morning. That's about the midrange for Southeastern states, with Georgia posting a 28.6 minute average commute on the high end and Arkansas showing an even 22 minutes on the low end. by Andy Owens
Commute times for select SC counties
Average commute times for counties in South Carolina's largest metro areas range from between nearly 23 minutes to more than 30 minutes on average.
Commuting by the numbers
Average commute times
National average: 26.8 minutes
SC average: 25.3 minutes
Employees who work from home
National: 9.7%
Statewide: 4.2%
Workers who use public transportation
National: 4.2%
Statewide: 0.5%
Source: US Census Bureau American Community Survey 5-Year Estimate
Commuting in SC's largest areas
The largest cities in South Carolina's major metro areas often have significantly shorter commute times than regional averages, with Columbia posting the shortest commute time for drivers at 16.6 minutes on average.
Upstate: 23.1 Minutes
Mislands: 24.5 Minutes
Lowcountry: 27.8 Minutes
Source: US Census Bureau American Community Survey
"We won't take our foot off the gas pedal, because we want to remain competitive in the Southeast, growing Greenville's voice as a travel destination."
FOLLOW US: ON
WEBSITE:
www.GSABusiness.com @GSABusiness facebook.com/GSABusiness BRIEFS | FACTS | STATEWIDE NEWS | BEST ADVICE Upfront
— Heath Dillard, president and CEO, VisitGreenvilleSC
THE RECORD
@GSABusiness
County Average commute working from home Dorchester 30.8 6.7% Orangeburg 29.6 4.6% Berkeley 28.2 7.5% Lexington 26.0 7.2% Anderson 25.1 4.3% Newberry 24.9 3.1% Charleston 24.3 10.8% Spartanburg 23.7 5.7% Greenville 23.6 9.0% Richland 22.8 7.1%
SC Biz News Briefs
Komodo dragons at the center of new plans for Riverbanks Zoo in Columbia
Riverbanks Zoo and Garden in Columbia is building a new, larger habitat for its popular Komodo dragons.
The expansion is the next step in phase one of the Zoo's Bridge to the Wild development project, according to a news release. The expanded facility will offer more engaging, up-close views of the endangered lizards and more space in hopes of baby dragons in the future.
The project is funded by a bequest from the late Lloyd L. Liles and Doris N. Liles.
"Komodo dragons are one of the most charismatic reptile species," said Sean Foley, curator of herpetology at Riverbanks. "Creating a larger space with a multitude of new views for guests not only is exciting for Riverbanks and our community but also benefits the animals as a whole as we work toward the goal of having a long-term sustainable population."
One of 238 institutions accredited by the Association of Zoos and Aquariums', Riverbanks collaborates with other AZA-accredited facilities in Species Survival Plan programs to ensure genetic diversity among animal populations in human care. The new facility will enhance the Zoo's ability to breed, house and care for Komodo dragons as recommended by the survival plan.
Long-awaited plans for Charleston rapid transit project gets $100M funding boost
Charleston rapid transit project receives $100M funding boost
A long-planned rapid transit project in the Lowcountry has received a sizable funding boost from the federal government.
U.S. Transportation Secretary Pete Buttigieg has recommended that the Lowcountry Rapid Transit project receive $100 million as part of President Joe Biden's fiscal year 2024 budget request to Congress.
The Lowcountry project was one of 18 large transit projects in 11 states across the nation totaling $4.45 billion in recommended funding.
The projects will improve how people travel in their communities, create and sustain jobs in construction and operations and help communities provide better, more frequent transit service, according to a news release from the Federal Transit Administration.
"Transit connects people to jobs, schools, loved ones and more," Buttigieg said in the release. "We're proud to deliver this funding to expand transit across the country, which will create good-paying construction jobs and provide better options for people to get where they need to go."
JUNE 19
LOGISTICS/DISTRIBUTION
Lists: Logistics Providers, Warehouse Services
Special Section: Under Construction
Advertising Deadline: June 5
JULY 24
STARTUPS
Lists: Business Assistance Organizations
Advertising Deadline: July 10
AUGUST 7
REAL ESTATE
Lists: Commercial Real Estate Firms, Residential Real Estate Firms
Advertising Deadline: July 24 For
www.gsabusiness.com 3 May 2023
Columbia Columbia Regional Business Report
ColumbiaBusinessReport.com With publications in the Upstate, Columbia and Charleston, as well as a statewide magazine, SC Biz News covers the pulse of business across South Carolina. Above are excerpts from our other publications. CharlestonBusiness.com SCBIZmag.com INSIDE Military wheels Filling void SEASONS GREETINGS Ray sunshine Locked and loaded 'THE RIGHT THING TO DO'
Charleston Charleston Regional Business Journal
advertising information, contact Ryan Downing at rdowning@scbiznews.com Target your market in an upcoming issue of the GSA Business Report
The Komodo dragons facility will include more viewing space to observe the lizards. (Rendering/Provided)
Donna Bischo , publisher SC Biz News dbischoff@bridgetowermedia.com
Jason Thomas, executive editor jthomas@scbiznews.com • 864.568.7570
Ross Norton, managing editor-content rnorton@scbiznews.com • 864.720.1222
Andrew Sprague, managing editor-production asprague@scbiznews.com • 843.804.6104
Christina Lee Knauss, sta writer cknauss@scbiznews.com • 803.753.4327
Krys Merryman, sta writer kmerryman@scbiznews.com • 864.640.4418
Steve McDaniel, editor Custom Publishing Division smcdaniel@scbiznews.com • 843.849.3121
A View From The C-Suite
Racquel E. Collier, Caliber Real Estate | President
Ryan Downing, director of sales rdowning@scbiznews.com • 864.720.1221
Account Executives Amanda Alford, multimedia account executive aalford@bridgetowermedia.com • 864.720.1223
Shannon Pollard, multimedia account executive spollard@scbiznews.com • 843.804.6094
Tony Rossi, multimedia account executive trossi@scbiznews.com • 864.720.1974
Jim Wheeler, multimedia account executive jwheeler@scbiznews.com • 843.849.3104
Events
Lauren Medders, event manager/manufacturing conference lmedders@scbiznews.com • 864.720.1220
Accounting ar@bridgetowermedia.com
Subscription Services service@bridgetowermedia.com • 877.615.9536
THE BEST ADVICE
I'VE EVER RECEIVED
As we let our own light shine, we unconsciously give others permission to do the same.
WHAT'S THE BEST ADVICE YOU COULD GIVE?
Stay curious. It makes life interesting, and you'll never run out of ideas.
WHAT IS THE STIFFEST CHALLENGE FACING YOUR INDUSTRY RIGHT NOW?
The relationship between innovation and capital seems to be disconnected, and it is critical to bridge this gap to address important issues in the field, such as workforce housing.
LITTLE KNOWN FACT ABOUT YOUR COMPANY
I started my entrepreneurial journey as a DJ. Consequently, I have a keen ability to sense the energy and atmosphere of any space I walk into.
WHAT IS YOUR ROLE?
I am responsible for both Caliber's day-to-day operations and long-term strategic vision. This involves cultivating strong relationships with stakeholders, supervising multiple projects, and identifying business opportunities that facilitate our organic growth.
WHAT WAS YOUR FIRST JOB?
My first job was a KFC cashier, which taught me the power of effective communication.
WHAT DOES YOUR COMPANY DO?
Caliber Real Estate is a development firm specializing in developing multifamily communities and residential subdivisions. We take a comprehensive approach to real estate development, combining our interests in art, food, media, music and people to produce impactful projects.
4 www.gsabusiness.com May 2023
Photo Provided
The entire contents of this newspaper are copyright by BridgeTower Media with all rights reserved. Any reproduction or use of the content within this publication without permission is prohibited. SCBIZ and South Carolina's Media Engine for Economic Growth are registered in the U.S. Patent and Trademark Office. ©2023 BridgeTower Media BridgeTower Media GSA Business Report (USPS 8640) is published once a month except April, June, July, September, and October which all include an additional annual issue, 17 issues per year by SC Biz News, 35B Cessna Court Greenville, SC 29607-2700 Periodicals Postage paid at Greenville, SC and additional mailing of ces. POSTMASTER: Please send address changes to: Subscription Services PO Box 1051 Williamsport, PA 17703-9940 SUBSCRIPTION INFORMATION Annual subscribers receive GSA Business Report, including the Book of Lists, Market Facts and the Book of Experts. One year for $67.00 Two years for $97.00 Subscribe, renew or change your address online at www.gsabusiness.com or call 877-615-9536.
South Carolina's Media Engine for Economic Growth
• Over 22,000 sq ft. of exible meeting & event space
• Largest hotel ballroom in Columbia with 10,400 sq ft. 800 sit down dinner capability
• 237 well appointed guest rooms
• Complimentary parking
• Complimentary WiFi in guest rooms and public space
• Columbo's Restaurant - open breakfast, lunch & dinner Happy hour M-F 4pm - 7pm
• Complimentary airport shuttle
• Fitness center & outdoor pool
www.gsabusiness.com 5 May 2023 2100 Bush River Road Columbia,
29210
columbiasouthcarolina.doubletree.com
CONFERENCE CENTER
SC
803-731-0300
Featuring the world-class services & amenities you have come to expect from Hilton
By Krys Merryman kmerryman@scbiznews.com
Aprivate equity and real estate development firm headquartered in Greenville is taking modern architecture to new heights with a multifamily project that will overlook Unity Park.
KVP Inc. Developer and CEO Krish Patel is bringing an approximately 115unit, five-story $50 million residential building on Mayberry Street overlooking Unity Park: The Delano.
The project would generate close to $700,000 of property tax value for the county and around $75,000 of that will go directly to the city of Greenville, said Patel, emphasizing these numbers are just estimates of the economic impact. There will be in-house management and onsite engineering, to create several jobs. Not only will the building provide market rate units, 20% of the project will also be dedicated to affordable housing, which makes this specific project unique from other multifamily projects, said Patel.
"Unity Park is a place for Greenvillians and tourists to come and enjoy the beautiful outdoors and history the city has to offer," he said. "This is the first multifamily project at the park, which will give future residents the opportunity to live in an area full of activity and wellness, a place for people who want to be in the city while in a fitness-oriented community. This residential project is going to offer something new that
Greenville doesn't have right now."
Patel has called Greenville home since 1996, and one of the things he said KVP strives for is the opportunity to work with local entrepreneurs to serve the community with "cutting-edge designs."
"The Delano is going to be an effort to pioneer modern architecture, trying to bring cutting-edge designs to Greenville, something a lot of developers have done a great job here at, and we want to follow suit and continue that trend," he said.
KVP hasn't signed on a general contractor for the project currently, but the architect on record is MHK Architecture.
The developer wanted to bring a project to the city that has "cutting-edge and modern but transitional" architectural design, said Patel. Design plans are still in the process of being finalized, but the vision is to create a modern residential community within Unity Park, he added.
"The vision we have is embodied in several types of elements — from the metal to the wood to the glass that will be used, where you typically see brick buildings or stucco for a downtown Greenville apartment concept this will differ by using more modern elements designed to be a community within a community," said Patel. "Unity Park is the
inspiration to create a living space for those who want to be close to nature and getting to dining and office spaces quickly."
Patel said he wants people to look at The Delano and see something you would normally see in a bigger city, like Austin, Miami or Atlanta, while also witnessing how it will serve an underserved community that is close to the action of the Swamp Rabbit Trail, where people can run, bike and do yoga.
"We are trying to promote an active and healthy lifestyle in Unity Park and be represented by modern architecture," he added.
Once plans are finalized, they can be more specific about those cutting-edge inspiration pieces, but the residential building will feature a pet spa, have a place for people who work remotely and have a home office within the community as an amenity, a social pool and workout facility, while also partnering with local fitness and wellness brands to be an extension of its amenity program, said Patel.
The project is expected to begin this fall and will take approximately two years to complete.
KVP Inc. has focused on diversification in the real estate development industry, ranging from retail operations, self-storage, and offices. The company's portfolio comprises Fortune 100 company brands such as Verizon Wireless retail stores, mixed office space, yoga studios, fitness gyms, fast casual dining, self-storage, and The Delano will be its first multifamily project in downtown Greenville.
6 www.gsabusiness.com May 2023
Details emerge on $50M residential project overlooking Unity Park (888) 845-6887 | Sales@DoctorsCare.com Employers.DoctorsCare.com Kitty Howell Director of Business Development (843) 238-4520 Expert care for workplace injuries. | Workers' Compensation Injury Care | Occupational Medicine Managing Workers' Comp shouldn't be painful. Call today to see how we can help. 50+ Locations in South Carolina for Occ Med Services Doctors Care Employer Health Services Protecting your most valuable resources. | DOT Physicals | Drug Screens | On-site Wellness Services | On-site Medical Centers
Developer Krish Patel said he wants people to look at The Delano and see something you would normally see in a bigger city such as Austin, Miami or Atlanta. (Rendering/KVP Inc.)
The journey behind Europe-inspired Perch gastropub in Greenville
By Krys Merryman kmerryman@scbiznews.com
After Perch Gastropub and Birds Fly South co-owners Shawn and Lindsay Johnson spent a lot of time in European countries, visiting and falling in love with various breweries and pubs, they knew they wanted to create the same type of atmosphere in their brewery concepts.
Perch opened at the end of October at 1501-101 E North Street in Greenville's Overbrook neighborhood, while Birds Fly South opened in 2016 in Hampton Station.
The pair looked at the current Perch location a few years ago, prior to the COVID-19 pandemic, when they started to think about a second location for Birds Fly South. At the time, they talked to the owner of the space but decided it wasn't the right time for a second location.
The Johnsons looked at the North Street location again in 2021, which happened to still be available.
"We love the Overbrook location and other businesses coming up here, and overall, what's going on in the neighborhood," said Lindsay Johnson.
Perch's menu is Eastern European-inspired street food, to include Polish, German, Hungarian, Czech Republic-style dishes sprinkled in with traditional pub food such as pretzels, poutine, sandwiches, and burgers. The Johnsons brought in Chef Ron Rawhoof early in the opening process, who grew up in
Chicago with a Polish background.
"Shawn and I spent time in Belgium and the Netherlands years ago and fell in love with the breweries and pubs there," said Lindsay Johnson. "We really thought about
what atmosphere we wanted to create, and the space helped out with that as it's not very large as it is and has a cozy and welcoming vibe."
The Johnsons said they knew they wanted
to offer a full-service menu at their second location. While Perch is also a brewery with its own brand, like Birds Fly South, it differs because it is a food-centric concept.
"Most breweries are almost all full-service bars now, with food, liquor, wine, non-alcoholic options, and elaborate food menus, so we wanted to chase the trend and bring a unique, fun experience and vibes, but the bones are still of a brewery," said Shawn Johnson. "With the two concepts, we have attracted new customers, while giving our loyal patrons something new to enjoy."
Shawn Johnson said opening a restaurant during the COVID period of time with shutdowns was interesting and challenging, because they didn't really know what to expect, which made the process stressful, especially with trying to retain staff.
"We had a lot of faith in what we were accomplishing," he said. "I think we are still experiencing a COVID hangover, and as every business starts out well, then you must try to figure out how to revive the vibe moving forward. I think everyone is still trying to figure out what the new world looks like looking forward."
Perch's vibe is described as a classy but unpretentious establishment, much like European pubs, with people from every walk of life.
"Our goal was to create a sense of community, that local neighborhood pub feel," said Lindsay Johnson. "And we hope that continues."
WORKFORCE SOLUTIONS
• Culinary Corporate Team Building
• Leadership/Supervisory Certificates
• Certified Supply Chain Professional (CSCP)
• Advanced Manufacturing One-Day Training Series
• Basic Cooking Skills, Entry-level
www.gsabusiness.com 7 May 2023
The owners of Perch Gastropub Lindsay and Shawn Johnson. (Photo/Provided)
Register yourself or your whole team for professional development and workforce training certificates in:
Lean
Lean Six Sigma
American Heart Association First Aid/CPR/AED HeartSaver
in Production and
Management (CPIM)
OSHA 10- & 30-Hour Certification
•
&
•
• Certification
Inventory
•
Driver & Forklift Training
• Truck
Online and in-person options that work with your schedule. Scholarships available. Find out more at www.gvltec.edu/edct/.
A NATURAL REFUGE
New Reedy River Wetlands Preserve at Unity Park focuses on a sustainable future
By Krys Merryman kmerryman@scbiznews.com
Anew feature at Unity Park focused on the restoration of wetlands that reveal the Reedy River's natural course is officially open to residents.
Greenville officials earlier this month unveiled the Reedy River Wetlands Preserve — an urban wetlands featuring an outdoor classroom, overlooks and a series of low-impact, ADA-accessible boardwalks offering vantage points to learn about the native species and wildlife living in this critical ecosystem.
The wetlands will serve as a refuge for wildlife and nourish the growth of native plants.
River restoration, the removal of invasive species, the addition of new trees and the construction of boardwalks are courtesy of BMW of North America LLC. Duke Energy Corporation was the donor for an outdoor classroom that is currently being installed. Berkshire Hathaway HomeServices C. Dan Joyner, Realtors and other private donors are providing overlooks for quiet reflection, according to a Hughes Agency news release.
"These wetlands create a healthier river system, improve habitat, mitigate flood risk and a beautiful scenic and educational amenity for our community," said Greenville Mayor Knox White.
Related content: Riverbanks Zoo in Columbia announces latest expansion plans
Related content: See the latest installation on the Mount Pleasant sculpture trail BMW Manufacturing donated $1.25 million to restore and preserve the wetlands, Duke Energy contributed $500,000 for the outdoor classroom, and the family of C. Dan Joyner donated $100,000 to sponsor one of the three overlooks. A fourth donor who contributed $200,000 will be announced in early 2024. The project was funded entirely by the $2.05 million in private money raised by Hughes Agency in Greenville, the release said.
Designed by MKSK Studios and executed by Harper General Contractors, the Reedy River Wetlands Preserve is comprised of four acres and may one day be expanded to twice that size, according to the release.
"Our father, C. Dan Joyner, was not only a successful businessman, but an enthusiastic philanthropist and great contributor to the Greenville community," said Danny Joyner of Berkshire Hathaway HomeServices C. Dan Joyner, Realtors. "This beautiful overlook carries on his legacy and serves as a reminder of the positive impact he had on our family and the community he loved."
The restoration of the wetlands, which reveals the original path of the Reedy River, included the removal of invasive plant species as well as ash trees affected by the emerald ash borer, a wood-boring beetle that has killed millions of ash trees in North America. In their place, workers carefully placed at least 100 native trees and more than 200 native shrubs — aligning with one of Unity Park's nine guiding principles of driving toward a sustainable future, the release said.
"At BMW, we firmly believe that it is our responsibility as a corporate citizen to give back and support the communities where our associates live and work," said Robert Engelhorn, president and CEO of BMW Manufacturing. "What better way to do this than preserving and protecting a natural environment like the Reedy River Wetlands Preserve in Unity Park, which aligns perfectly with BMW's sustainability strategy. The Reedy River Wetlands will provide a quiet space where the community and visitors can walk, rest, and learn more about this unique ecosystem."
Wetlands are critical to the ecosystem.
Manufactured by The Heirloom Cos. of Greenville, the Duke Energy
Outdoor Classroom is made up of 72 pieces of wood and twisted steel overlooking one of the wetland's vernal pools, the release said.
"Duke Energy is a mission-driven company, and our mission today is nothing short of reaching the industry's most ambitious goals in sustainability," said Mike Callahan, Duke Energy's South Carolina president. "It is important for companies like ours to work alongside our communities to invest in the health and well-being of our employees and the neighborhoods we serve. That's why Duke Energy is excited to have provided the funding for the outdoor classroom at Unity Park. This is a unique facility that will educate the public of the important environmental contribution of wetlands and the need to preserve them."
Visitors to the wetlands will see multiple species of plants and trees including green arrow arum, silky dogwood, sweet gum, American sycamore and magnolia grandiflora. Additionally, the wetlands are home to various wildlife such as great blue herons, snapping turtles, North American raccoons, spotted salamanders, mallard ducks and monarch butterflies, according to the release.
The Wetlands occupy the northwest portion of Unity Park and serve as a critical interpretive and infrastructural feature of the park. Located along the original course of the Reedy River before its channelization, the Wetlands offer a glimpse at this forgotten history of the Reedy while showcasing best-in-class green infrastructural systems and habitat restoration. Low-impact boardwalks and a central Duke Energy Outdoor Classroom allow visitors first-hand experience of this living landscape and the wildlife and plants that call it home.
"This is a really big project for the City of Greenville," said Duke Energy spokesperson Ryan Mosier. "This was a great fit to provide the funding as one of the private/public partnerships for Unity Park, and we are looking forward to its launch."
The wetlands will be an opportunity to educate those who use Unity Park on the importance of its preservation and critical to the ecosystem, especially within an urban environment, said Mosier.
"Many people will use this over the years to learn more about mother nature and the original route of the Reedy River and bringing back a critical part of what it does for the area," he added.
8 www.gsabusiness.com May 2023
The restoration of the wetlands area was undertaken with an objective of retaining only native plants and removing anything considered invasive. Here, The Heirloom Cos. installs a sculpture at the site. (Photo/Hughes Agency)
www.gsabusiness.com 9 May 2023 Serving the Life Sciences Industry is in our DNA. With robust intellectual property and M&A experience, Maynard Nexsen is the key to navigating complex regulatory landscapes in the dynamic world of biotech, pharmaceuticals, medical devices, and health care services. Let our experienced team provide comprehensive legal solutions to safeguard your innovations and help you bring life-changing products to market. maynardnexsen.com Matthew B. Roberts, Shareholder
How Greenville's ever-growing tourism industry benefits locals
By Krys Merryman kmerryman@scbiznews.com
The leisure and hospitality industry employs nearly 48,000 people in the Upstate. That's almost one in every nine jobs. Wages are 29% higher than pre-COVID levels, and Greenville saw a record-breaking 7 million visitors in 2022 — that's enough people to fill the Bon Secours Wellness Arena more than 438 times.
One million of those visitors came through Greenville-Spartanburg International Airport and 68% visited from out of state. Greenville visitors spent more than $1.5 billion during their stays, generating more than $34 million in tax revenue.
As for the hospitality industry, last year's hotel revenue countywide was more than $295 million, which is up 32% yearover-year. The 2022 average daily rate was $111, up 16% year-over-year.
So what does this data mean for locals?
VisitGreenvilleSC President and CEO Heath Dillard said in general, hospitality and tourism is talked about in terms of a financial gain for the city, however, the number of visitors directly correlates with how residents will have a better quality of life.
As the number of visitors increases, demand goes up for restaurants, retail and entertainment venues, which leads to a higher quality of amenities for locals to
enjoy, he said. All of it pushes a better quality of life, wages and income for a large segment of Greenville's population, he added.
"The hospitality and tourism industry are vitally important to the Greenville community for a number of reasons," said Dillard. "In terms of direct impact, we see visitors spent more than a billion dollars, a huge influx of spending into the industry, in retail, hotel, sports and entertainment (and) restaurants, which supports a much higher level of business than our own community can sustain on its own."
He said the ability to have A-list acts, Broadway shows, an exceptional culinary scene, arts and culture events like Artisphere, couldn't be supported without the 7 million visitors and $1.5 billion in revenue they spend on a yearly basis.
Greenville has recovered from the pandemic faster than a lot of the metro areas around the country, said Dillard.
"However, in terms of business travel recovery specifically, we are optimistic that we aren't finished growing," he added.
For example, they want to attract larger
conferences and conventions to the area.
"We have seen more development with our hotel inventory, which is still giving us exciting new products that are part of our destination benefits and even more over the next couple of years," said Dillard. "We won't take our foot off the gas pedal, because we want to remain competitive in the Southeast, growing Greenville's voice as a travel destination."
Although there are residential benefits for the influx of tourists, there may still be pushback for some who see problems rather than benefits.
In response, Dillard said VisitGreenvilleSC wants to have a seat at the table for how to manage the growth in a smart way.
"We want to grow but in the right way," he said. "We believe the real engine of the industry is our people. We know the people who have helped create the success are oftentimes the ones squeezed out, like with transit and housing policy issues that affect our industry. But we have close relationships with our industry, labor and workforce, to advocate for employees and finding ways not to push further challenges on our community. We continue to say this week is a moment we pause and celebrate the people who work in our industry and want to thank them for coming to work every day and creating the experiences residents and visitors love, coming back again and again."
10 www.gsabusiness.com May 2023
Travelers enjoy their visit, tourism experts say, but locals are the real winners. (Photo/VisitGreenvilleSC)
Want a healthier workforce?
Welcome to Prisma Health Direct Primary Care
Your employees can now have unlimited access to a ordable, comprehensive, personal primary care. Prisma Health Employer Health Services has opened the first Direct Primary Care facility in Greenville, located on the corner of Stone and Main.
With Direct Primary Care, you can reduce your total cost of care through exclusive discounted network fees and enhanced patient relationships.
Services include:
• Annual physicals
• Diagnostic testing and labs
• Mental health counseling
• Occupational health
• Urgent care and virtual visits
• Wellness programs and coaching
To learn more about Direct Primary Care, call 833-890-2109 or visit PrismaHealth.org/DPC.
www.gsabusiness.com 11 May 2023
23-0853
2023 | SO UTH CAROLINA MA NUFACTURIN G CONFERENCE AND EX PO
NOVEMBER 9-10
GREENVILLE CONVENTION CENTER | GREENVILLE, SC
DON'T MISS OUT, RESERVE YOUR HIGH-TRAFFIC BOOTH TODAY!
The annual exposition will run concurrently with all other conference events. The expo sets up on approximately three football fields of space and conference attendees must walk through the show floor to get to all other events, ensuring maximum traffic for exhibitors.
MOST BOOTH PACKAGES INCLUDE:
☑ 10x10 booth
☑ Entry for 2 to Welcome Cocktail Reception
☑ Attendee List with Contact Information
☑ 25% Discount on Breakfast/Lunch Conference Sessions
☑ Free Entry for Booth Staff to Exhibit Hall Including:
2,000+ Attendees
20+ Speakers Including SC Gov. Henry McMaster
215 Exhibitors
FOR
12 www.gsabusiness.com May 2023
MORE INFORMATION,
WWW.SCMANUFACTURINGCONFERENCE.COM/EXHIBITOR-INFO/
VISIT
•
•
•
California recycling company moving HQ and setting up new plant near Greenville
By Ross Norton rnorton@scbiznews.com
Acompany that recycles material commonly referred to as plastic packaging is moving its headquarters to the Upstate, where it will open an innovation center and its third manufacturing operation.
Verdeco takes products branded with a PET symbol and makes rPET solutions. PET is polyethylene terephthalate — usually denoted with the familiar recycling triangle and a number 1 — and rPET is recycled PET.
The new facilities will be at 464 Augusta Arbor Way in Piedmont and will mean more jobs for the area and for the company, according to Frances A. Rizzo, Verdeco's director of marketing.
"We will be increasing our employee count by 50-60 by the end of the year, which includes corporate and plant specific roles," he said in an email. The company has been headquartered in South Gate, Calif., with manufacturing facilities there and in Terre Haute, Ind.
Verdeco said in a news release that operations will begin this summer. The milestone is a major move for Verdeco following their 2020 acquisition by EU-based private equity firm CUDOS Group, the news release said.
Planting new roots in South Carolina will align Verdeco effectively with strategic partners and suppliers, the company
said, with the expansion increasing Verdeco's momentum as they continue their work in the sustainable rPET economy through material science and process innovation.
"Verdeco is excited to share our expan-
sion plans with the opening of our new manufacturing and R&D innovation center of excellence in Greenville, South Carolina, which is targeted to be operational in June 2023," Verdeco CEO Rob Bindner said in the release. "Our innovation
center will provide our strategic partners with the opportunity to explore custom formulations, performance attributes and aesthetic inspirations to fulfill their sustainability vision."
The company recycles plastics into rPET pellets from post-consumer hot washed flake, Rizzo said. The pellets are sold and then converted into end-use products such as water bottles or other household or personal care products.
The plant will be capable of crafting complex formulations of rPET and the location will enhance Verdeco's ability to solve customers' supply chain challenges, the release said.
"The new Verdeco facility will initially add an additional 90 million pounds of rPET capacity to the recently completed new equipment upgrades at our current locations in California and Indiana, which combined are designed to deliver 120 million pounds of capacity," Bindner said in the release.
Verdeco is a leader in using advanced technology to innovate and customize rPET solutions for
According to Verdeco's website, PET is a polymer of ethylene glycol and terephthalic acid. The most common plastic resin, virgin PET, is created from crude oil and natural gas extracted from the Earth. PET, including recycled PET, can be recycled repeatedly.
Visit www.verdecorecycling.com to learn more.
www.gsabusiness.com 13 May 2023
A company that recycles plastics is moving its headquarters to the Upstate. (Photo/Stock)
"Verdeco is excited to share our expansion plans with the opening of our new manufacturing and R&D innovation center of excellence in Greenville, South Carolina,."
Rob Bindner CEO, Verdeco
SC Biz News has introduced a new recognition program this year — ICON Honors. To complement our Forty Under 40 programs, we're celebrating experienced business leaders who have exhibited strong leadership and notable successes. From higher education leaders to construction executives to cutting-edge researchers, the Upstate is full of difference makers working to fuel the economy and improve quality of life. You can find profiles of the inaugural honorees from the region on the following pages. Be sure to check out bios of all the honorees online at scbiznews.com.
John Warner, founder, InnoVenture
Keith Miller, president, Greenville Technical College
Bob Quinn, executive director, South Carolina Research Authority
Tracy Leenman, owner, Musical Innovations
Michael Amiridis, president, University of South Carolina
Mike Baur, CEO, ScanSource
Howard Boyd, president/owner, Howard's Barber College and Howard's Barber Shop
Steve Cawood, CEO, Clearwater Solutions
Bob Chisholm, president, Bradshaw Gordon & Clinkscales, LLC
Chris Fraser, principal and managing director, Avison Young
Scott Glass, chief, Charleston District of the Army Corps of Engineers
Dave Pardus, CEO, Total Beverage Solution
S. Richard Hagins, CEO, US&S



Tim Hardee, president, South Carolina Technical College System
Tee Hooper, co-owner and board chair, Find Great People
Mary Thornley, president, Trident Technical College
Jim Irvin, owner/partner, Firefly Distillery
Kevin Mills, president and CEO, South Carolina Aquarium
Sharon Wilson, founder, Wilson Associates
Neil Whitman, owner/founder, Dunhill Staffing Systems
Mary Jo Romeo, founder, MJR Consulting



Bruce White, president and CEO, Bank of Travelers Rest
Jane Sosebee, president, AT&T South Carolina
Nicky McCarter, president and CEO, Defender Services
Ernest McNealey, president, Allen University
Steve Townes, president/CEO/founder Ranger Aerospace
Mike Baur is no stranger to big awards. A co-founder of ScanSource, a leading hybrid technology distributor, he has been recognized in just the last year as one of 50 Channel Influencers nationwide and one of Greenville's 50 Most Influential people. Starting with six employees in 1992, Baur and his team built a Fortune 1000 company with 2,300 employees around the globe, but still headquartered in Greenville. Equally impressive, the company has been repeatedly named to Fortune Magazine's List of World's Most Admired Companies, including this year.
Steve Cawoodhas impressive business accomplishments – helping build two successful engineering firms – but his commitment to building communities makes him an icon. With his list of leadership roles in economic development, charity fundraising, business and entrepreneurial development too long to recount, he is living his motto of building communities and impacting lives. His engineering firm Goodwyn, Mills and Cawood employs people in 21 offices around the Southeast, while the wastewater management company he formed, ClearWater Solutions, provides jobs for 580 people in 12 states.
Musical Innovations
What was Tracy Leenman thinking?
She founded a musical instrument sales and repair business in the midst of the Great Recession after being fired from her job for whistleblowing. Six years later, Musical Innovations was awarded the National Association of Music Merchants Global Dealer of the Year Award, and the following year was named among the Top 100 Small Businesses in the US. The accolades — and the sales — have continued to pour in. This mother of six established the music business program at Newberry College, passing on her expertise to future generations.
14 www.gsabusiness.com May 2023
Mike Baur CEO ScanSource Inc.
Steve Cawood CEO
ClearWater Solutions
Tracy Leenman owner
Tee Hooper co-owner and board chair, Find Great People


It's Tee Hooper's second go-round with the icon designation, having previously served as IKON Office Products' Southeast Regional President for a decade. Today he is co-owner and board chair of Find Great People, a talent acquisition and human resource consulting firm. He's also in the business of helping great people succeed in his many community volunteer ventures covering mentoring, veterans support, health care, poverty alleviation and more. He also chaired the state Department of Transportation, a $1.2 billion agency responsible for 42,000 miles of road.
S. Richard Hagins CEO US&S


If you think S. Richard Hagins's business resume is impressive, you're right. But you should see a list of his community involvement. He has served in board positions at the Greenville Chamber, the Greenville YMCA, the State Ports Authority, Habitat for Humanity Greenville and Upstate Warrior Solutions. He's a charter member of 100 Black Men of the Upstate. All that follows 23 years in service to our nation in the US Navy, which led to the founding of his facility services company, US&S Inc. He's won a slew of awards including SC Entrepreneur of the Year in 2014.
Dr. Keith Miller GTC President
www.gsabusiness.com 15 May 2023
HONORS
2023 ICON
RECIPIENT Congratulations!
Keith Miller If you're a Greenville Tech graduate under the age of 33, Keith Miller is the only school president you've ever known. In 15 years at the helm, Dr. Miller has created a pipeline of of qualified workers to area industry and provided workplace skills to thousands of local residents. This has been achieved throgh a series of innovations, like development of a manufacturing center and a culinary institute. His focus on continuous improvement at the college has earned a South Carolina Governors Quality Award.



Jane Sosebee is an accomplished female executive in a male-dominated field. Rising through the ranks at AT&T to the role of statewide president, she leads the company's legislative, business development and community affairs activities. Recently she has been dedicated to helping close the digital divide in South Carolina so that everyone has access to fast, affordable internet service. Named a business person of the year and a most influential person in Columbia, she says her greatest title is mother to two daughters.


16 www.gsabusiness.com May 2023
Keith Miller president Greenville Technical College
Congratulations Congratulations
Search Professional & Executive SOLUTIONS Staffing Temporary & Contract Consulting HR Consulting, Coaching, & Outplacement SPECIALTY AREAS Accounting & Finance Engineering & Construction Executive Public Sector Office Administration Sales & Marketing Technology WORKING WITH COMPANIES IN 46 ACROSS 26 INDUSTRIES STATES FGP.COM Healthcare Human Resources Manufacturing Nonprofit Founder & Board Chairman
Jane Sosebee president AT&T South Carolina
Tee Hooper
Steve Townes makes aviation and aerospace companies better. If the term "private equity" sends a shiver up your spine, meet Steve Townes. A West Point grad who served in the 75th Ranger Battalion, he's co-founder and CEO of Ranger Aerospace. He and his team buy, sell and consolidate aerospace operations and add operational improvements that spur growth. One recent consolidation quadrupled the company size in five years, yielding 60% internal rate of return. Ranger has won Deal of the Year and Deal of the Decade awards.
John Warner has held many titles. They include CEO of InnoVenture, former senior manager of accounting giant KPMG and lead investor in the organic grocery store chain Earth Fare. But his most accurate description is thought leader. A tenacious advocate for innovation and entrepreneurship, his current company connects people who have big ideas with people who have resources to cultivate and implement them. His latest venture involves what he calls re-envisioning South Carolina's economy by developing our innovation ecosystem. He thinks big and delivers.




Bruce White is the Bank of Travelers Rest. His father founded the bank with eight others in 1946, and in 1977 Bruce ascended to president. Though he has stepped back from that role, he remains CEO. During his tenure, the bank transformed from tellers stamping passbooks with monthly interest to automated payroll and mobile apps. Now with 10 branches and $1 billion in deposits, Bank of Travelers Rest remains a relationship-first business. It's a family business too, as Bruce's three children represent a third generation of bank employees.
Sharon Wilson doesn't just sell real estate. She pushes it forward. An early adopter of new technologies and tools during her 40-year career, the founder of Wilson Associates has mentored dozens of younger agents while ranking in the top one percent of all Coldwell Banker agents internationally. A GSA Business Report 2020 Woman of Influence, she founded her independent real estate firm to bring a dynamic new synergy to Greenville's real estate market and has succeeded in building a $300 million enterprise from scratch.




www.gsabusiness.com 17 May 2023
Steve Townes president/CEO/founder Ranger Aerospace and ACL Airshop
Bruce White president and CEO Bank of Travelers Rest
John Warner founder, InnoVenture
Sharon Wilson founder Wilson Associates
In Focus
LISTS: Hospitals, Life Science Companies , Page 22-23
HEALTH CARE/LIFE SCIENCES NEXT ISSUE'S FOCUS: Logistics/Distribution
Next-gen drug delivery technology innovates the pharma industry
By Krys Merryman kmerryman@scbiznews.com
Imagine: a game-changing next-generation version of drug delivery.
A Greenville-headquartered life sciences company with technology licensed from Albert Einstein College of Medicine, Zylö is on a mission to create the next generation of topical drug delivery through their Z-pod technology, which provides sustained release of topicals.
At the core of the technology are Z-pods, which are amorphous silica particles engineered to "encapsulate" active ingredients. The loaded Z-pods can be incorporated into a cream, gel, balm or ointment; after rubbing the cream into your skin, the Z-pods embed into the top layers of your dead skin cells and slowly release the active ingredient. Eventually the Z-pods slough off along with your dead skin cells.
With many actives, this delivery system will increase the bioavailability of the active agent, which means getting more of the active to the right location. Increased bioavailability is generally a primary objective of pharma companies and cosmetic houses alike. With some actives, it is the "holy grail."
Given this, Zylö hopes their Z-pod technology can turn ordinary topical
products into "game-changers."
Zylö Therapeutics CEO and founder Scott Pancoast describes the company's delivery system as a "patchless patch." A regular patch acts as a reservoir of an active ingredient and slowly releases the ingredient into your skin. Z-pods serve the same purpose, except you don't have to wear a patch, remove a patch, or dispose of a patch.
Zylö's technology has overcome the bioavailability limitations of AEA, an endocannabinoid that the human body produces: AEA-loaded Z-pods demonstrated significant reductions in lesion count and lesion severity in a lupus model as compared with AEA without Z-pods.
"Cutaneous lupus affects mostly women, mostly women of color, and mostly women of color in their childbearing years," said Pancoast.
Lupus usually creates lesions on the neck, face and scalp and greatly affects quality of life. "There are few treatment options, and it's devastating," he said.
Pancoast said Zylö's AEA-loaded Z-pods were put to the test in an animal model of lupus where mice get the lesions on their neck, head and face — just like humans — and tested them against a no-treatment group and a group that was treated with AEA without the pods. In both the no-treatment group and the
AEA-only group, the lesions continued to get worse. But in the AEA-loadedZ-pod-treated animals, the lesions got smaller, and most of them were unnoticeable after 10 weeks of treatment.
"The results were significant and robust," he said.
Zylö is anticipating, by the end of May, to receive a grant award from the National Institutes of Health to advance this lupus program.
That award would be in addition to the five other grant awards they have received from the NIH and the Department of Defense. Most of these awards involve the company's sister technology whereby the Z-pods are specially engineered to provide sustained release — and increased bioavailability — of nitric oxide, a gas that is often referred to as the "Miracle Molecule." This nitric oxidebased product has many possible applications, including for the treatment of erectile dysfunction, wound-healing and nail fungus, among others.
The company is currently in discussions with cosmetic and over-the-counter and prescription drug companies that seek to improve product performance.
Besides the grant-related programs, Zylö and one of its partners have a hairgrowth program that is attracting considerable attention. In a study sponsored by
the partner, more than 80% of the study subjects that had androgenetic alopecia, or male-pattern baldness, had new hair growth after 90 days of treatment with a Z-pod-based product prototype. Negotiations are ongoing with several companies, and one or more product launches are anticipated later this year.
Additional products in the works for Zylö include herbicide-loaded Z-pods for farmers that produce less runoff and are thereby environmentally friendly; CBD-loaded Z-pods for sports recovery/ performance and for anti-aging; and lemongrass-oil-loaded Z-pods that would be an environmentally safe and longer-lasting mosquito repellent.
In 2022, Zylö was valued at approximately $23 million, compared to its valuation of $10 million in 2019, and their hope is that they can continue to advance these programs and increase the valuation 10-fold or more.
"As the business founder of the company, this is my baby," said Pancoast. "The prospects of becoming the next gen of topical drug delivery are high."
But there is a human side to this that is fulfilling for Pancoast.
"Our technology can do a lot of good for the world, especially when it comes to lupus, which has such a profound effect on those who have it," he said.
Zylö Therapeutics founder Scott Pancoast believes his company's research and development of Z-pod technology will be a game changer. (Image/File)
Answering the call
Columbia company responds to call to make drug after drastic downturn in supply
By Christina Lee Knauss cknauss@scbiznews.com
Aphone call from the parent of a sick child let the CEO of Columbia-based Ritedose Corp. know it was time for his company to spring into action to fight a national shortage of a vital medication.
"Sometimes calls from individual customers will make it to my desk, and I had a direct call from a parent whose child was actually in the hospital and couldn't get the medicine, and they asked if there was something we could do about it," said Ritedose CEO Jody Chastain.
The medicine Chastain is talking about is a particular version of albuterol sulfate. Anyone who carries a rescue inhaler in their pocket or purse because they suffer from moderate asthma will know what that is — a medication that opens up the airways to make breathing easier.
What he and his employees were called on to create, however, is a different concentration of the drug used not in inhalers, but most often for a treatment known as "continuous nebulization," with the medicine being delivered through a
special mask that the patient wears. This treatment is most frequently given to children with severe asthma in hospital settings, but the drug at this concentration is also helpful for people who suffer from certain types of chronic obstructive pulmonary disease (COPD).
Ritedose Corp., based in northeast Columbia, recently launched production of albuterol sulfate at a 0.5% concentration, one that the U.S. Food and Drug
Administration recently listed in short supply in the United States. The company's first release of the material is set for this month.
"Albuterol sulfate as an inhalation solution has been around for decades and is one of the 10 most prescribed generic medicines in the United States," Chastain said.
He said most of the albuterol used by rescue inhaler users is formulated at 0.8%.
The form needed for nebulizers, however, is 0.5%, and the national supply fell to drastic lows earlier this year because of problems with the supply chain.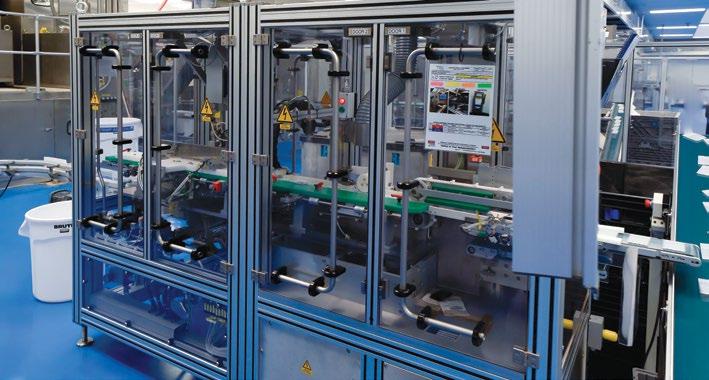 "We had historically not developed this product at that concentration at Ritedose because the market is only 2% of all the albuterol consumed in the U.S.," Chastain said. "As long as there were other suppliers meeting that demand, we didn't want to spend the money to produce it."
That changed, however, over the past several months when two of the main makers of the 0.5% concentration shut down manufacturing lines.
As a result, in March the FDA announced what they described as a "drastic downturn" in the nation's supply of the concentration, considered an "essential medication" by the agency because of an average national demand of nearly 20 million doses.
With that notification — and from what he was hearing from health care workers and from people like that parent who called him — Chastain and Ritedose officials knew it was time for them to step
See RITEDOSE, Page 20
www.gsabusiness.com 19 May 2023 IN FOCUS: HEALTH CARE/LIFE SCIENCES Commercial real estate for real impact Value through innovation. Driven by data. Powered by people. +1 864 334 4145 Get in touch avisonyoung.com IT'S TIME TO BINGE BUSINESS Subscribe to SCBIZtv and stay in tune with what's happening across South Carolina. www.youtube.com/scbiztv Coffee With This ongoing video series features business executives sharing insight about their business, the industry in which they work and the community in which they live. What's New and What's Hot! Check out our new content as well as our trending videos on this ever-changing playlist.
The Columbia company recently started production of albuterol sulfate at 0.5% concentration.
RITEDOSE, from Page 19
in. The company, he said, was a natural to take on the role because of its existing role as an albuterol manufacturer.
Ritedose, founded in 1995, is a leader in the industry in pharmaceutical development, cGMP manufacturing and 503B outsourcing solutions. It also is already the nation's largest manufacturer of albuterol sulfate inhalation solution, according to company materials.
Chastain said drug shortages like this typically occur for one of three reasons: a manufacturing issue at a supplier that causes the supplier to be investigated and have to shut down production; inability to get starting material that may also be the drug's active ingredient, or the financial viability of the company itself.
The company operates a state-of-theart "blow-fill-seal" facility where liquid pharmaceuticals are formulated, filled and packaged for distribution. It specializes in the aseptic production of sterile, single-dose medication and serves the contract development, manufacturing, genetics and 503B outsourcing markets. Ritedose's main customers range from small startups and retail pharmacies to large pharmaceutical companies, wholesales and hospital systems.
Ritedose is producing the 0.5% concentration through its 503B outsourcing facility. Federal law prohibits products produced through the 503B process from being sold and distributed via wholesales, so the company will compound the concentration and then distribute it directly to hospitals and clinicians.
Because company officials anticipated the coming shortage even before the FDA's March announcement, the company has been working with several of the nation's largest hospital systems since the
beginning of the year to accelerate the medication's development, taking it down from a typical six-month time frame to four months because of the drastic need.
"We routinely monitor drug shortage websites so we can see if there are things we need to develop in case something happens," Chastain said.
No drastic additions or adjustments to existing company infrastructure were required because Ritedose already had its 503B outsourcing compounding license and the facility. State officials had
By Krys Merryman kmerryman@scbiznews.com
An orthopedic technology company in Anderson County currently has an economic impact on the Upstate estimated at $87.4 million annually.
Arthrex impacted more than 20 million patients last year alone and launched an expansion of its operations in Anderson County in 2021 — a $100 million investment that created hundreds of jobs.
Founded in 1981, Arthrex is an international life science company in the orthopedic surgical device design, research, manufacturing and medical education field. The company develops and releases more than 1,000 products for surgical procedures each year to advance minimally invasive orthopedics worldwide.
Located at 130 Arthrex Drive in Pendleton, Arthrex's expansion included adding a second manufacturing facility and an electron-beam (E-beam) and X-ray sterilizations facility.
Arthrex is building three new facilities on its Pendleton campus: the first is a 210,000-square-foot manufacturing facility, which will be complete later this summer; the second is a 32,000-square-foot finishing facility, which will be complete in early 2024; and they are also building an early learning center for its employees' children on the property, with construction expected to be complete in early 2024.
Arthrex Director of Corporate Commu-
nications Lisa Gardiner said Arthrex has more than 8,000 employees globally and nearly 1,000 of those are in South Carolina. Within the next five years, Arthrex is projected to add 1,700 jobs in Pendleton.
Gardiner said by helping surgeons, their patients, their communities, and each other is the company's primary benchmark of success.
"Our research provides the scientific foundation and validation for the development of safe and effective, minimally invasive procedures," said Gardiner. "Each product we produce impacts the lives of millions of patients. We are committed to making a positive contribution both to our communities and around the world."
As a privately held company, Arthrex is dedicated to advancing science, medicine and its mission of "helping surgeons treat their patients better."
As an innovation leader in sports medicine and minimally invasive orthopedics, said Gardiner, Arthrex develops more than 1,000 new products and techniques annually. They are continually opening new subsidiaries around the world in addition to expanding its medical education programs that educate health care professionals on the safe and effective use of its products. As the demand for its products grows globally, so does the need to hire hundreds of new employees every year, she added.
"We are focused on product innovation,
to approve the process they were using before they could begin production.
"We were able to really leverage a lot of the years of experience we've had with this molecule in getting this up and running," Chastain said. "We realized we had the ability to do this now, and sometimes you outweigh the business side of things for what's the right side of thing to do by the patient. Caring for the patient is our core value, and this was the right thing to do."
The company's work to address the albuterol shortage comes as it is also planning expansions to its Richland County facility. In December 2022, Ritedose announced plans to invest $81 million to expand its Columbia facilities, a move expected to create 94 jobs. The first phase of expansion has already started and includes adding square footage to the company's existing 273,000-square-foot facility in the Carolina Research Park. Interior renovations are also planned. The first phase of the expansion is expected to be complete in early 2024. Once complete, all of the expansions will allow Ritedose to manufacture an additional 400 million doses of pharmaceuticals.
Beside respiratory medications, Ritedose also manufactures ophthalmic medicines used for eye care.
medical research, quality manufacturing and medical education and are proud to make products in America and export to more than 100 countries," said Gardiner. "We educate surgeons around the world on the safe and effective use of our products, helping to make less invasive surgery simpler, safer and more reproducible."
In addition to the nearly 1,000 people Arthrex employs in the area and making a global impact, they partner with local career centers in Anderson, Oconee and Pickens counties, as well as Tri-County Technical College and Clemson University to provide everything from equipment to co-op, apprenticeship and other job training opportunities within the Upstate, said Gardiner.
Arthrex and its employees also partner with several nonprofit organizations within the community, including Habitat for Humanity, the Anderson Free Clinic, Meals on Wheels, the YMCA, and the Samaritan Health Clinic to provide support to surrounding communities.
As far as more innovations to come, Arthrex develops more than 1,000 new products and techniques annually, said Gardiner. "We are continually innovating and looking for new ways to help surgeons treat their patients better," she added.
The company, based in Florida, announced its initial plans for Anderson County in 2017, saying then that it would create 1,000 jobs at the site.
For more information on Arthrex visit https://www.arthrex.com.
20 www.gsabusiness.com May 2023 IN FOCUS: HEALTH CARE/LIFE SCIENCES
Blow-Fill-Seal (BFS) technology allows Ritedose to expedite production. (Photos/Ritedose Corp.)
This life sciences company has an $87M impact on the Upstate annually
Arthrex employs about 1,000 workers in the Upstate. (Photo/Provided)
Company will build $33 million small arms plant near Liberty
By Ross Norton rnorton@scbiznews.com
FN America LLC will manufacture firearms and related products in a Pickens County facility near the town of Liberty.
One week after the company received the Pickens County Council go-ahead in Liberty, FN America also announced plans to expand its four-decade-old Columbia facilities.
The Pickens County Council voted to grant a fee-in-lieu-of-tax agreement to FN America in April at the offices of Alliance Pickens, which is located at the edge of the business park that will house FN America's $33 million small arms factory. The company expects to break ground next year and start operations in 2025, bringing about 175 new jobs in the five years that follow.
FN America is a subsidiary of FN Herstal S.A., a 134-year-old company based in Herstal, Belgium. Customers include the U.S. military and police departments across the country. The company has been operating a manufacturing plant in Columbia for the last 42 years, now employing about 600, according to FN America CEO Mark Cherpes.
"What I hope is the facilities will compete against each other and they'll grow their products – a little sibling rivalry – and we'll get up to 600 here," Cherpes joked after the Pickens County Council vote on Wednesday.
Cherpes said he was confident in the
five-year plan creating 175 jobs. After that, he said further expansion will depend on product popularity and sales.
He said the Liberty facility will make small arms and may expand to other products.
"We have a full line of adjacent products around firearms, as well. We haven't released — but we will be releasing — some optics, some suppressors, some other things. Right now the plan is firearms but in the future that may expand."
The approximately 100,000-squarefoot facility will be constructed over two phases, according to a news release.
"FN America has experienced significant growth over the last several years and demand for our products continues to increase in all market segments that we serve," Cherpes said in the release.
"Our new facility in Liberty, South Carolina, will allow us to expand our manufacturing capabilities and grow our highly skilled workforce to meet that new demand. We are proud to partner with Pickens County and the state of South Carolina on this expansion."
In 1979, FN America broke ground on its facility in Richland County and officially opened its South Carolina
operations in 1981 to manufacture the M240 medium machine gun under contract to the U.S. Army, the news release stated. The plant has produced 1 million small arms under contract to the U.S. Department of Defense.
FN America's primary business focuses on the design and production of a wide range of small arms including lightweight machine guns, medium machine guns and additional weapons for the Defense Department. Additionally, the plant produces firearms for law enforcement agencies as well as consumers.
FN America will fill Pickens County positions in manufacturing, quality assurance, supply chain and logistics, safety and more.
The Commerce Department's Coordinating Council for Economic Development approved job development credits related to this project.
"Pickens County is pleased to welcome FN America to the Pickens County Commerce Park," Pickens County Council Chairman Chris Bowers said in the release. "We are looking forward to the addition of 176 new jobs in our county to be filled by our exceptionally skilled workforce. Pickens County is home of the Scholar Technician and our workers have the knowledge, skills and abilities to thrive in the manufacturing environment FN America is establishing here."
FN America is headquartered in McLean, Va.
How a South Carolina company racked up 1M EV miles
By Ross Norton rnorton@scbiznews.com
One Upstate company is about a million miles ahead of almost everyone else in the switch to electric vehicles.
Elite Home Care, Day Centers and Transportation, a Spartanburg-based company with 10 locations across the state, operates a fleet of electric vehicles on the cusp of traveling 1 million miles while providing health-related transportation services.
The company rolled up a ceremonial millionth mile in a 3 p.m. ceremony on April 19 at their Greer Day Center.
Elite has spent the last year converting its entire 65-vehicle fleet to EV, rolling the odometers that entire time. The fleet includes Ford Transits and Volkswagen's ID4s. The first electric vehicle was purchased in October 2021, according to a news release. The vehicles are primarily utilized for transporting elderly and disabled clients to the day centers as well as to
and from medical appointments.
"The change from gas to electric means our clients get to ride in brand new, state-of-the-art vehicles for the
same cost to the company as old gas vehicles," co-owner Andrew Martin said in the news release. "It's a sustainable model that gives our clients
the best ride possible, and continued excellence for Elite."
The miles were logged on roads and highways across South Carolina by the fleet that provides care for those who are homebound, transportation to Elite Adult Day Care centers, as well as transportation to medical appointments outside of their 10 facilities. Elite's locations stretch from Liberty in Pickens County to Georgetown, with a service area that goes beyond those counties with Elite facilities.
"Our aim is to deliver the highest level of care while being conscientious of keeping costs contained," co-owner Chris Russo said in the release. "We have found tremendous success with Ford's E Transit line, upfitted with seating and wheelchair lifts to provide transportation solutions for the varied needs of our clients."
Elite plans to open at least three more adult day care locations this year and to continue to expand their EV transportation program, the release said.
www.gsabusiness.com 21 May 2023
Commerce Secretary Harry Lightsey welcomes FN America to the Upstate. (Photo/Ross Norton)
Some of Elite's fleet recharges before another day of transporting patients around the state. (Photo/Provided)
70 Commerce Center Greenville, SC 29615
Roylco
3251 Abbeville Highway Anderson, SC 29624
Kiyatec Inc. 1 2 N. Main St. Greenville, SC 29601
Izumi International Inc.
1 Pelham Davis Circle Greenville, SC 29615
Agfa US Corp 10 S. Academy St. Greenville, SC 29601
864-678-6912 www.spanamerica.com info@spanamerica.com
James Ferguson Heather Hayes 1975 120 Biomedical, bioscience, biotechnology, research
864-296-0043 www.roylcoindustrial.com makestuff@roylcoinc.com Carolyn Voisin 1990
Designs and manufactures complete line of bedframes, therapeutic support surfaces, cushions, lifts and slings and patient positioning items
864-502-2013 www.kiyatec.com Matthew Gevaert 2005 21 1 Biomedical, biotechnology, research Ex vivo 3D cell culture platforms accurately model and predict response to approved and investigational cancer drugs
864-288-8001 www.izumiinternational.com us-sales@izumiinternational.com
Ryutaro Izumi 1977
Biomedical, bioscience Dispensing equipment and automation lines
Xtremedx LLC 575 Millennium Blvd. Greenville, SC 29607
Because of space constraints, sometimes only the top-ranked companies are published in the print edition. For a full list of participating organizations, visit scbiznews.com/buy-business-lists. Although ever y effort is made to ensure accuracy, errors sometimes occur. Email additions or corrections to Listresearch@Bridgetowermedia.com.
Researched by Business Report staff
22 www.gsabusiness.com May 2023 IN FOCUS: HEALTH CARE/LIFE SCIENCES 20 23 Are you looking for a way to promote your expertise? The Book of Experts is your opportunity to convey your unique skillset to business leaders. The narrative format is a great way to share complex information and demonstrate your ability as a subject matter expert. Put the power of our audience to work for you! PUBLICATION DATE: June 26, 2023 For advertising information, contact Ryan Downing at rdowning@scbiznews.com Life Sciences Companies Ranked by No. of Emplo yees in the Greenville Area Company Phone / Website / Email Executive(s) / Year Founded Employees Life Sciences Specialties Description Duke Energy Corp 40 W. Broad St. Greenville, SC 29601 800-777-9898 www.duke-energy.com Mike Callahan 1904 1,900 Bioscience Energy utility with projects in clean and renewable energy, environmental education, and climate change initiatives Stäubli 201 Parkway West Duncan, SC 29334 864-433-1980 www.staubli.com/us/en/home.html info@staubli-mail.com Roger Varin, Sebastien Schmitt, Francois Masbou 1960 200 Biomedical, bioscience, biotechnology, manufacturing, pharmaceutical Partner to the pharmaceutical industr y for decades; develops robotic solutions which promote automation in aseptic environments and fluid-line coupling solutions for challenges facing pharmaceutical laboratories and biotechnology Span-America Medical Systems Inc.
35
Bioscience -
19
Scott Evers 1996 10 Biomedical,
Agfa's
221
864-509-1035 www.parimer.com Richard T Pace 2018 6 1 Manufacturing, pharmaceutical Contract manufacturing
pharmaceutical products;
864-421-1600 www.medimg.agfa.com
biotechnology, research
Digital Radiography Solutions division delivers diagnostic imaging solutions that set standards in productivity, safety, clinical value and cost effectiveness. Parimer Scientific 1
Cooper Lane, Suite B Easley, SC 29642
of
FDA-registered and SCBOP-licensed
Clark 2018 4 Biotechnology,
864-625-0541 www.xtremedx.com info@extremedx.com Robert Fields, Andrew
manufacturing, research An ETS Group company; develops, designs and improves medical devices; developing software for medical applications
•
1 2022 data.
864-366-5011
Abbeville Area Medical Center 420 Thomson Circle Abbeville, SC 29620
Because of space constraints, sometimes only the top-ranked companies are published in the print edition. For a full list of participating organizations, visit scbiznews.com/buy-business-lists. Although ever y effort is made to ensure accuracy, errors sometimes occur. Email additions or corrections to Listresearch@Bridgetowermedia.com.
• 1 Locations include Prisma Health Baptist Easley Hospital, Prisma Health Greenville Memorial Hospital, Prisma Health Greer Memorial Hospital, Prisma Health Hillcrest Hospital, Prisma Health Laurens County Hospital, Prisma Health North Greenville Long Term Acute Care Hospital, Prisma Health Oconee Memorial Hospital, and Prisma Health Patewood Hospital.
• 2 Locations include Spartanburg Medical Center, Pelham Medical Center, Spartanburg Hospital for Restorative Care, Spartanburg Medical Center - Mar y Black Campus and Union Medical Center
• 3 Locations include AnMed Health Medical Center and AnMed Health Women's and Children's Hospital.
• 4 Locations include St. Francis Downtown and St. Francis Eastside
Source: S.C. Department of Health and Environmental Control; researched by Business Report staff
www.gsabusiness.com 23 May 2023 IN FOCUS: HEALTH CARE/LIFE SCIENCES
Ranked by No. of Beds Company Phone / Website / Email Top Local Official(s) / Year Founded Beds Active Staff Physicians / Registered Nurses Prisma Health Upstate 1 300 E. McBee Ave. Greenville, SC 29601 864-797-7800 www.prismahealth.org prismahealthupstate@prismahealth.org Mark S. O'Halla 2018 1,600 1,250Spartanburg Regional Healthcare System 2 101 E. Wood St. Spartanburg, SC 29303 864-560-6000 www.spartanburgregional.com Bruce Holstien 1921 1,273 700AnMed Health 3 800 N. Fant St. Anderson, SC 29621 864-512-1000 www.anmedhealth.org foundation@anmedhealth.org;marketing@anmedhealth.org William Kenley 1985 526 400Self Regional Healthcare 1325 Spring St. Greenwood, SC 29646 864-725-4111 www.selfregional.org Dr. Matt Logan, William H. Keith 1951 358 100Bon Secours St. Francis Health System 4 1 St. Francis Drive Greenville, SC 29601 864-255-1000 www.bonsecours.com Matt Caldwell 1932 338Patrick B. Harris Psychiatric Hospital 130 S.C. Highway 252 Anderson, SC 29621 864-231-2600 www.patrickbharris.com Allen McEnir y 1985 200The Carolina Center for Behavioral Health 2700 E. Phillips Road Greer, SC 29650 864-235-2335 www.thecarolinacenter.com Steve Cavender 1985 156AnMed Health Rehabilitation Hospital 1 Spring Back Way Anderson, SC 29621 864-716-2600 https://encompasshealth.com/locations/anmedrehab Denise R. Murray60SpringBrook Behavioral Health System 1 Havenwood Lane Travelers Rest, SC 29690 864-834-8013 www.springbrookbehavioral.com admissions@springbrookbhs.com Mike Rowley 1982 56AnMed Health Cannon 123 WG Acker St. Pickens, SC 29671 864-878-4791 www.anmedhealthcannon.org lizz.walker1@anmedhealth.org Brandon Clar y Michael Cunningham Rebekah Hemphill Shon M. Herron 1947 55 400Shriners Hospitals for Children 950 W. Faris Road Greenville, SC 29605 864-271-3444 www.greenvilleshrinershospital.org Bill Munley 1922 50Encompass Health Rehabilitation Hospital of Greenville 3372 Laurens Road Greenville, SC 29607 864-537-4600 https://encompasshealth.com/locations/greenvillerehab Joshua Trout40Spartanburg Rehabilitation Institute 160 Harold Fleming Court Spartanburg,
29303 864-330-1800 www.grrh.ernesthealth.com Richard Schulz Kristin Manske 2008 40Regency Hospital of Greenville 1 St. Francis Drive,
Greenville, SC 29601 864-255-1401 www.regencyhospital.com Paige Beauregard 2010 32-
Hospitals
SC
4th floor
www.abbevilleareamc.com Rod Boula,
1919 25-
Cindy Buck
Business Digest At Work
Electric Co-op gives to Greenville Tech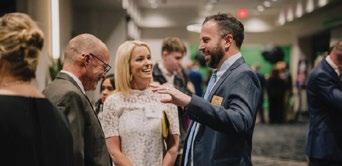 Blue Ridge Electric Cooperative said it donated $50,000 to the Greenville Tech Foundation to name a classroom at the Prisma Health Center for Health and Life Sciences on Greenville Technical College's Barton Campus. The gift will honor Kenneth Southerlin, a retired educator and member of both the Blue Ridge Electric board and the college's governing board. The Prisma Health Center for Health & Life Sciences, now under construction, will be a three-story, 125,000-square-foot building.
The bakery is led by Richard Reutter, son of the bakery's late founder Caroline Ragsdale Reutter.
Caroline's Cakes is a mail-order bakery known for its Southern layer cakes and specialty foods made from family recipes.
Grant supports biomedical research
University of South Carolina Upstate said it received a $50,000 award from Power:Ed to support a summer research program called Engaged Research and Training at Upstate. The program provides USC Upstate students an opportunity to engage in faculty-mentored research in the biomedical sciences, to be paid $3,800 for their full-time eight-week summer research internship, to participate in career development workshops and to present their research at local and regional conferences.
Southern First reports Q1 earnings
Southern First Bancshares Inc., holding company for Southern First Bank, said net income for the quarter ended March 31 was $2.7 million, a $2.8 million decrease from the fourth quarter of 2022 and a $5.3 million decrease from the first quarter of 2022. Total deposits increased 27% to $3.4 billion from a year ago, and total loans increased 28% to $3.4 billion. The bank said it saw a record number of new account openings during the quarter.
GreenWood recognized for workplace safety
GreenWood Inc. said it received the McGriff Workplace Safety Excellence Award. McGriff Insurance Services issues this award only to companies who achieve outstanding overall safety performance based on workers' compensation policy loss ratio, workers' compensation experience modification and other safety information, according to a news release. GreenWood has earned the award for 13 consecutive years.
Martin wins regional print award
The Printing Industry of the Carolinas announced that Martin Printing Co. of Easley received several awards in the 2022 PICA Awards Competition. Martin received 12 Best of Category awards, four Special Judges awards and three Awards of Excellence. The PICA Awards recieved more than 480 entries from 34 printing companies. A panel of out of state judges examined the entries.
Greer, its 11th in the state. The center provides primary care services with onsite medications and labs. Proactive MD is headquartered in Simpsonville and operates in 17 states.
Converse receives state grant
Converse University said it received a $10,000 Collegiate Recycling Grant from the S.C. Department of Health and Environmental Control to expand its existing recycling and sustainability programs. The Collegiate Recycling Grant is a competitive grant program that allocates grant funds to colleges and universities for projects that promote sustainability through recycling, reuse, composting and waste reduction.
Whitten launces inspections company
Daniel Whitten, a licensed home and commercial inspector with 25 years of inspection experience, has founded Daniel Whitten Inspections LLC. The company offers home and commercial inspections throughout the Upstate, along with additional services such as reinspections, first-phase and pre-insulation inspections, limited-area inspections and builder's letters. Whitten received his home inspection license in 1997, along with his general contractor's license.
Truliant opens Easley branch
Truliant Federal Credit Union said it opened a branch at 5660 Calhoun Memorial Highway, Easley. It is Truliant's third branch in the Upstate. Lobby hours are 9 a.m. to 5 p.m. Monday through Thursday and 9 a.m. to 6 p.m. Friday.
McCrory Construction relocates office
McCrory Construction said it relocated to 20 Brozzini Court, Greenville, tripling its amount of office space. The office phone number is 864-603-5840.
Bakery opens in Spartanburg
Caroline's Cakes opened a bakery storefront at 925 Beaumont Ave., Spartanburg.
Proactive MD opens Greer health center
Proactive MD said it opened a health center on Memorial Drive Extension in
AR Funding receives software award
AR Funding, an invoice factoring company, said it received a software develop-
ment award at the StartupGVL Launchpad event at the Greenville One Center. AR Funding was selected to receive an app development scoping package to help create an innovative application to automate and streamline invoice factoring transactions using blockchain and smart contracts, the company said. The company was selected by Designli, a local mobile app and web development company, to receive the prize package worth $22,500.
AFL sponsors Drive hospitality club
AFL announced an expanded multi-year partnership with the Greenville Drive to become presenting sponsor of The Champions Club, a hospitality area at Fluor Field. In addition, the Drive will collaborate with AFL to deliver customized experiences for Club guests. AFL is a manufacturer of fiber optic cable, equipment and accessories.
Google grant supports 4-H Google.org announced a $150,000 grant to South Carolina 4-H to help the youth organization increase the reach of the Computer Science Career Pathway program from 57,000 students to around 70,000. In 2022, Google.org announced a $5 million grant to the National 4-H Council to extend computer science education access to 6 million 4-H'ers across the country.
HRP relocated to Judson Mill
HRP Associates Inc., an environmental engineering and consulting firm, announced the relocation of its Greenville office to the Judson Mill District in Greenville. The multi-disciplinary firm relocated its 20 employees from its space on Miller Road in Greenville to a 6,100-square-foot space in the Annex Building at Judson Mill. HRP Associates joins a variety of tenants at Judson Mill District, including the recently announced Play Café at Judson Mill, High Spirits Hospitality, Stumpy's Hatchet House, Magnetic South Brewery, Jud Hub, The Foundry at Judson Mill, SeamonWhiteside, Feed & Seed, BlocHaven and the Lofts at Judson Mill.
Fitness warehouse opens in Greer Advantage Sport & Fitness, a provider of fitness equipment and gym design services, announced the opening of a 51,500-square-foot warehouse and showroom in Greer. The company has 14 employees working at the location in logistics, administration and installation.
36 ministries receive grants
Circle 555, an initiative of South Carolina Christian Foundation, said it presented
See BUSINESS DIGEST, Page 25
BUSINESS DIGEST | PEOPLE IN THE NEWS
Keith Miller, Kenneth Southerlin, Krystal Southerlin White, Kenneth Southerlin Jr., Donna Southerlin, Jim Lovinggood and, second row, Ray Lattimore and David Sudduth. (Photo/Provided)
Whitten
grants to 36 ministries across the state totaling $227,927. Ministries receiving grants serve women, children and families and support areas such as homelessness, at-risk youth, addiction recovery, foster care, adoption, school, campus ministry and more. Counties impacted include Greenville, Spartanburg, York, Georgetown and Horry. Founded in 2008, Circle 555 unites women to give collectively to ministries.
Greer industrial facility sold for $29M Cushman & Wakefield said it arranged
People in the News
NONPROFITS
Rebuild Upstate elected Rob Schmidt, Lora Jex and Doug Greenwell to its board of directors. Schmidt is a shareholder and director with NAI Earle Furman. Jex is chief compliance officer and executive vice president for Southern First Bank. Greenwell, retired, worked for Michelin for 40 years in various engineering management roles.
REAL ESTATE
the $29 million sale of Velocity II, a newly constructed 297,607-square-foot logistics facility at 915 Victor Hill Road, Greer.
The facility was acquired by Stream Realty Acquisition LLC from CKCI Velocity II LLC. The facility was built in 2022 on a speculative basis by Childress Klein and Cullum Interests and is fully leased.
ATD recognized with partnership award
The Association for Talent Development recognized ATD South Carolina as recipient of the ATD Excellence in Strategic Partnerships Chapter Excellence Award. In 2022, ATD South Car-
olina worked with Clemson University to create a partnership to support the leadership, career and professional development needs of students, practitioners and academicians for Clemson University's Master of Human Resources Development (MHRD) program.
Museum received Partners in Progress Award
Furman University's Riley Institute announced that the International African American Museum recieved the 2023 OneSouthCarolina Partners in Progress Award, which recognizes a landmark collaborative achievement
contributing significantly to social and economic progress in South Carolina. The International African American Museum explores cultures and knowledge systems retained and adapted by Africans in the Americas and the diverse journeys and achievements of these individuals and their descendants in South Carolina, the United States and throughout the African Diaspora. It honors the untold stories of the African American journey at the historically sacred site of Gadsden's Wharf, where many enslaved Africans first arrived in this nation. The museum is scheduled to open to the public on June 27.
Berkshire Hathaway HomeServices C. Dan Joyner Realtors announced that Brianna Jackson joined the company's Midtown office as a sales associate.
Avison Young's Greenville office announced the promotion of Kristin Cameron McDonald to senior vice president. McDonald began her commercial real estate career in 2020 with Avison Young, following an eight-year career in corporate law.
Berkshire Hathaway HomeServices C. Dan Joyner Realtors announce that Morgan Voke joined the company's Midtown office as a sales associate.
20 years of real estate experience. Haas owns Twill, a women's clothing boutique on Augusta Road, and has experience in counseling.
Berkshire Hathaway HomeServices C.
Dan Joyner Realtors announced that Brenda Ledford joined the company's Midtown office as a sales associate. She has 16 years of real estate experience.
Berkshire Hathaway HomeServices C.
Berkshire Hathaway HomeServices C.
Dan Joyner Realtors announced that Tisha Champitto joined the company's Anderson office as a sales associate.
Berkshire Hathaway HomeServices C. Dan Joyner Realtors announced that Tony Rossitto joined the company's Midtown office as a sales associate. He is a retired U.S. Merchant Marine.
Berkshire Hathaway HomeServices C.
Dan Joyner Realtors announced that Cindy Marchbanks joined the company's Midtown office as a sales associate. She worked as a physical therapist before beginning her real estate career in 2019.
Global Location Strategies hired Lisa Franklin as an advisor and Amy White as the client success lead for the LOIS platform. Franklin previously worked at Evergy, a Midwest energy utility, managing the company's economic development local partner investment program. White has 17 years of experience supporting economic development organizations.
Berkshire Hathaway HomeServices C.
Dan Joyner Realtors announced that Katherine LeaMond joined the company's Augusta Road office as a sales associate. LeaMond has more than seven years of experience in the real estate industry.
Dan Joyner Realtors announced that Elizabeth Earle joined the company's Midtown office as a sales associate. She worked for 15 years as a high school counselor and eight years part-time experience in real estate.
Wilson Associates co-founder Nick Carlson has been named president of the Greater Greenville Association of Realtors (GGAR) and the Multiple Listing Service of Greenville. Carlson assumes this role after more than 10 years of working with GGAR as a member, director and officer.
Sosebee, who retired after a four-decade career with AT&T. Ford previously served as director of external and legislative affairs.
Engenius promoted Kory Radford to director of client success. Previously, Radford held roles as client account manager and sales and marketing director since joining Engenius in 2017.
Engenius hired Paige Helms as content strategist. She was most recently director of marketing and communications for SC Camps & Retreat Ministries.
ADVERTISING, MARKETING & PR
Berkshire Hathaway HomeServices
C. Dan Joyner Realtors announced that Emma Mace joined the company's Midtown office as a sales associate.
Berkshire Hathaway HomeServices
C. Dan Joyner Realtors announced that Katie Peery joined the company's Midtown office as a sales associate. She has 19 years of experience in business and marketing.
TECHNOLOGY
AT&T promoted Terrance Ford to vice president of external affairs for AT&T South Carolina. He succeeds Jane
ARCHITECTURE
Infinity Marketing social media coordinator Grace Myers received the Public Relations Student of the Year Award from the South Carolina Public Relations Society of America.
DP3 Architects Ltd. hired Kristen A. Lassa as part of its interiors studio. She has a degree in interior architecture from the Milwaukee Institute of Art & Design.
www.gsabusiness.com 25 May 2023
BUSINESS DIGEST, from Page 24
Wilson Associates hired real estate agents Carolyn Haas and Melissa Tofield. Tofield comes to Wilson with nearly
Jackson McDonald
Voke
Haas Tofield
Champitto Rossitto
Marchbanks Leamond
Ledford
Earle
See PITN, Page 26
Mace Peery
Ford Helms
Radford Myers
Lassa
BANKING & FINANCE
Ballentine Capital Advisors hired Anne Thompson as a wealth advisor. Thompson has previously worked at Charles Schwab and Merrill Lynch.
Tyler Burns, financial planning analyst and client services specialist at Ballentine Capital Advisors, passed the Certified Financial Planner exam.
First Reliance Bank named Keith Rainwater chief accounting officer. He previously served as the chief accounting officer of FB Financial Corp. and FirstBank in Nashville.
The Cliffs hired Todd Foley as director of residential construction. He most recently worked as the Amazon license compliance manager and general contractor qualifier.
Paul Mashburn, CEO of Mashburn Construction, received a 2023 Hall of Fame Award from Carolina Associated General Contractors (CAGC). The Hall of Fame Award recognizes industry leaders who have made remarkable contributions to CAGC, the construction industry and the communities they serve.
EDUCATION
Boone J. Hopkins became the 12th president at Converse University. Hopkins joined Converse in 2012 as an assistant professor of theatre. He has served chair of the Department of Theatre and Dance, dean of the School of the Arts, senior associate provost for student success, interim provost and interim president.
es designer Kayla Kernich passed the Association of State Floodplain Managers national-certified floodplain manager exam.
HEALTH CARE
Dr. Julian Kim has been appointed president of the Prisma Health Cancer Institute. Kim, a board-certified surgical oncologist, joined Prisma Health in 2018 as the senior medical director of Oncology Services in the Midlands.
HUMAN RESOURCES
Find Great People hired Eleanor Dunlap as an executive organizational and talent consultant. She previously worked as the chief impact officer of The Graham Foundation.
ed Way's Community Campaign Chair in 2020, previously worked as director of inside sales for United Parcel Service.
Broadstreet Inc. President Joe Baldassarra was named Individual Donor of the Year for 2022 by Habitat for Humanity of Greenville County.
Greenville's Racial Equity and Economic Mobility Commission (REEM) hired Courtney Hicks as program manager. She is the former outreach and public programming coordinator at the Avery Research Center for African American History and Culture.
Countybank has appointed Laura Beth Brooks a vice president. Brooks, corporate governance manager, joined Countybank in 2018.
Southern First Bancshares Inc., holding company for Southern First Bank, named Andy Borrmann CFO and executive vice president. Borrmann has nearly 30 years of experience in the financial industry.
Novus Advisors hired Valentina Dibbi Holland as a licensed Investment adviser representative. Holland has experience as a finance manager, as well as with preparing individual and business tax returns.
CONSTRUCTION
Kristen Powell has been named president and CEO of Associated Builders and Contractors of the Carolinas (ABC Carolinas). She joined ABC Carolinas in 2014 and has served as regional membership director.
Southern Wesleyan University named Andrew Beckwith chief of staff and executive vice president, beginning in July. Beckwith is currently serving as the president of the nonprofit Massachusetts Family Institute.
ENGINEERING
Kayla van Hoff joined Better Than Found as a recruiting assistant. Van Hoff previously worked as a recruiter with two recruiting firms.
INSURANCE
Karis McGuire joined The Insurance Source as a bilingual customer service representative. She is a recent graduate of Bob Jones University.
LAW
Haynsworth Sinkler Boyd PA hired Ayla G. Luers Connor as special counsel. She focuses her practice on representing hospital systems and healthcare providers with medical malpractice and insurance defense claims.
United Way of the Piedmont announced five new members to its board of directors: Donda Bishop , general manager of the ACS business unit of AFL; Reed Brown , vice president of Brown Packing Co. Inc. in Gaffney; Katie Henderson , chief nursing officer at Spartanburg Regional Hospital; Sarah Keim , a regional director of revenue management for OTO Development; and Gianella "Gia" Quinones , a community service volunteer.
REAL ESTATE
The Cliffs hired Cheryl Scullin as a sales executive for The Cliffs at Glassy, The Cliffs at Mountain Park and The Cliffs Valley. She is a Cliffs at Glassy resident who previously worked in education.
Rosenfeld Realty Group hired J.J. Bowers . He is former president of the Greater Greenville Association of Realtors.
Goodwyn Mills Cawood hired geotechnical engineer Stephen Nickerson. Nickerson has managed ground improvement and deep foundations design-build construction projects, including pre-construction, estimating, design and project management.
Hussey Gay Bell hired Jonathan David Rackley. He joins the firm with experience in civil design, including site development, roadway systems design, stormwater management and water and sewer systems design.
Thomas & Hutton said water resourc-
MANUFACTURING
T&S Brass and Bronze Works promoted Jeff Baldwin to director of engineering. He has worked with T&S for 24 years, starting as a manufacturing engineer then moving into design.
NONPROFITS
United Way of Greenville County hired Yobany Banks-McKay as vice president of corporate engagement. Banks-McKay, a longtime volunteer who served as Unit-
Berkshire Hathaway HomeServices
C. Dan Joyner Realtors announced that Kylie Stevenson joined the company as a sales associate. She has a background in education and customer service.
Berkshire Hathaway HomeServices
C. Dan Joyner Realtors announced that Blayne Byars joined the company as a sales associate.
26 www.gsabusiness.com May 2023 Submit items using our online submission portal: www.GSABizWire.com. Publication is subject to editorial discretion.
25
PITN, from Page
Thompson
Burns
Rainwater
Beth brooks Borrmann
Holland
Powell
Mashburn Beckwith
nickerson Rackley
Kernich
Kim
Van hoff
Luers Connor
Banks-McKay
Scullin
Hicks
Stevenson Byars
PERSPECTIVES AND READERS' LETTERS
Economic landscape: How bad off are you?
One of the biggest economic puzzles today is the surprising divergence between consumer confidence, which has plummeted, and consumer spending which has continued to climb at a moderate pace. That makes absolutely no sense. If we are as scared as we seem to be, then why hasn't consumer spending fallen sharply?
One possibility is that the unemployment rate is at a 50-year low of 3.5%. If someone loses their job it does not matter much. They can easily find another. With no fear of their income stream being interrupted, why cut back on spending?
A second possibility is that real weekly earnings are not as far below where they ought to be as they seem. It is true that real weekly earnings have fallen for two years. But that ignores the fact that real weekly earnings surged in 2020 and 2021 as the government supplemented consumer income with huge stimulus checks. Thus, the decline in real weekly earnings in the past two years came from an artificially inflated level.
If real weekly earnings had continued to grow at the same pace as they had prior to the recession, the current shortfall would be only about $8.00 per week ($0.20 per hour) or 2.0% higher than they are currently. We are not as bad off as many suggest.
Consumer sentiment has plunged since the inflation rate began to climb in early 2021. It reached a low point in June 2022 which was far below the level of sentiment that existed at the bottom of the 2020 recession when consumers were petrified about the pandemic and the government shutdown which caused GDP to fall 30% in the second quarter. Also, the June 2022 level of sentiment was roughly in line with the lowest level attained in the 2008-09 recession. That was billed as "The Great Recession." It makes no sense that Americans are as nervous today as they were in those two earlier periods.
If we are so fearful why has consumer spending not declined? It fell sharply in 2008-2009, and then plunged in 2020. But yet this time, when we are seemingly as nervous as we were then, consumer spending has been chugging along at a respectable 2.3% pace.
The relationship between many economic variables has changed dramatically since the pandemic, and this is
one of the more puzzling discrepancies. We suggest that one of the reasons why spending has not fallen is because the unemployment rate is completely unlike what it was in those two earlier recessions. The unemployment rate peaked at 10.0% in 2009. It peaked at 14.7% in 2020. Consumers had a legitimate reason to be worried. If they lost their job during those recessions they were not going to find a replacement quickly.
But today the unemployment rate is at a 50-year low of 3.5%. The full employment threshold is assumed to be 4.0%. At that level everybody who wants a job has one. If someone gets laid off today, why worry? They can easily find another job. With no worry about their income stream being interrupted, there is little incentive to significantly reduce spending.
It has been widely noted that real earnings have been falling for the past two years. As real wages decline consumer purchasing power is reduced. Both statements are true. But nobody seems to point out that real weekly earnings surged in the second half of 2020 and all of 2021 when the government was passing out stimulus checks.
Nominal and real weekly earnings surged during that 2020-21 period and consumer purchasing power skyrocketed. Consumers responded and began to spend vigorously. Firms were unable to boost production as rapidly as spending rose and, not surprisingly, the result was a dramatic pickup in the inflation rate. Earnings growth is yet another economic indicator that has been significantly distorted by the pandemic and the government's response to it.
Given these wild swings in real weekly earnings, we wonder where real earnings would have been if they had continued to grow at their pre-recession pace. That path is shown by the red line in the graphic to the right. Real earnings today are less than where they presumably would have been in the absence of the recession and subsequent stimulus, but not by a lot.
As shown, the difference today — three years later — is about $8.00 or 2.0%. To say that real earnings have been falling for the past two years creates an impression that consumers are in bad shape. Press articles highlighting that fact may be contributing to consumers' surprisingly low level of confidence. But if consumer earnings are only slightly lower today than they were three years ago, consumer purchasing power has not fallen as much as one might think and, hence, they keep spending.
In the end, there is no doubt that consumer purchasing power is being eroded
by inflation, but now that the inflation rate is gradually subsiding and real disposable income is once again climbing, real weekly earnings may soon turn upward which will keep the economy going. We will see.
Economist Stephen Sli er can be reached at www.numbernomics.com.
VIEWS,
We want to hear from you Write: Ross Norton, Editor SC Biz News 35B Cessna Court Greenville, S.C. 29607 Email: rnorton@scbiznews.com
Viewpoint
SLIFER
28 www.gsabusiness.com May 2023