SATURDAY GIRL ABOUT TOWN BURNLEY
Everyone welcome!
The Future Of The High Street Is... The Future Of The High Street Is...
I remember Saturdays in 1978, applying heavy make-up, backcombing my hair and donning newly-ripped clothes before meeting friends in the local town centre. We were 14 and emulating 'real' punk rockers. I later experimented with other clan dress – never, I thought, as authentically as my friends.
In 2015 I met photographer Casey Orr who had set up her portable portrait studio in Liverpool city centre and invited young women to pose against brightly coloured backcloths. She told me about previous shoots in her home city of Leeds, her delight in the expressive hair styles, outfits and make-up she'd photographed, and then her excitement at finding differences in Liverpool – she particularly championed the 'I'm going out tonight' curlers that are worn with attitude in our city.
Over the next few years Orr celebrated these nuances, taking portraits in 13 other UK cities. She always shot on a Saturday afternoon, recognising that this is the time to dress up, meet friends, see and be seen on our high streets. During these years a revolution of gender identity was unfolding which Orr embraced – sitters self-selected, everyone was welcome.
In 2019, the resulting award-winning photographic series 'Saturday Girl' was rightly acclaimed. And the portraits in the publication – of the same name – give us, without question, a most affirming experience.
In 2020 the unimaginable happened. The pandemic put a stop to Saturdays on the high street. In northern centres major stores closed. The drift to shopping online accelerated – which, on top of the move to retail park shopping, made some questions urgent. What does the future high street look like? And if centres are re-modelled, who are they for?
In 2021, as things opened-up again, Casey Orr began 'Saturday Girl About Town'. Her pop-up portrait studio was welcomed in Redcar, Wigan, Blackpool, Burnley and Chester. The project shifted. She researched the history of individual high streets and worked more closely with local young people. New trends were discussed, like the distinctive look many young people achieve by snapping-up quality clothes from charity shops.
Viewing the new images with my 17 year-old daughter, I realise I can't read them as she does. She points at the portraits and names different looks – this person is like her, 'Basic' which means 'nothing standing out,' whereas this one is 'Alt', like her best friend 'heavy black eye-liner, dyed hair, fish nets'. She lists other categories. I realise how deeply 'Saturday Girl About Town' will forever resonate with her generation. I think about her isolation during lockdown. Surely now, more than ever, we need to celebrate the diversity of young people who add so much life to our high street. I look at the images again. These people are amazing. The five northern high streets are each hosting an exhibition dedicated to the local 'Saturday Girl About Town' – and thanks to Orr's exceptional skill, the sitters confidently invite us to recognise that the future of the high street is, in fact, theirs.
Sarah Fisher- Director, Open Eye Gallery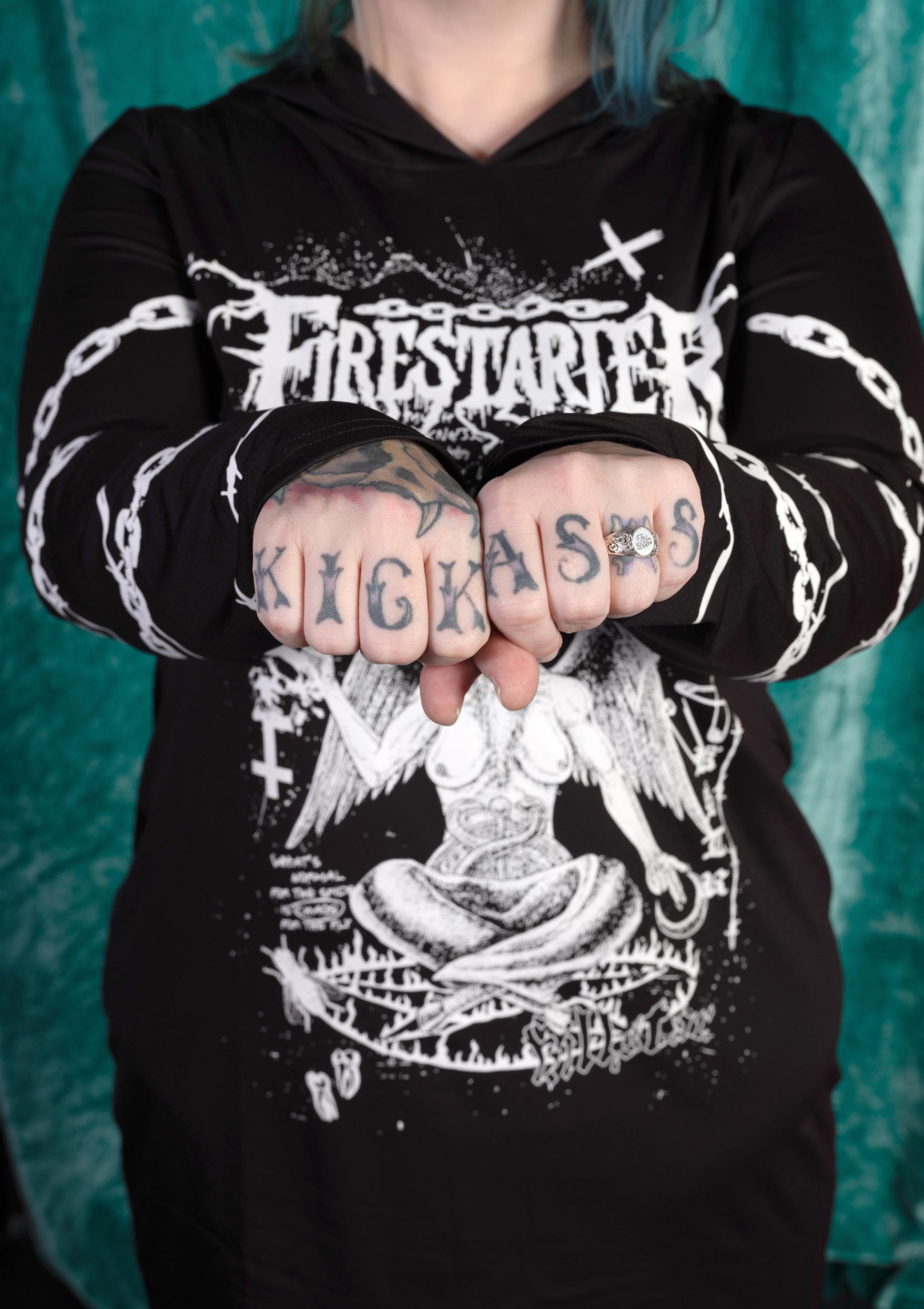 SATURDAY GIRL ABOUT TOWN BURNLEY SATURDAY GIRL ABOUT TOWN BURNLEY
I want to introduce Casey Orr's portraits by describing what subculture in Burnley meant to me and my friends growing up here. I also want to reflect on that culture as an alternative form of heritage. The Saturday Girl project is part of Burnley's Lower St James Street Heritage Action Zone. Heritage is a really exciting but also contentious subject. The word heritage implies something from the past has been brought into the future. Who gets to decide which bits of the past are worth keeping? Who places that value?
The Saturday Girl project gets right to the core of this issue by capturing the living culture of this neighbourhood as it is today. And living culture is heritage too! It is enshrined in UNESCO's Convention for the Safeguarding of the Intangible Cultural Heritage.
The Convention strives to protect threatened expressions of culture. It protects the practices, knowledge and skills that are continually recreated and transmitted between generations and that contribute to our cultural identity.
I want to propose that there is a heritage value to Lower St James Street that isn't about buildings and doesn't fit with any sort of authorised Historic England discourse. It's an intangible value passed between generations of alternative subcultures that have thrived amongst Burnley's young people over generations. This is where the places and spaces of Lower St James Street and the cultural identities expressed in the Saturday Girl portraits intersect.
I want to describe what alternative youth culture meant to myself and my peers growing up here. Passed from one generation to the next like a baton handed on, that culture was our intangible heritage. It's our collective memory of Lower St James Street and it's a story I'll try to tell here through the reminiscences of my friends.
Fran Bruce, for us, is a legend of Burnley's alternative scene. He told me about being 16 in 1978 and how a small tribe of punks found spaces where they could gain acceptance: the Talbot, the Clarion Club, the Prince Albert and eventually the Carlton.
The Carlton was a refuge for generations of alternative tribes: punks, bikers, metalheads, goths, crusties, ravers, emo's and skaters. Reminiscing about the scene in the 80s, one friend said it was "where all of Burnley's outcasts could meet, a place where they could wear what they wanted and be who they wanted without fear of persecution". A home for subcultures.
At the Cross Keys Hotel with Lisa
Fran secured a regular DJ set at the Carlton. At last orders, he'd take his records over to The Angels nightclub where he established a Wednesday alternative night. This is an event that he sustained in different guises and venues right through to the early noughties. As another friend said: "I think Fran's influence on that time and place is not to be underestimated' not least because he founded The Mud Club - which brings our history to Lower St James.
On the last Friday of every month throughout the 90s, the area behind the crumbling remains of the Empire Theatre transformed into a thriving alternative scene, as The Kestrel Suite hosted Fran's alternative night. This was "where it was OK to be accepted, to be a bit different, whether that was how you looked, dressed, the type of music you liked or your sexuality, in a town that certainly at that time wasn't all that inclusive". The scene lives on to this day with the adjacent Sanctuary Rock Bar one of Burnley's few alternative venues.
Saturday afternoons were whiled away just further down St James Street at the Red Triangle: pioneering vegetarian café, hotbed of socialist activism, a place with a gentle ambience, "I remember feeling like one of the odd ones out at school, but when I discovered The Mud Club and the Red Triangle Café in 1995, I felt like I belonged, felt like I'd found my people and my place."
The café had its own mentors in owners Andy and Maggie who "nurtured several generations both young and old and made us all better people. There was no other place like it in the whole country". The Café had its own rituals for us as teenagers. We made ourselves at home: "oh the time spent in the Red Triangle making a cup of tea last three hours!"
Such seemingly insignificant places were the crucible in which our adult identities forged: "I can honestly say that without the alternative scene in Burnley in the mid 90s, I wouldn't have had the confidence to be comfortable with who I was. Just to be accepted as the person I was at that point in time was refreshing".
Taken together it's clear that the heritage of Lower St James isn't necessarily in the bricks and mortar, it is in the alternative space it provided. Always on the periphery of the town centre, these places were: "where I met the people who shaped my life. Never had I heard of anti-fascists, anarchists, anti-racists, equal rights for women, anti-homophobia, it's where I listened and learned. Where I got the freedom to form my own opinions and grow without prejudice. It's the people that made it what it was, not a town, street or building."
This collective memory of the spaces and places of Lower St James is our heritage value. The shopfronts will get a romantic and idealised heritage makeover as a Heritage Action Zone. In the process we'll lose the visual memory of beloved places like the Red Triangle Café. What endures is a vibrant landscape of memory shared between our loose knit alternative tribe whose lives continue to unfold in Burnley and beyond.
When I look into the eyes of the young people photographed as part of Casey Orr's Saturday Girl project, I am awed by her gift. In her portraits she has somehow captured the same burgeoning potential, a growing awareness of the world with all its inequality, and a bristling will to social action. The portraits expose that brief and special time of life when young people are on the cusp of becoming. I hope there is a space and place in Burnley that will accept them and nurture their growth, just as Lower St James Street did for us.
Dr Steph Hawke Chair, Mid Pennine Arts
Additional photographs and publication design by Jennifer Skip
caseyorr.com/blog Instagram: @saturdaytownphoto You can find out more about Saturday Girl About Town here:
Saturday Girl About Town Burnley has been supported by: