ENJOY 15% OFF CODE: RISINGSTARS22 THE NEXT GENERATION OF ART COLLECT WORK BY TODAY'S BEST UP-AND-COMING ARTISTS 2022 RISING STARS
The World's Leading Online Art Gallery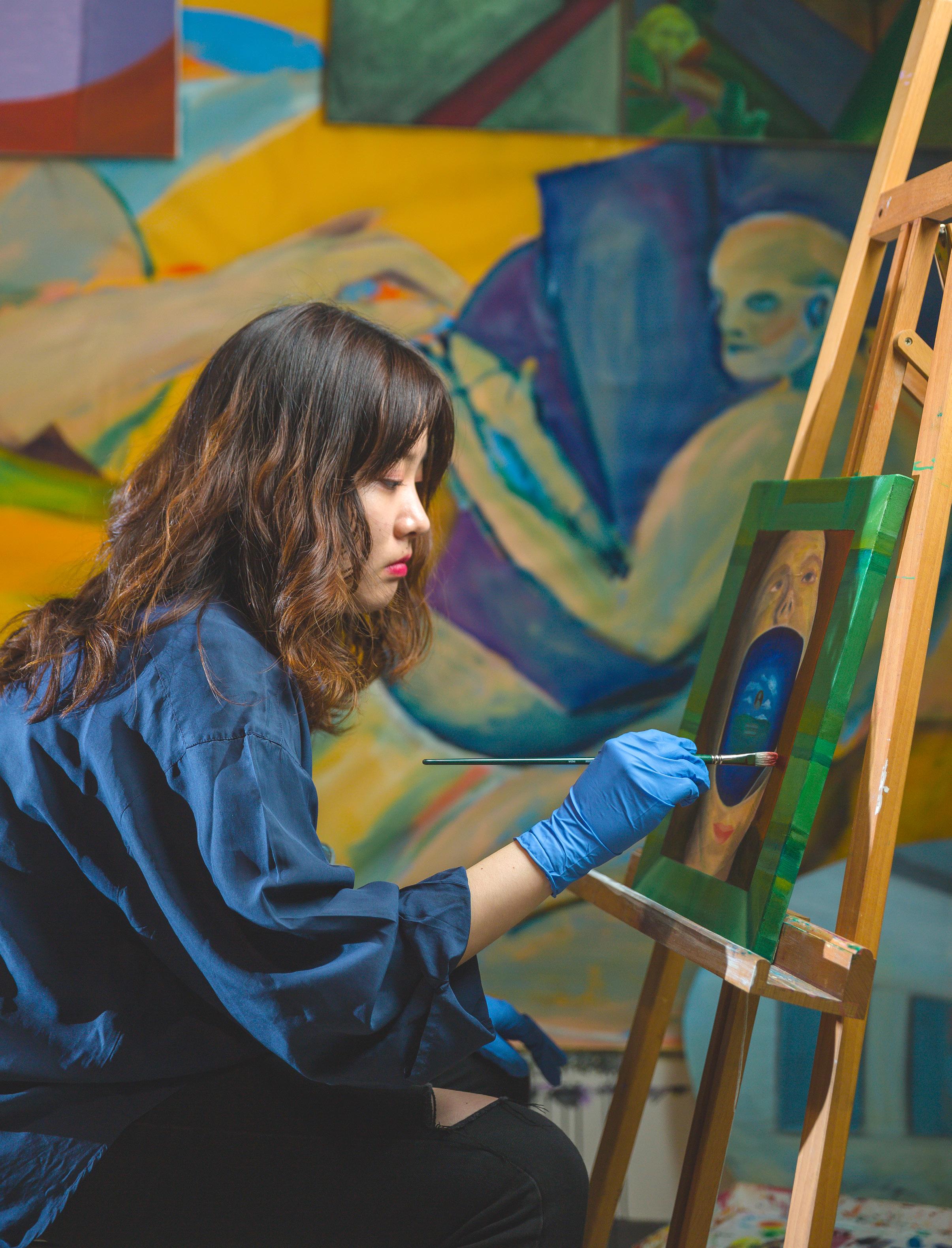 Sylvia Batycka in her studio. See her artwork on p. 35
Milica Lazarevic in her studio. See her artwork on p. 17
Nicole Schonitzer in her studio. See her artwork on p. 15
Mich Miller in their studio. See their artwork on p. 7
Daniel Bauman in his studio. See his artwork on p. 20
Kaijia Zheng in her studio. See her artwork on p. 36
On the cover: Hanna Hae Soo Bang in her studio. artwork
See her
Discover the Best Young Artists to Collect in 2022
REBECCA WILSON , CHIEF CURATOR & VP, ART ADVISORY
Discover them, support them, and collect their work today.
This year we've found 37 trailblazing emerging artists many of whom have recently graduated from BFA and MFA programs—who are making some of the most compelling and collectible art today.
on p. 28
Each fall for the last ten years, our curators have published their definitive list of recent art school graduates and up-and-coming artists you should invest in now.
Some are tackling contemporary social issues in their work, others are experimenting with digital technology, many are redefining traditional art styles, and all are creating powerful work with a strong potential to increase in value.
Rachel Rodrigues in her studio. See her artwork on p. 8
Ferguson Amo in his studio. See his artwork on p. 9
4 | saatchiart.com/catalog | 1.877.485.1199
Our curators draw on years of rich experience in the art world to identify recent graduates from the best schools around the world who are on the rise and garnering international acclaim.
This Committee:SelectionYear's Meet Our Curators
Aurora Garrison has a BA in Art History and International Affairs from Lewis & Clark College in Portland, Oregon and an MA in World Heritage Studies from the University of Turin in Italy. Prior to joining Saatchi Art in 2018, Aurora worked at auction houses, museums, and galleries, including Christie's in San Francisco, the J. Paul Getty Museum, Auctionata Paddle8, and Revolver Gallery in Los Angeles. With a focus in world heritage preservation and conservation, Aurora has presented research on protecting cultural heritage in times of conflict at academic conferences in the US and Italy.
Erin Remington has a Masters in Modern Art History, Theory and Criticism, and a BS in Business Administration from Azusa Pacific University. She studied Art and Art History at the American University of Paris and has over a decade of experience in fine arts. Erin is motivated by exceptional art and working with collectors to select pieces that inspire and elevate their spaces. She believes that art has the ability to inform, inspire, educate, and change how we view the world around us.
ARTIST COMMUNITY & CURATION MANAGER
CHIEF CURATOR & VP ART ADVISORY, SAATCHI ART
MANAGER OF ART ADVISORY AND CURATION
Erin Remington
Rebecca Wilson is Chief Curator and VP, Art Advisory at Saatchi Art. She was formerly a Director at the Saatchi Gallery, London, where she was instrumental in the launch of the gallery's online presence and a prize for emerging artists called New Sensations. Rebecca has over 15 years of experience working with emerging artists and helping hospitality, corporate, healthcare and private clients to build art collections.
Rebecca Wilson Aurora Garrison
6 | saatchiart.com/catalog | 1.877.485.1199
1
Garden
Dylan Everett No. Archival inkjet on paper 20 x 16 in $1,300
50
Since graduating with an MFA in photography from the Rhode Island School of Design (RISD) in 2019, Dylan has exhibited his photography in galleries across the US.
His work has been featured in notable publications like Lenscratch and Float Magazine
40 in
The Activists
Utilizing photo collage and still life, Dylan Everett uses experimental techniques to simultaneously speak to contemporary art and culture while questioning traditional notions of taste, sensuality, and beauty and paying homage to LGBTQ-identified creatives. In his fabricated spaces, there is no distinction between highbrow and lowbrow, historical or contemporary.
Artists often explore the social and political issues of their time. Discover new works that have caught the eyes of our curators for the inspiring ways that they demonstrate resilience, courage, and strength.
INTRODUCING
Dylan held a solo exhibition at the renowned Griffin Museum of Photography in Winchester, Massachusetts.
Blue Room Archival inkjet on paper x $3,210
In 2018 they co-founded The Print Shop LA—a collaborative printmaking studio in Los Angeles, which offers internships, collective studio access, and artists-inresidence programs.
Mich has exhibited work in solo and group shows, including Lyles & King in New York City, New Image Art Gallery in West Hollywood, Super Chief Gallery in Los Angeles, All Star Press in Chicago, and Ladies' Room in Los Angeles.
Mich Miller
Artwork prices include shipping | 7
Mich earned their BFA from the School of the Art Institute of Chicago and an MFA in painting and printmaking from Yale University in New Haven, Connecticut in 2021.
Color is Light (Solidified) Acrylic, airbrush on wood 38 x 50 in $4,600
Mich Miller is a Los Angeles-based multidisciplinary artist working across painting, printmaking, and installation. Mich's work challenges traditional perceptions of color theory by using color as a cultural signifier with distinct, societal meaning. Their art practice is informed by queer histories, transmuting personal experiences into dense layers of shape and shade. Drawn towards highly saturated colors and chemical reactions, Mich subtly pays tribute to scientific discoveries connected to their trans identity.
Can't Square the Circle Acrylic, airbrush on wood 16 x 16 in $3,010
8 | saatchiart.com/catalog | 1.877.485.1199
Night Crawlers in Highbury Grove Oil on wood
Rachel Rodrigues
Currently based in London, Rachel earned her Ph.D. in psychology from Imperial College London.
Birdsong Oil on wood 11.8 x 8.7 in $590
Social bonds are examined through a mental health lens in Rachel Rodrigues's pink-tinged paintings. Her compositions resemble snapshots from a family photo album—fleeting moments that help shape our identity. The lighting, expressions, and body language of Rachel's subjects hint at their inner experiences and relationship to one another.
Rachel was shortlisted for the Ashurst Emerging Artist Prize in She2020.has exhibited her work with notable galleries across London, such as Highgate Contemporary Art, Ashurst Gallery, Hoxton 253 Art Project Space, and Blyth Gallery.
19.7 x 15.7 in $860 RISING STARS 2022 — THE ACTIVISTS
Ferguson Amo
Artist Ferguson Amo uses hyperrealistic drawings, photographs, and installations to capture the contemporary African identity. Examining the effects of diaspora on cultural identity, Ferguson invites the viewer to question how we can move the image of blackness towards emancipation.
Abdias' Hedron (Water Takes the Shape of Icosahedron) Ink, acrylic on watercolor paper 31 x 51.5 in $9,600
He has shown his work in group shows at the Untitled Art Fair in San Francisco, VisArts in Washington, DC, Regular Normal in New York City, and the Independent Art Fair in Harlem.
Ferguson received his BA in digital art from Manhattan College and MFA from the School of Visual Arts in New York. Currently residing in New York City, Ferguson has exhibited his works in numerous solo and group shows in the New York City area.
In 2021 Ferguson held a solo exhibition at the Kente Royal Gallery in New York City.
Artwork prices include shipping | 9
Fajr Ink, acrylic on watercolor paper 39 x 55 in $10,600
—Manager of Art Advisory and Curation, Erin Remington
To Dream Digital on paper 27.2 x 40 in $4,850 Shop the Collection RISING STARS 2022 — THE ACTIVISTS
Nitashia Johnson
Nitashia has attended Texas Woman's University, the Rhode Island School of Design (RISD), and the University of Texas at Dallas.
Nigerian American multimedia artist Nitashia Johnson endeavors to "create something magical with traditional art supplies." The artist has worked professionally as a graphic designer and photographer, often documenting current social issues surrounding the environment and education. She believes that her creative background bolsters her career as a full-time artist—reinforcing her ability to experiment with traditional mediums and genres to surface contemporary messages and stories.
"Making use of earthly color palettes and subdued hues, these Rising Stars artists use subtlety to their advantage with works that allow the viewer to linger in theirscenes."imagined
10 | saatchiart.com/catalog | 1.877.485.1199
For the past year, Nitashia has worked on her non-profit, The Smart Project, a creative after-school program structured for teens and aspiring mentors living in North Texas.
Artwork prices include shipping | 11
Her photography has been featured in notable publications such as D Magazine and The New York Times.
Amen
on paper 22.5 x 40 in $2,170
Black Arch, Pain, Black Sole - (Triptych) Digital on paper 18 x 27 in $1,970 Digital
12 | saatchiart.com/catalog | 1.877.485.1199
Aparna Sarkar's paintings are born from her queer, diasporic experiences. Colliding elements of memory and myth, abstraction and figuration, and flatness and perspective, Aparna creates works that highlight the instability of the self and disrupt the traditional ideal of formal hierarchy.
Aparna was awarded full scholarships to attend residencies with Jentel Foundation in Wyoming, Manhattan Graphics Center in New York, Obracadobra in Oaxaca, and Woodstock Byrdcliffe Guild in New York.
She has exhibited her work across New York and Rhode Island at the 1969 Gallery, Leslie-Lohman Museum of Art, Field Projects, Pace University Gallery, and the RISD Museum.
Aparna Sarkar
Located in Brooklyn, New York, Aparna holds an MFA in painting from the Rhode Island School of Design (RISD) in Providence, Rhode Island, and a BA in mathematics from Pomona College in Claremont, California. She has exhibited in multiple galleries, and her work is held in collections internationally.
Divers II Oil on canvas 35 x 28 in $3,610Archer Acrylic on paper 15 x 11 in $445 RISING STARS 2022 — THE ACTIVISTS
Latifah recently graduated with an MFA from Slade School of Fine Art, London, and received an MA from the Royal College of Art, London, in visual communication and a BA (Honors) from Central Martins, London. She has exhibited her work in multiple group exhibitions and currently resides in London.
Latifah A. Stranack challenges traditional perceptions of the female body and gaze through the invented heroines in her paintings. These abstracted heroines depicted in bold colors and thick brushstrokes embody feminine strength and vulnerability through all stages of life and cultures.
Artwork prices include shipping | 13
Le Déjeuner Sur L'herbe and Memories Acrylic on canvas 39.4 x 63 in $2,600
Birthing the Forest Acrylic on canvas 17.7 x 23.6 in $1,780
Latifah is currently part of In Transit, an online art platform supporting multidisciplinary projects, and previously was an artist resident at Colart Winsor & Newton in London.
Latifah A. Stranack
She has received notable awards such as the Desiree Painting Prize in 2021, the Max Werner Drawing Prize in 2020, and The Terence Cuneo Memorial Trust Award in 2020.
The Rule Breakers
Bold art for the adventurous collector. Whether you want art that is subversive or stunning, find it in this collection featuring Rising Stars artists who venture beyond the norm.
She is a co-creator at New Wave Press, an online publication and exhibition space for early and emerging artists and writers.
Joanna received her BA (Honors) in painting and printmaking from The Glasgow School of Art and currently lives in Glasgow, Scotland. Her works are regularly included in exhibition spaces throughout Glasgow and Vienna.
Joanna Holisz
Steam Cloud (Blue Lines) Oil on paper 27 x 20.1 in $860
Shaking Ochre Mountain with Sparks and Lava Oil on paper 27 x 20.1 in $860
INTRODUCING
Joanna Holisz's oil paintings sit at the poles of absurdity and mundanity. Defined by exaggerated color tensions that coexist within childlike brushstrokes, Joanna's paintings seek to deconstruct magnificent pieces in history and leave the viewer to wander through conflict and chaos.
14 | saatchiart.com/catalog | 1.877.485.1199
Joanna was shortlisted for The Royal Scottish Academy New Contemporaries Annual Exhibition in 2023.
Artwork prices include shipping | 15
Nicole Schonitzer's work actualizes a space where formal abstraction and bodily narrative collide. In her constructed world, there is power in softness, impulsivity is celebrated, and tenderness rules.
O Misbehave Acrylic on canvas 72 x 84 in $6,400 Hot Stone Pats Oil on paper 22 x 30 in $715
Nicole Schonitzer holds an MFA in painting from the Rhode Island School of Design (RISD) in Providence, Rhode Island, and a BA from Vassar College in Poughkeepsie, New York. Her work has been shown in galleries in New York City, Chicago, Poughkeepsie, Providence, and London.
Create! Magazine.
Nicole Schonitzer
Nicole has been featured in multiple group exhibitions, including the Gallery"Feminized"with"ContemporaryonlineArtShow"Art&ObjectandatGelmaninProvidence.Herworkhasbeeninpublicationslike
$1,360 RISING STARS 2022 — THE RULE BREAKERS
Based in London, Yuezhu holds an MA in fine art with distinction from Central Saint Martins at the University of Art London and a BA in film from the Central Academy of Fine Arts in Beijing, China. Reborn Oil on canvas
40 x 30 in $5,636
Yuezhu Chen
Fallen,
11.8
16 | saatchiart.com/catalog | 1.877.485.1199
Listen Oil on canvas x in
Yuezhu has exhibited her work in London, Shanghai, and Beijing, with her most recent solo exhibition at The Koppel Project Hive in London.
She was shortlisted for the Cass Art Prize from the Slade School of Art in 2021.
16.5
Focusing on themes of psychology, gender, and sexuality, Yuezhu Chen creates semi-abstract paintings using bold color palettes and striking compositions. Building on her study of symmetry and the subconscious versus unconsciousness, Yuezhu embraces the relationship between her figures and their environments to challenge traditional notions of oil painting.
Milica Lazarevic
Recently, she exhibited with Gallery Cankarjev dom in Ljubljana, Slovenia, and Gallery O3ONE in Belgrade.
74.8 x 82.7 in $3,210
35.4
The Guide Oil pastel on canvas
Milica has won awards with the Foundation Velickovic in Belgrade, Dafen Biennale in Shenzhen, China, and the Faculty of Applied Arts at the University of Arts in Belgrade.
Inspired by her daily interactions and family photographs, Milica Lazarevic explores themes of the individual, identity, and the relationship humans have with society and nature. Portrayed mostly in muted and cool tones, Milica creates stylized scenes that create a sense of nostalgia.
Milica received her MFA from the University of Arts in Belgrade, Serbia, where she is now pursuing her PhD.
Shelter Pencil, pastel on paper 61 x in $2,080
Artwork prices include shipping | 17
Gemma received her BFA in studio practice and contemporary critical studies from Goldsmiths, University of London, and her MFA in printmaking from Camberwell College of Arts in London.
Gemma Thompson uses drawing and printmaking to capture the intangible feeling of place by transforming the essence of sound and rhythm into lines and marks on paper. Gemma creates unique soundscapes through translated marks and contours that take the viewer on a poetic journey.
Over the River Etching on paper 11.8 x 15.7 in $465 A Sounding, Meshes with Another and Another Etching on paper 24.8 x 39.4 in $1,530 RISING STARS 2022 — THE RULE BREAKERS
She has shown her work in several galleries across London, including the Espacio Gallery, Saatchi Gallery, Royal Drawing School Gallery, Copeland Gallery, South London Gallery, the Royal Arsenal, Christie's London, SPACE Studio, and Gallery Maison Bertaux.
Gemma Thompson
Outside of London, Gemma participated in an exhibition at The Grey Space in the Middle in The Hague, Netherlands.
Mathew received his BFA from Emily Carr University of Art + Design in Vancouver, Canada.
Mathew's work has been exhibited across Vancouver at the Emily Carr University Writing Center, the Royal Bank of Canada Media Gallery, North Vancouver Community Arts Council, and Renegade Art Studios.
Mathew Fierke's paintings embrace bold, saturated colors juxtaposed with harsh, black outlines to capture the standardized images of the digital age. Initially inspired by urban subjects of digital photography, Mathew paints recognizable motifs from pop culture to evoke themes of death, privacy, and memory.
Mathew Fierke
Windows Acrylic on canvas 20 x 16 in $590
Fence
Acrylic on canvas 20 x 16 in $590
Memorial Oil on canvas 30 x 24 in $780
Spiral Stair Oil on canvas 52 x 42 in $2,210
Daniel Bauman
Based in Chicago, Daniel received a BS in architecture from the University of Maryland and an MFA in painting and drawing from the School of the Art Institute of Chicago in 2022. His works have been exhibited in group exhibitions across Milwaukee and Chicago.
Daniel's work was published in Art Maze Magazine's "Summer Issue 23" in 2021.
He received the Leonard Rosenfeld Merit Scholarship from The Art Students League of New York in 2017.
Daniel Bauman depicts unfamiliar spaces that unfold across his canvases in washes of color and unexpected compositions. Just as his unplanned creative process brings unpredictable development and discovery, Daniel's oil painting reveals the fluidity of space and time, expressing the ever-changing aspects of the environment, society, and people.
RISING STARS 2022 — THE RULE BREAKERS
Res's photography centers on the intimate experiences they encounter as a queer trans artist. Each still life, taken entirely from their perspective, evokes a visceral response by addressing the political through the personal.
New Growth, Cheese and Some Pickles Archival inkjet print on paper 12.5 x 10 in $2,170
Res
Self-Portrait (Warm) Archival pigment print on paper 12.5 x 10 in $2,170
They have exhibited their work throughout the US, including at Shulamit Nazarian in Los Angeles, Casemore Kirkeby in San Francisco, Invisible-Exports in New York City, and BRIC in Brooklyn.
Photo by Matthew Leifheit
Res received their BA in sociology and studio art from Smith College in Northampton, Massachusetts, and their MFA in photography from Yale University in New Haven, Connecticut. They currently reside in Stockholm, Sweden, where they intend to complete a post-master's program in curation.
Their work has been shown in publications including Aperture, Cultured Magazine, Girls Like Us, Matte Magazine, The New Yorker, The New York Times, The Paris Review, and Vice Magazine.
Her embroidery was published in Vogue Italia "Talents' 15."
Digital print on
Shishkina
Digital
INTRODUCING
Through expressive color combinations, textures, motifs, and materials, Nina Shishkina's textiles capture dualities of the visual and tactile as well as the sacred and profane. At the core of these juxtaposing themes lies the exploration of womanhood.
The possibilities that technology presents to artists are infinite. Explore a collection of work in which artists adopt new media to reimagine the ways we experience works of Ninaart.
The Trendsetters
Womanhood - Kimono Series cotton textile 53.1 x 55.1 in $4,850
22 | saatchiart.com/catalog | 1.877.485.1199
Nina received her BA in fashion textiles from the London College of Fashion and her MFA in textiles with a focus on weaving and print from Rhode Island School of Design
Nina(RISD).served as Chief Embroiderer for Couture Maison Ulyana Sergeenko.
Womanhood - Kimono Series print on cotton textile 53.1 x 55.1 in $4,850
Mies and FFF-IBM Building (Day) Digital photograph on aluminum 36 x 36 in $1,420
Artwork prices include shipping | 23
He exhibited at The Other Art Fair in Chicago in 2019 and 2020.
Edward Chao
A photograph of Edward's was selected as the Editors' Pick in the 2017 LensCulture Street Photography Awards.
A lifelong fascination with geometric patterns and clean lines drew Edward Chao to architectural photography. Interested in minimalism and monochrome, he is fascinated by the deadpan style of image-making— an objective, detached, and technically masterful approach rich in visual information.
Edward attended the School of the Art Institute of Chicago and obtained his BFA with an emphasis in photography and video. He is a Taiwanese-Canadian artist currently based in Chicago.
Spiral Digital colored photograph on paper 25 x 18 in $700
Her works have been exhibited in galleries across the UK, France, and Taiwan.
Yi Ling Lai
Untitled Watercolor on paper 11.1 x 15.4 in $1,005 RISING STARS 2022 — THE TRENDSETTERS
Mindset 04.01 Acrylic on plaster 78.7 x 65 in $3,821
Living and working between London and Taiwan, Yi Ling Lai brings an interdisciplinary and cross-cultural dialogue to her paintings. With a background in calligraphy art, Yi Ling seeks to deconstruct traditional Chinese calligraphy, using abstract lines to create a universal rhythm that spans time and space.
Yi Ling was shortlisted for Bloomberg's New Contemporaries in 2021 and completed a residency at Blue Shop Cottage AMASSA in Mauroux, France, in 2021.
24 | saatchiart.com/catalog | 1.877.485.1199
Yi Ling received her BFA in calligraphy art and Chinese painting from the National Taiwan University of Art and her MFA in fine art from Kingston University in London.
Sonia Bensouda
In 2020, she showed her work at the Talented Art Fair in London, UK.
Effortlessly blending colorful palettes with abstract geometric patterns, Sonia Bensouda constructs surrealist compositions with multi-layered collages in her photographs. Drawing inspiration from her architectural background, she playfully portrays the relationship between people and the environment, exploring the presence and absence of bodies in both physical and virtual spaces.
Sonia was shortlisted and exhibited for the Ashurst Emerging Artist Prize in 2020.
shipping | 25
Passages Digital on paper 16.5 x 23.2 in $198
Artwork prices include
Sonia received her MA in interior and spatial design from Chelsea College of Art in London, where she now lives and works.
The Reversed Hotel Digital on paper 23.2 x 16.5 in $198
26 | saatchiart.com/catalog | 1.877.485.1199
Bethanya received her BFA from the University of North Texas and recently graduated from the prestigious MFA painting program at the Pratt Institute in New York.
Spill Acrylic
In 2021 Bethanya was awarded a New York Foundation of the Arts artist grant.
Bethanya Abebe bases her vibrant color palette on the sights of her childhood surroundings in Ethiopia. Depicting highly-detailed scenes from everyday life, Bethanya uses forms and hues as metaphors for her life and emotions. From gestural shapes, Bethanya works her canvas until the abstracted forms give way to figuration—often incorporating tactile fabrics and embroidery for additional depth.
Bethanya Abebe
Her works were recently included in a group exhibition at the Anna Zorina Gallery in Chelsea, New York.
on wood 46 x 36.5 in $2,710 RISING STARS 2022 — THE TRENDSETTERS
—Rebecca Wilson, Chief Curator & VP of Saatchi Art the
"In taking down old worlds and envisioning them anew, these artists overturn genressurroundingassumptionstraditionaltheoflandscape,figurative,andabstractpainting."
Collection
Shop
Artwork prices include shipping | 27 Train Acrylic on canvas 48 x 48 in $5,350 Nice to Meet You Acrylic on wood 18 x 18 in $545
Hanna Hae Soo Bang
She has received various grants from the Canada Council for the Arts and the British Columbia Arts Council.
Horse Riding Oil on canvas 45 x 26 in $5,550
Vancouver-based artist, Hanna Hae Soo Bang challenges perceptions of physical and virtual space in her flattened depictions of interiors dotted with abstract figures. Utilizing imagery from Korean mass media and American popular culture, Hanna constructs synthetic realities overrun with electronic devices and screens to illustrate the omnipresence of the internet in today's society.
Hanna is a multidisciplinary artist, working across painting, digital photography, documentary film, and performance art.
Hanna attended Emily Carr University Arts + Design in Vancouver, Canada, where she received a BFA in fine art. She recently exhibited her work in Vacant Museum's online show, "The Next Generation."
RISING STARS 2022 — THE TRENDSETTERS
Monitor Cluster Oil on canvas 30 x 24 in $4,650
on
23.6 x 15.7 in $2,140
She was shortlisted for the Ashurst Art Prize in 2021, featured in Sotheby's Made in Bed Magazine, Dazed, Art Reveal Magazine, and interviewed on the To The Studio podcast.
Gala was commissioned by BBC One and Tate and Lyle for her sugar sculptures, with a piece acquired by the Tate and Lyle Museum archive in London. Yellow Oleander Oil canvas
Gala Bell is a multidisciplinary artist whose practice cultivates two strands of making—one honoring tradition by embodying precepts of classical and baroque, and the other seeking to disrupt it. Using unconventional materials and methods usually found in a kitchen, Gala transforms her studio into a lab of material experimentation, creating busts made of sugar and deep-fried paintings.
Gala Bell
Artwork prices include shipping | 29
Anatomy of the Ear Oil paint on canvas 59.1 x 70.9 in $5,850
The
Gala holds an MA in painting from the Royal College of Art in London and a BA (Honors) in fine art from City & Guilds of London Art School. She has exhibited in multiple museums and galleries, including The Victoria and Albert Museum in London, The London Design Festival, The Design Museum in London, the Korean Cultural Institute in Berlin, and Galerie der HBKsaar in Saarbrücken, Germany.
30 | saatchiart.com/catalog | 1.877.485.1199
The New Traditionalists
Matilda Barretta
Matilda studied at the Glasgow School of Art in Scotland, L'Ecole de Beaux-Arts in Paris, France, and the University of the Arts London, Camberwell College of Arts in the UK.
Matilda Barretta's contemporary figurative paintings capture moments of silent drama—similar to a film still. Mysterious and a little bit intense, Matilda's figures quietly hint at the larger narrative yet simultaneously portray the action and urgency of the moment captured. To further build the drama and mystery of her narrative scenes, Matilda employs thin layers of paint, vibrant colors, and harsh angles that charge her compositions with emotion and uncertainty.
Untitled (Three)
INTRODUCING
Oil on canvas 47.6 x 36.2 in $3,200Untitled (Window) Oil on canvas 36.2 x 24 in $1,080
Matilda has exhibited her work throughout London and Glasgow, including Avalon Cafe, Wasp Studios, Rabbit Skin, The Glue Factory, and Hanson Street Studios.
Rising Stars artists put an innovative spin on the masterful techniques of history. Discover a fresh new take on iconic styles and techniques in this collection from our curators.
Forest Oil on canvas 39.4 x 55.1 in $1,740
Her work has been featured in a number of group exhibitions around Scotland, including the National Galleries of Scotland.
Olga is a multidisciplinary artist, sometimes starting with an oil painting and adding photography elements through digital layering.
Oil
Olga Pypno
Artwork prices include shipping | 31
She earned a BFA with honors from the Glasgow School of Art in Scotland with a focus in painting and printmaking.
Diptych paint
Olga Pynpo works primarily in painting and film photography to create landscapes that feel ethereal and nostalgic through dark tones and wispy brushstrokes. She aims to identify the sublime within the world around us and consider how modernity affects the traditional perceptions of the sublime.
on canvas 15.7 x 31.5 in $1,680
Harlan received his BFA from the University of California, Los Angeles (UCLA) in 2021 and now lives and works in Venice, California.
32 | saatchiart.com/catalog | 1.877.485.1199
Harlan Goldman-Belsma's paintings and drawings embrace objects and spaces of the mundane that exude an appreciation for the world around him. Utilizing faded hues and delicate pen marks, Harlan explores feelings of warmth, nostalgia, and familiarity in his work.
In 2021, the Daily Bruin —UCLA's student-run newspaper— published an article on Harlan and his work.
His works have been exhibited in various shows at UCLA's Department of Art.
Harlan Goldman-Belsma
Alley Chairs Oil on canvas 72 x 48 in $1,145
RISING STARS 2022 — THE NEW TRADITIONALISTS
The Venice Median Ink on paper 16 x 24 in $640
Courageous Climb Oil on canvas 72 x 51.2 in $3,995
Based in Cornwall, UK, Jasmine was the first in her class at Falmouth University, Falmouth School of Art, where she received her BA in fine art. She has exhibited her work in numerous galleries, including The Yare Gallery in Great Yarmouth, Centrespace Gallery in Bristol, and the Tremenheere Gallery in Cornwall.
Artwork prices include shipping | 33
Inspired by the landscape surrounding her, Jasmine Mills paints abstracted compositions of strange, spiritual, and surreal places. Jasmine aims to depict narrative scenes that explore the relationship and interactions between figures and the landscapes they exist within.
She has been featured in Drift Magazine, an international print magazine devoted to coffee culture.
Jasmine is a Newlyn Society of Artists member (based in Cornwall, UK).
Jasmine Mills
Night Time Antics Oil on canvas 72 x 51.2 in $3,995
His work was selected to be exhibited at The Other Art Fair Dallas, in 2022.
Skeleton
Oil on wood 20 x 16 in $2,470
RISING STARS 2022 — THE NEW TRADITIONALISTS
Ryan is a self-taught oil painter from Salt Lake City, Utah. He currently lives and works in Dallas, Texas.
Ryan McKee's paintings read like the nonsensical narratives of a dream, designed to take you somewhere familiar but altogether otherworldly. His realistic style is defined by surreal elements that serve as reminders of the tragedy and humor of the human condition.
Yellow Duck Spring Rider Oil on wood 28 x 44 in $4,060
Ryan Mckee
Slyvia holds an MFA in fine art from Wimbledon College of Art at the University of London.
Artwork prices include shipping | 35 Call Me Oil on canvas 11.8 x 23.6 in $1,100
Lily Blowing the Kiss Oil on paper 27.6 x 19.7 in $1,040
Recently, Sylvia had a solo exhibition at One Paved Court in London. She was a finalist for ING Discerning Eye Competition in 2020 and The Ingram Collection Purchase Prize for Young Contemporary Talent in 2019.
Influenced by the women in her family, Slyvia Batycka bases her figures on antique photographs that eerily glow in muted and hazy colors and embody a feeling of untold mystery. Sylvia describes herself as "an archivist," transcribing photographs of women to her canvas—actively breaking from the constraints of time and connecting the past and present.
Sylvia Batycka
Currently living and working in Nanjing, China, artist Kaijia Zheng is deeply interested in Chinese Taoist philosophies and Zen Buddhist teachings. Through her continual study and fascination with these ancient philosophies, Kaijia has formed her own aesthetic style that incorporates Taoist and Buddhist theories. For example, in the Zen system of thinking, the mirror symbolizes the pure of mind. Similarly, Kaijia sees her paintings as a mirror of herself, acting as a portal into the depths of her unconsciousness and reflecting her inner senses and thoughts.
The Strangers Tempera on wood 13.8 x 9.8 in $2,010
Kaijia received her BFA from the Accademia di Belle Arti di Brera in Milan, Italy, and her MFA from the Royal College of Art in London, UK.
Relatum's Double Oil on canvas 70.9 x 53.1 in $8,110
Notable exhibitions include "Seeable and Sayable," at No Space in Beijing; "White Box Series," at White Box Art Space in Beijing; "Thumbnails," at Hockney Gallery in London; "Ten Metaphors," at Safehouse Gallery in London; and "Simu-Lacres," an online exhibition with No Space in London.
The artist has shown her work in galleries internationally, in cities such as London, Milan, Rome, Paris, and Beijing.
36 | saatchiart.com/catalog | 1.877.485.1199
RISING STARS 2022 — THE NEW TRADITIONALISTS
Kaijia Zheng
Artwork prices include shipping | 37
He received the John Kinross Scholarship Award from the Royal Scottish Academy in 2021.
Tobias Francis
Drawing inspiration from performance theater, Tobias Francis's oil paintings employ abstracted figures to achieve visual artificiality. Starting with imagery from second-hand books, Tobias blends visual elements from literature and history to depict fictional scenes, allowing the absurd and uncanny to run free across the canvas.
I'm Scanning Things I Can't See Oil on canvas 39.4 x 22.7 in $2,490
Chasing Rainbows Oil on canvas 39.4 x 22.7 in $2,490
Tobias was longlisted for the Robert Walters Group UK New Artist of the Year Award in 2021 and the John Moores Painting Prize in 2020.
Tobias received a BA (Honors) in painting from Edinburgh College of Art in Scotland.
30 x 48 in $6,400
The Builders
INTRODUCING
Ami Park works with modern textile techniques to create irregular and infinitely variable natural forms that fill the surface of her canvases. Having a deep scientific and spiritual curiosity, Ami explores the vibrations and connections between the human mind and natural objects in her fiber art made up of repeated textures and colors.
Ami Park
Originally from Seoul, Korea, Ami received a BFA in fashion design from Parsons The School of Design in New York City, where she currently resides and works. She has exhibited her work in New York, London, Paris, and Seoul at notable galleries such as Ethan Cohen Kube, the Royal Society of American Art, Holy Art Gallery, Gallerie Dièse, and the Czong Institute for Contemporary Art.
Air Acrylic, cotton rope, yarn on canvas
38 | saatchiart.com/catalog | 1.877.485.1199
Woven, embroidered, torn, cut, and layered. Discover the unexpected in this collection of works by Rising Stars artists utilizing surprising techniques and materials.
Deep into Your Wounds Acrylic, cotton rope, yarn on canvas 14 x 11 in $1,080
Ami is an artist with the Immigrant Artists Mentoring Program at the New York Foundation for the Arts, granted by the Puffin Foundation.
Recently, she contributed work to a multidisciplinary project with the Museum of Modern Art and Bronx Museum in New York City.
Nikolajs Klimovs
Fractured, in Red No. 3 Acrylic on conservation board 28.1 x 23.4 in $870
Nikolajs's most recent series, Free and Fragments, addresses overcoming mental health challenges through subtle abstract expressionist forms.
Artwork prices include shipping | 39
Fractured, in Black No. 3 Handmade paper collage 23 x 25 in $830
After graduating, he started a career in luxury fashion that spans over a decade.
Nikolajs graduated from the London College of Fashion with a BA in fashion design technology. Born in Latvia to Russian parents, the artist moved to London in 2004, where he now lives and works.
Nikolajs Klimovs's work expresses cognitive, spatial, and color interplay in an abstract form. The choice of paper medium is deliberate, an exercise in relinquishing ingrained anxieties brought on by perfectionism and the drive for control, with shapes cut free-hand and fixed all at once, using no markings or rearrangements.
Llinos is from North Wales and moved to London in 2017 to study painting at Wimbledon College of Arts, where she graduated in 2020.
Occupied Hands Punch needle embroidery on cotton fabric 21.3 x 18.1 in $990
RISING STARS 2022 — THE BUILDERS
Llinos Owen
40 | saatchiart.com/catalog | 1.877.485.1199
Textile artist Llinois Owen's practice begins with written and visual material from her diary. Her tapestries are narrative explorations of memory, relationships, gender, and identity that live within a larger art historical canon through the annals of her respective medium—punch needle rug hooking, an art form dominated by women.
"Incredibly bright and engaging, these figurative works use mediums such as new allegoricaltellandphotography,media,paintingtopersonalandstories."
cotton
22.8
Midnight's Embrace Punch needle embroidery in fabric
$2,240
Artwork prices include shipping | 41
Shop
24.4
Numerous publications have written about Llinos's tapestries, including the BBC.
Her works have been featured in group exhibitions across the UK, with her first solo show, "Thank Your Lucky Stars," at Orleans House Gallery in 2021.
The Daisy Punch needle embroidery in cotton fabric x in
32.7 x 48 in $5,350
—Artist Community & Curation Manager, Aurora Garrison the Collection
Taking cues from Cubist artists, Hank Ehrenfried expands on his planar studies with the dimensionality of collage. After cutting, folding, and layering archival imagery, drawings, and studio ephemera and pinning the creation to his studio walls, Hank paints the final composition. The result is a multifaceted viewing experience that encourages contemplation of the fixed and the moveable.
His solo exhibitions include shows at Welcome Gallery in Charlottesville, Virginia; Quappi Projects in Louisville, Kentucky; and AuxierKline in New York, New York.
Hank holds a BFA from Carnegie Mellon University in Pittsburgh, Pennsylvania, and an MFA in painting from Pratt Institute in Brooklyn, New York.
Collage; Palace 72; Summer 2018 Oil on canvas 22 x 28 in $5,850
42 | saatchiart.com/catalog | 1.877.485.1199 RISING STARS 2022 — THE BUILDERS
In 2019 Hank completed a 6-month residency at the Trestle Art Space in New York.
Discus Thrower Oil on canvas 14 x 11 in $2,570
Hank Ehrenfried
Oscar Marcus Boyle
Glasgow-based artist, Oscar Marcus Boyle explores themes of neurodivergence, phenomenology, and anthropocentrism in his mixed-media paintings, drawings, and prints. Oscar's brightly colored gestural works invite viewers to question the cultural history of his subject matter.
Oscar earned his BA at the Slade School of Fine Art at The University of College in London, UK. He is currently located and pursuing his MLitt at the Glasgow School of Art in Scotland.
Oscar's work has been published by the literary zine, Versification, and Eyot Magazine.
The Breadbasket Man Pastel on paper 34.3 x 25.6 in $1,140 Burning Tree IV Oil on reclaimed window frame 32.3 x 23.2 in $1,840
44 | saatchiart.com/catalog | 1.877.485.1199
Thomas Hjelm is a multidisciplinary artist working predominately across print, painting, and sculpture. Employing a combination of custom printers and scanners, Thomas constructs sculptural collages that reference colloquial and everyday language, affectations, and slogans. Thomas breaks down modern communication, digital, and print media in his tactile compositions displaying styles of speech that are highly persuasive, informative, and commemorative.
G.L.D. - Good Life Decisions Inkjet print on canvas 47.2 x 35.4 in $8,100
Thomas has exhibited his work extensively throughout London at galleries such as Saatchi Gallery, RCA, and Truman Brewery.
Hold Me Closer Inkjet print, paint on canvas 33.1 x 23.2 in $2,240 RISING STARS 2022 — THE BUILDERS
Thomas Hjelm
Thomas obtained his BA (Honors) from the Chelsea College of Art & Design at the University of the Arts London and his MA from the Royal College of Art (RCA) in London.
He was awarded the HIX Award, an annual competition at the CNB Gallery in London, the Ashurst Emerging Artist Prize, and the Roman Road Residency at The Columbia in London.
Her works have been showcased at Red Dot Art Fair in Miami and Art Expo in New York City.
Orchid Oil on canvas 14 x 11 in $495
Rachel has exhibited at The Other Art Fair in Los Angeles, Dallas, Chicago, and Brooklyn.
Rachel graduated from Camberwell Art School and Chelsea Art School in London and currently resides in Connecticut, US.
Exploring and questioning the use of certain materials, mixed-media artist Rachel Daly reflects on the occupation of space and simplified forms in the environment. Rachel's work is an abandonment of rules—deconstructing materials and objects to reimagine and recreate them. In her recent Black Flower series, she reshapes oil paints into a medium with a sense of space and dimension.
Blue Lilly Oil on canvas 36 x 36 in $6,000
Artwork prices include shipping | 45
Rachel Daly
How it Works: Get started at saatchiart.com/artadvisory 1. CONTACT US 2. CHAT WITH A CURATOR 3. MAKE YOUR PURCHASE Visit saatchiart.com/artadvisory to let us know what you are looking for by filling out a short art quiz. A curator will contact you with a selection of works handpicked specially for you. Your curator will answer any questions you have about the works you wish to purchase and help every step of the way. PRIVATE CLIENTS • HOSPITALITY • CORPORATE • HEALTHCARE • MULTI-FAMILY We have a team of knowledgeable and highly respected curators who can give you guidance on which artworks to purchase. Our curators will handpick works specially for you, tailored to your art preferences, style, and budget. SAATCHI ART'S AdvisoryComplimentaryServices
Chin
Artwork prices include shipping | 47
II Acrylic, ink on paper 31 x 21.3 in $650 OnlineDirectlyPurchase WORLDWIDE SHIPPING All our prices for original artworks include worldwide shipping. If you are buying a limited edition print the cost of shipping will be additional. Either way, we deliver to your door! SATISFACTION GUARANTEED Our 7-day 100% money-back guarantee allows you to buy with confidence. CONTACT US You can reach us by calling 1.877.485.1199 or emailing support@saatchiart.com between the hours of 9:00am–6:00pm PST Monday through Saturday. ARE YOU A DESIGNER? Email us at trade@saatchiart.com and a curator will contact you. COMMISSION AN ARTIST If a work you like has already sold or you would like a work in a different size by an artist we represent please contact us. We can work on custom pieces for you and show you other available works by artists you are interested in. Please contact us at curator@saatchiart com ENJOY 15% OFF Valid on original artworks and limited edition prints. Offer expires 11/12/2022 saatchiart.com/catalogUSECODE:RISINGSTARS22 Photogenic Milica Lazarevic Pencil, acrylic on paper 63 x 35.4 in $2,280
Fuen Golden Hour
48 | saatchiart.com/catalog | 1.877.485.1199 PRSRT STD U.S.SAATCHIPAIDPOSTAGEART1655 26th Street Santa Monica, CA 90404 saatchiart.com 1.877.485.1199
Scan the QR code using your smartphone camera. ENJOY 15% OFF USE CODE: RISINGSTARS22 Valid on original artworks and limited edition prints. Offer expires 11/12/22. Shop the catalog online YourArtistsEmergingSupportWithPurchase We believe in showing how much we value the incredibly talented artists we represent by paying them more on every sale than other galleries. Every purchase you make at Saatchi Art supports an artist around the world.
Bethanya Abebe her studio.
See her artwork on p. 26
in
SFI-00603