ANNOUNCING A WHOLE NEW SMOOTH
SEPTEMBER 2023
SILHOUETTE The New Shape,
smooth, and support your curves with revolutionary designs in fantastic new fabrics.
Mix and Match
RUBYRIBBON.COM
+ + ALL NEW SLEEK SHAPE TANK ALL NEW ON WAIST SHAPING SHORT ALL NEW HIGH WAIST SHAPING SHORT
ALL NEW High Waist Shaping Short
Comfort meets coverage in this long, lean, luxurious shaper.
hip wearing a L
Audrey is a 43"
Shaping Short
We've Engineered a Booty Better
full coverage
Top of the short sits just under the bust
bathroom friendly
Overlapping panels conceal an open gusset
squeeze free
Leg opening melts seamlessly into thigh
glute reboot
Sculpted panels boost, shape and smooth the bum
stealth mode
Luxury fabric stays quiet when legs rub together
RUBYRIBBON.COM
Hello, Cheeks Sweet personalized
Designed to sit at your own natural waistline support system
Bonded panels flatten, shape and smooth
booster seat
Lifts & defines for a sculpted rear view
hold on
Silicone grippers keep legs and waist in place
RUBYRIBBON.COM
ALL NEW On Waist Shaping Short
Accentuate your assets with a high-tech bottom you can custom fit.
Chelsea is a 48" hip wearing an XL Shaping Short
THE TRIPLE
THREAT
Introducing our first true tank top. It wears like fashion and supports like Ruby Ribbon.
ALL NEW SLEEK SHAPE TANK
Wear in place of a traditional bra Layer it with favorite fashion pieces for a variety of seasonal looks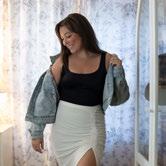 Let its classic styling take the spotlight as a solo act
RUBYRIBBON.COM
RUBYRIBBON.COM ALL NEW ALL NEW ALL NEW ALL NEW ALL NEW
Audrey is a 36G with 43" hip wearing a 36 cami
RUBYRIBBON.COM ALL NEW ALL NEW ALL NEW ALL NEW ALL NEW
Chelsea is a 38DD with 48" hip wearing a 38 cami
RUBYRIBBON.COM
★★★★★ ALL NEW SLEEK SHAPE TANK
IT OUTPERFORMS EVERY TANK TOP IN MY WARDROBE. I NEED ONE FOR EVERY DAY OF THE WEEK—I'M Obsessed!
I Love
THAT YOU CAN WEAR THIS AS A CLASSIC TANK TOP WITH JEANS OR A SKIRT.
RUBYRIBBON.COM
★★★★★ ALL NEW SLEEK SHAPE TANK
Stay-put tankstyle straps won't sag
Scoop neckline in front and back
Bonded underbust sling provides lift and support
Longer length allows more styling options
Dash silicone pattern at bottom hem holds tank in place
Luxury fabric shapes without additional bonded panels
ALL NEW ALL NEW ALL NEW ALL NEW ALL NEW
Chelsea is a 38DD with 48" hip wearing a 38 cami
PIN-UP CAMI
This vintage-inspired design proves that glamour never goes out of style
RUBYRIBBON.COM
RUBYRIBBON.COM
Adjustable & convertible
Extra shaping and control at the upper back
Vintageinspired design details
Wicking fabric to keep you cool and dry
Lace detailing at the hemline and neck
RUBYRIBBON.COM
RUBYRIBBON.COM
Chelsea is a 38DD with 48" hip wearing a 38 cami
SEPTEMBER COLLECTION
Simply Smooth Cami Level 3 Light Support 32-44 (46 coming soon), 3072, Black, $79 Sleek Shape Tank Level 3 Light Support 32-50, 1988, Black, $89 Simply Smooth Cami Level 3 Light Support 32-46, 3072, Fawn, $79 On Waist Shaping Short Level 4 Full Support S-3XL, 1986, Black, $85 High Waist Shaping Short Level 4 Full Support S-3XL, 1995, Black, $90 Pin-Up Cami Level 4 Full Support 34-50, 3055, Black, $96 Sleek Shape Tank Level 3 Light Support 32-50, 1988, Fawn, $89 On Waist Shaping Short Level 4 Full Support S-3XL, 1986, Fawn, $85 Pin-Up Cami Level 4 Full Support 34-50, 3055, Black, $96 High Waist Shaping Short Level 4 Full Support S-3XL, 1995, Fawn, $90