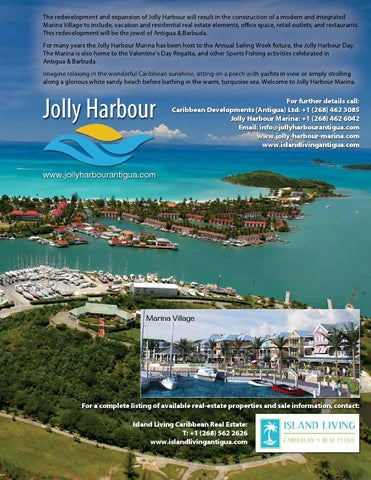 The redevelopment and expansion of Jolly Harbour will result in the construction of a modern and integrated Marina Village to include, vacation and residential real estate elements, office space, retail outlets, and restaurants. This redevelopment will be the jewel of Antigua & Barbuda. For many years the Jolly Harbour Marina has been host to the Annual Sailing Week xture, the Jolly Harbour Day. The Marina is also home to the Valentine's Day Regatta, and other Sports Fishing activities celebrated in Antigua & Barbuda. Imagine relaxing in the wonderful Caribbean sunshine, sitting on a porch with wit yachts in view or simply strolling along a glorious white sandy beach before bathing in the warm, turquoise sea. Welcome to Jolly Harbour Marina.
Jolly Harbour
For further details call: Caribbean Developments (Antigua) Ltd: +1 (268) 462 3085 Jolly Harbour Marina: +1 (268) 462 6042 Email: info@jollyharbourantigua.com www.jolly-harbour-marina.com www.islandlivingantigua.com
www.jollyharbourantigua.com
Marina Village
For a complete listing of available real-estate properties and sale information, contact: Island Living Caribbean Real Estate: T: +1 (268) 562 2626 www.islandlivingantigua.com BusinessFocus • December/January 11/12
| 71
Published on Oct 28, 2013  
Business Focus Antigua Issue 40  
Business Focus Antigua Issue 40  
Published on Oct 28, 2013  
As 2011 comes to a close and we enter 2012, the forecast for the world economy continues to be news of job cuts and hints of a "double dip"...